Buying Property in Jaco, Costa Rica
Some links in this post may be affiliate links. If you click on them we may make a commission from qualifying purchases at absolutely no cost to you.  Read our full Disclosure Policy here.
Jaco is definitely more tourist-oriented than some of the other places we've visited in Costa Rica. There are many advantages to living in an area like this! People who want to live in Costa Rica, but feel like they are in Canada or Mexico might prefer a place like Jaco.
Jaco has a wide variety of options for living. The prices range from 'very affordable' to 'in  your dreams'. While exploring the area, we noticed that there are a lot of properties for sale.
Don't have a big budget? No problem in Jaco!
This 2 bedroom condo is currently listed for $55,000. This is not the exact unit we stayed in, but it is in the same condo community. There is a decent swimming pool and a guard at the gate 24/7. It took us less than 5 minutes to walk to the grocery store and less than 10 minutes to walk to the beach.  While traveling, we like to spend most of our time exploring and/or visiting the beach. This place was more than nice enough to use as a home base for our two weeks in Jaco. If you are looking for an investment opportunity, they are available! You don't need many renters (we paid +/- $50 CDN/night) to make this work in your favour.
Condo on the Beach
Claire and I spent a lot of time close to these condos. These buildings are a short walk from the best surfing area at Playa Jaco. If you have a good arm, you are a stone's throw away from the sand. There is a listing for a top floor condo with private rooftop balcony for $265,000. Imagine having a private rooftop on a beach in Costa Rica for less than $300,000. If you want the condo closest to the beach, the price is a little more.
Lots of space to store your surfboards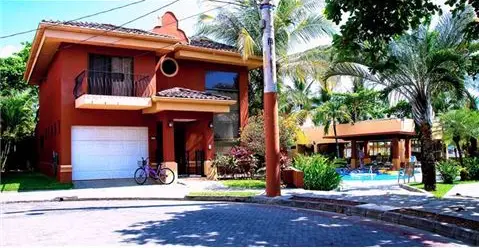 Many of the listings in Jaco are condos, especially those closer to the beach. If you would prefer to have a little more privacy, there are homes for sale as well. This 3 bedroom, 3 bathroom is in a gated community, close to the beach and listed for $330,000.
We were in Jaco during the low season, but it was not hard to imagine what it would be like during the high season! If I was living in the area full-time, I'd like to be a little removed from the party scene downtown.
You bought Bitcoin before everyone knew about Bitcoin?
If you've got some extra money to spend, this 10 bedroom, 11 bathroom stunner is located in the mountains near Jaco. The owners built a second house on the property for visiting family and friends. If you've got $3 million, you can take a serious look!
After staying in Jaco for two weeks, one of us put Jaco as #1 in Costa Rica for retirement potential. We'll keep looking and hope that we find a place that knocks our sandals off.
Do you want to read more about Property in Costa Rica?