Some links in this post may be affiliate links. If you click on them we make a commission from qualifying purchases at absolutely no cost to you.  Read our full Disclosure Policy here.
Sayulita Revisited
We visited Sayulita on a day trip from Bucerias about 8 years ago and weren't too impressed.  It's small, crowded, full of travelers (which means getting harassed to purchase something at every turn) and not the cleanest or prettiest beach.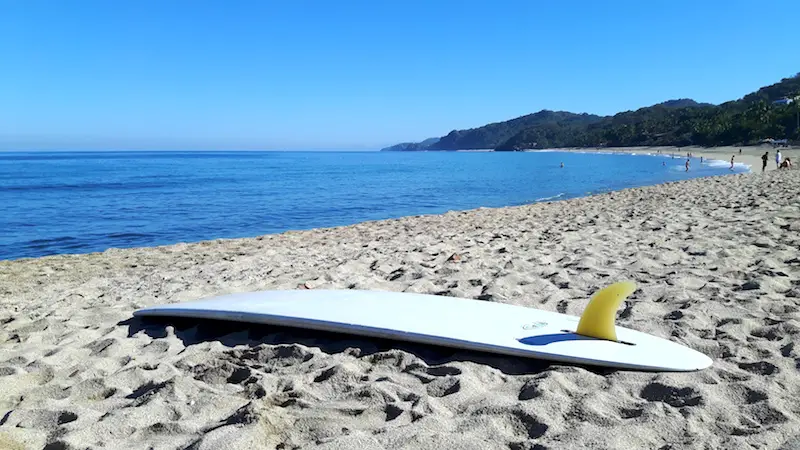 However, given that it has the best reputation for a surf beach in the area we decided to give it a second chance.  All of our first impressions are still true…but we actually quite enjoyed it this time around.  The streets are crowded, but they are lined with tables and chairs from restaurants and taco trucks.  The place is full of foreigners, but it's got a fun vibe and is easy to meet new people and have some fun.  The beach still isn't the prettiest in Mexico, but it is still much nicer than many in the world with mountain views to the north and south.  As long as you don't sit by the river, it smells fine.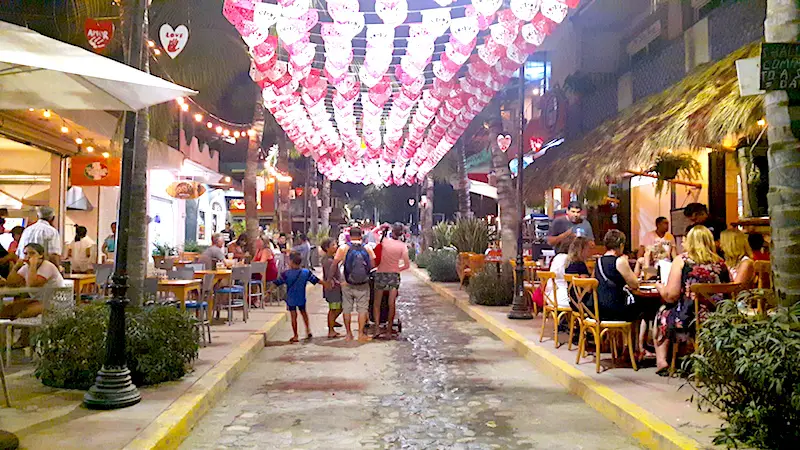 It is, however, definitely a party town.  We booked a spot a little away from the bars and still wore ear plugs each night.  If the music and partiers don't wake you, then the loud Mexican trucks, dogs and vendors walking the streets yelling will.  Gotta love Mexico!
Our only real issue has been a lack of waves!  Each day we have headed to the beach with a surfboard in tow only to sit and watch from the sand.  Terry tried a few times but only once came in happy with the results.
Hiking to San Pancho
We discovered a few hiking trails to secluded beaches both north and south of town.  We took off one day along a trail to a beautiful undeveloped beach just north of Sayulita.  At the southern tip of the beach there are little caves that grant access to another smaller cove.  I'm not sure how they've kept the developers away for so long but it's a perfect spot to escape the bustle of Sayulita.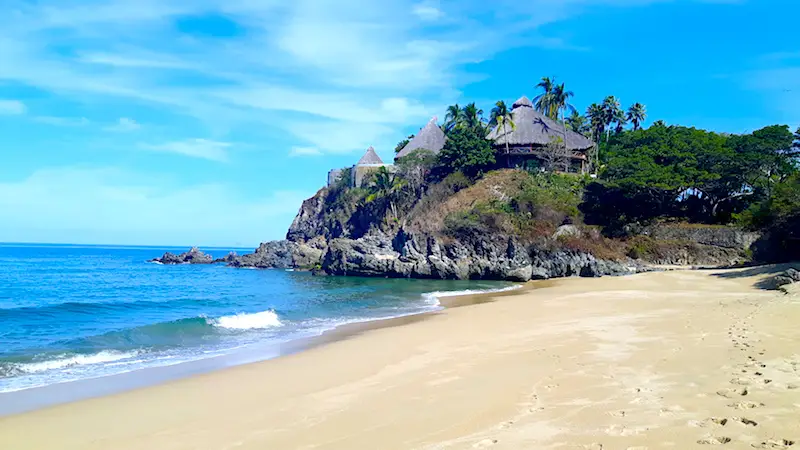 After continuing a little further we came across a gate and 'No Trespassing' sign.  I had read that the house used to belong to an ex-president but the new owners had illegally put up the gate and fence.  Another couple came along and I guess we felt safety in numbers so under the fence we went, ignoring the 'no trespassing' sign.  Shortly after, we emerged on the beach in San Pancho.
We walked the length of the beach and through the streets.  San Pancho is basically just a smaller Sayulita.  In recent years it has definitely been 'discovered' but it is still quieter and more relaxed.  It is also a surf town but the waves here are much more powerful and for the more advanced surfer.  Once again though, nothing.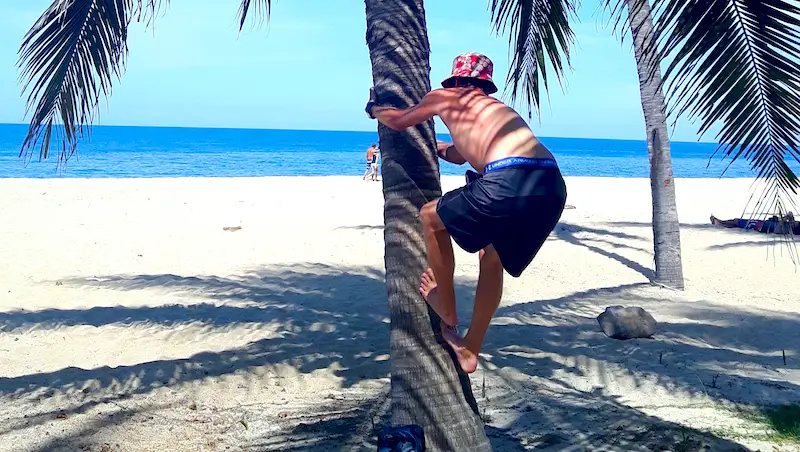 After an unsuccessful attempt to get a coconut we bought some tacos and a beer for lunch before making the trek back.  San Pancho is one of my favourites so I was happy to have made it back here for a visit!
Tacos, Tacos, Tacos!
There are plenty of food options in town.  And yet, we have managed to eat tacos.  Every. Single. Day.  But not just any taco, tacos al pastor – by far our favourites.
For less than $1, street stands sell delicious tacos with a variety of salsas and vegetables to dress them up.  Various meat options are available but our favourite is al pastor.  These are made from skewered pork that is grilled (it looks like shawarma or kebab meat) with pineapple.  They are so tasty, especially with their ultra spicy sauce!
A Week Already?
Between heading to the beach and testing the waves and a couple of days of feeling unwell, we didn't accomplish too much else this week.  Saturday we packed up and took the bus back to Bucerias.  If we can drag ourselves away from there, we might return to hike to the beaches south of Sayulita.  We planned on doing this all week but sickness got in the way.  Maybe there'll even be some waves…
Return to our Travel Journal page for all posts.
Check out our Destinations page for more great places!