Some links in this post may be affiliate links. If you click on them we may make a commission from qualifying purchases at absolutely no cost to you.  Read our full Disclosure Policy here.
Ready to Take our Surfing on Tour?
How has it been three weeks already??!!
If you're just joining us and want to read about our journey from the beginning, click to read about week 1 and week 2.
This week we continued to take advantage of our 'free' surfboard, heading out first thing every morning for a few hours of surfing.  Indy has become a fast friend and she often appears at our sides.  A couple of mornings we were later leaving than usual and found Indy 'knocking' at the door, letting us know it was time for the beach!  One morning we returned from the beach to find out that she had missed her vets appointment – oops.
We would usually be home by noon for a late breakfast/lunch and a little work in our current office.  It really is a tough life!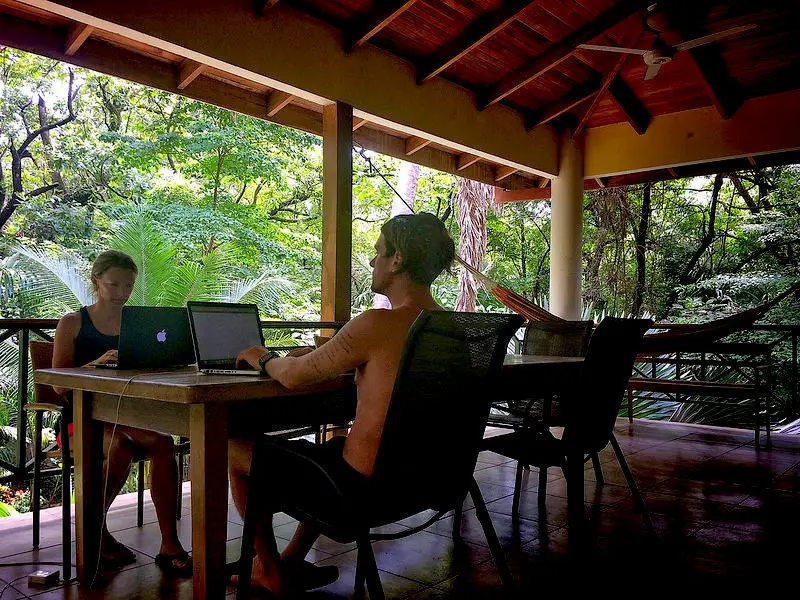 Surfing is more of a challenge in Nosara.  The waves are bigger but they're also closer together and choppier.  It's hard to get out and catch one cleanly.  Still I think we both improved.  Well, I guess the moment I got smashed in the head by my surfboard wasn't my best moment but, you know, besides that!  Terry definitely had some really good rides and even caught a couple of the big waves further from shore!  I stayed in the white water but managed to ride a few of those waves into the shallows still.  There are some pretty good surfers riding these waves!
In the afternoons we head out for a walk or return to the beach if the rains don't get in the way.  We usually stop in to the only mini market in town for a few items on our way home.  Unfortunately, Terry discovered a pack of cookies for about a dollar and our pack a day addiction was born…
On Sunday we decided to hike over to Playa Pelada, the next bay to the north.  The main trail was washed out so we walked to the end of the beach, crossed the river and took another short trail over the point.  It's a very easy walk over to a really pretty bay with a couple of beachfront restaurants.  At low tide there's a blow hole that's kind of neat to watch.  People can be found surfing here too but it's more of an advanced spot.  We stuck to watching!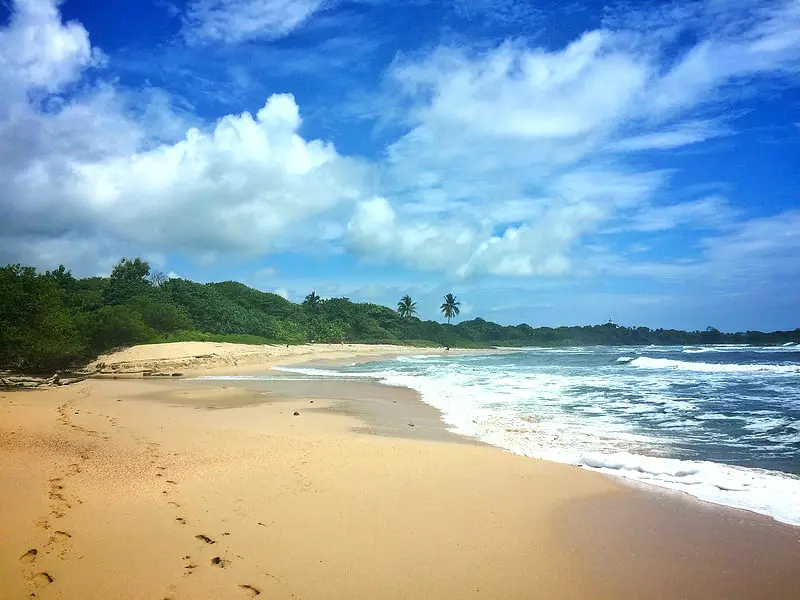 Indy, our trusty companion, came racing out the house when she heard us leaving and came along with us.  We walked all the way to the far end of Playa Pelada where Terry and Indy climbed a rocky outcropping.  We felt pretty bad that Indy had no water so we left the sun-baked beach and walked through the streets to return.  She found a stream to have a drink in so that made her happy and we felt less guilty!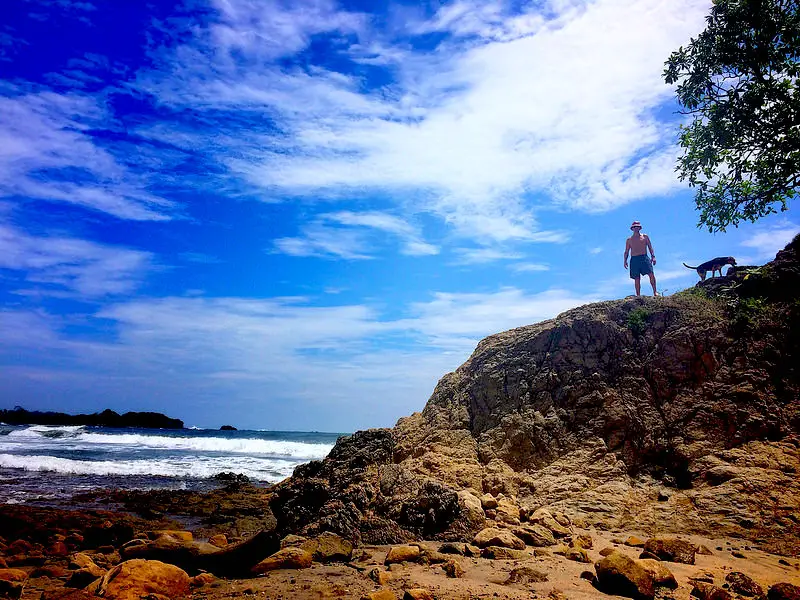 On a rainy afternoon we decided to go in search of 'downtown' Guiones and stopped by the local skatepark on our way.  I guess a surf town has plenty of people wanting an alternative when the waves aren't good.  It's not really open for the season yet but it has a full bar and patio.  I imagine it's a really cool place to hang out when the bar is open and music is playing.  They even give adult clinics to learn to skateboard – next time perhaps?  Downtown consists of two strip malls with a collection of clothing stores, surf shops, car rentals and eating places.  It didn't take us long to see it all!
Friday morning we picked up a rental car, loaded our bags and headed to our first house sit in Jicaral.  Of course, Indy followed us to the rental office.  As we completed the rental, she waited outside and then snuck into the back seat while the door was open.  Since she played deaf every time we tried to get her out, we had little choice but to give her a ride back to the house!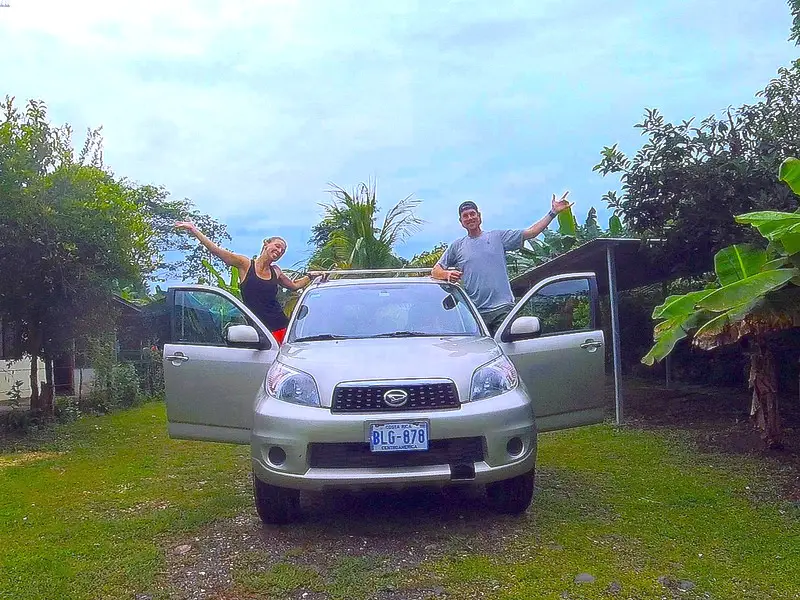 Leaving Nosara, we drove through a police road block.  Images of all the road blocks in Mexico ran through our minds and we quickly reviewed our Spanish to avoid a bribe.  We were not prepared for the police officer to ask if we had any seafood.   Definitely our first seafood road check!  Luckily we weren't trying to smuggle out any ceviche so we were waved straight through.
The owners welcomed us with lunch and showed us around a bit.  The animals took about 3 minutes to be all over us so I think we'll be fine together!  While here, we have two dogs, Manchita and Penka, and two cats, Luno and Kuky.  Terry has definitely made a few new friends.  It'll help him get over leaving Indy!
Jicaral is a totally off-the-beaten-path town in the Nicoya Peninsula.  There is nothing touristy about it which makes for a nice change.  It's not on the ocean but after three weeks of surfing we're okay with a break.  Also, this area has a number of beaches, nature reserves and hikes within driving distance so we plan to do some exploring.  The homeowners were kind enough to make us a list of a few highlights so we have a place to start.
Immediately we noticed much cheaper prices and a real supermarket.  Being a real town, there's a greengrocers, butchers, bakery and two supermarkets.  Needless to say, I'm pretty excited!  Maybe next week we'll get a break from rice and beans…
What have you been up to this week?  We'd love to hear about your adventures!  Read about week 4 now.