More Adventures in Jicaral, Costa Rica
Some links in this post may be affiliate links. If you click on them we may make a commission from qualifying purchases at absolutely no cost to you.  Read our full Disclosure Policy here.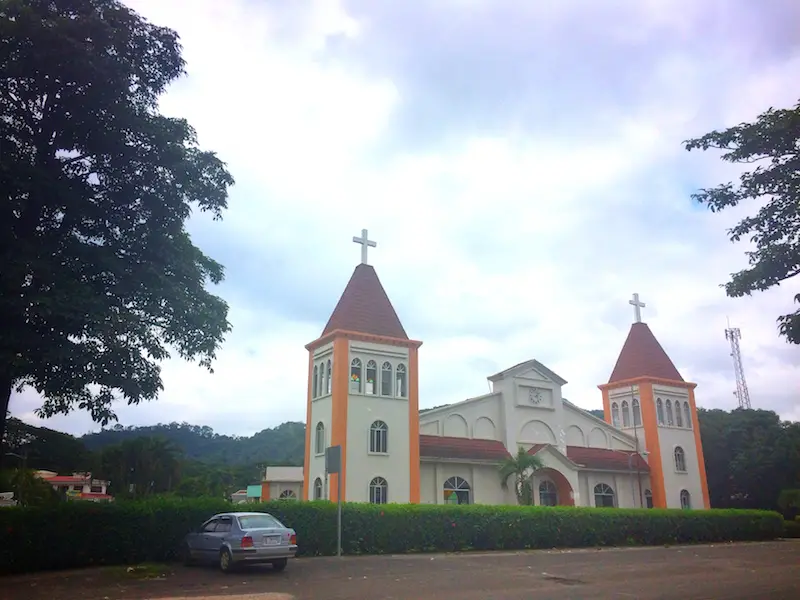 Saturday Social
Claire and I decided to 'hit the town' on Saturday night! While running earlier in the week, I saw a couple of bar/restaurants that looked like they could be fun.
As we drove down 'the strip', our decision was pretty easy. There was one place with other people!  We pulled up two barstools and ordered a michelada.  The night changed quickly as one of the patrons requested a microphone from the bartender. Apparently, Karaoke is always available. Our drinks came, the singing was 'okay', but the atmosphere was totally different than it had been 10 minutes earlier. Our first drink was finished and it was very good!  It tasted like … another.
Costa Ricans (Ticos) have been very friendly and generous to us! As a matter of fact, our housesitting host chose us because we were foreigners and she wanted more people to have a chance to experience Costa Rica. The people in this little watering hole were no different. Shortly after we ordered a second drink, someone across the bar asked the bartender to send over another as a welcome.  Growing up in a curling community, obviously we reciprocated and went over to introduce ourselves!
After 40 minutes, I had practised more Spanish than in the previous four weeks! Our new friend invited us to come to the local discotheque as many of the people were leaving. I asked for directions, prepared to say we were too tired. Instead, he encouraged us to follow him… on his bike, down a road that's not on the map!  Claire and I were laughing the whole time.
We arrived at a seafood restaurant just outside of town.  At night, it transforms into the local party spot it seems.  Our friend was greeted a little like Norm from Cheers. I must have been too obvious while checking things out. Our guide came over and said "Don't worry! Everyone here is your friend!". He had bought us another beer and introduced us to his friends. We stayed for a while, talked a lot with the friendly locals, sampled some ceviche, and headed home way past our usual bedtime.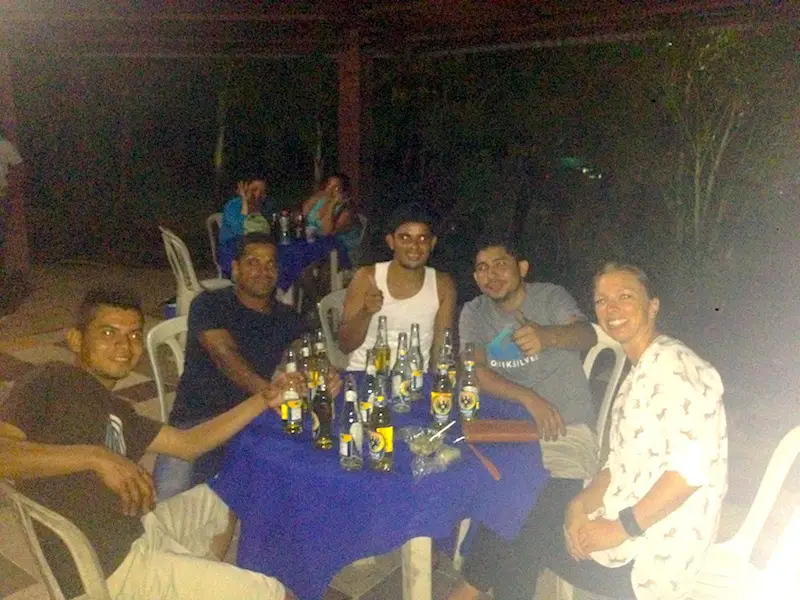 Friendly neighbours
Our new neighbours had invited us to Sunday lunch.  After our Saturday night, morning arrived far too quickly! Sleeping late, I awoke to the sound of our neighbour banging the roof with a broom and yelling for us to come over.  I was sure that our invitation was for 1:00 pm.  Apparently it was 11am and they had already started eating.  Oops!
Lunch was too good! We ate rice, beans, pork (chicharron), chimichurri, plantains, rice pudding, coffee, and more.  Every time they offered us something, the instructions were simple, "Eat everything! Clean your plate!".  Challenge accepted!
I overate and wanted another nap. Instead, we sat and learned a lot about the area and the country.  Despite being tired, we had a really good afternoon. We probably could have stayed for much longer, but it was time to feed the dogs.
Our phone continued to ring nearly everyday and we were summoned to meet one of the neighbours at the fence. Each time, they gave us a plate or bowl of some "Typical Tico" food to try.  Everything we had was really good!
On our last day, the neighbours waved us off and invited us to come back to Jicaral. We were welcome to visit them anytime!  Ironically, I know my Jicaral neighbours better than my neighbours in Barrie. I've got some work to do when we get home next year.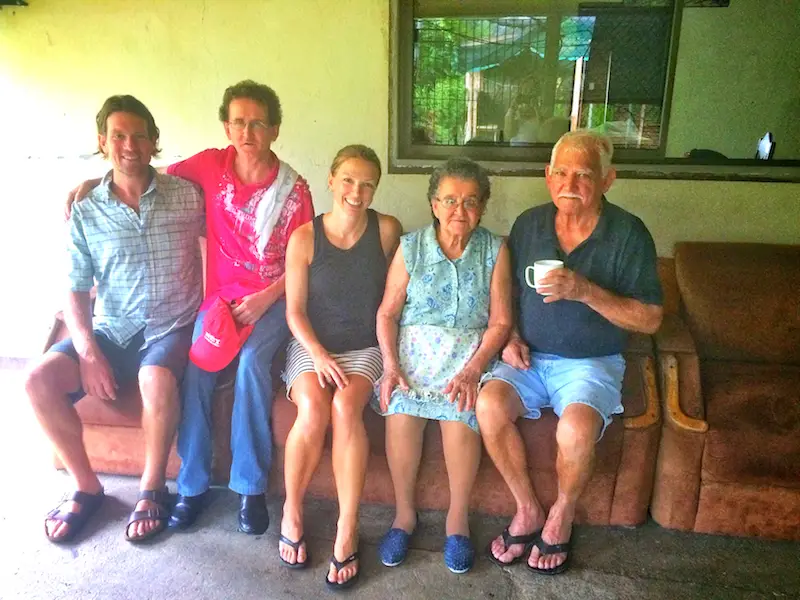 Sámara and Belén Waterfall
When we were planning our trip, Claire had a tough decision between Sámara and Nosara. We knew we had to try to see Sámara for future reference. Sámara is much more touristy than Nosara. We knew we were in a 'golden zone' right away as we passed a foreigner, said "Buenos días" and he ignored us!
We walked the beach in Sámara and I was happy that we had chosen Nosara. I think that Sámara has more in terms of amenities, but the beach was much less impressive. I rented a surfboard for an hour and spent most of my time floating and waiting for a wave. We left early to go visit a local waterfall, hoping that it might make the trip a little more worthwhile.
Reviews of the waterfall suggest that you can bathe in pools and enjoy the water. During this time of the year, with the current weather systems passing through, there were no pools and swimming would have been very dangerous. I'm a confident swimmer even when carrying flip-flops (see We're Going to Need a Bigger Car video), but I was not going to take on that river!
Curú Wildlife Reserve
We didn't make it to too many places this week because of the weather but we managed to squeeze in a visit to Curú Wildlife Reserve on our last day in Jicaral.  Our plan was to take the most challenging trail which ended at a secluded beautiful white sand beach, relax, then hike back.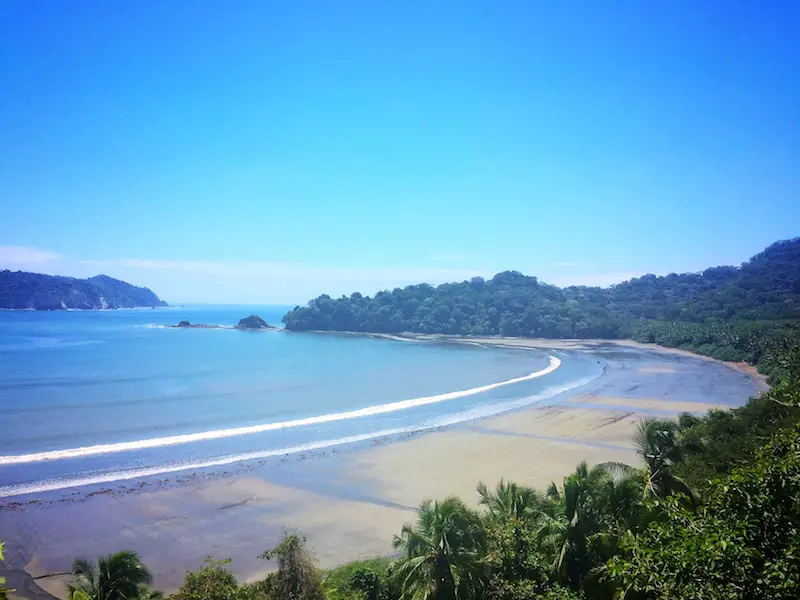 Unfortunately, we got about half an hour into the hike before coming across a barbed wire fence which effectively closed the trail – apparently they weren't too concerned with putting up a sign at the start!  We tried a couple other trails but they all ended with flooding or a washed out bridge.  Curú is quite obviously a beautiful spot in the dry season.  We still managed to see a TONNE of wildlife, but it wasn't our most successful day trip!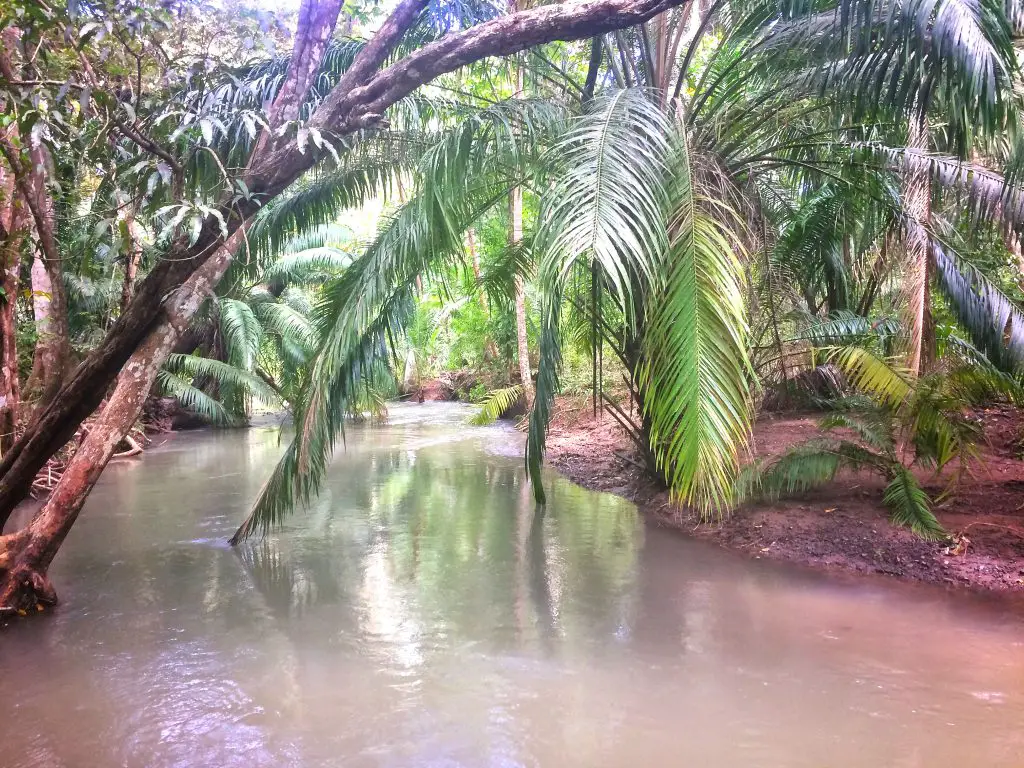 Rain, Rain and More Rain
Many parts of Costa Rica suffered from the effects of Tropical Storm Nate this week. The storm caused serious flooding, road closures and numerous landslides.  People were evacuated and even flights in and out of the airport were postponed or cancelled. Claire read about people in the country who had slept in trees because of the threat of crocodiles after nearby rivers had flooded. Fortunately, for us, we just experienced heavy rain – lots and lots of heavy rain.
Claire had a good outlook on the weather. It gave us a good chance to get some work done and it was better than having bad weather when we were paying to be at the beach! She makes good lemonade!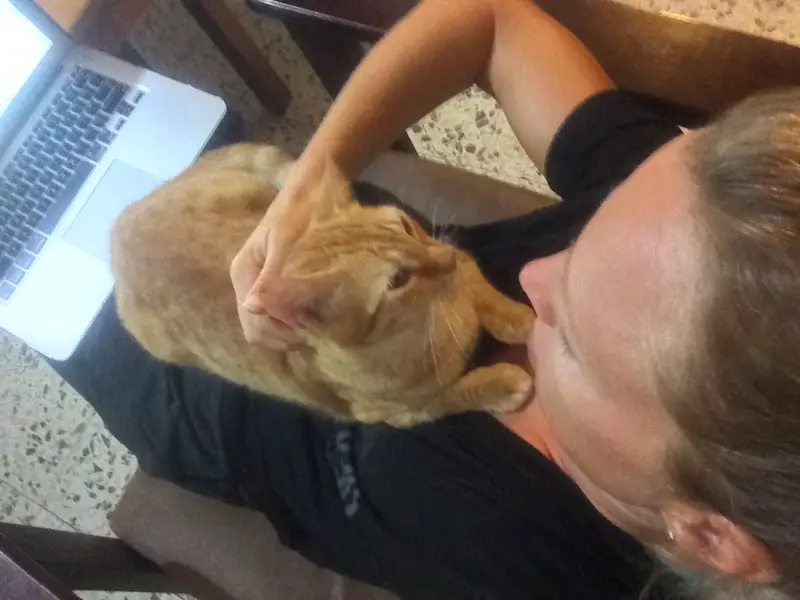 Coconuts from the Beach
After visiting Dominica and 'harvesting' our own coconut water, I have had a bit of an obsession. When we visited Playa Coyote last week, I was trying to knock some coconuts out of the tree when a local came over with a fancy tool and clipped a couple for me. I finally got around to trying to open it.  After cutting my finger using my multi-tool, I decided to use the locals' strategy.  This was my first time using a machete to carve a coconut. I took a lot longer than the guys selling pipas frías on the beach, but I got the job done without any major injuries.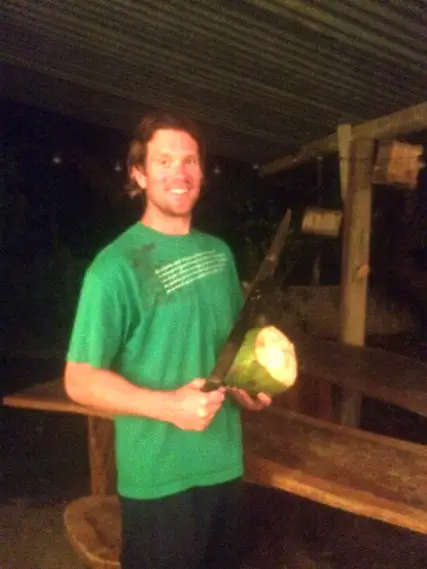 You can read about our adventures from our first four weeks on the road here!