Some links in this post may be affiliate links. If you click on them we may make a commission from qualifying purchases at absolutely no cost to you.  Read our full Disclosure Policy here.
On The Road Again
Sunday morning we got up early to head to the Jacó bus station.  We needed to arrive at the airport for 10:45am, so the 9am bus seemed like too much of a risk.  It is supposed to be a 2 hour journey but I had read to allow at least three hours in case of problems.  So we bought tickets for the 7am bus and walked over to the station at 6:30am.
The bus left EXACTLY on time, we had front row seats and it was a smooth ride with minimal stops.  At $5 rather than the $90 a shuttle would have cost, it was a great decision!  As luck would have it, we had no issues at all and arrived at the airport with hours to spare.  'No problem, time to get some work done', I thought.  However, the guy at the Copa Airlines counter had different ideas.  He told us of an earlier flight with space and asked if we would like to be switched.  This meant arriving over an hour ahead of schedule, and seeing as we didn't have a pick up booked at the other end, there was absolutely no reason to say no.  Perfect travel day!!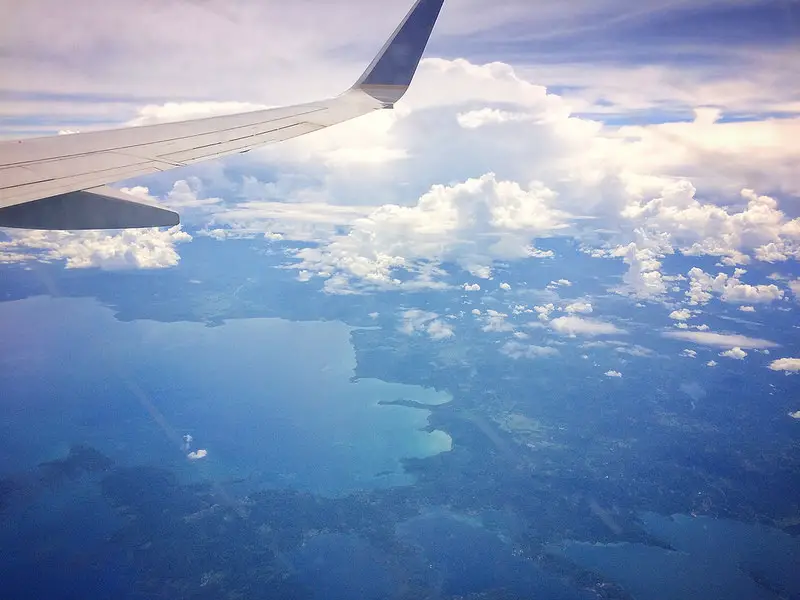 Nueva Gorgona
Arriving in Panamá, we had decided that a taxi was our best option to reach our condo.  We are staying in an area called Nueva Gorgona.  It is the nearest beach area outside of Panamá City, about an hour away.  Close by is the overly 'gringo', gated community of Coronado.  Nueva Gorgona is supposed to be more of a mix of locals and expats living in a public beachfront neighbourhood.
By 4:30pm we had arrived to an amazing view, and a beach volleyball game in progress!  The grocery stores are a good 7km hike away so dinner at the beachfront Tiki Bar was in order and the shops could wait.
The next day we started with a trip to the store.  Little did we know that without a car this is a whole day affair!  A hot and sweaty 4 hours later we returned back to the condo ready for the pool and balcony.  Our only decision was which of the five to choose…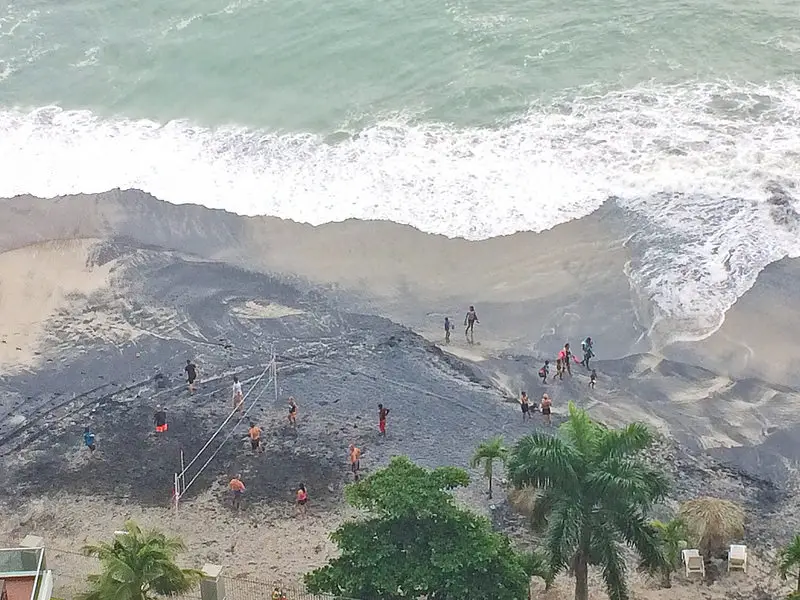 Resort Living vs. Adventure
Our week was mostly spent enjoying the area.  We walked to the stores a couple of times, to Malibu Beach and played some volleyball in the afternoons.  Our trip to Ecuador is now almost entirely planned and booked too!  It's easy to spend the day without leaving the condo complex so we will have to be careful to get out and explore the country still.
Nueva Gorgona boasts quite possibly the friendliest expat population.  Within two hours of arriving we had an invitation to a halloween party.  Tuesday night we had dinner with three other couples in the (amazing) penthouse of tower two.  The girls invited me to join their shopping day in the city on Thursday while the boys came calling for Terry to head out on their own adventure.  Unfortunately, Terry missed his chance as he was in the gym.  Proof that exercise is bad for you!  Almost everyday someone texts to say they're heading to the store in case we need anything.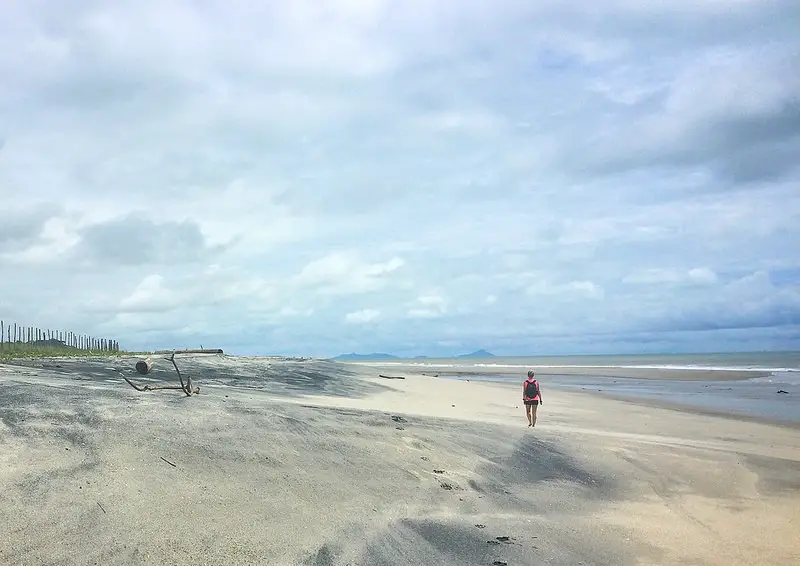 The Big City
Saturday it was time to get out of our comfortable resort-like bubble and explore!  I kicked Terry out of bed We got up early and started for the highway to catch the bus into Panamá City.  The bus goes straight to Albrook Mall taking about an hour and a half, crossing the Panamá Canal at the Bridge of the Americas.  This is the largest mall in Central and South America.  It is huge!  We walked around what felt like most of it, looked at the directory and discovered we had barely seen 1/3.
Anyone who knows me, knows I LOVE subways systems.  We hopped on the metro then walked to Casco Viejo, the old, colonial part of town.  I read of a free walking tour but no one showed up so we wandered around before heading to the Mercado de Mariscos (Seafood Market).  My plan included some nationally acclaimed ceviche but after watching a man gutting a fish Terry had no interest in seafood.  So we found a spot to sit along the waterfront and shared an orange and protein bar.  Yep, we know how to live!
Next on the agenda was to walk the length of the Cinta Costera.  This is a long strip of land bordering the waterfront that includes parks, gardens, sports courts, a walking/running/biking trail and generally just an amazing place to spend some time when you're in a city.
From here, we made our way back to the Metro and back to Albrook.  Terry's running shoes have already given up the ghost so we shopped around for some new shoes and grabbed a bite to eat.  Exhausted, we decided it was time to figure out how to get back home to Nueva Gorgona.  Wandering the enormous bus terminal we bought a ticket on a bus that passes our town and hopped on.  I asked the driver to let us know when we were there but I guess he forgot.  Luckily I was keeping an eye out and so we only had to backtrack a hundred metres or so along the highway!  A 3km trek to the coast and we finally made it home at 9:30pm.
With lots still to see and do, we will be making another day trip to the city soon!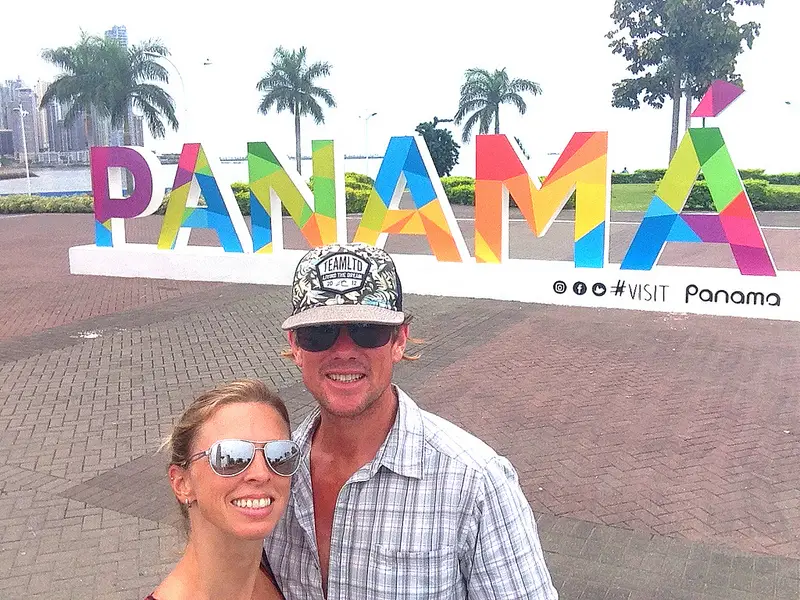 Read our other travel journals from our time on the road here!
We need your help!!  What do we wear to a Halloween party when we are living out of a backpack??  Give us your suggestions below!