How to spend an amazing 2 weeks in Peru: an adventure-packed itinerary!
Some links in this post may be affiliate links. If you click on them we may make a commission from qualifying purchases at absolutely no cost to you.  Read our full Disclosure Policy here.
Peru is one of those few countries that quite literally has everything a person could be looking for.  Beaches, cities, mountains, desert, history, jungle, it even has its own slice of the Amazon!  If you just have 2 weeks in Peru you have some tough decisions to make.
This 2 weeks Peru itinerary should help you with some of those choices.  We have picked some of the absolute best things to do in Peru.  Having spent a month in the country we became well acquainted with the bus system and culture so we aim to pass this information along to make backpacking in Peru easier for you.
Two Weeks in Peru Itinerary
Day One
We'll assume you fly into Lima.  From here get a taxi to the Cruz del Sur bus station and hop on the next bus to Ica.  You shouldn't need to pre-book a ticket unless you are travelling as a large group or on one of the busiest days of the year.  Even then, buses leave so frequently you would likely only have to wait for a few hours at the most.
Four and a half hours later you will disembark in Ica.  Find a taxi for the 10 minutes ride to Huacachina.  This has to be one of the top attractions in Peru.  Huge sand dunes as far as the eye can see with a green oasis in the middle – it's surreal!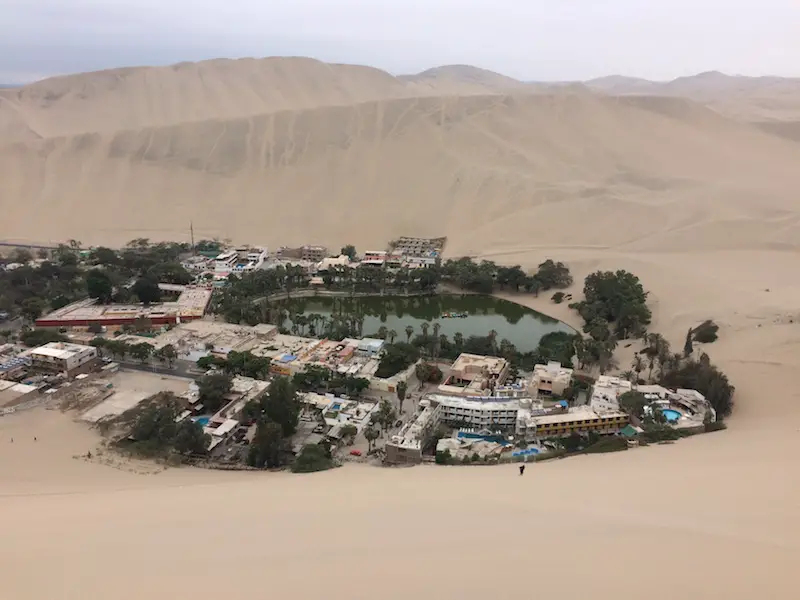 If you arrived early enough, book yourself on a sunset dune buggy tour with sand boarding included.  We walked around and collected prices until we found the best one.  Book this with the Islas Ballestas tour and try to get a discount.  The tours leave around 4 – 4:30 pm and last for around 2 hours.
Day Two
Get up early for your trip to Islas Ballestas in Paracas.  Many people opt to take the bus to Paracas, do the tour then bus to Huacachina.  Honestly, I researched until my eyes bled and I couldn't find anything to convince me it was worth it.  The tour was pretty cheap and we got to sleep in the same bed for two nights in a row.
You have two options: just visit the islands (you can't actually step foot on them) or combine it with time on land and the beach in the national park.  We opted for the boat only trip but the other one looks great too!
Ballestas Islands, Peru are often called 'poor man's Galapagos'.  If you've already been to the actual Galapagos Islands, like we had, you may not feel the need to do this tour.  We still enjoyed it (and saw penguins which had eluded us in the Galapagos!) but probably wouldn't have done it had we not had family visiting us.  Plenty of other tours are available including to the Nazca Lines or Pisco tours you could ask about.  Learn more about the various tours and activities available in Huacachina here.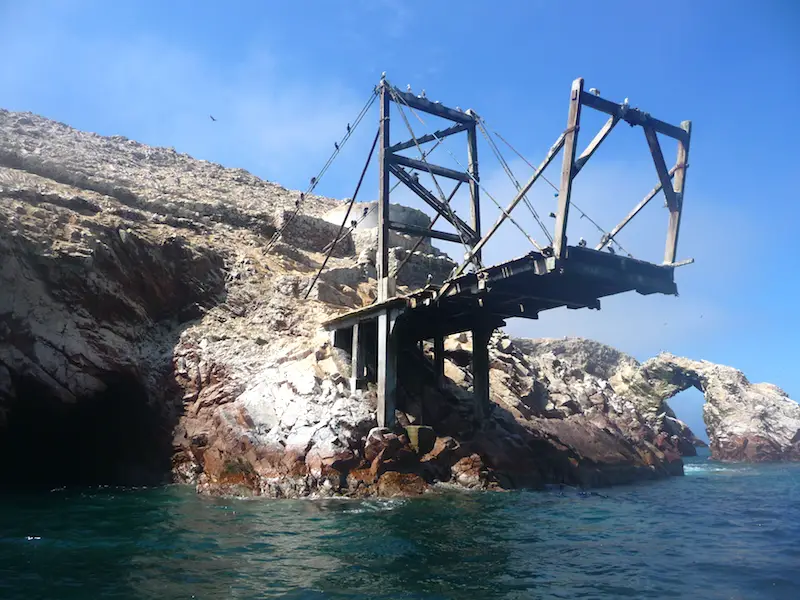 You will return to Huacachina in plenty of time to do the buggy ride if you didn't do it yesterday.  Alternatively, grab some boards and climb up the dunes for some solo boarding.  Or have a nap like my sister opted for!
Day Three
Take a bus to Arequipa, Peru.  This town is a favourite of many people who visit Peru and the area is also the jumping off point for hikes to the famous Colca Canyon.  This is a 12-hour bus ride so this will be a whole day affair.  We recommend Cruz del Sur as the most comfortable bus which also provides food service.  Honestly, their buses were better than any plane I've ever been on!
Even better, take an overnight bus and arrive in the morning.  This will free up a day so you won't have to choose between a 2-day hike to the Colca Canyon and exploring the city of Arequipa.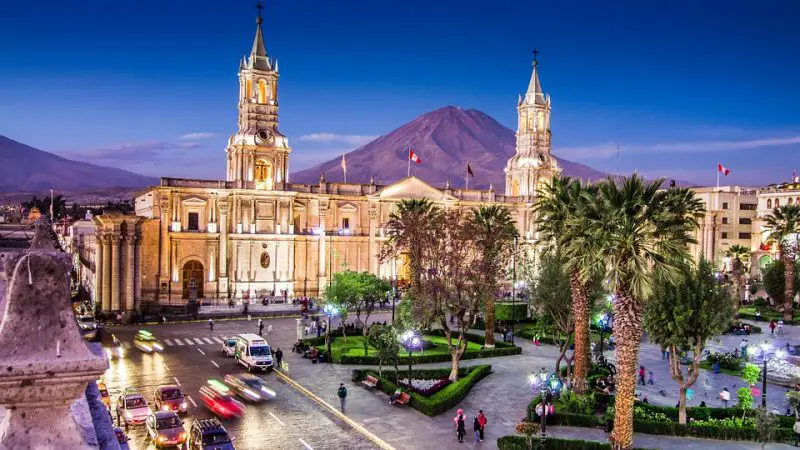 If you did take the overnight bus, spend the day exploring the city, acclimatizing to the altitude and resting after the long bus ride.
Day Four
The major draw to the area is the Colca Canyon, apparently twice as deep as the Grand Canyon.  Aside from the stunning natural beauty of the area, it is also home to great condors.  There are various tour options ranging from one day to three being the most popular.  If you were able to explore Arequipa yesterday, we would recommend booking a 2-day hike into the canyon (unless you really don't like hiking).  If you opted for the day bus, you will have to choose between the two-day hike and having time to explore Arequipa.
Check the details and availabilities of these perfect options now.
Day Five
If you opted for just a day hike to the canyon spend the day exploring the city of Arequipa in Peru.  Otherwise, you'll be enjoying the second day of your trek through the Colca Canyon.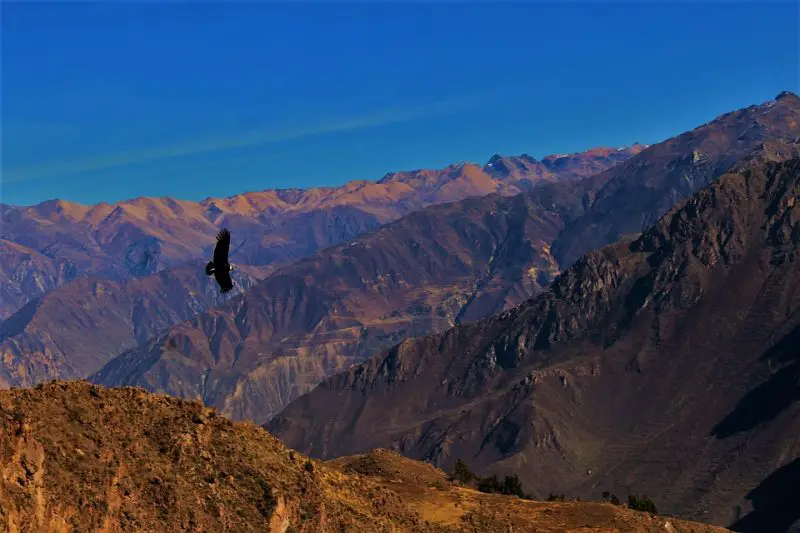 Day Six
It's time to head to Cusco.  The bus ride will be slightly shorter this time at 9 hours, but it will still take the day.
Day Seven
Relax around town.  Altitude sickness in Peru is no joke so take some time to acclimate.  Drink lots of water, drink coca tea, remember to eat and you should be fine.  If you're concerned, you can get a prescription of altitude sickness pills.
There are many things to do in Cusco, Peru and the best thing on your first day is to just explore the town.  Here is a good list of some of the more notable places in the area.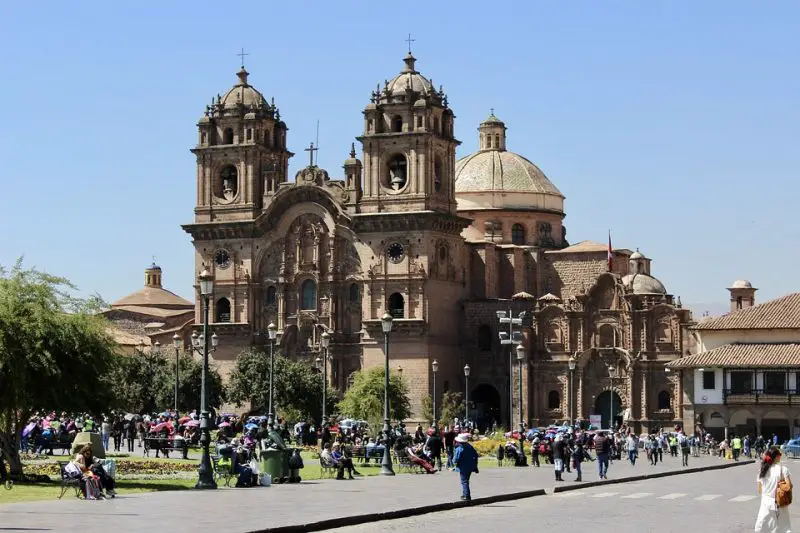 Did you know that Cusco is a big party town?  If you're full of energy, this would be a good night to explore the night life a little.
Day Eight
Explore the area around Cusco.  Depending on what most interests you there are a number of options.  The Sacred Valley is one of the most popular ancient sites in Peru.  Book a tour for the easiest way to get there and back in a day.  Check prices and availability now.

Day Nine
If you've got plenty of energy how about a day trip to Rainbow Mountain?  If not, there are plenty of other options to explore in the area.
Alternatively, two day Machu Picchu options are a great way to go.  This tour takes you through the Sacred Valley on day one before taking the train to Aguas Calientes and Machu Picchu the next day.  Find more details about it here.  
This tour includes hiking 8km of the Inca Trail on the first day then spending the night in Aquas Calientes before visiting Machu Picchu early the following morning.  Find out more information now.
Day Ten
Machu Picchu!!  Depending on what option you chose yesterday, you may already be in the middle of a tour.  If not, you have various options.  It's a good idea to spend the previous night in Aguas Calientes to get an earlier start to the ancient ruins but the choice is yours.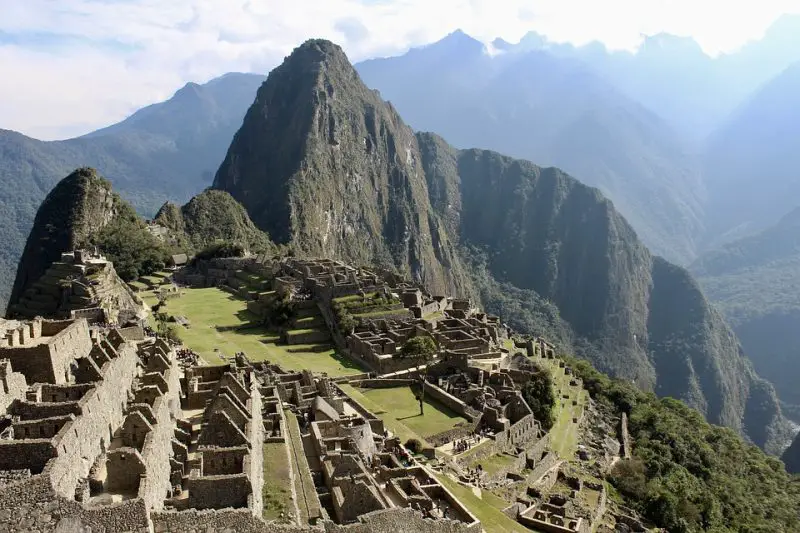 Your day will be taken up with exploring this amazing site, built by the most famous of the many ancient civilizations in Peru, the Inca.  Return to your accommodation in Cusco for the night and dream of your day at the number one attraction in Peru.
Day Eleven
Fly to Lima.  If you get in early enough you could explore either Barranco or Miraflores in the afternoon.  This would free up part of day thirteen for a morning tour to the impressive ancient ruins of Pachacamac just south of Lima.
Here you will find evidence of at least three different ancient civilizations that each built on top of the previous one's work.  We took a tour with Haku Tours and would highly recommend them.
Day Twelve
One of the best things to do in Lima, Peru is to visit the centre of the sprawling city.  Spend the morning in the colonial centre of the city.  Time your visit to watch the changing of the guard at noon outside the presidential palace.
From there, wander over to the Basilica de San Francisco and the catacombs below.
Walk south toward Plaza San Martin, a great place for a rest.  Make your way down to Parque de la Reserva.  It's a nice walk through a number of park spaces but you could grab a taxi if you prefer.
When the sun begins to set, find a spot to watch the light show on the main fountain in the park.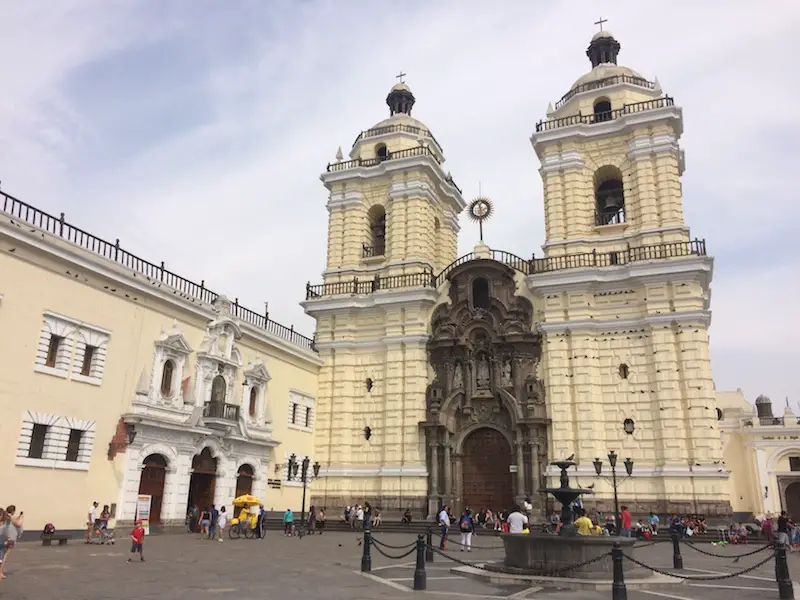 Day Thirteen
Begin your day exploring Miraflores.  This affluent neighbourhood is full of tree-lined avenues and parks.  It is also home to Huaca Pucllana, its very own pre-Incan ruins.  Honestly, unless history is your thing, this one can be missed.
Start at Kennedy Park and check out the resident cats, various cafes and churches.  From here wander down to the Malecon.  Here you will find the Parque del Amor, the launching point for paragliding tours and miles of walking paths, sports area and open park space.
This is definitely one of the most used green spaces we've seen and, therefore, one of the absolute best things to do in Miraflores, Peru.  On any given day you will see various sports, people running, biking, working out, yoga, slacklining and so much more.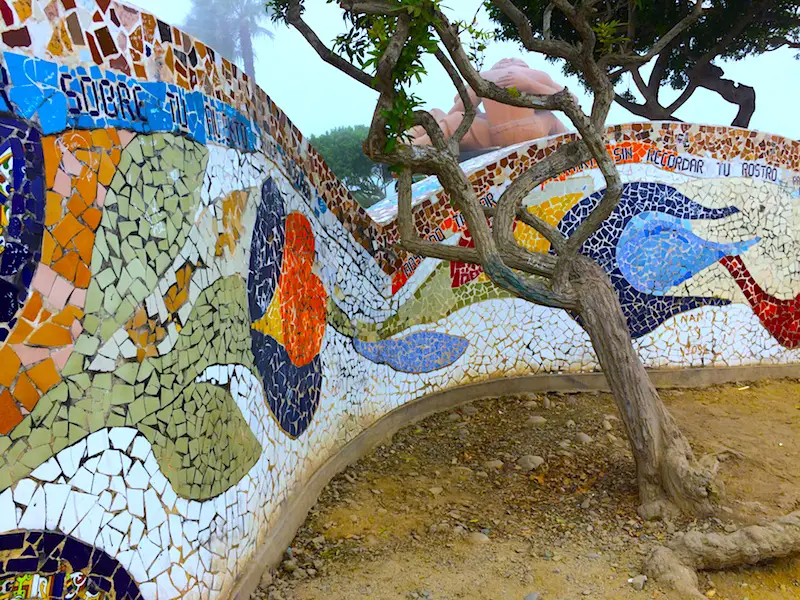 Walk south either along the top or bottom of the cliffs towards Barranco.  If you are coming from the beach level, walk up the staircase that leads you under the Bridge of Sighs.  This is a neat walkway usually filled with bohemian people selling their handmade items and a few restaurants.
To get to the main plaza you will need to turn right but just wander the streets.  Admiring the architecture and street art is really the main goal here.
The main plaza comes alive in the evening and there are numerous delicious restaurants all around the area.
Day Fourteen
Get to the airport and fly home with a lifetime's worth of amazing memories from your adventures in Peru!
Peru Itinerary: 2 Weeks
So, what do you think?  It's possible to fit more into your two weeks if you feel the need.  Puno and Lake Titicaca can be squeezed in between Arequipa and Cusco.  The Inca Trail can be squeezed into your time in Cusco if that's a must for you.
However, the great thing about this Peru itinerary is that it allows you to see some of the best attractions in Peru, join in some of the ultimate activities in Peru but doesn't send you home more tired than when you left.
How much does Peru cost?
A huge bonus is how incredibly cheap Peru can be.  While you can always find ways to spend if you try, it's really easy to stretch the budget here.  Because of visiting family, we rented a three-bedroom apartment in Lima's Barranco district.
We were walking distance to everything and had a huge rooftop terrace to ourselves and it cost around $50 a night!  Check out this Peru budget to give you a better idea of what to save.
Let us know what you think in the comments below.  Have you been to Peru?  What were your favourite parts?
If you found this post useful, consider helping us out by sharing it!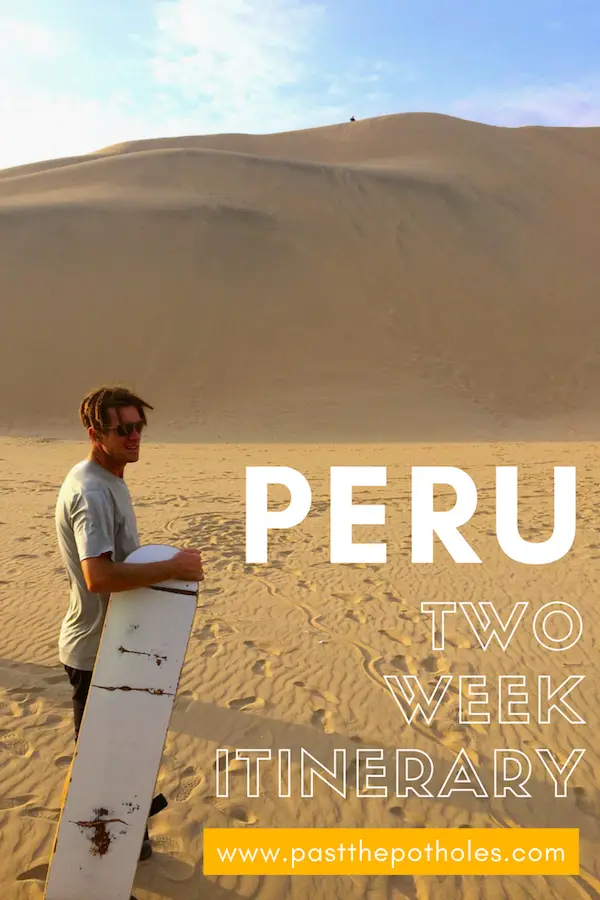 ---
Return to our Destinations page for more inspiration.