Out of the Ocean and into a Volcano!
Some links in this post may be affiliate links. If you click on them we may make a commission from qualifying purchases at absolutely no cost to you.  Read our full Disclosure Policy here.
Hiking in El Valle
We are masters of the public transport system now. Not quite, but we're using it and getting places – cheaply!  From our building, we only have to walk a couple hundred metres to the bus stop. From there we pay 30¢ to get to the highway. The collectivo drops us in front of another bus stop and we flag down the bus that is heading in our direction. If we're lucky, we catch a bus that will take us directly to the town we want to visit. I'm impatient, so we typically catch the first bus that comes along and get as close as we can.
Our bus to El Valle was $2.00 each and it dropped us off in the middle of the town right in front of the market. The driver kindly told us to be back before 4pm as that would be the last direct bus of the day. We quickly scanned the market and headed down the road to the beautiful mountains of El Valle.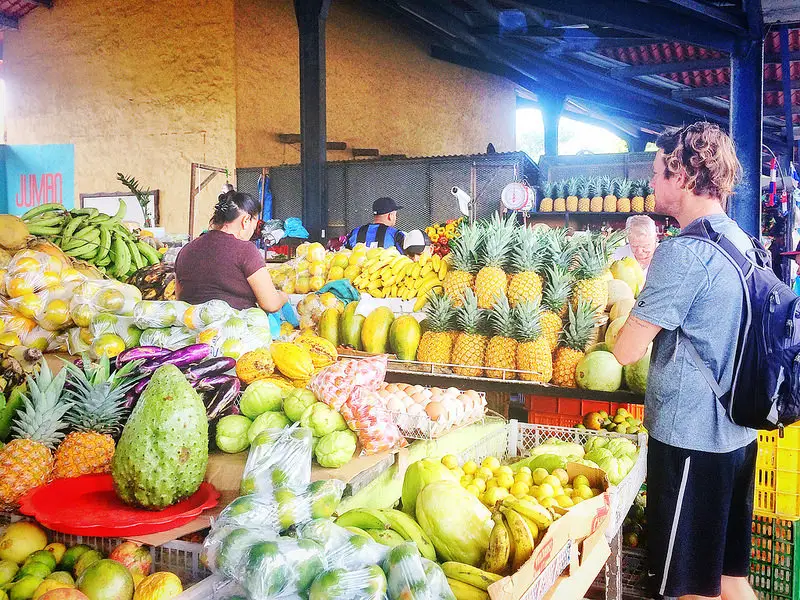 El Valle is the largest town in the world that is built inside the caldera of a volcano.  This means that, after a scenic drive, you find yourself in a pretty little town that is dripping with nature and surrounded by mountains.  While walking through town, we saw some 'stray' dogs patrolling the neighbourhood. We didn't pay much attention as this is commonplace in this part of the world.
However, shortly after heading down the road, one particular dog with a noticeable limp starting following us. We passed a bakery that sent delicious scents of cinnamon out into the streets, a canopy adventure tour company, and a waterfall.  As we walked we saw a sloth and a toucan, both right off the side of the road.
We deliberated between climbing the Montaña de las Cruces and Cerro Gaital. We decided on the Montaña de las Cruces and walked right past the trailhead for Cerro Gaital, figuring that would wait for our next visit.  Claire had read reviews that the hike was roughly 3 hours out and back. We're planning to return to see La India Dormida, the most popular hike, on another day. To my surprise, our 'guide' was still trotting along beside us.
Continuing up the road, we hiked up the sides of the caldera and as we reached higher altitudes it appeared more and more like a cloud forest.  Every tree was covered in bromeliads, orchids and whatever other plantlife doesn't need soil to live.  We also passed a massive chicken farm before arriving to the entrance to the trail…for Cerro Gaital. I'm not sure what happened to those crosses but we figured we should cut our losses and head up this trail.
Unfortunately, the entrance appeared to be closed. Fortunately, the trail around the entrance showed more signs of use than the entrance itself.  Just a quick duck under the barbed wire (that wasn't sending a message, right?) and we were on our way! I'm starting to notice a pattern.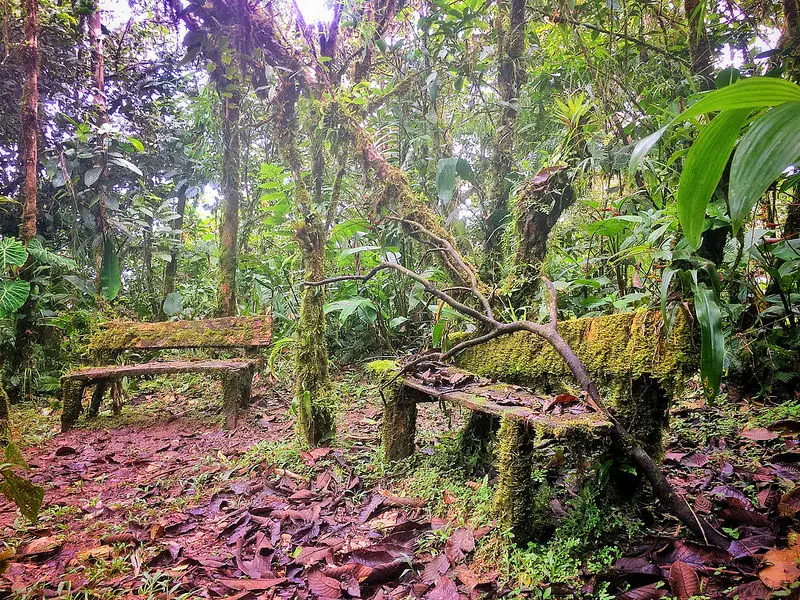 The trail up to the lookout is fairly well maintained including steps and rest stops in some places. However, I'm not sure we would have felt the same way if we had been caught in heavy rain. It looked like the trail could quickly transform into a stream. Arriving at the lookout, we saw a broken viewing platform which would have given us slightly better views of the town and the Pacific Ocean in the distance. Thankfully, the brush was low enough for us to enjoy the view without vertical assistance. While we took a break and had an apple, our 'guide' curled up for a nap.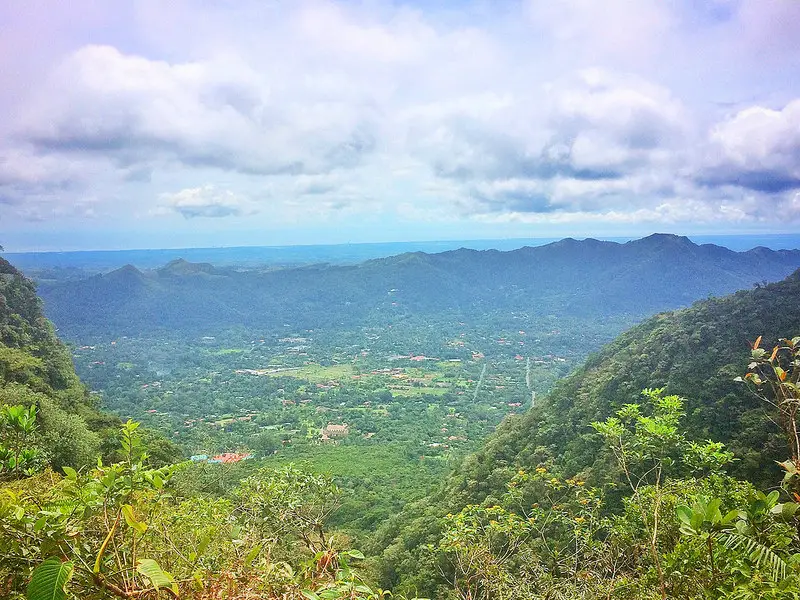 After the lookout, there is a trail that becomes quite overgrown and more difficult. Determined that we could turn an out-and-back hike into a loop, we soldiered on climbing and crawling as necessary. When we reached a point where the brush swallowed the trail and we couldn't see any indication of a descent, we turned around. Rain was coming and the last bus to Panama City was leaving in a couple of hours.  I knew I should have bought a machete!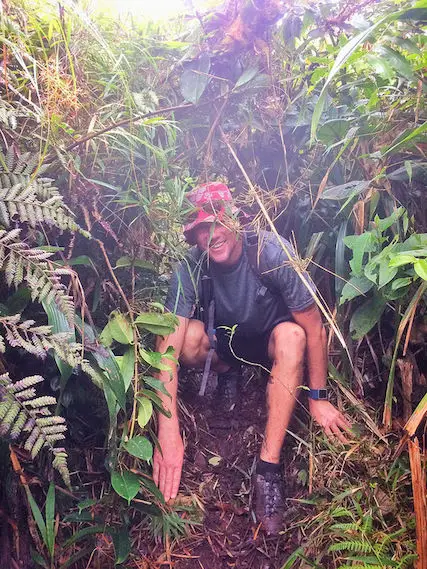 The walk back to town was somewhat uneventful. Claire's rain jacket made an appearance, but not for long as the clouds passed rather quickly. We were once agin greeted by the bakery and we felt we deserved a treat for our efforts. Two donuts and some sort of flaky pastry proved to be excellent choices and the cost was $1.20!  Our guide was very happy about our choice despite being asked to wait outside a few times. We didn't divide our treats equally, but he did pretty well.
While waiting at the bus stop, a local street vendor was opening his doors for the afternoon rush. He barely had the latches in place before we were ordering a smoothie, a burger, and a hot dog. I should have known better than to order a burger, but I lose focus when I'm hungry. Our guide got most of the burger and didn't complain at all. Claire's hot dog was good and the pineapple smoothie was excellent. $5 reasonably well spent.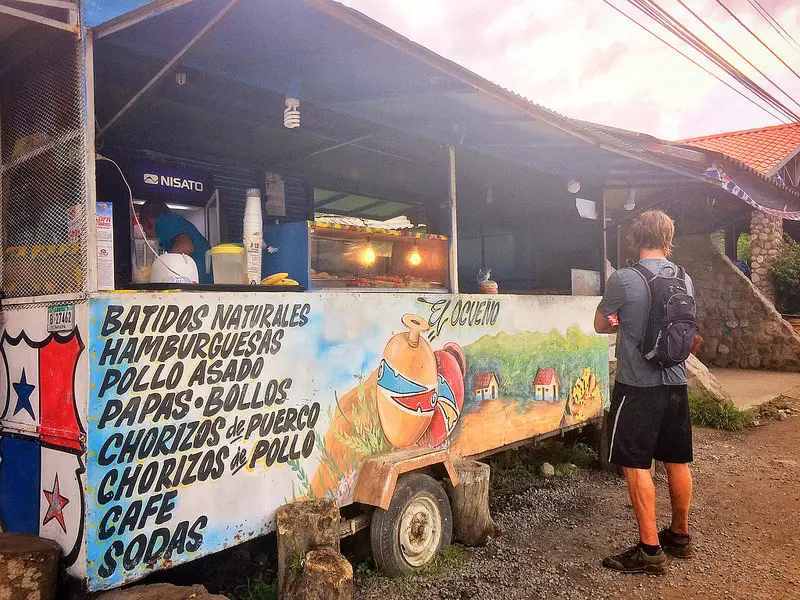 Our slightly detoured hike brought us back to town after the last bus.  Our return trip, therefore, required three buses and cost slightly more but it's an easy trip to make and no real hassle switching buses.  We returned home tired, muddy and slightly soggy but looking forward to our next visit..
Returning to Playa Malibu – the hunt for surf
We've already walked down to Playa Malibu, but decided to check it out again. The weather report suggested that a storm was coming and waves in the area would be much larger than we had seen. Malibu is the beach that advertised good surfing in the area. The fact that there isn't a surf shop anywhere on the beach and that we haven't seen one person with a surfboard has led us to believe otherwise.
Malibu beach is beautiful and for the first time, we actually saw some people trying to surf. Despite their lack of success and/or ability, it gave me hope that surfing might be an option here. If I go back there and see people surfing good waves, Malibu will become a strong contender for long term visits!
Trip to Punta Chame
Claire had been told that this trip was easy by bus: take a bus to Bejuco, then the collective to Punta Chame.  Expecting to get off at the corner of the two highways, our 'pavo' herded us off at a bus stop well before the Punta Chame turnoff and mumbled something that would have been incomprehensible to any of the gringos I've met here.  Fortunately for us, a local construction worker heard that we were heading to Punta Chame and showed us the way to the pickup area for the collective bus.  There is no way we would have found this place on our own! The bus stop was a five minute walk back, on the other side of the highway, and tucked in the back corner of a plaza.
When the bus arrived, it was clear that it was going to be a tight fit. It is easy to become annoyed with people's behaviour, but there is no point. The Panamanians subtly push and wiggle their way in front and around in every situation. Claire does well with this having grown up in England (read attending Take That concerts – Claire). I end up being the last one in and last one out most of the time!  When they smile at me as I'm standing in the aisle, I smile back and wonder is it better to stand or is it better to have a seat and have to stare at some stranger's butt for the entire ride.
The bus drove us down the point and we were dropped off at the end of the road, literally. We started on the laguna side which is known for kiteboarding and windsurfing. There wasn't enough wind for kites and the the beach was pretty quiet. We walked down to the area where local fishermen were bringing in the catches of the day. There really are plenty of fish! The laguna side is strewn with garbage. It didn't take long for us to head to the ocean side.
After a few minutes of walking, we arrived in a different world. The waves are nicer, the beach is nicer, and there are hardly any buildings or vehicles in sight. The exception to this is the skyline of Panama City on the horizon. A sun worshipping beachgoer would be in heaven here. We stopped for a snack, but carried on walking around the point because I wanted to see Nitro City.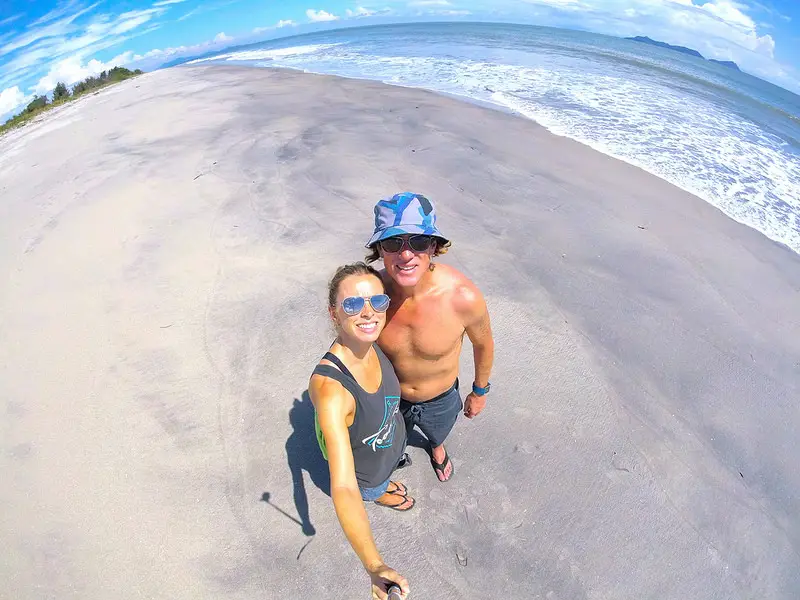 Claire had read about Nitro City Action Sports Resort being endorsed by X-games athletes for adrenaline junkies on vacation. If money and time are not a concern, you can use the dirt bike track, book wake boarding sessions on the man-made lake, take a kite surfing lesson, go to the skatepark, play volleyball, workout, paddle board, play video games, or just hang out by the pool.  All without leaving the hotel!  We didn't stay late, but I assume that the nightlife at Nitro City can be a lot of fun. I would love to spend some time there taking advantage of all the amenities!
We caught the bus back to Nueva Gorgona and popped into a mini-super for some produce. When Claire left the store, I ambushed her with an arepa rellena from a street vendor. So Good!!! One was more than enough for both of us. Next time, maybe we'll hit the Taco Truck..
Apparently, it is possible to screw up Chocolate Chip Cookies
This week I made some less than delicious chocolate chip cookies. We're sugar fiends so they didn't go to waste. I blame our friend Laila for reminding me how much I enjoy desserts!  NOTE: in the absence of chocolate chips I used Hershey's Kisses.  It seems they don't melt when put in the oven – who knew?!  Next time I'll make oatmeal cookies and eat the Hershey's Kisses while they bake.
That's pretty much our week.  With Monday and Friday being more Panamanian holidays, we managed to get out and about in between the madness on the highways.  Just one week left and still so much to do.  We are planning on another trip to El Valle and a return to the city.  We will be leaving much more to see and do further afield for our next trip to Panama.  Perhaps for when we live here…?
Look for more detailed posts on Panama here!
Want to read our journey from the start?  Click here to read more.