Two Weeks in the Yucatan Peninsula – Itinerary for an amazing trip!
Some links in this post may be affiliate links. If you click on them we may make a commission from qualifying purchases at absolutely no cost to you.  Read our full Disclosure Policy here.
Imagine spending your morning exploring ancient Mayan ruins, sweating as you climb a pyramid in the tropical sun, then cooling off with a swim in a cenote or heading straight to a picture-perfect Caribbean beach.
Sound like a dream? It doesn't have to be.  We recently spent a little over 2 weeks in Yucatan Peninsula and were able to do all this and more!
Mexico is an incredible country with so much to offer.  However, it is huge!  This makes it impossible to see everything in one visit.  Trust us, we lived in Mexico for two years and still have so much more to discover!  (How this is our first Mexico post, I have no idea…).
2 Weeks in Yucatán
If you are hoping to see Mexico in 2 weeks, I'll have to crush those dreams right now.  However, keep reading for our tried and tested Yucatan 2 week itinerary where you WILL get a great sense of this amazing part of Mexico!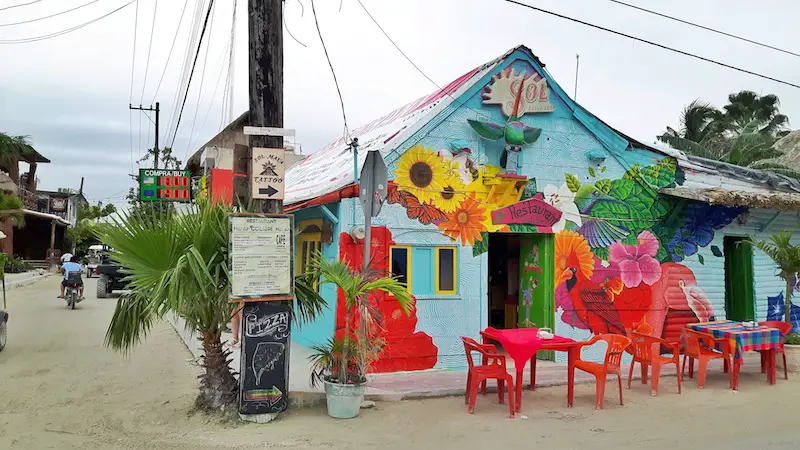 With the convenience of Cancun International Airport, the Yucatan Peninsula is a perfect entry point to the country and there is plenty to do in the states of Quintana Roo and Yucatán to keep you busy for weeks.  Our two week Yucatan road trip will allow you to see the best it has to offer.
Where is the Yucatán?
The Yucatán Peninsula is the southeast portion of Mexico, sandwiched between the Gulf of Mexico and the Caribbean Sea.  When most people talk about 'the Yucatan' there is often some confusion as they are likely actually talking about the Yucatan Peninsula.  This includes the states of Yucatán, Quintana Roo and Campeche.
Mérida, the Gulf Coast and Valladolid are in Yucatán state.  The Caribbean coast, including Cancun, Playa del Carmen, Tulum and the Riviera Maya are actually all found within the state of Quintana Roo.
Yucatan Peninsula Road Trip Map
All the places listed in our Yucatan itinerary are shown on this map.  Click on each icon for more information.  They are colour coded according to which city they are best accessed from.
How to get around the Yucatan Peninsula
The best way is by car.  This will allow you to move at your own pace and according to your own schedule.  Many of the top places to visit in Mexico are outside of the main towns and you will be able to see more if you have your own vehicle.  We rented a car on our first trip to the Yucatan Peninsula and it was great.
The roads are easy to drive and well-signposted.  Traffic laws are more of a suggestion here, however, so brush up on your defensive driving and stay aware!  Read this guide to renting a car in Mexico.
If you don't want to drive, ADO buses are a fantastic option and will take you to all the places listed in this itinerary.  They are frequent, comfortable, safe and cheap.  On our recent road trip around the Yucatán and Quintana Roo we opted to take buses instead and found it to work out very well.
There are local colectivos (shared minibuses or taxis) that will take you to most nearby locations.  We also stayed in places that offered free bikes and one day we rented a scooter!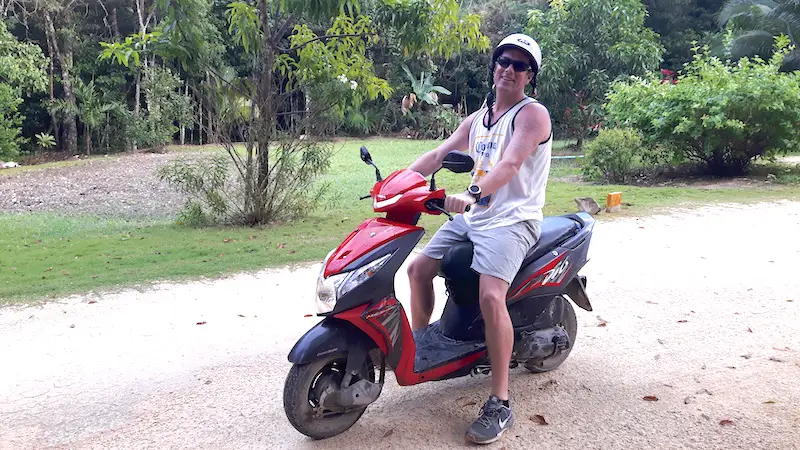 ---
Two Weeks in Yucatán Itinerary
Spend 2 weeks in Yucatán and you will be able to experience history, culture and still have plenty of time to relax on beautiful beaches.  We loved every stop along this road trip as everything is just a little different so we never got bored.  While there is a lot of moving around, none of the journeys are too long and we never felt rushed.

Day 1 – Arrive in Cancun, bus to Tulum
Head straight to Tulum when you arrive.  If you are renting a car the airport is already south of the city so just turn right onto the highway and go!  For those travelling by bus, ADO buses run right from the airport and so make a quick and convenient way to get straight to your destination.
Once in Tulum, spend the rest of the day discovering the town and finding some food.  Rest after your flights and prepare for a busy two weeks in the Yucatan Peninsula!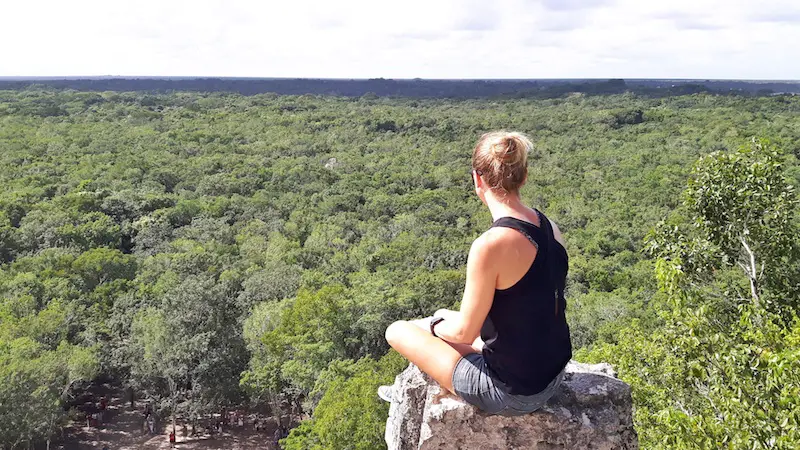 Tulum is a great base as it is fairly centrally located between a number of natural and historical sites.  It won't take long to notice the sheer size of Mexico while planning your Yucatan itinerary.  2 weeks will require planning if you want to see and do everything on your list!
Day 2 – Cobá Ruins and Cenotes
Get up early and drive or take the bus to Cobá ruins about an hour outside of town.  We rented a scooter for our visit here but I wouldn't necessarily recommend that – it's a long ride and we ended up with pretty sore butts!
The ruins are buried in the jungle and are less visited than many others.  However, they do still get busy, particularly around the main pyramid that you can climb.  We also caught sight of some monkeys playing in the trees above us so be sure to look all around you.

READ THIS POST:
The Best Travel Backpacks + Packing Tips and List
After a sweaty morning in the jungle, head to a cenote to cool off.  Cenotes are natural sinkholes into underground rivers and are an absolute must-visit in any Yucatan itinerary.  There are three cave cenotes very close to the Cobá ruins that are a great choice particularly if you took the bus to the ruins as you can rent a bike and go there solo.
Spend the Afternoon at a Cenote
If you drove yourself, you have more options.  A number of cenotes can be found right on the road between Cobá and Tulum.  Gran Cenote, Cenote Calaveras and Cenote Carwash are all loved by visitors.
Gran Cenote can get very busy but its popularity is well-deserved – it is beautiful.  Cenotes Calaveras are less busy but also less impressive from above and more suited for diving.
Our hosts recommended that we visit Cenote Sac Actun.  It was a longer drive than some other options as it's in a different direction from town but was a great suggestion.  It's a cave type of cenote that requires a guide for a tour.
Discover our list of the best cenotes here.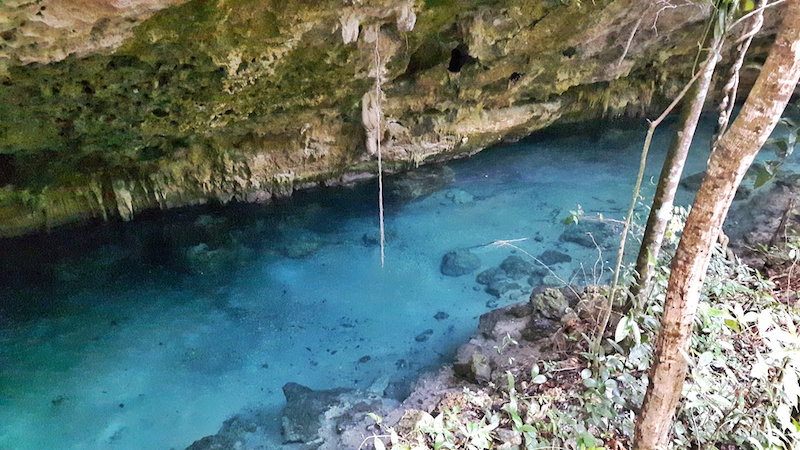 Day 3 – Sian Ka'an Biosphere Reserve or swim with turtles in Akumal
Tulum is an excellent base for a number of day trips.  Depending on your preferences, one option is to go to Akumal and swim with turtles.  This hasn't been a secret for a very long time so expect plenty of other people with snorkels.
We visited almost 10 years ago but I've heard that it is now mandatory to have a guide due to the number of visitors they now receive.  Have you been?  Can you update me?
Another great day trip is to Sian Ka'an Biosphere Reserve south of Tulum.  Declared a World Heritage Site by UNESCO, this huge area is home to thousands of flora and fauna and even its own Maya ruins site.  Various tours are available including wetland boat rides and snorkelling in the lagoons.
Check out these tours now!
Day 4 – Tulum Ruins and Beach
Tomorrow you'll be heading inland, so spend the day on the coast.  Start your day with a visit to the Tulum ruins, nestled right on the cliff edge.  Go early, not only does it get busy, it gets incredibly hot with very little shade.
When you've finished exploring it's an easy walk to Playa Paraiso, the public section of Tulum's beach.  There are a few beach restaurants for lunch and plenty of white sand to lay back and relax for the afternoon.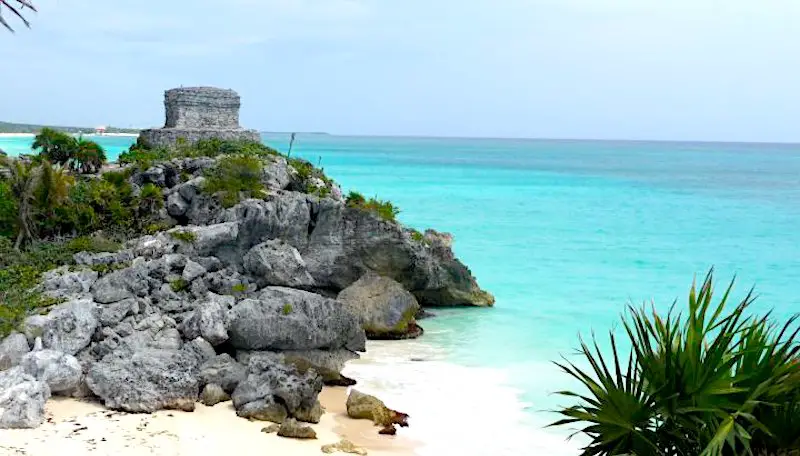 Day 5 – Explore Valladolid
It's a pretty short bus ride to the colonial city of Valladolid so there will either be plenty of time to enjoy the last of Tulum (perhaps one more cenote, or a little more time by the hotel pool?) or more time to wander the streets of Valladolid.
Valladolid is a great city to just wander and enjoy the architecture and atmosphere.  Head to the central plaza in the evening for a Maya performance and mix with the locals.  It quickly became one of my favourite cities in Mexico!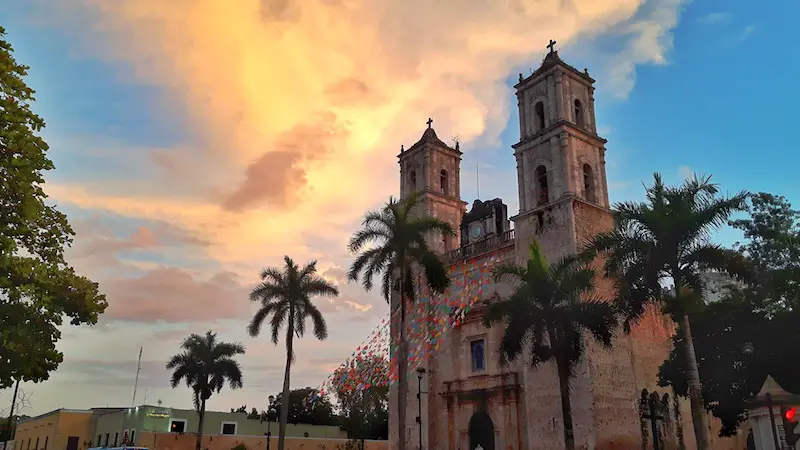 Day 6 – Ek' Balam and Las Coloradas
If there is a day you want your own car, this is it!  However, if you don't it can still be done.  If you're not bothered about visiting Rio Lagartos and Las Coloradas, take a colectivo (shared taxi) to the Mayan ruins, Ek' Balam.  They leave when they have four people (at $50 pesos each) but you can pay for the missing people if you don't want to wait.
To go all the way to Rio Lagartos the best way is to hire a taxi for the day.  We were quoted $1200 pesos for this which is actually a pretty decent deal (which gets better with more people…).
Get to Ek' Balam early, then continue to the coast.  Take a boat tour at Rio Lagartos to see the largest flamingo colony in Mexico and then drive along the coast to Las Coloradas for the pink lakes.
We didn't make it here as I didn't find out about the taxi until too late so let me know how it is if you make it!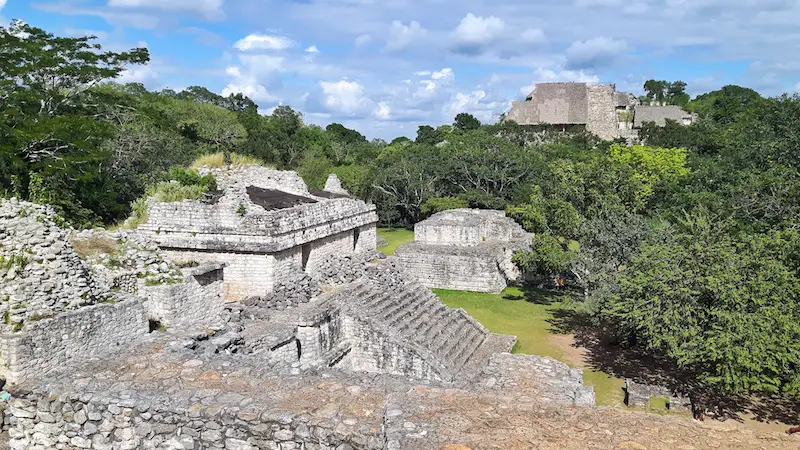 Day 7 – Chichén Itzá and a Cenote
Chichén Itzá has never really appealed to me.  I know it's one of the New Seven Wonders of the World but all I pictured was crowds of tourists.  On our first trip to the Yucatan Peninsula, we made no attempt to visit.  However, Valladolid is so close and, despite the tourists, it's earned its name honestly.
Surprisingly, it is almost the same price as the much smaller Ek' Balam which kind of sealed the deal for me.  I can now say it is worthy of the crowds and I wish we'd gone 10 years ago when they were likely much smaller…
Make the most of your visit with this self-guided tour with GPS map and audio narration – through an app on your phone!
Skip the Crowds at Chichen Itza?
Get up early and take the colectivos to Chichén Itzá which wait across from the ADO bus station.  They start at 7 am and you want to be in one of the first.  The gates open at 8 am and the crowds begin immediately.  Don't believe people that say you can beat them!
We arrived at 8:15am and joined the line to buy tickets while watching the four tour buses that were already there walk right in.  However, when we left a couple of hours later the four tour buses had multiplied to at least 20!  It's a large site that can handle a few buses without feeling crowded.
Buy Skip-the-Line Tickets for Chichen Itza before you get there! It will cost a little more but if you can't arrive at or before the gates open, this may be worth it.
Return to town and visit a cenote.  Most tours to Chichén Itzá also visit Cenote Ik-Kil which is close by.  It looks beautiful but incredibly busy.  We skipped it in favour of the lesser known Cenote Oxman.
This requires a 5km walk, bike ride or taxi out of town.  In addition to the open cenote, there is a pool and bar/restaurant.  The rope swing into the water sealed its fate as Terry's favourite spot!
Tip:  Plan your itinerary so you don't visit Chichén Itzá on a Sunday.  Mexican citizens have free entry into the ruins on Sundays so it is busier than normal.
If you're feeling a bit lazy after the morning at Chichén Itzá ruins you could always go to Cenote Zaci right in town.  We had heard mixed reviews about this one but found it to be quite nice and the water as clear as others.
The on-site restaurant is a great place for traditional foods and if you spend $100 pesos you can enter the cenote for free.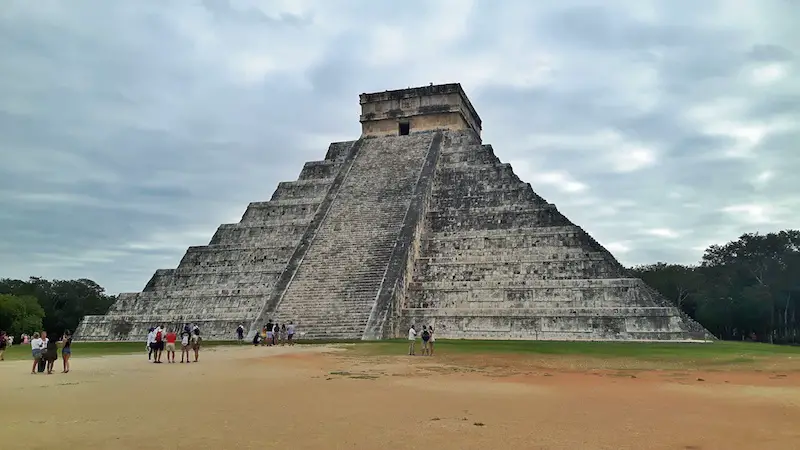 Day 8 – Ride a bike out to Dzitnup and Samara cenotes, wander the town, buy gifts
Spend your day wandering the town of Valladolid.  There are a number of artisan shops where you could buy any gifts or souvenirs you wanted.
Right on the plaza is a great leather shop with a large selection of sandals and bags.  Peek into the back room to watch the men making the items for sale.  Spend a little time enjoying the pool at your hotel in the afternoon.
Rent a bike and visit the town of Dzitnup where there are two cenotes almost side by side.  Alternatively, if you skipped Cenote Oxman yesterday, this is a great opportunity.  Cenotes are definitely one of the many natural highlights in Mexico, no Cancun itinerary can be without at least one!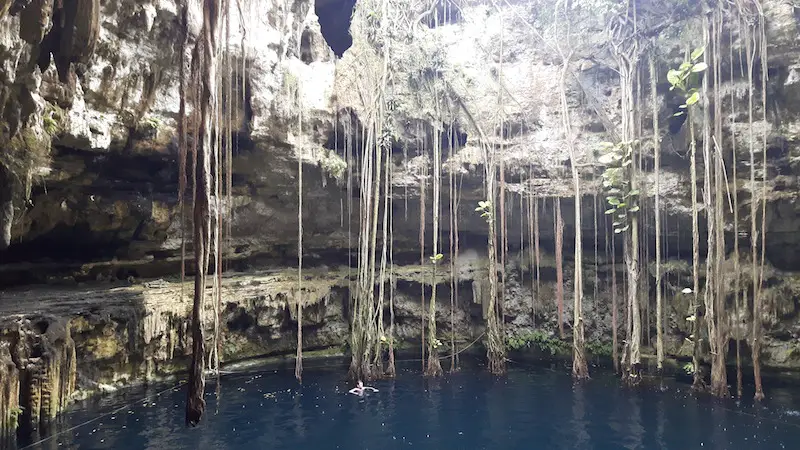 Day 9 to 13 – Get to the beach!
Depending on your personal preferences, there are a few beach options that we would recommend.  All can be easily reached from Valladolid and almost all have easy access to Cancun airport for your flight home.
Isla Holbox
This was our choice.  If you are visiting from May to September, this is a great option to swim with whale sharks.  It's a little less touristy and developed than Isla Mujeres but it is still very much on the tourist trail.  Activities available in Holbox include boat trips into the nature reserve, kitesurfing and relaxing on the beaches.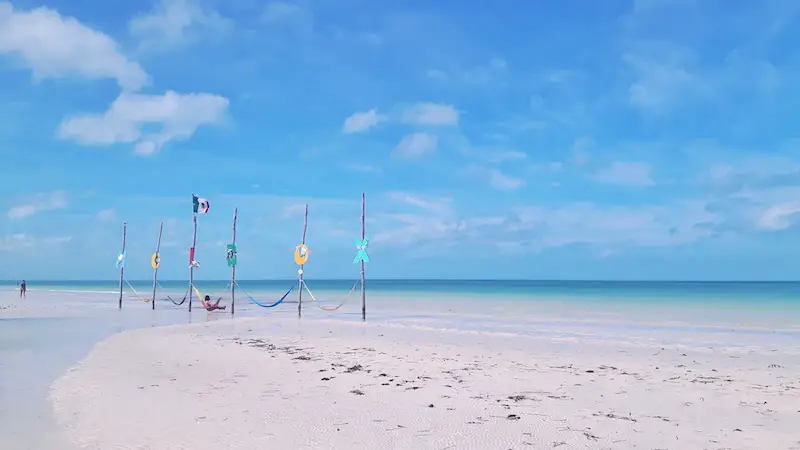 Playa del Carmen
If you're looking for a bit of sophistication with your picture-perfect beach, look no further than Playa del Carmen.  Fifth Avenue is the main tourist strip.  It's an upscale road with stores, restaurants and pretty lights strung in the trees.  The beaches here are among the best and it's a short ferry ride to Cozumel for world-class snorkelling, Scuba diving and more. Discover more things to do in Cozumel here.
Isla Mujeres
Just a short ferry ride from Cancun, Isla Mujeres is a quieter option to Cancun.  However, it is still popular with tourists and has good nightlife.  Whale shark tours also leave from here and the island has great beaches, snorkelling and even an underwater sculpture park.
El Cuyo
This small town on a peninsula is only just being discovered and is a little trickier to get to.  Depending on flight time, you will likely have to return to the Cancun area the night before your flight.  There's not much there except a strip of sand and excellent kitesurfing.
Day 14 – bus to Cancun
Be sure to work out your timing to arrive back at Cancun airport in time for your flight home.  Most places will have direct buses to the airport but check the ADO website or app for schedules and destinations.
---
Other Ideas for your Yucatan Road Trip
Laguna Bacalar
We actually had two and a half weeks for our road trip so we also spent a couple of days in Laguna Bacalar and LOVED it!  It narrowly escaped this itinerary only because of time, being the furthest from Cancun.  If you have a few extra days to explore, this would be my number one pick to add to your trip.
Take a boat trip around the lake, kayak on the lake, visit the local denotes and just relax!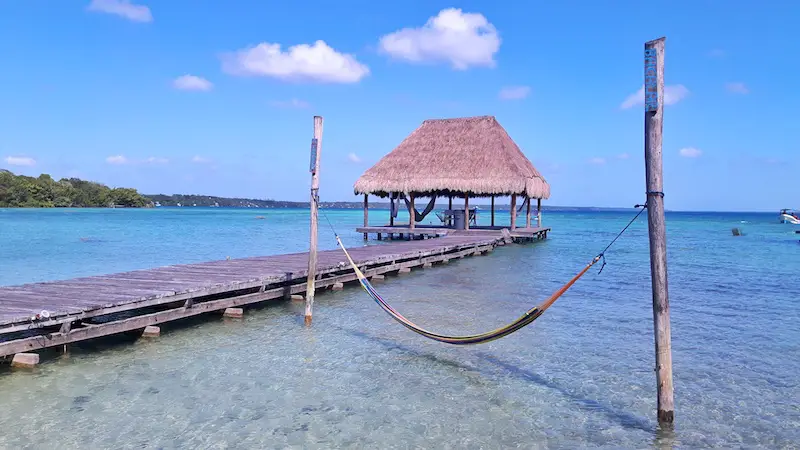 Jardín del Edén
We didn't make it to this cenote as it was just a bit too far without a car.  However, if you have a car, or are staying around Playa del Carmen (it's much closer there) be sure to add this to your list.  It looks magical!
Mérida
Mérida is the capital of Yucatan.  It is a pretty colonial city and a great base for a few days to explore the northern coast of the Yucatan Peninsula.  This is also a great place to buy a hammock if you're in the market.  This area is renowned for its traditional Maya hammocks, made by Mayan families.
There is a great handicraft market on Calle 59 between Calles 60 and 62 called Guayaberas Tita.  Filled with authentic Mayan handicrafts of all kinds along with a display of Mayan art, it's worth a visit for the building alone!
Day trips from here could include the Yellow City of Izamal, the ruins in and around Uxmal, the biosphere reserve of Celestún and the relaxed beach town of Progreso.
We actually stayed in Progreso both before and after backpacking Yucatan for 2 weeks while housesitting.  It turned out to be a great spot to call home for a while and, bonus, is a great place for kiteboarding!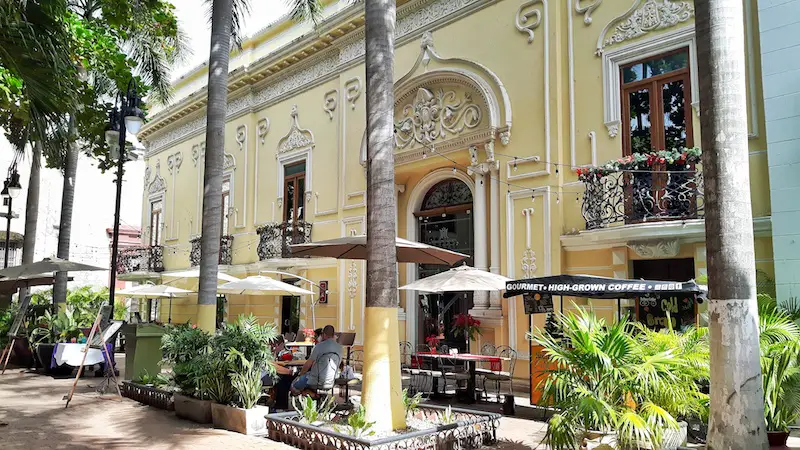 Campeche
This one is a little further afield and better for those with a car.  This city on the shores of the Gulf has a walled historic centre filled with pastel coloured, preserved buildings and is well worth a visit.  Campeche is probably the one place I still really want to visit in the Yucatan Peninsula.
Calakmul
These Mayan ruins are among the most remote, in the middle of the jungle nestled down near the Guatemalan border.  This is another place you'll definitely want a car.
These ruins are on my list thanks to the lack of tourists to be found there and the pyramid that can still be climbed for amazing views of the surrounding jungle.  It's actually the second highest of all discovered Maya pyramids.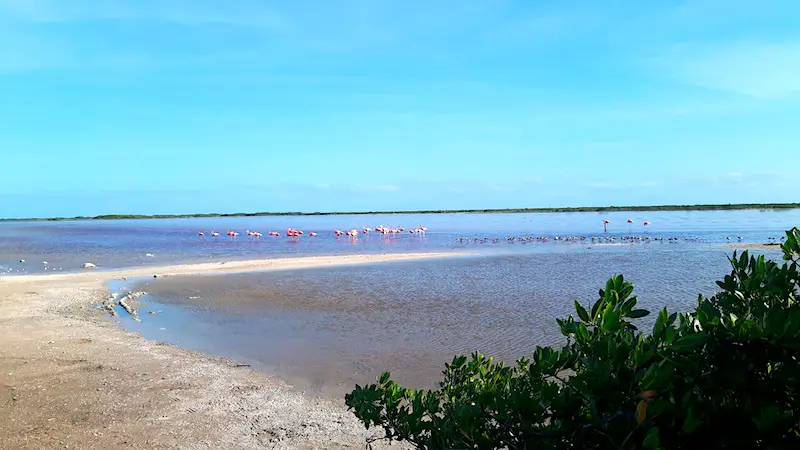 Final Words on our Yucatan 2 Week Itinerary
You can't really go wrong with 2 weeks in Mexico!  Take the suggestions above and tweak them to fit your budget, wish list and energy level.
Whether you want to spend your time relaxing at a beautiful beachfront hotel, or backpacking Yucatan Peninsula on a budget, it will be an amazing trip.
Just be sure to see at least one Mayan site, one cenote and on the beach 😉.
---
Where to Stay in the Yucatan Peninsula
Where to stay in Tulum
There are two options in Tulum:  the town or the beach.  If you are at all concerned about the budget, you should be looking to stay in town.  Everything on the beach is expensive but there are some great options for a resort-style stay.
Budget – Maya Pax offers double rooms with private bathrooms at a great price.  They are just on the edge of town and offer free bicycles to help guests get around and even have a lovely pool – a perfect way to cool off after a day of exploring the area.  Check prices and availability now!
Mid-range – We stayed at Trece Lunas and loved it.  The reviews were exceptional and yet it managed not to disappoint!  It is beautifully decorated and run by a lovely couple who had done more than their fair share of travelling.  The pool and outdoor kitchen area are perfect for the evenings and being out of the city means it escapes the dust and noise.  They have free bikes to use and a scooter to rent so we never had an issue with being outside of the town.  This place books up so don't delay.  Check out reviews and pictures here!
Splurge – Spoil yourself for a couple of days of all-inclusive luxury at Dreams Tulum Resort and Spa.  Anywhere on the beach in Tulum is pricey but this is possibly the best value.  Set on 2 miles of powdery white sand with a huge pool, watersports and complimentary golf the only problem may be convincing yourself to leave.  Check reviews and availability now!
Where to stay in Valladolid
Valladolid is a great budget destination.  You can stay in a great luxury hotel here for less than a basic room in many other cities.  A perfect place to spoil yourself or save money!
Budget – Ka'an has amazing reviews and unparalleled value with free bikes, included breakfast and a small pool.  We were unable to stay here due to a booking error but the place looked comfortable and the staff were great.  Check reviews and availability now!
Mid-range – We ended up staying in Casa Valladolid Boutique Hotel and really enjoyed it.  The location is excellent, the rooms are large and comfortable, and the pool and loungers are a great place to relax after a busy day.  Rooms also include breakfast served in the courtyard.  Check pictures and reviews now.
Splurge – If you're looking for comfort and style look no further than Hotel Posada San Juan.  Rooms are beautifully decorated, modern and comfortable yet traditional and each comes with a hammock (as well as beds of course).  The pool area is perfect for a hot day and the included breakfast is a hit too.  Check pictures and reviews now!
Where to stay in Isla Holbox
We really recommend blowing the budget a little here and staying on the beach and slightly out of town.  Most of the beach is covered with restricted areas for each beachfront hotel and finding a nice place to relax is pretty challenging if you're not staying in one of them!  Alternatively, choose a great budget option a short walk to the town and beach. 
Unfortunately, we can't really recommend where we stayed (sandwiched between the island's two nightclubs…) so these recommendations are based on reviews and our personal observations, looking in with envy.
Budget – Casa Vainilla Holbox has excellent reviews about its rooms, free bikes, friendly owner and sunset views.  It is a short walk out of town so the bikes come in handy but you will have much more peaceful nights.  Check reviews and prices here!  The only downside is the lack of air-conditioning.  If you're visiting in summer you may want to consider Golden Paradise Hostel instead.
Mid-range – Hotel Puerto Holbox is pretty much the cheapest place on the beach and it has great reviews.  If we could have got a refund for our hotel, this is where we would have moved to.  With a pool, beach loungers and an included breakfast it's a great deal.  Check reviews and availability now!
Splurge – Villas HM Paraiso del Mar is perfect for a little extra luxury.  They are set back from the beach slightly with a private sun lounger area.  The style, bikes, staff and included breakfast all make this place a winner with those who stay.  It also has a pool and a restaurant for those nights you can't be bothered to make the short walk into town.  Check pictures and reviews now!
Where to stay in Bacalar
If your budget can possibly handle it, stay on the lake!  The lake is the only real reason to come here and public access is limited.
Budget – Gran Balam – Gran Jaguar has excellent reviews from its guests.  It's close to the bus station and a short walk to the plaza and lake with simple, modern rooms and an included breakfast.  It's a great budget option in Bacalar.  Check prices and availability now.  If you're happy with a dorm room, for the same price Hostel Calma will get you a lakefront location.
Mid-range – We stayed at Casa Ichkabal Bacalar and were very happy.  While the rooms are basic, the public areas are lovely including a garden, dock with palapa on the water and rooftop palapa.  They include breakfast and free use of kayaks and bikes.  Our one recommendation would be to either save and book the twin room, or splash out for the suites.  The double rooms open onto the breakfast area and lack privacy.  Check reviews and availability now!
Splurge – One look at the pictures of Casa Bakal and you'll be sold.  Right on the lake, this accommodation offers a selection of room types including little lake view bungalows.  In addition to an included breakfast, kayaks and bikes are available for free.  This comes in handy with its location a short distance outside of town.  Check reviews and availability now!
Where to stay in Merida
When staying in Merida you want to be within walking distance of the main plaza in the heart of the colonial centre.  If you are arriving or leaving by ADO bus, consider being to the southwest of the plaza to make your walks with bags shorter.
Budget – Nomadas Hostel is a fantastic budget choice.  With an included breakfast, pool and hammocks and even free salsa, cooking and yoga classes it's a wonderful place to relax and meet people.  Guests describe it as 'social without being noisy'.  Options range from dorms to rooms with shared or private bathrooms so you can be sure to find something for you.  Check prices and availability now!
Mid-range – We stayed at Hotel Maria del Carmen which, by most city's standards, would be a budget option.  The pool and bar area is a great place to relax and have a drink.  The food is pretty good too if you arrive late and don't feel like walking into the city.  The hotel is located between the ADO bus station and the central plaza so the location is perfect for those travelling by bus.  Find prices and reviews now!
Splurge – One of the highest-rated places is Viva Merida Hotel Boutique.  The historic building has been renovated to a high standard and rooms include a fantastic breakfast.  The small pool is a great place to cool off after a hot day of explorations.  Check reviews and availability now!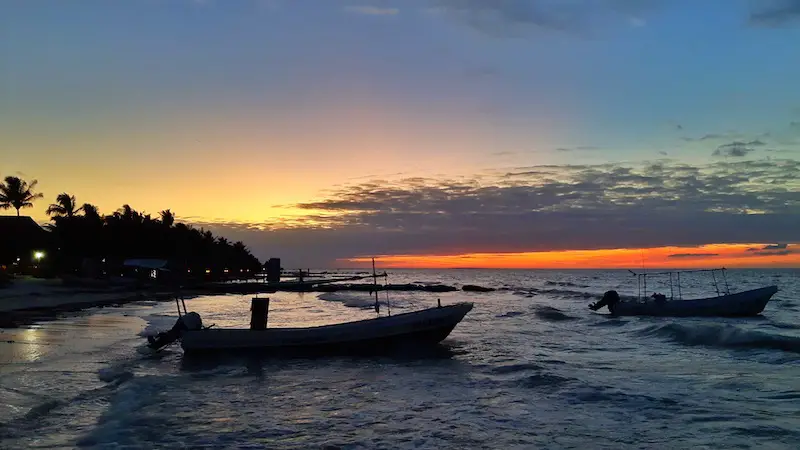 ---
Things to remember before you go!
Travel Insurance
We never leave home without it!  Anything can happen regardless of how healthy, careful and smart you are.  We use World Nomads and have found them to be affordable and have amazing service.  They cover travel issues such as cancellations and theft as well as medical problems.
Book your Accommodation
Mexico is a popular spot and the Yucatan Peninsula receives the majority of the country's visitors.  While you will usually be able to find something at the last minute, we highly recommend booking accommodation in advance for the best choices.  While I always compare, I found the best deals on Booking.com for this area and booked all our accommodation through this website.
Reserve your Car
If you have chosen to rent a car, we love RentalCars.com.  They compare thousands of car rental agencies worldwide to find you the best deals and always include basic CDW for free.
For more tips and tricks to plan the perfect trip (without blowing the budget or losing sleep) head to our Travel Tools page!
If you found this helpful, we would love for you to share it with others!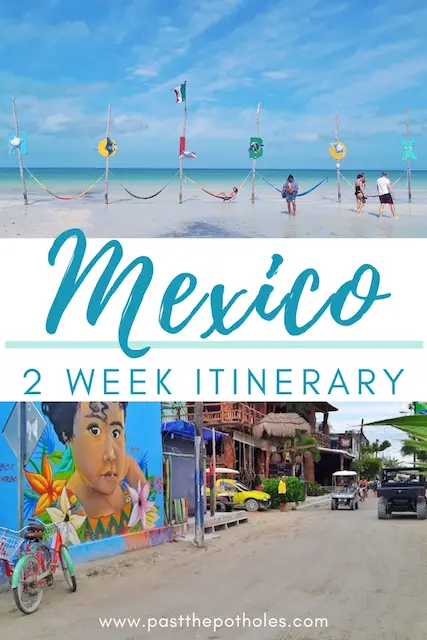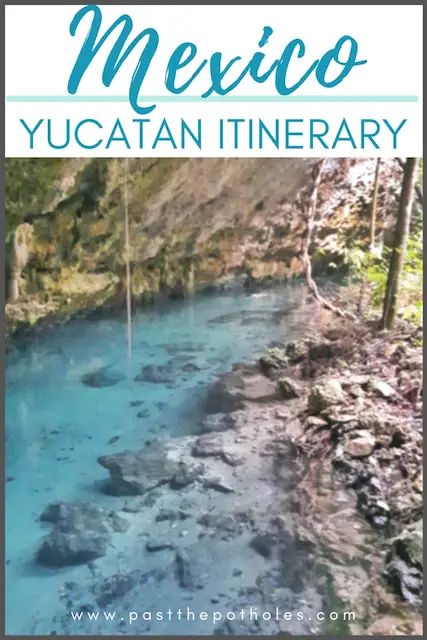 Return to our Destinations page.