Costa Rica's getting expensive…
Some links in this post may be affiliate links. If you click on them we may make a commission from qualifying purchases at absolutely no cost to you.  Read our full Disclosure Policy here.
Unexpected Costs
Week two continued much as week one ended – surfing, relaxing, eating rice and beans!  A couple of rainy days gave us the opportunity to get some trip planning done.  Very boring I know, but we are now sorted until October 22nd.
If you're coming straight to this page, click here to read about Week 1 in Tamarindo.
On our last night in Tamarindo, we decided we would make some micheladas and take them down to Playa Langosta for sunset.  A wonderful plan, one we should have done more frequently, until we broke the fridge trying to get ice out of the freezer compartment.  Really broke it.  A loud hissing sound was followed by a terrible smell permeating the entire apartment.  Some cleaning up, a few messages with our landlady and we were back on track with micheladas in hand.  Unexpected cost number one.  Luckily the micheladas made us feel a little better about it!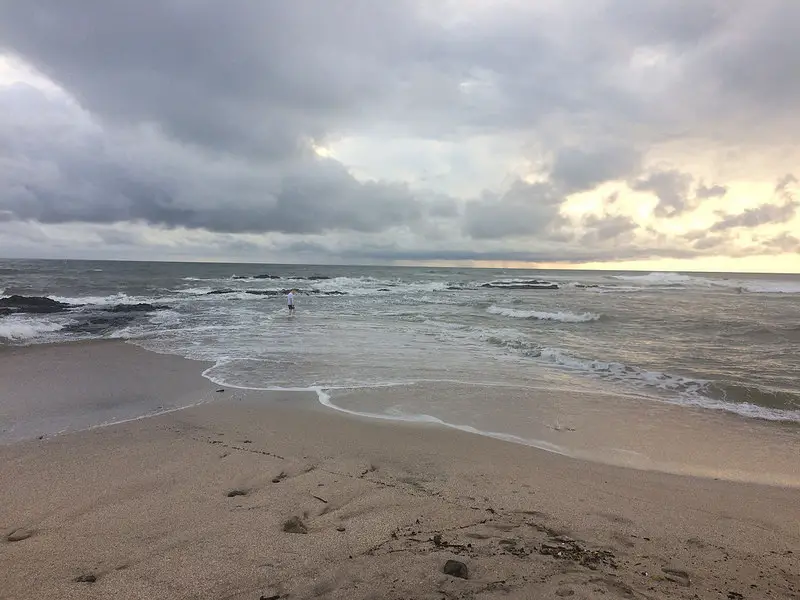 Early Wednesday morning, we left Tamarindo and set off for our next stop: Nosara.  We opted to be lazy and take a shuttle over two or three public buses (and at least double to journey time) as Nosara is kind of a tricky place to get to.  The actual town is about 5 or 6 km away from Playa Guiones – the beach area where everyone stays.  Two buses plus a taxi or very long walk with all our backpacks didn't sound too appealing to our old, lazy selves.
We booked a shuttle with Tropical Tours Shuttles as they were the cheapest I could find.  Shuttles provide a door to door service.  We had to walk to the nearest hotel for our pick up, however, because we were staying in an obscure AirBnB.  The driver showed up within 5 minutes of his expected arrival time.  The bus stopped briefly in Nicoya then, with a quick change of bus, it took us straight to our new place.  We were already in and chatting with the owner before our 11am check in time.
Nosara is a world away from Tamarindo.  It is equally as 'gringo-fied' but in a different way.  Here are mostly expats.  Those tourists who do make their way here do so for the yoga, surfing or family atmosphere.  The Spring Break feel of Tamarindo is notably absent.  A lot of people have closed their businesses altogether due to the off season.
The beach is a long stretch of grey sand, wide and flat at low tide, and mostly empty.  A strip of environmentally protected land borders the beach so there are no beachfront houses, hotels or restaurants.  When we first arrived we walked the length of the beach (it's a long one!).  It's easy to forget this is such a popular spot!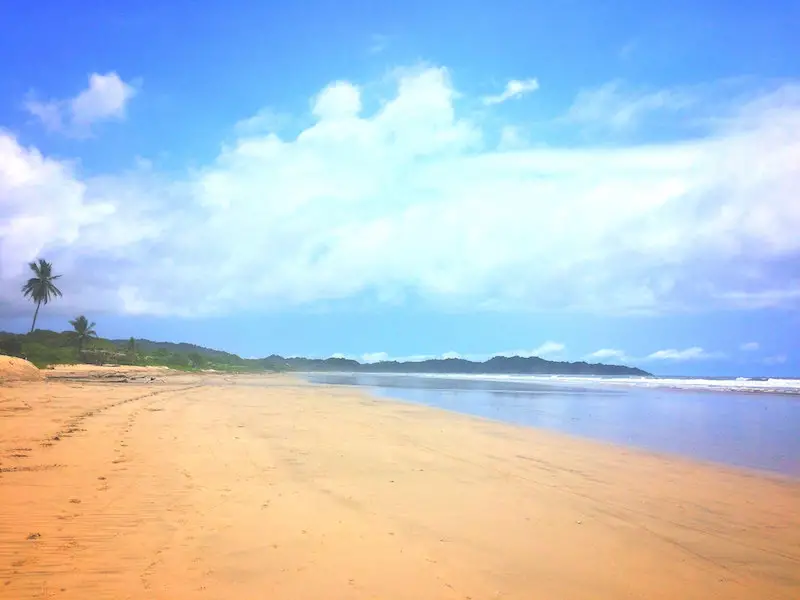 We chose our current studio apartment, in part, because of the included surfboard.  This was a great money saver.  Each morning we Terry carried it down to the beach for a surf session and sometimes again before sunset.  Indy, our landlord's dog, became our new best friend.  She would follow us to the beach, come visit us at home and often sneak into the apartment and refuse to leave!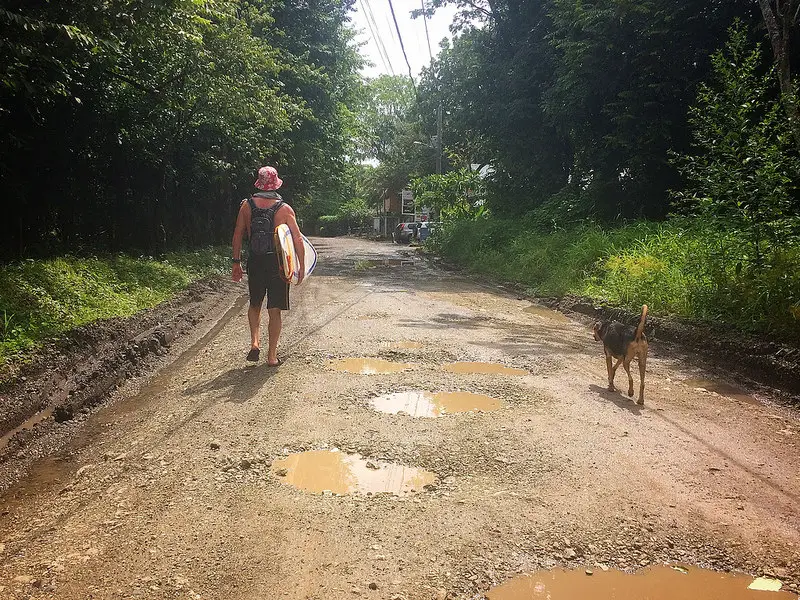 Our second morning taking the board to the beach, we remembered to buy wax so stopped into a surf shop along the way.  Terry propped the board up in a surfboard rack to go inside.  We were getting money out when a loud crack had us turning around to find the surfboard now laying on top of a motorbike, a plastic piece of the bike on the ground broken.  Unexpected cost number two!
We noticed a sign advertising live music at a local restaurant on Friday night.  Finally we might see some action in this sleepy town!  We had a drink at 10 Pies (as in the Spanish for Ten Feet, they don't sell pies).  Then headed to Malanoche next door for another drink and to enjoy the live music.  Both places were pretty busy.  I guess when you're the only place open in town, you're going to do some decent business!
Nosara has been wet!  Most days the rain starts in the late afternoon and doesn't stop until well into the evening.  And when it rains, it really rains.  One morning, the rain caught us off guard at the beach.  The torrential downpour didn't let up, and the shelter wasn't helping.  So we cut our losses and began to head home.  Of course we were at the far end of the beach from our studio.  We decided to head along the road rather than the beach although this may have been a mistake.  With the surfboard over our heads for some rain cover, we plodded along in heavy rain only to find the road washed out.  At times the water was above our knees and we had to work to not lose our shoes.
On the positive side, all this rain has given us the opportunity to get some work done and get this blog off the ground.  Plenty of work left to go to make it look anywhere close to good but it's a start.  Terry's even heard a few cha-chings for his efforts so he's happy!
Is Nosara our next home?  There are lot of great things about the lifestyle in Nosara.  It is, however, another expensive location thanks to its large expat and basically non-existent local population.  It would be interesting to see the change during high season…  We have taken some time to look at the real estate listings here so it must have made some kind of impression on us. Click here to see what we found.
Two towns, two weeks, two unexpected costs.  Hopefully this trend doesn't continue for the whole year…
How was your week?  Hopefully drier!  Read about our week 3…