Work Less. Live Longer. Pura Vida.
Some links in this post may be affiliate links. If you click on them we may make a commission from qualifying purchases at absolutely no cost to you.  Read our full Disclosure Policy here.
Sunday marked the return of the home owners.  I picked them up from the ferry terminal while Claire made lunch for us all.  I think that everyone breathed a sigh of relief that all four of the animals were healthy after two weeks with us.  After a rocky start, we had managed to keep them all alive!!  We chatted about how the animals had been and they showed us some of their vacation photos before it was time to hit the road once again.
As much as the ferry would have been fun, ultimately driving around the gulf got us to Jacó two or three hours earlier.  It also avoided driving after dark.  Shortly after leaving Jicaral, it started raining and continued intermittently throughout the drive.  What a drive it was!  We witnessed first hand how lucky we had been in Jicaral when Tropical Storm Nate had blown through.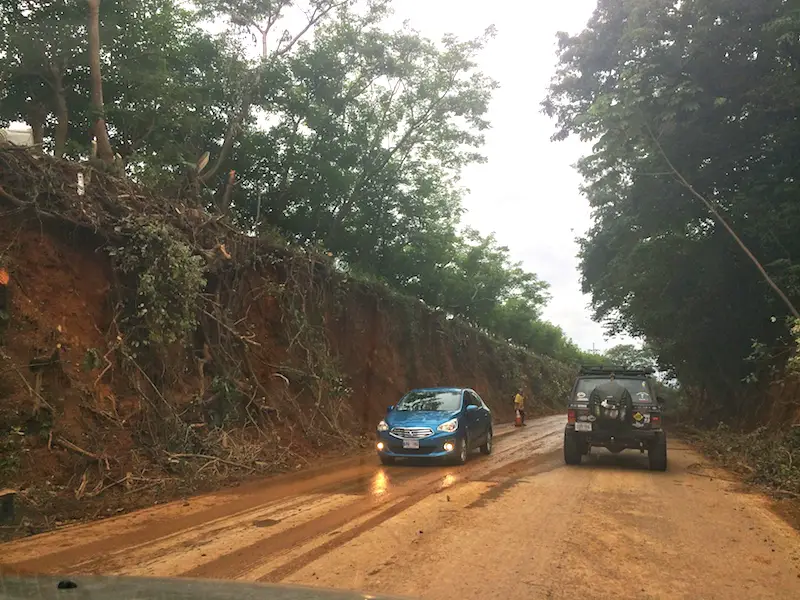 Traffic came to a stand still a couple of times and as we began moving each time we discovered it was due to crews working to clean up the after effects.  Numerous landslides and fallen trees bordered the road.  We crossed Río Tárcoles and stopped to look down a good 20 feet to the massive crocodiles below.  A video on social media had shown the river waters reaching the bridge during the storm!
The weather seemed to follow us and we arrived in Jacó to more heavy rain AND some serious thunder!
Finally, Sunshine!
However, this week has been full of sunshine!  Normal rainy season weather has resumed with hot sunny days and an occasional evening storm.  It's a nice change that we don't have to plan our day around an impending downpour, and we're excited to be back at the beach with a surfboard rental!
Walking down 'the strip' in Jaco is different to other beach towns in Costa Rica. It is a more developed town and a place where Ticos live and work.  It's not as pretty as other beach spots for this reason but it feels a little more authentic. It doesn't completely shut down in the off season and has a little more to do in the area besides expensive tours.  Some people ask us if we would like to buy drugs while others ask for money to buy food.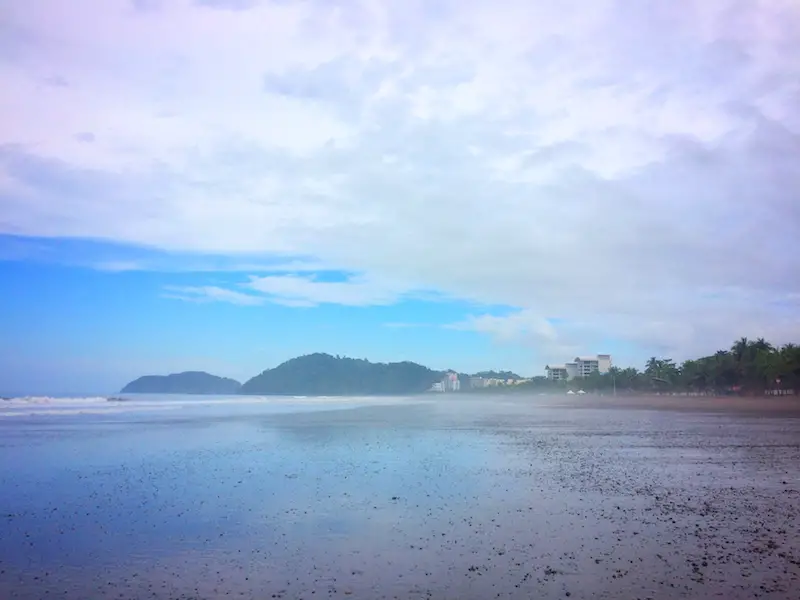 When we went into our first surf shop, the worker gave us high season rates for board rentals ($20/day) and showed us the most expensive boards that were for sale. Fortunately, if you look beyond the fancy signs and storefronts, you can find places that are less driven toward gouging tourists. We found El Pana, a small surf shop on the Main Street, run by Elias. The vibe is completely different here – no hard sell. We agreed to rent a board for 24 hours at a rate of $10, and he offered to reduce it to $8 if we rented again. If you are renting a board or need surf gear in Jaco, go see Elias!
As he prepped the board, he told us about how he had left Venezuela, complimented us on our Spanish, and showed us a video of someone surfing in a Canadian river.  Surfing is a little more challenging here compared to other spots we've been but I'm still enjoying it.  The waves are more tide dependent so there's a smaller window to be successful as a beginner.  Claire hasn't made it out yet this week, perhaps next week.
Hike to Miró
We got scorched at the beach on Wednesday afternoon and decided that a morning hike sounded good for Thursday.
After an easy walk through town, we found the trailhead that led us up a reasonably steep hill. We walked for a few minutes before coming upon a 'No Trespassing. Private Property' sign. While trying to figure out where to go next, a group of hikers came around the corner from the other side of the sign. Onward and upward!
We carried on climbing looking for the mirador, or lookout, at an abandoned restaurant. We walked up some roads/trails and found a deactivated zipline. When the trail became a little too risky because of recent landslides, we decided it was best to turn back.
On our way back down we found our destination.  The cloudy day had turned sunny and we had private access to the best view in all of Jacó.  We took a short break to enjoy the view and have a snack when I caught sight of movement in the nearest tree.  On closer inspection we discovered four toucans hanging out and flying around us!  Fortunately, we had already taken our pictures when a large tour group arrived and took over. Travel tip: If you want to get good pictures of wildlife, don't yell to your friend who is 10m away!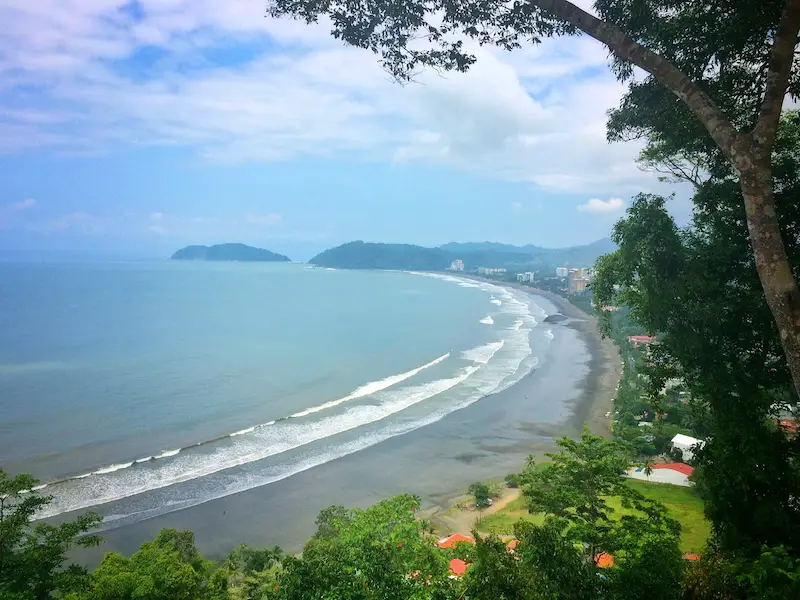 On the way down, we had the pleasure of speaking with a local who had a lot of advice about living a happy life. We learned about the 'University of Life', 'the Importance of Faith' and 'the gift of blessings'. Some parts felt a little like a sermon, but he definitely had my attention.  His best advice: "Eat less, live longer.  Work less, live longer."  We're not too sure about the eat less part but we can jump right on board with the less work!
Click here to read more of our weekly Travel Journals.