Some links in this post may be affiliate links. If you click on them we may make a commission from qualifying purchases at absolutely no cost to you.  Read our full Disclosure Policy here.
This week's travel journal will be short and sweet!  With a non-stop parade of holidays, we haven't had the chance to get out and about all that much.
If you want to read about our journey from the start you can find our other travel journal entries here!
We didn't pack our costumes!
Putting together a halloween costume is no easy feat when you're living out of a backpack!  We were invited to a Halloween party on Tuesday night so that meant most of Tuesday was taken up with walking the 8km to the department store in search of costume supplies and making a pasta salad to take to the party.  The party was a lot of fun.  We met many more people, both expats and locals and ate way too much!  This also meant that we didn't accomplish a heck of a lot on Wednesday…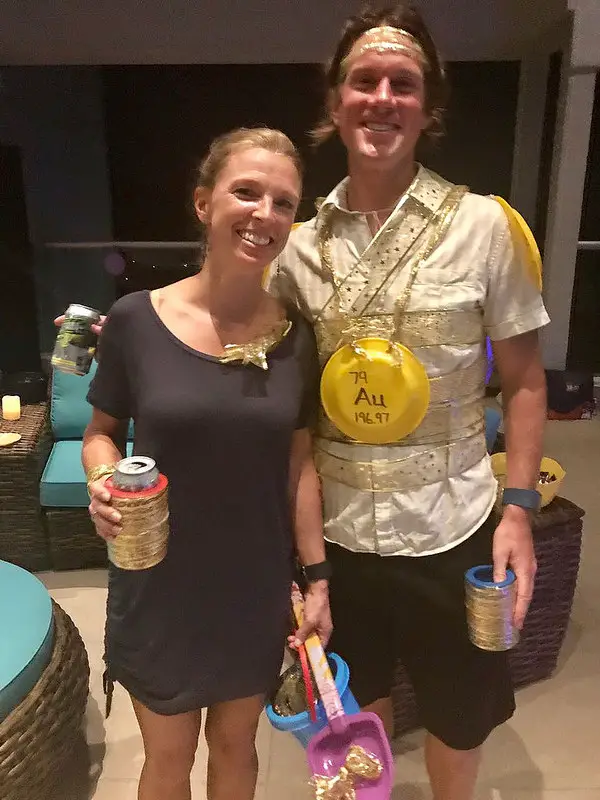 Hunker Down and Party!
Thursday, Friday and Sunday (observed on Monday) are also holidays here.  This weekend Panama celebrates Day of the Dead, Separation Day from Colombia and Colón Day!  We were told to stock up on groceries and get comfortable for the weekend.  As the majority of Panama City makes a break for the beach and countryside for the extended weekend the roads are supposed to be a nightmare.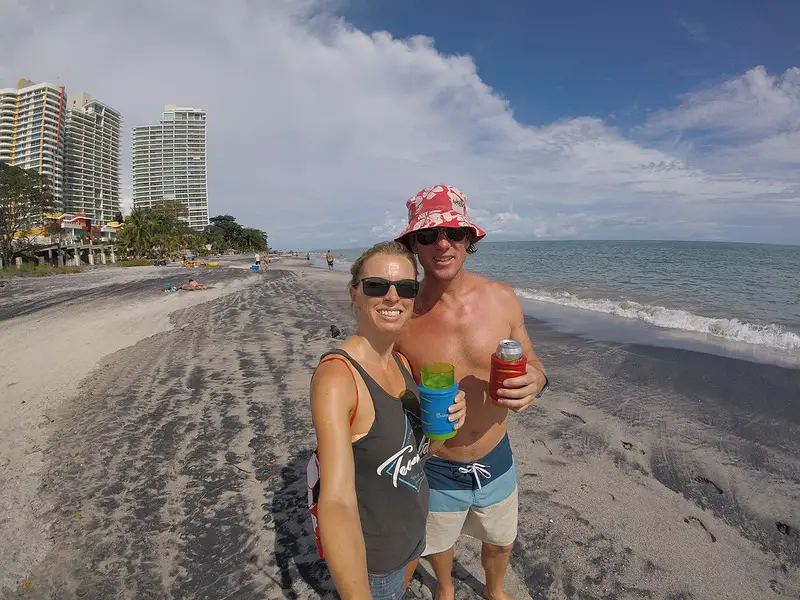 We definitely noticed some changes around here.  The pool and beach area that is usually empty was full of families and friends chatting, drinking, eating and playing.  The beach has resembled a highway with the number of dune buggies and dirt bikes driving along it and the sand and sea have been dotted with people.
It has given us a chance to relax and get some stuff done though.  We've spent our weekend enjoying the view (and constant music) from our balcony, working on the blog and Teachers Pay Teachers and playing volleyball.  Terry decided to try his hand at making cookies and he's even starting to sound like a guitar player!
[kad_youtube url="https://youtu.be/RzDSZ7-TE0Q" maxwidth=800 ]
Friday night was karaoke at the beach bar and, while we didn't join the fun, we certainly were entertained by it all night.  Saturday night was a live band so we did head down for that.  Our new group of friends were all there and the buckets of local Balboa beer were tasting good.
San Carlos
We did manage one outing this week.  I figured we should get out somewhere on Thursday before we were grounded for the weekend.  So we decided to visit the surf town of San Carlos.  I was looking forward to checking this place out.  The beach is supposed to be good for surfing (with board rentals unlike here) and there is a cute little town.  Two public buses and just $1.30 each later, we were dropped off on the highway.  A short walk had us at the beach in 15 minutes.  The waves were noticeably absent unfortunately, although the group of kids getting a lesson were able to get up and ride them no problem.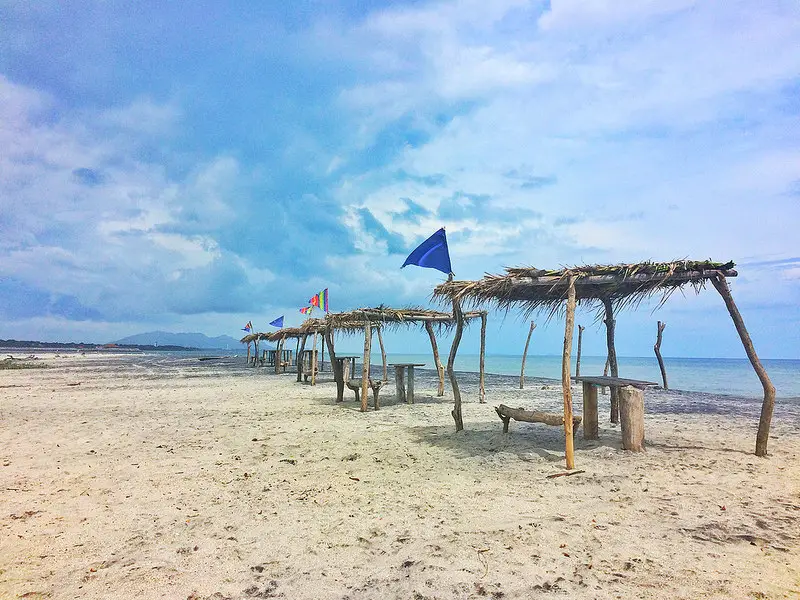 Looking Ahead
Something else this relaxed week allowed for was the time to get some things booked.  After hours spent staring at the computer screen, we now have all flights and accommodations booked until mid-January.  Not looking forward to that credit card bill!  We have confirmed that Ecuador is our next destination and Peru after that.  Christmas and New Year's Eve will be spent at the beach in Ecuador as my research suggested this might be the more fun place to celebrate.  I guess we'll see!  Now we need to decide on the Inca Trail before we can book any further ahead…  I'm not wishing this month away, but I'm definitely excited for those two countries!
How was your week?  What did you dress up as for Hallowe'en?  
Any advice for Ecuador and Peru?  We'd love to hear from you in the comments below!
New post this week:  Two Week Trinidad Itinerary
New video: Surf Costa Rica