How to Spend an Amazing 3 Days in Venice (itinerary and guide)
Some links in this post may be affiliate links. If you click on them we may make a commission from qualifying purchases at absolutely no cost to you.  Read our full Disclosure Policy here.

Gondolas, canals, and ice cream.  Venice is about as iconic a city in Italy as they come.  Romantic and unique, it's on almost every traveler's list of places to visit in Italy.  And for good reason.  Yes, it's every bit as touristy as you imagine.  Yes, you should still visit.  Three days in Venice is a wonderful length of time to get a taste of this city, making it an ideal long weekend getaway.
We recently spent a month in Croatia (which is incredible and we highly recommend by the way).  Venice Italy is just a 2.5 hour ferry ride from Rovinj, on Croatia's Istrian Peninsula, and provides much cheaper flights throughout Europe.  This made it the perfect opportunity for us the check out the small floating city for a few days.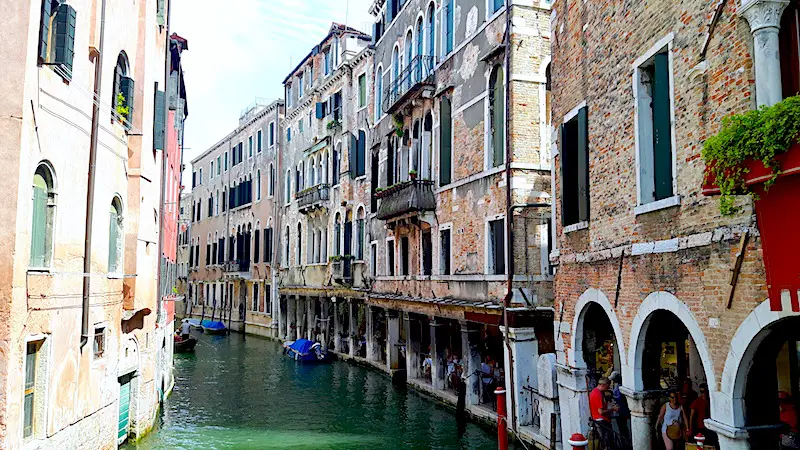 We spent 3 days in Venice and found it to be a perfect length of time.  Any less time and we would have felt rushed.  With more time, we could have done a few more day trips to nearby areas but we felt we had seen the best of the city by the time we were leaving.
Are you planning a trip to Venice soon?  If you are looking for ideas of what to do, and what to skip, we've got you covered.  Keep reading for our 3 day Venice itinerary.
[space_20]
Venice 3 Day Itinerary
To cover Venice in 3 days, be prepared for serious walking.   While there is an abundance of water taxis and waterbuses, wandering the alleys was my favourite part.  Every corner leads you into the unknown.  Will you find yourself in a dead-end, an open plaza, or crossing another bridge or yet another canal?


Day One – Explore Venice Italy!
Check in to your accommodation and then head out ready to explore.  We chose to stay in the Cannaregio neighbourhood and would definitely stay here again.  Check out our recommendations for where to stay in Venice below.
Explore the Neighbourhoods
We chose to wander on foot through the streets and alleyways in the general direction of San Marco, the most touristic area.  This is where most of the main attractions in Venice are to be found.  You can follow a map if you don't want the extra steps, or take a waterbus straight to the nearest stop.  However, we really enjoyed walking.  Occasionally I would check the map to make sure we were heading in the right direction and adjust if necessary.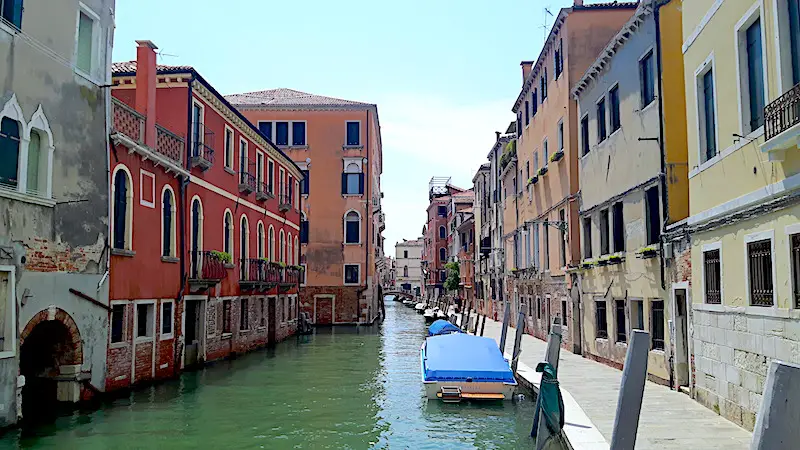 By staying further away from San Marco, we were able to wander largely alone for the bulk of our adventure.  As we neared San Marco the streets slower became busier but we still had little trouble finding a quiet alleyway or square.  This was a great way to gently break us into the heavy tourist traffic that Venice sees on a daily basis and would definitely recommend starting this way.
READ THIS POST:
The Best Things to do in Split, Croatia
As you wander, there are frequent churches and museums that you can enter if you are so inclined.  Or just continue to wander.  Stop for a drink and snack in a plaza.  Take a million photos of the canals and bridges.  Visit a mask store or workshop.
If you prefer to have a destination in mind, consider the following:
Campo San Giovanni e Paolo – We stumbled across this plaza accidentally on our first day. It's quite beautiful, bordered by the Basilica San Giovanni e Paolo, the hospital and a canal on three sides.  It's well worth a visit and great place to stop for a cooling drink in a less busy area.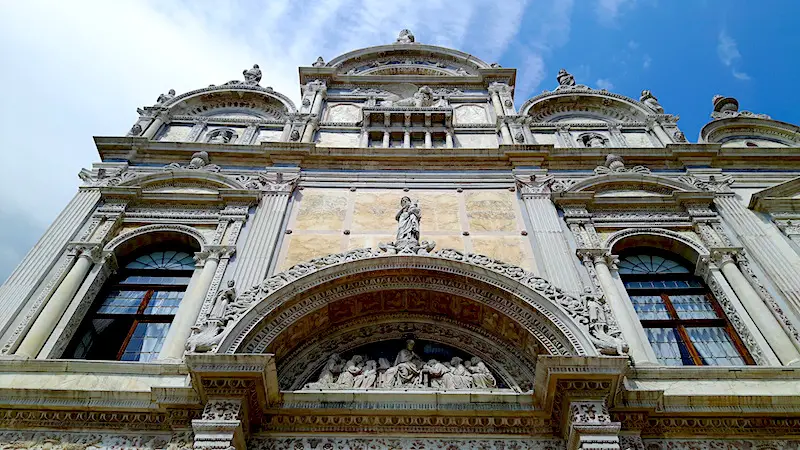 Libreria Acqua Alta – I'm still upset that I completely forgot to stop here!  I had it marked on the map but we were so busy discovering all the nooks and crannies of Venice that we missed it.  This bookstore has become famous thanks to its unique book displays.  The flood-proof store uses bathtubs, boats and even a gondola to showcase their books.  Don't forget to climb the staircase made of books for a great canal view.
San Francesco della Vigna – Yep, another church.  Set in a quiet square, this church is an excellent example of the Franciscan style with a tall bell tower and plenty of artwork to see.
Doge's Palace and San Marco Basilica
Visiting the Doge's Palace and the San Marco Basilica are top of most people's lists of things to do in Venice.  However, this means they get crazy lines throughout the day.  Without booking a tour, you can expect to wait in line for well over an hour before gaining entry to a crowded, but incredible, landmark.  If you want to go inside, we highly recommend taking a tour.
Timing Tip:
  If you plan to enter on your own, get here as early as you can and line up before the Basilica opens at 9:30am.  Taking a tour?  Book a skip-the-line tour and enter later in the day after spending the morning meandering toward this ultimate destination.  You could even book this
5-star rated after-hours tour
for exclusive access.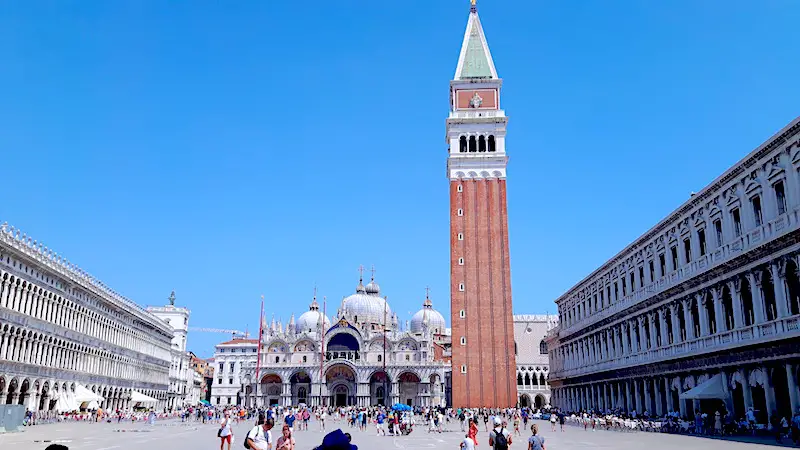 There are a few specific tours available for the Doge's Palace that highlight different areas depending on your interest.  There is even an after-hours tour where you will be treated to much smaller crowds.  This highly-rated tour includes skip-the-line access to both the Doge's Palace and St Mark's Basilica as well as access to the usually restricted terrace of the basilica for incredible views across Venice.
[btn text="Book your Skip-the-Line Tour now!" tcolor=#FFF bcolor=#69d3d3 thovercolor=#fa7268 bhovercolor=#69d3d3 link="https://www.getyourguide.com/venice-l35/st-mark-s-square-and-doge-s-palace-priority-entrance-tour-t234117/?partner_id=6Z7V2CX&utm_medium=online_publisher&utm_source=claire%40pastthepotholes.com&placement=content-middle&cmp=venice-text-doge-tour" target="_blank" rel="sponsored"]
When you are finished in St. Mark's Square, walked alongside the palace to the Grand Canal.  Wander along the promenade.  Turn left for a view of the famous Bridge of Sighs.  From here you can take a vaporetto (waterbus) back up the Grand Canal to your accommodation.  Not only will it be a much-needed break for your tired feet, but it's also pretty much the cheapest way to get the incredible views you came to Venice for.
Saint Mark's Campanile (Bell Tower)
For incredible views across Venice's islands, rooftops and canals, head up to the top of the San Marco Campanile.  While the imposing tower isn't overly photogenic, the views from the top definitely are.  Check out prices and times here.
Ponte dell'Accademia
This isn't the most beautiful bridge, a modest wooden structure.  However, it has great views up and down the Grand Canal.  Particularly of note is that the view from this bridge includes the Basilica di Santa Maria della Salute.  Be careful though, this area seems to be a hub for all the Venetian con artists due to the increased tourist traffic.  If your feet have any life left in them, cross the bridge and explore the Dorsoduro neighbourhood a little.
Take a Gondola Ride
For many, a trip to Venice isn't complete without a gondola ride.  You won't have any trouble finding a gondola.  The bigger challenge is finding a good deal.  Gondola rides last just 30 minutes (and that includes loading, unloading, and any delays).  For a private ride, the fixed price is 80 euros or 100 euros at night.  Not cheap.
[columns] [span6]
[/span6][span6]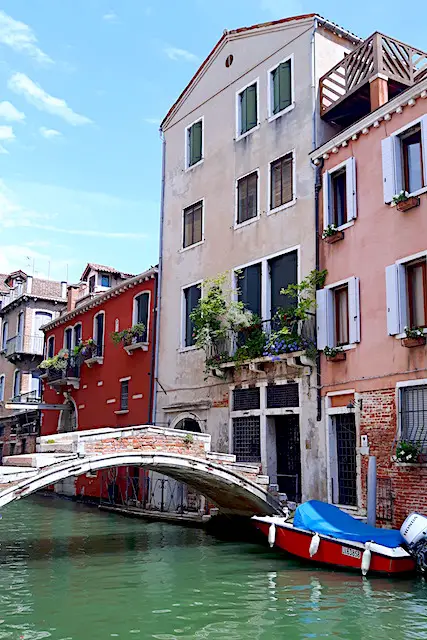 [/span6][/columns]
Around St Mark's Square, we witnessed traffic jams of gondolas backed up in many canals.  Gondolas were end to end while waiting for private boats to pass.  It was far from the romantic image I had in my mind.
There are a few options to make this experience more enjoyable.  Shared gondola rides are available although we would definitely recommend booking in advance for this.  Each boat takes up to six people so by sharing, the ride becomes much more economical.
To avoid the crowds, try to take a gondola as far from the tourist hotspots as possible.  While there are fewer to be found, we did see the occasional gondola in the canals of Cannaregio enjoying a far more relaxing, peaceful experience.
Booking online will allow you to get a better deal and skip any lines.
One final option, and the cheapest of all is to take a traghetto.  These are gondolas that are still being used for their original purpose – as a ferry across the Grand Canal.  They are still available at a few spots where there isn't easy access to a bridge and a trip, albeit short, costs just 2 euros.  You won't get the gondolier in the classic striped shirt and it won't come with the tourist services.  However, if you are desperate to get on a gondola on a budget, this may be the best option for you.
[space_20]
Soak up the Evening Atmosphere
We're not foodies so we don't make any real attempt to find 'the' places to eat in a city when we visit.  Our preference is usually to wander until we find somewhere that has an appealing set menu, is busy, has a great atmosphere.  We ate in the Cannaregio neighbourhood for dinner each night.  Not only was it convenient to our accommodation, but the area was buzzing with a mix of locals and travellers each night as bars and restaurants spilled out onto the streets and canal edges.
Day Two in Venice – Burano and Murano
Take a day trip out to Burano, a small island famous for its incredible colours.  Many people combine this with a stop at Murano as well as they are both on the same Vaporetto line.
There are plenty of things to do in Venice in 2 days that you may be wondering if it's worth getting on the boat for this day trip.  The choice is yours, you can't make a wrong decision here but we loved Murano.  We were, however, happy with our decision to skip Burano and have a few more hours back in Venice the same afternoon.

READ THIS POST:
Perfect Gifts for Travelers (that they'll actually use)!
Murano is known for its world-famous glass and should be included on a Venice itinerary for those interested in learning more about the glass-making process with tours of workshops or those who wish to purchase from the source.  However, in appearance Murano is quite similar to Venice so we decided to skip this and head straight to the colourful island of Burano.
Burano is very small and worth just wandering around, absorbing the views.  The hub of tourism is centred along two canals and is impossible to miss.  We found numerous stores with souvenirs including glass, lace and masks as well as restaurants to stop for lunch.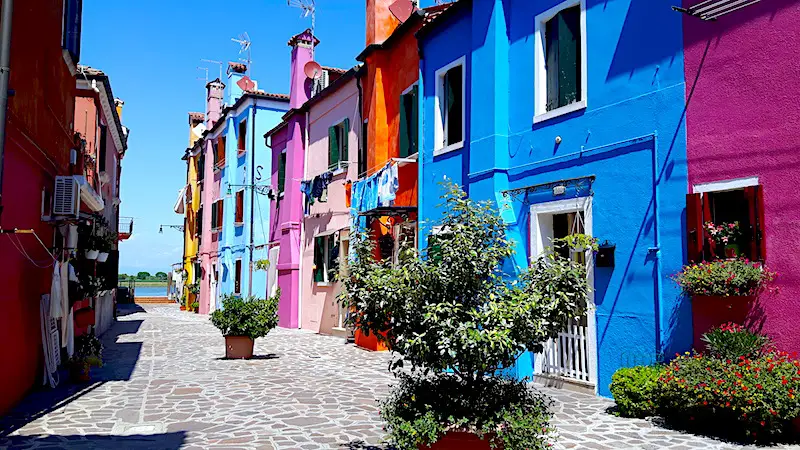 This can be a slow-paced relaxing day if you choose.  However, if you want to fit more into your three days in Venice, return to Venice in early afternoon for more explorations.  Visit the Rialto Bridge and cross over to explore the less-touristy San Polo neighbourhood on the other side of the Grand Canal.
If you're looking for a Venice 2 day itinerary, we would recommend following just the first two days of this itinerary.  You'll still get to see and do all the best things in Venice, you just won't have the time to leave the city.
Day Three – More Venice Attractions
You have two main options for your third day in Venice.  Take a day trip out of the city, or explore more of the city's neighbourhoods as well as anything you didn't have time for on day one.  If you know you aren't interested in a tour, you could take a slower pace on day one and leave some sights for today.  Trust us, there is plenty to discover still – just wandering the streets, alleys and bridges was our favourite thing to do!
Initially, we had planned to take another day trip further afield.  There are certainly plenty of options.  Having been on the road for over a month already, and thoroughly enjoying discovering Venice, we decided to stay in the city itself.
Having covered the major tourist sites on day one, spend today wandering the quieter neighbourhoods.  We hadn't made it to the Rialto Bridge on our first day, so this was top of our list.  From there, you can cross over to the less-visited neighbourhoods on the other side of the Grand Canal.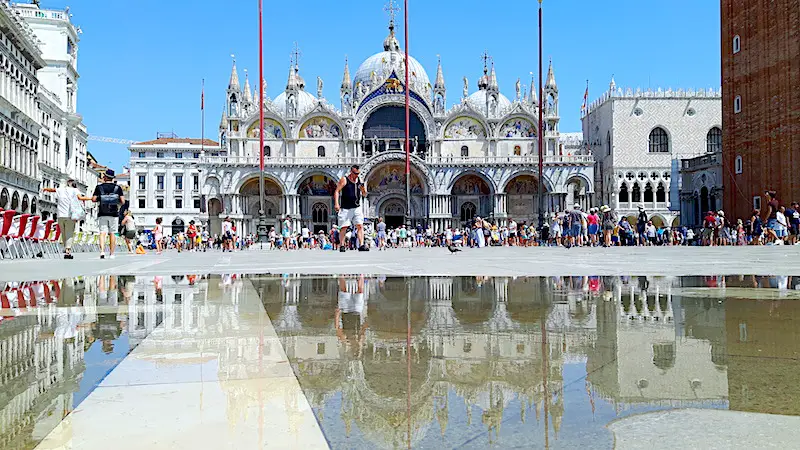 We took some time on our last day to explore the Cannaregio area.  It's a little more rugged, definitely more local and one of our favourite areas of Venice.  There are some great places to stop for lunch along a canal with the added bonus of being much cheaper too.
If you did not get up early enough to miss the crowds at St Mark's Basilica on day one, set your alarm and go today.  Alternatively, take a tour to skip the lines and have a knowledgeable guide – definitely recommended for the Palace.
Day Trips from Venice
If you managed to fit everything into your first two days in Venice, consider one of the many incredible day trips from Venice.  Head to the beach on Lido Island or inland to the Prosecco region for a wine tour or the historic city of Verona.  Even the Alps are within reach for the day!
While public transportation is easily accessible, if you're heading further afield a tour can often make the most of the limited hours in the day.  Check out these tours for something unique:
How to get around Venice
I'll be honest, I was confused about getting around Venice before we visited.  I read about vaporetti, water taxis, traghettos, buses and trains.  We were arriving by ferry from Croatia and leaving by plane and I couldn't figure out exactly how we would get from one place to another.
I finally found a map that laid everything out for me.  Once we arrived, we discovered that it really isn't any more confusing than any town's bus service.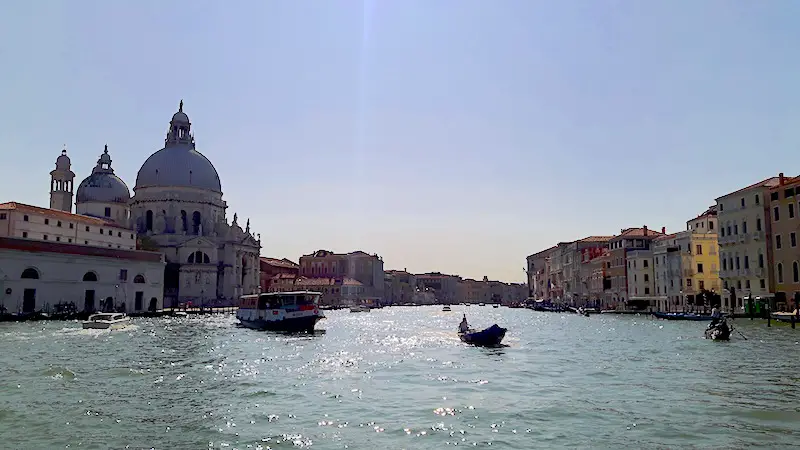 Vaporettos (actually, the plural is vaporetti) are basically buses that run on water rather than roads.  You will likely be arriving in Venice at the train station, airport or ferry port.  All three have easy access to a vaporetto station.  They move from stop to stop along predetermined routes, picking up and dropping off passengers.  Wherever you go, you will be walking distance to a stop.
Each ride is a flat-rate fare (7.50 euros) and the card is scanned as you enter the station.  You can also buy one-, two-, or three-day passes if you feel you will be using them frequently.   For this itinerary, you won't need one unless you plan to go to Murano, Burano and Lido as well as a ride up the Grand Canal.
Vaporetti are your best friends and the way you will most likely travel around Venice.  We took a vaporetto from the ferry port to our accommodation, to and from Burano, and from St Mark's Square up the Grand Canal.   Buy tickets at major ferry stops or a number of tobacco shops.  Alternatively, save yourself the search for a ticket vendor by purchasing ahead of time online.  Check your ticket options now. 
The Alilaguna Waterbus runs a special route to get to and from the airport.  Tickets cost 15 euros each way and can be purchased at major vaporetto stops, a number of tobacco shops, or online.  It was such a unique experience to arrive at the airport by boat, being dropped off just outside the doors as if by car!  It's also by far the most convenient way to make the trip.
Water taxis are also readily available and work much like a regular taxi.  They are private rides and as such will cost more than a vaporetto.
Trains are a great way to get in and out of Venice as the Santa Lucia Train Station is right in the north of the city, on the edge of a canal.  However, there are no trains around the city.  If you are arriving from or going to another Italian city, or want to do an independent day trip, definitely check out the train schedule here.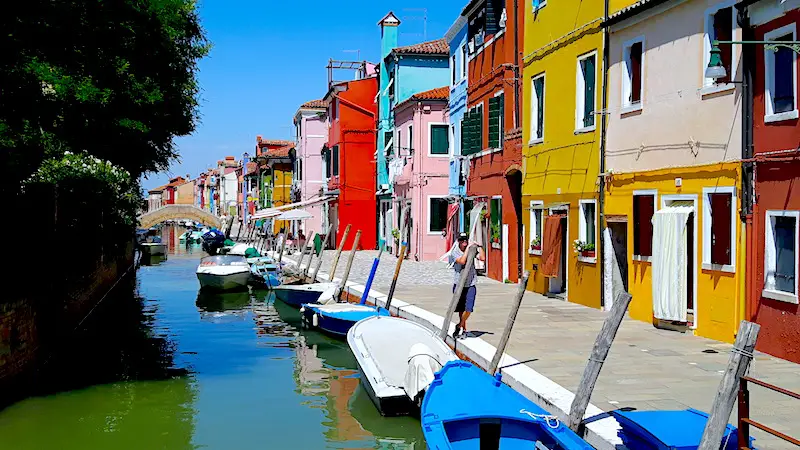 Where to Stay in Venice
Quite honestly, you can't go wrong with any neighbourhood choice.  We chose Cannaregio after a lot of research as it offered what we were hoping for: fewer tourists, a more local feel, great evening atmosphere and cheaper prices.  I would highly recommend this area to anyone looking for a similar experience.
Whether you are travelling alone, with kids, for a long or short visit, there are five main neighbourhoods that will offer some great options.
San Marco is the heart of Venice.  This is where you will find all the most famous monuments.  And most of the tourists.  If you only have a short time to see everything, like the hustle and bustle or have limited mobility, this may be a great option.  It may also require a higher budget for a nice place.  Find the best accommodations in San Marco now.
San Polo is just across the Grand Canal from San Marco so it enjoys great access to all the main sites but in a (slightly) quieter relaxed setting.  This could be a great option for those wanting the best of both worlds, culture and accessibility, or travelling with kids.  Check out the best accommodations in San Polo here.
Castello is the largest neighbourhood taking up most of the region southeast of San Marco.  It encompasses the Arsenale as well as some large park spaces.  It is more relaxed, picturesque but is the least accessible to the rest of Venice.  I seriously considered staying in this neighbourhood, only deciding against it due to our visit being short and travel times would have been much longer.  For a longer stay, or somewhere more relaxed if you're happy to take more boats and put more miles on your shoes, this is a great option.  Find the highest rated accommodations in Castello now.
Dorsoduro is also across the Grand Canal from San Marco, to the south of San Polo.  This area is renowned for the arts, with plenty of galleries, museums and street art, and nightlife.  It's also considered to be a great area to get a taste of the 'real' Venice.  This is another great option for those on a smaller budget.  Find the best accommodations in Dorsoduro here.
Cannaregio, our personal choice, is home of the Jewish Ghetto and was a more working-class neighbourhood.  Many locals still live in this area and it is much quieter and free of crowds.  It's also most likely your point of entry if you arrive by train or airplane, making it a convenient location with luggage.  The nightlife is relaxed but there are plenty of options for sitting on a canal's edge with a drink.  In the day, it's an authentic experience with lots of history and culture worth exploring.  Find the best accommodations in Cannaregio now. 
Antica Raffineria was where we stayed.  It's set in an old sugar refinery in the Jewish Ghetto.  Don't expect any frills, but it's clean, friendly and in a great location.  We had absolutely no complaints at one of the lowest prices we could find.  With just 3 days in Venice, this was the perfect degree of 'away from it all' without being inconvenient.  Check reviews and availability now.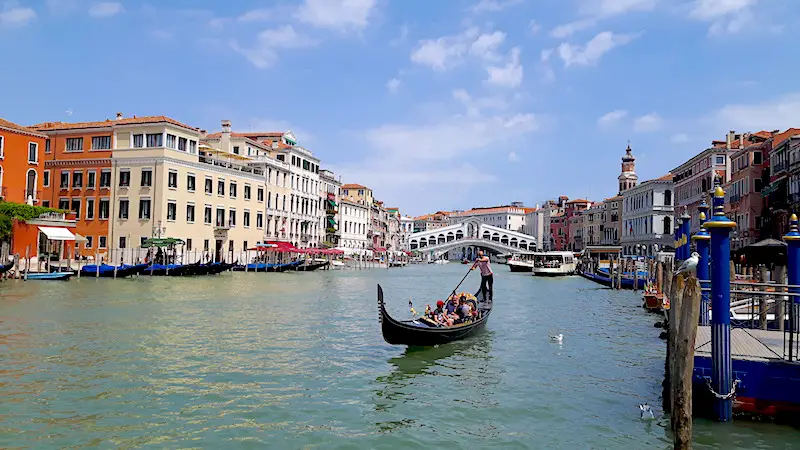 We had an amazing time in Venice.  It's everything you imagine it to be and more – as few places are that are so well-known.  Our schedule put us there in August so we experienced the heat and crowds at their worst.  And yet we wouldn't hesitate to recommend it to anyone and return when we get the chance.
This 3 day Venice itinerary provides you with the experiences needed to get the most out of your time in this magical city.  However, it is incredibly flexible and allows you to customize it to best suit your needs and interests.
Let us know your favourite things to do in Venice!  Leave a comment below, we'd love to hear from you.

Are you booking a trip to Venice soon?  Pin this article for easy reference!
[columns] [span6]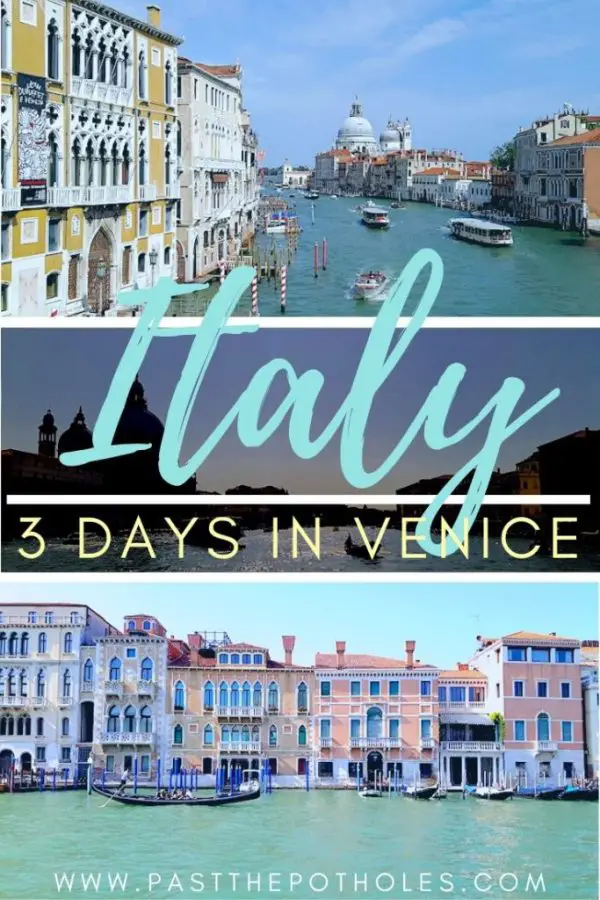 [/span6][span6]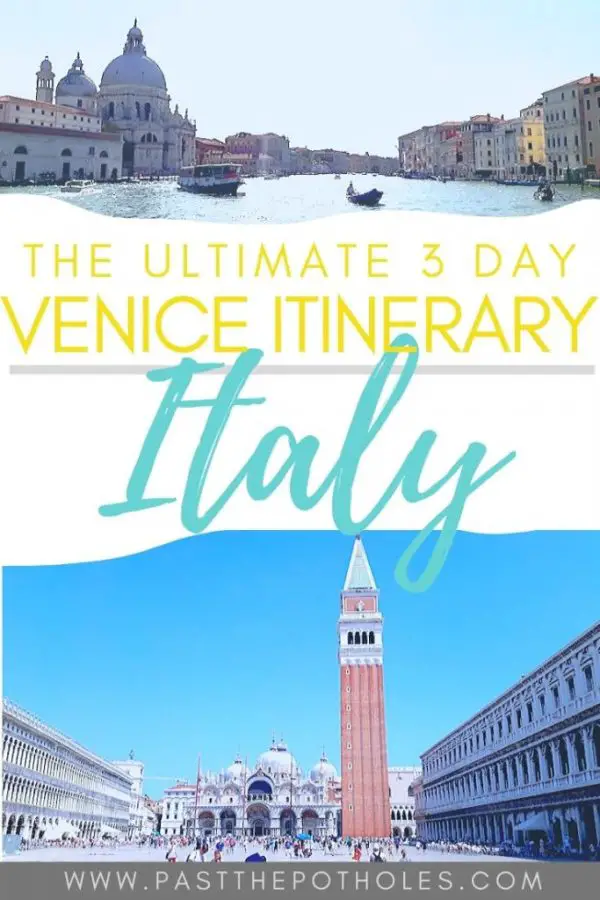 [/span6][/columns]