Best Things to do in Sayulita, Mexico
Some links in this post may be affiliate links. If you click on them we may make a commission from qualifying purchases at absolutely no cost to you.  Read our full Disclosure Policy here.
Are you wondering what the best things to do in Sayulita, Mexico are? This small town on the Pacific coast has become a bit of a mecca for surfers, yogis and backpackers but why? Let us help you figure out what to do in Sayulita!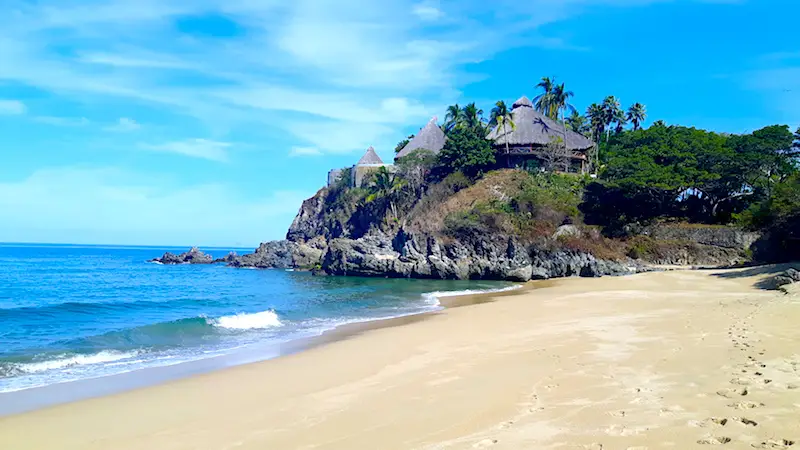 Table of Contents
The Best Things to do in Sayulita
Surfing Sayulita Mexico
Sayulita is definitely a surf town! Moreso, it's actually a great spot to learn to surf or if you are beginner surfer. There are countless places to rent a surfboard or take a lesson.
Our first time in Sayulita, the surf was great and water was filled with people on surfboards and boogie boards. When we returned for a week, we weren't so lucky.  Each day we headed to the beach with a surfboard in tow only to sit and watch from the sand.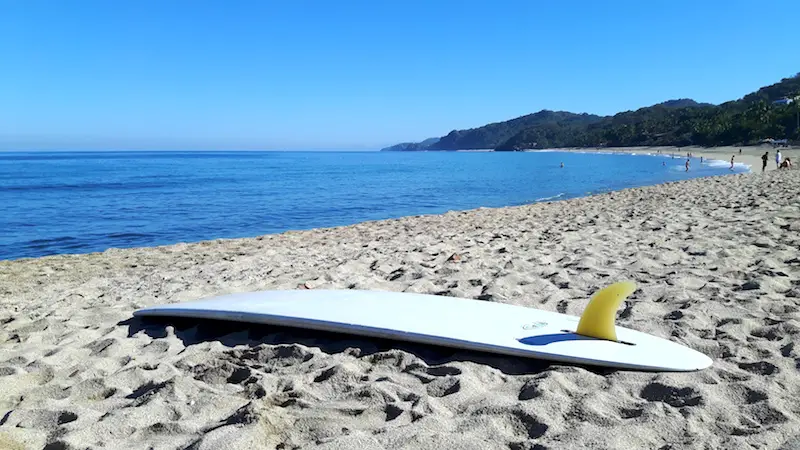 Be careful swimming when the waves show up though – undertows are common and can drag even competent swimmers out to sea.
Relax on Sayulita Beaches
The main beach is a long stretch of golden sand lined with restaurants and hotels. While not the most beautiful beach in the area, this is where the action can be found. If you want drinks delivered to your rented chair and umbrella, music, vendors selling souvenirs and to watch or join the surfers, this is your spot.
Hikes to the north or south can get you to quieter, stunning beaches. You will break a sweat as you climb over the hills in the humid, jungle climate but it will be worth it!
We discovered a few hiking trails to secluded beaches both north and south of town.  We took off one day along a trail to a beautiful undeveloped beach just north of Sayulita.  At the southern tip of the beach there are little caves that grant access to another smaller cove.  It's a perfect spot to escape the bustle of Sayulita.
Take a Tour to Islas Marietas (Marietas Islands National Park)
You've probably seen pictures of this spot without even realizing it – the famous Mexico Hidden Beach! Due to uncontrolled tourism, there has been excessive erosion and the government has brought in much stricter rules.
You now need to book a tour to visit Las Islas Marietas and will cost more – but if you can afford it, you will no doubt find it one of the best things to do around Sayulita.
If you are a SCUBA diver, you can take this trip to a whole new level!
Day Trip to San Pancho
Trails leading into the jungle to the north of Sayulita will take you past those gorgeous beach coves. Continue on and you will emerge on the beach in San Pancho. It is also a very easy bus or taxi ride if you'd rather take a less sweaty route!
San Pancho is one of our favourite little towns in Mexico but it is changing rapidly as it becomes discovered by more people.
Walk the length of the beach and through the streets.  Shop at the market stalls. San Pancho is basically just a smaller Sayulita.  In recent years it has definitely been 'discovered' but it is still quieter and more relaxed.  
It is also a surf town but the waves here are much more powerful and for the more advanced surfer.  Beginners should watch only!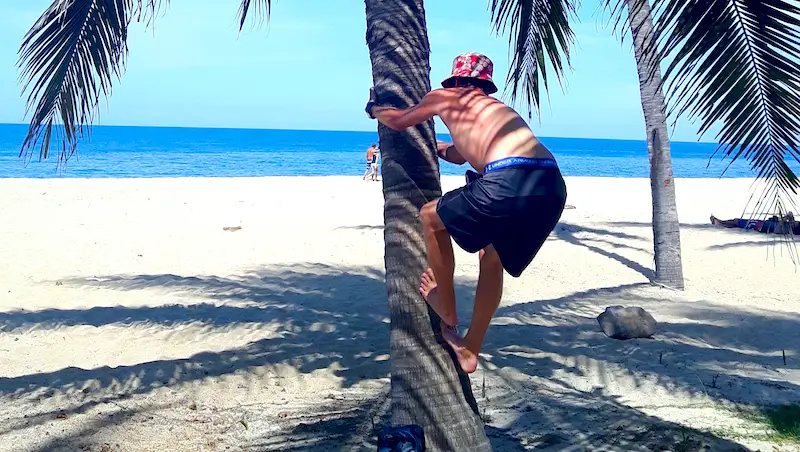 Whale Watching
One of the absolute best things to do in Sayulita is whale watching.
From December to April, Bahia de Banderas is an amazing location to spot humpback whales. We've seen them multiple times just from the shore so I'd say the chances of success in this area are pretty good!
To be out on a boat and get up close would be an incredible experience.
Enjoy the Spectacular Sunsets in Sayulita
Sayulita (and most places along this stretch of coastline) are blessed with some of the most stunning sunsets. Whether you enjoy the sunset with a cold drink at a beach bar or from a quiet stretch of sand, be sure to set aside this time every day of your trip.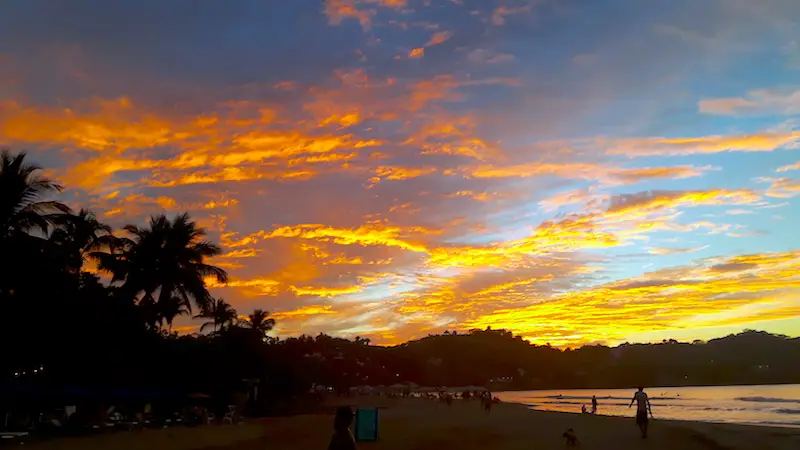 Take Yoga Lessons in Sayulita
Yoga is an incredibly popular activity in Sayulita and you will find many options to suit your level and style. Whether you are a beginner or are looking for a complete yoga retreat, Sayulita is a great place for this!
Hike to Monkey Mountain
This is a popular hike from Sayulita and people rave about the views. We didn't make it as I ended up not feeling well for most of our time in Sayulita but by all accounts it is well worth the effort.
Hiking Sayulita is well worth the sweat. Between all the flora nad fauna of the jungle, the viewpoints and secluded beaches, there is so much to discover.
Horseback Riding in Sayulita
Horseriding through the jungle and ocean surf is a pretty fun way to spend a morning in my book!
Shopping in Sayulita
Thanks to the influx of artistic expats, Sayulita is a great place to pick up anything from cheap souvenirs to beautiful, authentic Huichol art.
Peruse the galleries in town or wander down the dusty market running alongside the river. Or both.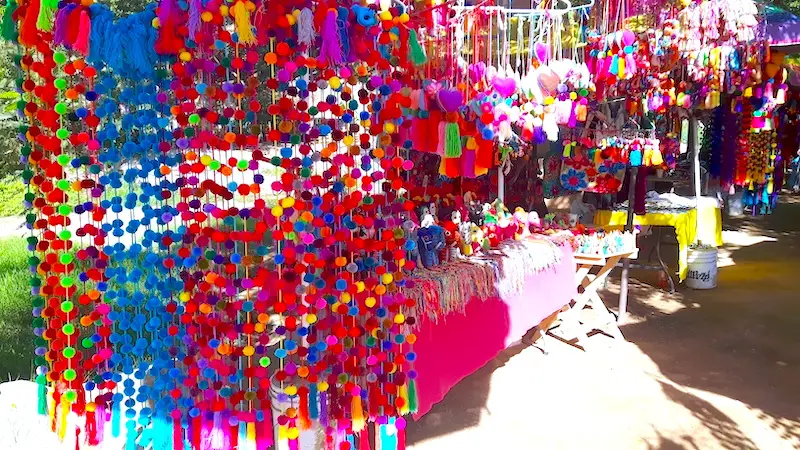 Eat the Best Street Tacos!
There are plenty of food options in town.  And yet, we have managed to eat tacos.  Every. Single. Day.  But not just any taco, tacos al pastor – by far our favourites.
For about $1, street stands sell delicious tacos with a variety of salsas and vegetables to dress them up.  Various meat options are available but our favourite is al pastor.  These are made from skewered, seasoned pork that is grilled (it looks like shawarma or kebab meat) with pineapple.  They are so tasty, especially with their ultra spicy sauce!
Puerto Vallarta Day Trip
Puerto Vallarta is one of my favourite cities in Mexico. It's rare that a beautiful colonial city is on the ocean, they are mostly found inland, but that is what you get here.
Take time to stroll around the heart of the city but wear good shoes! The streets are cobbled and hills are plentiful and steep. There is a great market that comes out at the river where you can wander through the trees, browse souvenir stalls and stop for a drink and snack.
Puerto Vallarta malecon is a perfect spot for a walk. Check out the views and many sculptures. Walk further south to secluded beach coves. Stop for $1 margaritas at sunset. Stay and party!
Buses run up and down the highway between Sayulita and Puerto Vallarta throughout the day.
Adventure Tours in Sayulita
Sayulita is full of young, active tourists so it is no surprise that you can easily find plenty of options for adventure. These two tours are a fun way to get out into the surrounding areas and explore!
---
SAYULITA TRAVEL GUIDE
Where is Sayulita, Mexico?
Sayulita is in the Mexican state of Nayarit right on the Pacific Coast and backed by the Sierra Madre mountains. It is about 45 min to an hour north of Puerto Vallarta.
It's could be described as the Tulum of the Pacific Coast with a similar boho feel and party atmosphere – although perhaps a more laidback version.
You can see on the Sayulita map above exactly where it is. Zoom in to explore Sayulita town and surroundings. Zoom out to see where it is in relation to Puerto Vallarta, Punta de Mita, Guadalajara and more.
How to get to Sayulita
The nearest airport is Puerto Vallarta. From there you can easily take a bus or taxi north to Sayulita. Expect it to take anywhere from 45 minutes to an hour and a half.
If you are coming from Guadalajara, you can take a bus from the Zapopan bus terminal that will take around 4 hours. You could also start your journey at the Tlaquepaque terminal in the east of Guadlajara but it will take an extra hour (or more) as it has to cross the city first.
Vallarta Plus runs frequent direct buses from Guadalajara to Sayulita. If you can't get one of those you can do what we did and take a bus to Puerto Vallarta but get off in Bucerias. From there, hop on a local bus north to Sayulita.
You can check the Vallarta Plus website here for schedules.
Where to Stay in Sayulita, Mexico
Sayulita caters to every kind of traveller. You will find everything from cheap hostels downtown to huge, luxury villas on the clifftops.
$ – Hotel Villas Sayulita is a wonderful budget option. It is just 80m from the beach and has a pool. Breakfast is included, as are bike rentals and they have a holistic health centre where you can take yoga classes and organic farming workshops. Check it out now!
$$ – Casa Selva Sayulita needs to be seen! Closer to the north end of Sayulita Beach, these rooms with kitchenettes will have you feeling like you are in the trees. The grounds are beautiful and include a pool. Book now!
$$$ – AzulPitaya Beachfront Hotel is exactly that – beachfront. If you want to be able to walk right onto the sand, or choose the outdoor pool, this is a great option. While the hotel setting isn't quite as magical as the places mentioned above, you can't beat the location. See it here!
$$$ – Hotel Boutique Siete Lunas is the best luxury hotel in Sayulita if you're not worried about beachfront. With stunning views from the clifftop, it's a little out of town but well worth the walk! Check it out now!
$$$$ – Casa Escondida is an incredible option for a luxury home rental in Sayulita. It is super expensive but with 4 bedrooms that sleep 9 total, the price can be shared with a few friends! Check out the pictures and reviews now!
Our Personal Experience of Sayulita
We visited Sayulita on a day trip from Bucerias about 8 years ago and weren't too impressed.  It's small, crowded, full of travelers (which means getting harassed to purchase something at every turn) and not the cleanest or prettiest beach.
However, given that it has the best reputation for a surf beach in the area we decided to give it a second chance.  All of our first impressions are still true…but we actually quite enjoyed it this time around.  
Honestly, Sayulita is not the most authentic, or beautiful, place in Mexico. It's just too over-developed by foreigners. BUT, it's a really fun town for travellers with lots of activity and it's in the middle of an incredible part of Mexico so there are endless opportunities for activities and adventure.
The streets are crowded, but they are lined with tables and chairs from restaurants and taco trucks – which are delicious.  The place is full of foreigners, but it's got a fun vibe and is easy to meet new people and have some fun.  
The main beach still isn't the prettiest in Mexico, but it is still much nicer than many in the world with mountain views to the north and south.  As long as you don't sit by the river, it smells fine.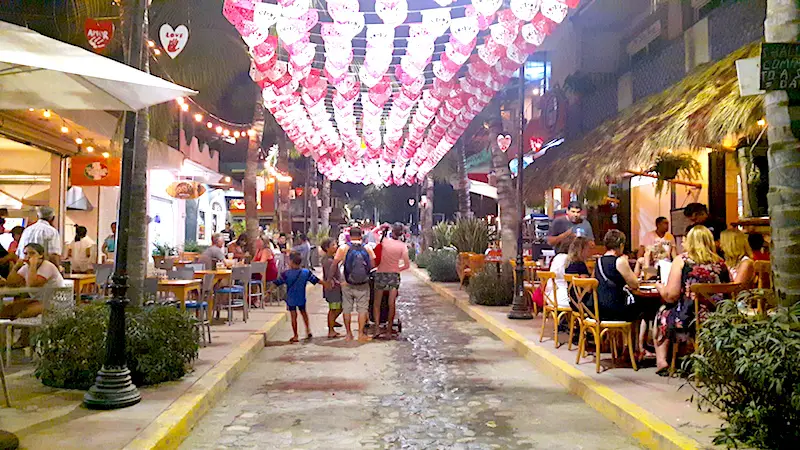 It is, however, definitely a party town.  We booked a spot a little away from the bars and still wore ear plugs each night.  If the music and partiers don't wake you, then the loud Mexican trucks, dogs and vendors walking the streets yelling will.  Gotta love Mexico!
---
PIN THIS POST TO SAVE FOR LATER!
Check out our Destinations page for more great places!