One Amazing Week in Ireland: Road Trip Itinerary
Some links in this post may be affiliate links. If you click on them we may make a commission from qualifying purchases at absolutely no cost to you.  Read our full Disclosure Policy here.
We always expected to like Ireland, but we were still amazed every day by just how much!  Our Ireland road trip was packed with incredible views, amazing history and the friendliest people we've met.
For us, time on the road was broken up with house sitting in Northern Ireland so we essentially did two separate road trips.  We've created a couple of Ireland one week itineraries that you're sure to love!
Ireland is a pretty small country but there is so much to see!  With just one week in Ireland, you will have to pick and choose what to skip but it is definitely enough time to do it justice and have a fantastic time!
Find your best Ireland Road Trip Itinerary!
To help you make the most of those 7 days, we are going to give you a few options for your 7 day Ireland road trip itinerary.  Just pick the one that best suits your needs.  Easily customizable, cut a destination out and stay longer elsewhere, or add in extra if you've got the energy!
We highly recommend renting a car for your time in Ireland.  Each town is accessible by public or organized tours but you will have so much more flexibility and freedom with your own vehicle.
It's not nearly as scary as everyone says (unless you are a nervous driver perhaps…). Give yourself a little time on larger roads to get used to the differences, then take your time and enjoy the scenery!
During our time in Europe, we discovered www.rentalcars.com and highly recommend them.  It is a search engine that helps you find the best deal by searching over 900 car rental agencies!   Search for prices now.
However, if you really would prefer not to drive, some organized tours are included in the itineraries below that you could take to see the sights and have a home base.
THE WILD ATLANTIC WAY
---
The southwest coast of the Republic of Ireland is home to some stunning scenery.  To maximize your time on the ground, we would suggest flying into Cork and out of Shannon (or the reverse).  Round trip tickets out of Shannon Airport are also a great option.  While Dublin flights will have you spending more time in the car, you are more likely to find better flight options for here and certainly still possible.
Discover the best tools and tricks to plan and book your trip!
Day One – Airport to Killarney
Once you land, pick up your rental and drive to Killarney.  After you've checked in to your accommodation, explore the town or take a walk through Killarney National Park accessed right from St. Mary's Cathedral.
Killarney also happens to be an amazing town for a night out.  With plenty of tourism, there are many pubs with live Irish music and plenty of people to meet over a pint any night of the week.  Locals and tourists alike are friendly and welcoming so shake off the jet lag and find out what makes Killarney special.
Day Two – Killarney National Park or Ring of Kerry
Option One
You'll need to figure out transportation ahead of time but the best way to see the Gap of Dunloe is to start at Kate Kearney's Cottage and hike, bike or take a horse and cart to the end.  From there you can book a boat to take you to Ross Castle.  If you've got any energy left Ross Island is a great place to explore also.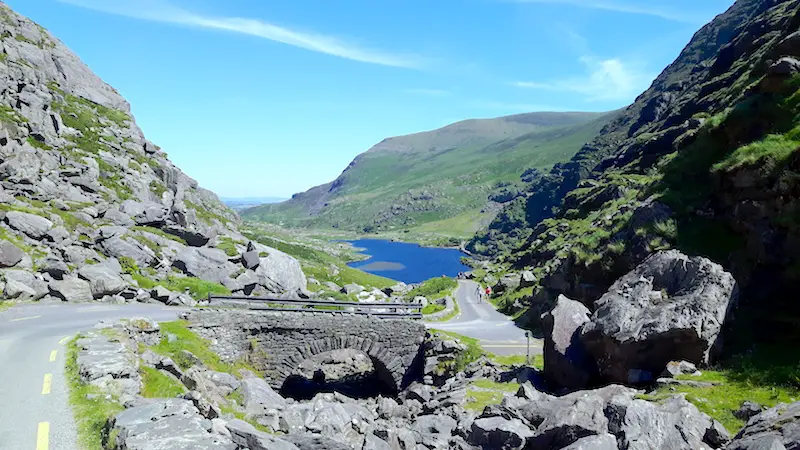 Option Two
The Ring of Kerry is a world-famous scenic drive.  While it can be completed in a few hours, it is best to allow more time as you will be wanting to stop and take pictures at all opportunities! Towards the end of the Ring of Kerry there are a number of worthwhile sites in Killarney National Park.
You could tag these onto the end of your drive or do them independently.  While you are not supposed to drive the ring in this direction, the road is generally wider until Moll's Gap. Stop at Ladies' View to admire the – you guessed it – view, then hike to the Meeting of the Waters, from there visit Torc Waterfall and end at Muckross House and Abbey.
This organized tour of the Ring of Kerry and Killarney National Park will save you from having to drive the narrow road and enjoy the view.  Check prices now!
Day Three – Killarney to Dingle and Slea Head Drive
You're in no rush today so decide if you want a leisurely morning in Killarney or evening in Dingle! When you're ready, drive north to Dingle where you will drive the Slea Head Drive.  This is what National Geographic named the most beautiful place in the world so be sure that your camera is charged and memory card is empty!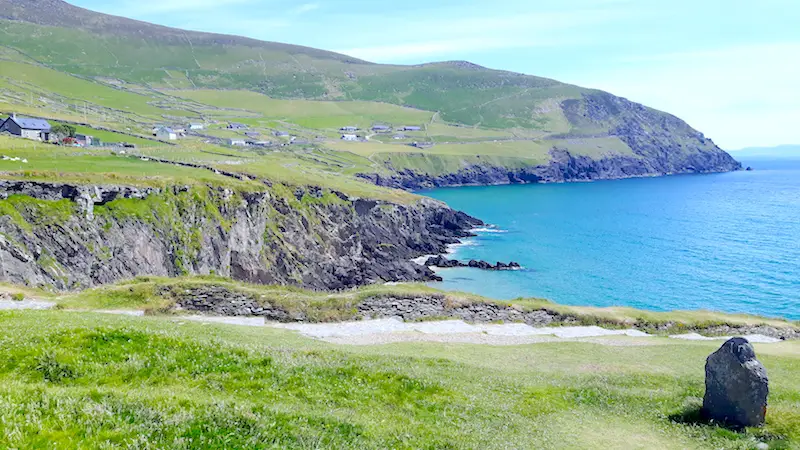 This road is supposed to be driven counter-clockwise (anti-clockwise for us Brits).  While it is possible to drive it in any direction you choose, you'll be grateful to not meet large coaches coming from the other direction. If you have time you could take a boat trip into the harbour to see Fungi, the resident dolphin!
Day Four – Dingle to Cliffs of Moher
If you would prefer to not move accommodation so often, switch days four and five.  Drive over Conor Pass and straight to Galway today.  The cliffs of Moher and The Burren can easily be done as a day trip from Galway.
Take the scenic route over the Conor Pass as you drive north out of Dingle.  Stop at the summit and take the walk to the left for excellent views.  Taking the Tarbert ferry will save you miles and provide a nice break from all the driving.  It also allows you to more easily follow the coastal route north rather than sticking to the inland highways.
Hiking along the Cliffs of Moher are one of the top things to do in Ireland.  I would recommend parking at the southernmost entrance and hiking along here.  It was far less busy than around the official visitor centre and you will have the sun behind you.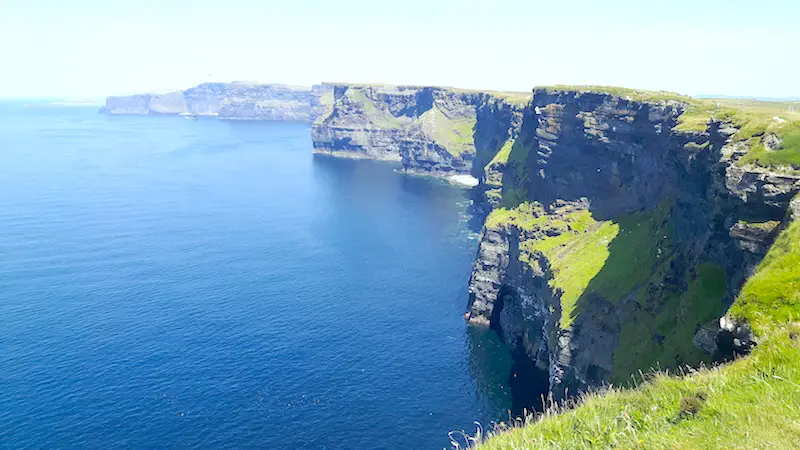 Stay in a local place of your choosing.  Doolin is a very popular stop but Ballyvaughan looked like a cool town on the coast.
Day Five – The Burren to Galway
Take a drive through The Burren.  This region is a rocky, barren landscape that has a number of interesting features.  In the national park section, there are some great hiking trails.  Along the R480 there is an ancient burial ground, an old fort and Aillwee Cave, all worth checking out.
Make your way to Galway for the evening.  We stayed in the suburb of Salthill and, unless you are there to party, would highly recommend it.  We could easily walk into town for all the action but were just steps from the beach in a quiet neighbourhood.
---
---
Day Six – Connemara National Park
One of our absolute must-see places in Ireland is Connemara National Park.  Drive in a loop and stop along the way.  Don't miss the Killary Fjord and Kylemore Abbey.  Stop in Letterfrack for some hiking in the park.  Sky Road is a great addition for some stunning views.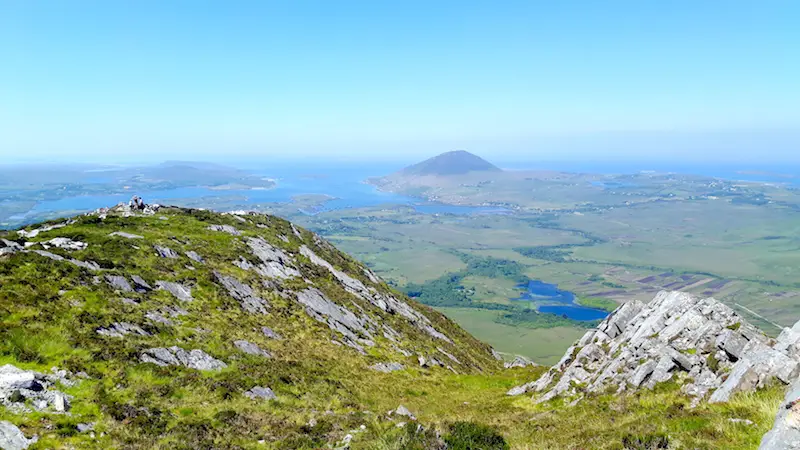 Return from your day in Connemara National Park with plenty of time to freshen up and head to Quay Street, Galway to experience the city's famous nightlife.

READ THIS POST:
The Best Travel Backpacks for Minimalist Travel + Packing Tips
Day Seven – Galway to Dublin or Limerick
If you are flying out of Dublin you'll want to hit the road first thing.  This will give you more time to spend exploring this vibrant city.  By getting a late flight out tomorrow, you will give yourself almost two full days in the capital.  Discover the best way to spend your two days in Dublin, or just pick and choose your favourite activities!
If you managed to get flights in/out of Shannon, you'll have a little more time to spare.  Consider spending some time around Galway.  Or go straight to Limerick.  You could even squeeze in a day trip to the Aran Islands.
Day Eight – Heading home!
Fly home after an amazing 7 days in Ireland!
The Ancient East
If you want a healthy dose of history mixed with beautiful scenery, this is the Republic of Ireland for you. For this 7 day road trip itinerary, the perfect flights would be into Cork and out of Dublin airports (again, the opposite works too).  However, round trip tickets to Dublin will work just fine.
If you prefer not to self-drive, this amazing three-day tour covers just about all the places mentioned in this itinerary.  It includes transportation, accommodation and breakfast.  Check prices and availability now!
Day One – Airport to Cobh
Pick up your car and drive to Cobh (pronounced Cove) in Cork County.  This small, cute village is not only scenic but has plenty of things to do.  It's a great start to anyone's Ireland itinerary!  Visit the Titanic Experience in the original White Star Line ticket office, the Cobh Museum, the Heritage Centre, or wander around town.
There are a number of great traditional pubs and restaurants in town.  Rob Roy and The Titanic were both recommended to us by our local host.  We found them to have plenty of local flare and friendly people!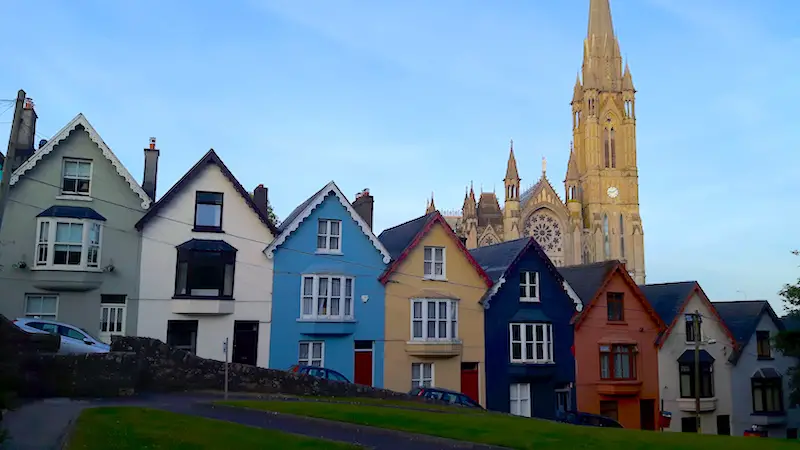 Day Two – Cobh trip to Spike Island
Take the first ferry across to Spike Island.  This is a former prison and an interesting island worth exploring.  Spend the rest of the afternoon in town.
Day Three – Cobh to Blarney Castle to Kilkenny
As you drive north on your road trip around Ireland, take a short detour to Blarney Castle and kiss the famous stone.  From there, continue on to Kilkenny. (Depending on flight time and arrival airport, you could do this on your arrival and save some time today)
Arrive in time to spend the afternoon wandering the Medieval Mile or take a walking tour to learn about the town's interesting history.
Day Four – Kilkenny
Whether you are interested in geology or history, Dunmore Cave is a must-see in Ireland's Ancient East.  Guided tours are mandatory as you discover the calcite formations while learning about at the Viking activity at this site. In the afternoon, you might be interested in touring the Smithwick's Experience, Ireland's most popular ale.  Click now to check prices and availability.  Any visitors over 18 receive a complimentary pint at the end of the tour.  The perfect way to begin your evening in Kilkenny.
Day Five – Kilkenny to Glendalough
Make the hour and a half drive to the Wicklow Mountains area and stay somewhere between Glendalough and Roundwood. In the afternoon, you could head to Glendalough to explore the early Christian settlement.  If you're feeling energetic you could hike St. Kevin's Way to see a few more ruins.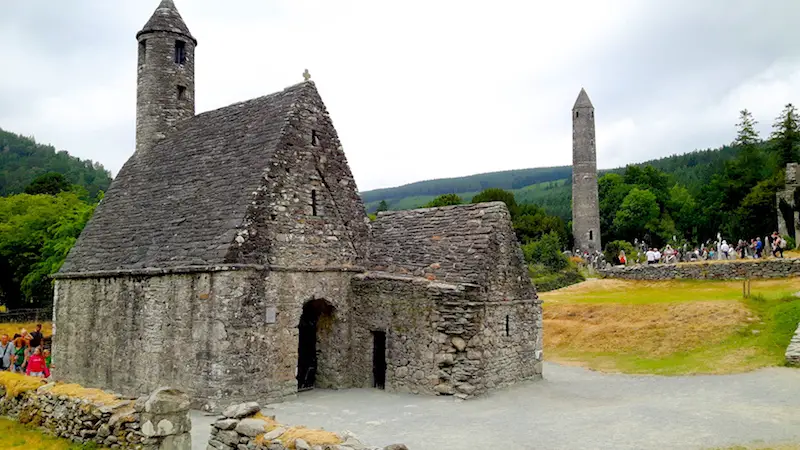 Combine the Monastic City with your hiking tomorrow and free up this afternoon for a walk around Vartry Reservoir.
Day Six – Glendalough
Spend the day hiking in Glendalough Valley.  There are a number of trails to choose from depending on fitness level and interest.  We highly recommend the white trail if you're reasonably fit and want amazing views!  Or combine the white and red trails for a full day's adventure.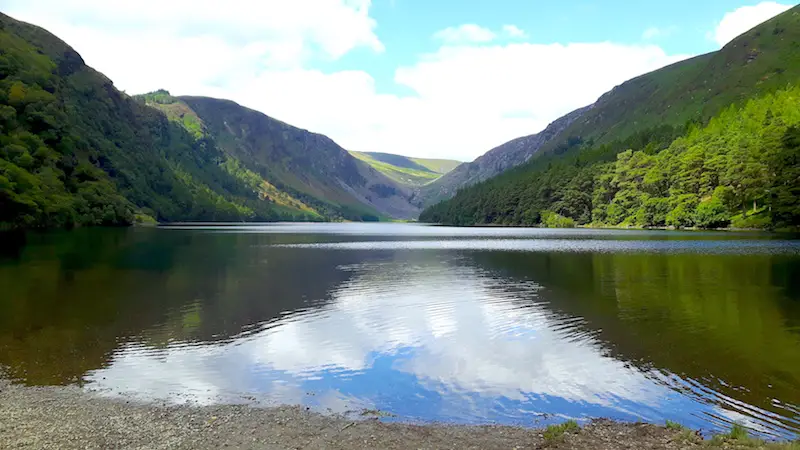 Day Seven – Glendalough to Dublin
Finish your one week Ireland road trip in the capital, Dublin.  As you make your way to Dublin, take a scenic route through Sally Gap.  It won't add too much to your drive but will be so worth it!
Once in Dublin, take a free walking tour to learn about the history and architecture, or visit the Kilmainham Gaol and GPO Museum to delve into the history of the Easter Rising.  Learn about (and taste) Ireland's most famous export at the Guinness Storehouse.  Or just spend your time wandering the streets and enjoying the atmosphere of this vibrant city.
Check out these fun tours in Dublin.  Click the image for more details!
Day Eight – Fly home!
Hop on board and relax for your journey home.  Have a nap or scroll through the thousands of pictures you have taken.
Why not pin this for future reference?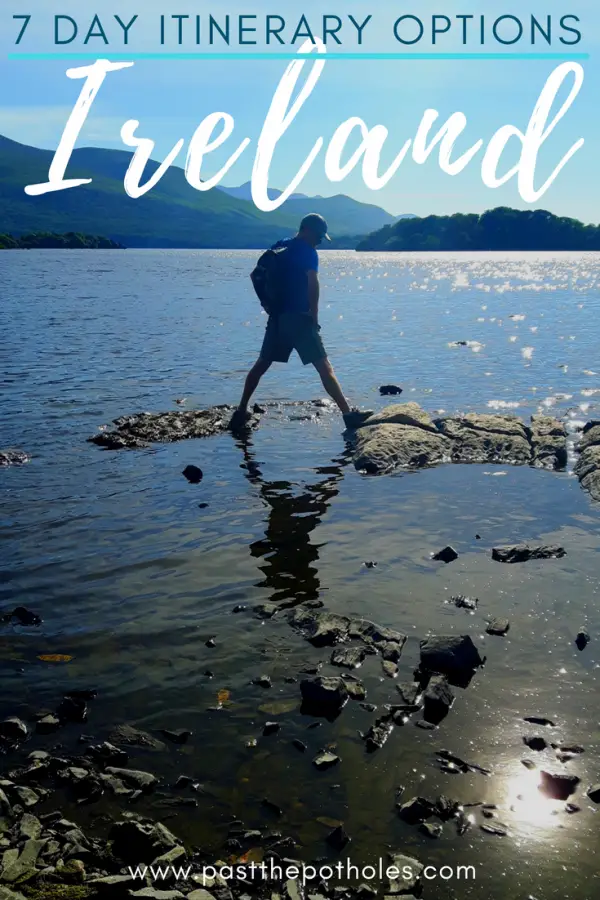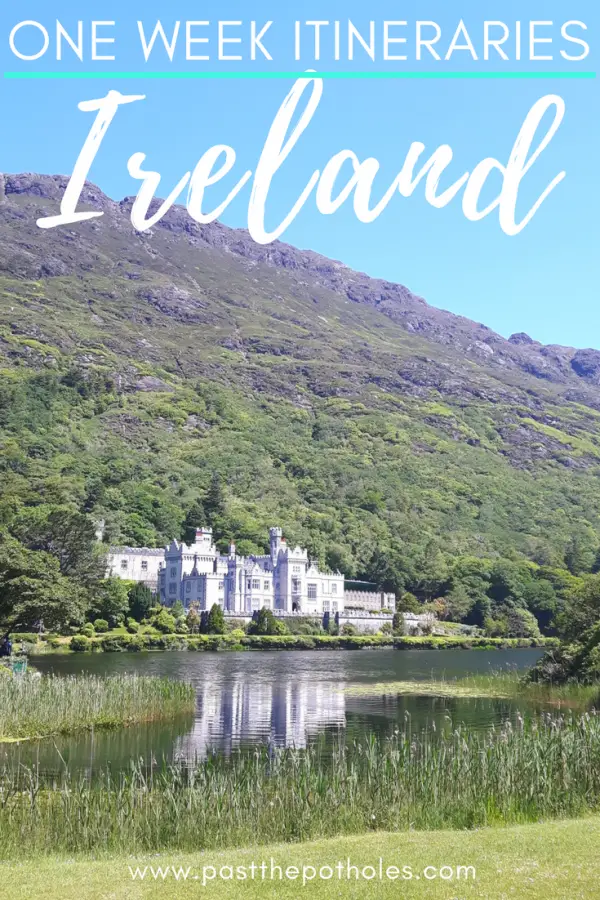 Return to our Destinations page!
---