The Ultimate Iceland Ring Road Itinerary – 10 Days Fully customizable!
Some links in this post may be affiliate links. If you click on them we may make a commission from qualifying purchases at absolutely no cost to you.  Read our full Disclosure Policy here.
The "land of fire and ice".  It seems everyone's talking about Iceland right now; the rugged landscape, volcanoes, waterfalls, lava fields and outdoor adventure opportunities.  But does it live up to the hype?  In a word, yes!
We've been to some pretty amazing places recently and driving around Iceland's ring road stands out among them.
Don't let fear of the unpredictable Icelandic weather stop you from roadtripping around Iceland.  Read our safety tips for
driving in Iceland in winter
now!
A lot of time went into researching and planning our Iceland ring road itinerary but it was totally worth it.  So we're sharing it with you.  The great successes, the failures lessons we learned, and any useful Iceland tips we discovered along the way.  If you are planning a trip to Iceland you definitely want to read and save this post!
Don't have time to read it right now?  Click the image save it for future planning!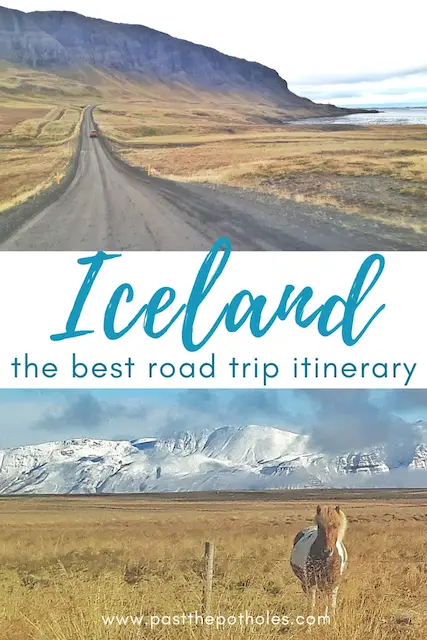 The Ultimate Iceland Ring Road Itinerary
With 10 days in Iceland, we were able to drive the entire Iceland ring road plus Snaefellsnes Peninsula and Reykjanes Peninsula and found it to be more or less the perfect amount of time (although there is always more to see and do if you can find a few extra days…).
This itinerary will include a 'base' 10 day Iceland itinerary with multiple options to shorten or extend your Iceland driving tour as your time allows.  We wouldn't recommend tackling the ring road with less than one week in Iceland and would have loved to have had 2 weeks to take it a little slower and fit in a few more hikes.
Where to rent a car in Iceland
We feel the best way to travel in Iceland is by car.  By planning a variation of the many Iceland self-drive tours you can decide on your own pacing and attractions that are of interest to you.
We rented from Europcar for a few reasons:
We planned on using our credit card for insurance and many European/local companies include the basic CDW which voids the credit card coverage. NOTE: you must book through the .com or .ca versions to waive the insurance.
We've used Europcar on a number of occasions, in countries where people report many issues and we've never had a bad experience.  Check our Ireland road trip itinerary with Europcar.
They immediately gave us the option to get winter studded tires fitted – we spoke to others who asked for this and were refused.  (In the first week of October these were already necessary in some spots.)
Aside from the local companies (such as the highly rated Iceland 4×4), they were the cheapest option without insurance.
P.S. we receive no commission or incentives to support Europcar, but have simply been very happy with their service each time.
If you plan/want CDW and all the other insurances that are offered, we recommend using RentalCars.com. They search 100s of top car rental agencies for the best prices and also include basic CDW with their rates.
[btn text="Find the best rates now!" tcolor=#FFF bcolor=#e05858 thovercolor=#444 bhovercolor=#fff4c4 link="https://www.rentalcars.com/?affiliateCode=pastthep086″ target="_blank"]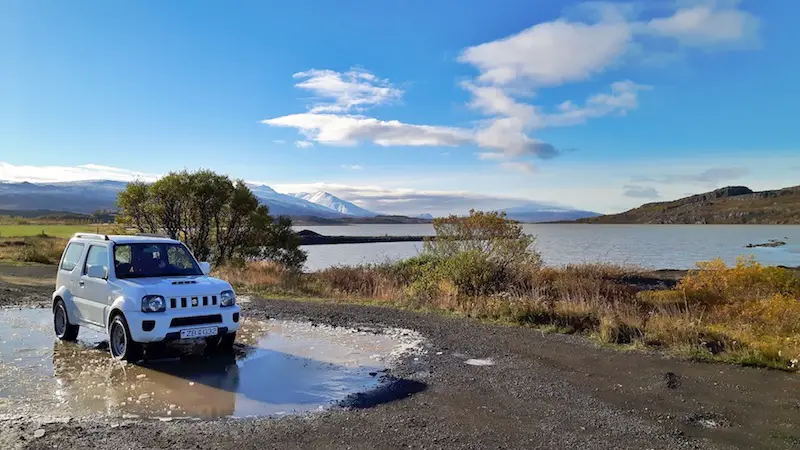 Where to stay in Iceland
When looking for accommodations, our first priority was location.  I knew roughly how far I wanted to travel each day so found a town in that area near the ring road.  Iceland is sparsely populated but it's never too far before the next food or accommodation option.
From there, I filtered for options to include free wifi and free parking as must haves.  Given the list (sorted by cost), I considered price, comfort, kitchen facilities and/or included breakfast (a HUGE cost saver), and reviews.  I read the reviews carefully and generally book the cheapest place with good reviews.  This could mean booking the absolute cheapest option but is almost always one of the cheapest five or so.  I also always check hotels.com, booking.com and AirBnB.
Accommodations we used are included within the daily itinerary below as well as other highly rated places for various budgets.  Note: accommodations in Iceland are generally more pricey than other places so the term 'budget' is used loosely and certainly exceeds what we would usually recommend.
Where we stayed on our Iceland ring road tour
We were extremely happy with every place we stayed and would highly recommend each one as meeting ALL the criteria above.
Kriunes Hotel – outside of Reykjavik, on a lake with mountain views and a hot tub.
Check pictures and reviews now.
Lindartún Guesthouse –  a great little farm homestay a little off the main road near Hvolsvöllur and Seljalandsfoss. The  house is beautiful with a shared kitchen and the included breakfast was the best we had.  Check our prices and availability now.
Höf 1 Hotel – surprisingly great as one of the cheaper options in Hof near Skaftafell National Park.  Also includes a great breakfast.  Check reviews and prices here.
Laufás Guesthouse – this budget option in Egilsstadir included shared kitchen and living areas.  Check reviews and availability now.
Skútustaðir Guesthouse is a friendly family run farm stay just across the road from Lake Myvatn and the pseudo craters.  The shared kitchen and living areas were great and the included breakfast amazing!  Check prices and reviews here.
Apotek Guesthouse Akureyri is a great option option in Akureyri.  It's central location was convenient to everything and the shared kitchen area was a bonus.  Check out the reviews and availability now.
Bænir og Brauð is a fantastic guesthouse in Stykkisholmur.  Centrally located with a wonderful kitchen, living area and bathrooms.  I honestly didn't want to leave this place! Check pictures and reviews now.
Gardur Guesthouse is located close to Keflavik Airport on the Reykjanes Peninsula.  It's basic but includes everything needed for a comfortable stay and was by far the cheapest place we found to have our own studio apartment.  Check availability and prices here.
Never leave home without insurance!  Iceland is an adventure lover's paradise which means plenty of opportunities for injury!
We use and love World Nomads. Their insurance covers both travel and health needs and they paid out quickly and easily when we needed them.
Click now for a quote for your Iceland travel!

Iceland Trip Planner Map
Hours upon hours of research went into our Iceland ring road itinerary for 10 days and I created a map of all places of interest to ensure we didn't miss anything.  Stops are coded according to accommodations, tours/organized/paid activities, quick photo opportunities, hiking activities.  Each location is organized into the days and order that makes the most sense geographically.
Now I'm sharing it with you to save you the same time, sweat and headaches.  You're welcome!  Just click on the square icon in the top left to see the menu.  Then choose which days/areas you wish to see as you plan your itinerary for your Iceland road trip.
Iceland Ring Road Itinerary – 10 Days
Day One – Explore Reykjavik
Hopefully you will be flying into Keflavik Airport in the morning as we did.  This will give you plenty of time to pick up your rental car, check into your accommodation and explore Reykjavik.
This Reykjavik Free Walking Tour is a great option to gain your bearings and get some good tips for your time in Iceland.  Warning: there is a considerable amount of standing around and listening on this tour though so dress warm – we had to bail before the end as we were just too cold!
While in the city, you could also visit Hallgrimskirkja, the famous church, Tjornin Lake to feed the ducks, Perlan for its great views of the city, and Nauthólsvík Geothermal Beach just outside the city.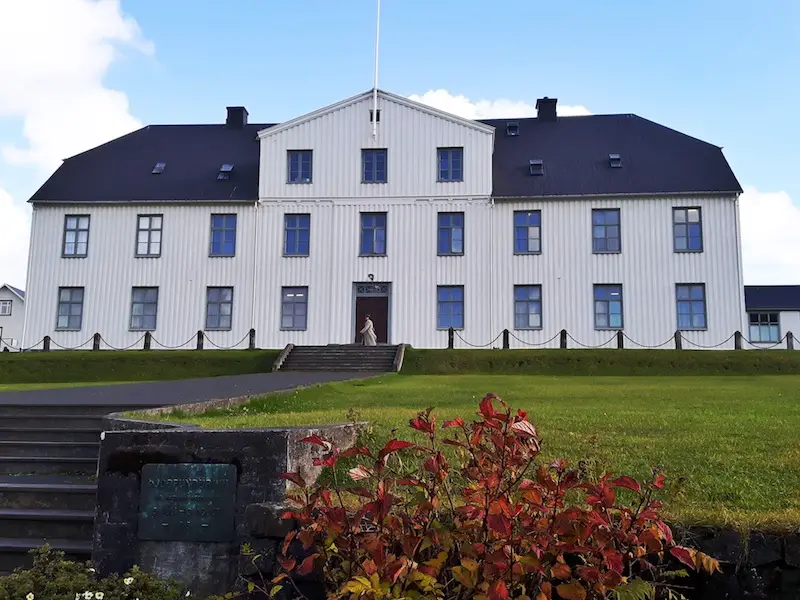 Where to Stay
Budget – Nordurey Guesthouse is a perfect option for those on a budget.  Centrally located, with a shared kitchen, shared bathrooms and free wifi it won't break the bank starting at $77 for a double room.  Check reviews and availability now!
Mid-range – Reykjavík Central Apartments provide all the comforts of home with a full kitchen (there's even a dishwasher), communal laundry, free wifi and free parking.  The centrally-located apartments begin at $165 for a two bedroom apartment.  Check prices and reviews now!
Mid-range (out of town) – Kriunes Hotel is a great option if you'd rather stay out of the city.  It's on a lake with mountain views with free parking and wifi.  The hot tub is the perfect place to view the Aurora Borealis if the weather cooperates.  Check reviews and pictures now!
Splurge – Hotel Borg by Keahotels is a beautiful, luxury option with an in-house spa and gym including a hot tub, steam room and sauna. The central location includes free wifi and spa access at starting prices of $244.  Click here for reviews and availability.
Day Two – Golden Circle
Check out of your accommodation bright and early to beat the tour buses to the popular Golden Circle.  The big attraction on this loop is the Thingvellir National Park (actually written as Þingvellir).  Here you will discover Öxarárfoss waterfall, Drekkingarhylur and Silfra, the meeting of the tectonic plates where you can book a snorkelling tour.  There are also many trails around this area to explore.
Personally, we decided to pass on the snorkelling.  It is quite expensive, short and cold – we just couldn't convince ourselves it was worth it.  However, for many this is a must do and favourite part of their trip.  Check out this highly rated tour now if you're interested!
Further along the road, you will find Geysir, and the impressive Gullfoss waterfall, both worth a stop.  As you return to the ring road, the final stop is the Kerið Crater.  We actually decided to skip this as the weather was too disgusting for us to have got the views people rave about.  But we have it on good authority this is worth the 400ISK entry fee.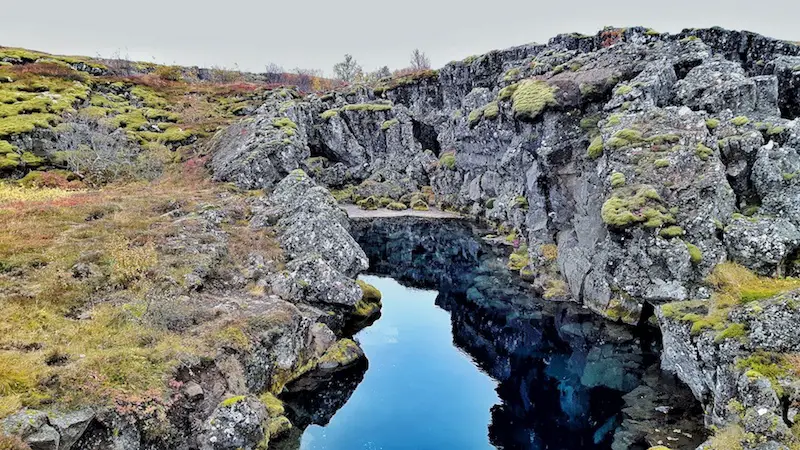 Where to Stay
Budget – Kennarabústaður is highly rated thanks to its shared kitchen, sun terrace, free wifi and parking.  A double room costs around $85.  Check now for prices and availability!
Mid-range – Lindartún Guesthouse includes free wifi and parking as well as the most amazing breakfast.  There is a well-equipped shared kitchen and shared or private bathroom options.  Rooms start at $150.  Check prices and reviews now!
Splurge – Fagrabrekka Guesthouse is extremely well rated with an included breakfast, free wifi and parking.  Each room has a seating area and terrace with mountain views.  Rooms start at $260.  Check images and availability now!
Day Three – Iceland's South Coast
An absolute must on any Iceland self drive itinerary is a visit to one of Iceland's most beautiful waterfalls; Seljalandsfoss.  It is recommended to get to this waterfall for sunrise.  We didn't get moving early enough for that but it was beautiful nonetheless.
From here, continue a short way to Skogafoss waterfall.  This is the waterfall that is famous for creating a rainbow in the spray.  Take the time to walk up the (many) stairs beside the falls and continue walking along the river beyond where most people stop.
A popular next stop is Solheimasandur, a beach with a plane wreck.  Due to time constraints we chose to skip this but if you get up earlier or have longer days (we visited in October) you will have plenty of time.  We did, however, make sure to stop as Reynisfjara.  This black sand beach is known for its basalt columns and interesting rock formations but beware of the dangerous waves that are known to cause drownings annually.
Fjaðrárgljúfur Canyon was our final stop for the day.  You will need a 4×4 vehicle to reach this (legally anyway, we did see a few cars that had made the bumpy drive).  There are three viewpoints along the canyon each with beautiful views.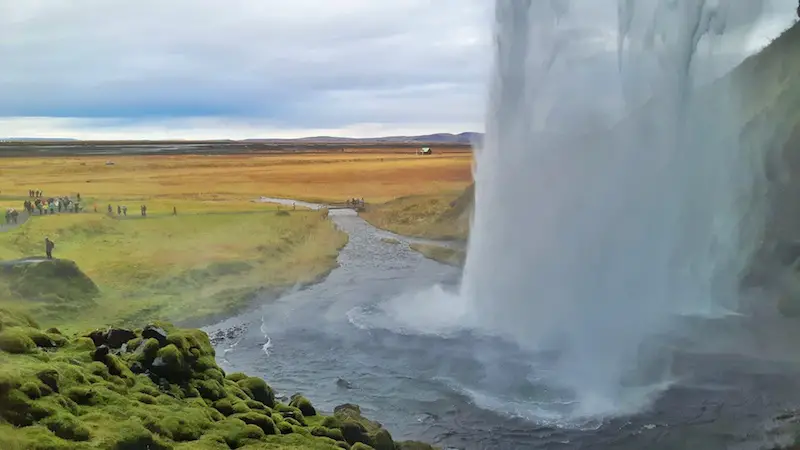 Where to Stay
Keep in mind, this was probably the most expensive area in Iceland so the term 'budget' is used loosely!
Budget – Fosshotel Glacier Lagoon is a little further from the park entrance but has great reviews.  There is a restaurant and a bar for guests to use.  A double room with a private bathroom is $165 and some even have a view.  Check prices and reviews now.
Mid-range – Höf 1 Hotel is just 20 minutes west of the park entrance.  It includes a great breakfast and rooms are comfortable.  There is also a cute little turf roofed church nearby worth a peek.  A double room with a private bathroom will cost $170 while a private bathroom will cost $190.  Check reviews and availability now!
Splurge – Hotel Skaftafell has amazing views of the glacier directly behind.  All rooms have private bathrooms and include a delicious breakfast.  A twin room will set you back $275.  Check prices and availability now!
Day Four – Skaftafell National Park and 
Jökulsárlón Iceberg Lagoon
Get up early, eat a big breakfast (included at Hof 1 Hotel) and head straight to Skaftafell National Park.  This was our favourite part of Iceland.  Many people just hike to Svartifoss waterfall but continuing beyond across the ridge to Sjónarnípa to view the glacier makes a great circular hike.  If that's too challenging, there is a flat trail that takes you to the glacier's base for a close up look. With extra time, there are numerous trails winding their way across the park.
Skaftafell National Park is also a great location for a glacier hike tour.  Armed with ice picks and crampons, a memorable adventure is guaranteed.  Check out prices for this incredible tour now!
When you can tear yourself away, continue along the ring road to Jökulsárlón Iceberg Lagoon.  To your right is Diamond Beach where pieces of iceberg wash ashore and create a sparkling blanket of diamonds on the black sand.  On the left is the lagoon.  See the glacier feed into the frigid waters as giant chunks of ice float out to sea.  Keep an eye out for the seals that swim amid them!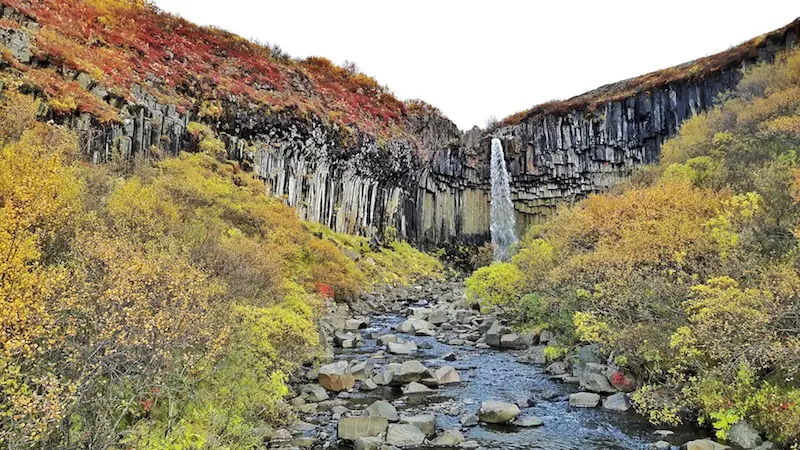 Where to Stay
With long enough days, drive to Egillstadir.
Budget – Laufás Guesthouse is a good budget option that's perfect for a night's stay with a shared kitchen and living area.  Lyngás Guesthouse is affiliated and also a great choice.  Both locations start at about $65 for a double room with shared bathroom.  Check availability and reviews now!
Mid-range – Hotel Eyvindará is a family-run small hotel in a forest just outside of town. Guests love the location, hot tubs and friendly owners.  A double room with private bathroom starts at $106.  Check prices and room options now!
Splurge – Kaldá Lyngholt Holiday Homes are the highest rated accommodation and can be found just 8 minutes outside of town.  These one-bedroom houses offer a terraces with a barbecue as well as a hot tub and sauna.  To top it off, there is a waterfall just a one minute walk from the homes.  Prices start at $165.  Check availability now!
If you'd prefer an actual hotel, Gistihúsið – Lake Hotel Egilsstaðir is an excellent choice for a bit of luxury.  All rooms come with private bathrooms, seating areas and a fabulous included breakfast.  The lakeside hotel also offers spa facilities for an extra charge with double rooms starting at $180.  Click here for reviews and pictures!
---
If you visit during a time of year with shorter days, we would strongly suggest you stay in either Djúpivogur or Höfn.  It will mean a longer drive tomorrow but will mean the scenic (and winding) drive through the Eastern Fjörds will be done in daylight.
Budget – Guesthouse Nypugardar is good option near Höfn with great views, a superb included breakfast and optional dinner buffet that guests love. The  rooms are simple but comfortable and cost around $85 for a double with shared bathroom.  Check prices and availability now!
Mid-range – Hotel Framtid is a favourite option with guests.  It has a great location on the Djupivogur Harbour and includes a tasty breakfast.  Double rooms with shared bathrooms cost around $115 but rooms with private bathrooms are also available.  Click here for prices and reviews.
Splurge – Milk Factory is located just 4km outside of Höfn and is popular for its modern design and comfort, included breakfast and free bike rentals.  A double room with private bathroom starts at $150.  Check for reviews and availability now!
Day Five – East Coast to Myvatn Lake
As you make the drive to Myvatn, detour to Selfoss and Dettifoss.  In summer, take the 864 to see both from the east then continue north to Asbyrgi Canyon.  Return along the 862 and stop to see the waterfalls from the west side.
Unfortunately, by early October the roads were already closed for winter so the waterfalls can only be accessed on the west side and the canyon from the north coast.  Touring Iceland by car is always an adventure and this is the area where the weather is most likely to change.
As you reach the Myvatn area, you can stop to see sights such as Námafjall Hverir Viewpoint (boiling mud), Grjótagjá Cave (a hot spring cave and Game of Thrones filming location), Krafla Crater, Höfdi and Dimmuborgir.  You will have to pick and choose depending on daylight but each is worth a visit.  Those you are unable to reach today can be scheduled for the morning too.
In the evening you might choose to visit the Myvatn Nature Baths, often called the Blue Lagoon of the north.  They are considerably cheaper and a little more natural.  Purchase your entry ticket now!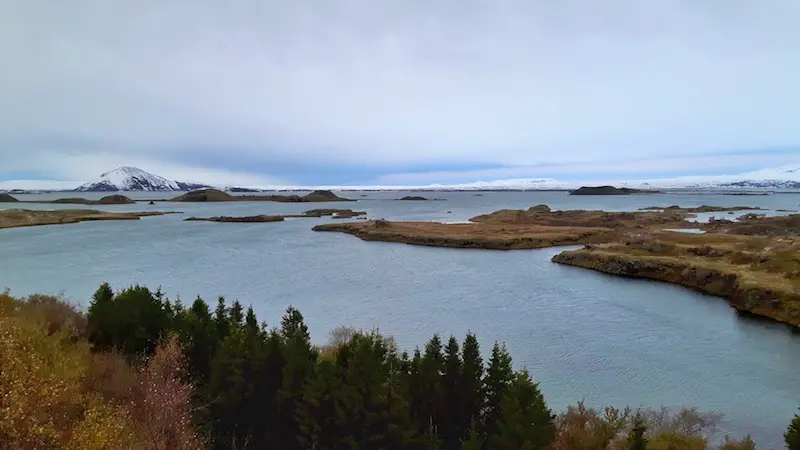 Where to Stay
Budget – Skútustaðir Guesthouse is a great farm stay right across the road from the pseudo craters and the lake.  The included breakfast is not only delicious but consists of many homemade items and there is also access to a shared kitchen. A double room with a shared bathroom is $97.  Check here for prices and availability!
Mid-range – Hótel Laxá is highly rated for its location, views and fabulous included breakfast.  Bonus marks for having a turf roof!  All rooms have an ensuite room and doubles start at $128.  Check now for reviews and images!
Splurge – Fosshótel Myvatn is a great option to add a little luxury.  It is situated right on the lake with amazing views from the bar, restaurant and some rooms.  Double rooms with private bathrooms start at $150.  Check now for reviews and availability!
Day Six – Myvatn
 to Akureyri
Today is a pretty short drive so you can begin by visiting any of the places you weren't able to fit in yesterday.  When you are ready to head to the north coast be sure to make a stop at Godafoss waterfall.  The huge horseshoe shaped falls are akin to a smaller Niagara Falls and just off the side of the ring road so a very easy stop.
If the weather allows, take a detour to Aldeyjarfoss.  Unfortunately, the closed roads meant we were unable to access this one but the pictures and reviews both convinced me it is worth it if possible.
Akureyri is the second largest city in Iceland and the capital of the north.  You should arrive fairly early so this would be a great spot to book a whale watching trip.  Check prices and reviews for this tour here!
Alternatively, you could do as we did and visit the local thermal baths.  With just a 950ISK  entry fee it is both substantially cheaper and more authentic than other options.  There are multiple pools of varying temperatures, a steam room, sunbathing areas, children's playgrounds and waterslides.  While it is a great spot for families, it's pretty awesome for adults too!   Be warned, however, showering naked before entering is mandatory and they're not really set up for modest foreigners…but that's a story for another day!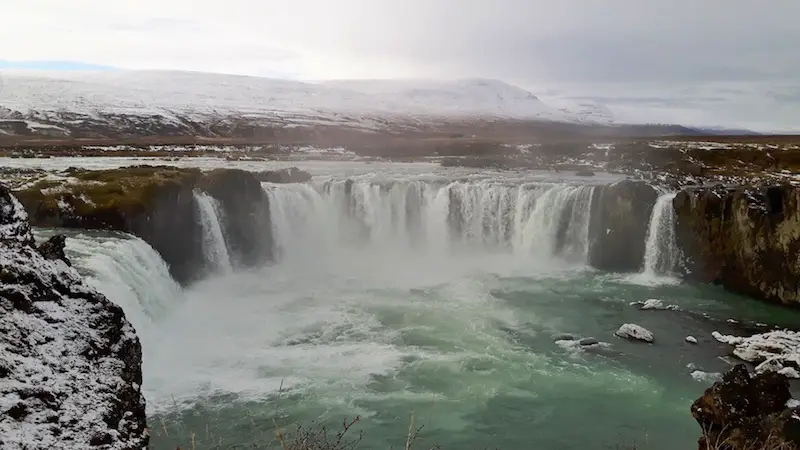 Where to Stay
Budget – Akureyri Backpackers is a highly rated option that won't break the bank.  It's centrally located with a bar and restaurant although guests have access to a kitchen if they prefer.  A twin room with shared bathroom starts at $73 but a dorm bed costs just $28.  Check now for prices and reviews!
Mid-range – Apotek Guesthouse Akureyri was a great option right downtown and good on budget too.  We enjoyed the common area and convenient location.  A double room with shared bathroom starts at $95.  Click here to check availability and reviews!
Splurge – Hafdals Hotel boasts stunning sea and mountain views from every room.  Set just outside of town, everything is easily accessible yet peaceful and a delicious breakfast is included.  Twin rooms with private bathroom start at $166.  Check prices and availability now!
Day Seven – drive to Stykkishólmur
This is a day on the road!  Today you will cover the north coast and reach the Snaefellsnes Peninsula.  Enjoy the scenery and feel free to stop whenever something (most likely a waterfall!) catches your eye.
In particular, you could stop at Hvitserkur.  This elephant-shaped rock formation is a popular photo stop.  Hvammstangi is known as the seal capital and therefore, shockingly, a great place to stop for lunch and a bit of seal spotting.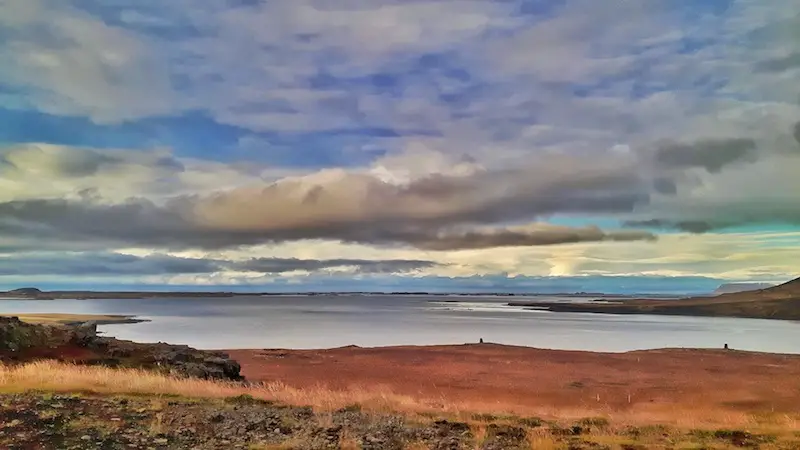 Where to Stay
Budget – Bænir og Brauð was a fantastic guesthouse that I honestly didn't want to leave!  It is simply a beautiful house with seven bedrooms to rent out in a central location but is quiet and stylish.  A double room with shared bathroom starts at $97.  Book now!
Mid-range – Helgafell is a good option for travellers wanting a little more comfort.  Located 6km from town, each room includes a balcony, seating area and a private bathroom.  A queen studio with kitchen facilities starts at just $137.  Click here to check availability and reviews!
Splurge – Hótel Fransiskus Stykkishólmi is well-loved for its views, excellent staff and comfortable rooms.  Double rooms with private bathroom and an included breakfast start at $170. There are  also single rooms with shared bathrooms available for the solo traveller.  Click now to check reviews and prices!
Day Eight – Snæfellsnes Peninsula
For the first time on your Iceland road trip you will get to sleep in the same bed twice!  Spend the day exploring the Snaefellsnes Peninsula at your own pace.
We enjoyed photographing Kirkjufellsfoss, said to be the most photographed waterfall in Iceland.  It probably is and, while not a letdown, understand that most of those photos are well-edited.
We climbed Saxholl and enjoyed the view across the lava fields towards Snæfellsjökull, the nearby glacier.  Next, we visited Djúpalónssandur Beach and Londrangar, the basalt cliffs.  If you've visited any of the basalt cliffs on the south coast it is safe to say you can skip this one.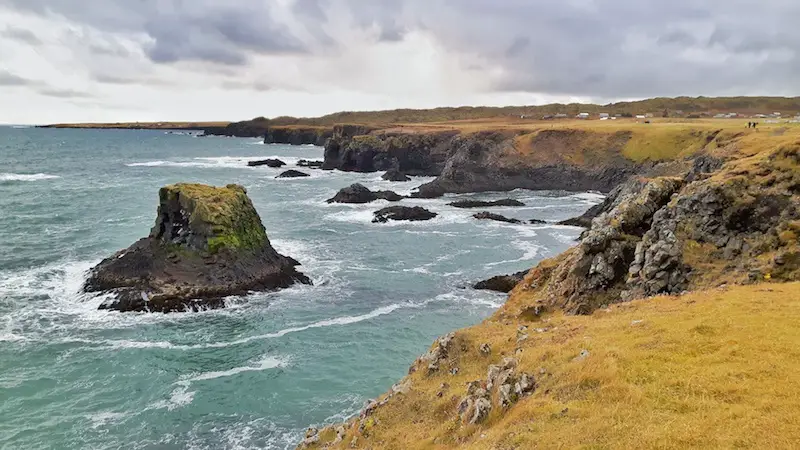 Interested in a journey to the centre of the Earth?  Vatnshellir Cave is the setting for Jules Verne's famous book and is open for tours.
The coastline between Hellnar and Arnarstapi is incredibly scenic and worth hiking the coastal trail that connects the two, or at least part of it.  We really liked the Arnarstapi end but you really can't go wrong.
Drive through Budhahraun lava fields to reach Ytri Tunga Beach.  This small but pretty beach is known for seal sightings.
Depending on time, you could visit Landbrotalaug Hot Pot to relax after a day on the road.  It's not really a secret anymore but hidden among fields, receives very few visitors.  It's about as natural as it gets.  If exploring the peninsula took too long, don't worry.  You could visit it the following morning as we did.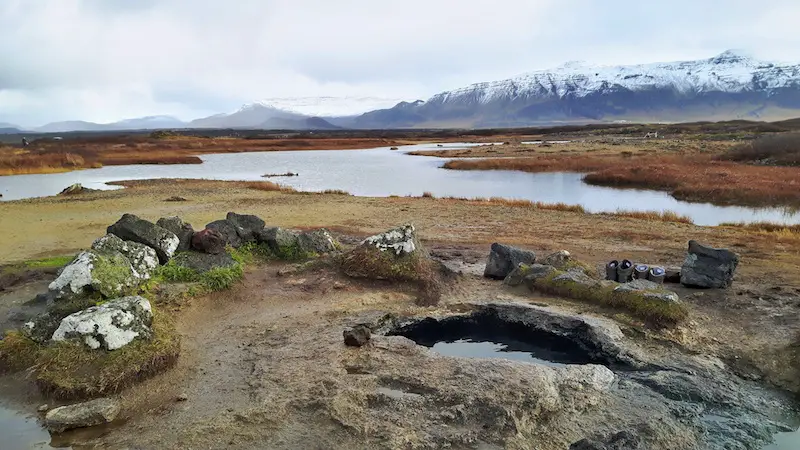 Day Nine – Snaefellsnes Peninsula to Reykjanes Peninsula
As you make the return journey to the Reykjanes Peninsula (home to the airport), make sure to stop at Barnafoss and Hraunfossar.  These two waterfalls are practically side by side with Hraunfossar stealing the show.
Many itineraries for Iceland include stopping at Deildartunguhver, Europe's highest flowing hot spring.  You drive right past it so I wouldn't say not to, but I'm definitely not saying it's worth the stop either…
Depending on time, there are many options before reaching your accommodation.  We stopped to walk around a river valley park that runs through Reykjavik.  You could also check out the lava fields, lava rock pool or Bridge Between Continents on the peninsula.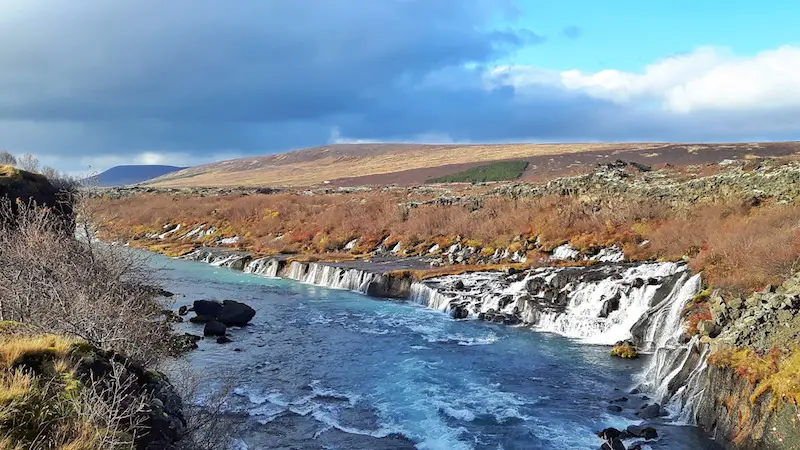 Where to Stay
Unless you're desperate to experience more of Reykjavik (we weren't) I can't recommend enough staying nearer the airport.
Budget – A. Bernhard Guest House is excellent value with easy check-in, seating areas, a communal kitchen and included breakfast.  Double rooms with shared bathrooms begin at $79.  Check prices and reviews now!
Mid-range – Gardur Guesthouse and really enjoyed having our own studio apartment for the first time in Iceland.  It's basic but clean, cute and has everything you need.  It's also a great spot for Northern Lights out by the lighthouse, if the weather cooperates.  Prices start at $108.  Click to check reviews and availability.
Splurge – Lighthouse Inn provides room with private bathrooms and a complimentary full cooked breakfast. The communal areas include a pool table, bar and TVs.  A double room starts at $154.  Book now!
Day Ten – Reykjanes Peninsula
Most visitors to Iceland zoom through this part of the island as they come and go from the airport only and they're missing out!  Take the time to drive around the coastline and stop at various sights.  Don't miss the Krysuvík area which is a geothermal hotspot and includes many hiking trails.  Nearby is the beautiful Kleifarvatn Lake which is a great lunch spot if the weather cooperates.
Spend the last evening of your 10 day Iceland road trip relaxing.  If you're looking for convenience and luxury, pre-book a time for the Blue Lagoon.  If nature and adventure is more your speed, drive to Reykjadalur Hot Spring Thermal River.  It entails an hour-long hike each way but it doesn't get much better than relaxing in a hot river, for free, in nature.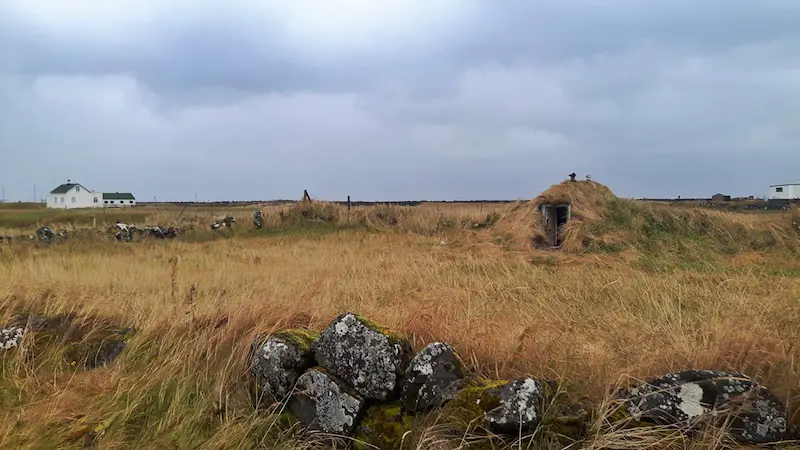 Day Eleven – fly home
If you stayed in Guesthouse Gardur like us, you will have a very short drive to the airport.  This will likely mean ending your itinerary for Iceland with a nice relaxing morning, or perhaps even time to squeeze in a few more sights!
---
Two Week Iceland Ring Road Itinerary
With two weeks, you have a number of options to make your vacation in Iceland even more memorable.
Depending on budget, adding more organized tours will require stretching out the time spent in those locations.  Glacier hiking, visiting ice caves (winter only), snorkelling in Silfra, whale watching, and horse-back riding are among the the most popular Iceland tours to add into your itinerary.
[btn text="Find the perfect tour now!" tcolor=#FFF bcolor=#e05858 thovercolor=#444 bhovercolor=#fff4c4 link="https://www.getyourguide.com/s/?q=Iceland&customerSearch=1&searchSource=2&ct=1&p=1&partner_id=6Z7V2CX&cmp=icelandtours-itinerary" target="_blank"]
We would have loved to add an extra day to the south coast, specifically around Skaftafell National Park as this was our favourite area.  This was the best hiking we found in Iceland with a variety of trails that included a wide variety of terrain.
Our schedule had us driving straight through the Eastern Fjords (after dark no less thanks to our love for the Skaftafell region).  From what we saw this was easily one of the most scenic areas of the ring road and having the time to stop in this area would have been wonderful.  Spending a night in a town such as Reyðarfjörður, Borgarfjörður (best hiking in Iceland?) or Seyðisfjörður would be an excellent trip extension.
So, our ideal two week itinerary?  Follow the above plan until Day 4.  Enjoy more time in Skaftafell and Jökulsárlón then sleep in Höfn.  The next day take your time driving through the fjords, stopping for pictures and even the occasional hike.  Consider detouring to places such as Klifbrekku (weather dependent) and Seydisfjördur and spend the night in Egilsstadir.  Pick up with the above itinerary from Day 5.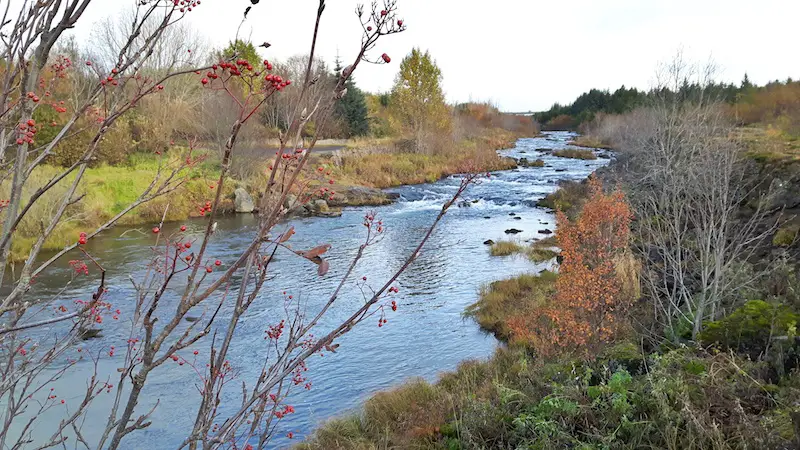 Ring Road Itinerary: 8 Days or 9 Days
If you don't have quite enough time to follow our 10 day Iceland ring road itinerary, taking out the extra days for the Snæfellsnes Peninsula and Reykjanes Peninsula will easily give you 8 days in Iceland.  If you have 9 days, you can pick which one to keep.
One Week in Iceland Itinerary
With only 7 days in Iceland, you could take out some of the time spent around Myvatn and Akureyri and speed on past Snæfellsnes.  After a night in Myvatn, skip Akureyri and drive through to Hvammstangi.  The next day you can make it back to the Reykjavik and airport area.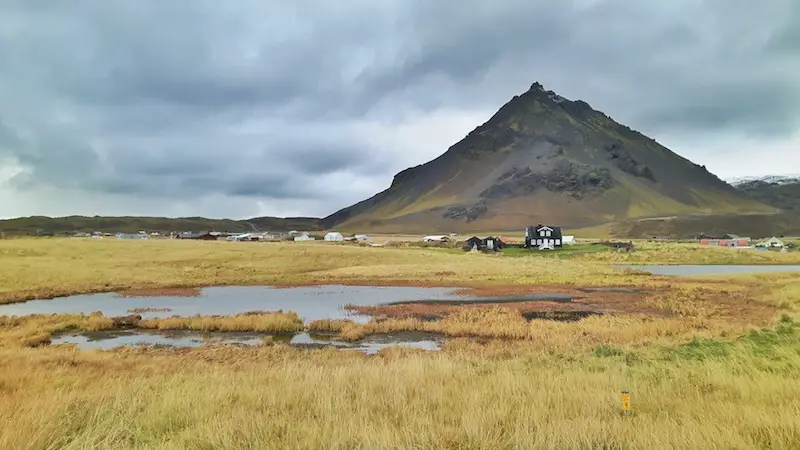 Can I do Iceland's Ring Road in less than one week?
How long does it take to drive around Iceland?  The ring road could technically be driven in one (very long) day.  However, there would be no time for anything other than driving.  And driving.  Why bother?
We wouldn't recommend anything less than a week to complete the entire Iceland ring road.  Less than 1 week in Iceland and we feel you would spend your entire time driving with little more than quick photo stops.
We think you would get so much more out of covering less ground and spending more quality time in each location.  Driving along while checking off a list of photo ops gets old quickly.  Our favourite places in Iceland were those where we could get out of the car for a while and hike around exploring.
Driving out and back along the south coast would be the top of our list and make for an amazing 4 days in Iceland. If there is additional time, spend it either in the Snæfellsness Peninsula or Reykjanes Peninsula.  With just a weekend in Iceland, you might enjoy heading straight to the Snaefellsnes Peninsula, or even just stick around the southwest of the island.
Less than a week in Iceland for the ring road!
So you're desperate to drive around Iceland and can't manage more time.  If you really want to make it happen, joining a tour would be the best option.  Let the driver worry about covering the long distances and road conditions while you relax and prepare for the next adventure.  This small group Iceland 6 Day Ring Road Adventure is highly rated.
Alternatively, these shorter tours will take you to the highlights of Iceland so you can have an amazing trip without feeling rushed.  Check them out now!
One thing is for sure, no matter how many days you spend in Iceland or where you go, you will be awed by the power and beauty of this pint-sized nation.
 Have you been to Iceland? What were your favourite places?  Or are you planning a trip and still have questions?  Let us know in the comments below!
If you found this itinerary helpful, we'd love it if you could share it to help others find it!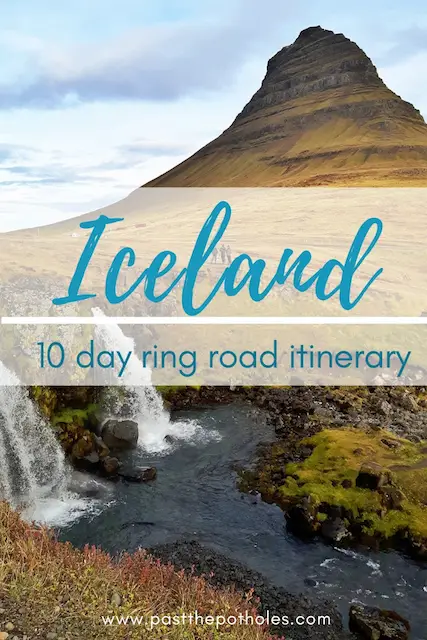 ---
Some links in this post are affiliate links.  That means if you click on them and make a purchase we will make a small commission at absolutely no cost to you. Win-win, right?  Thanks for your support!
---