Driving in Iceland in Winter: driving tips to stay safe
Some links in this post may be affiliate links. If you click on them we may make a commission from qualifying purchases at absolutely no cost to you.  Read our full Disclosure Policy here.
Without question, the best way to see Iceland is with a car.  There are so many amazing things to see and do all over the small island and tours are expensive!  With your own car you will have the flexibility to go where you want, stay as long as you like and leave when you're done.
However, we hear time and again that people are nervous to drive in Iceland thanks to their legendary weather, particularly their fierce winters.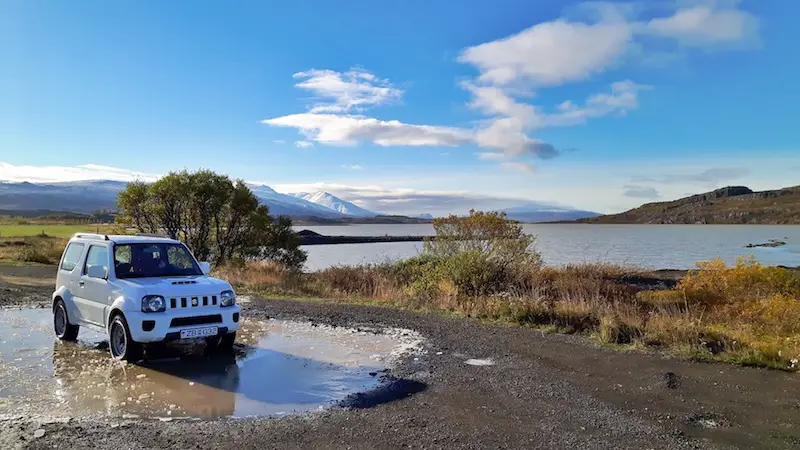 Driving in Iceland in Winter
People come to Iceland from all over the world and hop into a rental vehicle.  The rental companies give a book with basic rules of the road (for example, it is law to keep your headlights on all the time).  However, they don't seem to give any driving tips to be safe in winter weather.  
[btn text="Check rental car prices now!" tcolor=#FFF bcolor=#e05858 thovercolor=#444 bhovercolor=#fff4c4 link="https://www.rentalcars.com/AirportLandingPage.do?countryCode=is&iata=KEF&affiliateCode=pastthep086&preflang=en&adcamp=winter-driving-tips" rel="nofollow" target="_blank"]
For those Canadians, Russians, Scottish and Alaskans amongst you there is really nothing that you haven't seen with winter driving.  Iceland is prone to high winds and storms that can create dangerous conditions and road closures to watch for.  If you've never driven in winter conditions there are some tips you need to know to help you stay safe on the roads.
We ended up giving advice for safe winter driving to a number of tourists we met on our Iceland road trip!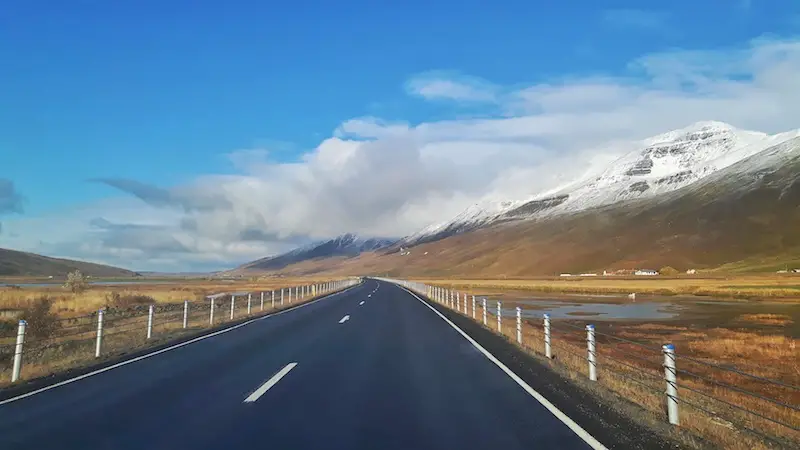 Iceland Winter Driving Tips
1. Choose your vehicle wisely
When booking your rental vehicle consider paying a little extra for four wheel drive.  This will give you much better traction on slippery roads, just don't keep the 4×4 on all the time as it will use more fuel!  
No matter the type of vehicle you decide on, be sure the rental agency has installed studded winter tires.  They make a huge difference.
Consider not getting vehicle with high sides due to the strong winds Iceland is famous for.  Our little Suzuki Jimny, while small, isn't particularly aerodynamic and we really got blown around the road.  We were so thankful to have decided against the camper.
2. Don't hit the brakes!
When you hit a patch of snow or ice, or come upon a slow driver, the automatic reaction is to hit the brakes.  Don't – this is the quickest way to lose control!  
If you are in a standard or manual transmission car, gear down instead.  
Automatic cars should have the option to either shift into manual transmission and then gear down or be able to shift into lower gears (usually labeled with an 'L' or '1' and '2').
If you really can't avoid braking, tap the pedal rather than just pressing it down continuously.
3. Keep a safe distance
It stands to reason that if hitting the brakes is a bad thing, you really need to keep a larger than normal distance between you and the vehicle in front.  While this is always the case for safe winter driving, it was more important than ever as we were driving in Iceland.
Thanks to the huge numbers of people with zero winter driving experience in rental vehicles we regularly came up behind cars that were driving incredibly slowly.  It is very easy to suddenly find yourself far too close to someone.
As we were about to leave Godafoss waterfall in the Myvatn area, we watched three separate vehicles try to navigate the slippery hill out of the car park and all three slide back down to the bottom.  Now imagine if we had decided to follow closely behind these cars…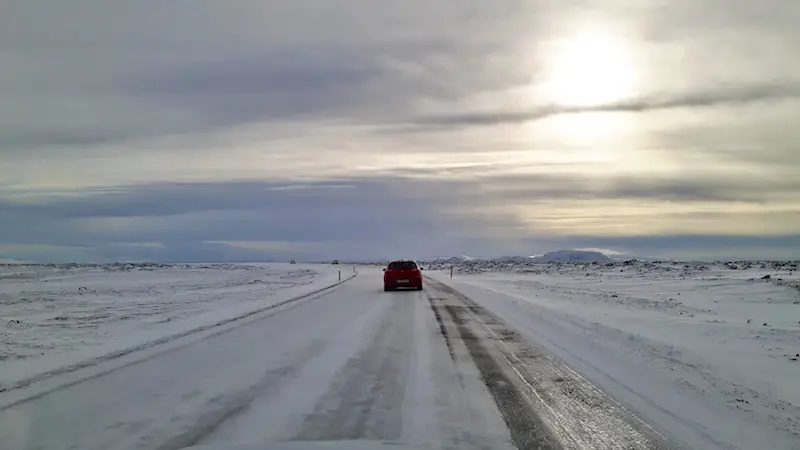 4. Use your signals (hazards, indicators)
If you've ever been in a car with me you'll know that not using signals is a major pet peeve of mine.  I'm a little obsessive about it and will often signal to an empty road!  
While I think it's always important, and polite, to let other road users know your intentions it's even more so when driving in winter weather.  It takes longer to slow down on slippery roads therefore the drivers behind you need lots of warning if you are planning to stop, slow down or turn.  
If this is your first time driving in winter conditions you may find yourself feeling nervous and being extra cautious.  This is great – better safe than sorry – but if you are traveling significantly under the speed limit make sure you have your hazard lights on.  This will let other drivers know to reduce their speed well before they realize how quickly they are gaining on you.  Remember all those drivers we were suddenly too close to?
5. Prepare for blind curves
Iceland is a mountainous island and roads are often having to twist and turn to match the contours of the land.  On numerous occasions we came over the crest of a hill to find ourselves on a sudden downhill with a curve and, just for fun, a steep drop off the side.
In good weather this means fantastic views, but when this happened to us on a snow-covered section we had a few heart-stopping seconds of sliding toward the drop before regaining full control.  Terry calmly proclaimed that he wished he was driving slower and I sat up a little straighter and began plotting the best point to come off the road.  We were very glad to have experience in winter driving!  Looking behind us, we watched two cars behind fishtail their way down the hill.  Somehow everyone managed to keep their car on the road.
We came across multiple other instances of cresting a hill and finding what could have been a rather dangerous section of road had there been ice.  Luckily after our first encounter with a complete lack of warning signs, we were more cautious and found clear roads.
Long story short, Iceland doesn't seem to have a lot of warning signs about upcoming potentially dangerous sections of road.  If you can't see what's ahead of you, either due to a hill or bend, take your foot off the gas pedal and be prepared.
6. Check the road conditions and be flexible
The weather changes in Iceland constantly.  Between time, elevation and weather changes you can find yourself driving through three seasons in a matter of hours. 
Iceland has an incredible network of webcams, weather stations and people who keep track of road and weather conditions.  Always check road.is before heading out. 
More than once we had to change our plans to accommodate for closed roads and bad weather.  If you are driving in Iceland in winter it is strongly recommended to leave plenty of flexibility in your plans.  As we began our trip around Iceland's ring road we met an Australian couple who were just finishing up.  Over our delicious breakfast they told us how a few days earlier they, along with three other cars, had to be rescued off a mountain pass on the main highway.  The storm had caused an accident and blocked the road.  After being stuck for a few hours they happily paid a local to drive them to the nearest town!
As I planned our road trip itinerary, I decided to get back to the airport region a day early.  We didn't need this extra day in the end (although it's a great area to spend a day anyway) but if we had got caught in a storm we didn't want to risk missing our flight.  We also ended up arriving at some places earlier than we anticipated as the weather convinced us to skip a few hikes or attractions that had become inaccessible.  If you're not traveling at peak season, consider not booking accommodation ahead of time to allow for moving slower, or faster, than planned.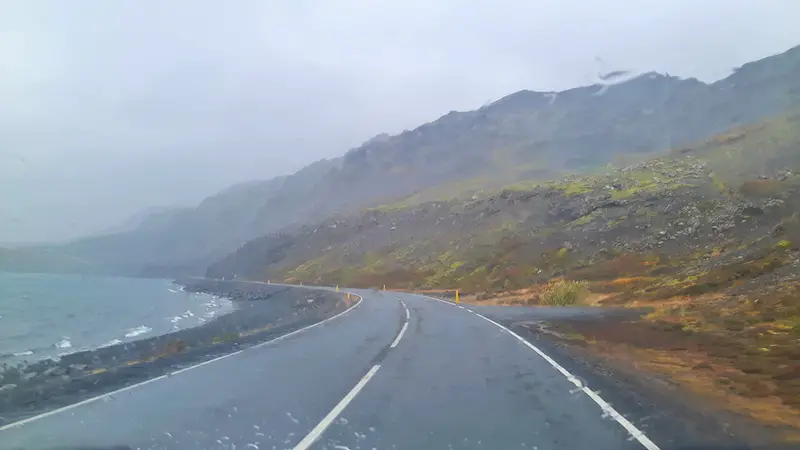 7.  Be insured!
Never leave home without travel insurance and never rent a car without insurance!  That is never more important than when you are visiting a volcanic island in the winter, known for crazy weather.  We called and confirmed with our credit card insurance to ensure they were providing us FULL coverage.  If that hadn't been the case we would definitely have paid for the rental company's coverage.
Beyond the car, make sure you and your trip are insured.  You never know when weather or health can force a trip to be cancelled, bags get lost or injuries happen.  I lost count of the number of cliff edges we found ourselves on during our Iceland trip!  We use World Nomad Travel Insurance and have found them to be great, especially when Terry needed to make a claim last year in Spain.  Get a quick and easy online quote now.
Why visit Iceland in the winter?
Are you wondering why anyone would visit Iceland in winter and choose to drive?  While driving around Iceland in the summer is undoubtedly a simpler adventure, there are a number of reasons why driving in Iceland in the winter might be desirable.
•  If seeing the Northern Lights is on your bucket list, you have to visit Iceland in winter.
•  Certain activities, such as visiting the ice caves, are only possible in winter.  Check out these tours now!
•  If you're not a good sleeper, you may prefer to visit during winter when it actually gets dark at night.
•  For photographers, winter might be the ideal time for lighting.  Sunrises and sunsets last longer and there's never a bright midday glare.  Pretty much all day is the perfect light for beautiful photos.
•  There are far fewer tourists in Iceland during the winter.
•  It's actually not all that cold.  While prone to stormy, unpredictable weather it will likely be warmer in Iceland than Canada in winter.
Winter driving in Iceland isn't something to be afraid of.  Just drive carefully and according to the conditions.  Don't let a bit of snow and ice stop you from exploring such an amazing country!
Found this useful?  Save it for later and help others find it by pinning now!
[columns] [span6]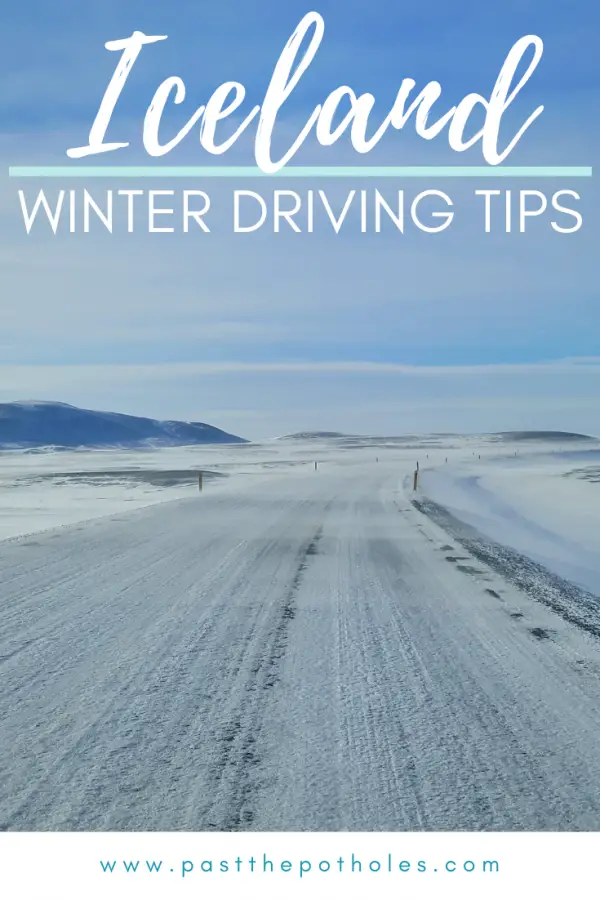 [/span6][span6]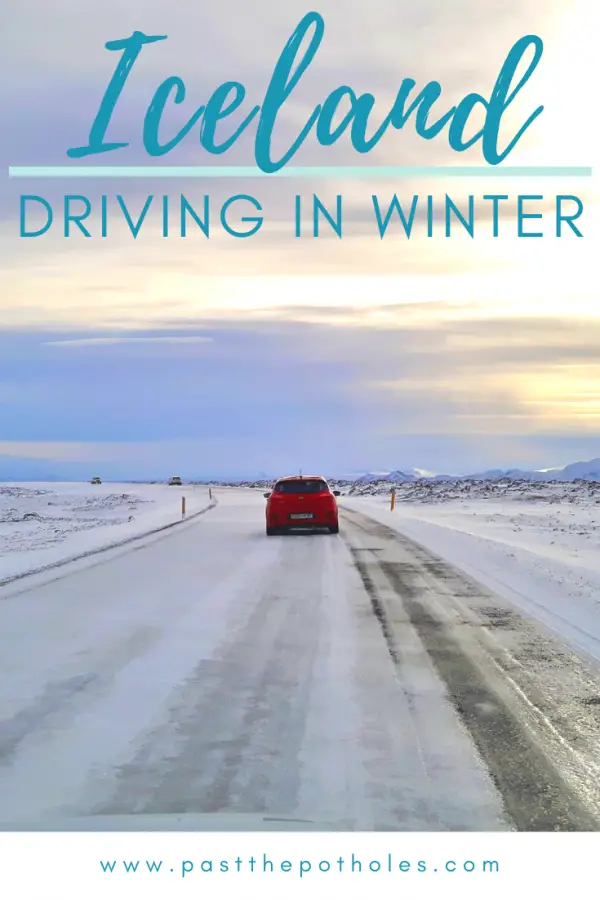 [/span6][/columns]
Return to our Destinations page for more travel inspiration.
---
---
Some links in this post are affiliate links.  That means if you click on them and make a purchase we will make a small commission at absolutely no cost to you. Win-win, right?  Thanks for your support!
---
---