October – Iceland Road Trip and Return to Canada
Some links in this post may be affiliate links. If you click on them we may make a commission from qualifying purchases at absolutely no cost to you.  Read our full Disclosure Policy here.
A quick road trip then relaxing at home as we catch up with friends and family.  As we looked ahead, this is how October played out in our minds but the reality was far from restful!
11 Day Iceland Road Trip
We had been waiting for this one for a long time.  Since leaving Canada more than a year ago, we had known that we would make a stop in Iceland on our way back home from England.  Of course, at that time it was going to be a summer visit before returning to the classroom in September.
Not unlike our trip to Morocco, a short visit quickly expanded to a longer stay as I discover more places we just had to see.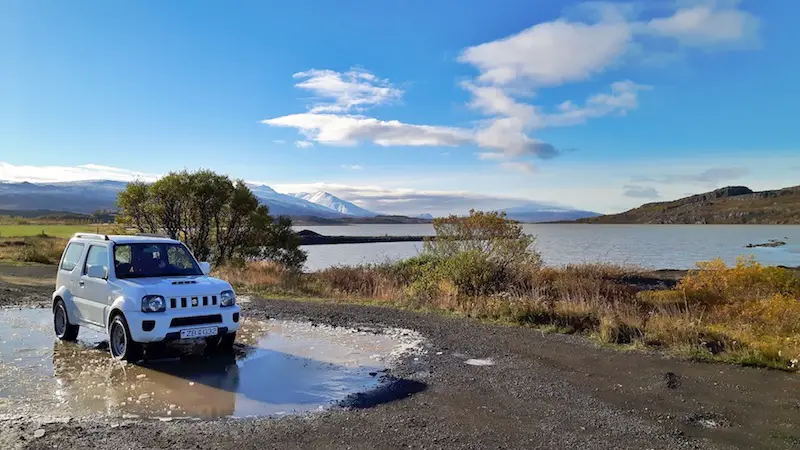 Iceland is just a 3 hour flight away from London and with cheap flights on offer, well worth it!  We completed the entire ring road plus extra days in the Snæfellsness Peninsula and Reykjanes Peninsula.
Our first day was spent in Reykjavik and getting our hire car sorted.  We also spent some time in the hot tub of our lakefront hotel recovering from our super early start to the day.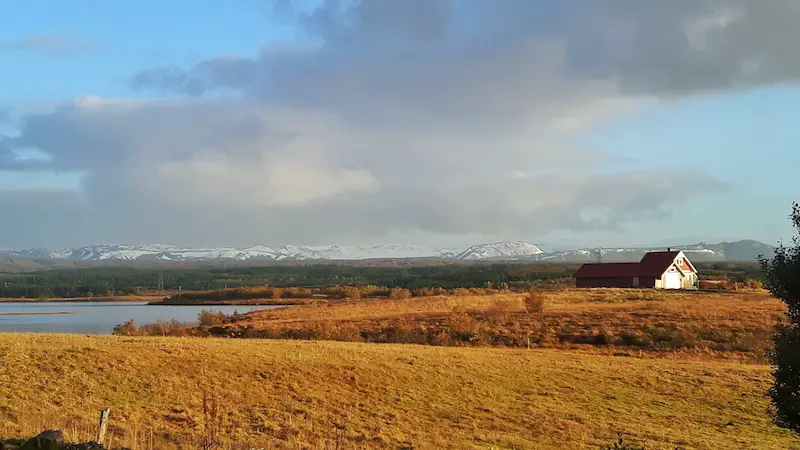 The next day we completed the famous Golden Circle.  While the weather wasn't cooperating, we were still able to appreciate the amazing views.  It did force us to skip the Kerid Crater though.  As the only attraction with an entry fee, the heavy rain and wind just wasn't convincing us that it would be worth it.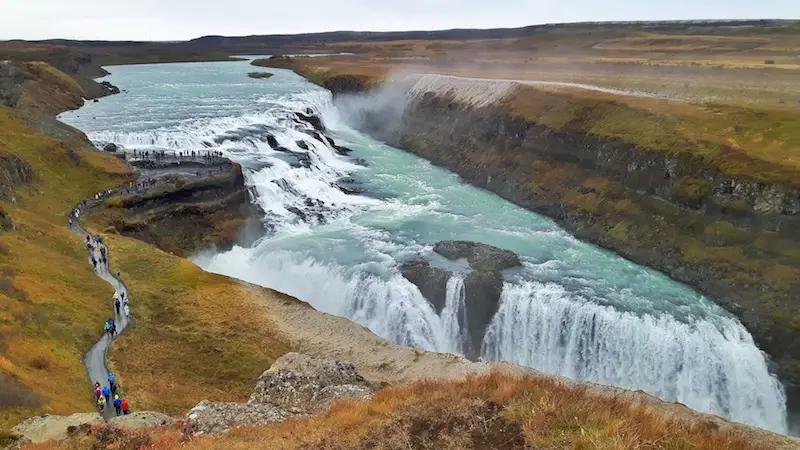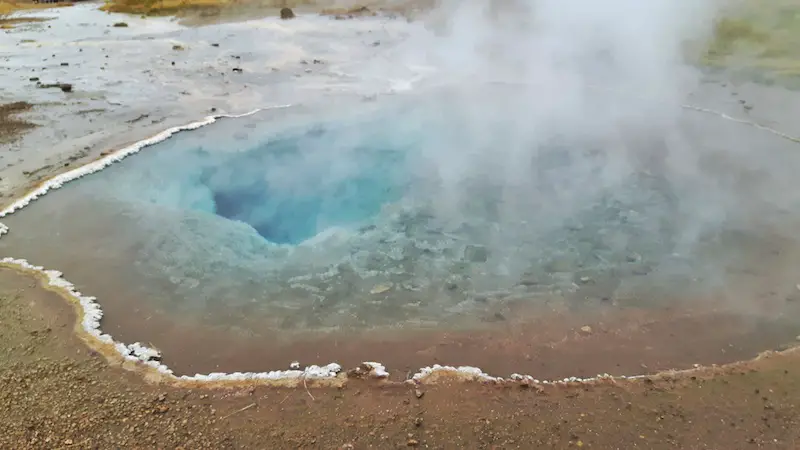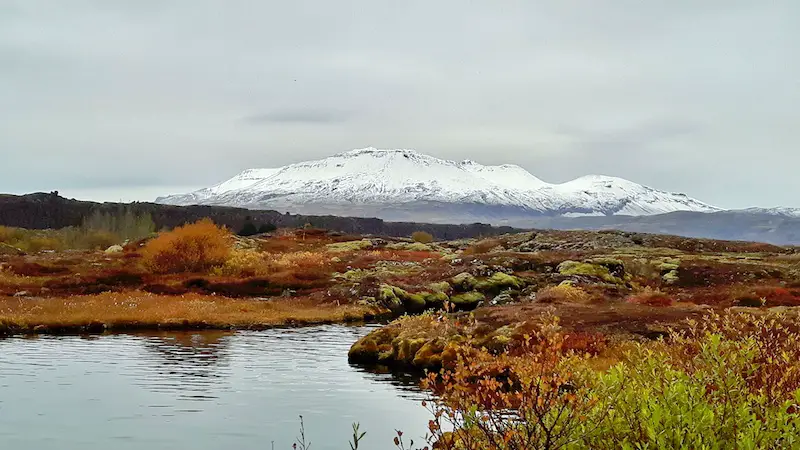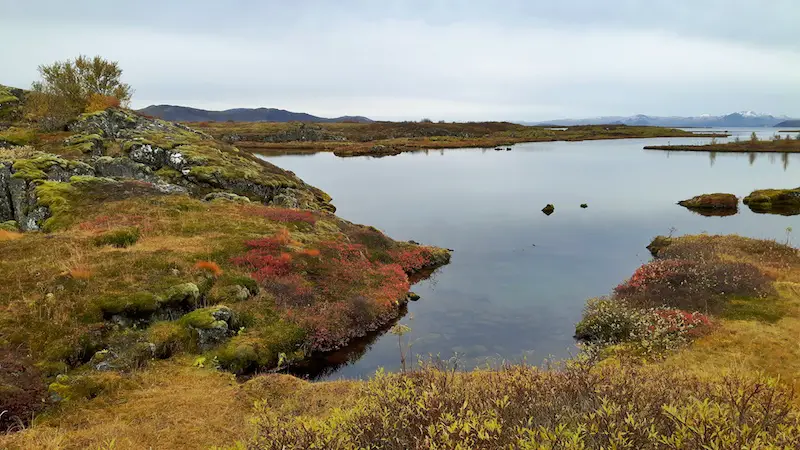 Iceland's South Coast
The south coast of Iceland was amazing!  By far our favourite section of our Iceland road trip itinerary.  There are some incredible waterfalls, beaches, canyons and glaciers.  Our favourite day of the trip was definitely when we visited Skaftafell National Park and Jökulsárlón Glacier Lagoon.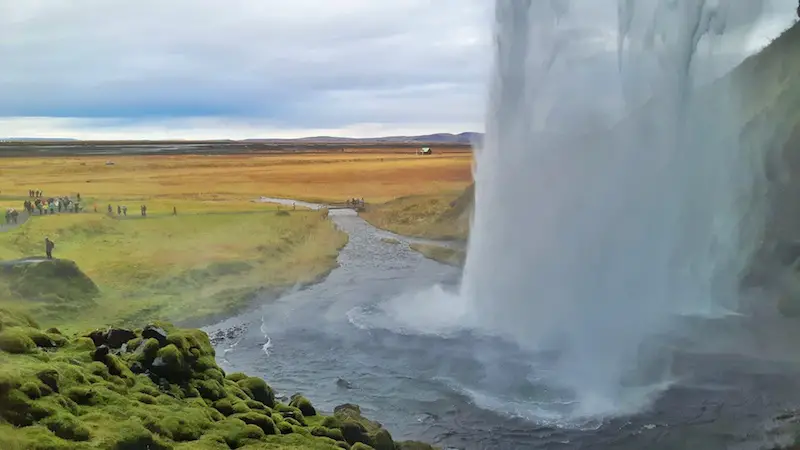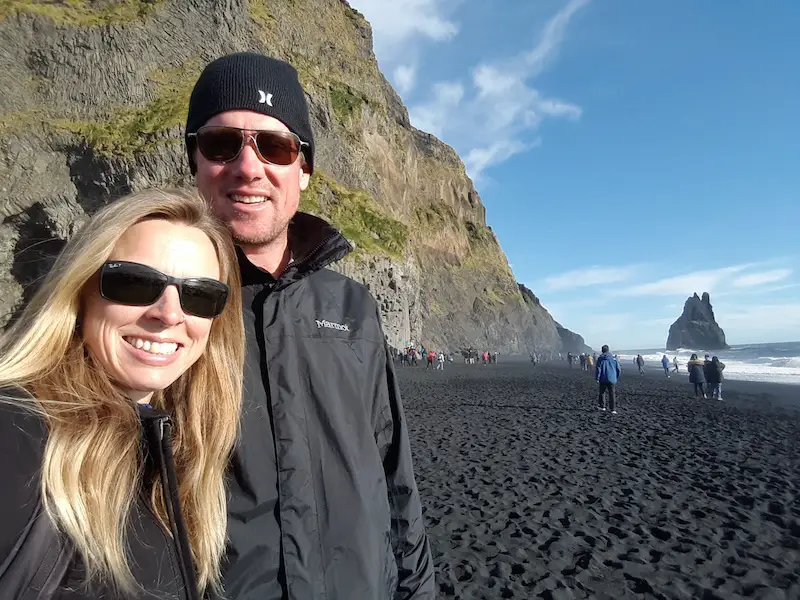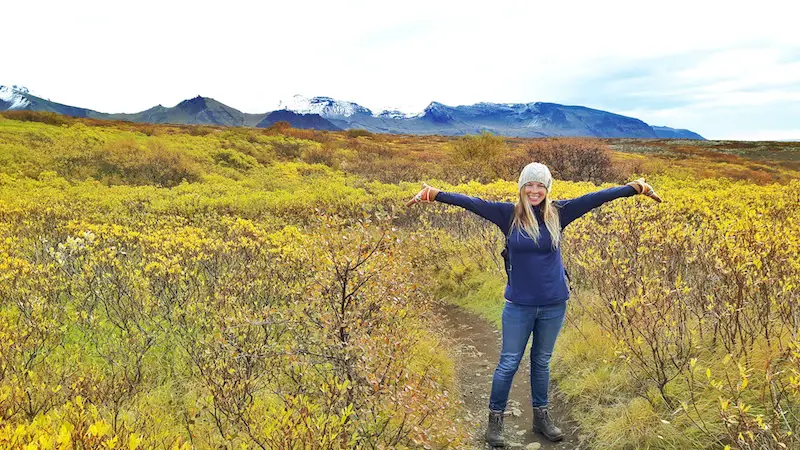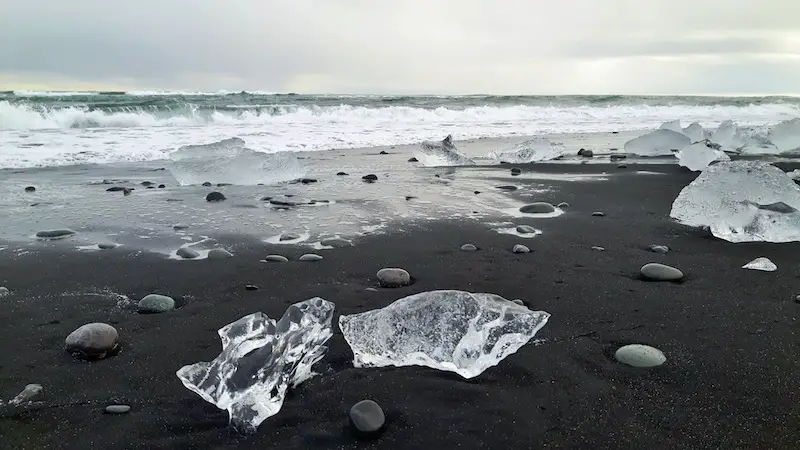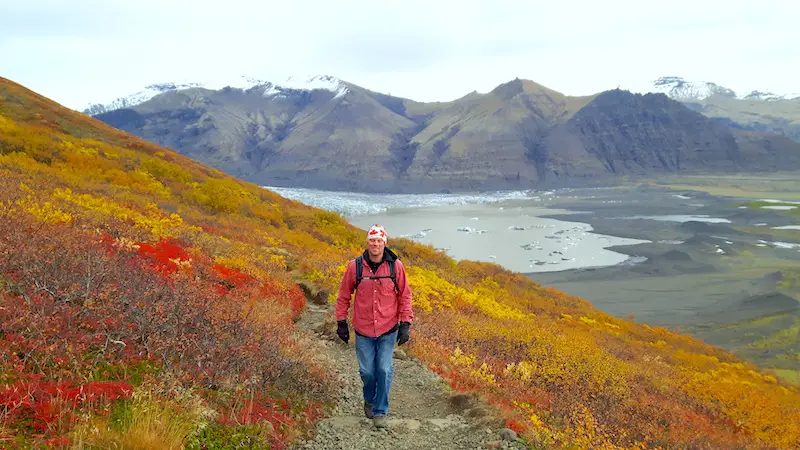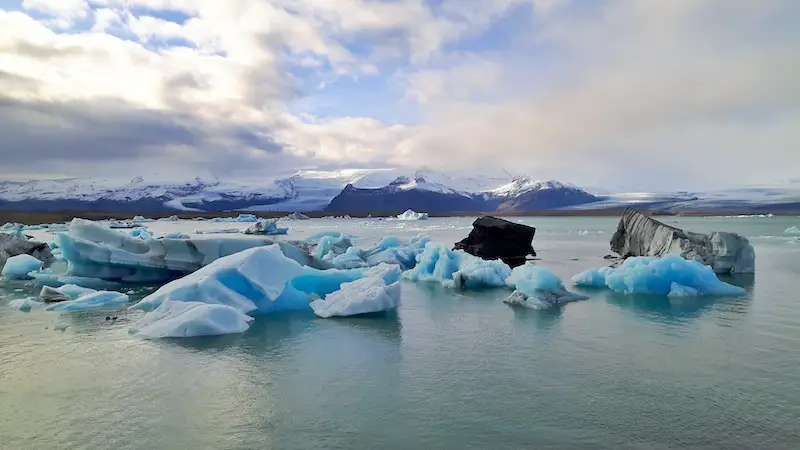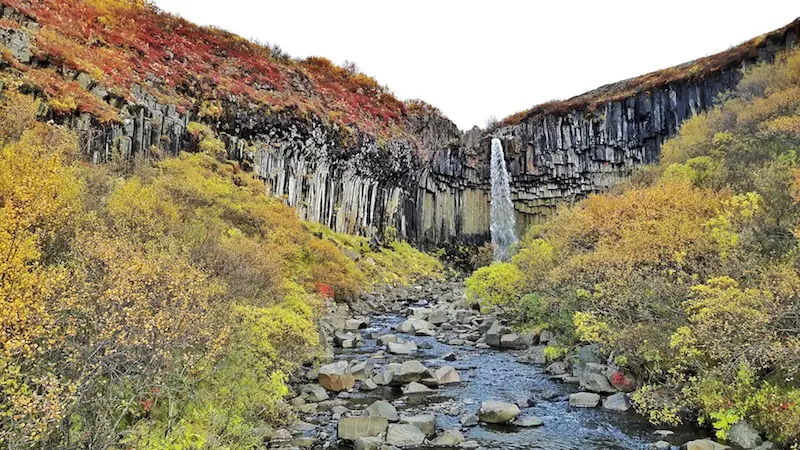 Unfortunately, we had a long drive to our night's accommodation through the Eastern Fjords after dark.  If we could change one thing about our itinerary, it would be to shorten the drive on this day so we could enjoy those activities as well as the scenic drive a little more.
Around Lake Myvatn
I had built in plenty of time for this area of Iceland as I had read that it is a great area for hiking.  I also planned to detour through a canyon when we visited two waterfalls.  Unfortunately, the roads were already closed for winter so our travel time was reduced. Given the fact that we reached the more accessible waterfall via a snow-covered, icy road (narrowly escaping a trip down the embankment), this was probably a good thing!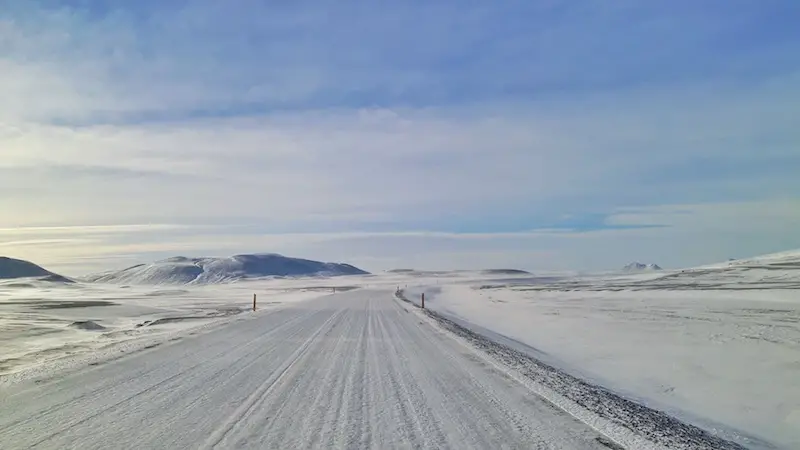 Lake Myvatn area is a region of Iceland with very high geothermal activity so there are plenty of hot springs, volcanoes and the like.  It also meant that the water contained high sulphur levels.  One shower and my silver ring was black!  While the drinking water in Iceland is among the cleanest in the world, we just weren't brave enough in this spot.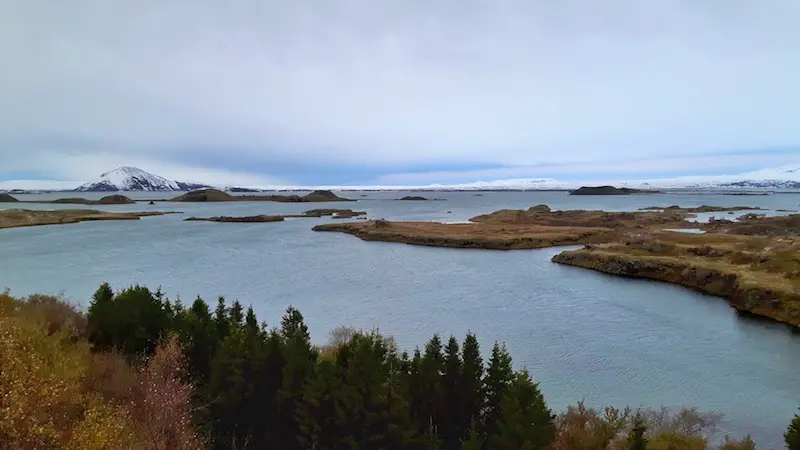 The weather was cold, snowy and blustery.  While the map did indeed show numerous hiking trails criss-crossing the area, the barren terrain and weather didn't give us the motivation required.  We did however, discover a small peninsula to hike with great views across the lake instead along with a few other attractions.
The North Coast
Our decision to keep the hiking to a minimum, as well as the closed roads, meant that we only had one waterfall to visit on our short drive to Akureyri.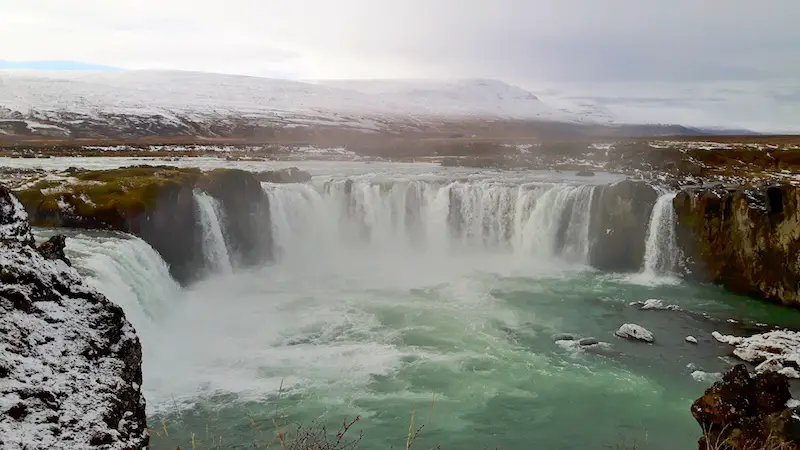 This is Iceland's second largest city and a great base on the north coast.  Arriving early on a Sunday (meaning almost everything was closed) we decided to take in a little local culture and head to the town's thermal baths.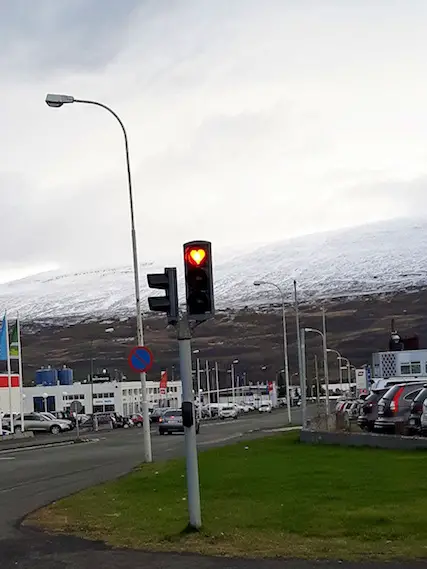 Almost every town in Iceland has thermal baths and it's a hugely popular thing to do.  Of course, I completely forgot that showering naked beforehand is not only the norm but mandatory!  While the hockey player in Terry meant this was no big deal, I spent a good deal of time trying to figure out how not to join the masses of naked women all around me…
After a quick shower in the only disabled cubicle, I finally made it out to the baths.  We began in the steam room then chose between the many small steaming pools.  Each was labeled with its approximate temperature and filled with varying numbers of people.  There was also a lap pool but that screamed 'cold'!  We had a great time lazing around in the hot water and even took a few rides down the two large waterslides!  It's a great way to spend an afternoon for a LOT less money than the heavily touristed Blue Lagoon.
Snæfellsness Peninsula
We spent a day on the road, driving the entire length of the north coast and all the way to Stykkisholmur on the Snaefellsness Peninsula.  We were pretty excited knowing that, for the first time, we would be staying in one place for two nights!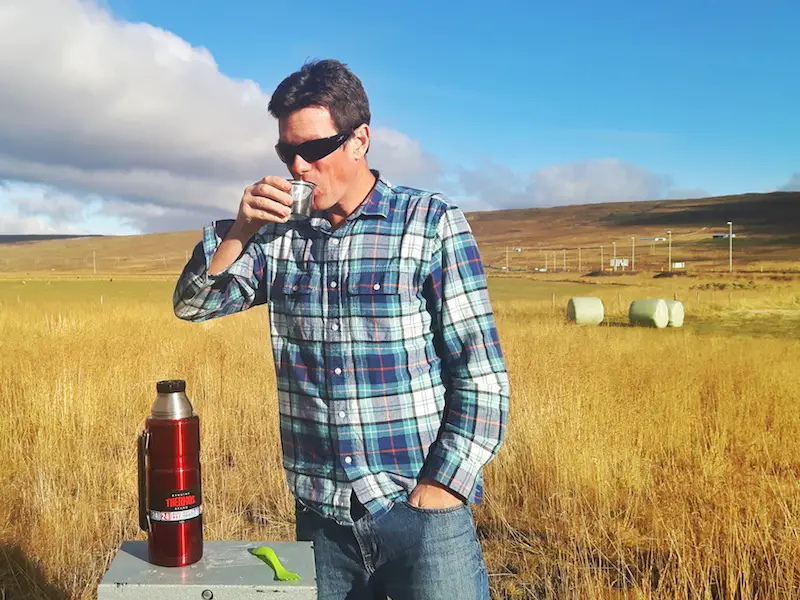 The guesthouse I had booked was amazing.  I honestly would have loved for it to be my home.  We were also upgraded to a room with a private bathroom as it wasn't full.  From here we spent the next day exploring the peninsula then returning to the same cozy spot.
Snæfellsness Peninsula is often called 'Little Iceland' as it has a bit of everything the country has to offer.  We began with the most photographed waterfall in Iceland: Kirkjufellsfoss and climbed a crater for the views.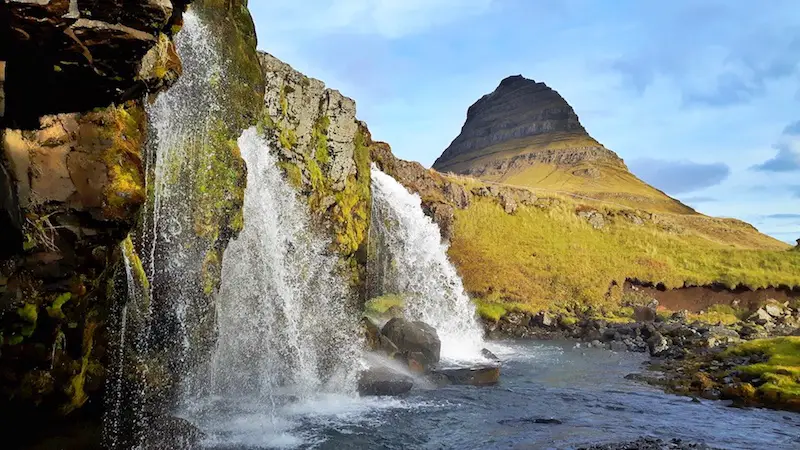 After that, the weather took a turn for the worse.  We checked out the beach I had intended to be our lunch stop in the pelting rain and then ate our Cup-A-Soup in the car.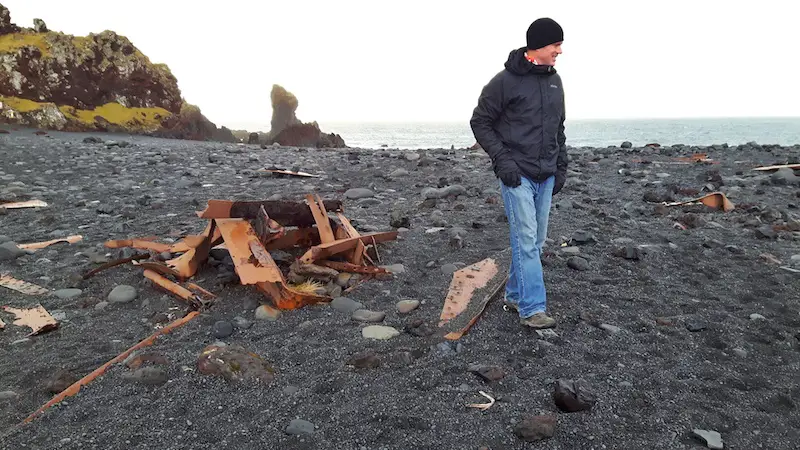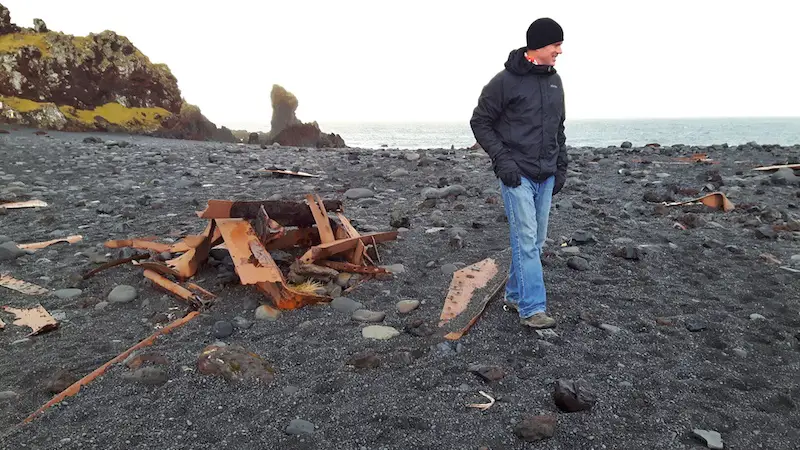 One of my favourite areas on the peninsula was between Hellnar and Arnarstapi.  Because of the wind and rain we decided not to hike the entire distance between the two towns but rather stopped and walked along the cliffs in Arnarstapi.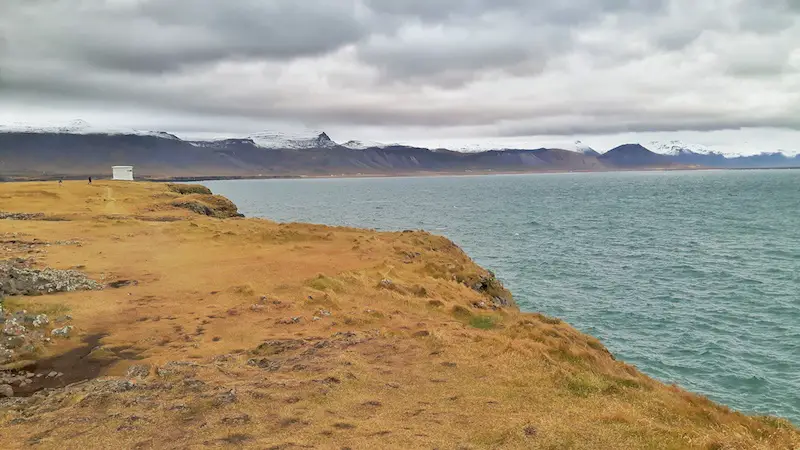 Reykjanes Peninsula
Our final stop as we left the west of Iceland was to the Landbrotalaug Hotpot.  This small little pool is hidden among fields off the main road.  It's big enough for just two people so we had to wait for our turn.  A fun little side stop!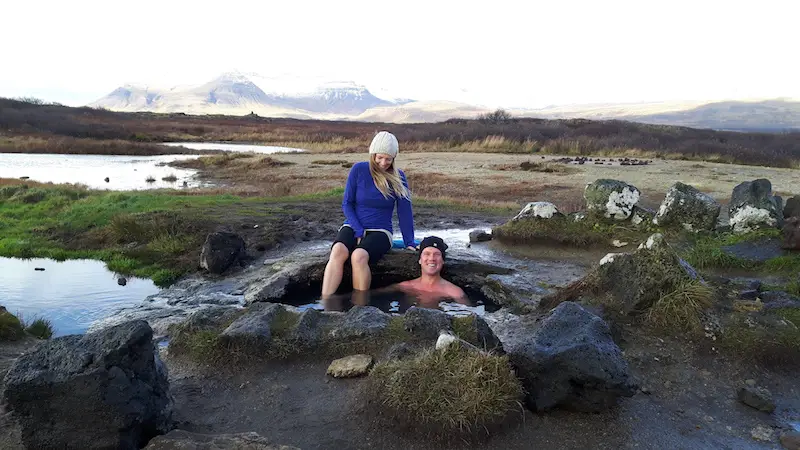 Researching October in Iceland, it was clear that the weather was unpredictable and delays were possible.  With this in mind, I planned to get back to the airport area a day early.  Not only in case of weather delays but also because I had read that this is an underrated part of the country with plenty to see.
The winds were crazy strong and after having been blown around the road on our first few days, Terry wasn't excited about repeating it.  We decided to skip a few things and drive the inland route to Krysuvik.  Soon after leaving our cabin, the clouds descended and the rain picked up.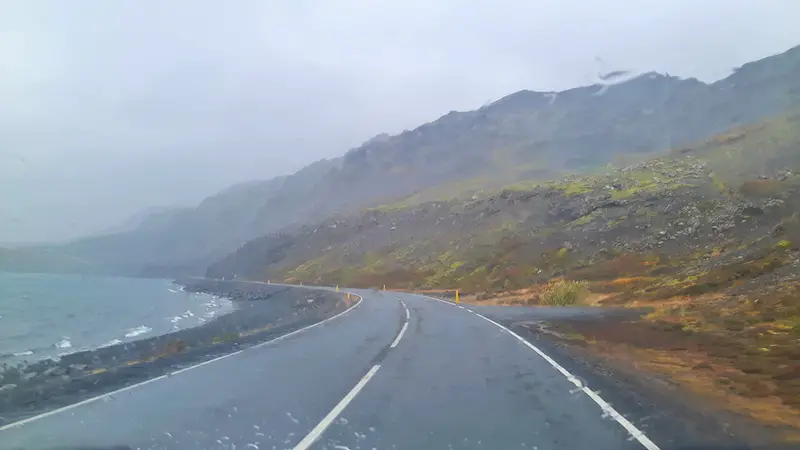 We drove past Lake Kleifarvatn with just enough of a view to tell that it is usually a great place to see.  By the time we reached Krysuvik we decided to take a quick glimpse at the geothermal mud pits rather than hiking up and over the crater summits.  We could barely walk in the wind as it was!
As you've probably figured out, we tend to go for independent, 'off-the-beaten-path' type of activities where possible so we had opted to head to a natural geothermal river rather than the Blue Lagoon.  Unfortunately, with a long drive and an hour hike each way to reach the river, we figured we wouldn't feel much like stripping down to a swim suit and bathing anyway.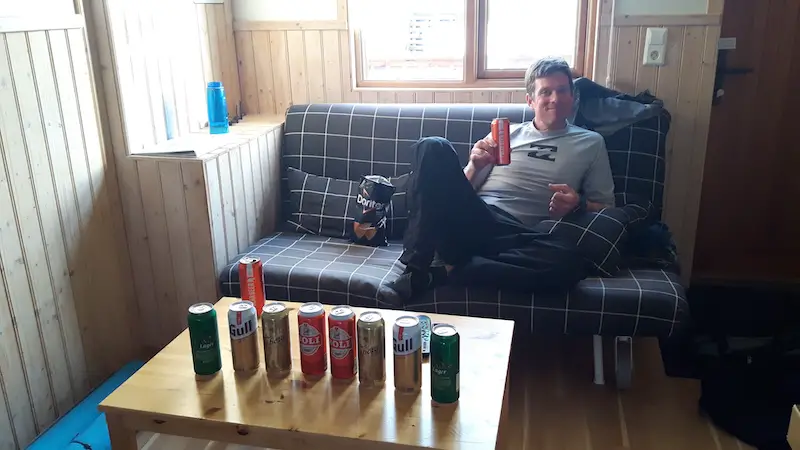 Our back up plan?  Iceland's famous gas station hot dogs and a selection of local beers paired with whatever was on TV.  Classy, I know!
Back in Canada!
Before we knew it, we were flying back into Toronto Pearson Airport and home!  Terry's parents picked us up at the airport and took us straight to his sister's house for the weekend.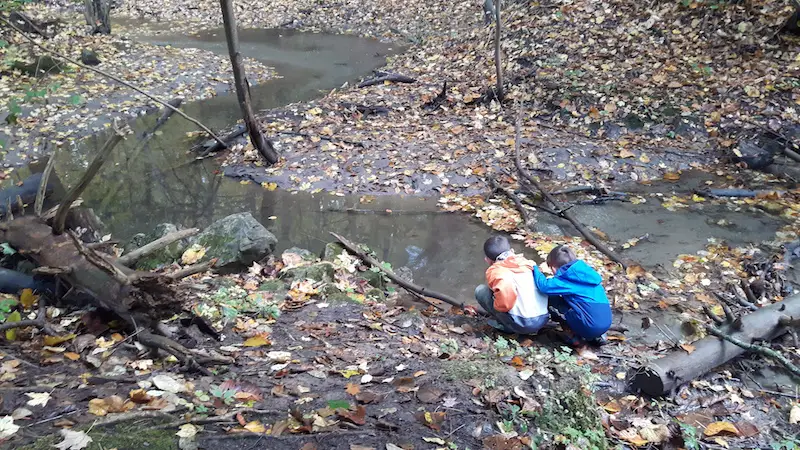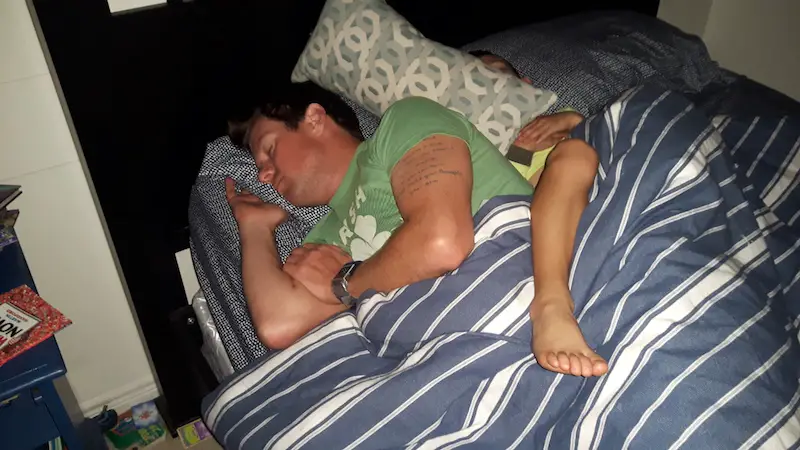 We spent the rest of October with the Archer clan.  With three nephews we spent some time watching them in their first year of hockey, crashed Charlie's 5th birthday party and spent some time with cousins and uncles.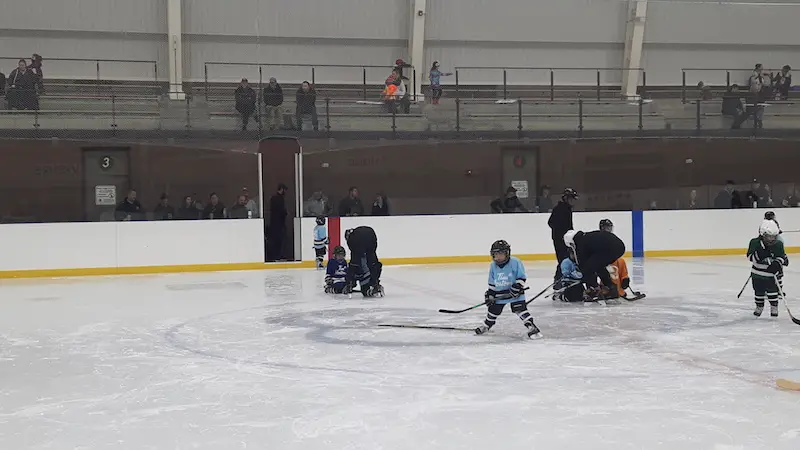 Terry, of course, has even made it to the squash club, golf course and curling!
What's Next?
Terry's parents left for Mexico towards the end of October so we moved over to my family for our final couple of weeks.  In the middle of November we head off to our next house sit in Mexico.  We can't wait!
December has two weeks unplanned as yet.  We're trying to decide between Guatemala or remaining in southern Mexico.  What's your vote?  (Keep in mind, we've already been to San Cristobal de las Casas and Palenque…).
Find all our travel journal posts in one place here.
Find more destinations now.