Some links in this post may be affiliate links. If you click on them we make a commission from qualifying purchases at absolutely no cost to you.  Read our full Disclosure Policy here.
Dreaming of a Caribbean vacation?  Consider Dominica as your next destination.  With it's incredible mountains, rivers, lakes, jungle, waterfalls, beaches and wildlife, this under-the-radar island in the Caribbean is a true gem.  Nicknamed "The Nature Isle", it really lives up to its name!  If you love adventure, you will love Dominica.
Particularly well known for scuba diving and hiking, there is much more to do and see on this island.  Read on to discover 20 amazing things to do in Dominica!
Don't have time to read it right now?  Pin it for later!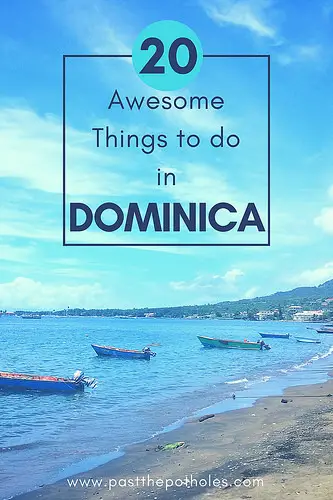 20 Amazing Things to do in Dominica
1.  Hiking
No list of things to do in Dominica would be complete without including hiking.  There are more hikes on this tiny island than I could count.  Read this post to find some of the best hikes we discovered in our week on the island.  You can choose from short and easy family hikes to all day challenging routes.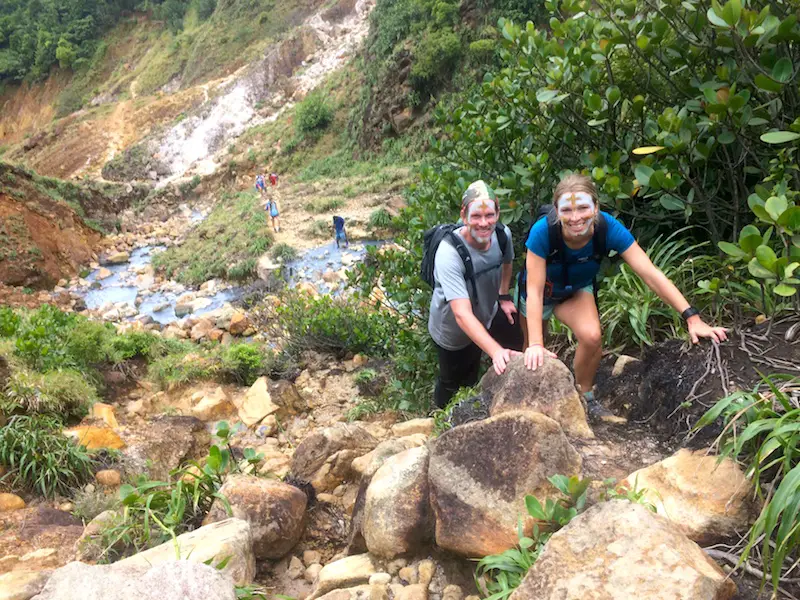 2.  Scuba diving
If you are a scuba diver, or would like to try, Dominica is the island escape for you!  Some of the best diving in the Caribbean can be found in Dominica.  Numerous dive shops can be found along the west coast of the island.  A number of hotels just south of Roseau have their own dive shops attached and offer deals for those staying with them.  Check out Dive Dominica in the Castle Comfort Lodge for a dive shop with excellent reviews.
3.  Champagne Beach and Reef
Ever wondered what it feels like to swim in champagne?  Now's your chance to find out!  Underwater volcanic activity means that along this stretch of water, bubbles of hot water are constantly rising from the ocean floor.  It's a popular dive site as well as snorkelling right off the pebble beach.  The snorkelling isn't the best but it is worth it for the experience and the water is incredibly clear.

4.  Enjoy Dominica's Beaches
Dominica may not be known for its beautiful beaches but that doesn't mean it doesn't have its fair share.  While you won't find the sweeping white sands and turquoise waters of some Caribbean islands, you will find hidden coves, secluded bays and sands of all colours.  The east coast has rougher Atlantic waves with some surfing spots while the west coast is more suited for swimming.  The Pirates of the Caribbean movies were even filmed on some of Dominica's beaches!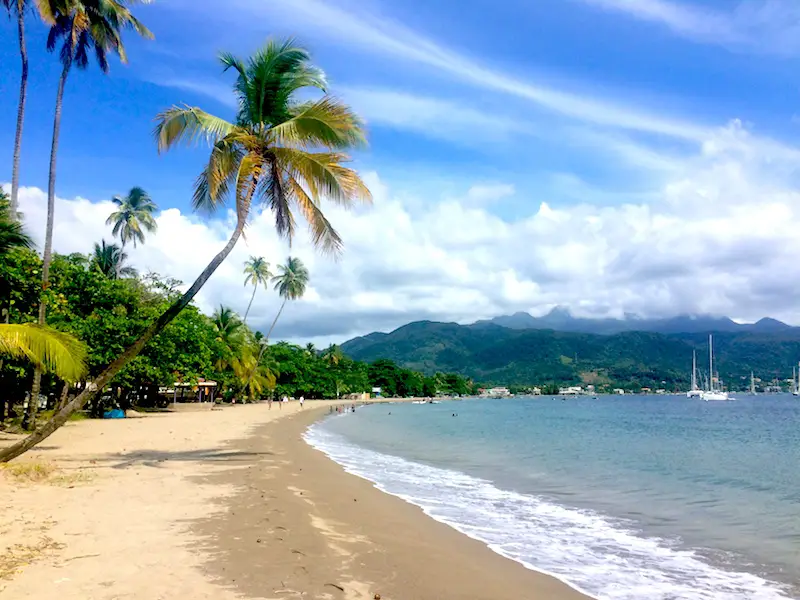 5.  Whale Watching
The west coast of Dominica is home to a resident pod of sperm whales, the only place in the world they can be seen year round.  Tours go out in the afternoons and last for around 3.5 hours.  We went with Anchorage Hotel and had a great experience.
Check prices and availability for whale watching now!
6.  Hike the Waitukubuli National Trail
Dominica hiking doesn't get much better than the Waitukubuli Trail.  Divided into 14 sections, this hike crosses the entire island from north to south and allows you to see much of the nature and culture that Dominica has to offer.  Taking a couple of weeks to hike the entire trail is a fantastic bucket list item but visitors can also pick and choose sections to do individually.
7.  Spend some time in Roseau, Dominica
The capital of Dominica appears to have been stuck in time.  Here you will find narrow streets lined with colourful wooden buildings.  Walk along the waterfront to the fish market to check out some local activity or head west for the Botanical Gardens.  You can easily spend a day in Roseau wandering aimlessly and discovering interesting places.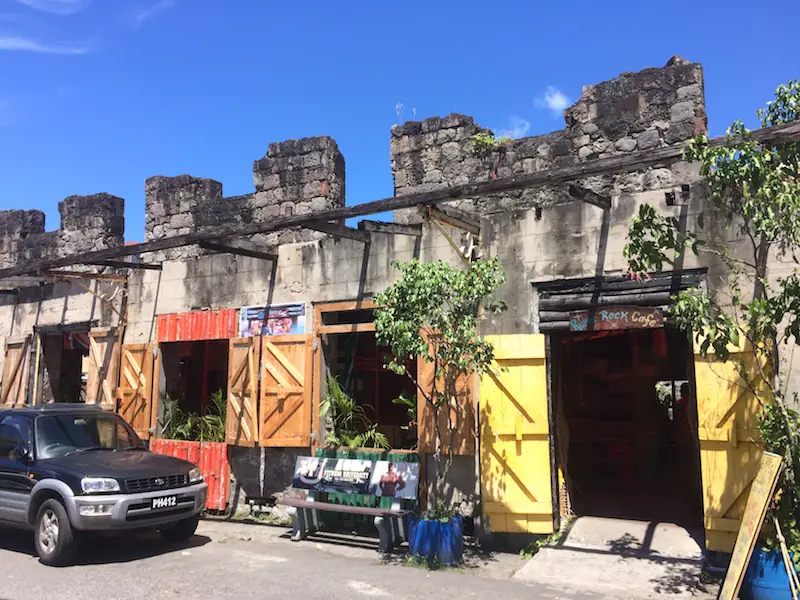 8.  Canyoning
Venture into the rainforest for this adventure, one of the most exciting things to do in Dominica.  You will find yourself enjoying nature while climbing up waterfalls, hiking and swimming through rivers and rapelling down rock faces.  Canyoning, or canyoneering, is such a fun way to see the interior of Dominica.
Find out tour prices and times now!
9.  Indian River boat trip
Take a relaxing boat ride up the Indian River and see the abundance of wildlife.  Boat trips along the Indian River, near Portsmouth, is a popular attraction in Dominica.
10.  Scotts Head Peninsula
At the southwest corner of the island is Scotts Head Peninsula.  This marine reserve is where many of the dive boats will come for their excursions.  It's also a great place for snorkelling.  Walk up to the top of the headland for amazing views as far as Martinique.  The drive down from Roseau takes you along a colourful ocean road and through the town of Soufriere.  Here you will also find Bubble Beach, where you can swim amongst bubbles of hot water rising from the ocean floor due to subterranean volcanic activity.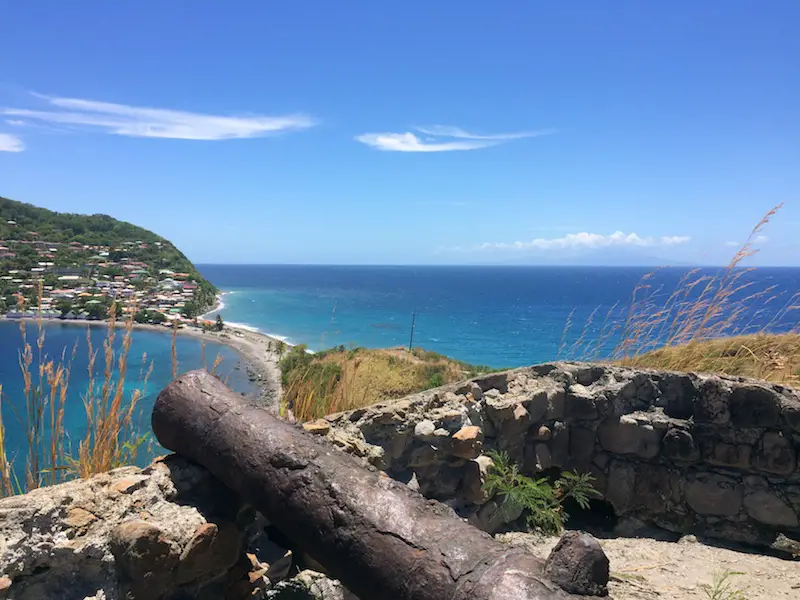 11.  Visit Kalinago Territory
Dominica's indigenous people, the Caribs, leave on the east coast.  A visit here will give you a glimpse into their culture, art and daily life.  A number of villages can be visited in the area either independently or as part of a tour.  Check out this website on the Kalinago Territory for more information.
Check prices and availability for this Kalinago Territory tour now!
12.  River Tubing
Tubing down this river is a very popular Dominica tour.  Everyone will have piles of fun cruising down the river in an inner tube.  At times the river is calm and at other points you will head over mild rapids.  With safety equipment included, this is a fun tour for all ages.  Check out this company to see river tubing tour options.
Check prices for a river tubing trip now!
13.  Visit a Waterfall
There is a huge number of waterfalls in Dominica.  In fact, just driving around the country you are sure to see many just off the road.  However, a bit of hiking will take you waterfalls that are much more impressive.  Read about some of the Dominica Waterfalls we hiked to here.  Sari Sari Waterfall was probably our favourite but you can't go wrong with any of them!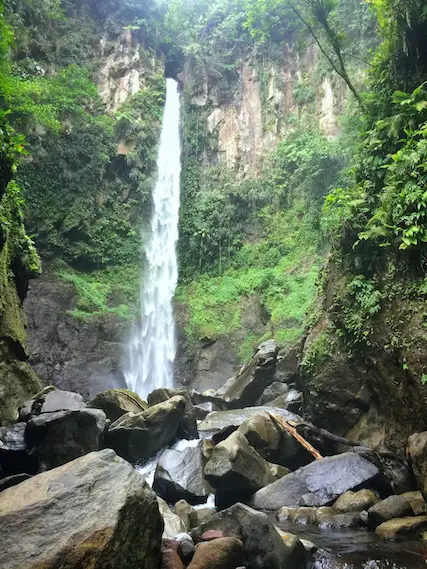 14.  Adventure Park
Travel through the rainforest on a series of ropes, footbridges and ziplines.  You will even have a chance to zip across Dominica's longest river, the Layou.  The thrills of this adventure make it one of the most popular things to do in Dominica.
Check availability and prices now!
15.  Drive around the Island
We would strongly recommend hiring a car during your time in Dominica.  There is no real public transport system to speak of and many of the places of interest are out of the towns.  A car will give you the freedom to see what you want when you want and every drive will be incredibly scenic.  We rented through QB Vehicle Rentals and had a great experience.  During our stay we drove down the length of the east coast and also up the west coast.  The rugged east coast drive is full of jungle, rivers and waterfalls.  The west coast road follows the Caribbean Sea and goes through numerous traditional fishing villages and beautiful bays.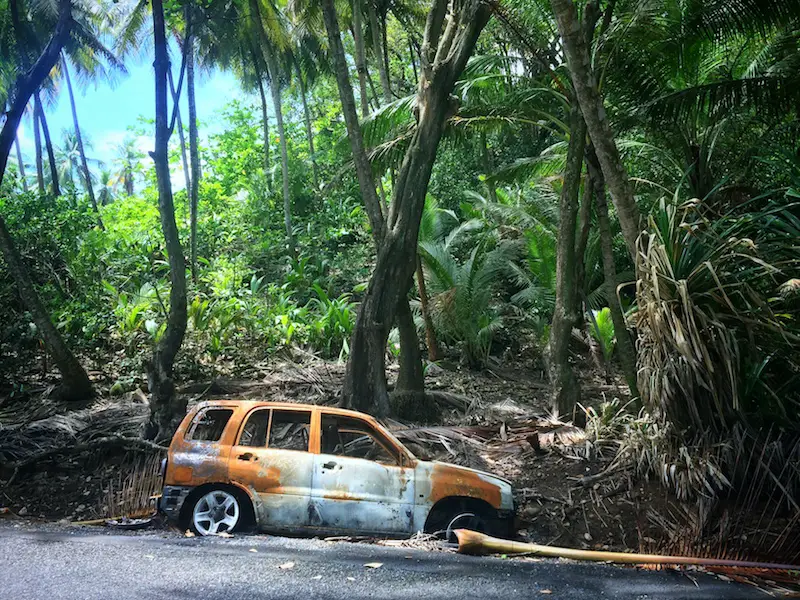 16.  Turtle Watching
Visit Rosalie Beach between March and October to possibly witness this fascinating ritual.  Early in the season you will have a chance to see the large female turtles come ashore to lay their eggs while later in the season the hatchlings can be seen making the trek to the sea.  With four of the seven species of sea turtle visiting Dominica's shores, this is a great place to try to witness the annual event.
17.  Relax in the Sulfur Springs
Recover tired muscles from all the hiking by spending some time in one of Dominica's many sulphur springs.  The town of Wotten Waven is known for having numerous springs you can visit.  You will also find some on the Boiling Lake hike and just outside the town of Sourfriere in the south west of the island.
18.  Hike to the Boiling Lake
Said to be the world's second largest, this hike takes you to the top of a volcano to see the famous lake.  The hike takes you into the Morne Trois Pitons National Park, past Titou Gorge, through the Valley of Desolation before arriving at the bubbling phenomenon.  This hike is strenuous and takes around 6-7 hours so is a great option for those with a decent fitness level.  Read more about how to hike to the Boiling Lake now.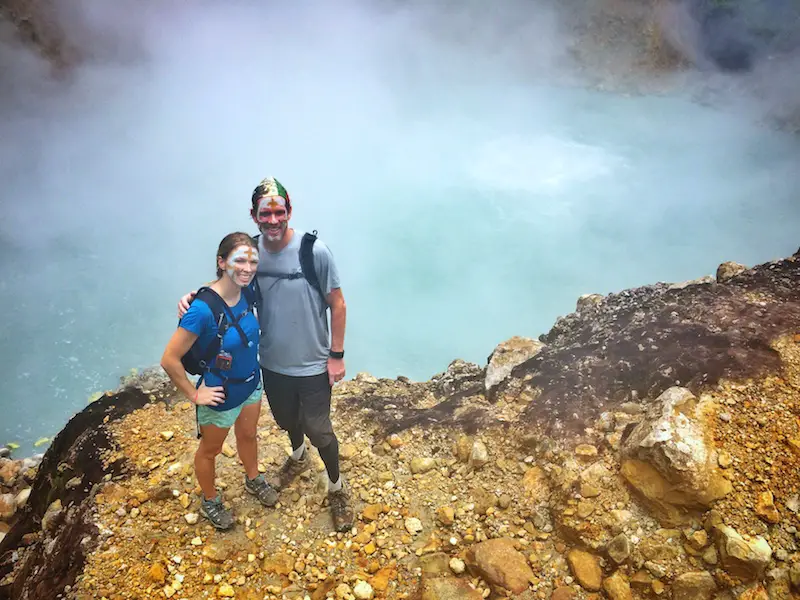 Check prices and availability for a Boiling Lake tour now!
19.  Watersports at Mero Beach
Most beaches in Dominica are quiet and relaxed and it's not uncommon to have the beach all to yourselves.  However, Mero Beach, on the west coast is more developed.  For families, this is a great beach as it is wide and sandy with facilities.  This grey sand beach ranges from being quiet in the week to a busy party spot on weekends and holidays.  During these times it is also a great place to try watersports.
20.  Kayaking Tour
Travel down the Layou River to the Caribbean Sea in a kayak with Wacky Rollers.  This three hour tour lets you see nature as well as the fishing village of Layou before having time to swim in the Caribbean.  A great way to combine sightseeing with exercise!
Check prices and trip details now!
Have you ever been to this Caribbean island?  What is top of your list of amazing things to do in Dominica?   Let us know in the comments below!
Found this post helpful?  Pin it for safe keeping!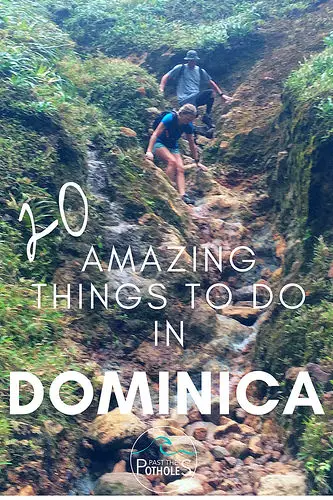 Return to our Destinations page for more great content!
---
Some links in this post are affiliate links.  That means if you click on them and make a purchase we will make a small commission at absolutely no cost to you. Win-win, right?  Thanks for your support!
---