Some links in this post may be affiliate links. If you click on them we may make a commission from qualifying purchases at absolutely no cost to you.  Read our full Disclosure Policy here.
Wandering the streets of Barranco
During our time in Lima we rented an apartment in Barranco.  This is the more bohemian neighbourhood and we have not regretted this choice.  Each day some time is spent wandering the colonial streets filled with interesting architecture and incredible street art.  Little plazas dotted around give locals and foreigners alike a place to gather in the evenings.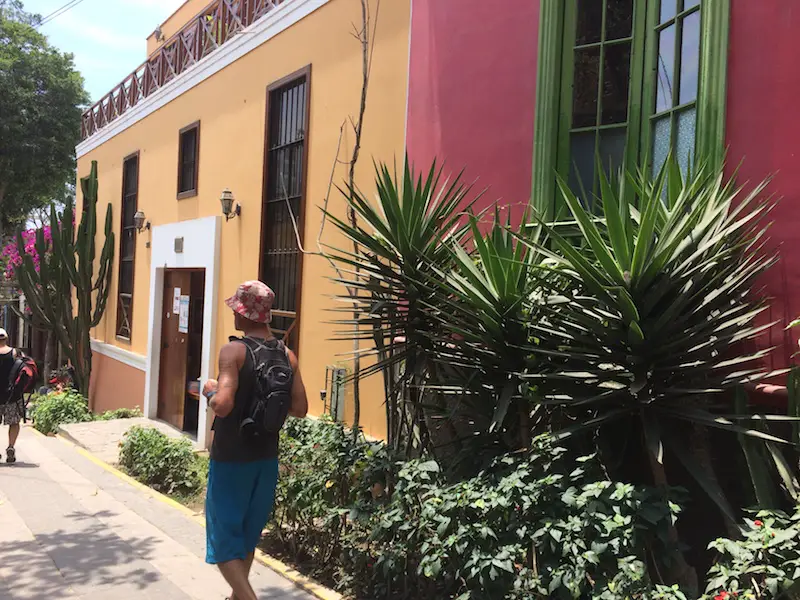 Each night we have headed to the main plaza in Barranco to play soccer.  Without fail Ethan and his ball have attracted the attention of some local children and, after a little sign language to set up teams, they have chased the ball and each other around the plaza as late as they have been allowed.  There are always some talented street performers on hand as well!
Visiting Miraflores
This is the neighbourhood where most 'gringos' live and stay.  It is wealthier, more polished, and considered the safest.  I found it lacked any real personality but it is definitely the place to be for parks and boasts an amazing malecón, or sea front, that follows the cliffs for 8km and is bordered by miles of park space.  Being the centre of tourism it is also the place we have needed to come for things such as our chocolate making workshop at the Chocomuseo, the open top bus and the handicrafts market.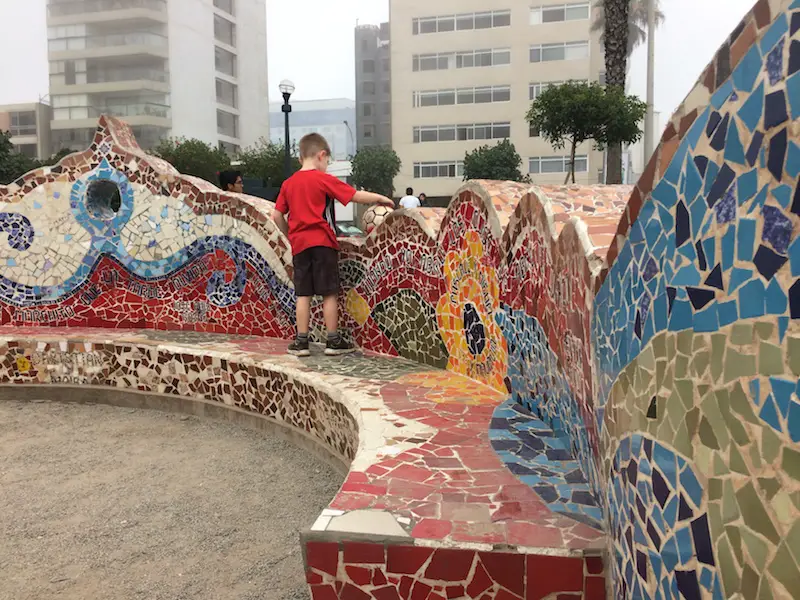 Chocolate Workshop
Everyone thought the sound of making our own chocolates was a great way to spend an hour so we booked this for Vicki's last day.  As well as the tour of the chocolate making process, each of us was given 100g of chocolate and up to 16 different toppings to create our own selection.  The Parque de los Niños was a great spot to sample our creations and allow Ethan to run off some of the sugar!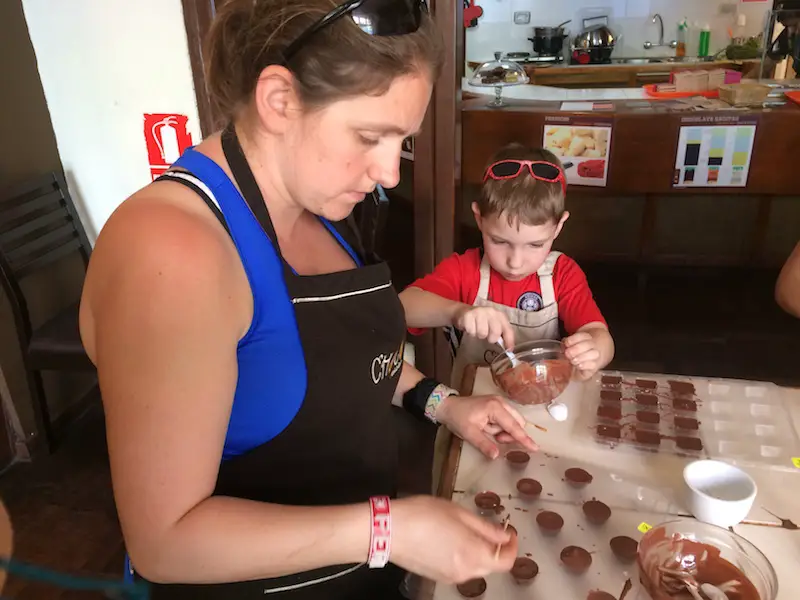 Open Top Bus
There are a few companies running double decker open top bus tours around town and Ethan was really hoping to have a ride on one.  We headed to MiraBus beside Kennedy Park, which provided another opportunity to visit with the many stray cats living here, and bought tickets for their shortest, cheapest option.  Having already spent plenty of time wandering on foot, we didn't really need the tour, just the experience.  However, Ethan really enjoyed it and we still saw a few new spots.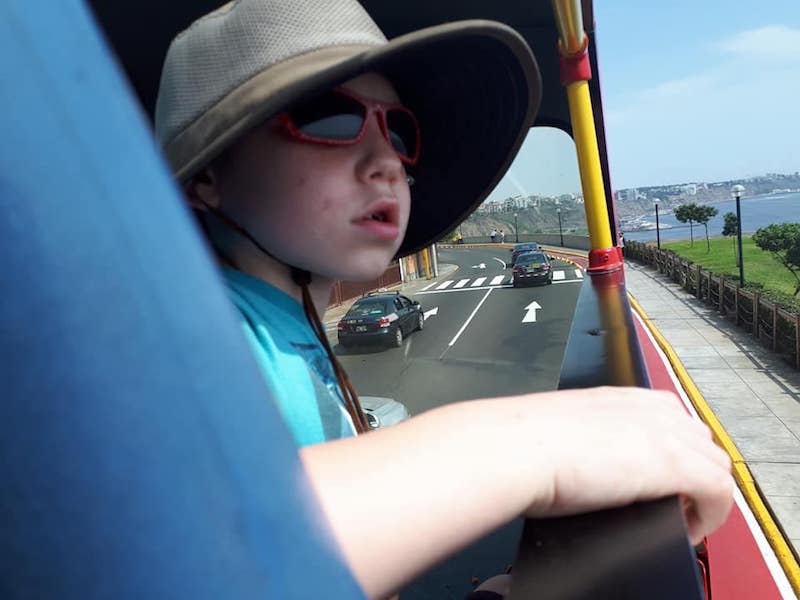 Souvenir Shopping
No Shaw family vacation is complete without a healthy dose of souvenir shopping!  We spent a little time at Larcomar, the huge oceanfront mall.  It is supposed to have bowling but this was closed.  A couple of souvenir shops are mixed in amongst all the brand name stores but, as expected, their prices aren't the best.  I had heard about the Indian Market on our bus tour and figured this was a good spot to spend an hour.
After strolling through market after market, each time assuming it was the Indian Market, we finally arrived at a huge complex complete with multiple flags and a giant name banner.  The entire street was filled with vendors selling alpaca clothing, woven accessories, silver, pottery, leather and just about anything else you could think of.  I'm pretty sure everyone got whatever they were looking for!
Historic Centre of Lima
On Sunday, we took a trip to the central plaza of Lima.  We timed our arrival to watch the changing of the guard outside the Presidential Palace before wandering around the beautiful buildings for a while before visiting San Francisco Basilica and Catacombs.  You can always count on piles of bones to interest a seven year old boy!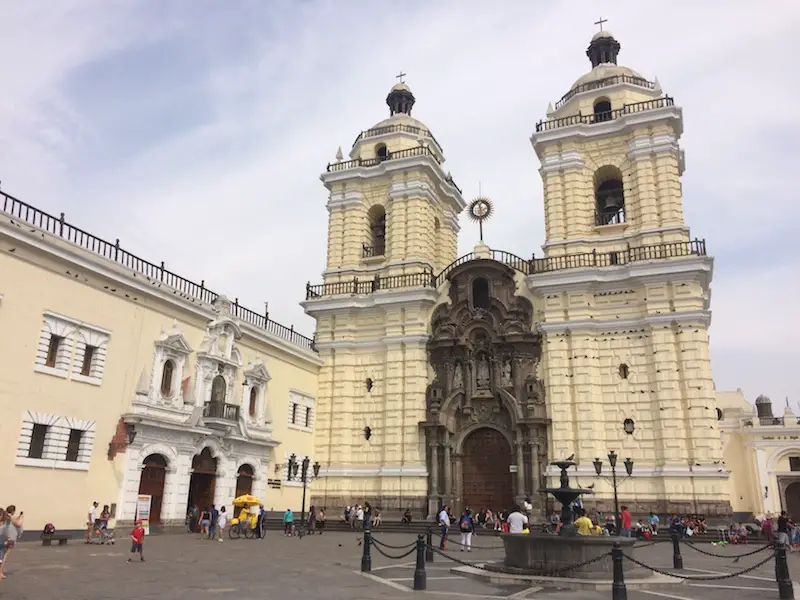 After this we wandered down towards San Martín plaza, another large plaza filled with activity and surrounded by grand buildings.
Circuito Magico del Agua
From downtown Lima we walked south until we reached this attraction in Parque de la Reserva.  This park is filled with water fountains of various shapes and sizes.  Some are made into mazes or tunnels that kids and adults alike can play in.  The big show happens in the evening, however, when the main fountains are lit up in bright colours.  Three times a night, a musical and visual performance is played using lights and video projected into the wall of water.  It's an impressive sight and well worth the trip to see it!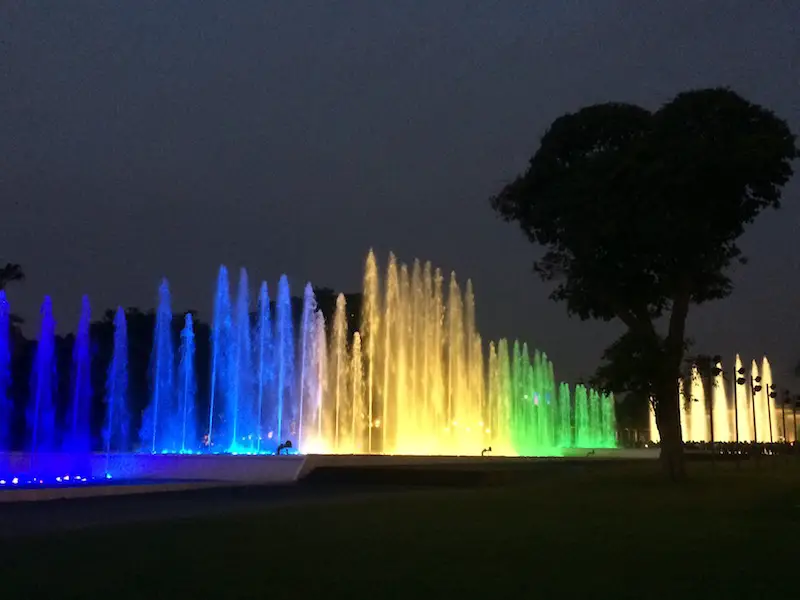 Beach time!
Of course we managed to squeeze in some beach time!  After finding piles of rocks at the Miraflores surfing beaches, we spent a day at the large, sandy beach in Chorrillos.  It's summer holidays here in Peru so despite being a Wednesday it was packed!  This didn't stop Ethan from having a great time playing in the waves with whoever he could convince to join him (this usually meant Uncle Terry or me).  Vendors were everywhere so cold beers and churros were a little too easy to find for a cheap price.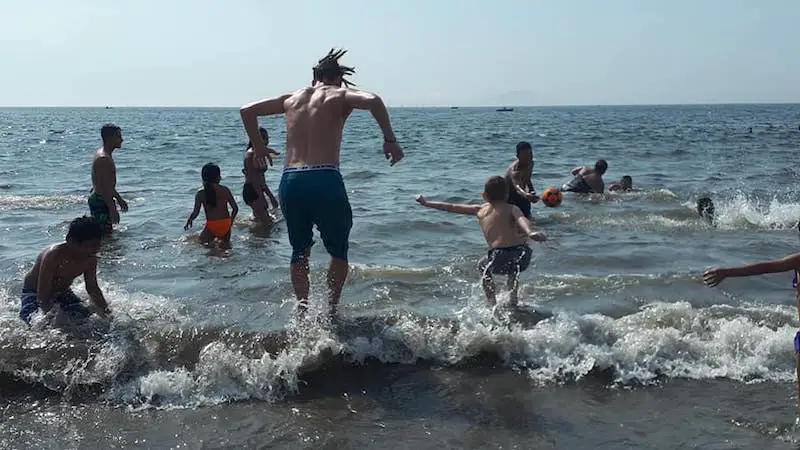 We also headed back to Miraflores beaches to spend a day surfing.  Ethan had decided he wanted to try it once he realized it would be with Terry and not a strange instructor!  Unfortunately, the near drowning we witnessed on the walk there took the wind out of his sails a little and while trying to convince him that he would be perfectly safe, someone grabbed my back pack from right underneath all of us!  Beach day ended abruptly and we spent the next 5 hours trying to get back into our apartment.
Pachacamac
My mum and I took a tour to these ancient ruins just south of the city.  They cover an impressive area and are only partially excavated but were an important site for a number of ancient civilization dating back to 200AD and as recently as the Incas in the 1400s.  We ended up on a private tour as no one else booked and had an excellent guide from HakuTours.  This company runs as a non-profit organization, putting its resources towards helping local disadvantaged communities.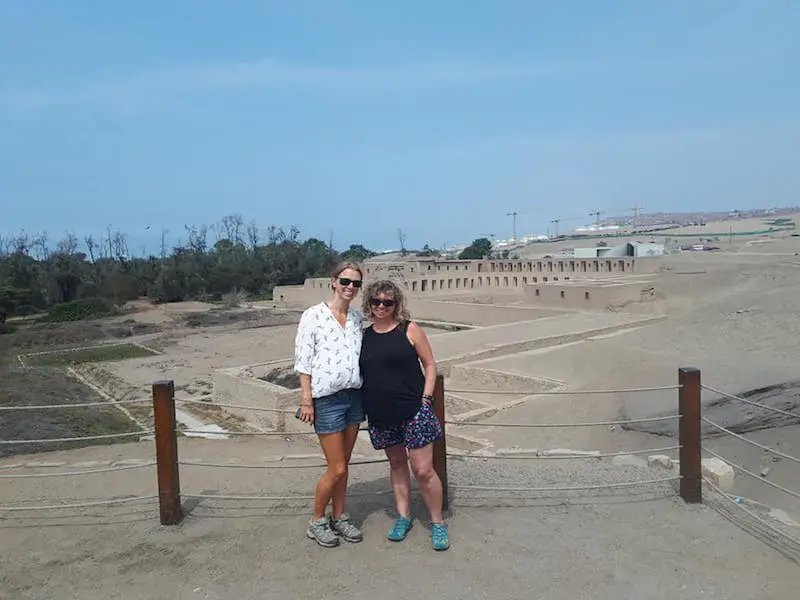 See all our travel journal posts here.
Visit our Destinations page for some vacation inspiration!