What you need to know for an awesome hike to Boiling Lake, Dominica
Some links in this post may be affiliate links. If you click on them we may make a commission from qualifying purchases at absolutely no cost to you.  Read our full Disclosure Policy here.
One of the toughest and most famous hikes in Dominica is to the Boiling Lake.  We knew we had to include this in our one week itinerary when we visited this beautiful Caribbean island!  Located in a fumarole of a volcano, lake water seeps into cracks in the rock, is heated by the lava within and escapes at a boiling temperature.  Reported to be the second largest in the world, after one in New Zealand, this is well worth a visit while in Dominica.
[btn text="20 Amazing Things to do in Dominica" tcolor=#FFF bcolor=#1998b5 thovercolor=#444 bhovercolor=#bbede7 link="https://pastthepotholes.com/things-to-do-in-dominica/" target="_self"]
Don't have time to read it right now?  Pin it for later!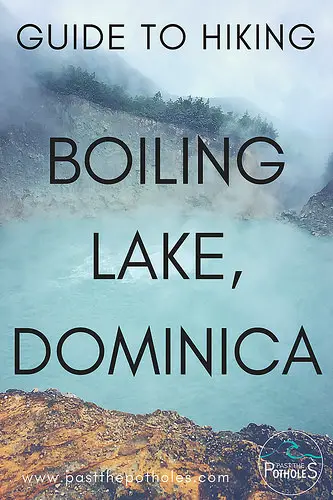 What can I expect?
To hike the Boiling Lake in Dominica you park at the entrance to Titou Gorge.  Walk up to the gorge and then take the trail that leads to the right.  It begins easily enough with a flat and shaded section through dense rainforest.  To the left you will get a few glimpses of the gorge from above and there will be plenty of opportunities to spot wildlife.  After a short while the trail heads into the Morne Trois Pitons National Park and gets more challenging.  Steps have been made from tree trunks and you will find yourself heading mostly uphill.  Personally I find the steps make the hike more challenging as my legs are too short for the size of them, but I imagine the consensus is the opposite!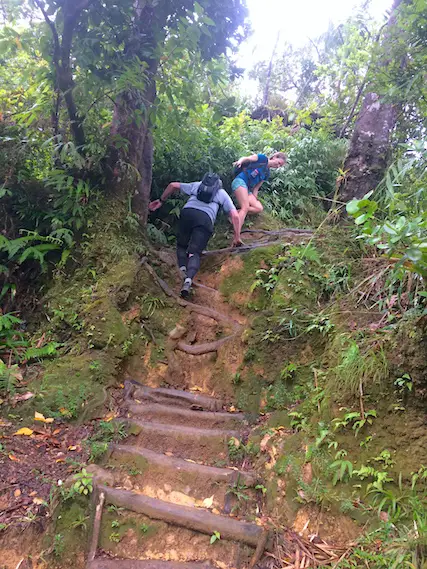 After about an hour, you descend briefly to Breakfast River.  Cross the river and continue back uphill.  This section has some much steeper parts.  About an hour more and you reach the summit of a nearby peak and have a view across the island.  The total elevation gain is around1,300 feet and on a clear day, you should be able to see from coast to coast.  Take a rest at the top and have a snack.
From here, there is a tricky downhill section into the Valley of Desolation, probably my favourite part of the hike.  Wander through the valley and marvel at the streams of varying colours and bubbling hot springs.  Your guide will almost certainly take this opportunity to give you a mini facial with the volcanic mud found here.  Some guides even carry some eggs up to boil in the springs!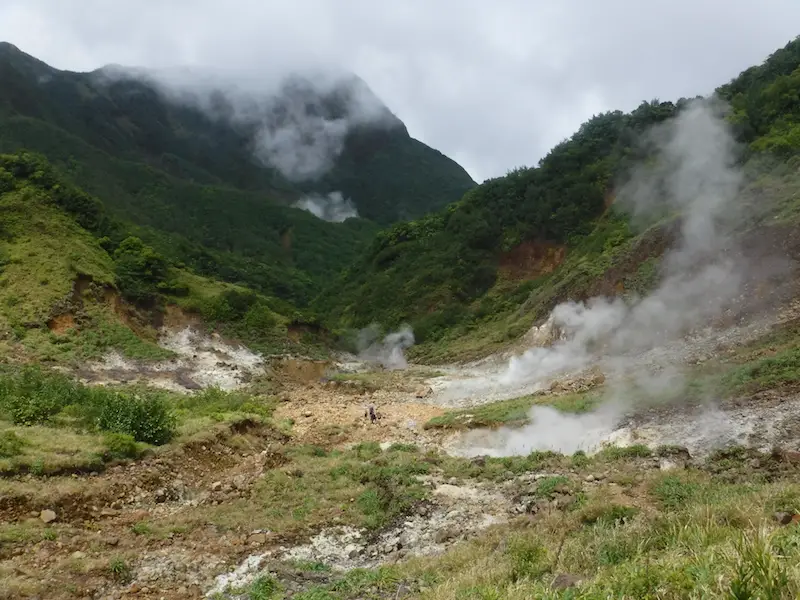 One more uphill stretch, and one more hour, will get you to the thing you've been busting your butt for hours to see – the Boiling Lake!  Because of the high temperature of the water it is often shrouded in steam but wait a few minutes for the wind to pick up and clear the air to get a good view of lake below.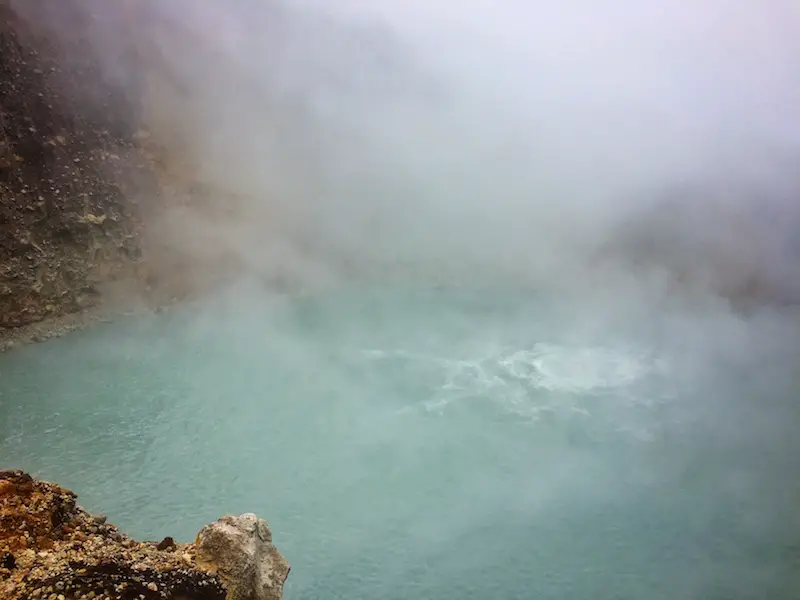 When you've had your fill of the scenery, and a snack, make your way back the way you came.  You can stop for a soak in one of the hot springs just before you reach the Valley of Desolation.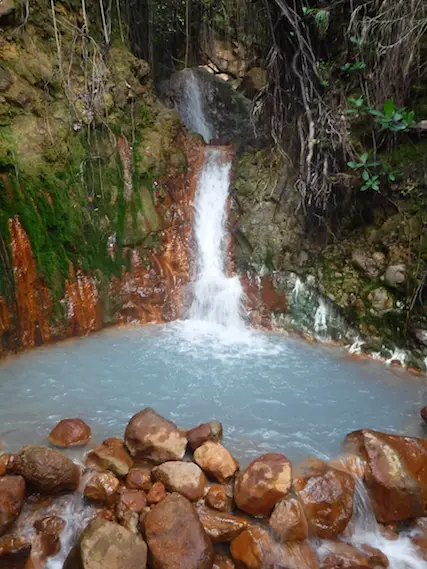 At the very end be sure to stop at Titou Gorge.  Brave the freezing waters and swim into it to find the waterfall.  Depending on the amount of water flowing, you may be able to climb up the side of it.  There is a hot spring pouring into the water so go under that for a few seconds to warm back up.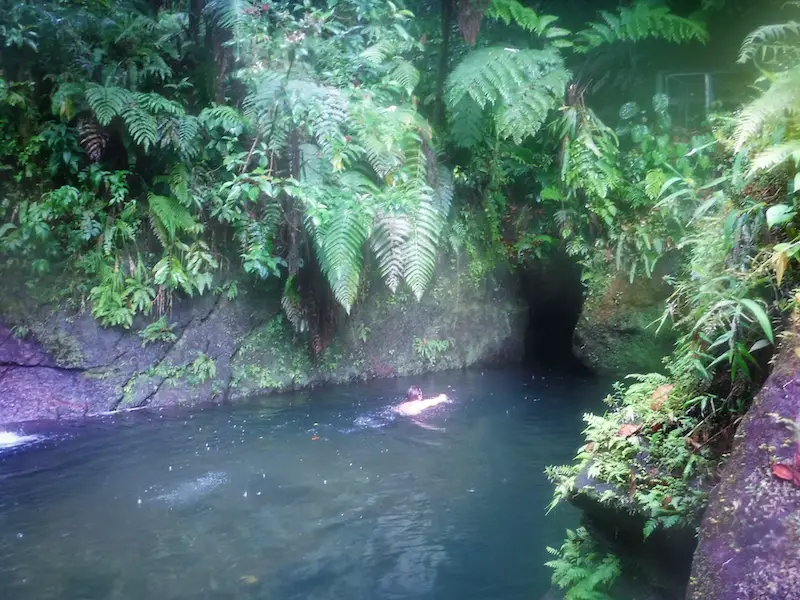 Do I need a guide?
Generally we prefer to hike without a guide but good friends of ours, and avid hikers, recommended that a guide would be best for this one as there are a couple of parts where the path isn't clear.  The guides are also full of interesting information about the flora and fauna along the trail.  All official websites highly recommend a guide and your accommodation can easily recommend and book one for you when you arrive.
However, the day we went we shared the trail with a number of other groups and so it would have been completely doable alone as long as you have transport to the trailhead.  Of course, you can never guarantee other hikers being around.
If you're not a confident hiker with a GPS or map (the Maps.Me app shows the hiking trails) then you should definitely hire a guide!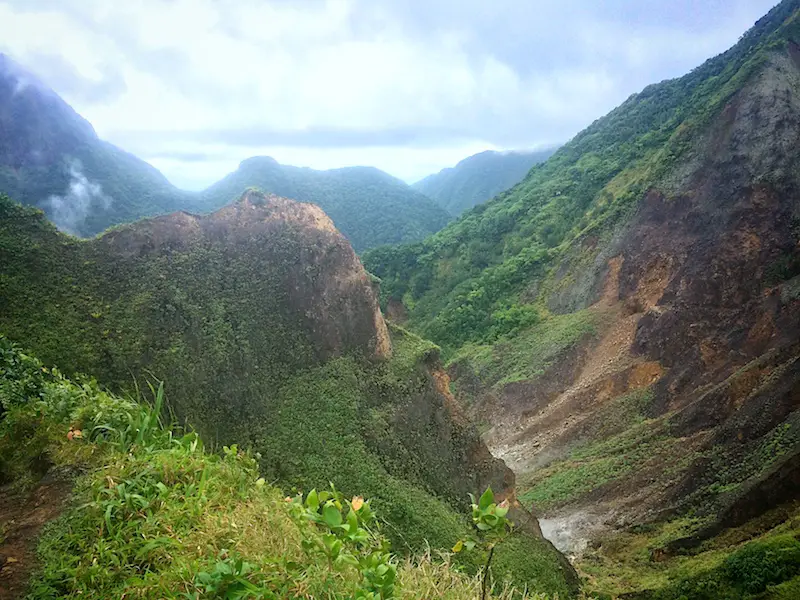 What should I wear?
Wear light, quick dry hiking clothes (I recommend shorts and t-shirt).  This hike is in the rainforest so it can rain any time regardless of the weather in town.
Proper hiking shoes or boots.  The ground can be very uneven, muddy and rocky at different parts.
What should I bring?
In a daypack:
A rain jacket – you will likely get rained on and it's not nearly as warm as you expect, especially at the top.
Lots of water and snacks
Sunscreen
Swimsuit – hot springs and Titou Gorge
Pack towel or sarong to dry off
Dry bag
Camera
Leave in the vehicle:
Change of clothes for after
Perhaps a snack and/or water bottle for the drive home
How long does it take?
Most guides will say this is a 6-7 hour hike.  Our friends did it a couple of hours quicker at a good pace.  We were approximately 6 hours but with our guide making us stop numerous times for photos or to show us something.  At our own pace we would have been a fair bit quicker.  If you are a strong hiker you can expect to be able to complete this hike in 5 or less hours.  However, the 6-7 hour guide is probably quite accurate for the average group.
---
Don't have enough time, or want something easier?  Click here to Read about our other Favourite Hikes in Dominica.
---
Should I hike Dominica's Boiling Lake?
Absolutely!  If you have a decent fitness level this hike will pose no problem for you.  Even if you aren't in the best shape of your life, this is possible.  Just take you time and have a short rest when you need to.  The uphill sections are tough but each is followed by a flat or downhill part to give your legs and lungs a break.
Have you hiked Boiling Lake, Dominica?  What were your favourite parts?  Tell us about it below!
If you found this useful, consider it pinning it to help others!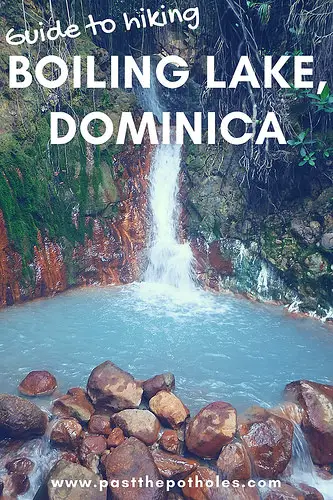 See all our posts on Dominica.
Go to our Destinations page.