The Best Hikes in Dominica
Some links in this post may be affiliate links. If you click on them we may make a commission from qualifying purchases at absolutely no cost to you.  Read our full Disclosure Policy here.
Close your eyes and picture the Caribbean.  White sand beaches, turquoise waters, palm trees and umbrella drinks right?  Dominica has all that but it is so much more.  Dominica is called the Nature Isle and for good reason!  If you are looking for a Caribbean vacation with a twist, this is the island for you.  There are so many hikes in Dominica that you will likely not know where to begin your planning.  This post will help you figure it out!
Our Favourite Hikes in Dominica
There are numerous trails all over and, quite honestly, the jungle is just a step off the roads everywhere so it would be so easy to explore anywhere you felt.  Compared to some other places, you will find the trails are quite well marked and easy to find.  A number of them require a payment for general upkeep of $5USD.  You can also buy a week-long pass for $12USD.  This allows for unlimited access to a long list of hiking trails and sights.
Dominica also has the Waitukubuli Trail – a 115-mile-long hiking trail that runs the length of the entire island.  The trail is broken into 14 segments and each can be done individually or together.  This has to be the best of all hikes in Dominica.  I would love to come back and complete the entire trail, stopping overnight in each segment break.
Boiling Lake
This one is kind of obvious – it's the most famous of the hikes in Dominica.  Be warned though, it's tough!  This is the only hike we did with a guide based on recommendations.  If you are hiking in a busier season, and have a car, I don't think a guide is necessary.  There is one section where the trail is not clear but if there are others around it won't take much to figure it out.  The guides do, however, have plenty of knowledge and add a lot of details that would otherwise be missed.  Our guide, Peter 'the Bushman' Green, pointed out various sights and wildlife, gave us fern 'tattoos', and acted as our personal photographer.  Sometimes guides will bring an egg and boil it for you in the sulphur pools!
Read a more detailed account of how to hike Boiling Lake here.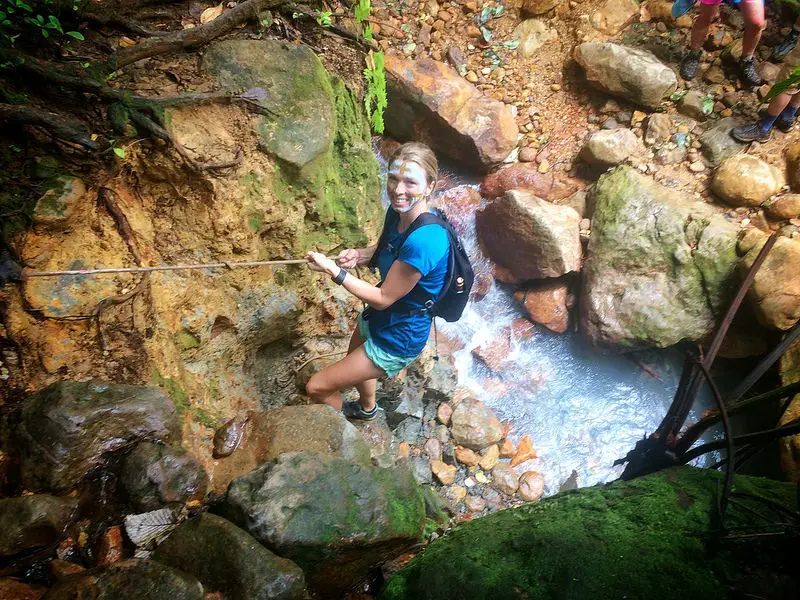 The hike begins at Titou Gorge and starts quite gently with views from above the gorge.  Shortly after, the trail gets quite steep and is largely made up of large steps made from tree logs.  You will get the occasional downhill break but mostly you are headed up – you are climbing a volcanic mountain after all!
Reaching the peak, you will have sweeping views of the whole of Dominica – if the weather cooperates.  From here you descend into the Valley of Desolation, aptly named as it is a barren, rocky area covered in sulphur streams and bubbling pools.  Take off any silver before you enter this section as the sulphur fumes will turn it black.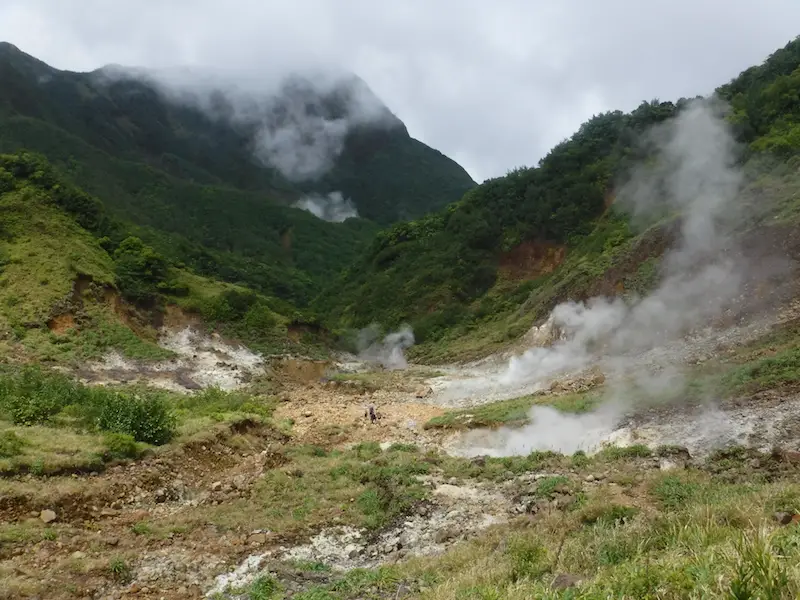 One more steep ascent and you reach the boiling lake.  Be careful at the edge, there are no railings and it's a long way down to the boiling water below.  Apparently, a guide fell in a few years ago and was airlifted off the island with serious burns.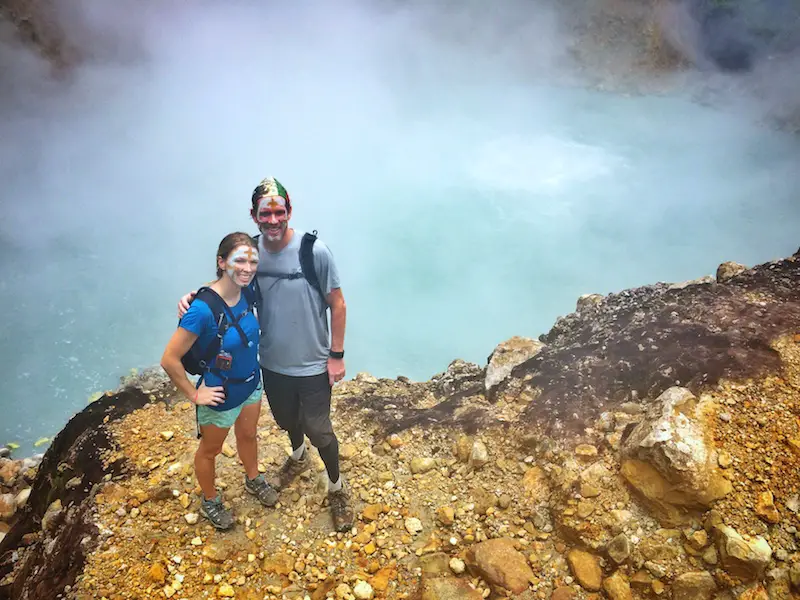 Stop here for a snack before making the trek back down.  Be sure to stop in a sulphur pool before you reach the Valley of Desolation.  There is a stream to your right with a couple of warm options.  Hiking Boiling Lake takes around 6 hours and is about 13km.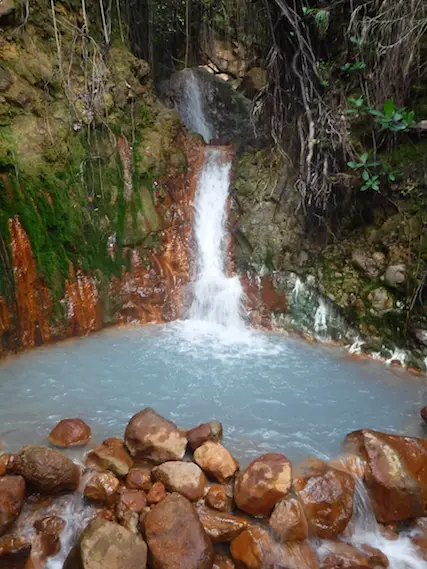 Titou Gorge
This really isn't a hike but is perfect to combine with a trip to the boiling lake as they both begin at the same point.  Entering the water here is breathtakingly cold but well worth sucking it up and going for it!  Swim into the gorge as far as you can – you will notice a huge current from the falls when you round a corner.  Brace yourself against the sidewall to take a break.
If you're not a strong swimmer consider wearing a life vest.  They have some there for rent.  You might want to anyway – by the time I emerged from the gorge my arms and legs were so numb from the temperature it was hard to swim!  Strong swimmers can challenge themselves to see how close to the falls they can actually get.  When we were there, a guide actually climbed up into the waterfall.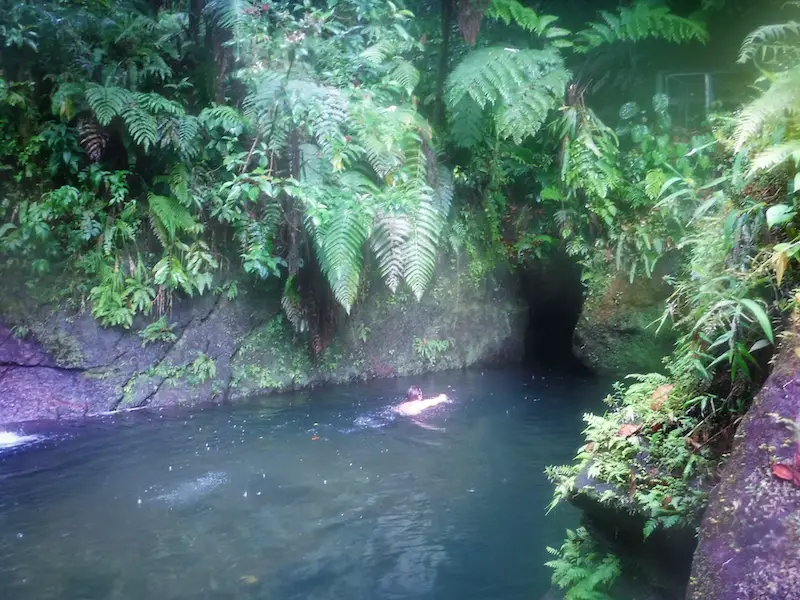 Sari Sari Falls
This hike in Dominica is a beautiful waterfall and river hike.  It is fairly easy but does require crossing the river several times so be prepared to get wet legs.  Waterproof shoes will make this much easier if you have some!  The trail begins at the end of a road in the village of La Plaine and heads through grassland with a couple of steep sections, until meeting up with the river.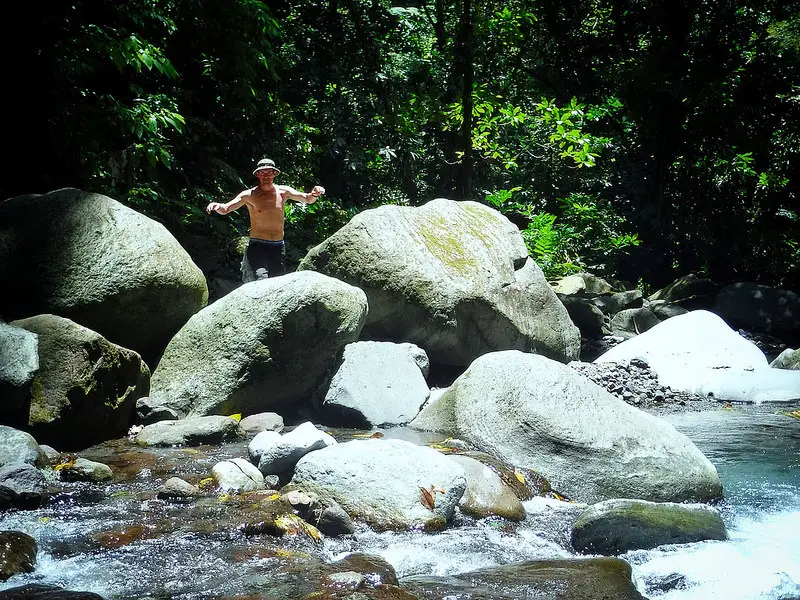 Follow the river upstream and you will find yourself at this stunning waterfall, surrounded by lush jungle.  This hike has no entrance fee.  We took about an hour to complete the 3.5km hike but this will vary depending on how long you choose to stay at the waterfall.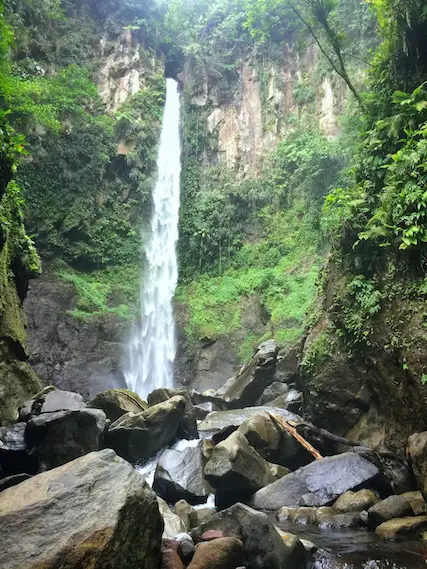 Emerald Pools
This is probably the most popular of the hikes in Dominica.  As such, it has a welcome centre, restaurant and toilets at the entrance as well as a few tourist stalls.  It consists of a well-maintained path down to the falls.
On return, you could head out the same way (a number of elderly or young people were doing this) or follow a nature trail along a different route.
This trail also crosses the Waitukubuli Trail in a couple of spots so it would be easy to add to this very easy and busy hike.  This was probably our least favourite hike in Dominica, mostly because of how busy and developed it is.  The emerald pool itself though is pretty if you can manage to find it without crowds.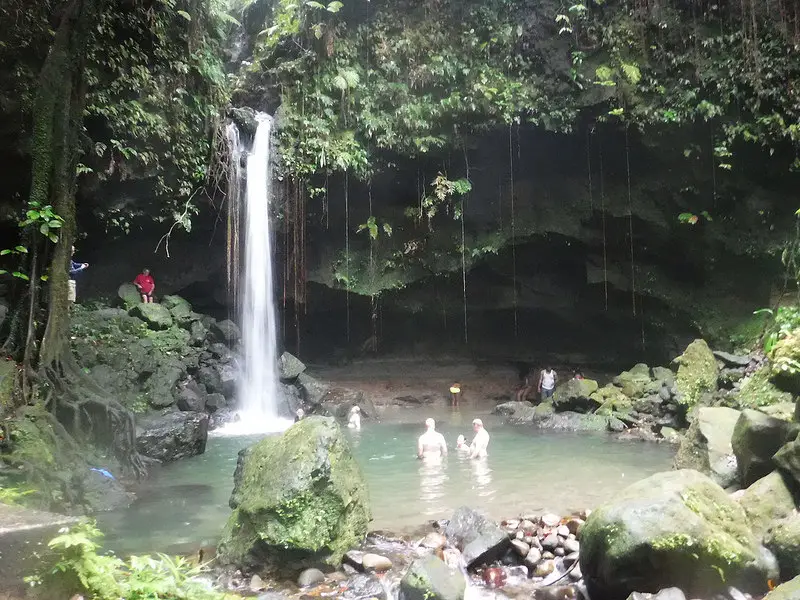 Trafalgar Falls
This was another very heavily visited spot.  We were unlucky enough to visit on a day when a cruise ship was in town which meant LOTS of people.  Like Emerald Pools, there really isn't much of a hike here but a well-maintained path leads you to a lookout where you can view both falls.
You can choose to head out onto the rocks and bathe in the pools.  You can also climb to either waterfall.  To get to the larger of the falls, cross over to the far side at the beginning and climb up to the right of the waterfall.  We found out the hard way that it's not possible to reach the top from the left side!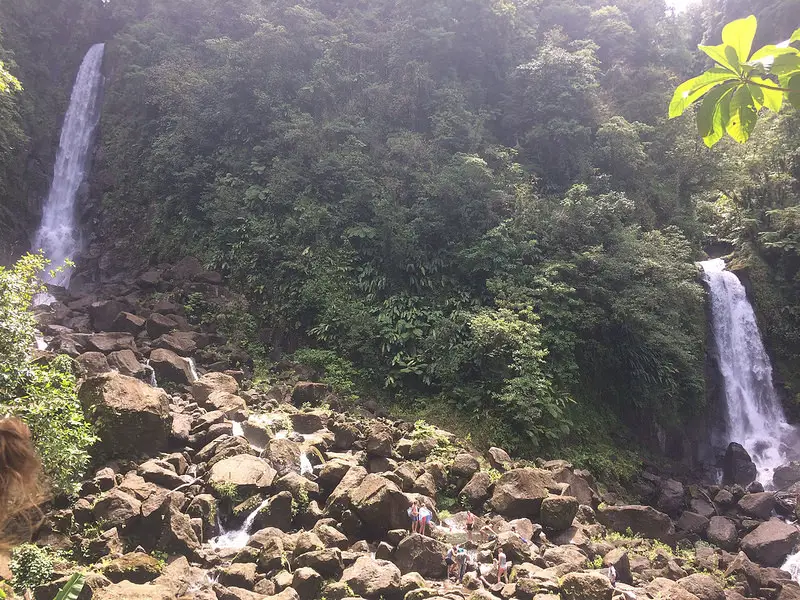 Middleham Falls
Middleham Falls is the tallest waterfall in Dominica, standing at about 200ft.  It's actually incredibly challenging to get a good photo of Middleham Falls as it is just too big to get the entire thing in the shot from the lookout.
This trail heads uphill first before descending to the falls.  It's not particularly difficult but it will get you sweating and there are some slippery spots as you get nearer the water.  It is possible to swim in the refreshing (read: cold) pool at the base of the waterfall.  There is also a spot to jump from, but I'd want to see someone go first to make sure I was in the right place!
Before beginning the downhill trek to the river, there is an option to continue straight to the Stinking Hole.  We didn't do this but apparently, it is a cave filled with bats and, well, stinks!  Middleham Falls hike takes around 1.5 hours to complete the almost 6km trail.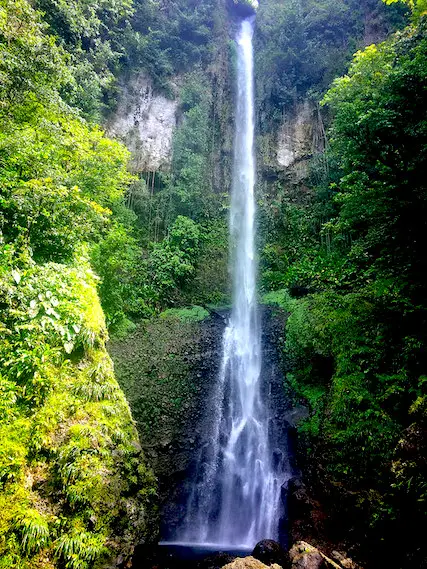 Scotts Head Peninsula
At the very southwest corner of Dominica is Scotts Head Peninsula.  Drive south out of Roseau and follow the coastal road through Soufriere all the way to the end.  Here you can hike across the thin spit of land that connects the peninsula to the mainland and head up the trail to the remains of a fort.
On a clear day, you can see Martinique in the distance.  I have never seen clearer or brighter blue water.  This isn't a long or challenging hike at all – we did it in flip flops! – but the view is spectacular!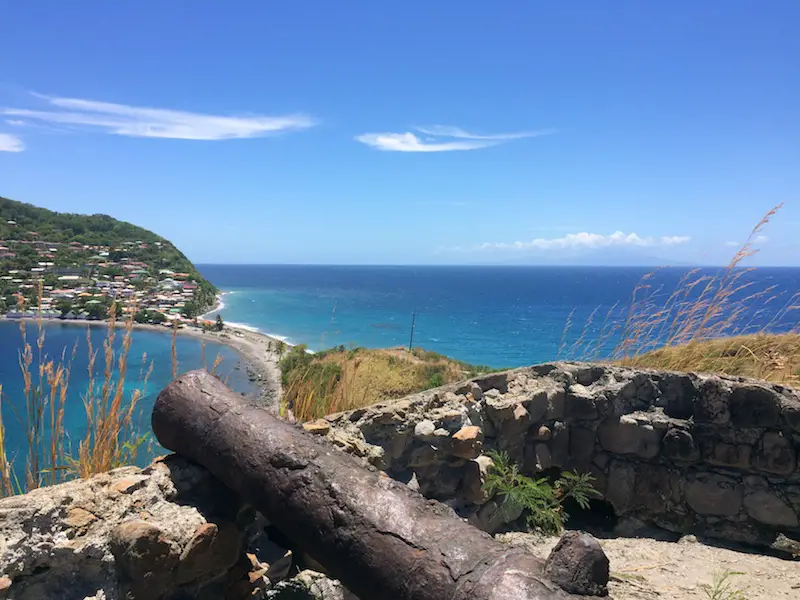 After taking too many pictures, head back down and to a little beach on the north side of the headland.  Here you can snorkel in the marine reserve.  A man was renting snorkelling equipment when we were there but we had brought our own.
There was also a scuba diving boat in the waters so you could always see the underwater life that way too.  Unfortunately, we were there around noon so there wasn't too much to see in the water.  For your best chance of witnessing marine life, try going either earlier or later in the day.
Wavine Cyrique
Of all our hikes in Dominica, this was our first and most definitely favourite!  We combined this hike with Sari Sari Falls as they both begin in a similar location along the southeast coast.  Turn left off the main road when you see the wooden sign for Riviere Cyrique.  Follow this road to the end and find a little lay-by to park.  I have read the man that lives at the trailhead charges a fee and maintains the trail.  However, when we went he didn't ask us for anything.  Possibly because we caught him off guard in his bathroom with a view…
This hike begins following a gentle path through the forest until you reach the cliff's edge and a beautiful view.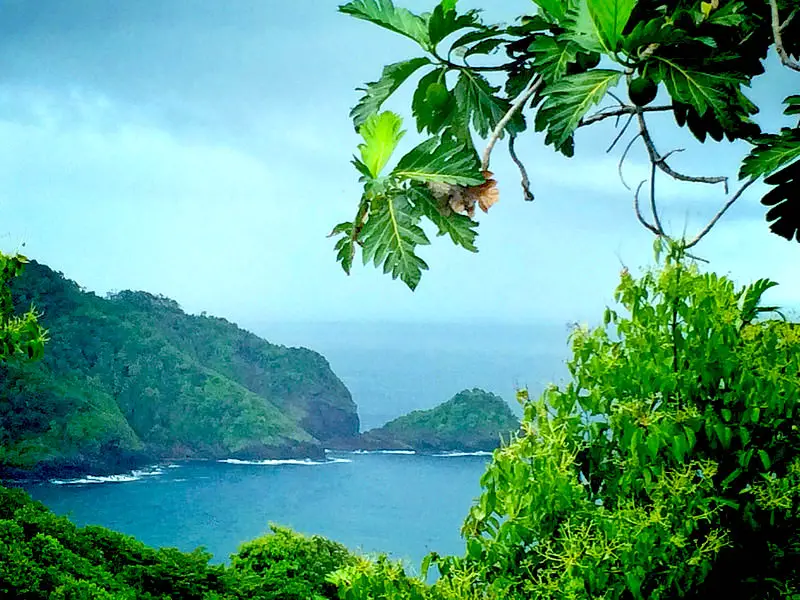 After this things get a little trickier.  The 'hike' consists of basically scaling the side of the cliff face to the bottom using a series of ropes, ladders and tree roots for support.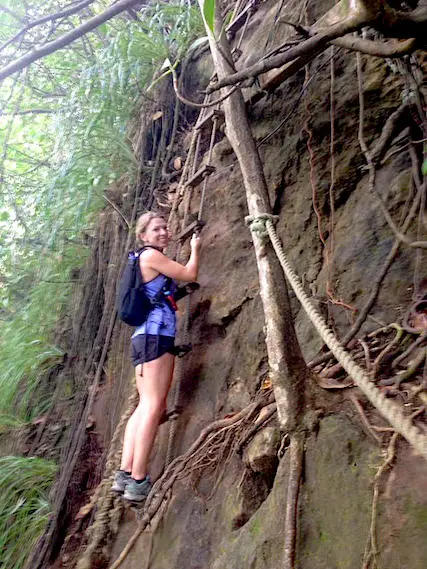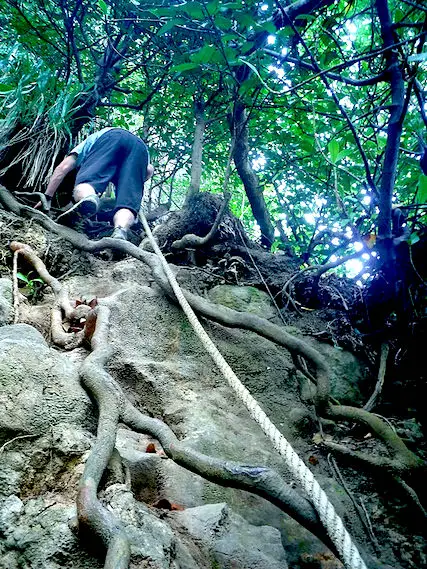 Once at the bottom, limbs shaky, you walk to the left to find a gorgeous black sand beach with a waterfall at the far end falling into the ocean.  Time this hike with low tide to get the best view of the waterfall landing on a rock at the ocean's edge.  Thanks to some morning rains, we missed low tide but managed to make it there before high tide at least.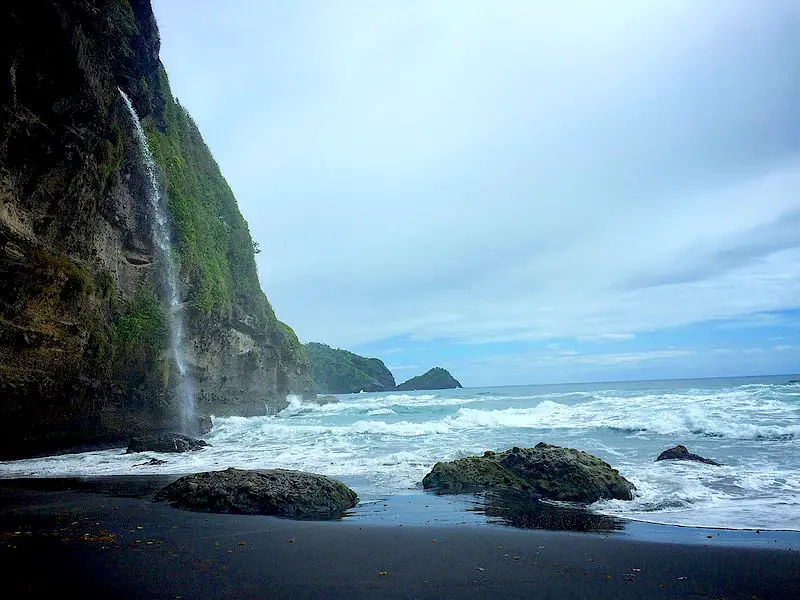 Getting to the Trailheads
Rent a car.  Public transport is unreliable at best and many hikes are in remote locations.  We rented from QB Vehicle Rentals and were very happy with the service. They offer vehicle delivery and pick up from anywhere on the island.  The car came with small details like maps, bottle of water, a USB converter to charge electronics and CDs.  We would highly recommend checking out QB Vehicle Rentals for your trip to Dominica.  Be sure to rent a 4×4!
Before you leave home, download the app Maps.Me to your Smartphone or tablet.  This app works like Google Maps but without data.  You can search for locations and even ask for directions.  You do need to download the map of the island using wifi or data first and it will use up your battery quickly so that USB converter came in really handy!
This app made our trip SO MUCH EASIER!  There are almost no road signs in Dominica.  Roads don't have names.  The app shows not only major places of interest, but also each hotel and trailhead.  We may never have found some hikes (or hotels) without this app!  Click here to download Maps.Me.  This app really is essential for finding all the hikes in Dominica.
For more information about some other hikes in Dominica head to the island's official website.
Like this post?  Pin it for later!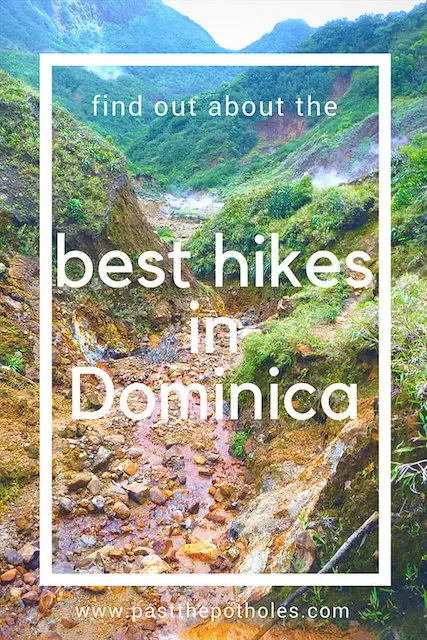 If you are a hiker, Dominica should be on your list to visit.  What is your favourite place to hike?  Have you been to Dominica?  What was your favourite hike?
Return to our Destinations page for more great travel ideas.