Some links in this post may be affiliate links. If you click on them we may make a commission from qualifying purchases at absolutely no cost to you.  Read our full Disclosure Policy here.
Wrapping up Family Time
With two days left with the family, my mum and I headed off to Pachacamac for a tour of the enormous ruins.  These date back to AD200 but were added to by various cultures over the years, up to the Incas.
Dad, Ethan and Terry were supposed to be having a 'boy's day' but as it turned out we had already returned to the apartment shortly after Ethan had woken up.  His late night Peruvian soccer games were taking a toll!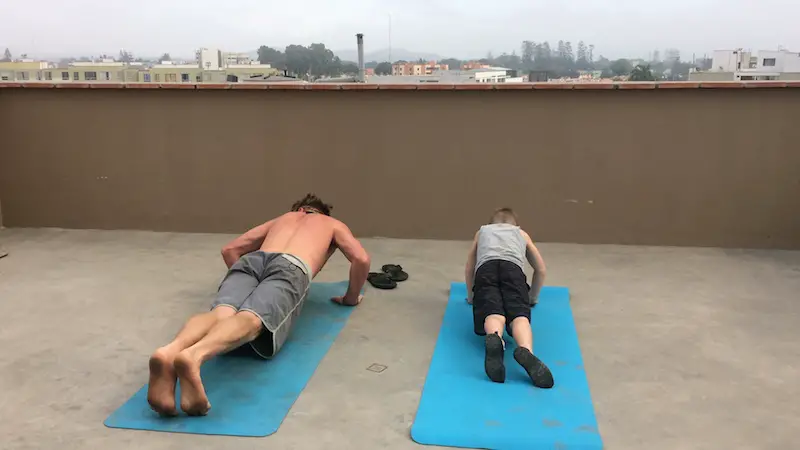 Before they left, we had to take them out for ceviche.  Not only is it delicious, it is of course from Peru so we neglected to tell them it was raw seafood and headed for a highly recommended restaurant in Barranco.  The line outside told us we had made a good choice and half an hour later we were ordering fish ceviche and shrimp ceviche to share.
We headed to the beach for their final day and Ethan once again loved jumping in the waves.  A group of local men were taking a fishing boat out, returning with fish, octopus and crab and making their own ceviche – right in a plastic tub on the beach!  Terry was of course curious and hovering close by watching the process.  Not long after he was offered a plate of their creation!
Heading to the mountains!
We shipped the family off in a taxi headed to the airport Monday night and checked out of the apartment early the next morning.  The taxi we ordered was somehow canceled and then we got stuck in heavy traffic.  I was pretty sure we were missing our bus but we arrived at the bus station just 2 minutes before departure and were still able to check our bags and board – phew!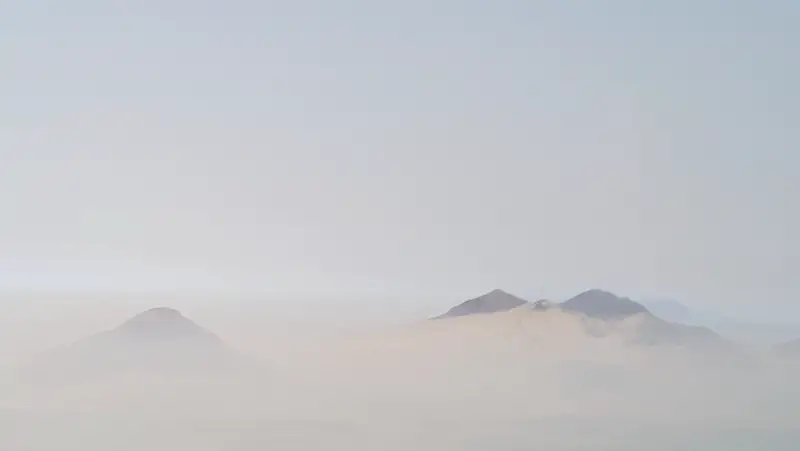 After 9 hours we had arrived in Huaraz, the hiking gateway to the Cordillera Blanca and Huayhuash, considered among the most beautiful mountain ranges (and largest) in the world.  The town is nothing special as it was almost entirely destroyed in an earthquake in 1970 but in every direction you see mountain peaks, many snow-capped.
---
Get our 2 Week Peru Itinerary here!
---
Not our Most Successful Adventure
At 3000m, it is strongly recommended to take it easy when you first arrive in Huaraz.  The plan for our first day was simply to check out the town and book some treks.  It didn't take long for our plans to change.  Despite being the off-season, I had read online that the Santa Cruz trek was still possible as was a shortened version of the Huayhuash.
Immediately we were told Huayhuash was not an option.  We talked to various people about Santa Cruz and the information kept getting worse.  One guy said he tried it a couple of weeks ago and turned back after one night due to a leaky rental tent and pouring rain.  We were told that none of the reputable companies run tours during this season.  As we don't have any proper equipment (or our best trekking gear) with us, we would definitely be needing rentals or a group so this wasn't promising.
Laguna Paron
We settled on a few day tours instead.  Our first was to Laguna Paron, or Paramount Lake.  It's name is due to the mountain peak seen behind the lake being the inspiration for the Paramount Films logo.  The drive there goes through an incredibly deep canyon, unbelievably beautiful but full of hairpin switchbacks with sheer drops – not for the faint of heart!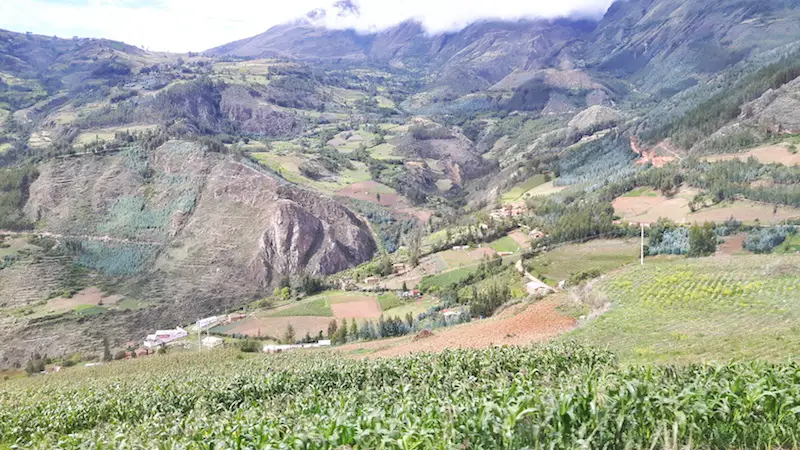 The lake is gorgeous, the surrounding scenery stunning, but of course it was shrouded in cloud.  Still, it was a fun hike as we climbed up a rocky glacier to a lookout point – not that there was anything to look at!  We're still not sure why our guide chose this route rather than the trail around the lake and up to another smaller lake with lovely views….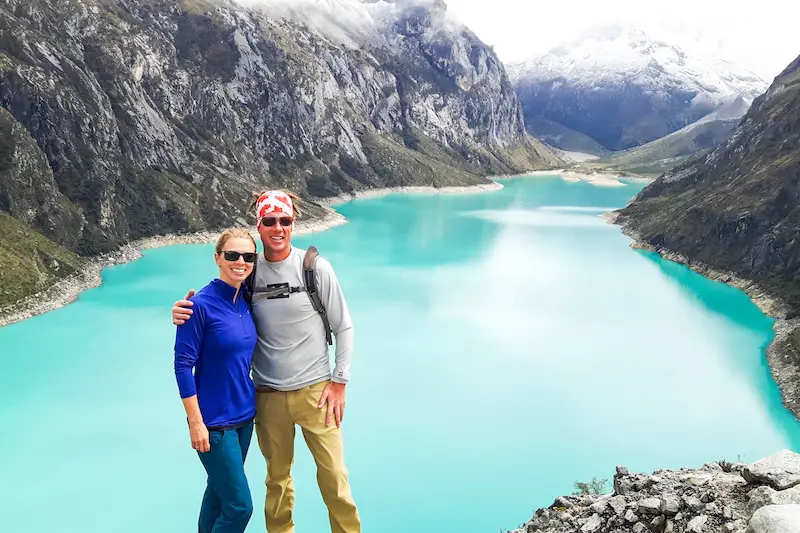 Someone even decided to swim in the glacial lake after!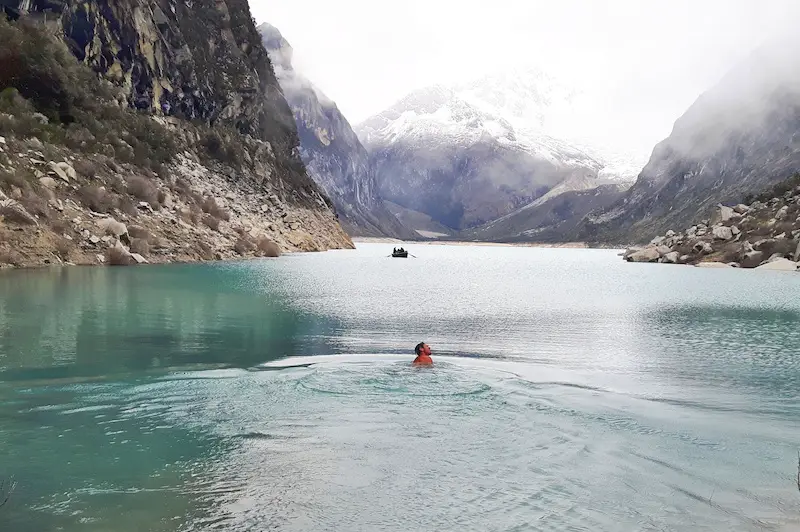 Pastoruri Glacier
Our guide told us of a glacier we could hike called Rurec.  It's a brand new hike so not too many have done it and the pictures looked amazing.  The problem: we would need to find more people to do it with us for the tour to run.  It seems not everyone comes to the hiking capital of Peru to hike….
We settled instead for the bus tour to another glacier on our final day in town.  Together our group was jostled along the road, stopping at a few sites of interest.  The guide was great and the scenery was beautiful but it was still a lot of time on a not-so-comfortable mini bus.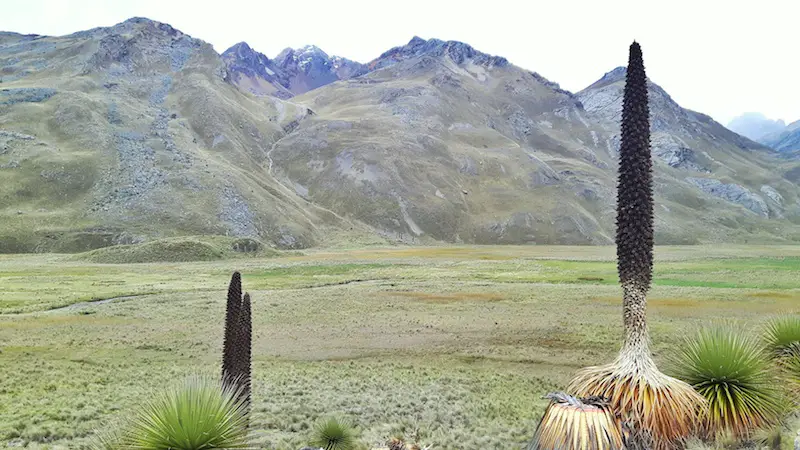 When we reached the 'lake of seven colours', he told us how it's really beautiful when the sun's out but without the sun, there aren't any colours.
The glacier was really impressive and made the bus trip worthwhile… I think.  The hike up isn't hard but at an altitude of 5200m, my lungs were screaming just the same!  Technically Pastoruri isn't considered a glacier anymore as it is no longer gaining ice in the winter and instead shrinking.  They predict it will be gone in 10 years.  And people still think global warming is a joke!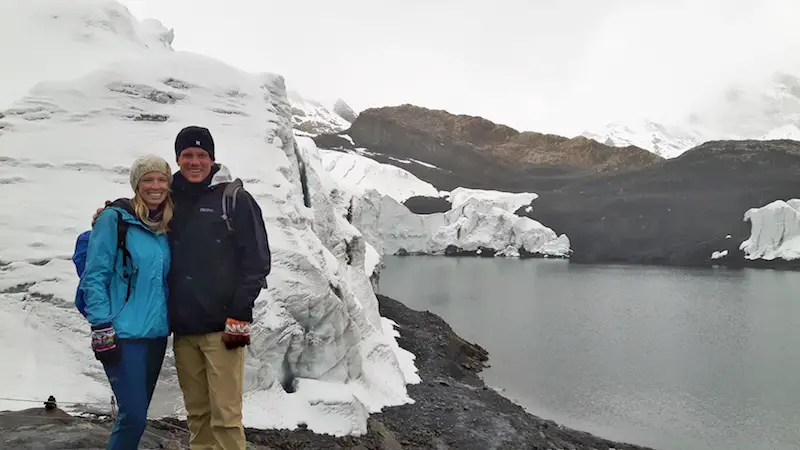 And back to the beach!
We were getting a little tired of constantly being told how beautiful things would be if the sky was clear, while getting rained on, so we booked our bus to Trujillo for the next day.  The Cordillera Blanca is stunning and we will be back – with proper gear and in the summer!
Our next stop is Huanchaco, a little fishing village just outside of Trujillo.  Trujillo is Peru's third largest city and, good or bad timing, we will be arriving just a day after the Pope was in town!
P.S. We're a little light on photos this week thanks to the thief who now has a lovely iPhone 5S filled with all our photos.  Luckily I had most backed up but am still putting myself back together, technology-wise, and didn't have a phone to take pictures with!
Find all out travel journal posts here.
Discover more destinations now!