A Week in Huanchaco, Lima
Some links in this post may be affiliate links. If you click on them we may make a commission from qualifying purchases at absolutely no cost to you.  Read our full Disclosure Policy here.
Sunday we awoke to the bluest skies we've seen since arriving in Huaraz and clear views of every snow-capped peak surrounding the town.  So what did we do?  We boarded a nine hour bus out of town!
Given that the weather wasn't allowing us to complete the Santa Cruz trek (the reason for our visit to the Cordillera Blanca in the first place) and the low season number of trekkers meant we were unable to find groups for the hikes we were interested in, we decided to cut our losses and save the rest for when we return.  We will need a few acclimatization hikes before starting the multi-day trek anyway.  It was time to warm up!
The bus trip went smoothly enough.  Our only problem was struggling to breathe for the 30 minutes we had to spend in the Chimbote bus terminal.  It seems the fish processing plant for this coastal city is right beside the bus station and the stench was close to unbearable.  Definitely not a town on our favourites list for Peru!
Huanchaco
The bus dropped us in Trujillo and we shared a taxi to Huanchaco.  Just a day after the pope's much anticipated visit, there were still stands, decorations and people everywhere.  Papa Panchito knows how to draw a crowd!  The apartment we had hoped to rent was booked for the next few days so I booked us a double room in a highly rated hostel at the north end of town.  Two hostels in a row – what is happening to Terry??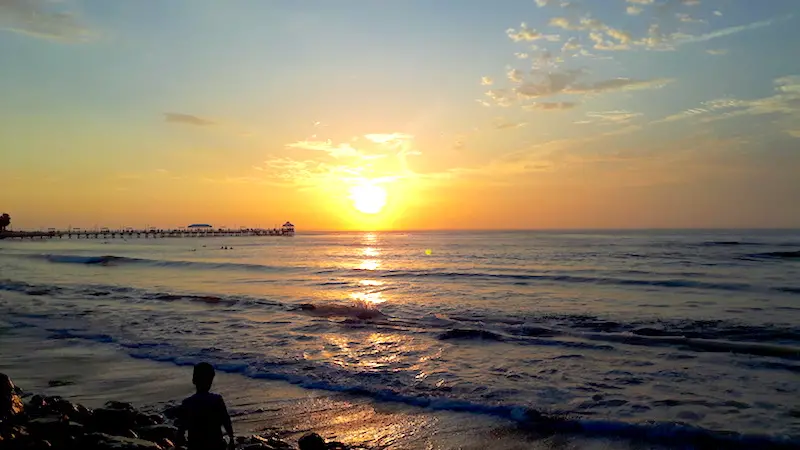 The hostel was actually really nice, with cheap yoga classes each morning and plenty of outdoor seating.  The people were really friendly but everyone respected the quiet time of 10:30pm so sleeping was never an issue!
Familiar Faces
Our two new friends from Huaraz, Ruby and Tony, decided to book themselves on the same bus as us and then also stayed in the same hostel so it was fun to have some familiar people to hang out with.
We headed out one night in search of dinner and as we neared the main plaza, heard someone yelling at us.  Looking over, we were floored to find Mark, one of the people on our Bartolome Tour in the Galapagos Islands.  What a small world!  We ended up spending the evening with him and a couple of people from his hostel and enjoyed having company for dinner.
Beach Fun
Huanchaco is actually the first place ever to be designated a World Surfing Reserve and Terry did manage to get out to test the waves.  The need for thick wetsuits had me cheering from the sidelines, however.  The waves are pretty clean, come in varying sizes and never too crowded so it's actually a great place to learn – if only the water was warmer…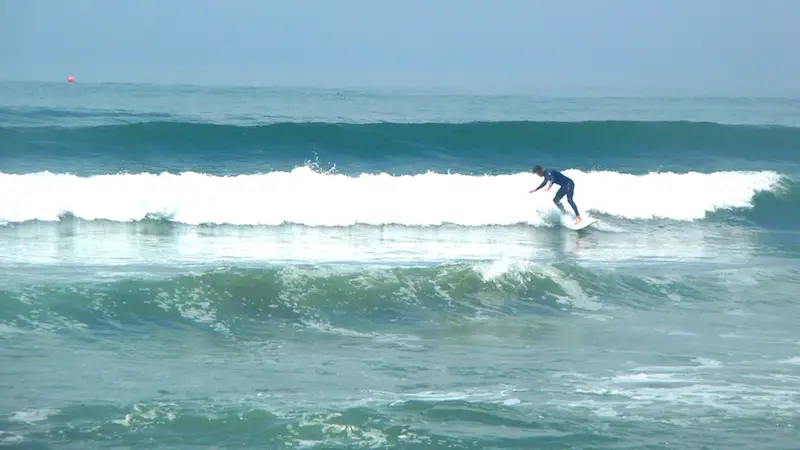 Huanchaco is also home to the famed Caballitos de Totora, traditional reed boats that are used for fishing.  While we did get the chance to watch the men in these boats, we unfortunately didn't see anyone using them to surf the waves.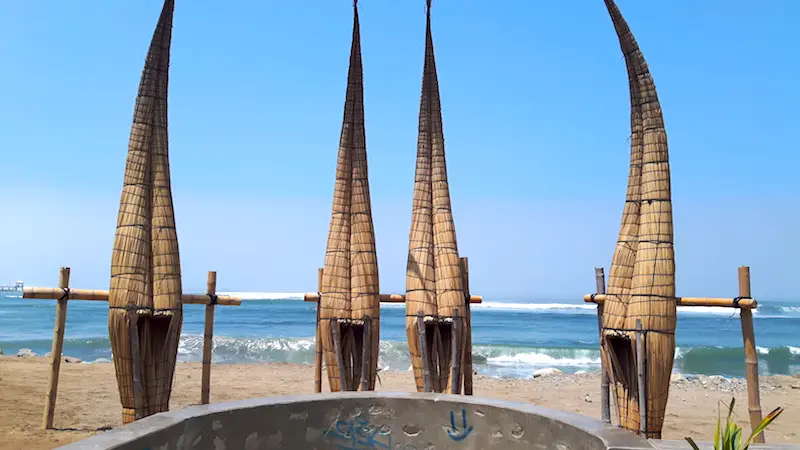 The beach isn't the best but it is long, sandy and full of umbrellas if you are looking to escape the sun.  Along it's length are many restaurants selling food at such great prices it seems silly to try and cook!
Chan Chan
Close by are the ruins of the largest adobe city in the world, Chan Chan.  We visited the site on our last full day.  The ticket actually gets you into four different places but we only went to the main one.  Our remaining soles didn't allow us to hire a guide but it's an impressive place.  We've visited enough ruins in Latin America that I feel we can fairly accurately determine the central plazas, market places and other areas of such places, although I'm sure we missed out on a bit though!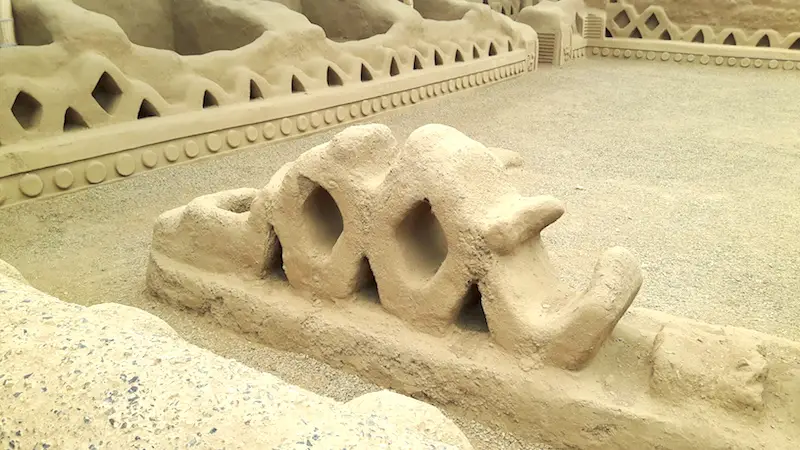 Peru, the country that keeps giving!
There is no question that we have enjoyed our time in Peru and that we really do like the country.  However, the feeling appears not to be mutual.  While in Huaraz our laptop lost the will to live and we were unsuccessful in finding anyone to look at it in town.  In fact, when we found the guy recommended to us, he eyes about popped out of his head when he saw it was a Mac!  Hearing there is an Apple Store in the Trujillo mall gave us a glimmer of hope so we packed it up and hopped on a bus one morning.  Our Peruvian luck continued when we were told that the computer repair person is unavailable until the 30th or 31st of the month!  At least that's what we understood….
Cutting our Time Short
Huanchaco really is a great place to stay.  It has an awesome relaxed vibe without being boring.  We would definitely recommend it!  If we were heading home we would be looking to extend for as long as possible.  However, two things had us deciding to head back to Lima sooner than expected.  Firstly, we will be heading to Mexico next where we figure there will also be beach, surfing and cool vibes – only with warmer waters.  Secondly, our hostel could only extend our stay for one extra night and we had decided not to stay long enough to be worth packing up and moving to the apartment.
Returning to Lima
After six nights in Huanchaco, we got back on a bus to return to Lima.  Eleven hours later we were back where our time in Peru began and on our way to our hotel in Miraflores.  This time we will be just a block from the malecon so we can enjoy the coastal parkspace.  We have decided to stay for a few nights before flying to Guadalajara in the hopes that we will find some answers about the laptop in the capital.  Also, we liked Lima so why not?
Read about our first week in Peru visiting the desert oasis of Huacachina.
Our second week in Peru was spent exploring Lima.
We headed to the mountains for our third week in Peru.  Read about our week in Huaraz.
Catch up on our travel journal here!
Find more destinations here.