Everything you need to know for an Amazing Trip to Salento!
Some links in this post may be affiliate links. If you click on them we may make a commission from qualifying purchases at absolutely no cost to you.  Read our full Disclosure Policy here.
Are you planning a trip to Colombia?  If so, you have likely heard of Salento.  When you are ready to leave the city, Quindío, the coffee region, is waiting for you!  Salento, Colombia is probably the most popular spot in this area as it is a cute and colourful little town with easy access to the Cocora Valley, or Valle de Cocora.  We spent two days in this town on our recent trip to Colombia and fell in love.
How to get to Salento, Colombia
Getting to Salento is becoming increasingly easy as more and more people are discovering the area.  Depending on where you are coming from, your desired level of comfort, budget and time constraints, you will have a number of options.
Where is Salento, Colombia?
Salento lies in the Quindío region of Colombia.  It is in the heart of the coffee region (eje cafetero) and is 24km northeast of the department's capital, Armenia.  Salento is about 300km (7 hours) west of Bogota and approximately 250km (6 hours) south of Medellin.  It is, therefore, a perfect stop when travelling between these two huge metropolises.
Salento Colombia Map
[mappress mapid="17″]
From Bogotá to Salento
You will have a few options to get from Bogotá to Salento, each with their own merits.  Journeys can be completed in either direction.
[btn text="→     Find Things to do in Bogotá     ←" tcolor=#FFF bcolor=#1998b5 thovercolor=#444 bhovercolor=#bbede7 link="https://pastthepotholes.com/things-to-do-bogota" target="_blank"]
Drive – You could rent a car and make the trek yourself.  I wouldn´t recommend this as Colombia is the first place I´ve been where I actually agreed with all the comments about crazy drivers!  However, driving your own vehicle allows for much more freedom and it is possible.
Fly – Many people consider flying the quickest way to get there (it´s about an hour flight) and with budget airlines such as Viva Air (previously called VivaColombia), it is certainly affordable.  It may be the fewest number of hours on the road but keep in mind that once you add journey time to the airport, departure lounge time, flight schedules, and then still having to get the bus from either Armenia or Pereira, you are likely not gaining much.  For us, due to flight times there was no way to avoid losing an entire day to travel with this option.
Bus – There are a number of bus options at various times between Bogotá and either Armenia or Pereira. Personally I think Armenia makes the most sense as, while exact times vary, it is a shorter route and there are far more frequent buses onward to Salento.  Pereira only has four per day so you may have a long wait, or miss the last bus for the day.
We took the night Bogotá – Armenia bus with Bolivariano. This is generally accepted to be the highest quality bus operator so I figured it was worth it for a night bus. The company lists this as a 9 hour route but we were there in 7. Taking the 10pm bus meant that we were in Armenia at 5am and in Salento (about a 45 minute additional bus ride) by 6:30am. We booked our tickets in advance through BusBud and had no problems.  Just make sure you have a printed copy of your tickets on separate sheets of paper!
Once in Armenia, enter the bus station and walk through the other end where local buses run.  Walk to the right and follow the platform almost to the end.  There will be a sign hanging from the roof labeled Salento.  It's easy to miss (we did!) but locals will be happy to help.  These buses run regularly and you will just pay the driver.
Bogotá – Armenia bus:  $61,000COP ($28CDN)
Armenia – Salento bus:  $4,200COP ($2CDN)
---
An excellent option for a trip to Salento is one of these guided three-day tours from either Bogota or Medellin.  These will take all the guesswork out of planning and executing an amazing trip!
Check out reviews and prices now.
The Bogota tour is especially amazing if you're following our Colombia itinerary as it includes airfare from Bogota and onward travel to Medellin.  Accommodations, Cocora Valley, coffee tour and some meals are all included!
---
From Medellín to Salento
We did this trip in reverse and chose the direct minibus option.  This option is ideal if you would prefer to skip the hassle of switching buses and plan to travel through the day.  However, the indirect bus gives you the option of more comfort and making this an overnight journey.
[btn text="→     Find Things to do in Medellin     ←" tcolor=#FFF bcolor=#4182a3 thovercolor=#444 bhovercolor=#CDCDCD link="https://pastthepotholes.com/how-to-spend-3-days-in-medellin/" target="_blank"]
Direct – Flota Occidental runs a direct service between these two cities.  Tickets cost $47,000COP (about $20CDN).  This service leaves Medellín at 8am, 11am and 1pm.  The return buses depart at 8am, 10am, 11am, 12pm and 4pm.  The ticket office and bus stop in Salento is at a small store on Carrera 2.  Purchase your ticket a few days in advance as this service can fill up.
Indirect – Flota Occidental or Impresa Arauca are the two main companies that run between Medellín and Armenia.  Flota Occidental runs every hour until 11pm and, as the more 'luxury' of the two, will cost $45,000COP to $47,000COP.  From Armenia you would follow the same directions as above.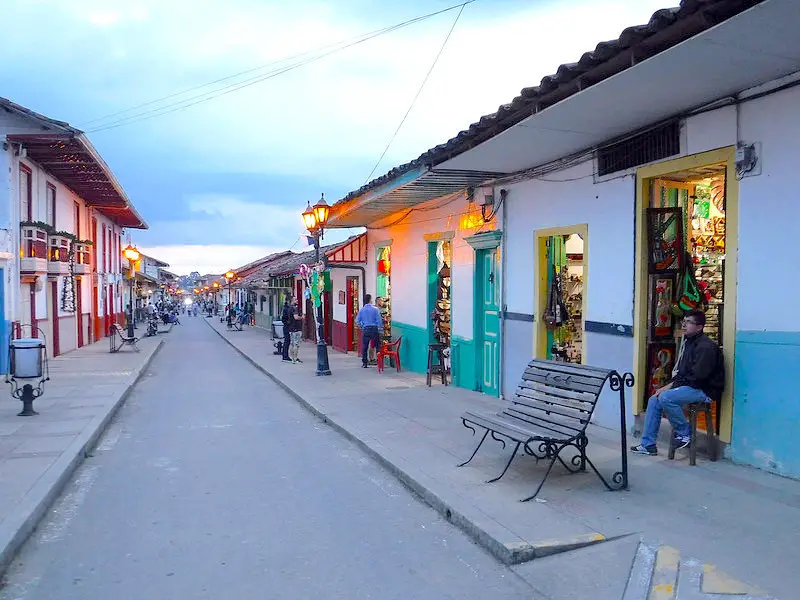 Where to stay in Salento, Colombia
For a small town, there are numerous options for accommodation in Salento.
Budget: El Mocambo Hostel and Guesthouse is the highest rated hostel in the area with dorms costing just $8 and double rooms starting at $20.  All bookings also come with a delicious breakfast.  It is a little further out of town but still within walking distance.
Check prices and availability now.
Mid-range: We stayed in the Hotel Salento Real Eje Cafetero and loved it.  Situated in a beautiful traditional building a short walk from the main plaza, bookings also include a fabulous breakfast.  Double rooms cost around $45.
Check reviews and availability now.
Splurge: Hotel Salento Plaza is set in beautiful gardens very close to the town centre.  Guests love just about everything about this place, including the included breakfast.  A deluxe king room will cost around $70 for two people.
Check reviews and availability now.
---
Things to do in Salento, Colombia
Take a Coffee Plantation Tour
This is the coffee region after all!  Even if, like us, you're not coffee drinkers these tours are well worth the time and definitely one of the best things to do in Solento, Colombia.  It doesn't hurt that there is some beautiful scenery along the way too.  There are a number of options for a coffee tour but we went to the Plantation House on the edge of town where tours run at 9:30am in English and at 3:30pm in Spanish.
After putting on some stylish rubber boots, we headed out for a tour through the countryside to the actual farm where we were given an informative presentation on the coffee production process, watched (and participated in) roasting, grinding and percolating the beans and were given the opportunity to taste two different types.
If you are interested in a coffee tour in Salento, we can definitely recommend the Plantation House.  It's also a hostel with great reviews but we were already staying elsewhere.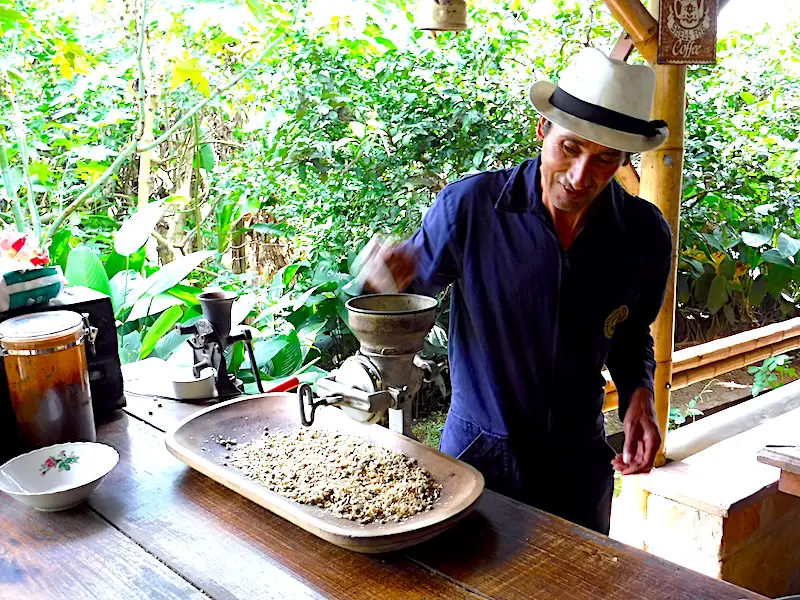 Hike in the Valle de Cocora (Cocora Valley)
This is an absolute must do in Salento. You know when Terry is taking pictures, it´s something special!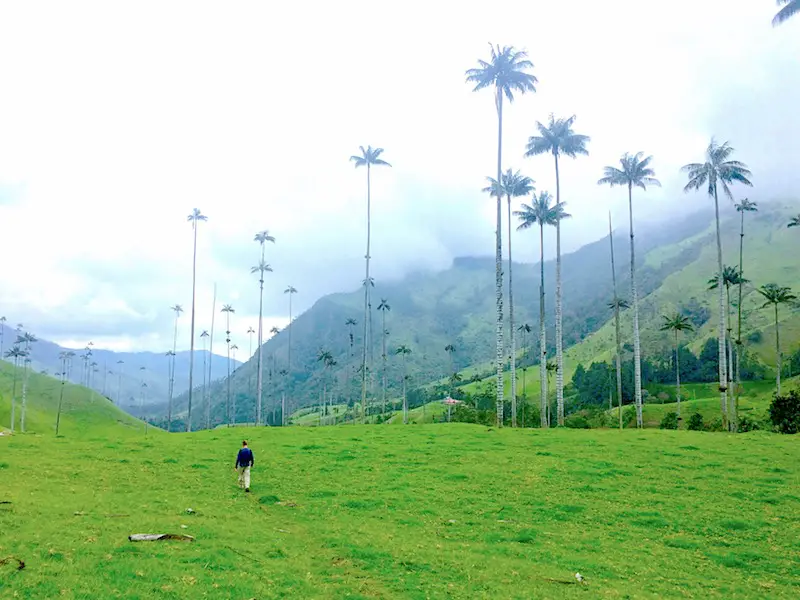 It is possible to stay up at the start of the hike but we got up in the morning and took a Willy (an old Jeep) the 30-minute ride into the countryside. Just head to the central plaza to wait for the next Willy leaving.  Exit the truck and head straight up the hill to get to the valley and the famous wax palms. Alternatively (and highly recommended), is to take a path on the right to hike up to the Finca de las Montañas.  This path loops around and ends in the Cocora Valley.  Watch out for a blue gate on the right-hand side of the road shortly after the Willy drop off.
This trail begins through open pastures and then heads into forest. Set off earlier in the day to avoid the midday heat and reach the valley before the clouds descend.  You cross the river multiple times and gradually head uphill. This part is easy. When you reach a sign to the Acaime Hummingbird Sanctuary to the right you can follow that way or head left for the finca. We skipped the hummingbirds (Trinidad is home to a crazy number of these so we weren´t so interested in it) and turned left. Here the trail gets significantly more challenging, add in the altitude and we were sweating! The view at the top is worth it though and it´s all an easy downhill from there.
Heading down through the Valle de Cocora, Cocora Valley, you can´t help but take hundreds of photos.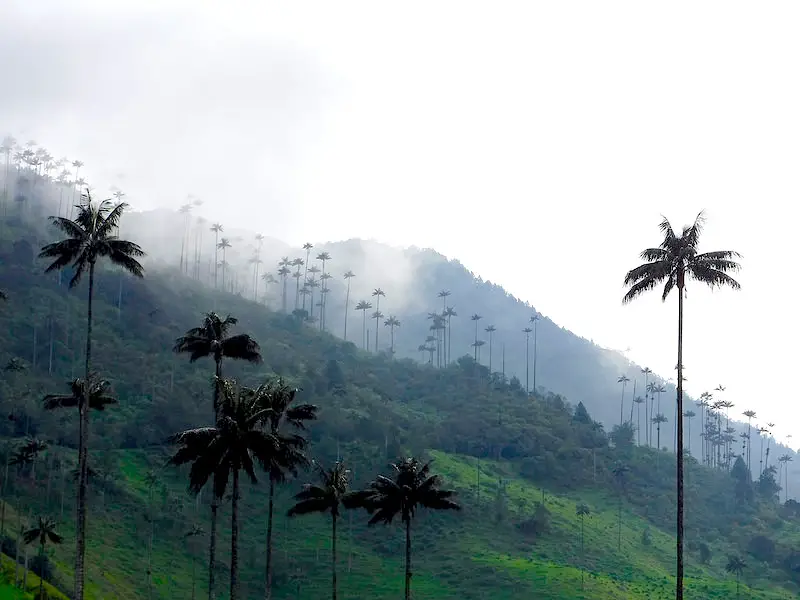 If you don't have a lot of time and you're wondering what to do in Salento, this is the one thing you absolutely cannot miss!
Hike to the River
Another thing to do in Salento is hike down into the river valley.  We didn´t get to do this as an afternoon storm rolled in when we returned from the Cocora Valley but if the view from the mirador is anything to go by, it would be a beautiful hike. Paths head down to the river valley from the mirador. You also see this area as you drive into town from Armenia and it looks stunning.  Definitely on the list for our next visit!
Check out the views from the Mirador (Viewpoint)
There are two ways up to two different miradors, or lookouts, but they are connected at the top with a short path. At the top of Carrera 4 is a spot with amazing views over the valley to the north of the town. Straight up from the northwest corner of the central plaza, Carrera 6 ends at a long staircase. The mirador here looks out over the town.
We think the best route is to walk up Carrera 4, take the connecting path to the second lookout and head down the stairs to Carrera 6.  This is the busiest street in town with stores, restaurants and a pool hall. Ending our walk around sunset meant we timed it perfectly for a beer and an opportunity to watch the locals play some form of billiards before dinner.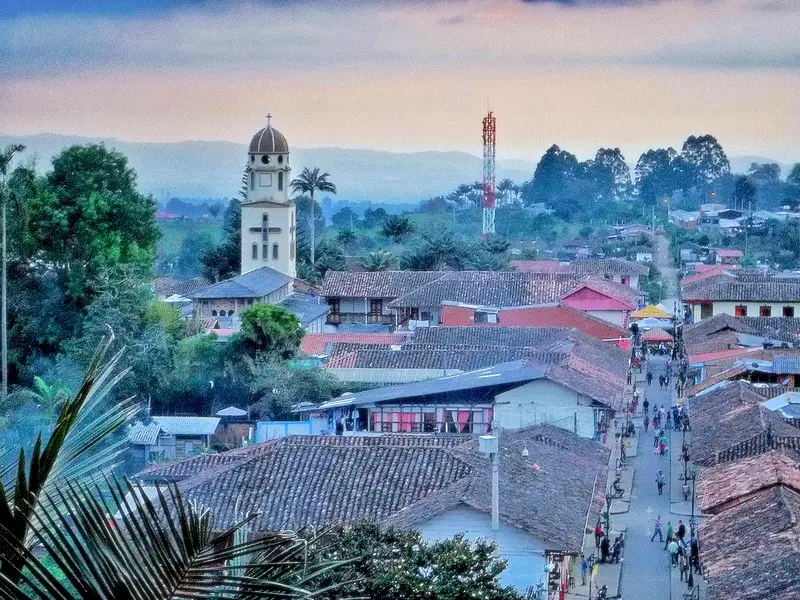 Play Tejos in a local bar
One of the more fun things to do in Salento is learning how to play tejos.  This is a traditional Colombian game that is kind of like horseshoes with gunpowder.  On Carrera 4, there is a little bar that welcomes foreigners in to learn how to play. The game is free to play but you must buy drinks.  Each person gets a little weight to throw at a raised platform filled with clay.  In the clay is a metal ring with little white gunpowder-filled triangles sitting on the edge. You get points for landing in the ring and more points for hitting and exploding the white triangles. It's a lot of fun!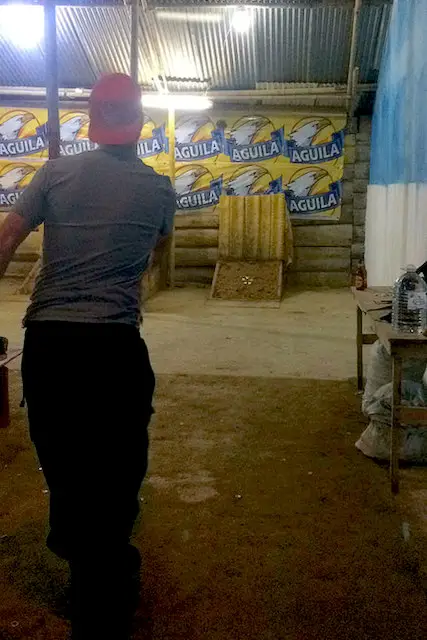 Go Horseriding
When you're tired of hiking, the Salento region is a great area to go horseback riding.  Cabalgatas San Pablo has amazing recommendations on TripAdvisor, although there are many options.  With miles of rolling hills and beautiful countryside, all levels of rider are sure to have a fabulous time.
Eat a Patacón
Patacones, flattened and fried plantains, are very common throughout Colombia and South America. However, they look different in Salento.  Here they come out the size of a platter and can be ordered as a main dish with various toppings. I had one with cheese and beef – basically a plantain pizza.  It was tasty, cheap and filling!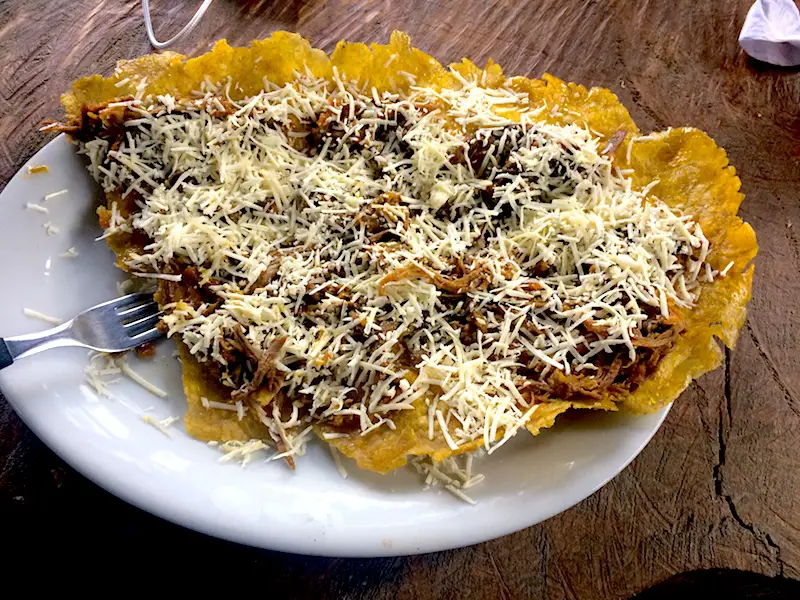 How much time do you need in Salento, Colombia?
We stayed in Salento for two days and felt that we were able to fit in everything on our wishlist.  There really isn´t anything else to do there except relax, hike and enjoy the scenery. It was a nice break between the bustling cities of Bogotá and Medellín. With more time, one more day would have been good for some additional hikes but we wouldn't have needed more than that.
Having said that, if you are travelling long term Salento is a great place to rest for a while.  I have heard many people enjoy spending even a few weeks here simply relaxing and recharging.  You certainly would be hard pressed to find better scenery.
Was this post useful? Consider pinning it!
[columns] [span6]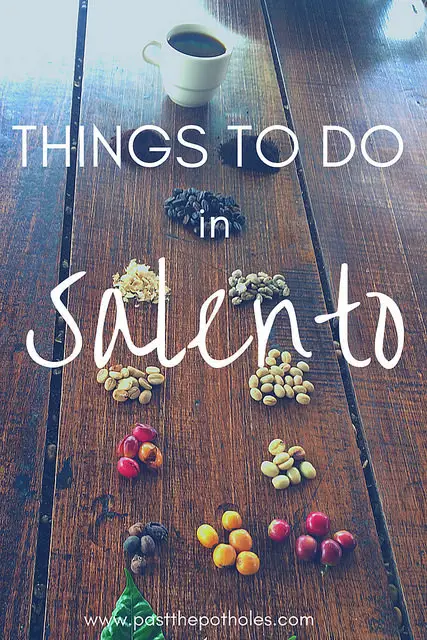 [/span6][span6]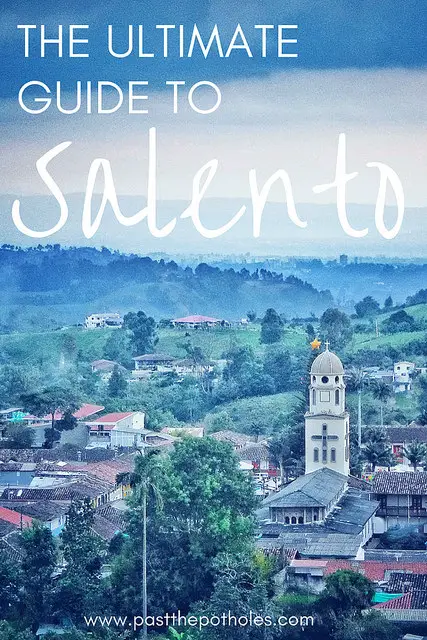 [/span6][/columns]
Have you ever been to Salento?  What were your favourite activities in this area?  Add your suggestions below!
Return to Destinations page now.