Do you dream of golden sand, turquoise water and palm trees swaying in the breeze?  Do you wish you could experience this without the hordes of tourists baking in the sun on rows of loungers?  If you answered yes, then Tobago may very well be your dream destination!
Largely undiscovered by tourism, Tobago is full of charm, character and a plethora of things to do.  Tobago is definitely the hidden gem of the Caribbean!  If you are looking for ideas of what to do in Tobago, keep reading to discover the best things to do.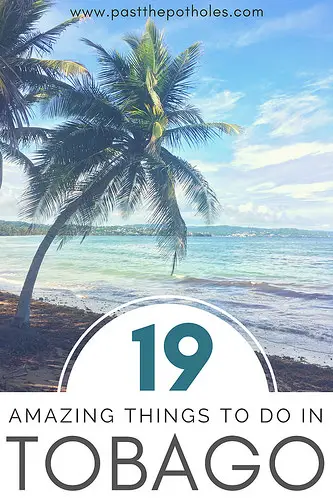 So, what are the best things to do in Tobago?
Sports Activities in Tobago
If you are active, Tobago is perfect for you!  There is so much more to do than just lie on the beach.  Here is a rundown of the most fun things to do in Tobago.
Watersports
You need to check out Radical Sports Tobago if watersports are your thing.  They are located in Pigeon Point Heritage Park, arguably the best beach in Tobago (it's not our personal favourite, but definitely the most 'picture perfect').
Kiteboarding is probably their biggest sport, offering rentals, storage and lessons.  We booked a 6-hour course here and had a blast.  The winds didn't cooperate for us but that didn't stop Brett and the staff from trying their hardest to get us in the water and flying kites.  We would highly recommend these guys if you're interested in learning to kiteboard.
The best time to visit Tobago for kitesurfing or windsurfing is December to May to maximize your chances of having good winds.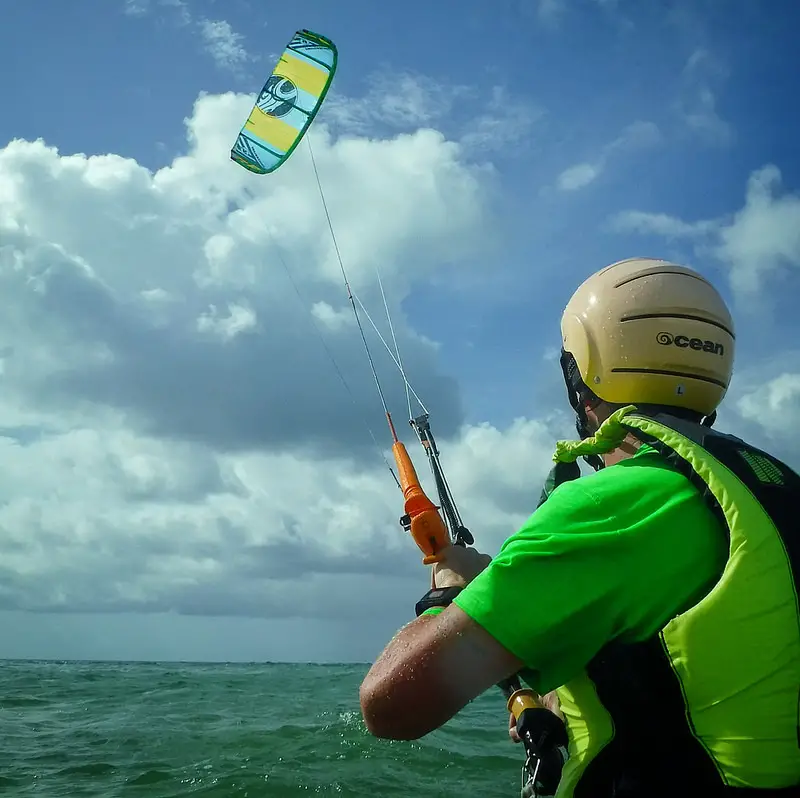 They also offer windsurfing, SUP, kayaking and sailing among a few other things.  We weren't in Tobago at the right time but the SUP bioluminescence tour sound amazing!  If you're there during a new moon, check it out and let us know how it was.  For us, kiteboarding at Pigeon Point was one of our most amazing things to do in Tobago.  We actually booked a long weekend trip to Tobago just to learn this sport!
Surfing
If you're a surfer (or want to be) you will want to head to Mount Irvine Bay.  September to May is the best time to visit Tobago for experienced surfers who will find bigger, more powerful waves but if you are a beginner you may prefer other times.  You can find rentals, lessons, camps and anything else you need at this beach.  There are also facilities here, as well as numerous accommodation options and a golf course in the area.
Diving
SCUBA diving is extremely popular in Tobago.  There are numerous dive sites all around the island with varying degrees of difficulty and attractions.  Tobago is also home to the world's largest brain coral – this is a very popular dive site.  The best diving is said to be off the east coast, in the Atlantic, however Tobago is a small island and dive tours from any part of the island are likely to take you by boat to the same locations.
Having said that, if you are looking for the ultimate Tobago dive experience, Speyside is the place to stay.  There are a few hotels here that double as dive shops.  Often you can even book a hotel/dive package and save some money.  Speyside tourism exists only for scuba diving and a little birdwatching so there really isn't much else here.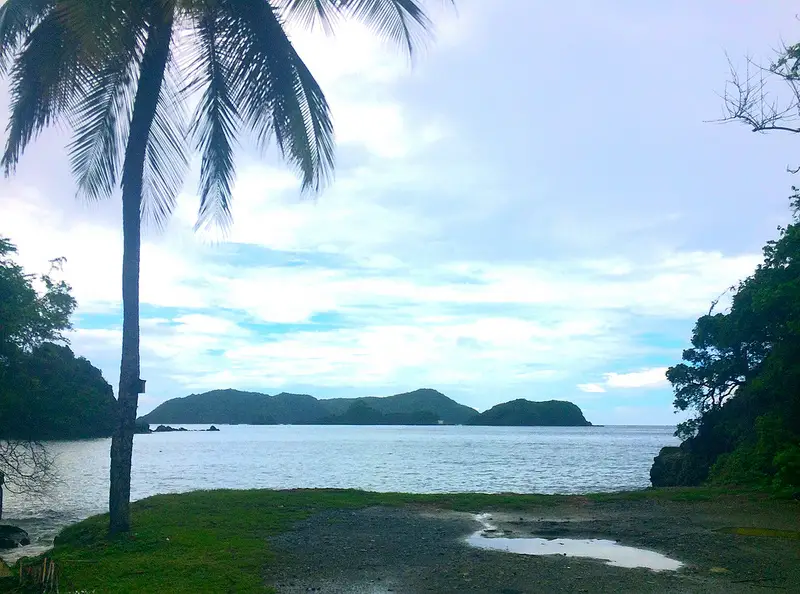 Snorkelling
If snorkelling is more your thing then you have plenty of options here too!  The location most will tell you to snorkel is at Buccoo Reef and the glass bottom boats include this as part of their tour.  You can also book snorkelling trips from any of the dive shops.  In addition, there are a number of bays around the island with excellent snorkelling.
Castara Bay has a large stingray population and you can often snorkel with these graceful creatures.  Englishman's Bay has some interesting snorkelling around the rocks at each end of the bay.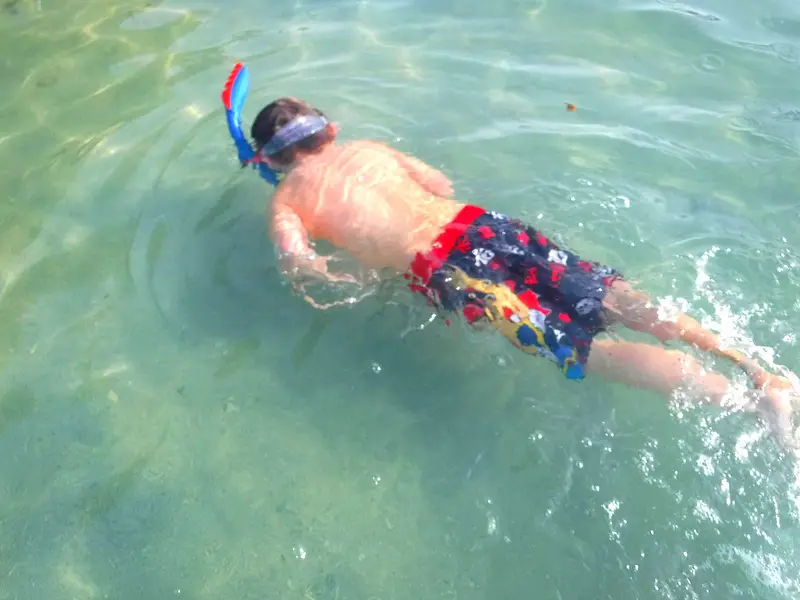 Hiking
Tobago is home to the oldest legally protected forest reserve in the world, established in 1776.  The Main Ridge Forest Reserve covers a large portion of Tobago's interior and has a number of hiking trails.  The easiest way to explore will be to rent a car and drive yourself into the reserve.  There is no trail map (at least not one I could find) but as you drive through the reserve you will see signs at various trail heads.  Just park off the side of the road and enjoy!  Trails are very well marked so you really don't need a guide.  However, if you want to maximize your chances of seeing wildlife, a guide will definitely be helpful.  There are even some creatures here that aren't found anywhere else on Earth!
We completed the Gilpin Trail in reverse.  Starting just off the road between Bloody Bay (the village not beach, it confused us for a while) and the visitor centre, there is a trail to the left of the road just after a little store.  Completing the trail this way makes it predominantly uphill and also means covering the entire trail, something most visitors don't do.  There are a total of three waterfalls along this hike as well as plenty of wildlife.
When we reached the end/start of the trail we opted to hike back down along the road for speed but you could always turn around and go back through the forest.  Alternatively, you could drive to the trail head where you will see a large picnic shelter, probably filled with hopeful guides, and a sign.  Do as much of the trail as you like and then return to your car.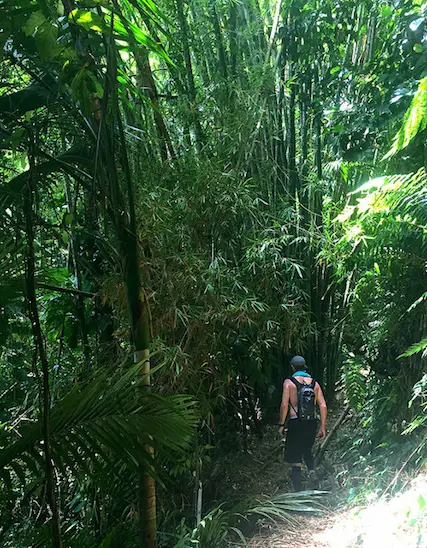 Spring and Blue Copper Trails connect to each other and, while shorter and easier, are the best trails to see birdlife in the reserve.  We also saw a sign for a Niplig Trail along the main road.
Outside of the Main Ridge Forest Reserve, Tobago is home to numerous waterfalls.  The most famous, and most visited, is Argyle Waterfall.  This is located just outside of Roxborough but does include an entrance fee.  We hiked to the Highland Waterfall instead.  It's free and we only had to share the trail with a herd of cattle.  Take the road from Les Coteaux to Mason Hall and turn off immediately after crossing a river.  You can drive as far as your car will take you, or just park here.  Download Maps.Me and you will find the waterfall and trailhead on the map – better than any directions!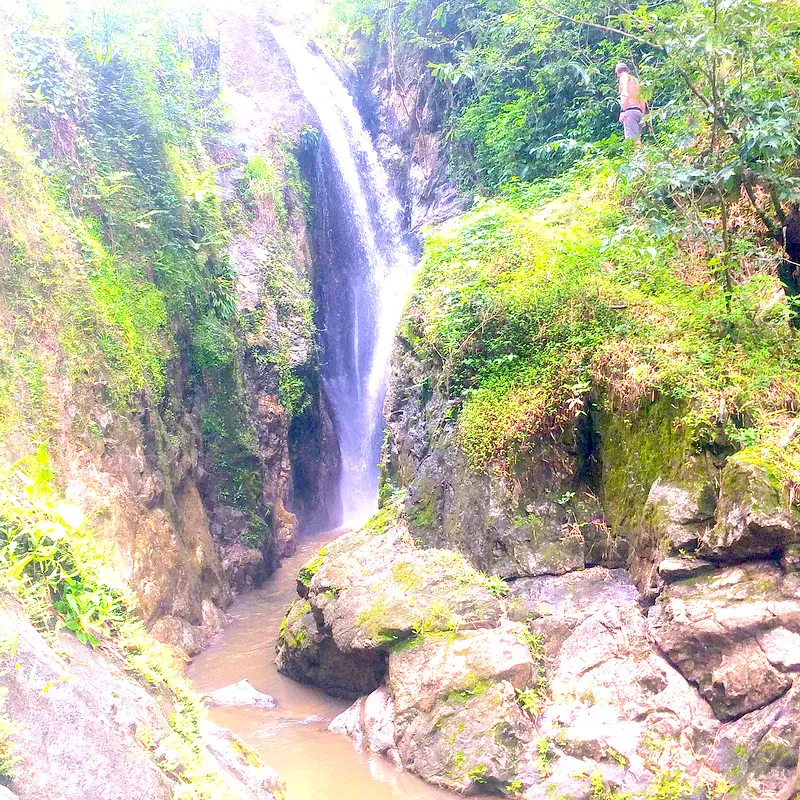 Nature Activities in Tobago
Almost all of the best things to do in Tobago involve some form of nature.  However, for these following Tobago activities, it's the main focus.
Bird Watching
Trinidad and Tobago is an excellent location for birdwatching as it has one of the highest densities of bird species in the world.  Aside from the Main Ridge Forest Reserve, Adventure Farm and Nature Reserve is a hotspot for many species of bird, specifically the hummingbird.  The Grafton Caledonia Bird Sanctuary is another place for bird watchers.  Little Tobago, an island off the coast of Speyside, is a sanctuary for sea birds and almost all tour operators run day trips there.
Glass Bottom Boat
Taking a glass bottom boat tour is one of the tourist attractions in Tobago for most visitors to the island.  For this, you will likely start in Store Bay and hop on a boat either at 11:00am or 2:00pm.  The captain will take you first to Buccoo Reef for snorkelling before heading to Nylon Pool, a very shallow sand bar out in the sea.
Unfortunately, when we did this tour the water was too rough for snorkelling so our boat spent some time on No Man's Land instead.  This is a sand bar that looks and feels like (but really isn't) an uninhabited island.  This is a popular spot for cruises to stop for a BBQ lunch while blasting soca music and having a few drinks.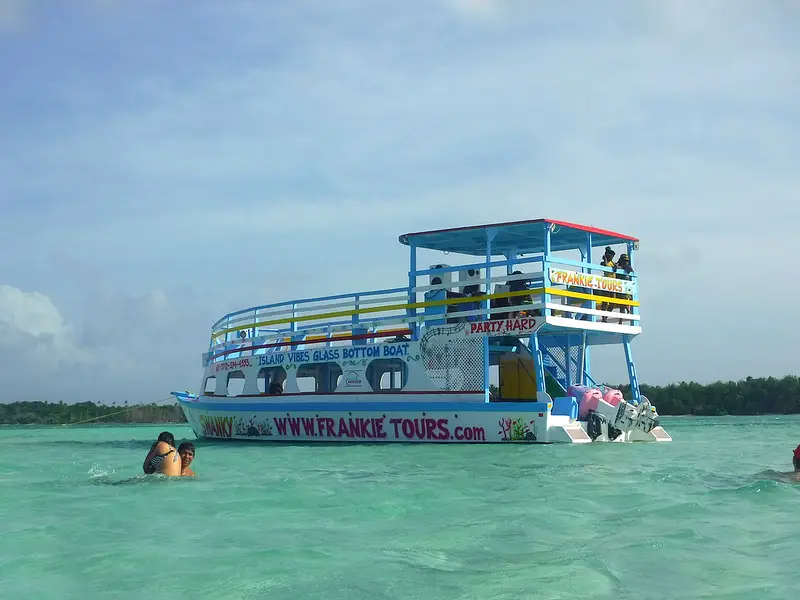 Turtle Watching
If you are in Tobago between March and August, you need to book a tour to see the turtles.  These enormous leatherback turtles come ashore during high tide under the cover of darkness to lay their eggs.  From March to June, the adult turtles can be seen laying eggs while from June to August the hatchlings are found making their journey to the sea. While the turtle watching is better in Trinidad, it's still an amazing sight to see in Tobago.
To maximize your chances, stay at or near Turtle Beach which is part of Great Courland Bay.  These creatures are protected so you will most likely be required to join a tour to experience this but it is well worth it.  Read more about turtles in Tobago and how to enjoy this phenomenon responsibly.
Beaches in Tobago
Visiting a few beaches has to be high up on your list of things to do.  Tobago has so many amazing and varied beaches.  We toured the entire island and tested out a number of them.  These are our favourites, west to east:
Pigeon Point
Any list of Tobagonian beaches would be incomplete without including Pigeon Point.  It is the iconic white sand/turquoise waters associated with Caribbean beaches.  There is a daily $20TT entry fee (about $3US/$4CDN) but it is a beautiful spot with a couple of restaurants/beach bars, washroom and shower facilities and, of course, Radical Sports Tobago.  Alternatively, along the road to Pigeon Point is Swallows Beach.  This is basically an extension of Pigeon Point but accessed before the main gate.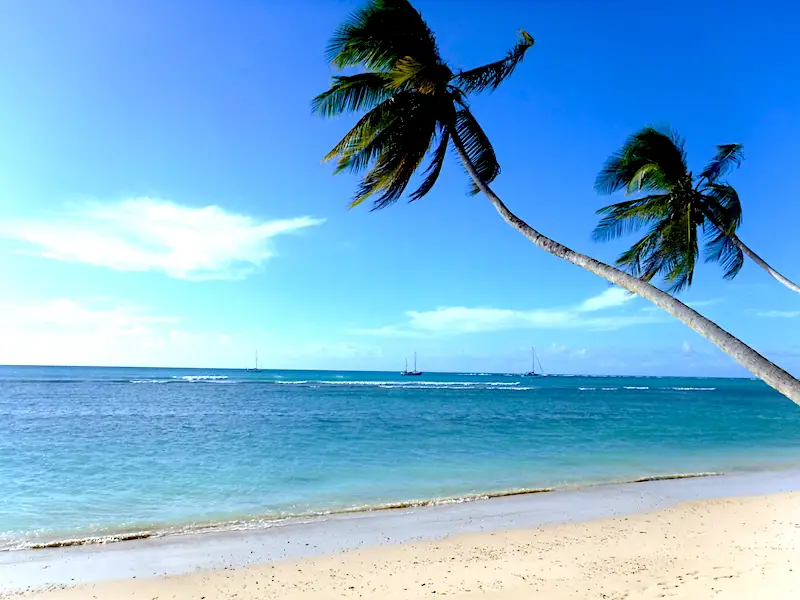 Castara Bay
This is a great central jumping off point for the rest of the island and I highly recommend getting out of the Crown Point area where all the tourism lives and staying here for a few nights.  It is a small fishing village but with basic stores and restaurants along a pretty little bay.
There is also a thriving stingray population here.  When we first arrived, two local boys were throwing fish guts into the water in an attempt to fish (I know, gross).  Unfortunately for them, all the rays were greedily eating the bait before anything else could get close!  Frustrating for them I'm sure, but very cool for us to see.
Head up to Castara Retreat, or stay there if you have the budget, for a drink at sunset.  There is also a waterfall in town.  Follow the trail past the soccer field to get there.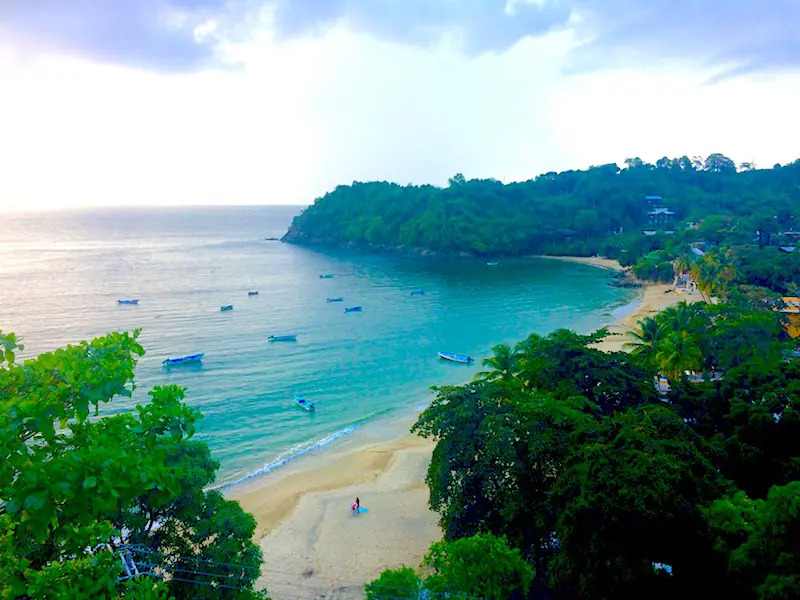 Englishman's Bay
You will find this beach on every list of top activities in Tobago and with good reason.  Driving north from Castara, we literally came to a screeching halt on the side of the road as we glimpsed a view of the most emerald coloured water we have ever seen.  The bay slopes steeply into the sea so keep a hand on little ones.  There is one small restaurant and trinket shop here.  Don't believe when people tell you that you'll find a deserted beach though, this place is on many tourists' lists, but it is still worth a visit.  You have a better chance of finding a quiet paradise if you go in the morning but it won't ever likely be crowded.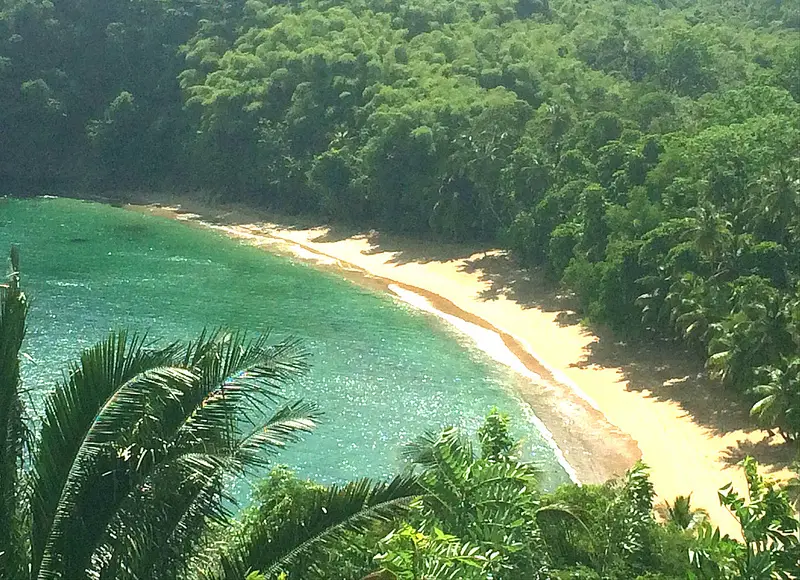 Bloody Bay
This quiet little bay is away from the village and so sees almost no one, besides the odd fisherman.  It is a cute little spot if you're looking to have a beach to yourself.  There are facilities including a lifeguard here.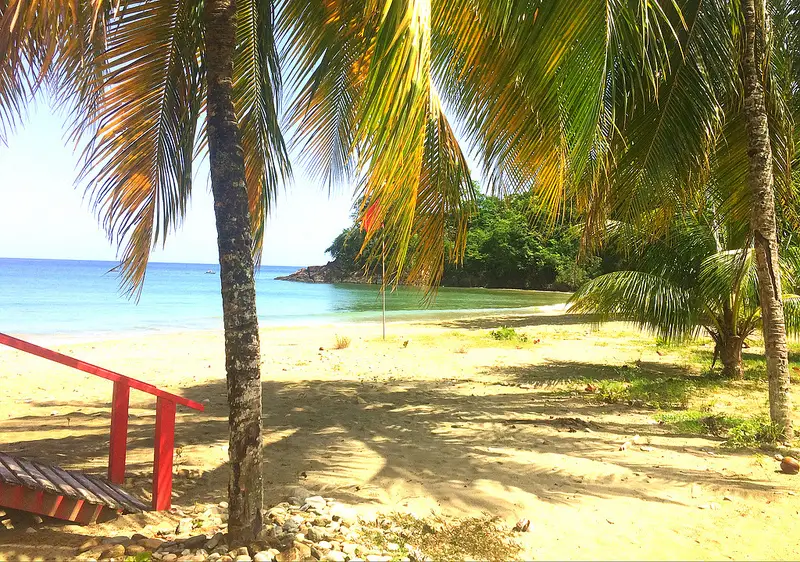 Pirate's Bay
This little bay is just past the northernmost fishing village of Charlotteville.  Follow the road along the coastline through town and continue as far up the track as your vehicle will allow.  There is a little widened area where you can park before walking down a series of concrete steps to reach the beach.  It's a beautiful stretch of sand with excellent snorkelling and few people thanks to the extra effort needed to reach it.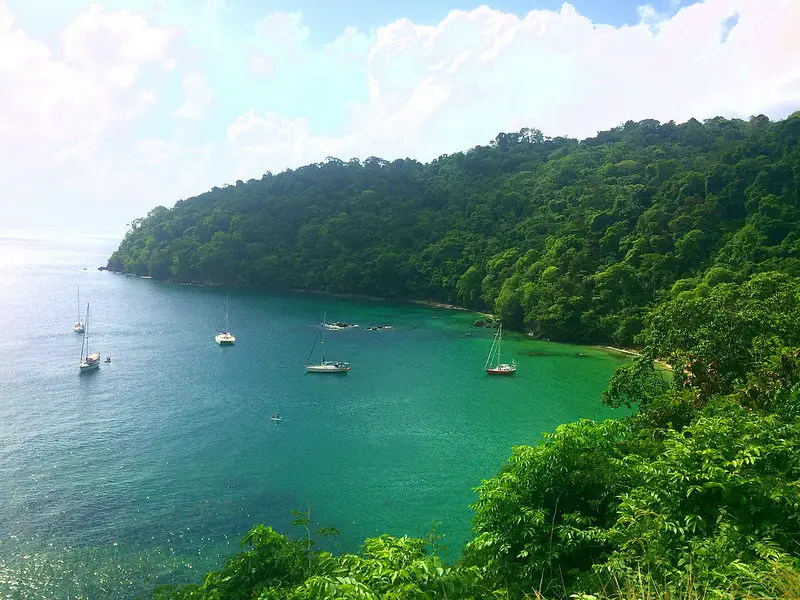 Culture Activities in Tobago
Any Tobago itinerary has to provide an opportunity to experience some of the local culture.  Trinidad and Tobago has such a vibrant culture that no trip here would be complete without something from this list.
Sunday School
Tourists and locals alike attend Sunday School, an outdoor party held next door to the goat races arena – yep, you read that right!  Every Sunday night in Buccoo Village the local panyard (steel pan band), the Buccooneers, puts on a performance that lasts for about an hour.  The steel pan, the only musical instrument created in the 20th century, was invented in Trinidad and is the national instrument for Trinidad and Tobago.  Arrive early to have some local food first.  Just walk along the street and choose from one of the stands.  The band is scheduled to begin playing around 9pm although 'island time' is the rule.  When we visited, the music began closer to 10pm and they performed for a little over an hour.  After this, DJs take over and the locals turn it into an all-night party.
Goat Races
If you are in Tobago over Easter, you must head to Buccoo Village to watch the goat races!  where else would you get such an opportunity??  We haven't had a chance to see this spectacle but it's a big deal for locals.  I'd love to hear about it if you see it.
Curried Crab and Dumpling
If you want to try some authentic cuisine, you need to have curried crab and dumpling.  Head to the food booths at Store Bay and take your pick.  If, like me, the thought of a whole crab on your plate is a little much, you can also ask for crab stuffed dumplings.  Much more appetizing looking and you save the hassle of having to try to get the meat from the shell!
While curried crab and dumpling is the 'Tobago' local dish, you may also want to try roti – a Trinidad and Tobago staple.  Trinbagonians also love gyros and there is a surprisingly large Syrian population here so this dish is quickly becoming a 'national' food.  Skewers on the main road through Crown Point is delicious.
Tour the Island
To really see Tobago we would recommend renting a car for at least a day.  You could drive the entire island in a day but what would be the fun in that?  Instead, spend a couple of nights in Castara so you have time to stop and enjoy the different spots you find.  Aside from easily reaching different points of interest, this will also allow you to get into the villages and meet the people for a more authentic experience.  Aside from taking your car to some of the spots mentioned above, a few more destinations I would recommend checking out are:
Parlatuvier
This fishing village is located around a beautiful bay.  Be sure to stop at the restaurant, Glasgow Bar, perched on the hill above town for a perfect view over the entire bay.  You won't really find anyone sunbathing or swimming here, it is more a working fishing village.  However, you could walk to the ends of the bay, away from the boats and swim or snorkel.  Jumping off the jetty is also a popular activity.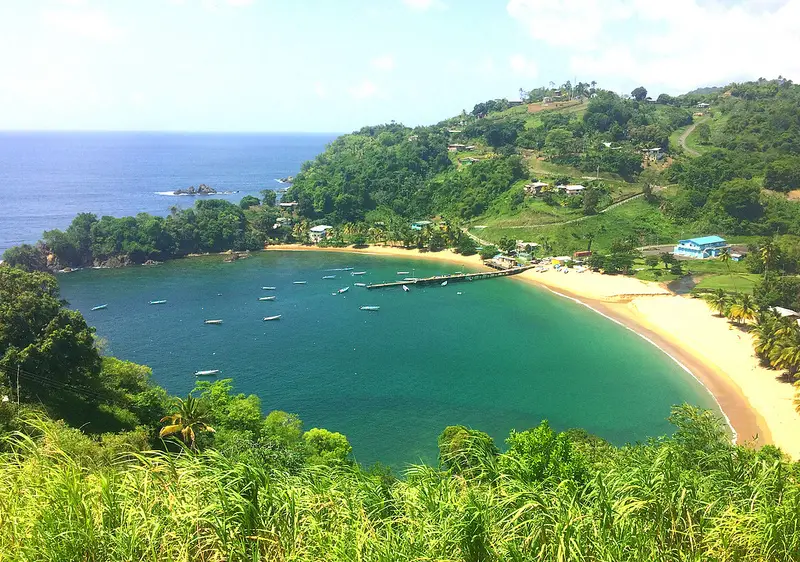 Charlotteville
Another beautiful beach for lunch and a walk.  You need to arrive around noon in time for lunch at the Suckhole.  This has quickly become THE place to eat and you will almost certainly wait for an hour for your food.  Knowing this in advance, we brought a deck of cards and entertained ourselves while waiting for our food.  Burgers are an option but really, get the catch of the day.  Shrimp was available but it was substantially more expensive and, while delicious, probably not worth paying double.  The portions are huge, the prices are decent and everything was so delicious.
We definitely needed the walk along the beach after finishing!  Again, you won't find anyone sunbathing here and only a few swimmers at the far west end of the beach.  The rest is dominated by working fishermen and their boats.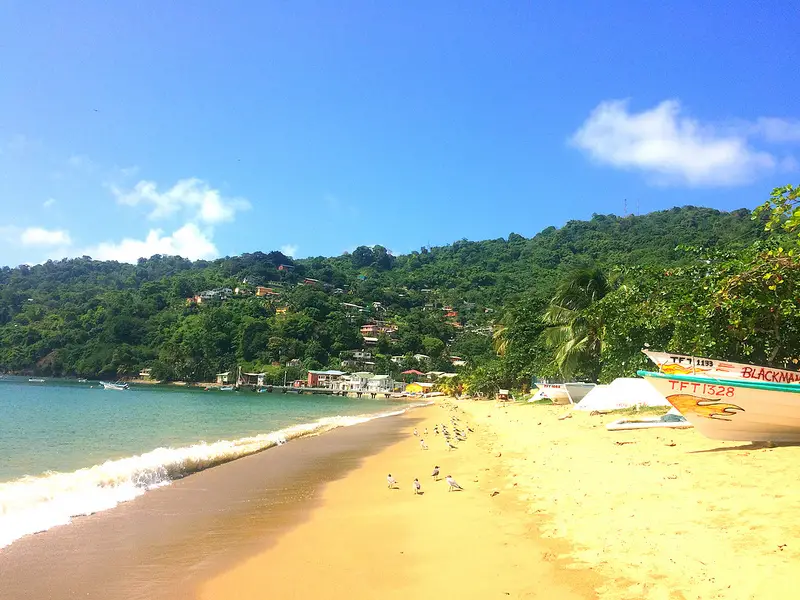 Don't forget to head over to Pirate's Bay while you're here.  There is also a lookout at the top of Flagstaff Hill.  Head out of town towards Speyside and you'll see the turn off on your left.  The view is well worth it.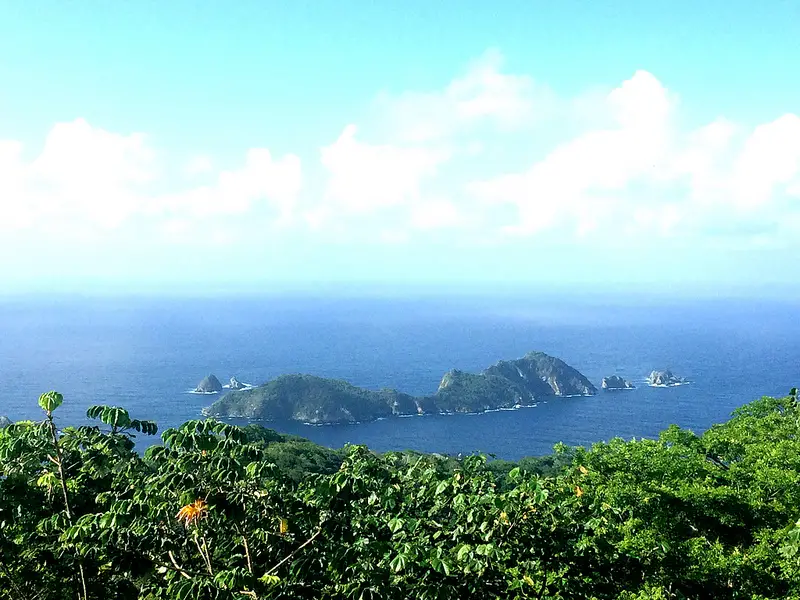 The southeast coast of Tobago has less in the way of beautiful beaches and views but driving down this coast you will go through a number of towns that will give you a taste of daily life for the people who live here.  We even saw a man in one town walking around with nothing but a garbage bag almost covering him up!  Every country has its characters, right?
Scarborough
This is the island's capital city.  There is a free parking lot between the market and Botanical Gardens if you can find a space.  Walk around the town a little and soak in the atmosphere.  Visit Fort King George in the city for a glimpse at the country's tumultuous history as well as an incredible view all the way to Trinidad.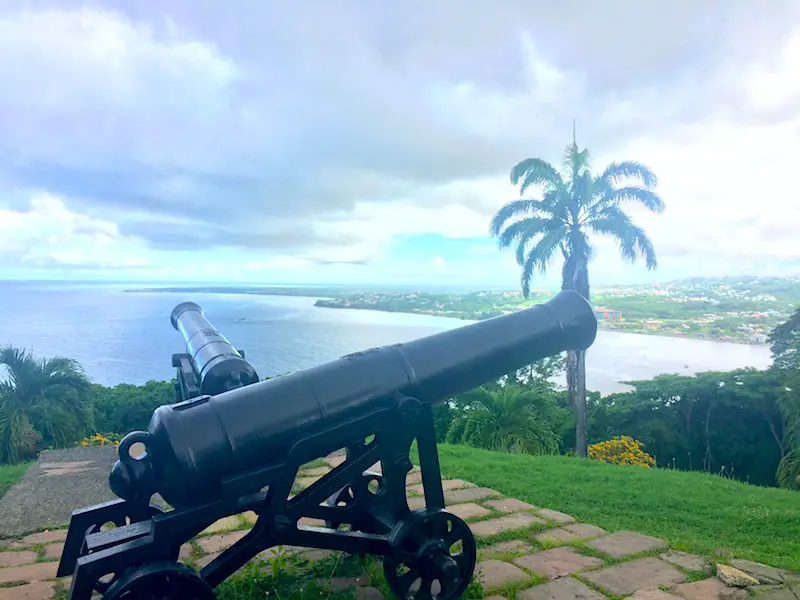 Tobago may be a small island but it really has so many beautiful places to see and activities for everyone.  While this is our idea of the best experiences in Tobago, there are so many more to be had.
Have you ever been here?  What are your top experiences in Tobago?  Let us know in the comments!
Like this post?  Pin it for later!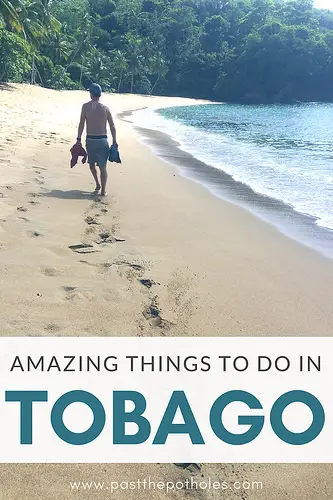 Return to our Destinations page for more great ideas!