Our Morocco Sahara Desert Tour: How to Have the Best Experience
Some links in this post may be affiliate links. If you click on them we may make a commission from qualifying purchases at absolutely no cost to you.  Read our full Disclosure Policy here.
When we were planning our trip to Morocco, I knew we just had to make it to the Sahara Desert.  I couldn't imagine leaving Morocco and not having seen the endless orange sand dunes rolling towards the horizon.  I wanted to see camels in the more natural setting, not being used as a tourist photo trap in the city.  I wanted to see the dunes change colour as the sun set and a million stars come out without any light pollution.
What I didn't want was to take an organized tour.  It's just not our thing.  We don't like to be in large groups, our schedule determined by a guide, waiting for our turn to take a picture of whatever he has deemed worth seeing.  It's just not our style.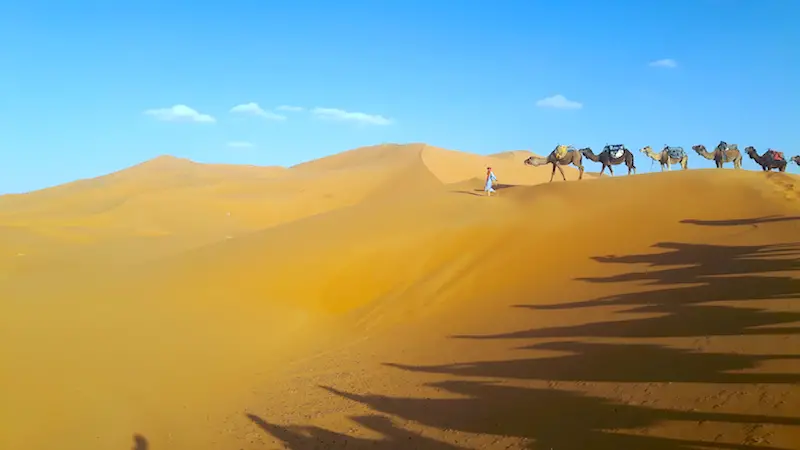 Our Sahara Desert Tour in Morocco
Coming from Chefchaouen meant we would be starting our Morocco Sahara Desert tour from Fes and we needed to return to Fes.
While joining a tour is essential to actually travel into the sand dunes and spend the night, I wanted to do the rest independently.  I researched for hours trying to figure out the best way to get to Merzouga, the nearest town to the famous sand dunes of Erg Chebbi, without joining a tour.
I discovered it is possible to get to Merzouga by public bus.  The catch was that the buses there and back were both night buses so we would have an entire day to kill on either end of our Sahara Desert trip.  With only seven days in Morocco altogether, that wasn't a realistic option.
Aside from the time issue, spending two nights sleeping on buses with an expected uncomfortable night in the desert suggested that we might find ourselves too tired to really enjoy the experience anyway.
The final straw was that there are many amazing stops along the route to Merzouga that the night buses wouldn't allow us to see.
Ultimately, I found the best option with this tour on Get Your Guide.  The price was identical to booking direct or after arriving (I checked), and it included stops at all those incredible sights along the way.  It picked us up from our accommodation in Fes and returned us to Fes the next evening.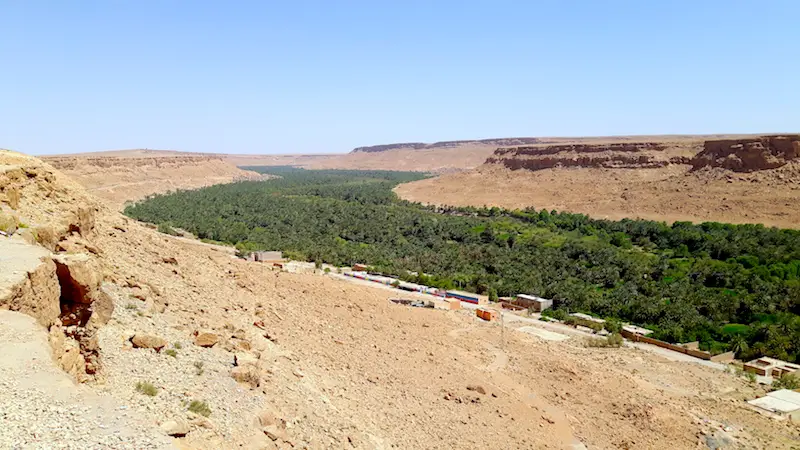 FROM FES TO SAHARA DESERT
Our driver picked us up at our riad in Fes right on time at 8am.  It turned out we were the only two people so our 'small group' tour had become a private tour.  It also meant that we were able to travel in a comfortable SUV rather than a minibus.
The drive to the desert involves travelling through the Atlas Mountains so the scenery is varied and beautiful.  Our first stop was, however, a weird one.  Tours love to stop at Ifrane, a ski town in the mountains that more resembles Switzerland than Morocco.  While it is interesting to see the houses as you drive through, I didn't really understand the desire to stop and take pictures…
The stop I was most looking forward to was next.  A forest area that is known for a population of wild Barbary Apes.  Unfortunately, Terry was sleeping in the front seat and our driver decided not to disturb him but rather stop on our return journey.  Not a terrible idea in theory.  Except on our return journey, it was pouring rain and there wasn't an ape in sight.
We also made a scheduled stop at an oasis.  The long, winding swath of green as a river cut through the middle of the dry, brown landscape was quite a sight.  Our driver was great about stopping when we asked to take a picture.  A couple of times he noticed me trying to get a shot while moving and would pull over.
Finally, we arrived at Merzouga.  It's a stretch to call this a town but rather a collection of widely spaces adobe buildings set in the middle of the desert on the edge of the Erg Chebbi sand dunes.  I was suddenly very glad we hadn't taken the bus.  I have no idea where it would have dropped us or how we would have reached this point.
The particular Kasbah our tour was arranged through welcomed us with a mint tea and gave us some time to relax and change.  We packed just the essentials in a small backpack and left the rest in their provided storage room.  Regardless of which Morocco Travel Agency you booked with, multiple groups are put together for the night in the desert so we ended up with about 7 other people.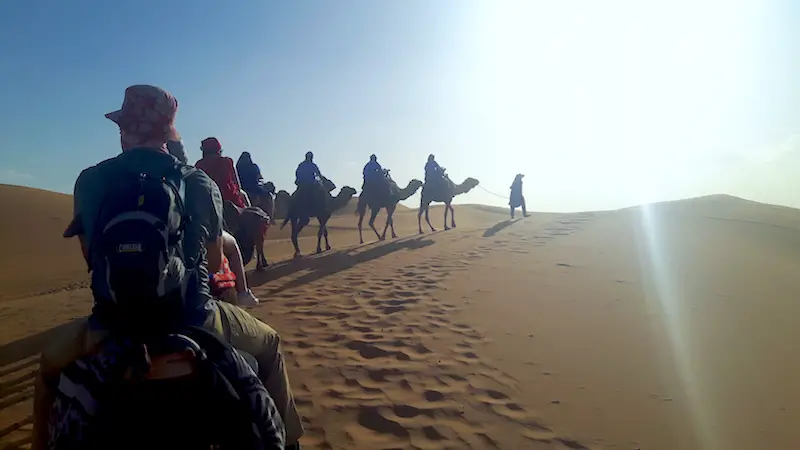 SLEEPING IN THE SAHARA DESERT
At last, it was time to meet our camels.  Each of us was assigned a camel and helped on.  Within minutes we were being led across the rocky, wind-swept ground into the sand dunes.
I couldn't wipe the grin off my face.  I'm not going to lie, riding a camel is not a comfortable experience.  But what an experience!  We were bounced and jolted, occasionally feeling like we might slide down the side of a dune.  For whatever reason, they love to walk right on the edge!  As we continued on our way the sun lowered in the sky and sand became a deeper shade of orange.
We reached our Berber camp for the night and were told to climb to the highest sand dune in time for sunset as our guides prepared dinner.  The desert sand is finer than any beach I've visited and for every step forward, we slid back half a step.  It was no easy feat and I was more than a little puffed when I finally reached the top but was definitely worth it.
As the sun disappeared, the wind picked up and we had a taste of a sand storm.  We discovered just how easy it would be to get lost in the desert as we watched our footsteps disappear ahead of us.  We made it back to camp and shortly after dinner was served.  Everyone gathered in the dining tent as the wind blew the Berber wool rugs that made up the walls and a steaming traditional tagine was brought out.
We got lucky.  The wind subdued and our hosts were able to get the campfire started.  Everyone sat around while they played the drums.  The stars above were brighter than we've ever seen, darkness absolute.  Eventually, it was time to head to bed and we made our way into the tent that we had been assigned and snuggled down under the heavy blanket.
It felt like minutes later when we were woken to begin our journey back out of the desert.  We watched the sunrise from the back of our camels, quickly forgetting how tired we were.  At the camp, we were given breakfast and a room to shower and change before reuniting with our driver and making the return journey to Fes.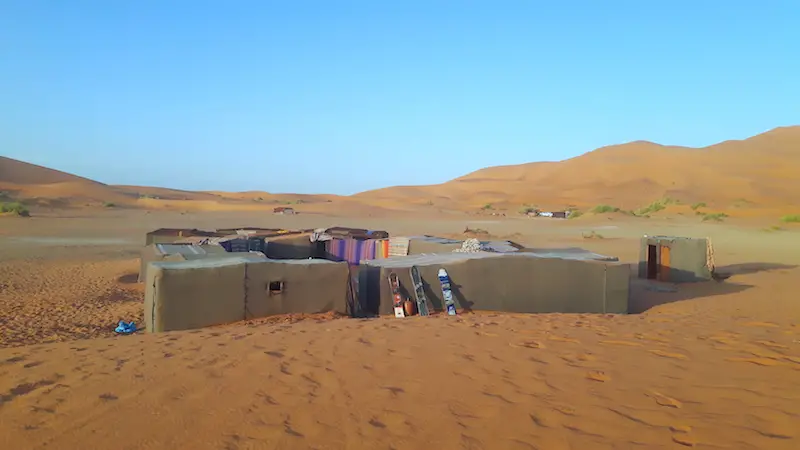 When should you book a Morocco Sahara Desert Tour?
It is so much easier and less stressful.  Despite our usual preference to travel independently, we would absolutely book this same tour again if we were to book now.  Morocco is just such a logistical challenge for anyone wishing to travel around it.  Without question, it was our most overwhelming trip from planning to execution.
The tour is much quicker and more comfortable than public transport.  With limited time on our itinerary, trying to make this journey alone would have used up at least one more day of our time in Morocco.  Of course, riding in an SUV was a lot more comfortable than bouncing around on a night bus too!
We got to see so much more than if we had been on our own.  Our driver knew all the spots worth visiting on our Morocco desert trip.  He stopped at the typical lunch restaurant on the way but took us to a local spot on the return journey.  He also took us to the city of Rissani for a tour of their traditional market.  We were skeptical of being hit with a sudden extra charge for this tour but he assured us it was included.  And it was.
When should you plan an independent Sahara Desert trip?
If you are travelling slowly and have plenty of time to spend moving around Morocco, travelling independently may be a good option.  There are places along the way that could warrant an overnight stop.  The Atlas Mountains would be wonderful to explore for a few days.
While the tour wasn't incredibly expensive, it was certainly more costly than taking the bus.  If we were on an extreme budget, we would have made those night buses work.
Moroccans speak Arabic and French.  If you speak either of these languages you will find it easier to get around Morocco and plan your own travels.  This will make it easier to organize your own desert tour.  However, you should still consider our other points made above.  The language barrier was certainly not our only barrier to doing this alone.
If you decide to organize your own transportation, this camel trek tour starts in Merzouga and is highly rated.  For the bus schedule and prices, check this website.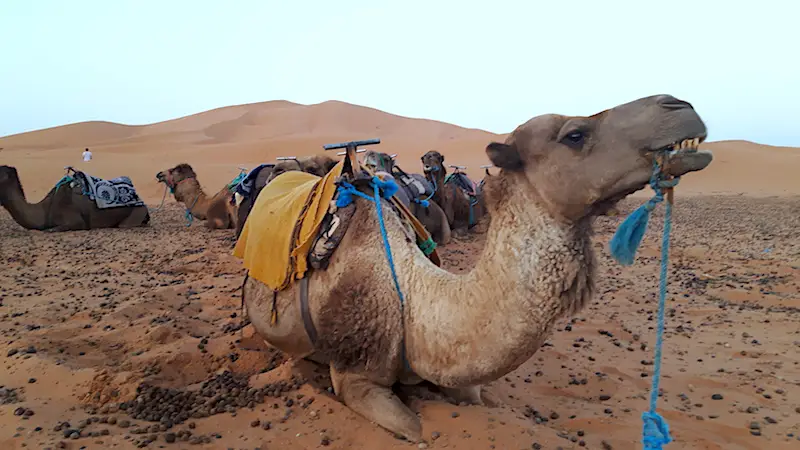 How to Choose the Best Sahara Tour, Morocco
There are so many Morocco tour companies that offer Sahara Desert tours, it can be difficult to know which one to book.  Shopping around once you arrive may get you a slightly better deal, if you are any good at bartering, but booking online will give you the peace of mind that comes from customer reviews.
The tour we took had numerous positive reviews so we felt confident that, whether we enjoyed it or not, it would be safe and reliable.  Check out our tour now.
Many more Morocco desert trips leave from Marrakech than Fes.  Some will take you from one city to the other with the desert tour in the middle.  If we had the time, I would have preferred to take a tour from Fes to Marrakech (or vice versa) simply because it would allow us to see more of Morocco.  Decide your Morocco itinerary first, then look for tours that fit the bill.
Here are the highest-rated tours for each route options:
Or try these alternative tour options if you're looking for something a little different:
Our final thoughts on our Sahara Desert Tour, Morocco
At first, I felt like we were 'cheating' but now I'm convinced we were just being smart.  Driving from Fes to Merzouga is a long ride.  It took us about 7-8 hours although a bus would take longer.  We were so happy to see a comfortable SUV was our ride rather than a bumpy old bus!
Without a doubt, having now seen Merzouga, we would do the same again.  Usually, if I'm unsure about an upcoming adventure that lacks online information, once there I realize it is easy to do.  However, I still have no idea where or how I would go about booking our own tour after arriving independently.
After all our travels, spending the night in the Sahara Desert, Morocco remains a highlight.  A true once-in-a-lifetime adventure.  The soft sand, glowing orange in the setting sun.  The sky filled with a million stars.  The sound of Bedouin drumming beside a campfire.  Watching the sunrise from the back of a camel.  It really doesn't matter how you decide to plan your Sahara tour, just make sure you do!
[btn text="Find the description and reviews on our chosen tour now!" tcolor=#FFF bcolor=#444 thovercolor=#444 bhovercolor=#FFF link="https://www.getyourguide.com/fes-l829/2-days-fes-desert-tour-t55095/?partner_id=6Z7V2CX&utm_medium=online_publisher&utm_source=claire%40pastthepotholes.com&placement=content-middle&cmp=our-desert-tour-morocco-button" target="_blank" rel="nofollow"]
DON'T TRAVEL TO MOROCCO WITHOUT TRAVEL INSURANCE!
We personally use and recommend World Nomads.  Quotes are quick, easy and reasonably priced.  Their coverage is clear and we had a great experience when needing to make a claim.  Get your travel insurance quote now.

---
Want more information on Morocco?  Check out our other posts on this vibrant country:
---
WAS THIS ARTICLE HELPFUL? PIN IT!
[columns] [span4]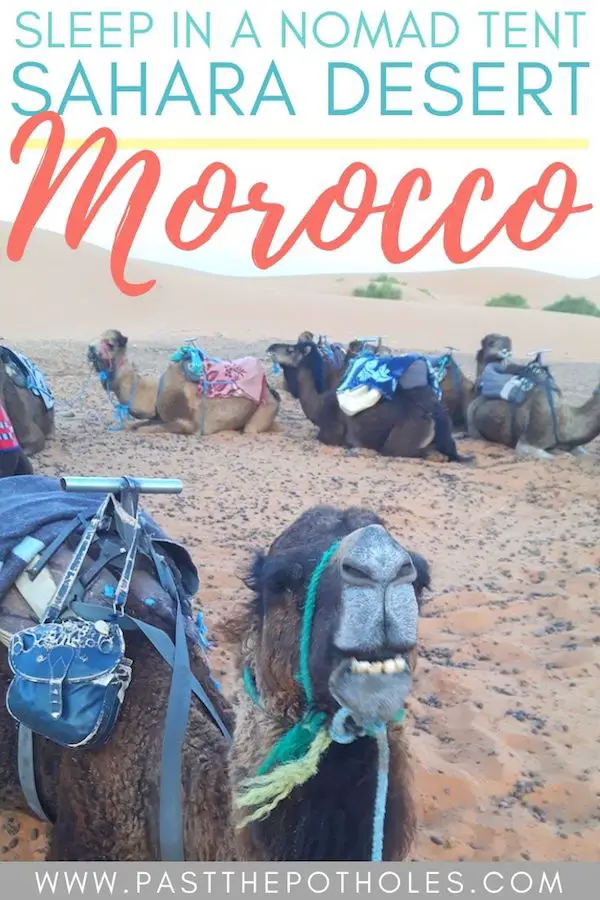 [/span4][span4]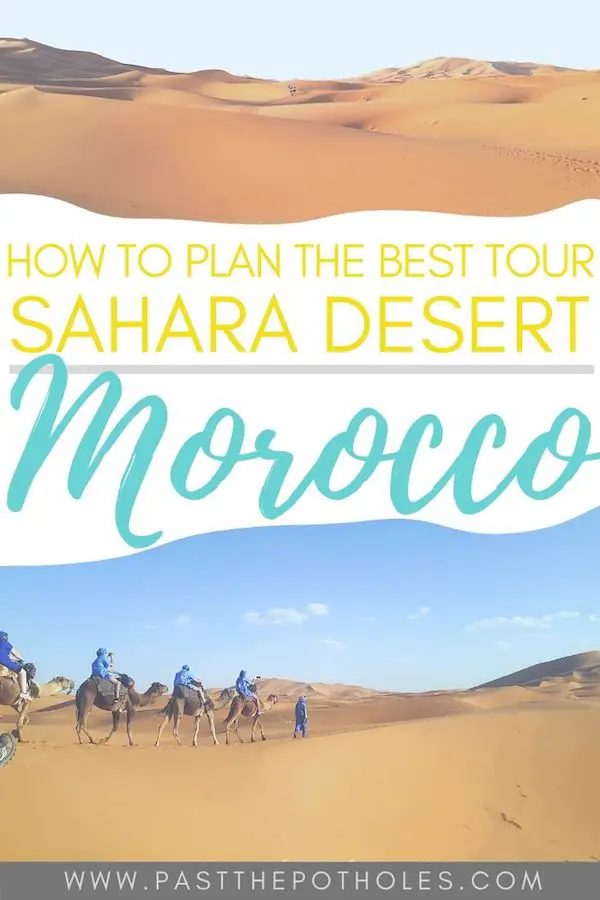 [/span4][span4]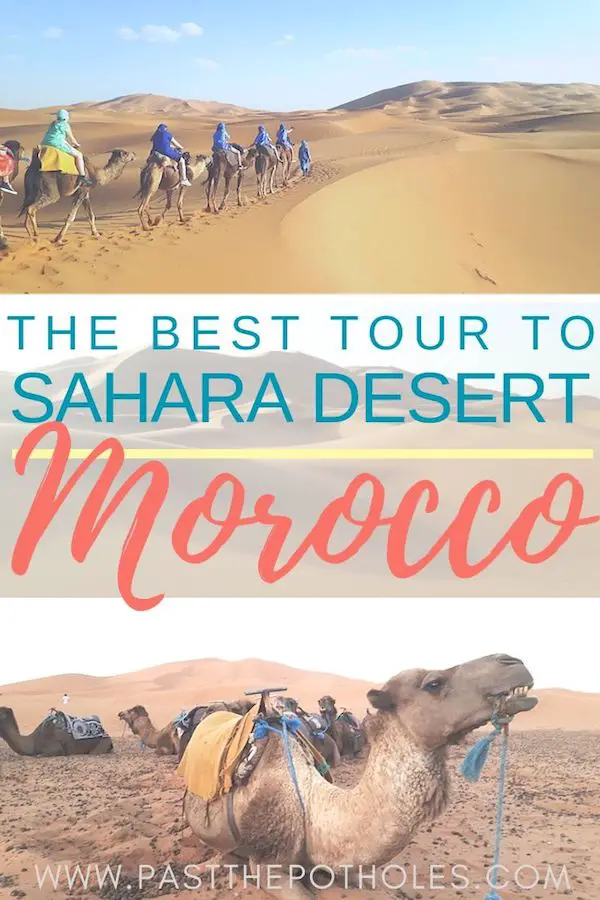 [/span4][/columns]
Find more travel inspiration on our Destinations page.
Ready to book?  Use our favourite Travel Tools to get the best deals.