Our African Adventure: Travelling from Spain to Morocco on a Budget!
Some links in this post may be affiliate links. If you click on them we may make a commission from qualifying purchases at absolutely no cost to you.  Read our full Disclosure Policy here.
We didn't plan on travelling to Morocco.  Once we knew we would be visiting Seville, Spain I started looking at the map and wondering where we would go next.  As usual, maps and me are a dangerous combination!
Africa is just so close it seemed silly not to make a day trip across to Tangier, Morocco.  Then it seemed silly not to go just a little further to Chefchaouen 'the Blue City', then it seemed crazy not to go to the Sahara desert.
The next thing you know, I was booking two nights in Tarifa either side of a week in Morocco!  On a side note, whether you decide to travel from Spain to Morocco (and you should) you definitely need to add Tarifa to your list of places worth visiting Spain.
While this post focuses on our personal experience, you can get our one week Morocco itinerary here for more information and tips on how we travelled around Morocco on a budget.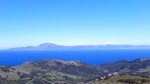 READ THIS POST:
15 Awesome Things to do in Tarifa, Spain.
Culture Shock in Africa
After a relatively painless one hour ferry across to Tangier, it was time to run the gauntlet.  Of course first we had to make it through the crowd getting off the boat and the passport check.  It seems 6 bags per person is the average for luggage on the ferry and lining up nicely is highly overrated!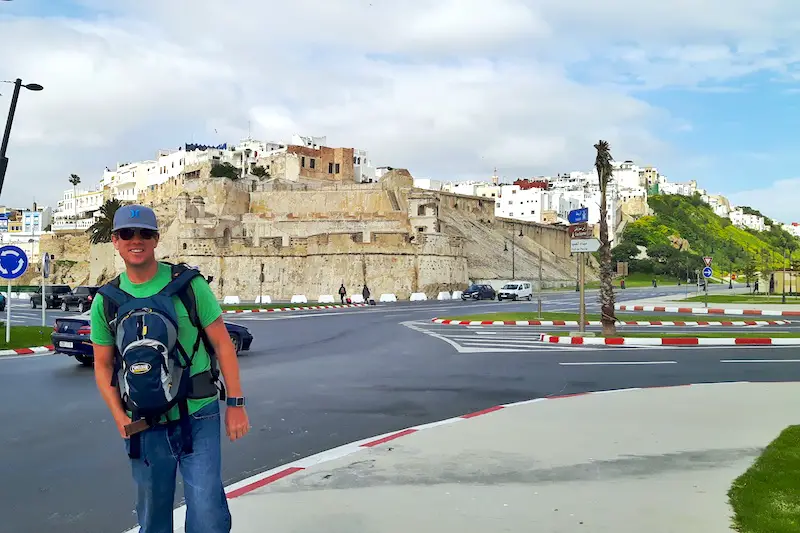 Heads down and a pep in our step, we walked with purpose determined not to get caught up in the crowd of taxi drivers, guides and anyone else with their eyes on the fresh meat.
We faltered slightly when we failed to realize that the 'bank' at the port to change money was actually a man operating out of the back of a panel van!  Still, with dirhams in hand, we were just a half hour walk away from the bus station.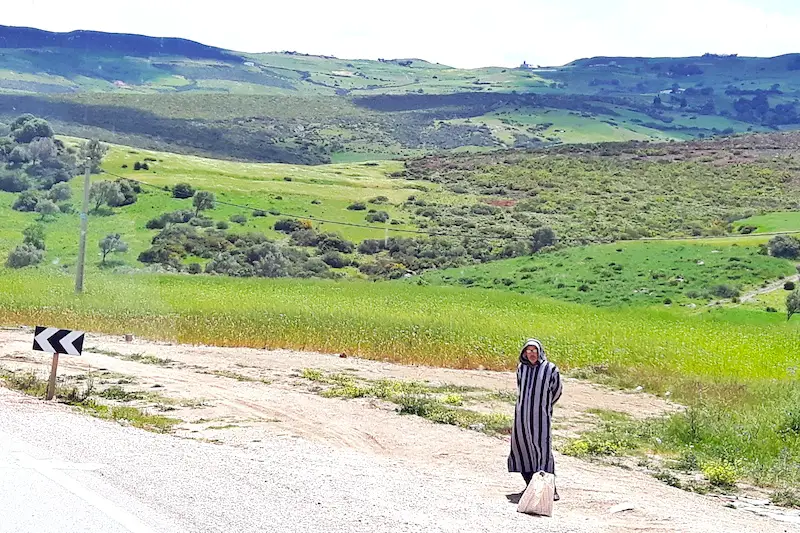 Luckily there were still tickets left for the 12 pm bus to Chefchaouen as tickets couldn't be purchased out of Morocco.  With everything going according to plan we had time for breakfast in the restaurant.
A man, who turned out to be the manager, befriended us and chatted with us for a while. He briefly left us to break up a fight between two of his workers!  He returned to make sure we were being taken care of and ask if we had any questions.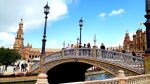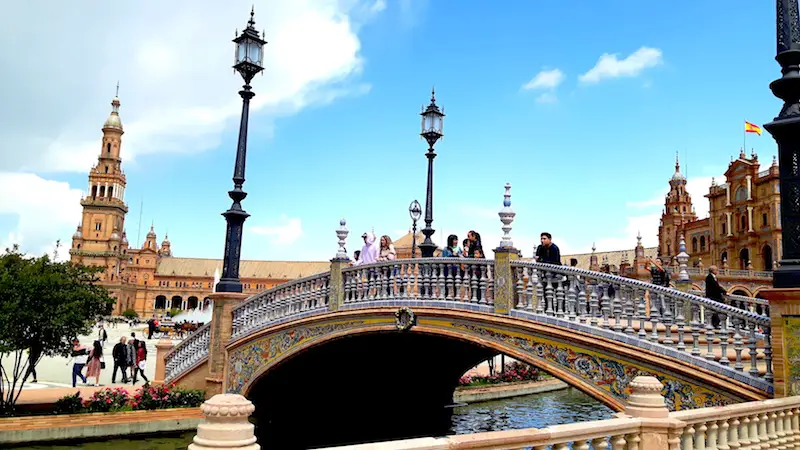 READ THIS POST:
How to Spend One Day in Seville, Spain.
When I asked how much to pay for the washroom he grabbed all our change and took me, paying the man himself.  Conveniently we never saw the rest of our change and we still had no idea how much a washroom cost!  I did get my first experience in years of the hole-in-the-ground toilet with a tap and bucket instead of toilet paper.
Chefchaouen, The Blue Pearl
After a 3.5-hour scenic bus ride into the Rif Mountains, we arrived at our first stop, Chefchaouen.  A taxi dropped us at our hotel, right opposite the kasbah.  We checked in, dropped our bags, and headed out to explore.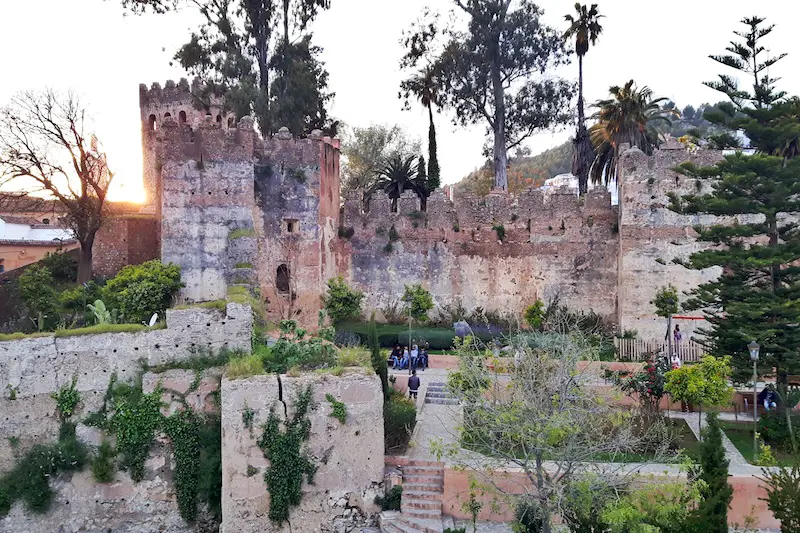 There are conflicting stories as to why the town is painted blue but either way it is very pretty – and touristy.  It's a great first stop in Morocco as the locals are far less aggressive and the general feeling is more relaxed than other cities.  We were able to break ourselves in gentle to the madness that is Morocco!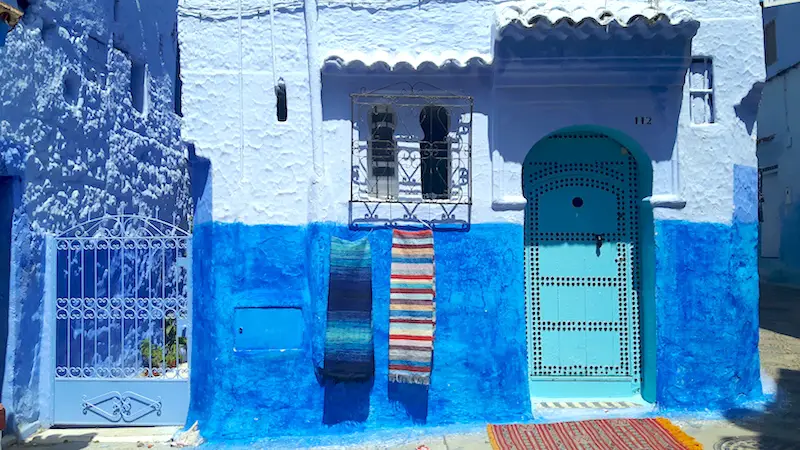 We stayed here for two nights so in the morning of our first day we hiked up beyond the city wall and into the mountains a short distance.  It became apparent that a landslide had taken out the trail and, being the centre of Moroccan marijuana growing, we weren't sure how far we should wander.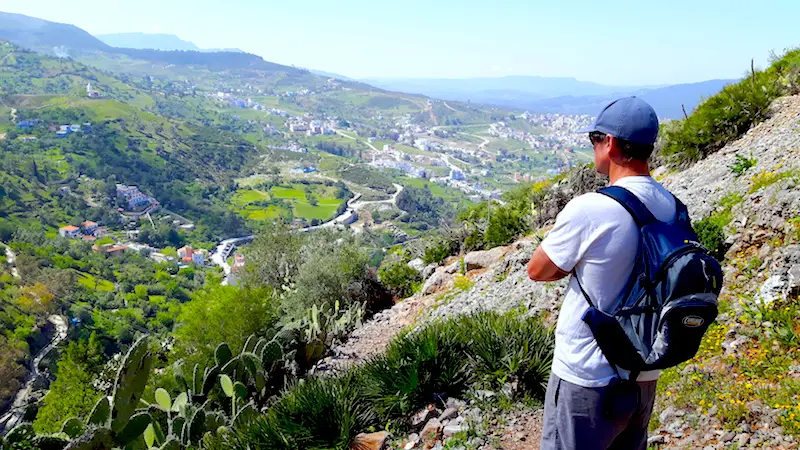 The waterfalls are just on the outskirts of town where the local women come to do their washing and the kids play in the water.  They have become a big tourist stop so they are now surrounded by vendors but the waterfalls themselves are pretty as the river comes out of the ravine and flows through town.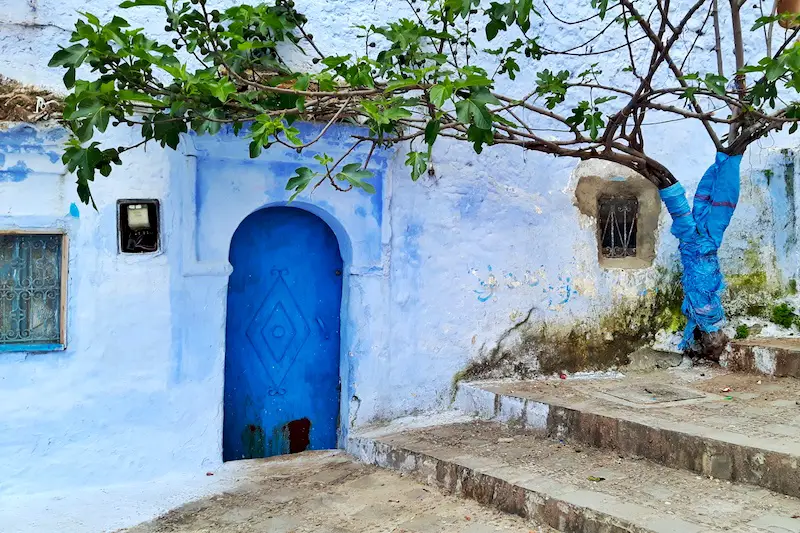 Welcome to Fes!
We booked our bus tickets to Fes as soon as we arrived in Chefchaouen two days earlier.  This worked out perfectly as we got two of the last four tickets available and the last two together.  Even better they weren't the seats in front of the projectile vomiter who splattered the head of the girl in front of him!  It's terrible but I'm still laughing about it!!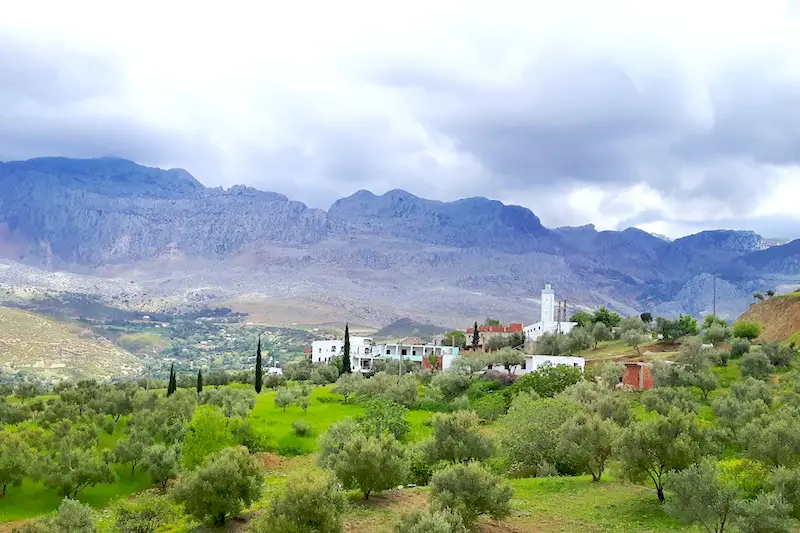 This was not our best day!  At the bus station, we found a taxi to take us to the train station.  We planned to buy our exit train ticket immediately before finding another taxi to the Medina and our riad.
Of course, we found a super 'helpful' taxi driver who said he could get us all the way to our riad.  At the train station he told Terry to stay in the car with the luggage while I was sent off to buy the tickets solo and he disappeared into the crowd.  He called the riad and discovered a 'better' place to drop us off.  After I successfully bought the tickets we wanted, he found us a petit taxi to take us to the Medina and told him where to take us (we assume that's what he said anyway).  All of a sudden, we were herded out and our bags put into the small car.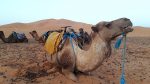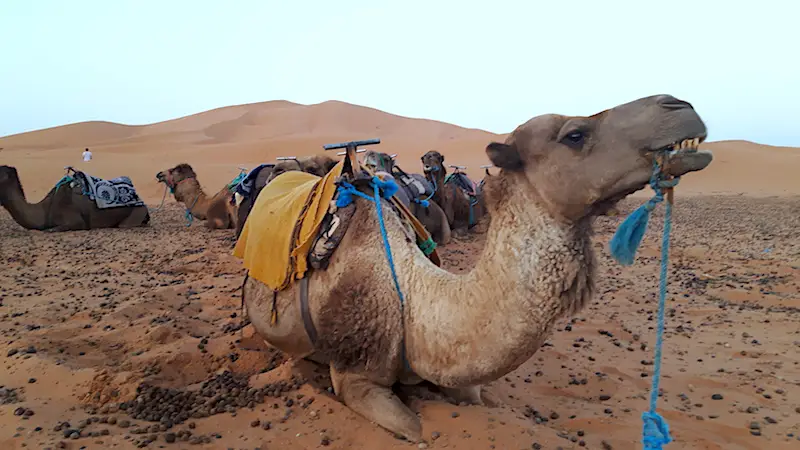 READ THIS POST:
Detailed One-Week Itinerary to Travel to Morocco from Spain
Having given the new driver instructions, he set off without needing to ask us any questions about our destination.  He finally parked and pointed towards the alley we were to walk down.  We got out of the taxi and I pulled out the map and directions from our riad owner.  After reading many stories of people being very insistent about giving directions then demanding money, we were determined to walk like we knew where we were.
This fell apart a little when we couldn't find the alley we were told to take.  After walking back and forth a few times and nearly getting run over by a donkey, a man insisted that he would help us for free and to give him the phone number for our riad.  It turns out the taxi driver had dropped us off at the wrong parking lot!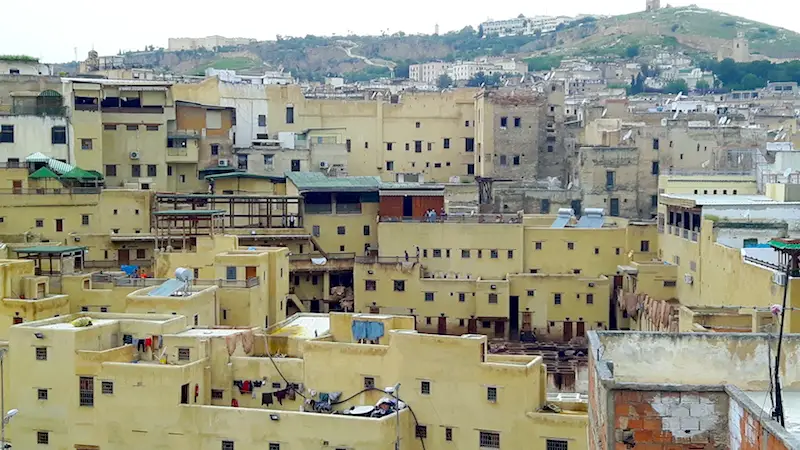 Our new friend was great!  He had someone come to meet us and walk us to the riad.  He showed us many of the things in his herbalist store in the meantime, of course, we felt obligated to buy a few things, and then also took us to a weaving shop for a similar experience.  His help was free, but it did cost us a bottle of argan oil, dead sea soap and traditional mint tea.  It was hard to feel cheated though as we'd never have found our accommodation without him and the stuff was so cheap!
Eventually, the riad housekeeper found us and took us to the riad.  Her complete lack of English made communication tough and when we asked about nearby places for dinner she offered to cook for us.  It was more expensive than anything we had eaten so far but tasty and, after a long day, was easy.
The Sahara Desert!
After much deliberating, we booked a tour for the desert.  It seemed there were only night buses to and from Merzouga, the gateway to the sand dunes.  It meant three nights in a row with little to no sleep and two full days just waiting in the desert for the camel/bus.  With only one week total we decided it was worth the money.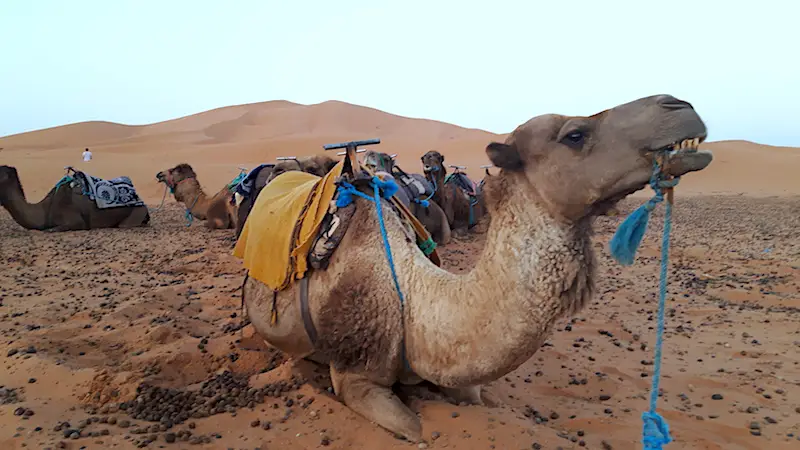 After our first two bus rides, I was no longer regretting taking the easy way out!  Our driver showed up more or less on time and we headed out in his SUV around 8 am.  Unlike the night bus, we were able to stop wherever we asked for photos and there were also scheduled stops along the route.  As no one else had booked, it became a private tour in a comfortable SUV.
First on the agenda was a trip through Ifrane, a Swiss-inspired ski village. Nearby there is a forest that is famous for the Barbary apes that live there.  They are so used to human visitors now that apparently you can even feed them sometimes.  Unfortunately, the weather through this stretch was awful in both directions so no apes for us :(.
We also stopped at an oasis.  The entire river valley is filled with green grass and palm trees while there is nothing but brown on either side.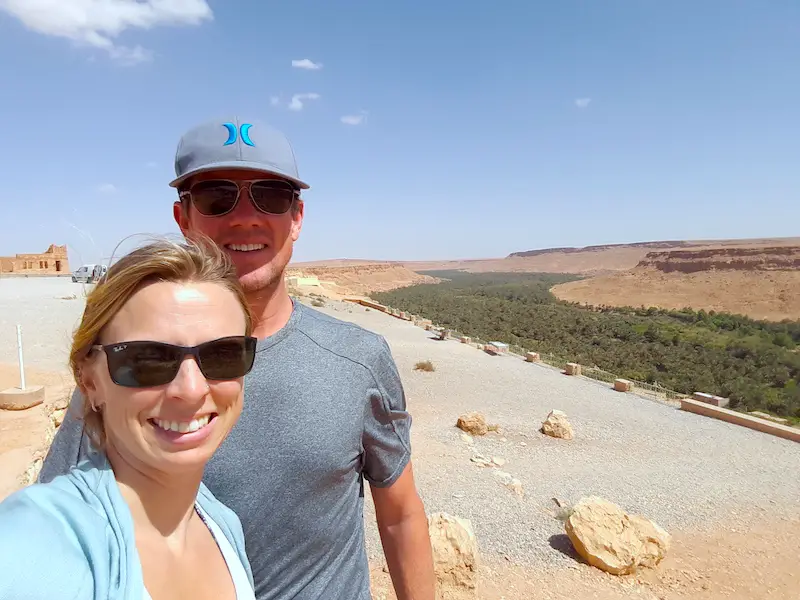 As we continued over a hill a shockingly bright turquoise lake came into view.  The colour would rival any glacial lake I've ever seen.  According to our guide, the lake is used for hydroelectricity and a water filtration plant for the entire region.
Eventually, we reached Merzouga, a collection of haphazardly placed buildings backed by huge sand dunes.
After a mint tea and a break, we were matched with our camels and before we knew it we were being led into the desert.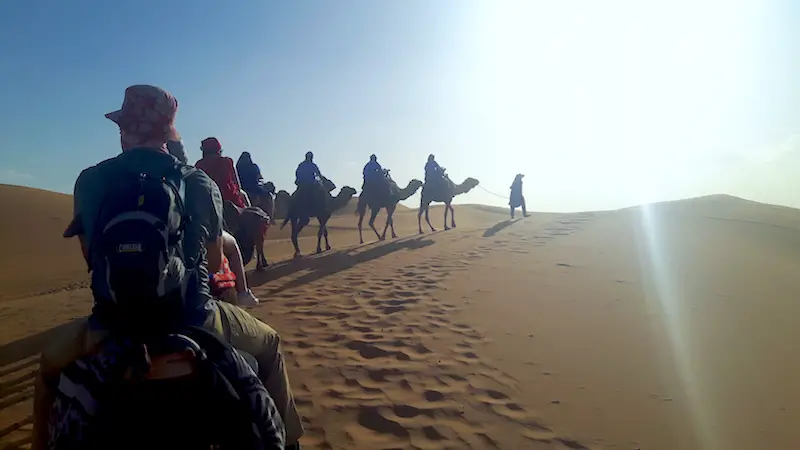 We reached camp just in time to climb the highest dune for sunset.  With a red face (it's hard work climbing in such soft sand!) we enjoyed the view then began the walk back.
As soon as the sun set the wind picked up.  We got battered with sand as we tried to navigate the way back to camp, footsteps disappearing in front of us.
Not much longer and everyone was congregating in the dinner tent for our delicious Berber cooked tagine dinner.  This was followed with Berber drums around a campfire.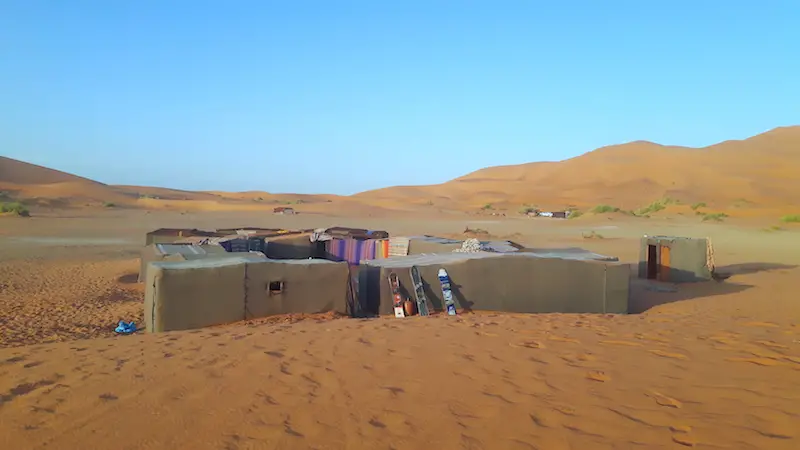 It wasn't too long before we decided to retire to our tent, knowing we would be woken before sunrise.
The next morning we were on our camels and starting the trek back just as the sun slipped over the sand dunes.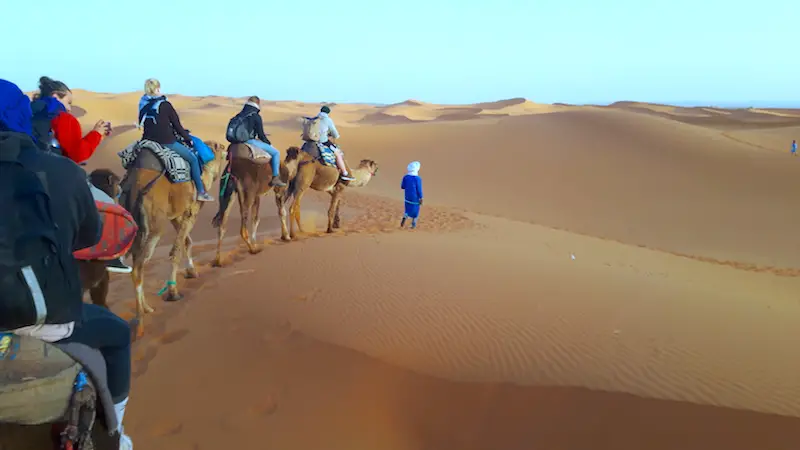 We were given breakfast and a room to shower and change before beginning the long drive back to Fes.  There was a bonus guided tour of Rissani and its markets as well.  Definitely plenty we wouldn't have seen on a night bus.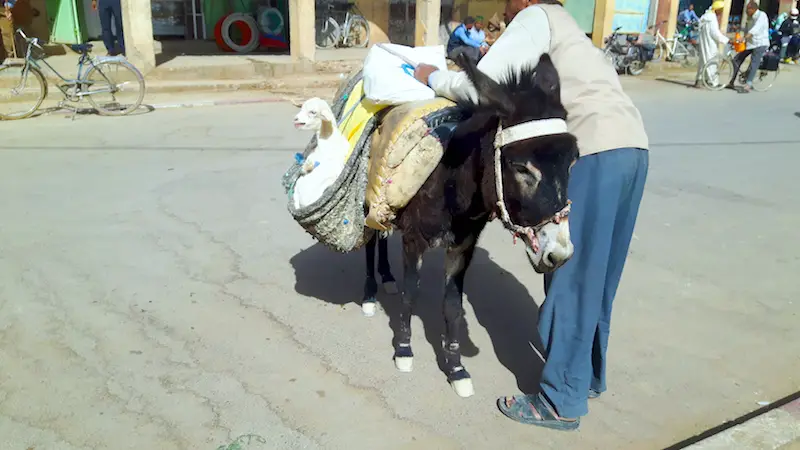 Getting to know Fes
On our return, we had booked two nights in Fes so this was now our chance to get to know the largest and oldest Medina in the world.  It's actually a UNESCO World Heritage Site and comprised of 9,500 alleys.
Our riad, La Cheminée Bleue, was awesome.  If you are going to Fes you need to stay here!  The host gave us some tips and a map then invited us onto the rooftop terrace for the sunset call to prayer.  Given his location, the call from many of the nearby mosques can be heard over each other as they echo around the hills.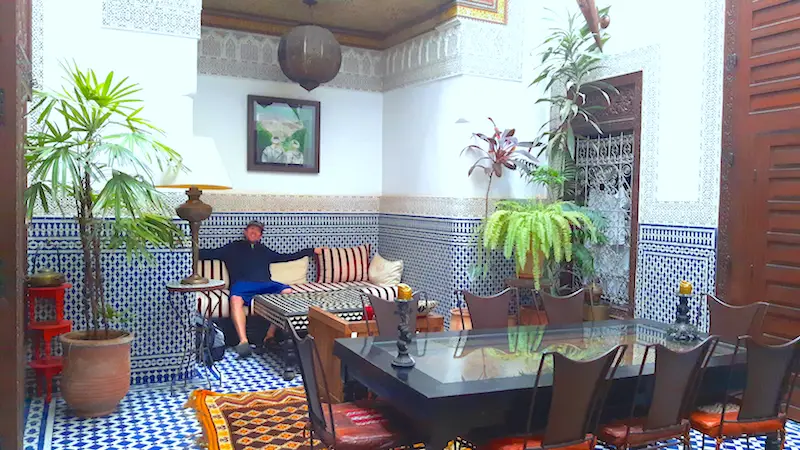 Our host also highly recommended having a tour guide as we only had one day.  Honestly, unless you have no sense of direction or are looking to make purchases, this can probably be skipped but he was good.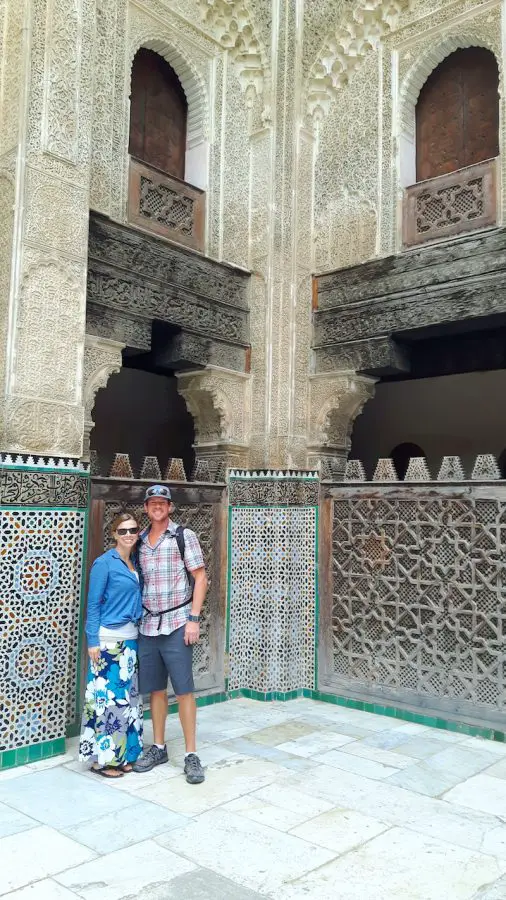 We were taken to the main monuments in the Medina and through various alleyways.  A herbalist, a weaver, the tanneries and would have been taken to a Berber carpet shop but we had gone already in Rissani.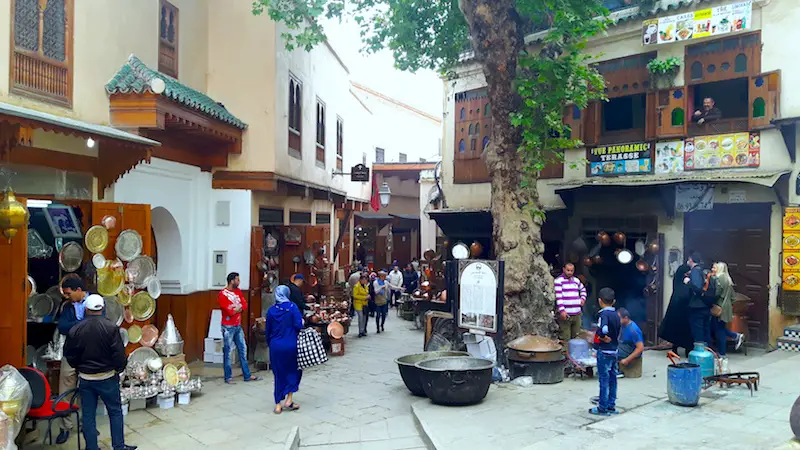 The tanneries are the largest in Africa and quite a sight.  Upon entering the building we were given a sprig of mint to counteract the smell – and we needed it!  After viewing the dye vats and workers below there are various rooms filled with all sorts of leather products.  Somehow we each ended up with a new bag…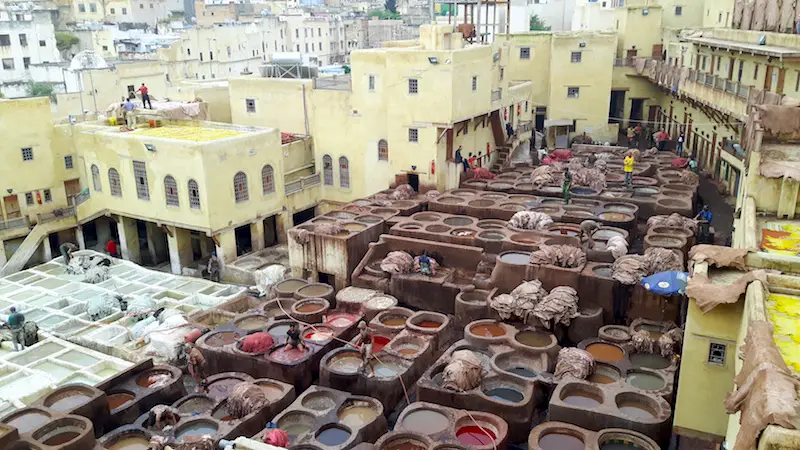 Fes is an amazing city.  You could be lost for days inside the Medina and yet right outside its walls the city drops away and there is nothing but the countryside and mountains.
How quickly a week goes by!
Just like that our week was over.  Richard, our riad host, kindly offered to drive us to the train station in the morning.  Just 6 hours later we were back in Tangier and heading to the ferry port! It was a lot of travelling but so worth it, although I wish we could have had more time to explore…