The Best Cenotes in Yucatán Peninsula, Mexico
Some links in this post may be affiliate links. If you click on them we may make a commission from qualifying purchases at absolutely no cost to you.  Read our full Disclosure Policy here.
If you've done any research into visiting Mexico, you've probably seen photos of people floating in crystal clear blue water surrounded by lush jungle in a cenote.
Look on a map of the Yucatan Peninsula and you'll see no water.  That's because the rivers and lakes of the Yucatan are actually underground! 
With many entry points throughout the region, they have become one of the most popular activities for tourists and locals alike.  Diving, snorkelling or just floating are all possible depending on which cenote you visit.
What is a Cenote?
There are more than 6000 cenotes in Mexico.  A cenote is a pit or sinkhole that results from the collapse of the porous limestone bedrock.  Cenote sounds a little better, right?
These sinkholes provide access to the groundwater system and divers have discovered huge underground flooded cave systems that connect many of the cenotes in the area.  The cave system connecting Dos Ojos, Sac Actun and others is actually the second largest in the world.
Cenotes were considered sacred by the Maya people as they believed them to be a connection between this world and the next.  Often, they were used as a place to give sacrifices and offerings to the gods.
Types of Cenotes
There are two main types of cenote: cave and open.  A cave cenote is enclosed with an intact roof.  Usually, you access these by a narrow opening and inside are dark places ready to explore.  Open cenotes are older as their roofs have collapsed.  These are great for relaxing and swimming in the clear blue waters.  Some caves (our personal favourites) are a mixture of both.
Thanks to the natural filtration system of the limestone rock, the water in cenotes is usually exceptionally clear and perfect for enjoying however you choose.  It is important, therefore, that you do not wear sunscreen or insect repellent when entering a cenote to protect the valuable ecosystem.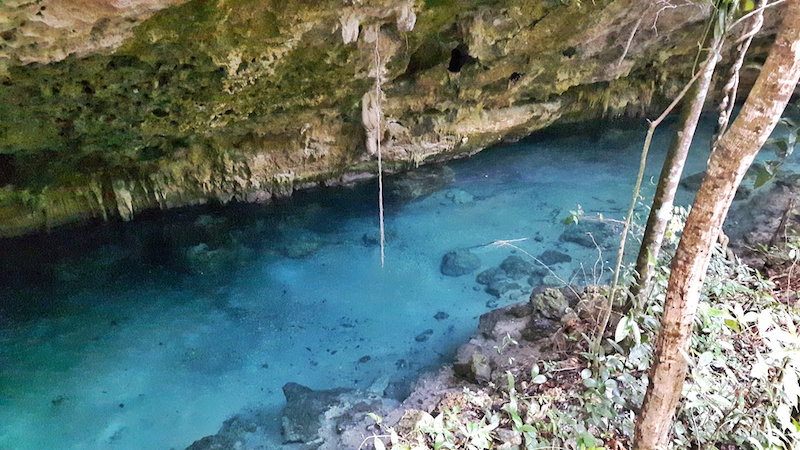 The Best Cenotes in Mexico
---
Undoubtedly one of the best things to do in Mexico's Yucatan Peninsula is to visit their numerous cenotes.  The problem is, there are so many cenotes in the Yucatán you could literally spend your entire holiday going from one to the next and still miss most of them.
The question is, which are the best cenotes to visit?  We asked some well-travelled bloggers for their favourite cenote to share with you now.  We've organized the responses according to the region as well as the nearest city.
There are, of course, many more and we'll be adding to this post over time.  Be sure to save it for easy reference in the future!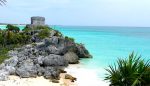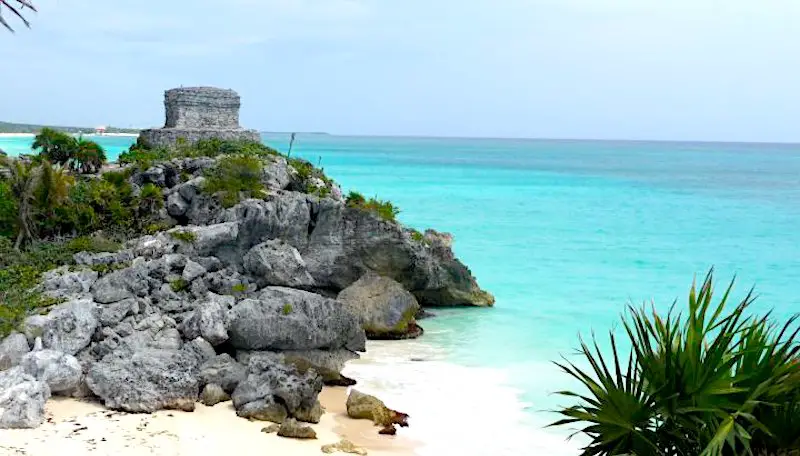 READ THIS POST:
The Perfect 2 Week Yucatan Itinerary
The Best Cenotes in Riviera Maya
The Riviera Maya is probably the most visited part of Mexico.  It extends from Cancún and follows the Caribbean coast down past Playa del Carmen and Tulum.  The Riviera Maya cenotes are some of the best and easiest to explore.  This is a perfect part of Mexico if the top of your list is swimming in cenotes.  Quintana Roo is a state not to be missed!  So, what are the best cenotes in Riviera Maya?
Dos Ojos Cenote – Tulum
Dos Ojos cenote is about 10 miles north of Tulum, just off the Federal Highway. The name is Spanish for Two Eyes because of the two main entrances into the underground cave system.  Dos Ojos is perhaps the most famous Tulum cenote dive because of the cavern diving between the "eyes".  Divers enter amongst a crowd of snorkelers at the open entrance, but the view changes as soon as you descend into the depths.
A forest of feet flail above you, but you're heading into the cave passage.  You fly weightless in the water between massive white formations.  The "eyes" are skylights that open to the ceiling letting in streams of sunbeams.  Not only is this exceedingly beautiful, but it means you can always see natural light while you were in the cave passage.
We loved diving Dos Ojos because even open water divers could safely explore these depths with the combination of a trained guide, fixed lines, and natural light openings.  An aluminum 80 provides plenty of air, but reasonable buoyancy control will make the trip more enjoyable.  
Recommended by Jennifer at Coleman Concierge.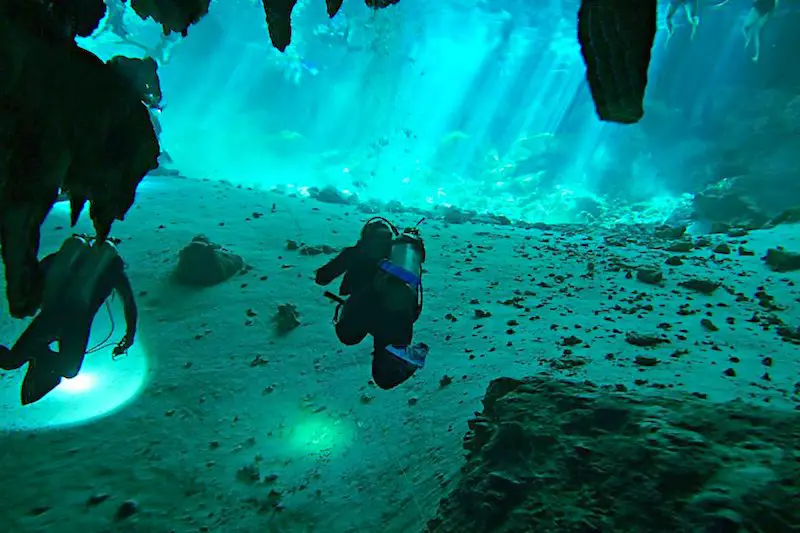 Calavera Cenote – Tulum
Calavera Cenote isn't one of the most popular cenotes in the Yucatán but it sure is unique.  Located 15 minutes from Tulum town centre its very easily accessible but still remains off the tourist trail.  Calavera Cenote is actually more like a cave, and the small opening in the ground only shows a small part of this rather large cenote.
Calavera in Spanish translates to "skull."  The reason for its name? From above looking into the cenote, the openings appear like a human skull because of the one large and two small openings (representing the mouth and eyes.)
Although almost pitch black below the surface, Calavera Cenote is a popular place to go cave diving and explore the unknown.  From deep below you can explore many parts of the cave with an experienced guide showing you the way.
If diving's not your thing then it's also a great place to swim.  From the edge of the cenote, you can jump into the water below either through the mouth or one of the cenote's eyes!  There is a ladder to climb back out – just be sure to watch out for any divers below!
Recommended by Daniel at Destinationless Travel.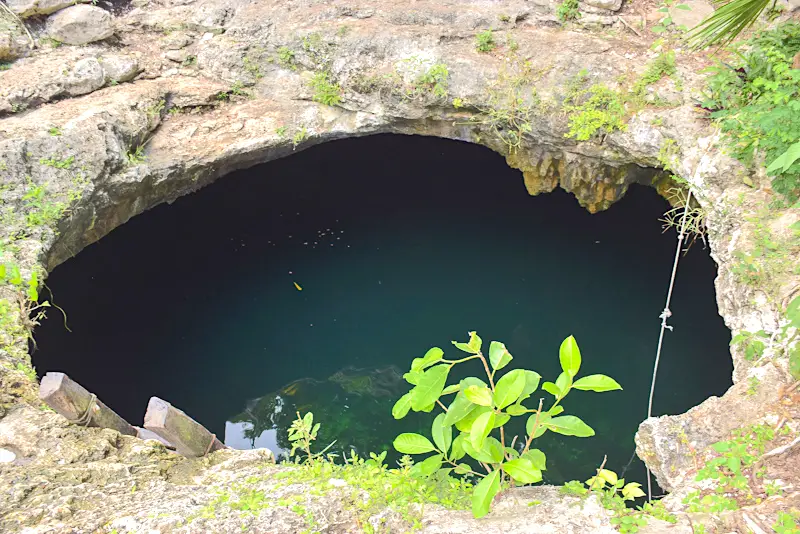 Gran Cenote – Tulum
There are so many amazing things to do in Mexico, but one of the best things to do has got to be visiting cenotes. One of the most popular cenotes near Tulum is Gran Cenote, located just 2 km outside of town.
Gran Cenote, Mexico is a gorgeous cenote that is actually made up of a couple of different cenotes all connected by walkways and underground tunnels.  The opening lets in just enough light so that you can see the incredible stalactites and stalagmites through the crystal clear water.  There is also a ton of wildlife to explore at this cenote such as turtles, bats and swallows making their nests in the caves.
Gran Cenote is a mixture between a fully enclosed cave cenote and an open cenote – so you get best of both worlds!  Our absolute favourite part of visiting Gran Cenote was how clear the water was, making snorkelling and checking out the inside of the caves an out of this world experience.
Recommended by Jess at Unearth The Voyage.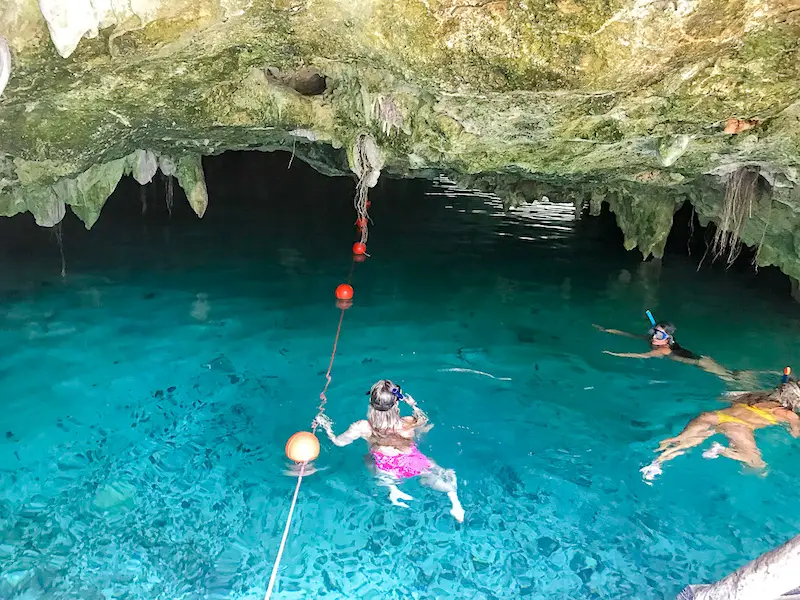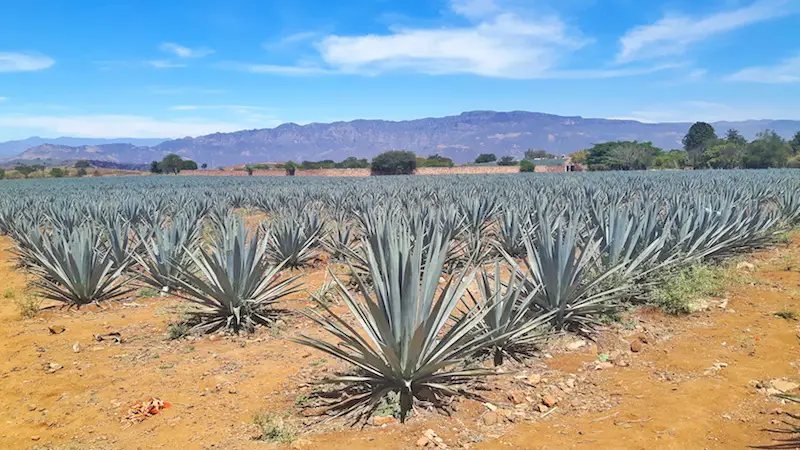 READ THIS POST:
A Day Trip to Tequila, Jalisco:  Tours and Tequila Tasting!
Cristal Cenote – Tulum
Cristal Cenote sits just south of Tulum, right off the Federal Highway.  It's a big, open cenote which makes it the perfect swimming hole after a hot day in the sun.  They even have a diving platform for the wild at heart. 
For the wild, crazy, and well-trained cave diver, there's a cave system that runs miles underground before it re-emerges at another cenote down the road.  We saw a group of divers loading up some serious equipment with twin 100 tanks and underwater propulsion units.  That's an adventure for another day.
For us, Cenote Cristal made the perfect end to a Sian Ka'an Biosphere tour.  We started at Muyil Ruins, one of the first settled and last abandoned Mayan cities in the Yucatan that controlled the shipping in and out of the Muyil Lagoon.  From the ruins, we walked down to Sian Ka'an Biosphere where we took a boat ride across the lagoon and snorkelled through an ancient Mayan canal.
We were decidedly hot and sweaty by the time we reached Cristal Cenote.  It felt so good swimming and splashing in the cool spring water. Sian Ka'an means the birthplace of heaven.  We felt like Cristal Cenote was where the heavenly waters rose from the Earth after a hot and sweaty tour.
This day trip was also a neat introduction to the modern Maya religion.  At Muyil, we saw ancient spirit houses for Aluxes in the ruins of the main square.  In Maya lore, Aluxes are a race of mischievous little people who grant favours to those they like.  We saw a newly built spirit house at the entrance to Cristal.  Was this built for tourists or are the owners sympathetic to Maya ways and seeking favours from the Aluxes?  We'll leave that as one of the beautiful questions for the curious traveller. 
Recommended by Ed at Coleman Concierge.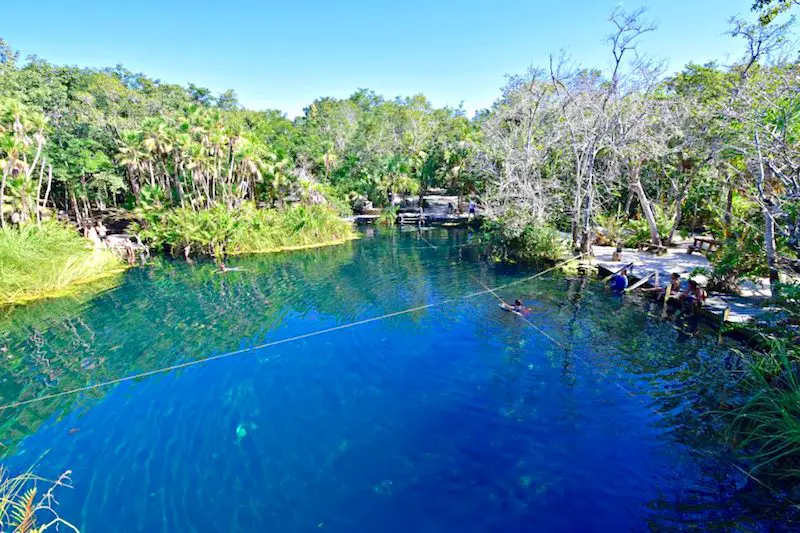 Cenotes Sac Actun – Tulum
We were just about ready to head out the door to explore the area when our host asked us our plans.  We told him about the cenotes we planned to visit among other things and he gave us another recommendation – Cenote Sac Actun.  We'd never heard of it which immediately grabbed our attention and his description of the series of caves sealed the deal.
Sac Actun is found just north of Tulum, about 5km further down the same road as the famous Dos Ojos Cenote.  It's part of the same huge underwater cave system but receives a fraction of the visitors.  A guide is required and they take you on a snorkelling tour through a part of the system.  This is undoubtedly one of the best cenotes near Tulum.
We loved how crystal clear the water was.  Flashlights made the water seem to glow in the dark caverns.  Our guide led us through dark, narrow passages where we had to avoid hitting our heads on the stalactites and stalagmites.  These tunnels would occasionally open up to huge underground caves with some lighting to highlight the incredible features.
There is also an open area where the sunlight lights up turquoise water and we were invited to remain after our tour ended.  Having both open and closed sections meant we managed to tick every box with just this one cenote visit.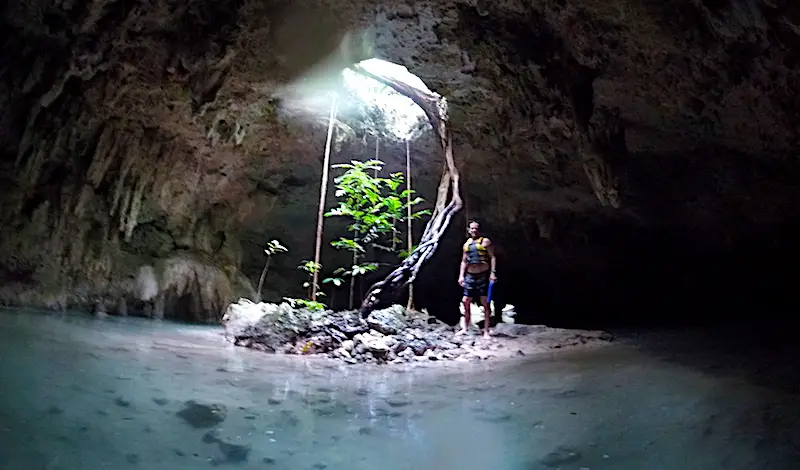 The Best Cenotes in Yucatán
On the north side of the Yucatán Peninsula is the state of Yucatán.  This region does not receive the same number of tourists so you can find some lovely cenotes with far fewer people to share them with.  Some of the best cenotes in Yucatan are not even found in guide books (yet).
Los Tres Cenotes de Cuzamà – Mérida
At about one hour drive from Merida, Los Tres Cenotes de Cuzamà are among the most unique cenotes you will find in the Yucatán Peninsula. They all are underground cave cenotes, where you will have to go down a steep ladder in order to get in.  Until a few years ago they were only known to locals, and only a few tourists who had managed to get a local tip would visit.
The cenotes are beautiful, with clean, clear deep waters. Some of them have a small platform which you can use to dive into the water.  As there isn't really much light and they are quite small, they are not ideal for diving.
The overall experience of visiting these cenotes is a lot of fun.  Once you get to the nearby parking lot, you are loaded on a small carriage set on rails and pulled by horses.  The rails connect the parking lot to the various cenotes, scattered around the area in the thick bushes typical of this part of Yucatan.  As there is only one set of rails, when two carriages meet, one has to step out of the rail and let the other pass.  Find more things to do in Mexico now.
Recommended by Claudia at My Adventures Across the World.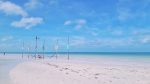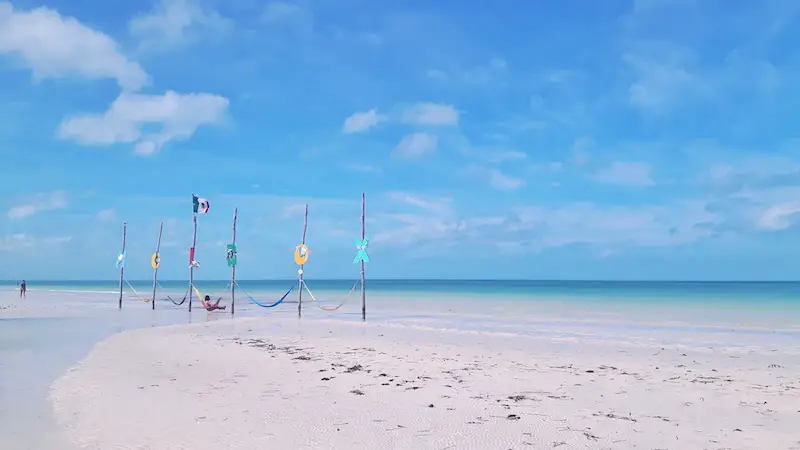 READ THIS POST:
15 Best Things to do on Isla Holbox + Island Guide
Cenote Samulá – Valladolid
Lovely cenote Samulá is located near Dzitnup, a little town about 7 kilometres south-west of Valladolid.  The facilities are quite good and it's a big complex but we were very lucky to be there when there were very few other tourists.
The water is about 35 x 30 meters and 13.5 meters deep, so there's plenty of space for a nice swim and the water is beautifully clear.  The cenote's cavern is almost fully enclosed, apart from a hole in the ceiling.  It has a very magical feel!
You enter via a small stone staircase, which leads to a wooden platform where you can admire the view.  Wooden stairs lead you down another level and then you go down a bit more to a small platform where you can enter the water.
Both the cenote and the facilities are well taken care of, hence the entrance fee which is a bit higher than some other cenotes.  For 125 pesos you can visit both cenote Samulá and cenote Xkeken, which are within walking distance of each other, or you can pay 80 pesos to visit just one of the cenotes. 
Recommended by Lisa from FlipFlopGlobetrotters.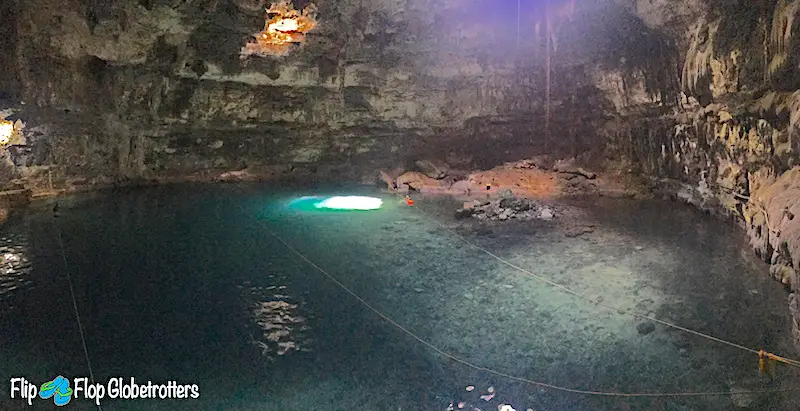 Cenote Suytun – Valladolid
You've probably seen it on Instagram.  That cenote in the Yucatan Peninsula with a beam of sunlight that filters through at just the right angle over a platform practically made for taking pictures.  It's Cenote Suytun near Valladolid. And while I usually avoid the most touristy destinations when I travel, that afternoon I met up with the Yucatan Foodies from Tulum to discover the different things to do in Valladolid.
As we arrived, a large tour bus was leaving and I silently recognized our fortunate timing.  We paid the comparatively hefty entrance fee (100 pesos to enter and rent the required life jacket) and ventured off down the stairs into the expansive cave.
Right away I noticed the intricate stalactites hanging from the ceiling.  The stalactites in Cenote Suytun range in thickness and density with some very impressive formations throughout the cenote.  The water level is relatively shallow, allowing the vastness of the cave to reveal itself.
If you visit at the right time, this is a great cenote to enjoy an afternoon cooling off and admiring the formations.  There is also plenty of bench seating surrounding the water which will come in handy when you're waiting your turn for the perfect Instagram photo.
Recommended by Julien at Cultures Traveled.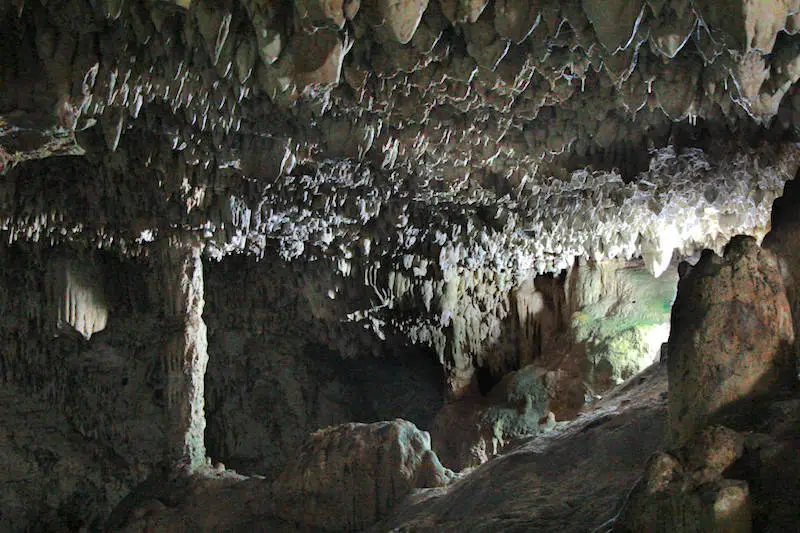 Cenote Oxman – Valladolid
Valladolid has a few famous cenotes around the city but Cenote Oxman is a hidden gem just a few kilometres out of town.  It's an open cenote, meaning it is a large sinkhole filled with water about 20 metres below.  From the top, you can look down and see the deep blue water with tree roots skimming the surface.
To enter the cenote there is a stairway that has been carved into the ground.  As you reach the bottom of the stairs, it opens up with a walkway that reaches halfway around the perimeter a few metres above the water.  There are plenty of ledges to place your belongings but be careful of water dripping.  A dry bag would be an excellent idea.
Our favourite thing about Cenote Oxman is the rope swing to enter the water.  However, wooden stairs are also available, or you could just jump from the rocky ledge.  An employee attends to the swing at all times and lifejackets are available.
There are three entrance fee options and two include a set amount of money to spend at the restaurant above ground with the use of the pool and loungers.  It's the perfect way to spend a relaxing afternoon in the Mexican heat.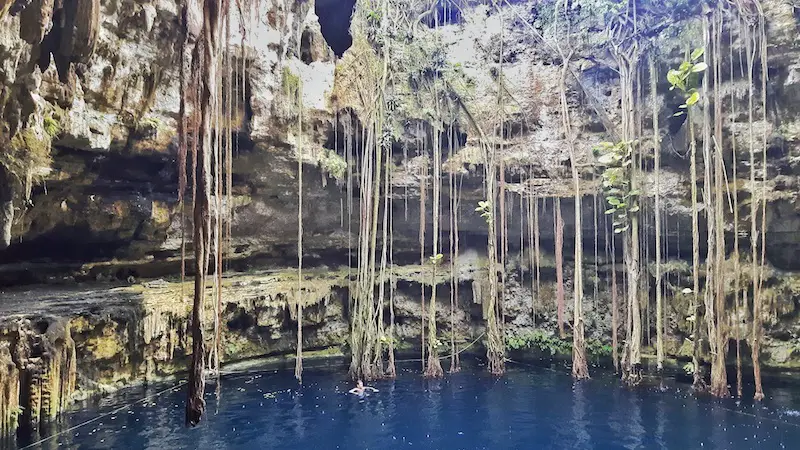 If you're planning a trip to Mexico's Yucatán Peninsula in the future, be sure to include some of these incredible cenotes in your itinerary.  No matter which you choose, you won't be disappointed!
---
Looking for more things to add to your Yucatan adventure?  It's not just about the cenotes, but this area is also full of ancient Maya ruins.  Read these posts for more information:
---
 If you found this post helpful, save it for later!