One Week in Morocco: Itinerary coming from Spain
Some links in this post may be affiliate links. If you click on them we may make a commission from qualifying purchases at absolutely no cost to you.  Read our full Disclosure Policy here.
We haven't even landed in Morocco yet and we are already getting a glimpse of the rollercoaster ride we will find ourselves on for the next 7 days.  As we exit the ferry, people are calling at us from every direction.  Taxi!  Money exchange! Buy this!  Buy that!
One man walks and chats with us for a while before asking if we need a place to stay. He has one available, of course.  Everyone is ready to help with whatever they perceive we must need.
Spending one week in Morocco was probably the most culturally shocking thing we've done.  While not the most comfortable trip at the time, it is one that we will remember with a smile and plenty of stories for years to come!
We want you to have the same amazing experience so we've put together our one week in Morocco itinerary for you.  Hopefully it can save you the hours of research that went into trying to find the perfect balance of culture, landscapes and exploration!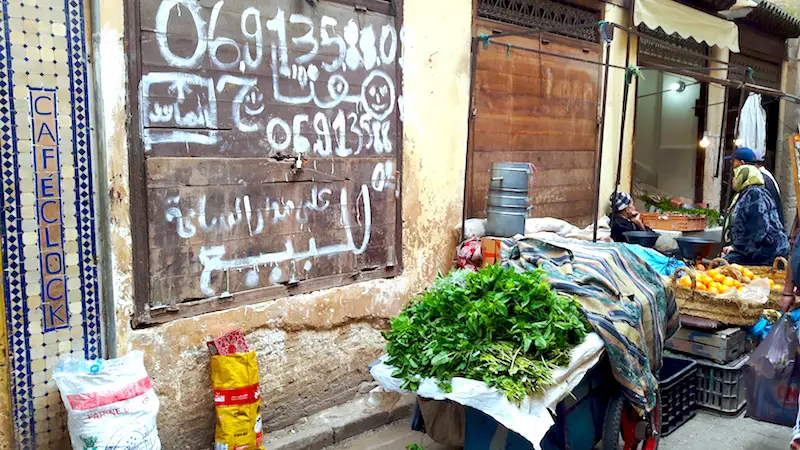 One Week in Morocco Itinerary from Spain
If you are already in Spain, this is the perfect opportunity to also discover Morocco!
It is incredibly easy to get to Morocco from Spain with many flight and ferry options.  The nearest point is the one-hour ferry from Tarifa to Tangier.  Actually, it's a little closer from Algeciras but Tarifa is a much nicer town for a stopover!  Be sure to book at least a few days for some fun activities in Tarifa too.
Seville is another Spanish city that would be easy to combine within the same itinerary as Morocco.  It is an amazing city for food, culture and sights and is just a few hours away from Tarifa by direct bus.  With an international airport, it could be a great starting point for your vacation.
If you're pressed for time, day trips to Tangier are available from both locations.  Check out these tours now.
Our Morocco Itinerary
There are so many amazing places to visit in Morocco that one week just isn't enough.  However, if like us, it's all the time you have there will still be plenty of opportunities to get a good taste of this incredible country.
Day One – Tarifa to Tangier to Chefchaouen
Take the first ferry of the day to Tangier.  Make sure you get some Dirhams as soon as you exit – look for the vans (yes, vans) parked outside that are converted to currency exchange offices.
Either walk for about 30 minutes or take a taxi to the bus station and buy tickets for the next CTM bus to Chefchaouen.  It leaves at 12pm and should cost 45 dirhams (approximately $4.75 US).  If you don't want to wait until noon another option is a more frequent bus to Tetouan, then a bus to Chefchaouen.  The three hours will fly by thanks to the stunning scenery and you will be left a taxi ride (or a very long uphill walk) away from the Blue City.
Check into your accommodations and head out to explore!  The main plaza within the city walls has a number of restaurant options or there is cheap, fast food just outside by the kasbah.
TIP: when you arrive in Chefchaouen, buy your onward ticket before leaving the bus station.  We snagged two of the last four seats for the departing bus 2 days later!
Where to stay in Chefchaouen
Budget – Hotel Bab El Ain will set you back just $17 for a double room with a shared bathroom (just a few dollars more for a private bathroom).  The rooftop terrace and included breakfast are bonuses while guests also liked the location.  Check prices and reviews now!
Value – We stayed at the Hotel Anaia and would definitely recommend it.  It's clean, beautiful, attentive staff and it's in the perfect location right across the road from the kasbah.  The $30 price tag didn't hurt either.  Check reviews and availability now!
Splurge – La Petite Chefchaouen is a boutique hotel located within the Blue City with excellent reviews.  The rooftop terrace offers amazing views across the city and surrounding mountains and the included breakfast is delicious.  With a double room costing around $100 it almost doesn't count as a splurge!  Check availability and reviews now.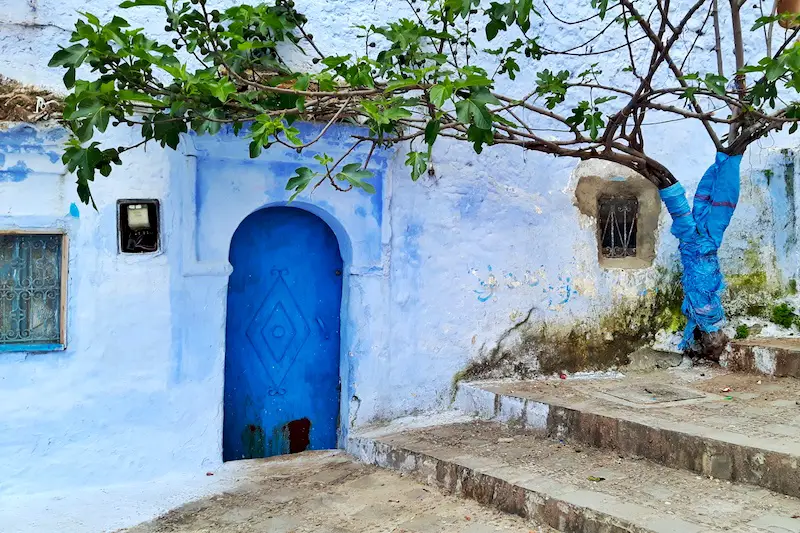 Day Two – Chefchaouen
Chefchaouen is one of the most popular places to visit in Morocco (but don't let that stop you).  It's location between Tangier and Fez make it an easy place to visit even with only one week in Morocco.
Today is entirely for you explore the Blue City and, if you are up for it, get out into the Rif mountains.  There are numerous hikes available a short taxi ride away.
Within Chefchaouen, be sure to wander the narrow alleyways within the ancient city walls.  Climb to the top of the hill, walk along the wall and admire the view.  Wander back down towards the waterfalls, the local laundry spot.
The streets outside of the medina are actually very interesting too.  We didn't give them enough time and regretted this.  One of the most popular things to do in Chefchaouene is to hike up to the Spanish Mosque for sunset.  Get up there early as it gets very busy.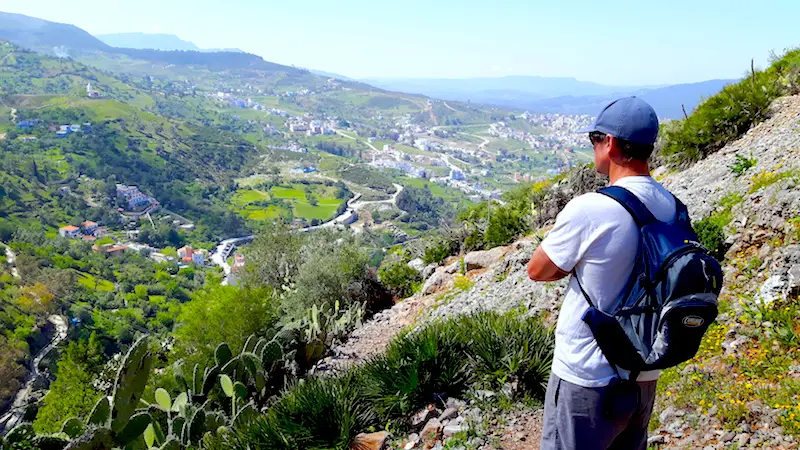 Day Three – Chefchaouen to Fes
Take the morning bus from Chefchaouen to Fes departing at 10:45am.  This is a pretty long journey at 4.5 hours but once again, the views are outstanding.  Expect to pay 75 dirhams (about $8) for the CTM bus.
If you choose to stay in the Fes Medina, you will need a taxi to get there.  Be sure to get very clear directions from your riad or hotel.  There won't likely be much time left in the day other than to head out and find some dinner.
TIP: have your taxi take you first to the train station to buy tickets for onward travel.
Where to stay in Fes
Budget – Riad Tomboukto Fes is an amazing deal at only $16 for a double room with private bathroom and included breakfast.  Guests are happy about the location, staff and price.  Check reviews now!
Value – We stayed in two different riads in Fes in different areas.  From this experience we can highly recommend La Cheminee Bleue.  The owners are amazing, the riad is stunning and a delicious breakfast is included.  In addition, it is in the perfect location: just a short walk to the most popular sections of the Medina yet in a more authentic area.  Check reviews and availability now!
Splurge – The Mayfez has an unbelievable 9.9 rating on Booking, the highest rated of all Fes accommodations, and we can see why.  The entire place looks incredible, has a rooftop terrace to enjoy the fantastic location and even a swimming pool.  Check prices and availability now!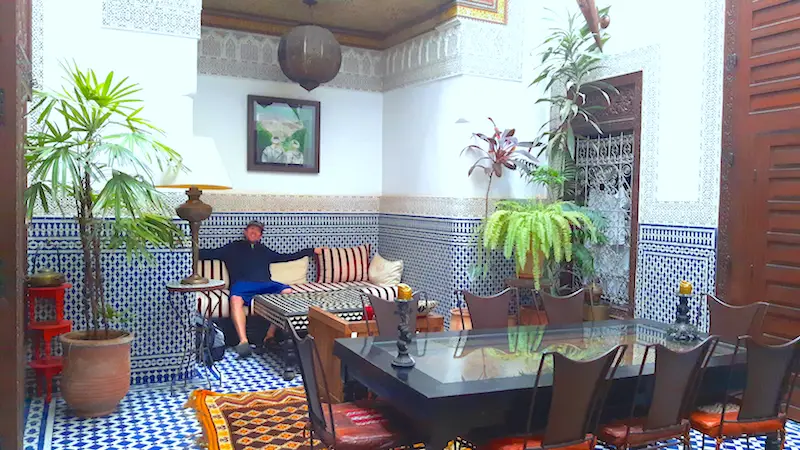 Day Four – Fes to Merzouga
Coming to Morocco and not seeing the Sahara Desert just didn't seem right!  I carried out a lot of research and it became clear that while doing it independently is possible, we would really need more time.  With only night buses available, we would have needed a whole extra day and would have missed the many amazing landscapes.
Save yourself a lot of time and hassle and book a tour to the desert in advance.  We booked this tour and would highly recommend it.  It resulted in us having a private driver for two days in a comfortable SUV.
As you travel to the Sahara Desert you will pass over the Middle Atlas Mountains and stop at Ifrane, a ski resort home to a colony of Barbary apes.  Among other stops, there is also a desert oasis to see.  The scenery throughout the 7-hour drive is outstanding and there will be numerous photo opportunities making it feel better than it sounds!
When you arrive at the kasbah in Merzouga, you will pack a small bag for the night and change if necessary.  Shortly before sunset, your group will take off on your camels.  Sit back and enjoy a not-so-comfortable ride!
Climb up the sand dunes for sunset then enjoy a traditional tajine dinner cooked by the Bedouin.  After a campfire under the stars, fall asleep in your Berber wool tent.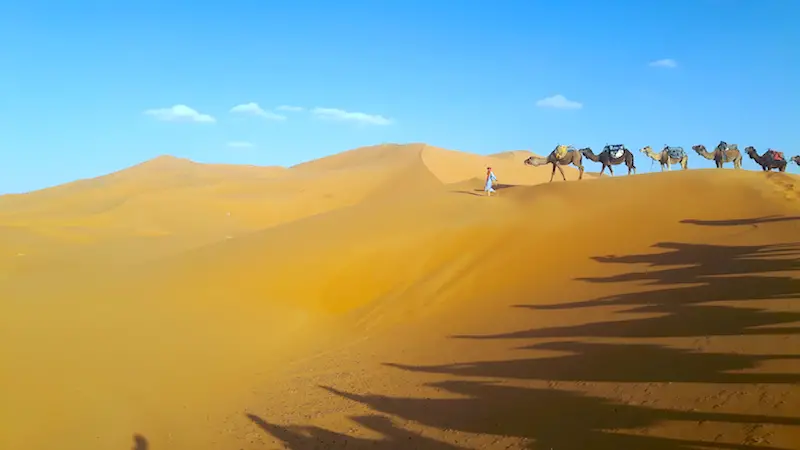 Day Five – Merzouga to Fes
You will be woken early by your guides.  Really early.  As you ride your camel back out of the desert, watch the sunrise over the dunes.  Return to the kasbah to a prepared breakfast and shower.
The driver will retrace your journey today and you will have an opportunity to stop in various places again.  We were also treated to a bonus guided tour of Rissani, a very important and interesting market town.
Expect to return to your riad or hotel in Fes by late afternoon.  Check in, relax and find some dinner.
[btn text="Read about our personal experiences in Morocco now!" tcolor=#FFF bcolor=#1998b5 thovercolor=#444 bhovercolor=#bbede7 link="https://pastthepotholes.com/travelling-from-spain-to-morocco-on-a-budget/" target="_blank"]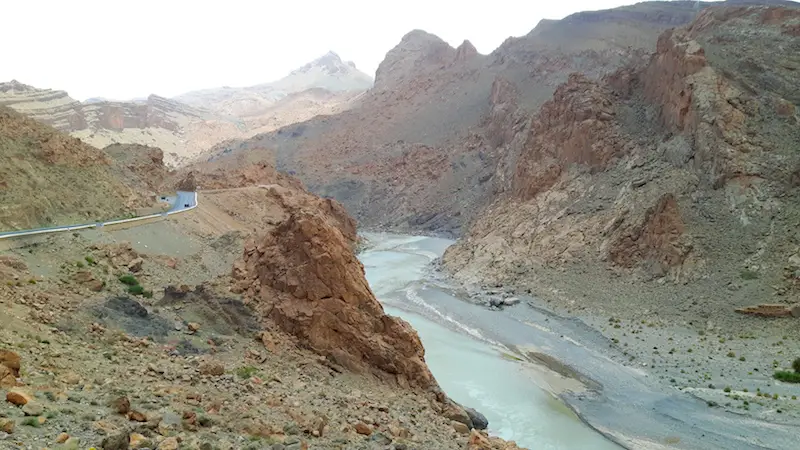 Day Six – Fes
Today is to discover Fes!  The Medina of Fez is listed as a UNESCO World Heritage Centre and is a confusing warren of over 5000 alleyways.  It's the largest medina in the world and one of the oldest.
It's worth getting a tour guide for a couple of hours to show you the highlights, but we wouldn't recommend a full day tour unless you're interested in shopping.  Your riad most likely can recommend a local.  Be very clear if you have no interest in buying any souvenirs.
After your tour, spend the afternoon wandering at your own pace, looking in markets that grab your interest and enjoying getting lost (now you have your bearings enough to find yourself again).  The Jewish quarter outside the Medina is also worth a visit.  If you're feeling claustrophobic, perhaps hiking up the hills to the north of the medina would be a welcome break from the madness within the walls.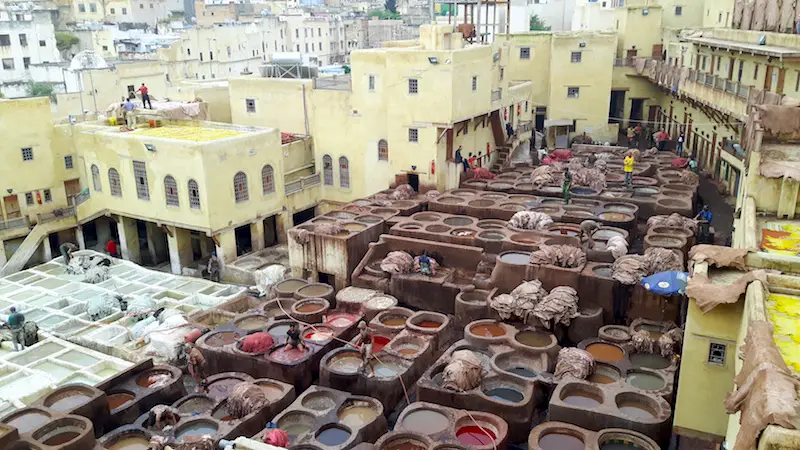 Day Seven – Fes to Tangier to Tarifa
Take a taxi to the train station for either the 8 am or 9:50 am direct service to Tangier.  It's very little extra for first class tickets and well worth it at just 164 dirhams (about $17.40).  This journey is supposed to last five and a half hours but we sat in the middle of nowhere for about an hour during our journey so you never know!
This service will get you back in Tangier with plenty of time for an evening ferry to Spain.  We booked the 6 pm ferry and between that and the train delay we had to go straight to the terminal.
However, if your train is on time and you book a later ferry (there are also 8 pm and 10 pm sailings) you will have a couple of hours to explore Tangier's medina if you choose. Arrive in Tarifa in time for a late meal and a well-deserved sleep (just remember to add an hour for your arrival in Spain as you switch time zones)!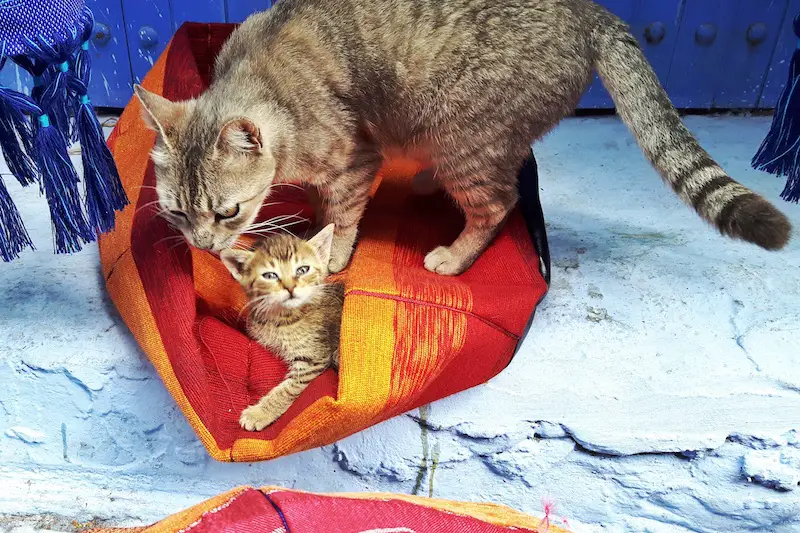 How to spend 10 days in Morocco
If you're lucky enough to have a few extra days in Morocco then you have a few options.
Taking a Fes to Marrakech Sahara desert tour is a great choice.  This way you get to see many more places along the drive between Merzouga and Marrakech.  Give yourself a day in Fes before heading to the Sahara, then spend some time exploring Marrakesh before taking the train up the coast back to Tangier.  With enough time, there are plenty of interesting day trips from Marrakech.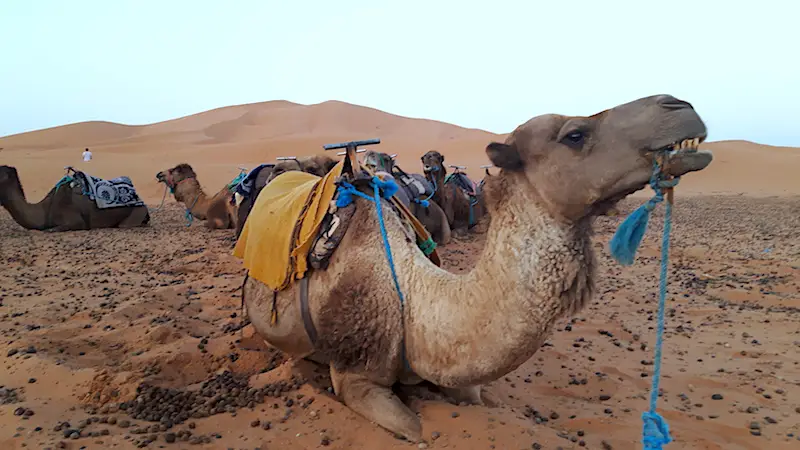 You could make a stopover in relaxing beach town Asilah for a night to break up the journey and get a little beach time.  At just an hour outside of Tangier, you would have most of the next day to enjoy the town.
Alternatively, stop in Casablanca to mix city and beach, even get a little surfing in if you choose.
Another option is to head straight to Essaouira for some beach and adventure.  This is the furthest option from Tangier and will entail the most amount of time on the road but perfect for those who would really love to fit in some kiteboarding or surfing.
Check out these tours for some awesome options to help you explore Morocco in a short amount of time.

What are we missing?  Have you been to Morocco?  What are your must-see places?
If you found this helpful, we would love it if you could share it with others!
[columns] [span6]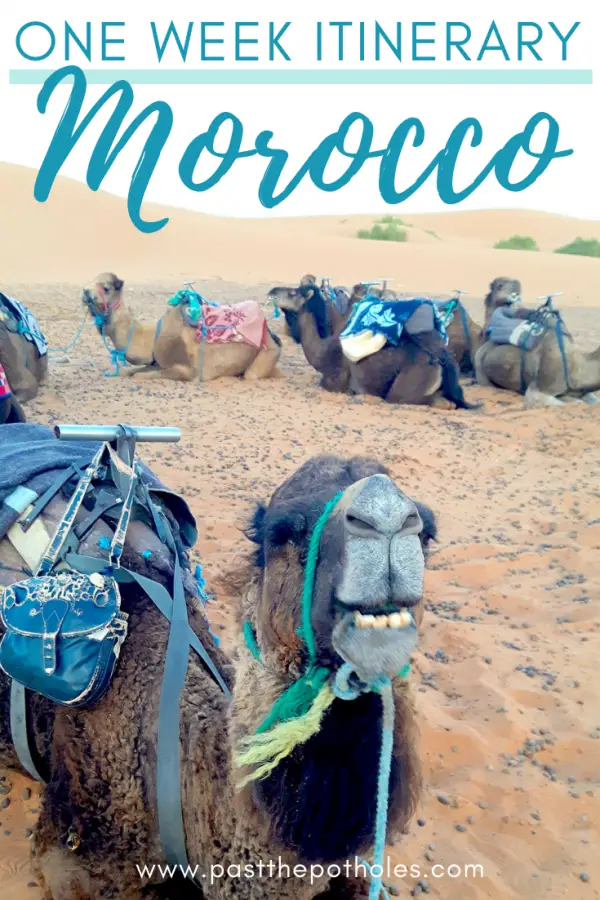 [/span6][span6]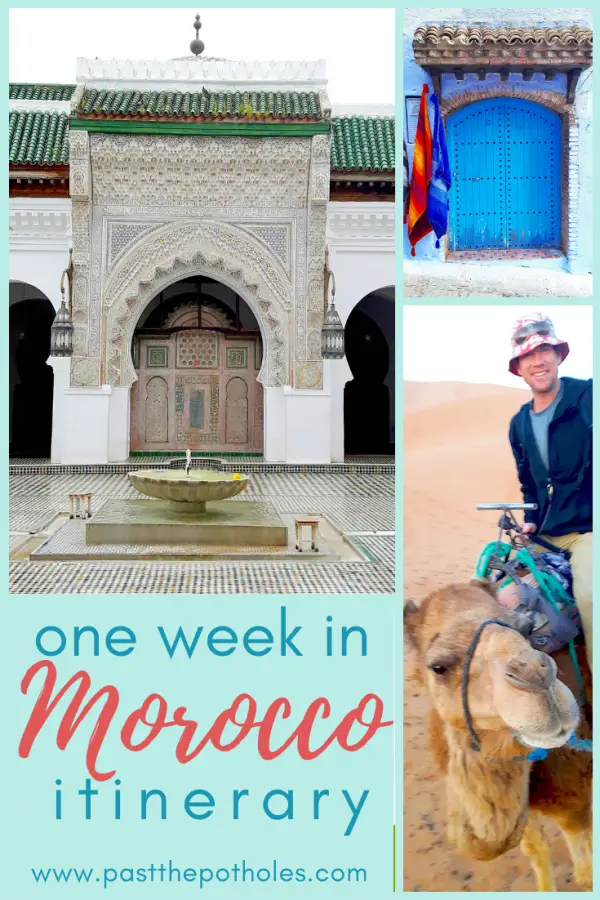 [/span6][/columns]