One week Martinique Itinerary: How to Spend One Week in Martinique
Some links in this post may be affiliate links. If you click on them we may make a commission from qualifying purchases at absolutely no cost to you.  Read our full Disclosure Policy here.
Are you looking for ideas for how to spend one week in Martinique?  You've come to the right place!  The French island wasn't really even on our radar until we started planning our trip to Dominica and wanted to do some island hopping.  We were really surprised with its beauty, variety of activities and culture.  Not convinced?  Find the best Caribbean island for you now.
We've tweaked our one week Martinique itinerary slightly to help you get the most out of your time on the island. For the ultimate vacation, combine a week in Martinique with a week in Dominica!
One Week Martinique Itinerary
While I truly think this is one of just a few islands I could live on and not succumb to boredom, one week in Martinique is the perfect amount of time to get a good taste of what this French department has to offer.  This itinerary is designed to include a little of everything but if you are passionate about one particular activity it is fully customizable to your preferences.  I am also assuming you are renting a car – this really is the best way to see the island.
Day One
Whether you fly into Aimé Césaire International Airport or arrive by ferry to the Fort-de-France terminal, pick up your rental car and drive north to Le Morne Rouge.  Roads are well signed and we also used Maps.Me to get us exactly where we needed to be.  We booked an awesome AirBnB on the edge of town with an infinity pool overlooking Mont Pelée and an outdoor kitchen.  Enjoy the rest of the day wandering around town and having dinner.
[btn text="Read more: One Week Itinerary for Trinidad" tcolor=#FFF bcolor=#1998b5 thovercolor=#444 bhovercolor=#bbede7 link="https://pastthepotholes.com/one-week-trinidad-itinerary" target="_blank"]
Day Two
Strap on those hiking shoes and drive north out of town to climb Mont Pelee.  This volcano holds the dubious distinction of being the most deadly volcano in the past century, erupting in 1902 and wiping out the town of Saint-Pierre.  The parking area is easy to find but can fill up so leave early.  This is just one of three different trails to the top but it is the easiest to access.  The hike starts with roughly made steps set into the mountainside and it is tough!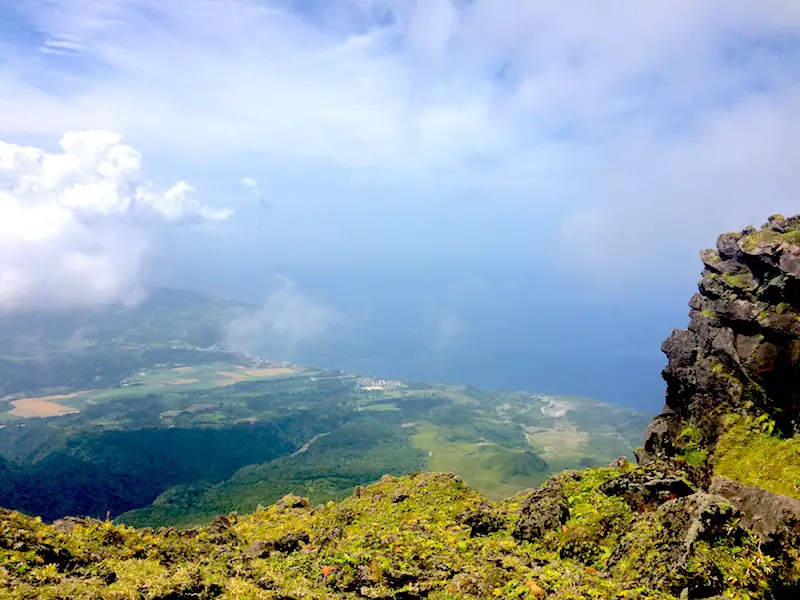 When you reach the caldera you will have the choice to go down, through and up the other side of it.  Not surprisingly, this option is shorter but with a very steep climb back out of the caldera.
The second option is to follow the longer trail around the edge to the other side.  At this point both trails meet and continue along a steep climb up a lava rock field.  There is no real trail through this section but it is impossible to get lost.  We chose to go through the caldera when summiting the volcano and went around the ridge on our return journey.  We definitely recommend this as both trails provide a very different experience and views.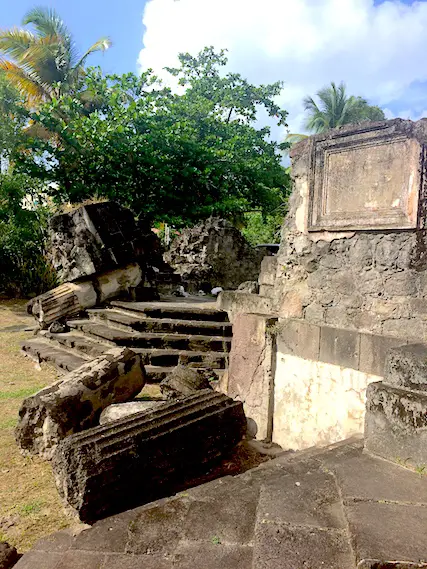 The perfect way to cap off a climb up this deadly volcano is to visit the ruins of Saint-Pierre in the afternoon.  The ruins are scattered around town but can be found easily enough on Maps.Me.  Bookmark each location ahead of time to help you plan your route around town.  There are also a few nice cafes along the beachfront in town or along the top of the old wall when you are hungry.
NOTE: if it's not a clear day, consider switching with tomorrow's plans.
Day Three
Today, choose a north coast hike that appeals to you.  The following three suggestions are listed in order from easiest to most challenging:
Canal of Slaves – this 2.5 mile hike is flat and begins just outside of Saint-Pierre in Fonds-Saint-Denis.  If you are a fan of history, you will enjoy hiking along the old canal dug by slaves.
Cascade de la Rivière Couleuvre – drive to Anse Couleuvre (or as close as your car will allow) and take the trail to the waterfall.  This hike is only about an hour each way but there are some uphill sections and potentially slippery spots but it is well worth the effort.  The black sand beach in Anse Couleuvre is a great way to end the day as well.
Prêcheur to Grande Rivière – this 16km trail follows the old mule trail connecting the plantations along the north coast.  Park in Anse Couleuvre and plan on reaching Grande Rivière in about 6 hours.  From here you can take a boat back to the start.  Check out this website for a little more detail, especially on organizing your return boat ride.
Feel like resting after yesterday's challenging climb?  There are plenty of beautiful north coast beaches that are well worth a few hours of your time!
Day Four
Check out of your accommodation in Le Morne Rouge and head to the east coast before following the coastline south.  Visiting the Presqu'ile de la Caravelle is perfect way to break up a long drive and see a little more of the island.  Follow the road along the peninsula to the end and park.  From here there are a few hiking trail options which are well-marked on a map.  If you are feeling a little lazy, take the trail to the right and relax on one of the beaches or visit the fort.  Le Tartane has a beautiful beach too if you want more amenities.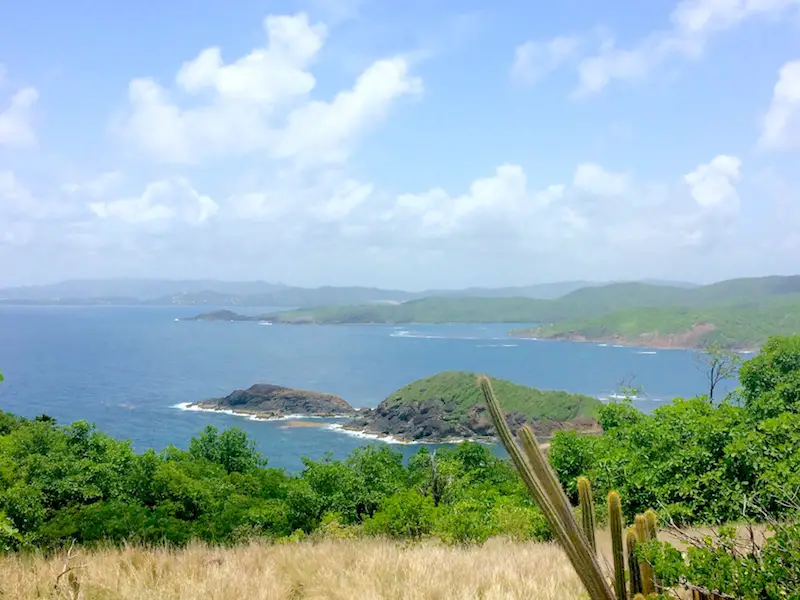 Eventually continue your drive to your next destination.  We recommend staying in Le Diamant as it was a nice mix of tourist and local as well as having a fairly central location.  However, Les Trois-Ilets is the centre of Martinique tourism and Sainte-Anne is known for the best beaches so pick what suits you!
[btn text="Read more: One Week in Tobago" tcolor=#FFF bcolor=#1998b5 thovercolor=#444 bhovercolor=#bbede7 link="https://pastthepotholes.com/one-week-tobago-itinerary" target="_blank"]
Day Five
After all that hiking you've earned a beach day!  There are so many to choose from you may even decide to visit a few.  A few of our favourites were:
L'Anse d'Arlet – full of character with a dock, colourful town buildings in the background and great snorkelling.
L'Anse Dufour – small, pretty cove that is quieter and also excellent for snorkelling.
L'Anse Figuier – great snorkelling, quiet with picnic shades.  It is also close to the popular rum distillery of Trois Rivières if you wanted to fit in a rum distillery tour.
Grande Anse des Salines – while we didn't make it this far, the beaches here are among the best of the island.  If you visit here, consider taking a hike into the Savanne des Pétrifications where you will find an arid landscape unlike anywhere else on the island.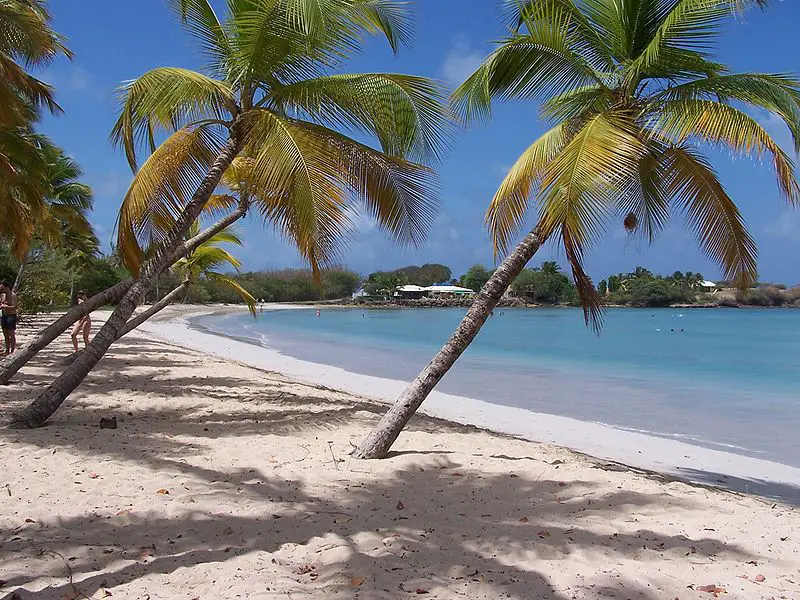 Day Six
Just west of Le Diamant is another dormant volcano named Morne Larcher.  This is a tough but short hike up a trail littered with huge lava rocks.  In around 45 minutes you can reach the summit and be greeted with some of the island's best views.  Choose between returning down the trail or continuing to the other side then returning along the road.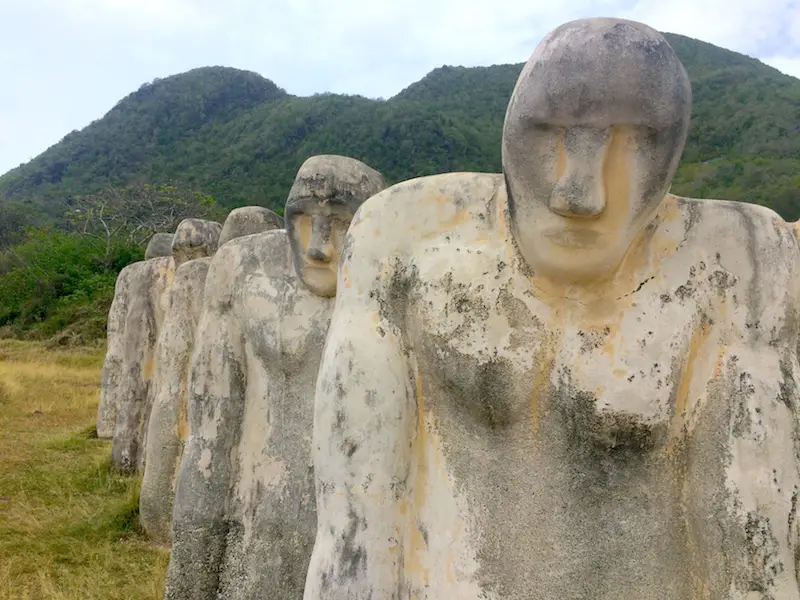 Parking for Morne Larcher is very close to one of the absolute must see attractions on Martinique, Anse Caffard.  This monument commemorates the sinking of a slave ship in 1830, taking with it many slaves who were chained together in the cargo hold.  The 20 stone figures staring out to sea is both a beautiful and sad sight. From here, spend the rest of the afternoon at a beach of your choice.
Day Seven
Depending on your flight time you may have time for a few more hours at the beach, a little souvenir shopping, or you may be heading straight to the airport.   If you followed this one week itinerary for Martinique you managed to see much of what Martinique has to offer and we hope you had an amazing week!
Have you ever been to Martinique?  What did you think of it?  What would you include in your itinerary?   Comment below!
Not ready to book your week in Martinique yet?  Save this post for later!
[columns] [span6]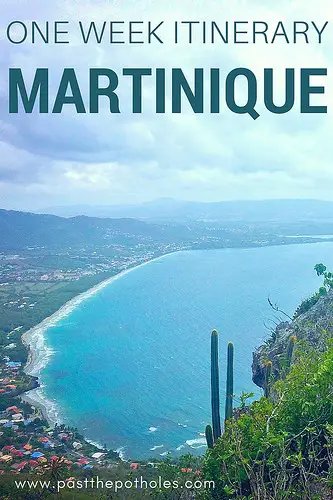 [/span6][span6]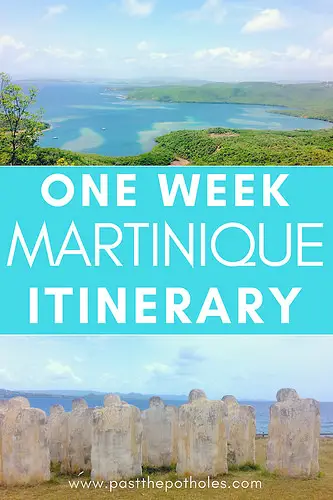 [/span6][/columns]
Return to our Destinations page now.