Some links in this post may be affiliate links. If you click on them we may make a commission from qualifying purchases at absolutely no cost to you.  Read our full Disclosure Policy here.
This past week we've been house sitting in a typical Portuguese village called Algoz.  There is no tourism here yet it's just a 10 minute drive to the beaches of the Algarve – and we have the use of a car!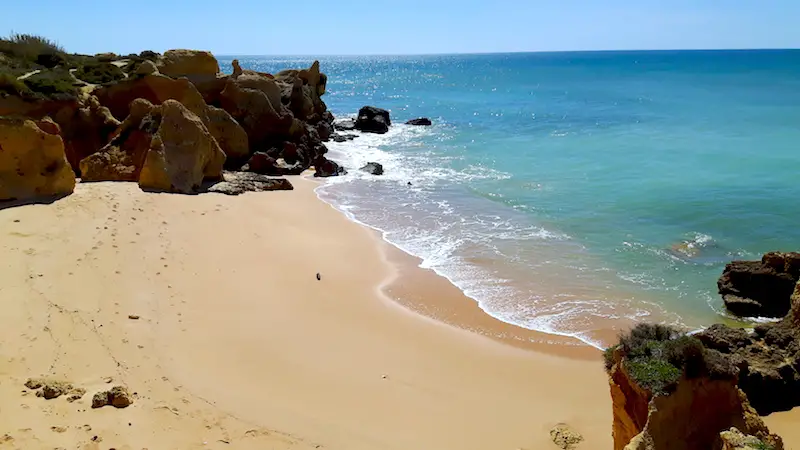 Hyena has been our easy-going friend this week and spends her days roaming around the orange grove in the backyard or sunbathing on the driveway which gives us a chance to explore the area for a few hours without feeling guilty.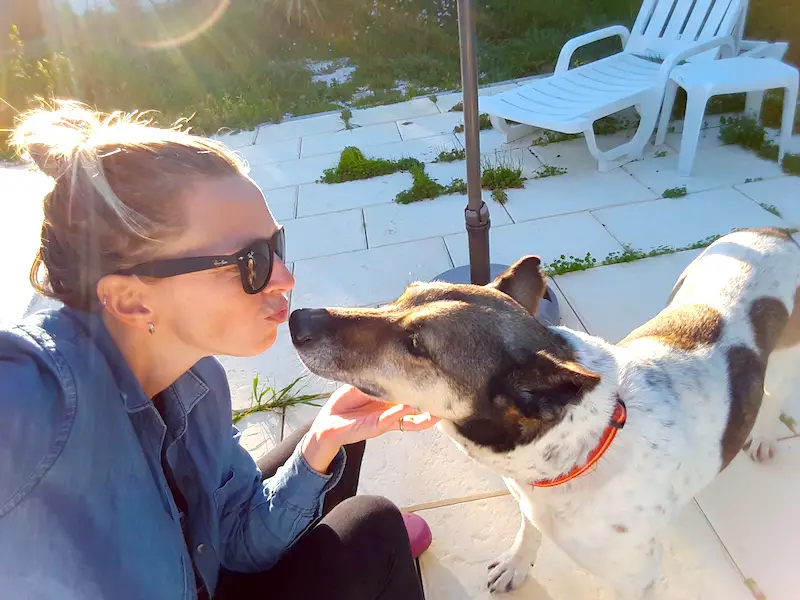 The Algarve Beaches
We've visited a few beaches this week, mostly just passing through while walking but we did spend some time at Praia da Falésia.  This 6km long beach is line with cliffs and often referred to as one of the most beautiful beaches in the Algarve.  I'm not sure we agree with this statement, preferring some of the smaller hidden coves, but that's not to say it isn't pretty!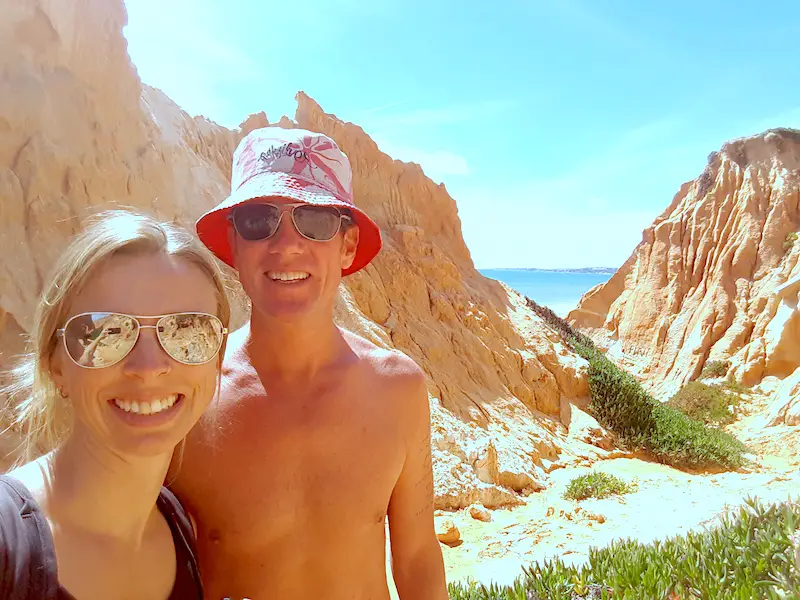 Cliff Top Walks
The Algarve is famous for its red cliffs.  Everywhere we go it seems there are trails lining these cliffs with endless opportunities for walks.  Besides wandering along random trails, we also hiked the Percuso dos Sete Vales Suspensos.  Translated as the Seven Hanging Valleys trail, this is a stunning 11.5km trail (out and back) following along the clifftops past numerous beaches, caves and sinkholes.  While sections are pretty busy (to be fair we did do this on Easter Saturday), much of it is empty.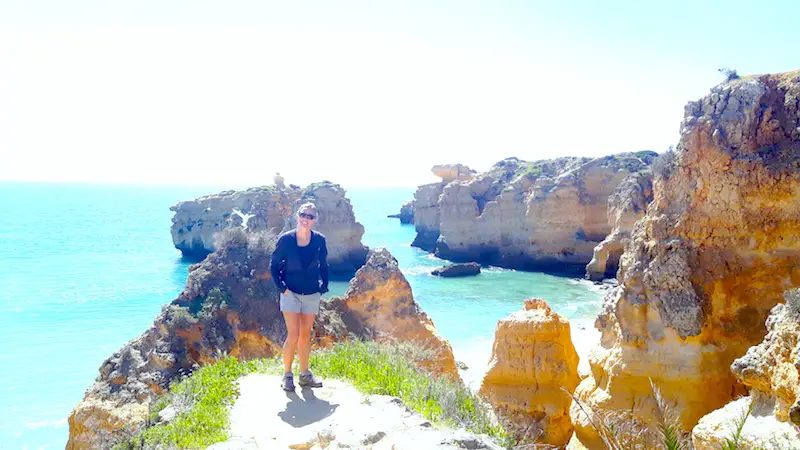 As an extra bonus, once we reached the end we discovered we were only 1km from Algar Seco.  It seemed silly not to tag it on before returning.  This proved a good choice as it was one of the few places we were able to climb down the cliff and discover the interesting rock formations up close.  There were tunnels, caves, and holes were everywhere we turned!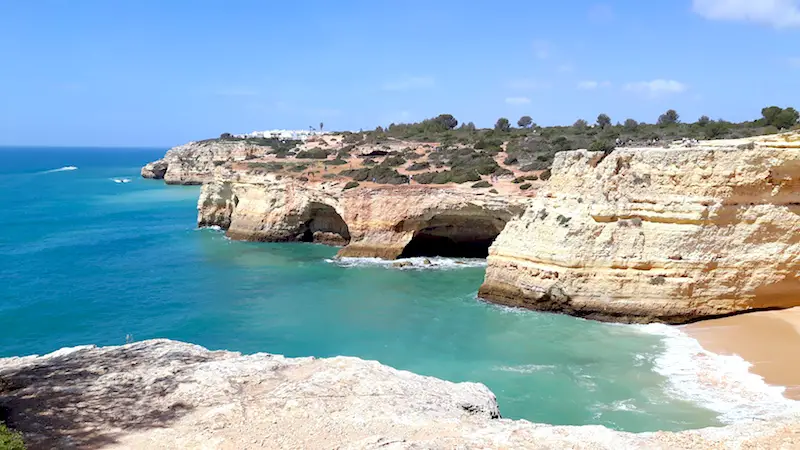 Silves
As a break from the beaches, and on the recommendation of our home owners, we spent a couple of hours wandering the streets of Silves.  This cute little town sits on a hillside with a castle and cathedral atop and narrow winding streets below.  As an added bonus, a river runs along the edge of town with a great path running alongside and tonnes of play space for kids.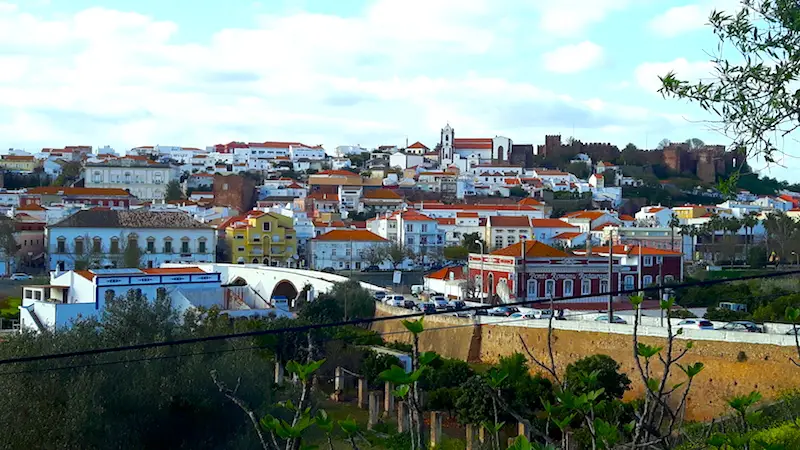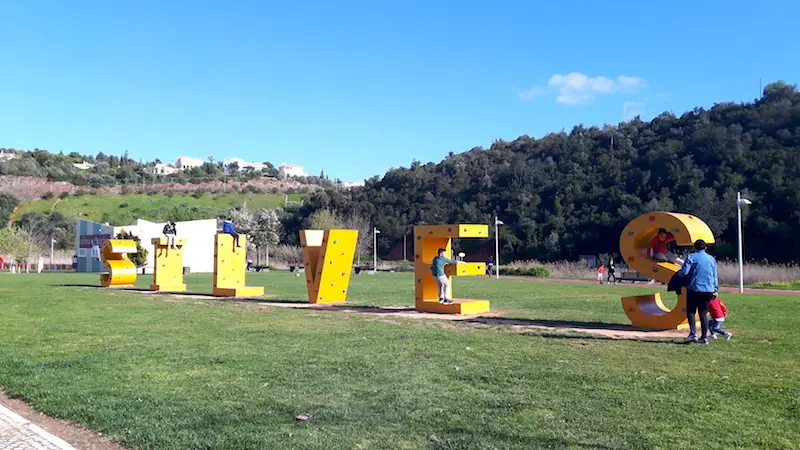 It seems the new craze is to have your city name in giant letters and we've discovered these everywhere we've been but this is the first place that had the excellent idea to cover them in rock climbing holds!  Some cute little grandmas (I assume but have no facts in which to base this) have even made crochet covers of varying designs for the trees.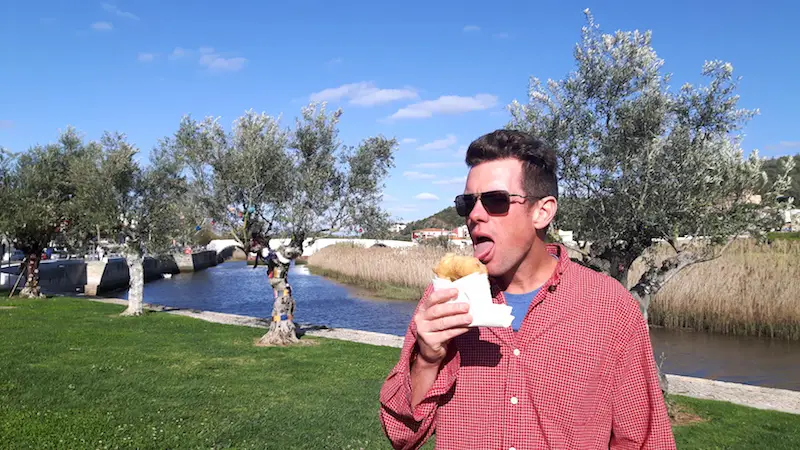 Trying the Local Products
Did you know Portugal has a pretty great wine industry?  Hardly any gets exported, the poor soil apparently makes just enough for the local population, so few are aware of the local products.  We stopped by a vineyard just outside of Silves for a quick tour and tasting.  Unfortunately, this particular winery does not make the unique green wine but we were able to taste their white, rosé and red.  (We have had a chance to taste green wine and quite enjoyed it).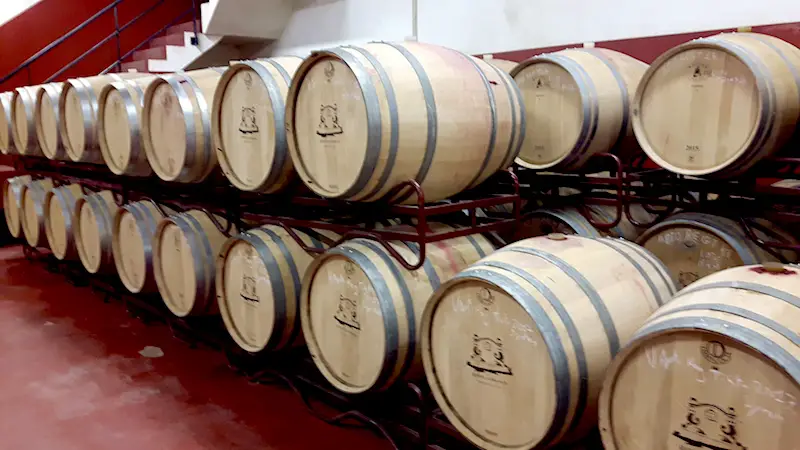 Not only is it delicious, it's also cheap!  Deciding it's only appropriate to support the local economy, we grabbed a bottle of white wine for dinner one night.  Deciding the 55¢ box was perhaps a little too cheap, we 'splurged' on the 99¢ bottle – turned out it was really tasty!  Two doors down from us is a vineyard so we need to buy and taste a bottle of their wine before we leave here too.
Looking Ahead
It might not sound like it, but we've actually had a lot of time to relax around the house, sit in the sun, pull some weeds, make orange juice and even get some work done!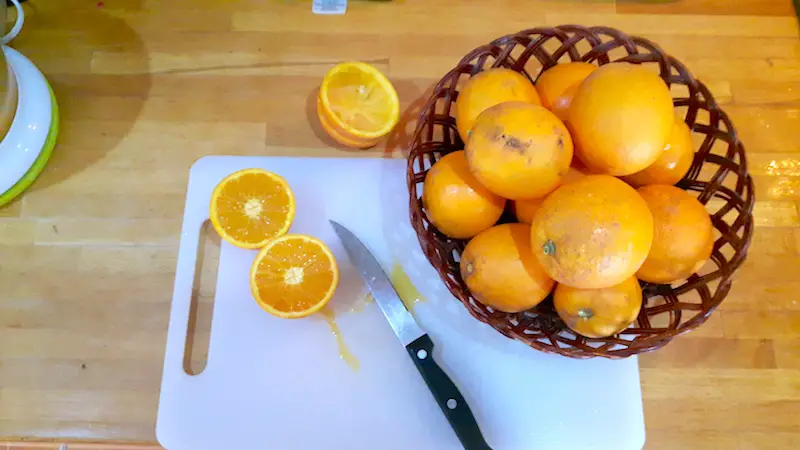 Somehow, we managed to confirm three, yes three, house sits within the last week so our summer is slowly getting planned around us too.  Which is great; we are ready for the warmer weather!  We are really loving Portugal but are definitely missing the Mexican temperatures.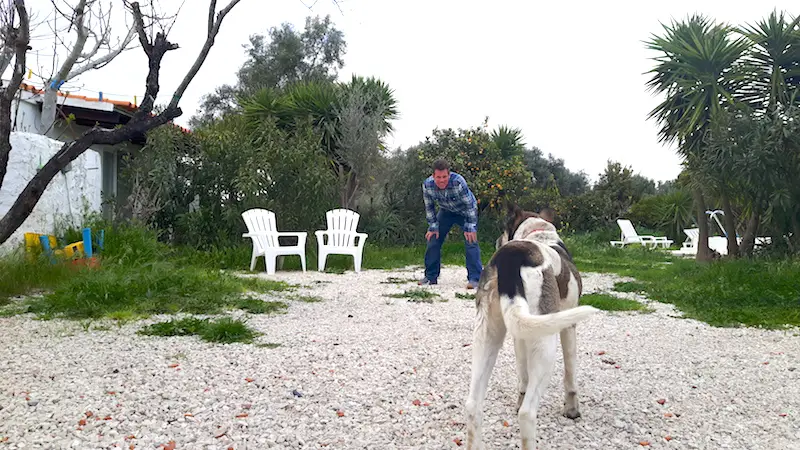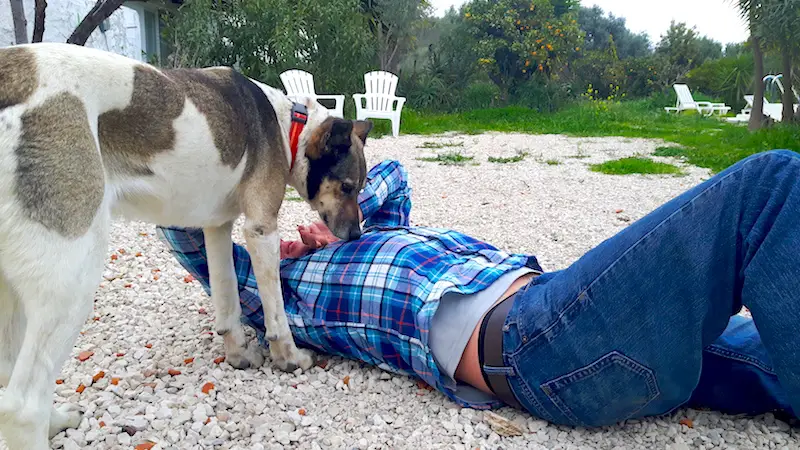 Find all our Travel Journals in one place.
Find other great destinations now.