Facts about Martinique: What you need to know to plan a great trip!
Some links in this post may be affiliate links. If you click on them we may make a commission from qualifying purchases at absolutely no cost to you.  Read our full Disclosure Policy here.
Who said you had to choose between European culture and Caribbean beaches?  This small island seamlessly blends Caribbean and French influences while also boasting mountains, jungle and beautiful beaches.  It's a one-stop-shop for an amazing vacation!  There are many interesting facts about Martinique you need to know to help you to plan an awesome trip.  Read our one week Martinique itinerary for ideas.
---
---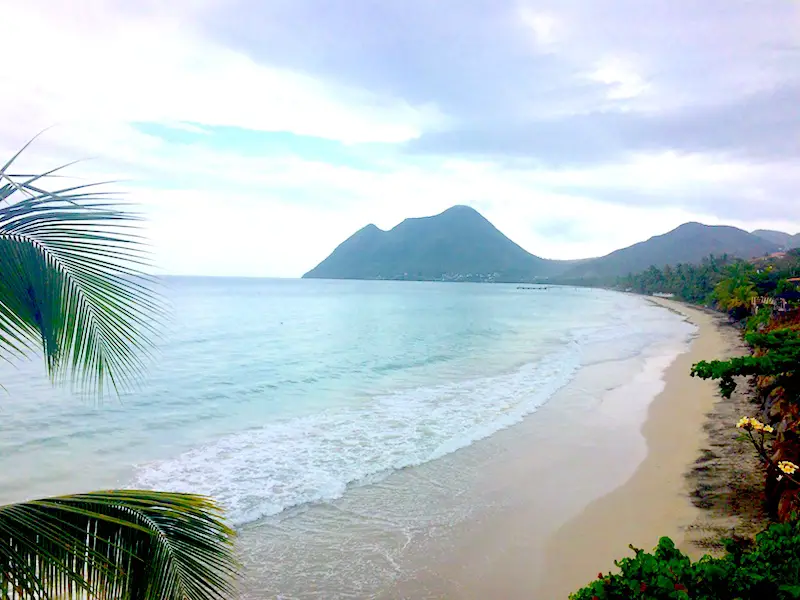 Martinique Facts
Getting Around
The main airport for Martinique is Martinique Aime Cesaire (FDF), found in the outskirts of the capital, Fort de France.  The other method of arrival to the country is by passenger ferry from either Dominica to the north or St. Lucia to the south.  Ferries are operated by L'Express des Iles and run daily between those three islands and Guadeloupe further north.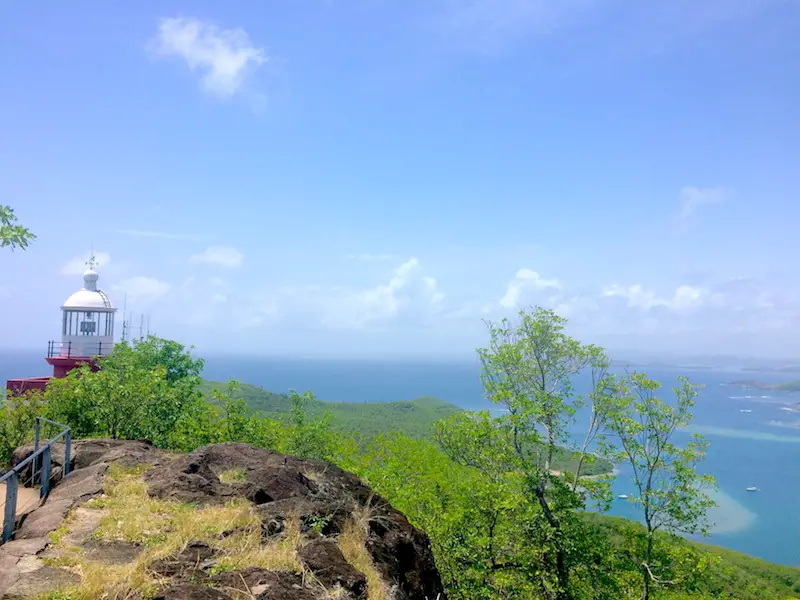 Public transport is limited throughout the island and so renting a car is the best option if you plan on exploring.  There are a number of international car hire companies found in the airport. Before booking, check carefully with the company depending on your arrival/departure times as we read many reviews complaining about limited office hours for rental companies.
Driving in Martinique
When driving around Martinique, you will be on the right side of well maintained roads.  Being part of Europe, roads are nicely paved, markings are clear and signage is adequate (although in French).  The northern part of the island is mountainous, however, so expect winding, hilly roads. Fort de France is a little trickier to navigate but with a good navigation app like Maps.Me you won't have any problems getting around the island.
Best Places to Visit in Martinique
Martinique has something for everyone.  The north of the island is mountainous, rugged and great for adventure.  Hiking up Mont Pelée should be on the active traveler's list. After summitting the volcano, you should head to the town and ruins of Saint-Pierre which was destroyed by the volcano in 1902.  Les Gorges de la Falaise are a perfect spot to enjoy the nature on offer.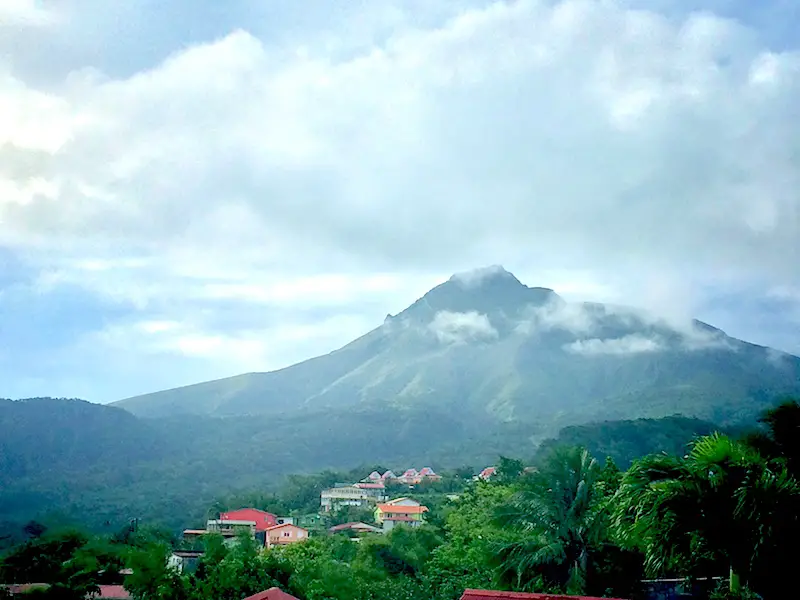 The eastern side of the island is where you want to head for water sports.  Surfing, kiteboarding and windsurfing are popular. Presqu'ile de la Caravelle is a gorgeous peninsula that is loaded with beautiful beaches and hiking trails with excellent views.  These trails are not challenging, anyone can do them, but are hot so pack lots of water!
In the flatter, drier south beach lovers are in heaven.  Beaches such as L'Anse d'Arlet and l'Anse Dufour were two of our favourites for both scenery and snorkelling.  The rock in Le Diamant is worth seeing too and we discovered the best viewpoint from the top of Morne Larcher (after a challenging hike).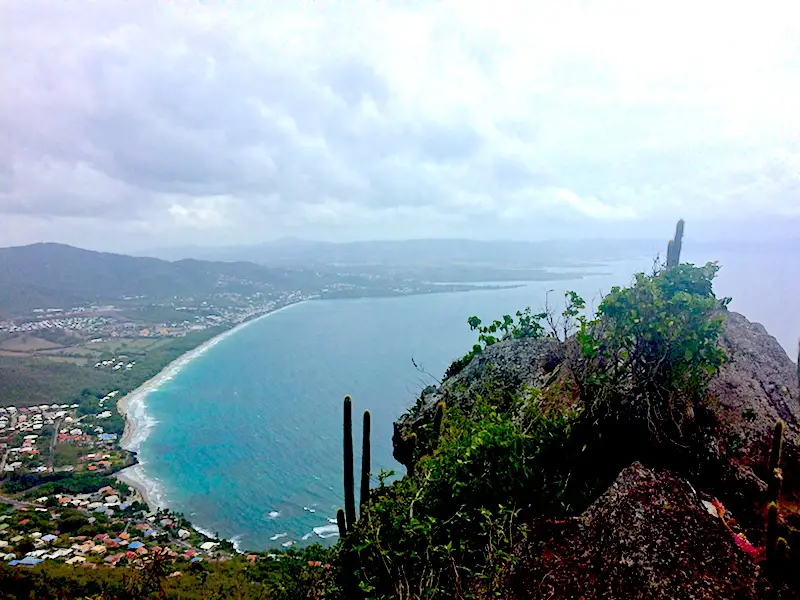 If you are coming to Martinique looking for history you won't be disappointed.  The city is a great spot to explore, especially the Schoelcher library and the spice market.  In addition to the ruins of Saint-Pierre in the north you can visit the slavery memorial at Anse Caffard and take a rum distillery tour in the south.
Best Beaches in Martinique
There are so many beaches in Martinique that it is almost impossible to name the best ones.
One of the most popular beaches in Martinique is Grande Anse de Salines, found near Sainte Anne in the southeast of the island.  The waters are generally calm for children although the beach can get busy on weekends and holidays.  L'Anse Figiuer isn't too far from here and is a great small beach for snorkelling.  This was also the only beach we visited with wooden picnic/sun shelters – handy as it rained our whole day at this beach!
Le Diamant is a long beach along the south coast of Martinique with views out to the rock.  The waters here are a little rougher and only for good swimmers but can be fun to play in as well as allowing for some watersports.
L'Anse d'Arlet is a nice beach with the backdrop of the cute pastel coloured town it is found in.  It is also an excellent spot for snorkelling as there are a couple of rocky formations just off shore that provide protection for a wide variety of colourful fish.  l'Anse Dufour is not too far from here. A pretty little cove that offers an excellent chance to swim with turtles as they feed on the sea grass.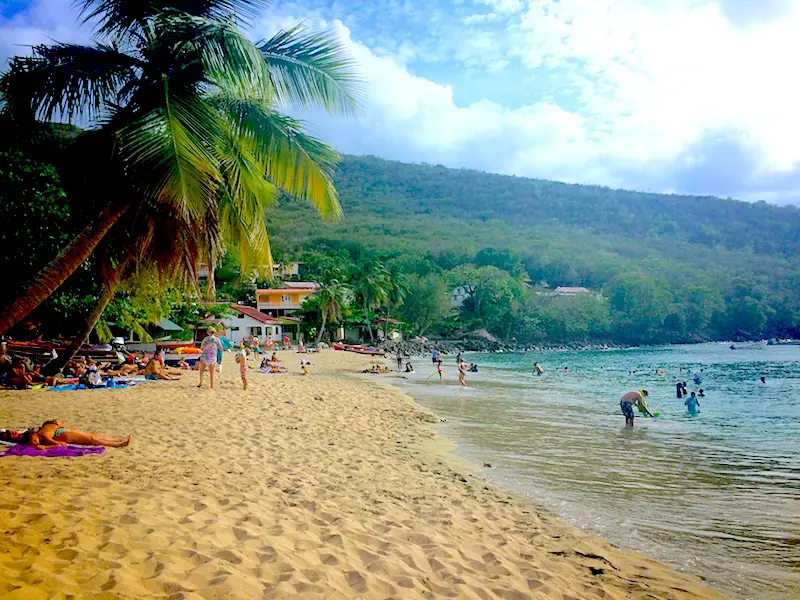 Martinique's Official Language
The official language in Martinique is French and due to the lack of tourism (other than French nationals from mainland France) there is very little English spoken outside of the tourist locations.  Be prepared with a translation app on your smartphone or a phrase book.
Currency in Martinique
Martinique uses the Euro as their official currency.  At the time of writing, the exchange rate is approximately:
€1 = $1.23US
€1 = $1.61CDN
However, you should check XE Currency Converter for current rates.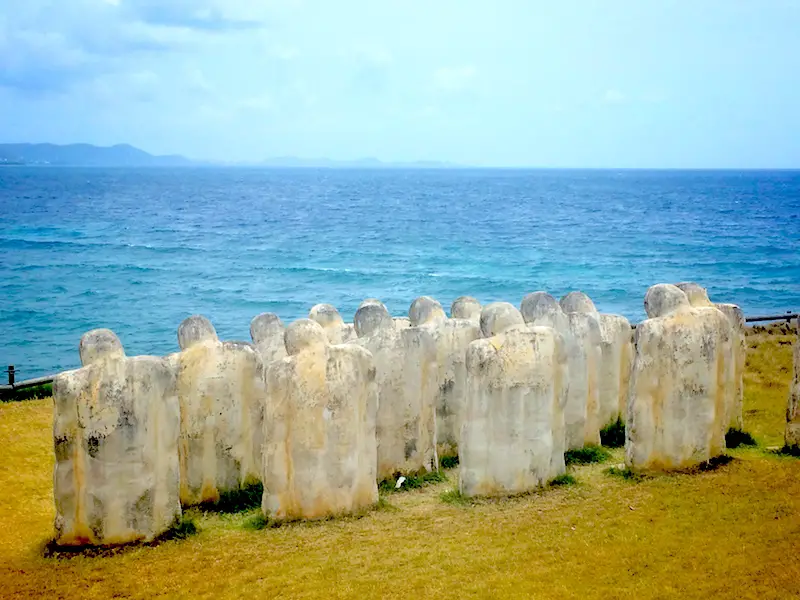 Electrical Outlets
As Martinique is part of France the electrical outlets are the same as used throughout Europe.  Having traveled throughout the Caribbean and Latin America with North American power outlets this one caught us off guard and we failed to pack a converter!  If you are renting a car it will likely have a USB port to plug in electronics but packing a European outlet converter will save you some headaches.
Medical Considerations
All visitors to Martinique are recommended to get Hepatitis A and Typhoid vaccinations.  Depending on personal circumstances Hepatitis B and Rabies may be suggested. There is no risk of Yellow Fever although if you are traveling from an at-risk country you will be required to show proof of vaccination to gain entry to the country.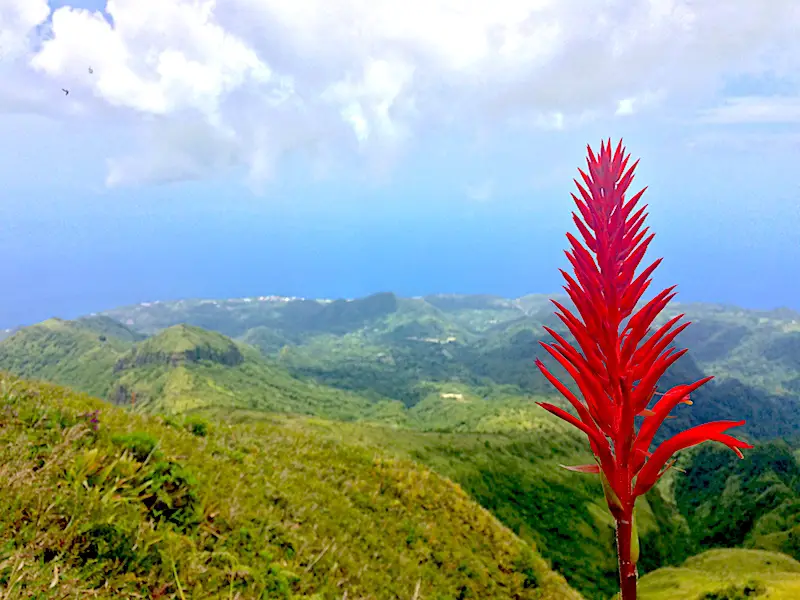 Currently, there is no Zika virus in Martinique although this if this is a concern for you be sure to check for updated information before your vacation.
Best Areas to Stay
The best area to stay in Martinique will depend on the activities you plan to do.  For hiking we would recommend that you stay in the north.  The town of Le Morne Rouge is a centrally located small town very close to the south trail of Mont Pelee.
The area of Le Tartane or Presqu'ile de la Caravelle are centrally located along the east coast giving great access to hiking, watersports and beaches.  This area has the most tourism along this coast and therefore the most options for lodging and dining.
Les Trois Îlets is the centre of Martinique's tourism.  Here you will find an abundance of accommodation options, restaurants and other conveniences for tourists.  If you would like something a little quieter, we recommend staying in Le Diamant.
Best Time to Visit Martinique
The temperatures are consistently warm year round.  However, December to April is the high season when the volume of tourists is much higher and everywhere will be much busier.  July to November is the rainy season with a chance of hurricanes.  Ideally spring would be an excellent time to visit as the tourist numbers dwindle but the rains haven't got too intense yet.  Having said that, you are sure to enjoy your time in Martinique in any season!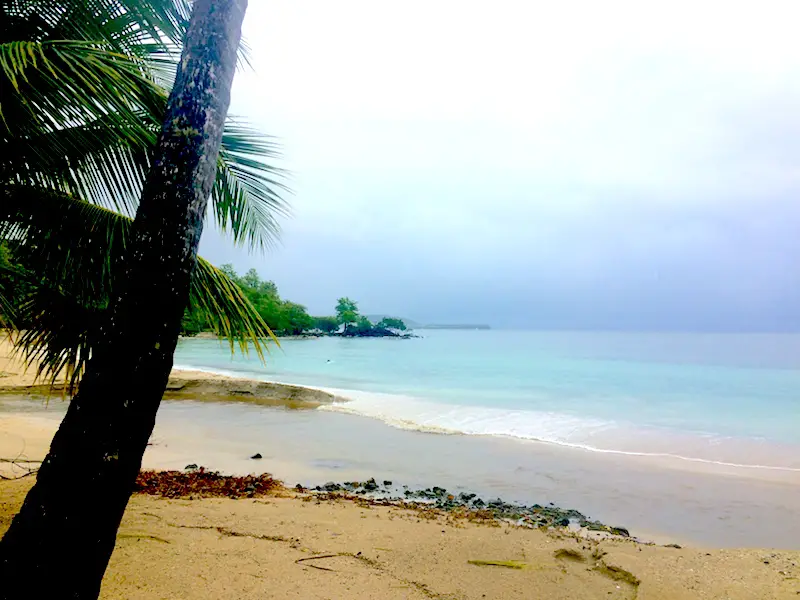 Safety
Martinique enjoys the benefits of France's strong economy and government.  This helps to make the island generally a very safe place to visit.  Normal precautions against theft should be taken and avoid dark, deserted streets in the city.
Things to Know
As part of France, take advantage of the excellent cuisine.  Delicious, fresh baguettes, a variety of cheeses and wines are readily available and cheap.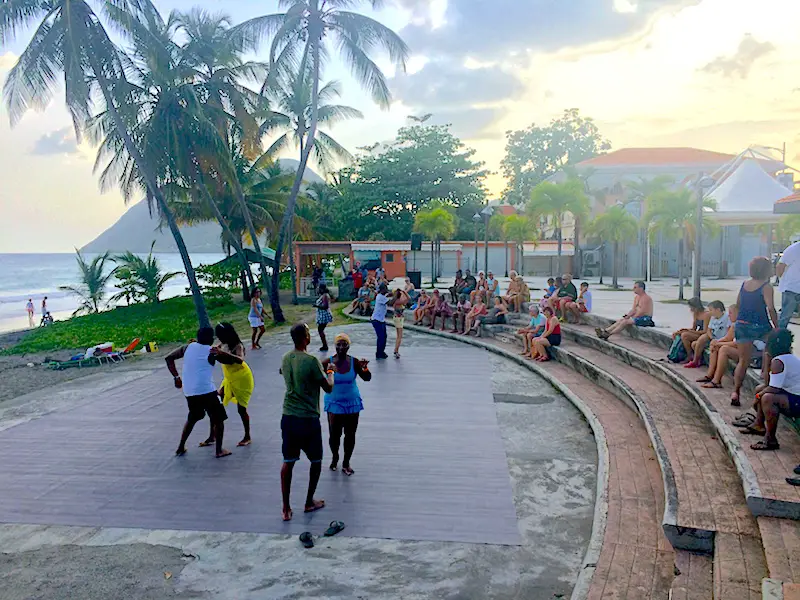 Due to this healthy economy, don't expect to be swarmed by people selling food and trinkets wherever you go.  This can be a good or bad thing!
Ti Punch is the local drink and should definitely be tasted before leaving the island.  It's made from rum, sugar and lime juice and is quite tasty.
Have you ever been to Martinique?  What did you think?  What were your favourite things?
Did you find this article useful?  Consider pinning it!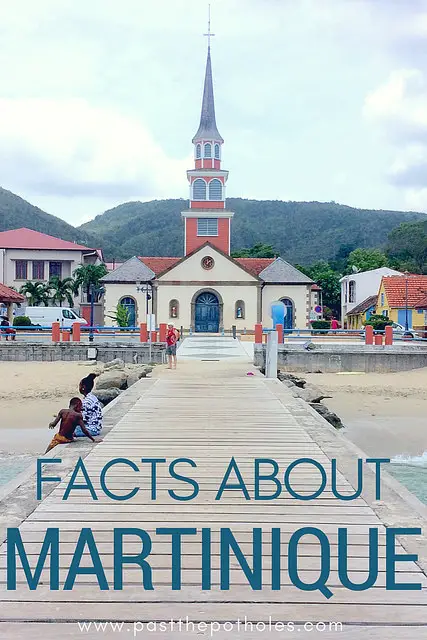 Go to our Destinations page to find trip ideas!