Buying Property in Nueva Gorgona, Panama
Some links in this post may be affiliate links. If you click on them we may make a commission from qualifying purchases at absolutely no cost to you.  Read our full Disclosure Policy here.
"Isn't this amazing? Tell me this isn't amazing!"  Bahia owner, Nueva Gorgona, Panama
This post is hard to write objectively because we have rented a place in Nueva Gorgona that is right on the beach, we're here for a month, it is easily the nicest accommodation we've had, AND the price per night is as cheap as any we've had on our trip. An unexpected bonus was the community – we were made to feel welcome within an hour of arriving.
I completely understand why we have met so many people with the same story. They came down for a holiday, fell in love with the area, returned for a longer holiday, and decided to stay long term.
If you don't mind walking to the beach…
This area of Panama has a wide range of residents. Many of the nicer homes and condos here are owned by afflluent Panamanians who want a getaway for the weekend and expats who want to escape winter. However, if you don't need to live the life of luxury, there are options available for those on a smaller budget.
I found this listing, that would suit someone who is happy to walk/drive and doesn't need the sound of waves breaking to enjoy their experience. It is not fancy, but once you're at the beach, you'll feel like a millionaire!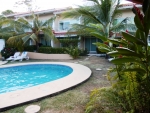 Our month
I couldn't help but include this listing. This is basically the same unit we lived in for one month. The view is spectacular! This one bedroom condo was more than enough for our stay and apparently there is a rental market. You can click here to visit the VRBO rental listing for the condo we rented.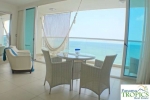 There are other condos available in different shapes and sizes. The following listing is the most expensive I could find in this development. It has three bedrooms, a huge balcony, and plenty of room to invite our new friends over for a drink! Claire and I had a chance to visit one of the penthouses. If the owners decide to sell, I expect that the price will be SIGNIFICANTLY higher than this listing.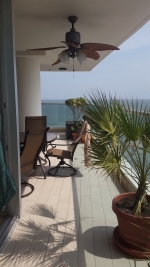 Are we in Panama?
This listing is in a community called Coronado. When you drive along the main road toward Coronado, you are 'welcomed' by a large gatehouse, reminiscent of a toll booth, that blocks the entire road. We have walked through the neighbourhood in which wealth is obvious.
I couldn't find many listings for oceanfront in Coronado. If I lived in a place like this, my blogs would be far more interesting! Maybe not? I might not leave the grounds at all!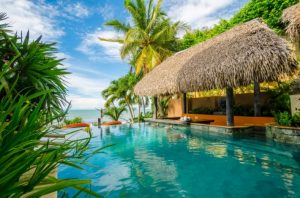 Some of the people we have met share that Coronado lacks authenticity. The grapevine suggests that moving to Coronado allows you to feel like you are still in the US, but summer never ends. The grocery stores in the area offer the same things you would eat at home (for an inflated price, of course) and you can stop at McDonald's for a quarter pounder or order pizza from Domino's if you don't feel like cooking. If that's what you're looking for, maybe Coronado is perfect for you.
Personally, if I had the choice, I would prefer to live at the beach and commute to the golf course. If that wasn't an option, this place would be an excellent consolation prize! There is a gate in the fence that takes you directly to the ninth hole.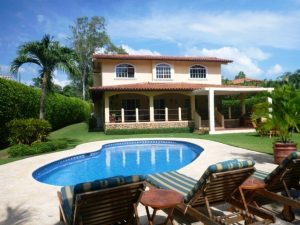 On the Rise
You can walk along the beach to Malibu Beach from Nueva Gorgona as long as the tide is out. I've heard (and seen) that development is abundant in Malibu and condos will soon line much of the beachfront. The draw to Malibu for me is the beautiful beach and the 'apparent' surf break. If I could walk out my door to surf, I'd be a happy happier man.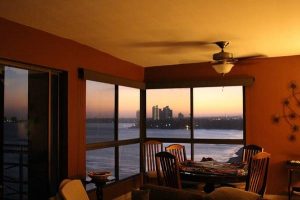 This listing has 4 bedrooms and 300 degree views. Everything I find in this building has a sold sticker in the top corner. If I had never traveled, I'd never believe that I could have a view like this for under $400,000.
So those are my picks for Nueva Gorgona. What do you think?
I don't think that this will be our last visit to Panama! Perhaps the next time we visit, we'll stay for even longer.
We've met many nice people in Nueva Gorgona and a few conversations have resonated with me.
"If you are looking to buy in Panama, I would suggest that you rent for at least six months first. You want to experience the high season, low season, good weather, bad weather, neighbours, etc." 
"If there are 4500 expats living in Panama right now, 4000 are realtors."
"Many people have come here and left shortly after.. They became frustrated because they expected everything to work the same way it does at home. IT DOESN'T! If you are moving here, you will have to adapt."
Check out some of the other places we're considering.
Buying Property in Jaco, Costa Rica