Amazing Day Trips from Panama City you will Love
Some links in this post may be affiliate links. If you click on them we may make a commission from qualifying purchases at absolutely no cost to you.  Read our full Disclosure Policy here.
We were blown away when we visited Panama.  I knew we would like the country but didn't realize how much.  Without travelling to its more famous and remote locations, I expected to be underwhelmed.  We chose to have a home base rather than move frequently and tire ourselves out.
It turns out there are so many unique day trips from Panama City, Panama that travelling the lengths of the country isn't necessary to see Panama's natural beauty.  If this Central American country isn't already on your must-visit list it should be!
Besides the unique high rise capital city and its famous canal, Panama is renowned for mountain landscapes, tropical jungle, excellent biodiversity as well as picture-perfect beaches.  Just about every list of the best places to visit in Panama will include the city, Boquete, San Blas Islands and Bocas del Toro.
However, to visit these locations requires an enormous amount of travel.  While these are all excellent places to visit, if your trip is short or you don't want to spend so much time in transit, there are still many amazing places to visit as day trips from Panama City.  While everywhere on this list can easily be visited as a day trip from Panama City, a couple of them would make for a great overnight option.
Panama City
You will almost certainly be flying into Panama through Tocumen airport, just east of Panama City.  While many people use this as a transit city, there are so many things to do in Panama City that it is easy to take a few days here and not get bored.  This makes a great option for a home base with so many day trips from Panama City that will let you see what this country has to offer.
Panama City is considered an expensive location for Central America.  While you might not find the same deals as other cities in Latin America, there are many free things to do in Panama City to have a great time without blowing the budget.
How to get there:
From the airport, you have a couple of options to get into Panama City depending on time and budget.  You can take a taxi into the city.  This will cost $35 to Albrook Terminal at the far end of the city.
Alternatively, you can walk out to the highway from the far right side of the terminal and catch a bus.  Metrobuses require a card which you cannot buy at the airport so either ask someone to swipe for you and pay them the $1.25 in cash or wait for a white 'coaster' bus (white mini-buses with about 30 seats).  Just ask if they are going to where you need (this option will require some Spanish and knowledge of your destination).
---
---
We like to travel independently when possible but sometimes you just need to join a tour.  Check out these amazing day tours from Panama City:
---
---
Day Trips from Panama City
Here are 9 Panama City day trips that you may not have heard of.  We are sure you will have an amazing time no matter which you choose!
In no particular order:
1.  Pearl Islands
You've heard of the San Blas Islands, right?  This idyllic paradise consisting of a set of pristine islands in the Caribbean with indigenous cultures you can visit is one of the most popular places to visit in Panama and for good reason.  However, these trips are very costly and, as a day trip from Panama City, are incredibly long.
If you are short on time, or funds, you could consider opting for a trip to the Pearl Islands instead.  These are the islands you can see from the city.  There are ferries to Contadora Island and Taboga Island right from the Amador Causeway, as well as organized day trips available.  July to October you could also take a whale watching trip from these islands.  As day trips from Panama City go, this one could be perfect!  As a bonus, these islands receive far less tourist traffic.  There are a couple of simple places on the islands where you could choose to stay for a night.
How to get there:
Take a Metro Bus to Amador Causeway and then the ferry to the island of your choice.  Alternatively, book a day trip that picks up at your hotel.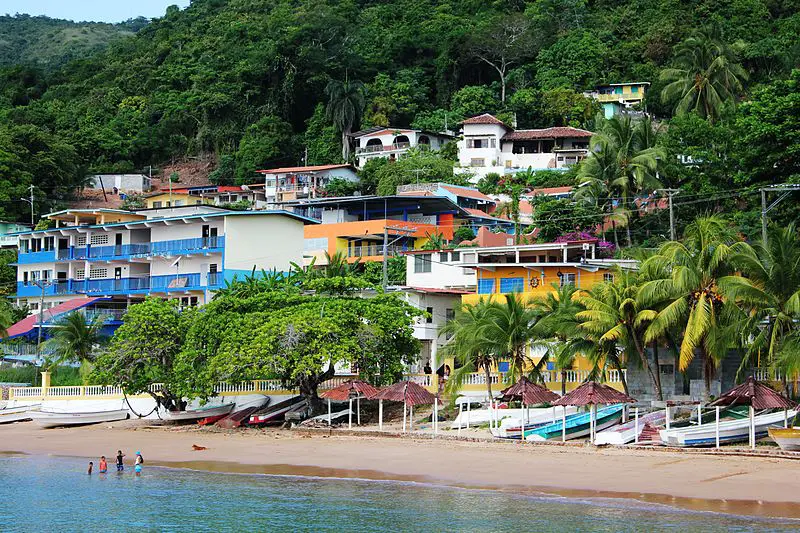 2.  El Valle de Anton
Do you want to hike and explore Panama's rich biodiversity without travelling all the way to Boquete?  About two hours west of Panama City is El Valle.  Cheap and easy to get to, it is well worth a visit, and probably our favourite of all Panama day trips.
El Valle de Anton is apparently the largest town in the world built within the caldera of a volcano.  Thanks to its rich volcanic soil and perfect climate, it is teeming with plants and wildlife.  We saw a toucan and a sloth right off the main road!  This is one of the top places to visit in Panama for hiking, waterfalls and nature.  We stayed just an hour from El Valle so we took multiple day trips rather than stay overnight and could have easily gone back for more.  However, consider staying for at least one night and visiting more of El Valle's attractions.
---
---
How to get there:
Take a taxi, Metro Bus or the Metro to Albrook Terminal.  From here direct buses to El Valle leave every hour on the hour for around $4.50.  Be careful not to take a bus to 'Anton' – this is not the same place!  The last direct bus back to the city leaves at 4:30 pm but there will be buses to the highway for a few more hours.  From there, you can catch any bus heading back to Albrook.
If you're not quite ready to tackle the public buses, or don't think your Spanish is up for the challenge, this private day trip to El Valle de Anton is a perfect alternative.  Check it out now!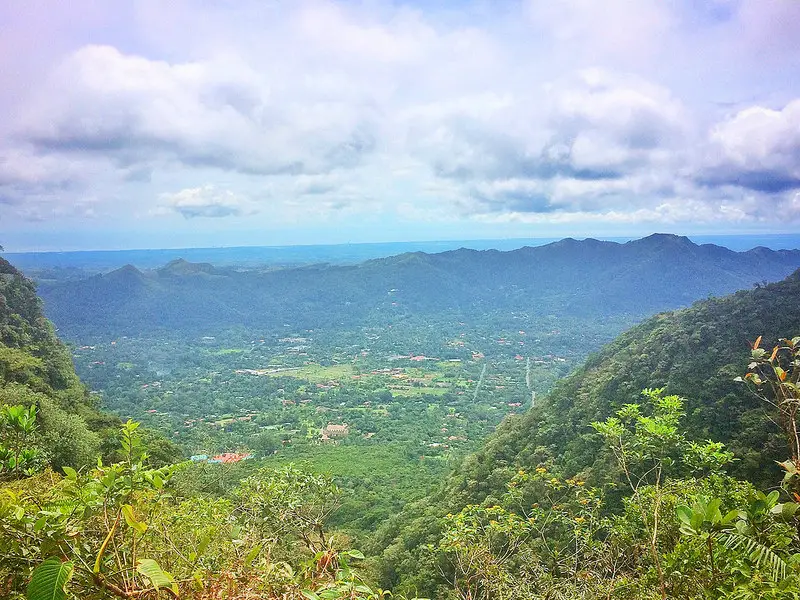 3.  Punta Chame
Looking for a Panama day trip that gives you unspoiled beaches and adrenaline sports?  About an hour outside of the city lies the long, thin peninsula called Punta Chame with its white sandy beach and watersports.  During the windy dry season, this is THE place in Panama for kiteboarding and windsurfing.   If you like action, this is one of the best places to visit in Panama.
Watch the local fishermen haul in their catch on the lagoon side or find a stretch of sand to relax.  Families with small children can choose the calm lagoon side while those looking for bigger waves and a nicer beach can head to the Pacific side.  If you're looking for some real fun (and budget's not an issue), book a night or two at the Nitro Sports Resort for a wide variety of activities and sports right in the beachfront hotel.
Read more about our day trip to Punta Chame in our Travel Journal entry for Week 10.
How to get there:
From Panama City, take any bus heading west along the highway.  Buses to El Valle, San Carlos, Anton, Penonome and Chitre among others will all take you there.  From the west, most buses heading east towards Panama City will work.  In either case, check that they stop at Bejuco and ask to get off at 'el parque'.  Walk west for a few minutes along the highway and on the north side there is a mini plaza with the Punta Chame bus tucked in behind.
The price of your first bus will depend on your starting point but shouldn't be more than a few dollars.  The Punta Chame colectivo will be $1.25 to the end and will drop you off anywhere along the point.  The last colectivo leaves the peninsula at 4:30 pm so start your day early or stay overnight.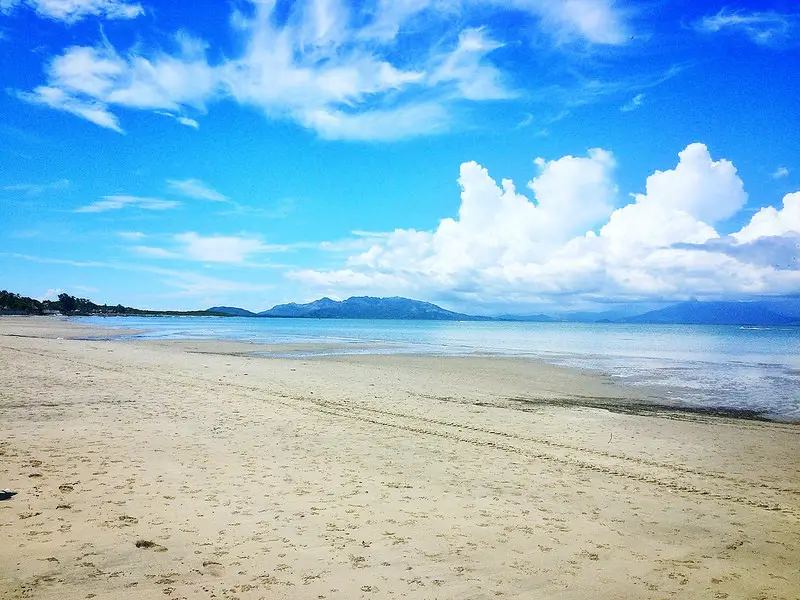 4.  Emberá Village tour
If learning about the native cultures of Panama is of interest to you, a day trip to Emberá Village is one of the best places to go in Panama.  You will need to book a tour but this includes opportunities to travel in a traditional canoe, watch rituals, learn about their culture and meet villagers.  You will even be served a traditional lunch.
How to get there:
Book a tour. Any one of these Embera Village tours would be an incredible day.   Find out what's included now!
Some of these excursions even combine Monkey Island or a jungle tour with the indigenous village.
5.  San Carlos
San Carlos is a small beachfront community and one of the closest surfing spots to the city.  On Playa Riomar, there are a few surf shops for lessons or rentals and a couple of beach restaurants.  Be sure to check ahead though as waves are not guaranteed.  When we visited, the waves were just enough for the kids to ride but anyone with any experience would have been disappointed for sure.
How to get there:
From Panama City, take a bus to San Carlos, or one that goes further such as El Valle, Anton or Penonome.  Get off at the overpass and continue to walk along the highway until you reach the next small road heading toward the beach on the left, not into town.  A river separates the main town from Playa Riomar, the surfing beach.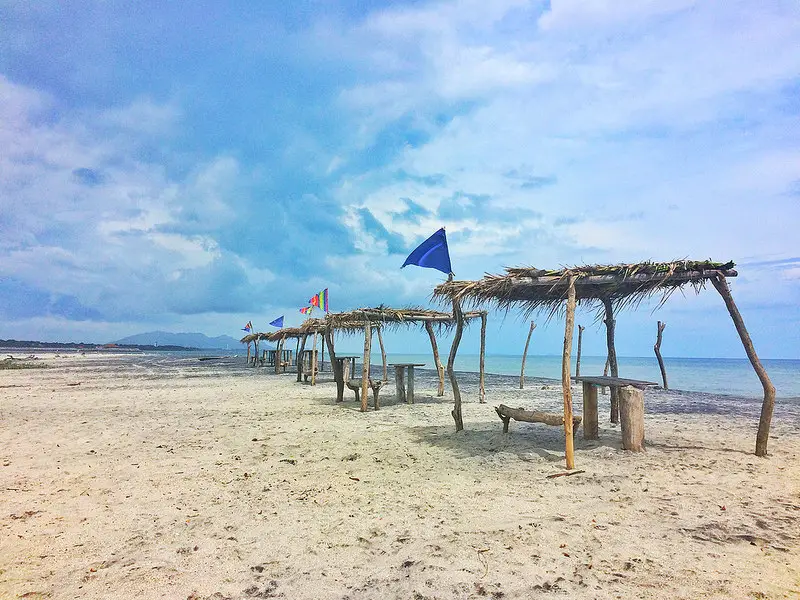 6.  Los Cajones
If you are looking to make day trips from Panama City that you won't find in other people's vacation albums, this is the one for you.  You can easily do this as a day trip from Panama City but will almost certainly need your own car.  We didn't make it here as you should really only go in the dry season, however, people we met highly recommended this destination and the pictures look stunning!  Swim in the gorge created by the rushing waters, climb the rocks and relax in a beautiful piece of nature.
How to get there:
Los Cajones does show up on Google Maps.  Your best bet is to enter the destination and let the app guide you in your vehicle.  If you don't have data, begin the journey before leaving your hotel and it will continue to work while driving.  You could get a bus to Bejuco and a taxi from there, but the way back is the problem so your own car (or rental) is highly recommended.  Take the Panamerican Highway to Bejuco and turn right at the Texaco gas station.  From here you can drive the side road to the site in a 4x4 or park at a little restaurant and walk or take a truck shuttle.
---
Don't feel like leaving the city?  
---
7.  Nueva Gorgona
We chose to stay in Nueva Gorgona for our time in Panama.  About an hour and half to Panama City, an hour to El Valle, and on the beach it was a perfect spot for us.  The beach is an interesting mix of almost white sand and sparkly black volcanic sand.  It goes for miles and has a surf break at each end.  One at the point of Coronado Beach and the other is at the river mouth of Playa Malibu (a decent walk west along the beach).  If you're lucky, you might find a beach volleyball game to join in the afternoon and you could enjoy delicious food and drink at the few beach restaurants on weekends.
How to get there:
Take a bus out of Albrook Station heading west (same buses as for San Carlos) and ask to get off at Nueva Gorgona.  From the highway, it's about a 45-minute walk to the town and beach but there is a little collective bus that runs a loop continuously for 30¢.  You shouldn't have to wait more than 25-30 minutes.  Ask to get off at La Ruina and it's a short walk down to the beach from there.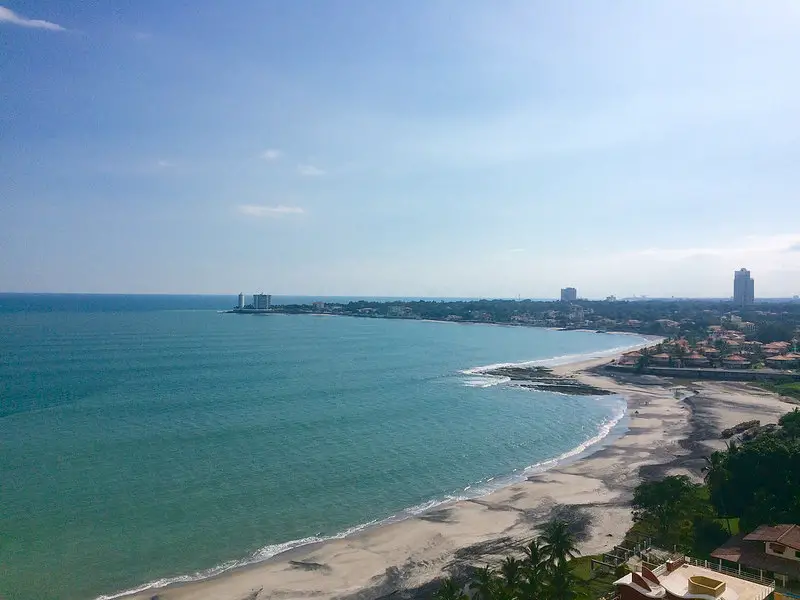 8.  Soberanía National Park
Just 45 minutes from Panama City is an enormous area of rainforest that runs adjacent to the canal.  You will find hiking trails, waterfalls, exotic wildlife and a zoo here for a great escape from the city.  Hidden in the Gamboa Rainforest is the Gamboa Rainforest Resort.  This is a highly rated option to spend a night or two in the rainforest and they run many tours and activities.  You could combine the national park with the Miraflores locks at the canal for a full-day tour.  There aren't too many cities with their own rainforests!
How to get there:
This is the tricky part.  Day tours from Panama City to Soberanía National Park are the easiest way to get to the area.  Without a tour, you need access to a car.  If you don't have your own vehicle you can get a taxi but be sure to arrange a pick-up or pay by the hour for them to wait for you.  As always, agree on a price before you start.
Tip:  A closer option is the Parque Metropolitano if transportation proves challenging.
9.  La Laguna de San Carlos
This is a small lake surrounded by nature that is popular for camping.  From Panama City, it will take you about an hour and a half to two hours to arrive.  You can spend time around the lake or hike up the nearby mountain for a spectacular view.  A day trip is possible but I think the real value of this location is as an overnight camping spot.
How to get there:
The bus stop is just east of Coronado at the Texaco station on the north side of the road.  From there you can get a collective bus up to the lake.
What do you think of our list of the best day trips from Panama City?  What are your favourites?   Let us know in the comments below!
Found this post helpful?  Pin it!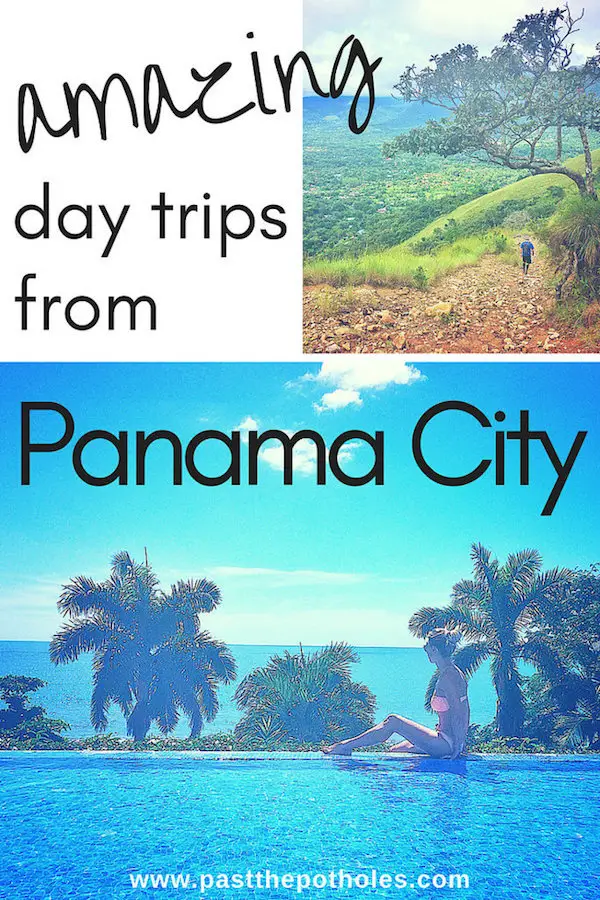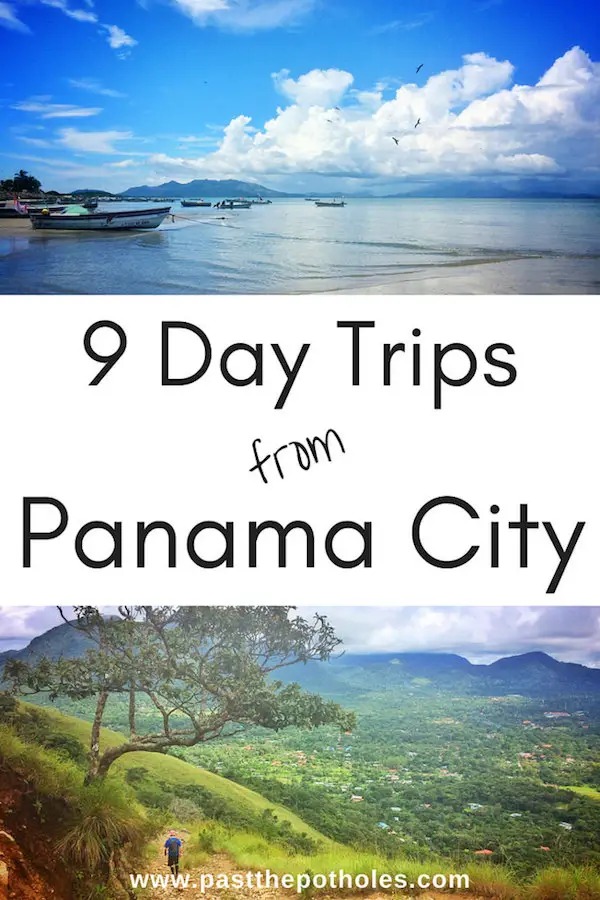 Return to our Destinations page here.

---
Some links in this post are affiliate links.  That means if you click on them and make a purchase we will make a small commission at no cost to you. Thanks for your support!
---