What to see in Seville, Spain in One Day
Some links in this post may be affiliate links. If you click on them we may make a commission from qualifying purchases at absolutely no cost to you.  Read our full Disclosure Policy here.
A favourite Spanish city for many is Seville.  With its beautiful weather, amazing architecture and interesting history all set along the banks of the Guadalquivir River it's easy to see why.
There are so many things to do in Seville, Spain it would be a while before boredom set in.  Many people choose to study for a semester here, or just move here permanently!  We would have loved to have a little more time to explore the many alleyways and river walks in this incredible city.  But if you are limited in time, you may be wondering just what to see in Seville, Spain in one day.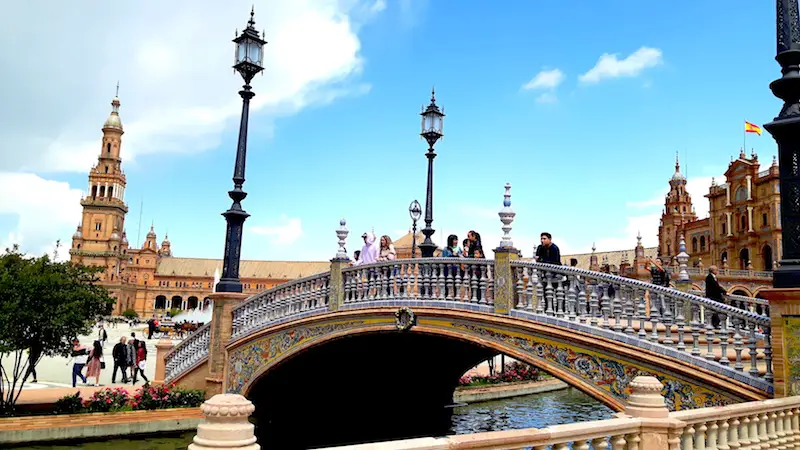 While you may be left wanting more, one day is enough time to see the major sights and get a taste of this amazing city, the capital of Andalusia.  Still wondering what to do in Seville, Spain?  Read on!
What to see in Seville, Spain in One Day
Free Walking Tour, Seville (Spain)
Undoubtedly the best way to cover many of the top things to see in Seville, Spain in a short amount of time is to sign up for a walking tour.  This is definitely one of the best things to do in Seville, as evidenced by the sheer volume of tour companies providing free walking tours in Seville, Spain.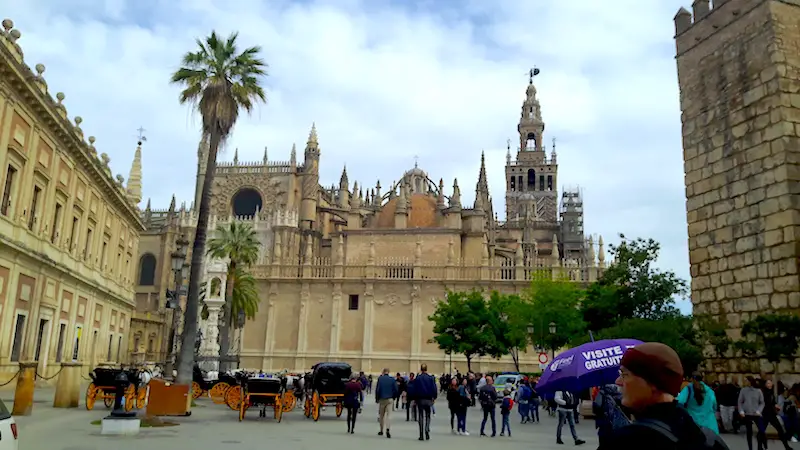 After some research, I chose a monuments tour with Feel the City as it lasted longer than others and I hoped therefore, covered more ground.  We also took a free flamenco tour with Heart of Sevilla and they both were great.
However, there are many to choose from.  Monuments tours, Legends tours, tours of specific neighbourhoods.  If you're looking for a walking tour, there are many free options, just choose the one that most appeals to you.
There are a lot of things to see in Seville, Spain and it's lot of walking to see them all!  If you'd rather not put that many miles on your shoes, perhaps you'd be interested in something a little different?  Check out these fun tour options now!
Parque Maria Luisa, Setas de Sevilla, or a River walk
You've covered many of the places to see in Seville, Spain and it's only lunchtime.  Wondering where to eat in Seville, Spain?
You will probably be hungry by now and the streets around the cathedral are filled with everything from pizza slices to fancy restaurants.  However, the following suggestions are some alternatives that will combine more of the best things to see in Seville with your lunch!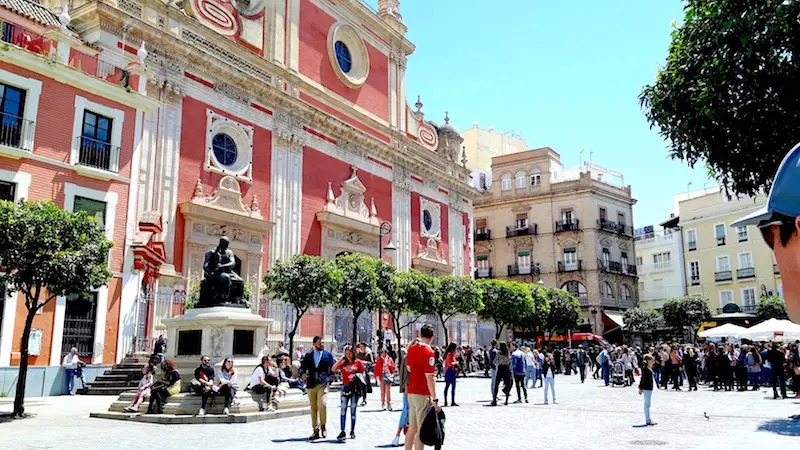 The tour most likely ends at Plaza España and Parque Maria Luisa.  This park is huge and well worth exploring, particularly if you would like a place to relax for a while after all that walking!  It is definitely one of the best free things to do in Seville.  Grab some food from the vendors and have a picnic.
Alternatively, make your way north to the Setas de Sevilla.  This modernist, mushroom looking 'thing' stands out like a sore thumb in such a historical city.  However, it's worth seeing if only to shake your head at it and the view of Seville is pretty good from the top.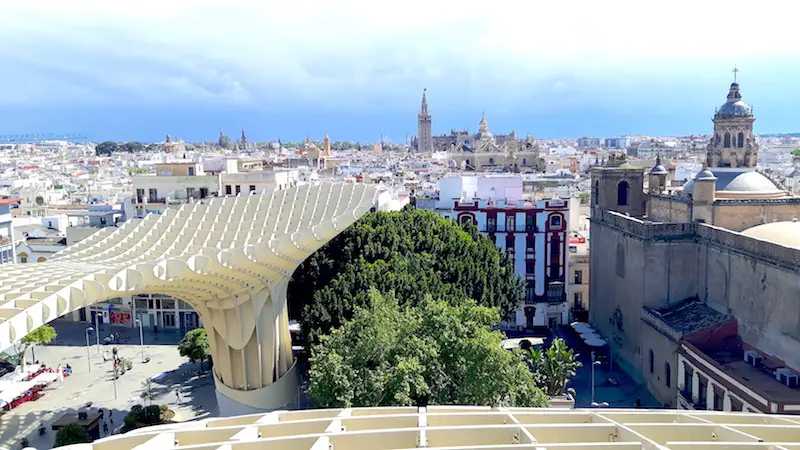 The Plaza del Salvador had a fun atmosphere with a number of bars and restaurants having tables in the square.  It's a little further north, conveniently located between the Seville Cathedral and las Setas de Sevilla.
If your feet still have life left in them, the river banks of the Rio Guadalquivir have some great paths and park space along them.  Take a stroll and do some people watching.  The Triana Market is worth a look and a great place to grab a bite to eat.
Alcázar
We happened to be in Seville over a holiday weekend so the lines at both the Alcazar and cathedral were wrapping around the buildings.  Needless to say we didn't see the insides!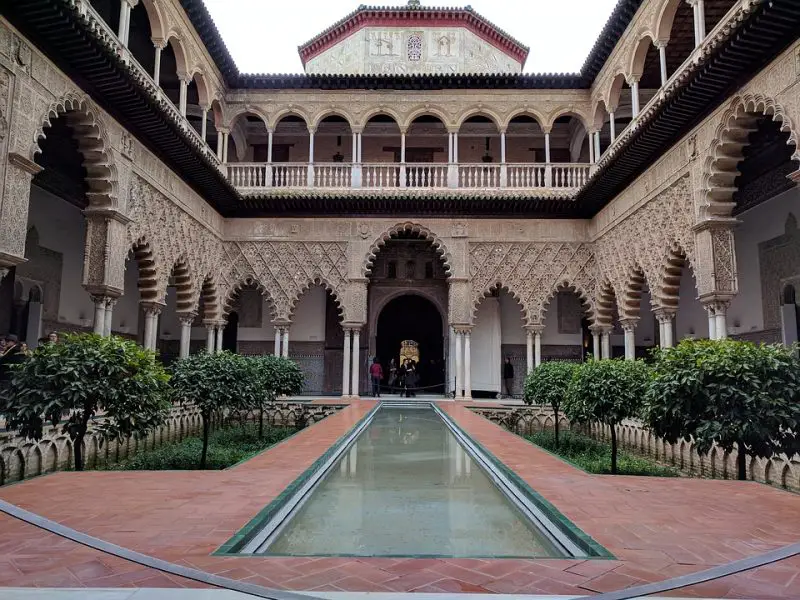 Our walking tour guide explained that the line is ALWAYS  at least an hour long and the only way to skip it is to pre-book a guided tour.  She also emphatically stated that if you only have time to visit one monument in Sevilla, the Alcazar should be it!
Check prices and availability for this highly rated Alcázar of Seville Skip-the-Line Tickets & Guided Tour now!
If you would like to also see the inside of the cathedral, this tour, Seville: Cathedral & Alcazar Entrance With Guided Tour, will get you access to both.  Check details now!
Explore Santa Cruz neighbourhood
After your tour ends, you will already be on the edge of the the Jewish quarters, known as Santa Cruz.  This maze of narrow streets an alleyways is a great place to wander and get lost.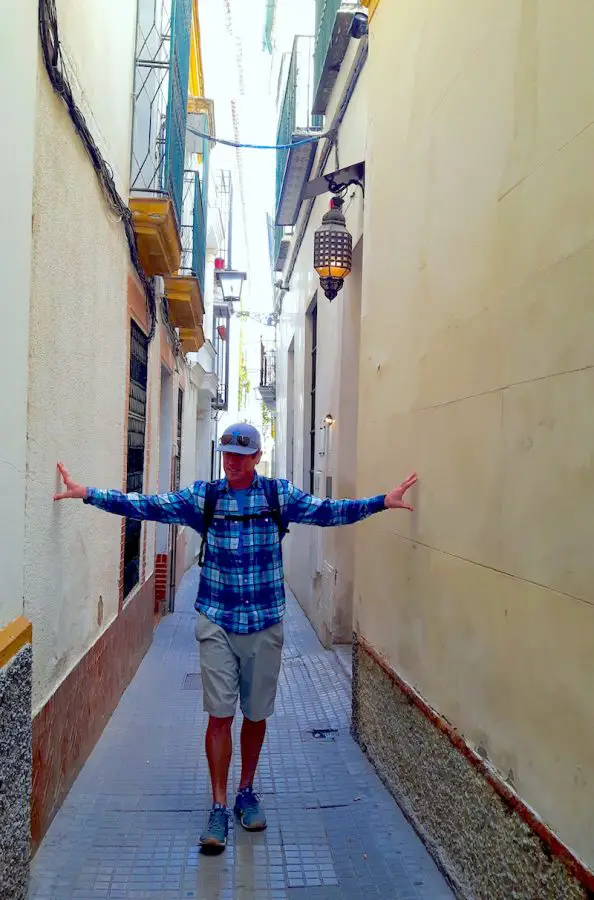 Stop for a drink and a rest in one of the many cafes in little plazas dotted around the area.
If you didn't go earlier, the evening is a great time for a stroll along the river banks.  The Triana Bridge is lit up at night and looks beautiful reflecting against the water with the sun setting behind.
Evening Entertainment in Seville, Spain
Seville is known as the home of flamenco dancing.  If you are interested in another free tour, Heart of Sevilla offers a free flamenco tour every evening.  The tour takes you through the history of the dance, points out some significant locations and ends at a free flamenco show.
Skip the tour and head straight to the show!  By the time our tour ended, the flamenco bar was so packed (the patio had been cleared due to rain), we couldn't see a thing.  Get there early enough for a great view and watch for as long as you like.  The tour ends at the highly recommended La Carbonería as this provides a free, and more authentic experience.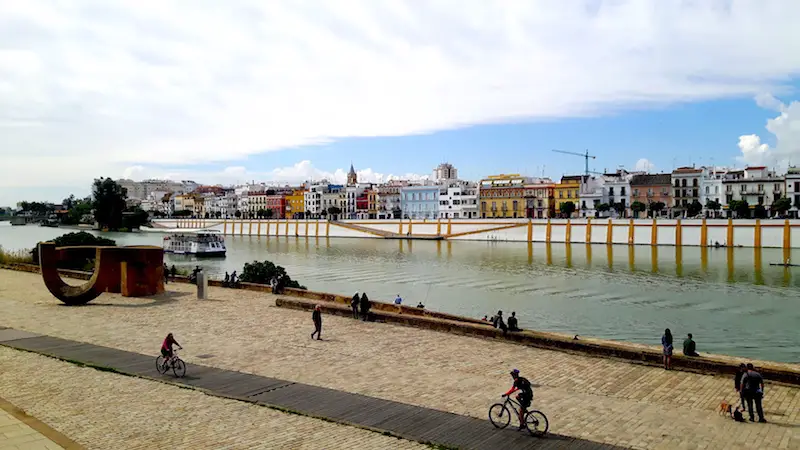 If you're looking for some fun, Calle Betis, in the Triana neighbourhood, is where to go in Seville for nightlife.  Just don't go early or you'll be partying alone!
For dinner, go to one of the many tapa restaurants around the cathedral.  If you're feeling brave, or on a budget, go to one that offers 5 surprise tapas for around €10.
Do you have more than one day in Seville?
First of all, lucky you!  Seville makes the perfect home base to explore southern Spain or just soak up the vibrant Spanish culture.  Three days in Seville just might be the perfect length of time to see the main sights and still have time to wander aimlessly and relax in a square to watch the world go by.  Why not consider Seville for your next long weekend getaway?
---
So there you have it: what to see in Seville, Spain in one day!  I hope you find this useful when planning your own trip to this amazing city.
Travelling in Europe isn't the easiest on the wallet!  These excellent budget saving tips for various European destinations will help.
Have you ever been?   What were your favourite things to do and see in Seville, Spain?
Save this article on Pinterest now so you can easily find it later!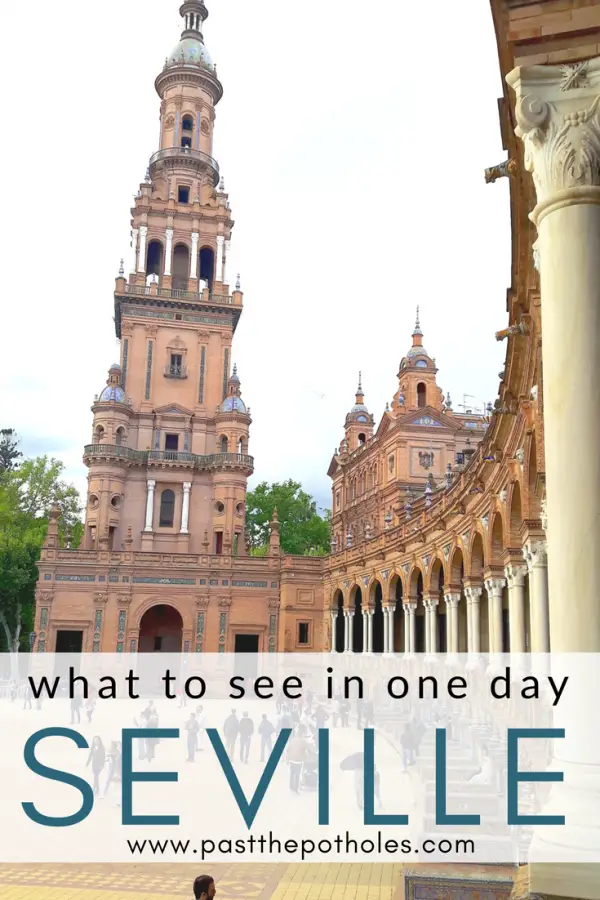 Go back to our Destinations page.
---
Some links in this post are affiliate links.  That means if you click on them and make a purchase we will make a small commission at absolutely no cost to you. Win-win, right?  Thanks for your support!
---