Have you ever been to Tarifa in Spain?  When we began planning our trip to Spain, Tarifa wasn't on the list.  In fact, we'd barely even heard of it.  Looking for a way to get to Morocco, we settled on staying just a couple of nights in this town.
As it turns out, there are a load of awesome things to do in Tarifa, Spain and it deserves much more time!  It didn't take us long to rearrange our plans and extend our stay.
If you like the outdoors, seriously consider putting Tarifa at the top of your list.  You'll thank me!
15 Amazing Things to do in Tarifa, Spain
Kitesurfing in Tarifa
Most people come to Tarifa for kitesurfing.  It is undoubtedly the most popular reason to visit Tarifa.  The town's position as the southernmost point in Europe means that it gets perfect winds for most of the year.  The long and wide expanse of sand has plenty of room to set up kites as well.   May to October have the most consistent winds and are your best bet if this is your primary reason for visiting Tarifa.
We were told that the conditions are a little challenging for beginners but the added bonus of taking kiteboarding lessons in Tarifa is if you can ride here, you can ride anywhere!  Terry wrote about his experience learning to kitesurf with Freeride Tarifa.  You'll find it useful if you are trying to choose a kitesurfing school.  Tarifa has so many it can be really confusing.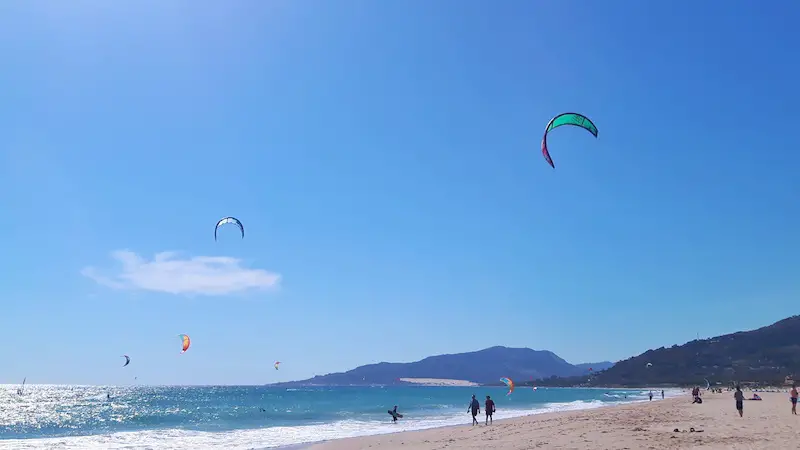 Surfing in Tarifa
While surfing in Tarifa doesn't compare to Spain's north coast, there are times when the waves can be just right.  Better surfing can be found in the area at places such as in Barbate and El Palmar.  The best waves are between October and May although the summer waves can be good for beginners.
Seville makes a perfect day trip! Discover what to do.
Mountain Biking near Tarifa, Spain
With two natural parks on the doorstep, there are numerous options for mountain biking around Tarifa.  No matter your experience level or interests, there will be a perfect trail.  Biking into the mountains, along the coast or in the countryside are all options and there are a number of companies offering rentals or guided tours if you don't have your own equipment.  You can find more information about some biking trails here.
Explore the Old Town, Tarifa
While it can't compare with nearby cities like Seville for history, Tarifa's old town is well worth a stroll.  Between it's narrow cobbled streets, white-washed buildings and plazas, it's an enjoyable place to explore.  There are also a wide variety of stores, food and drink options and a pretty good nightlife scene.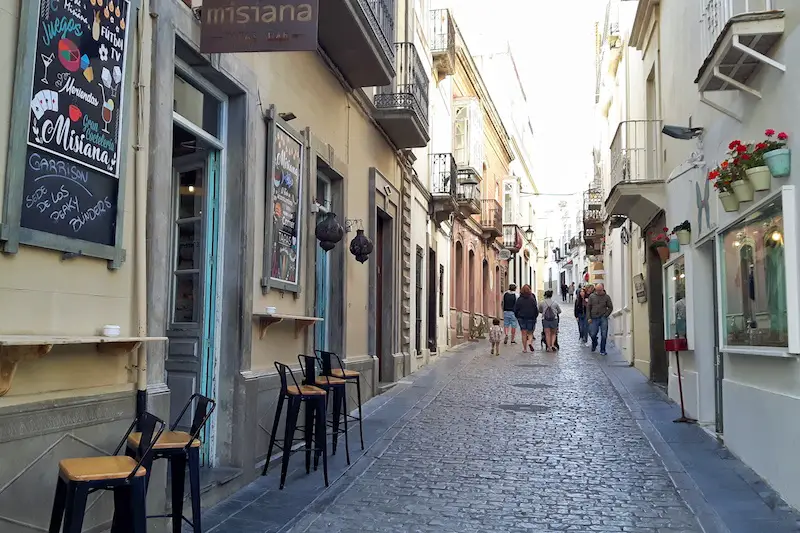 Longboarding in Tarifa
Tarifa has an awesome dedicated biking/running/skateboarding trail that follows the promenade and loops around part of town.  It is smooth, car-free and relatively flat – the perfect place to get some fresh air and exercise!
We took a long boarding lesson with Girls Love Boards and had a fantastic time.  If the wind and waves have disappeared you may be wondering what to do in Tarifa.  This is a great option as you can practise the same skills on a different kind of board.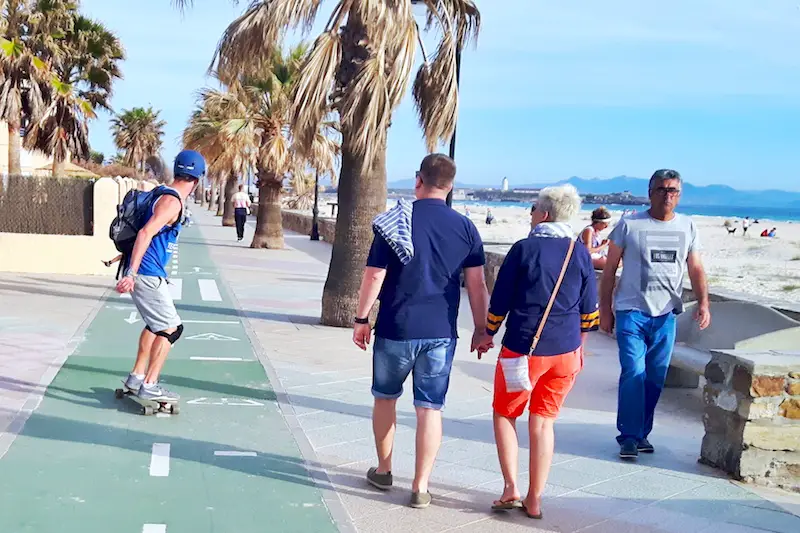 Discover Tarifa's History
For history buffs, there is enough to keep you busy.  Hiking along the Mediterranean coast offers various ruins including Punta de Oliveros, Torre Vigía Guadalmesí and bunkers looking across the Gibraltar Strait.  In town, there is the Castillo de Guzman el Bueno.
Take a ferry to Tangier, Morocco
The Tangier to Tarifa ferry takes just one hour to cross travel 32km.  Our plans began as a day trip to Tangier but quickly morphed into a one week Moroccan adventure.  Whatever you choose to do, a side trip to Africa is a must!
While tours are readily available, we would recommend simply taking an early ferry on your own.  The Medina of Tangier is within easy walking distance of the port and you can skip the obligatory hard sell in a carpet shop that is mentioned in every tour review I read.
However, the tours do include a few spots further away such as the Caves of Hercules.  If you want to see more of Morocco, check out this 2-day tour now.  It includes Tangier and Fes, home of the oldest and largest medina in the world.
Bird Watching along the Gibraltar Strait
The narrowest point of the Gibraltar Strait, migratory birds are extremely common in this area during spring and fall.  Storks are a particular highlight as they make their journey between continents.  Following the boardwalk toward Playa de los Lances, there is also a birdwatching observatory to view the wildlife where the river meets the Atlantic Ocean.
Rock Climbing in San Bartolo
If you're looking for one of the more unique things to do in Tarifa, consider rock climbing.  Just north of Tarifa is the San Bartolo area that is the perfect spot for rock climbing beginners and the more advanced.  This area is home to about 280 different routes and lessons or courses are available for all levels.  Find more information on lessons and climbing routes here.
Hiking around Tarifa
There is no end to hiking in the Tarifa area.  With two natural parks just outside of town, Parque Natural los Alcornocales and Parque Natural del Estrecho, the options are endless.
Right in town, there is a hiking trail that follows the Mediterranean coastline all the way to Algeciras (obviously you can turn around at any point before that).  The views across to Africa are stunning the entire way as you follow the cliff and there are some interesting ruins along the path.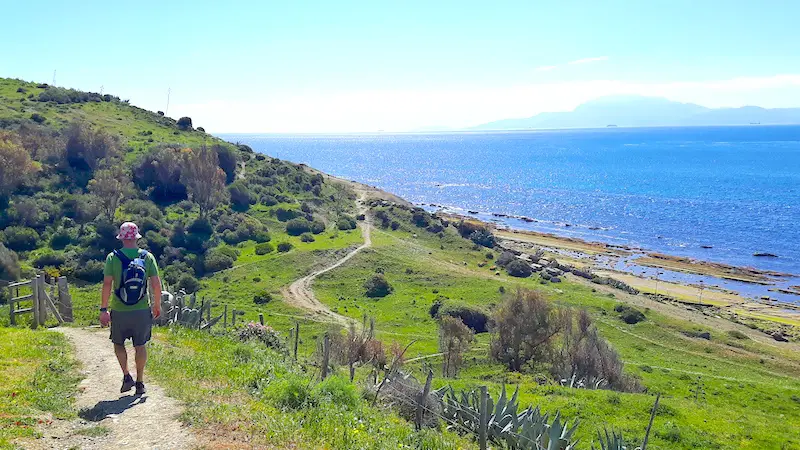 In the other direction, you can follow a path north along the Atlantic coast to the Duna de Valdevaqueros, a huge sand dune that can be seen for miles.
Here is a map of various hiking trails in the area.  For many, you will likely need transportation to get to and from town.
Dolphin and Whale Watching in Tarifa
There are a number of companies offering dolphin and whale watching boat tours from Tarifa.  While we didn't do this we hear that the success rate is pretty high.  Dolphins and pilot whales are a fairly common occurrence year round, while sperm whales can be seen May to July and orcas are around in July to August.
Scubadiving in the Mediterranean
Whether it's your first time or you're certified, there's a dive trip available for you.  With the clear waters and the interesting biodiversity of two seas meeting scuba diving from Tarifa is sure to be an interesting experience.  Click on the best tour for you to see prices and details.
If you prefer to stay on the water's surface, this kayak and snorkel tour is great option!  Check out details and prices now.
Horseriding around Tarifa
Between the miles of undeveloped beach and the bordering countryside and mountains, Tarifa is an excellent place for horse riding.  Aventura Ecuestre is just 3km from town, on the beach and close to the natural parks.  They have a variety of options available for everyone.
Swim in the Atlantic and Mediterranean in the same day!
The beaches in Tarifa and the surrounding areas are beautiful.  While it can be a little too windy to be relaxing along the Atlantic side, the small town beach on the Mediterranean is always calm.  In any case, how many places can you say that you swam in two different major bodies of water on the same day?
Just remember the waters are surprisingly chilly here.  Did you notice all the kiteboarders are wearing wetsuits?  If you're a wimp with cold water (like me) stick to relaxing in the sun!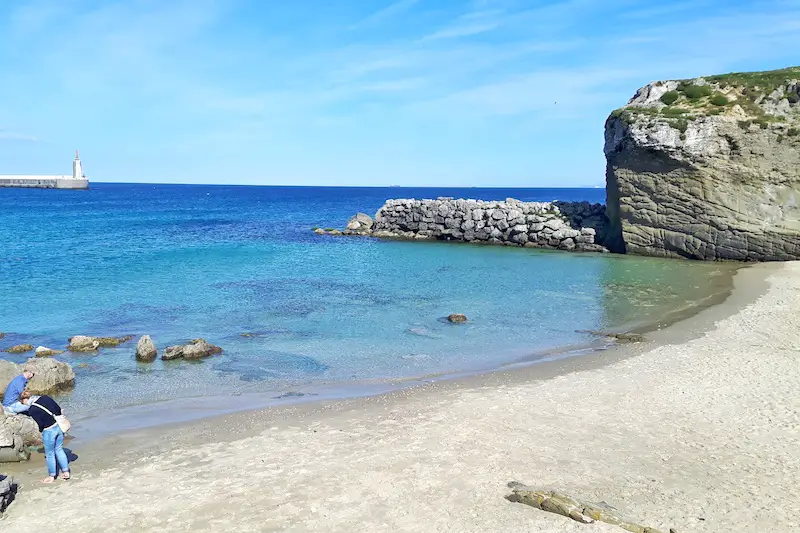 Taste the local Red Tuna
This area is famous for its tuna, still fished using traditional methods.  While it's not cheap, you won't find a person in Tarifa who doesn't recommend ordering the tuna at least once.  There are a number of nice restaurants in the old town but we found some of the best prices and food to be along the road from the port.
Where to Stay in Tarifa, Spain
There are many options for accommodations in Tarifa depending on your preferences and budget.
Camping in Tarifa
The cheapest option is to camp outside of town.  If you're primary activity in Tarifa is kitesurfing this is a great option.  You will want your own vehicle to stay here though.
Camping Rio Jara has a prime spot with private beach access, a bar/restaurant, social areas and a mini supermarket.
Camping Tarifa is a little further from town but is just steps from the beach with a swimming pool, children's play area as well as a restaurant/bar and mini market.
Hostels in Tarifa
Rebels Tarifa Hostel and Kite School has amazing ratings.  It boasts an awesome location, fantastic rooftop terrace and even includes breakfast.  Dorms start at just $22.  Check out the reviews and photos here.
Hostel El Levante is the perfect spot for those looking to kitesurf in Tarifa.  2km out of town, this hostel is very close to the kitesurfing area on Playa Los Lances and has great reviews.  Twin rooms start at $42 a night.  Get more information on Hostel El Levante now.
Hotels in Tarifa
We stayed at Hostal Las Margarita and would highly recommend it.  Initially I only booked it as it was the cheapest option (starting at $38) within walking distance of the town so our expectations weren't high.  They were super friendly, helpful and even let us keep luggage here for a whole week while we visited Morocco.  We were so happy with this place that we extended our stay by an extra 4 nights.  Click here to check prices and availability.
If you're looking for a little more luxury, Kook Hotel Tarifa has the absolute best reviews in town along with an excellent buffet breakfast included in the price.  The rooftop sun terrace is a big hit along with all the other inclusions.  Double rooms start at $150.  Check out the reviews and photos now.
Apartments in Tarifa
Whether you're staying for longer or simply prefer to prepare your own meals, many people prefer to rent an entire apartment when staying in Tarifa.
Home Coquette is a perfect choice if you have a car.  There are the most amazing views from the bedroom and a fully equipped kitchen including a washing machine.  This apartment starts at $116 a night.  Check out the reviews and views now.
Puerta la Mar is right in the heart of Tarifa for those wanting a more central location, and is especially close to the port.  People rave about the comfortable bed and awesome terrace.  Starting at just $58 a night it's easy on the budget too.  Check reviews and photos now.
Pin this article for safekeeping!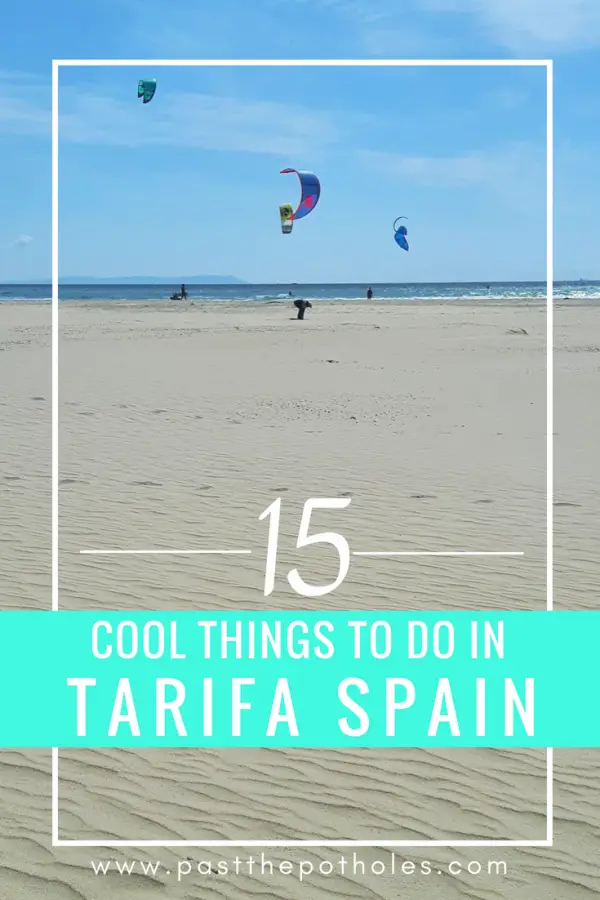 See all our other posts on Spain here.
Return to our Destinations page now.
---
Some links in this post are affiliate links.  That means if you click on them and make a purchase we will make a small commission at absolutely no cost to you. Win-win, right?  Thanks for your support!
---