Kitesurfing in Tarifa: the best place for kiteboarding lessons!
Some links in this post may be affiliate links. If you click on them we may make a commission from qualifying purchases at absolutely no cost to you.  Read our full Disclosure Policy here.
Where is the best kitesurfing in Europe?  We're pretty sure we found it in Tarifa, Spain!
We chose to visit Tarifa as a logical stop on our way to Morocco.   As soon as we walked out onto the beautiful beach, we learned Tarifa is regarded as one of the best spots for kitesurfing in Spain.  The sky was full of brightly coloured kites and the beach was covered in like-minded, wet-suited people.  Kitesurfing in Tarifa wasn't originally in our plans but that quickly changed.
I've wanted to learn how to kitesurf (kiteboard) since the first time I saw the sport. Cruising along using the power of the wind, soaring through the air, and making it look so effortless seemed like it was too good to be true.
[kad_youtube url="https://www.youtube.com/watch?v=98cWt-z2WnE&t=4s" maxwidth=640 ]
Why I chose Freeride for kitesurfing in Tarifa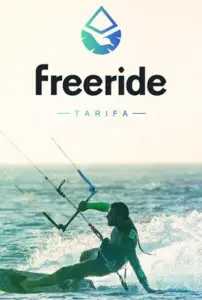 There are A LOT of kitesurfing schools in Tarifa and choosing the right one can be a daunting task!
I chose Freeride for my kiteboarding lessons because Vanessa responded to my messages quickly and included all the information I wanted about kiteboarding lessons and kiteboarding packages.
I was offered a great price for my kitesurfing package which made me even more excited to learn.
Knowing that I had a limited amount of time in Tarifa,  I wanted to deal with a company that was organized and reliable.
I was impressed when I was added to a WhatsApp group to help with communication about lessons, etc. They even organised a dinner so that everyone could meet and hang out. Unfortunately, due to travel delays, we were unable to attend. I heard that it was a lot of fun and a great way to meet new people.
Which package of kiteboarding lessons did I choose?
Originally I booked the 16 hour/4 day semi-private kitesurfing package.  Due to a couple of days without wind, this changed to 10 hours.
When the instructors found that my partner and I were at different levels, the semi-private lessons became private.
Freeride Tarifa was really good at being flexible and changing plans whenever necessary for their learners to have the best experience possible.
[btn text="Click here to check options on the Freeride Tarifa website!" tcolor=#FFF bcolor=#4182a3 thovercolor=#444 bhovercolor=#CDCDCD link="https://freeridetarifa.com/" target="_blank"]
How did I prepare?
I tried to give myself a head start by reading some posts and watching some videos about learning how to kiteboard. I also figured it would be a good way to 'speed up the process'.
Reading about wind conditions and kite positions was very helpful because I don't have a lot of experience with wind sports. There are many videos online which are helpful, but they are no substitute for the real thing.
The most important thing I learned about while doing my 'research' was safety! Because I had only seen accomplished kite surfers in the water, I didn't realise how dangerous the sport can be for a kitesurfing beginner if you don't have control of your kite.
It became immediately clear to me that taking kitesurfing lessons was the only way to learn how to kitesurf properly and safely. Claire was thinking that I could teach her once I become independent. I don't see that happening unless I take an instructor's course.
For your kitesurfing lessons, I strongly recommend that you bring good sunscreen, sunglasses, a hat and plenty of water for your first lessons. When you are first learning to fly the kite, you're often looking straight up, on the beach, and you may be working harder than you'd expect.
What to expect when learning to kitesurf
Kitesurfing Lessons – Day One
I arrived at 12:20 pm for my 1:00 pm kitesurfing lesson and the Freeride staff was already in full motion. From that point onward, I felt like the entire staff was very professional.
I was also very impressed with my instructor Kaya, who clearly has plenty of experience with kitesurfing beginners. Sometimes we had to walk down the beach to find the best wind conditions and I had to hustle to keep up.
There was very little wasted time which made me very happy (and tired).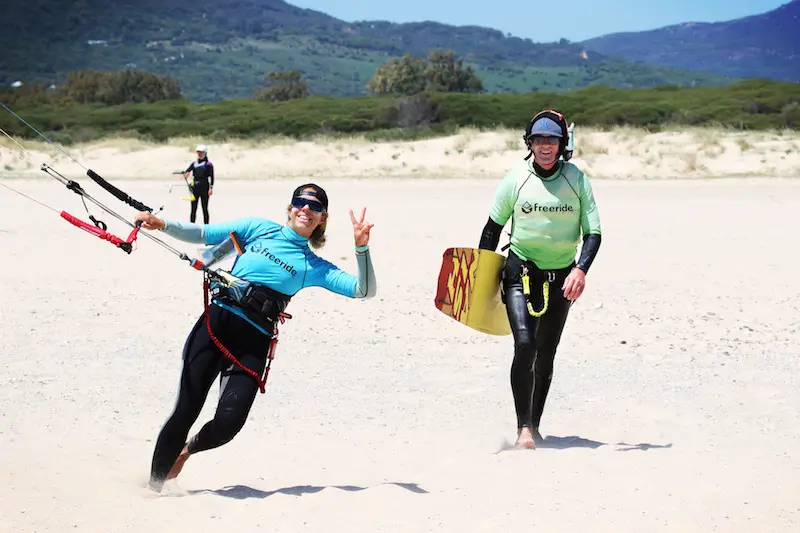 Before getting started I was outfitted in brand new kitesurfing gear. Freeride gets new gear each season. It is really nice to know that you are learning using well-maintained up-to-date equipment.
Included in the package price was:
Billabong full-length wetsuit
Harness
Naish kite (9m)
Helmet with radio (great for instructions when you are away from the instructor)
Freeride rash guard for easy identification
Before going into the water, I was given a life jacket.
I spent the first two hours on the beach working on basic kite control: launching from the ground, moving it to different locations in the wind window, transitioning from side to side, etc.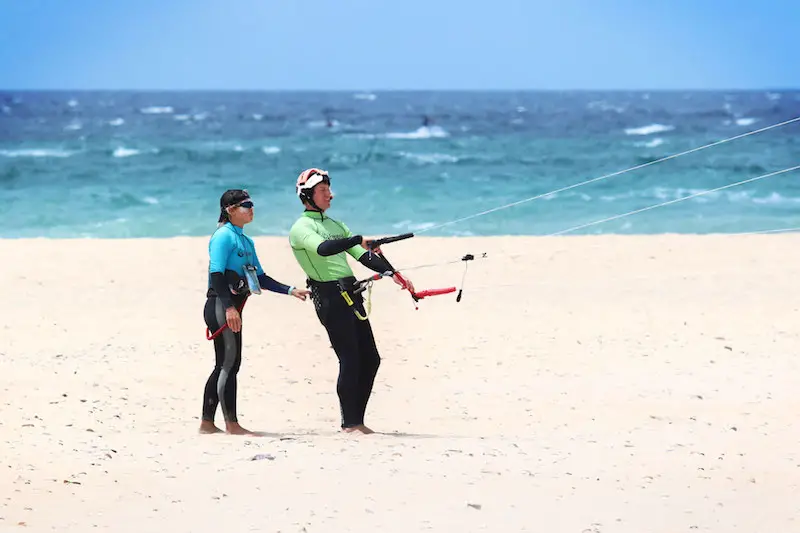 I was having some trouble finding the correct tension. This is how close/far the bar is from your body. Tension increases as you pull the bar because the lines become tighter. My 'AHA moment' came when I started to steer the kite first and then slowly find the 'goldilocks' tension.
Another piece of good advice today was to try to look away from the kite. I thought that I was making progress until I was told to write my name in the sand and keep the kite stable. I realized that I had been cheating. After a few minutes of practising writing my name, my "feel" improved dramatically.
At the end of the day, I was able to body drag in both directions (upwind and downwind). This is an important skill to help you retrieve your board after a wipe-out. I am not going to lie, learning body dragging in choppy water is not fun. I swallowed a lot of water!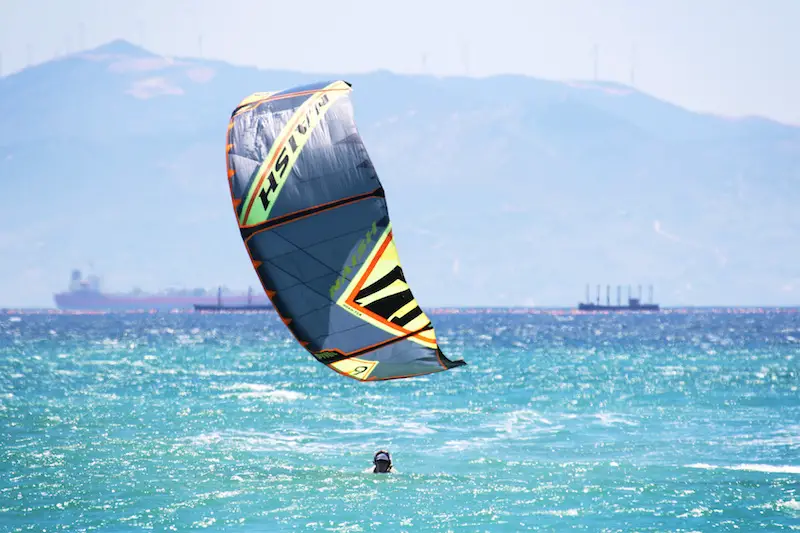 I was also able to walk along the beach (upwind) back toward our 'home base'. I was controlling the kite with one hand and able to be aware of my surroundings. It was a good feeling to look around for other kiters and feel like I wouldn't damage their gear or mine. It also looks cool!
Kitesurfing Lessons – Day Two
We started with a review of the previous lesson on the beach and then quickly moved on to body dragging downwind using power strokes (rapidly flying the kite down and up) to move faster.
Then I learned to go upwind with a board. It's amazing how much easier it is with the added buoyancy of the board.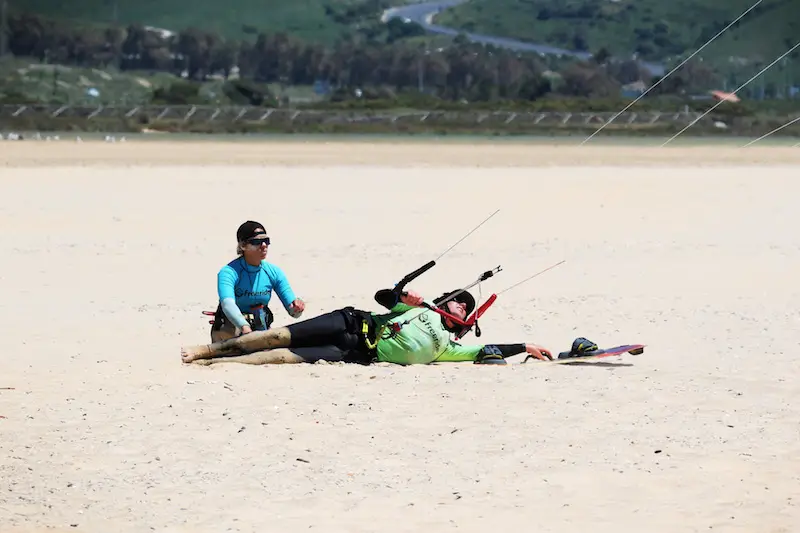 Next, I put the board on my feet and used power strokes to get an idea of what it would feel like to get up and ride. I was feeling very confident before the lunch break!
We finished our sandwiches, rehydrated and headed back to the beach. I had high hopes that I was going to take my first ride.
Unfortunately, after being caught awkwardly by a wave, I lost grip of the board. To make matters worse, the wind started to fade and my kite wouldn't stay in the air for more than a few seconds.
The end result was a different instructor retrieving my board and me from the water. Now I understand the meaning of the "walk of shame".
We decided that the wind wasn't strong enough to continue and started packing up for the day. I won't sugarcoat it, I was very disappointed that I lost the board and the wind died.
I really wanted to stand up and ride a little. Adding proverbial salt to the wound, we were leaving the next day.
Bonus Lesson!
The wind gods must have heard my prayers. Conditions were perfect the next morning and I was able to squeeze in an extra couple of hours of kitesurfing instruction on our last day in Tarifa.
After a little bit of reviewing kite control on the beach, it was time to practise generating power while keeping the board on my feet. I was determined to take advantage of this unexpected opportunity.
For the first two hours, I dragged myself downwind and then tried to make my way back to the beach. The goal was to create a 'steady pull' to get an idea of what it would be like to ride and manage the kite at the same time.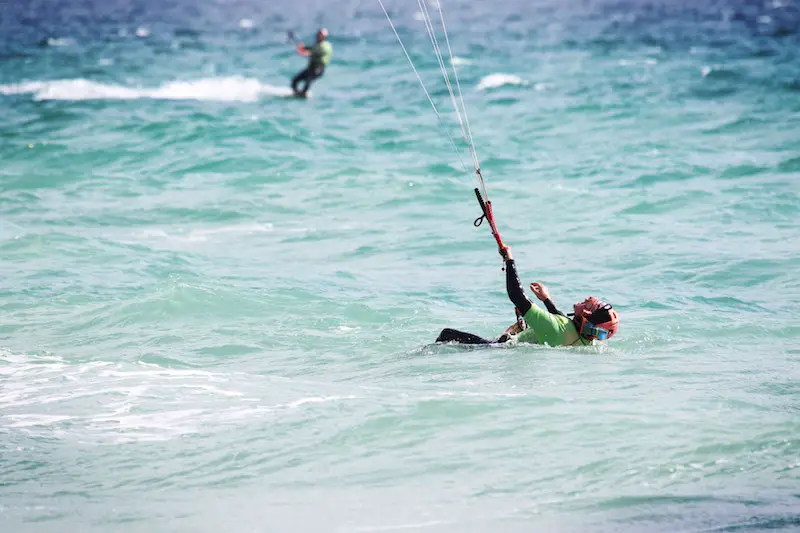 Purely as part of my blog research, I let myself drift far enough offshore that the "Sea Angels" rescue boat had to bring me back to the beach.  It's good to know that a boat is ready to rescue you when you need it, which of course I didn't…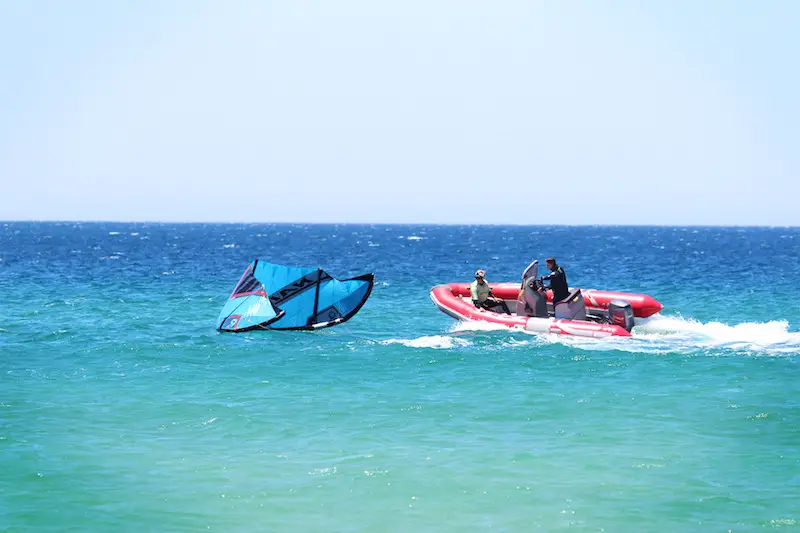 After being 'rescued', Vanessa met me at the beach to let me know that I had 30 minutes left. As usual, she was armed with her camera and ready to get some good shots. "Get out there and let's get a picture of you riding!"
While walking up the beach, I was motivated to make the best of my opportunity.   After a couple of close calls, I found the sweet spot and started cruising along. According to Kaja, I made it about 30 m before I had to depower and change direction. I hope that no one crashed as a result of my "screams of joy".
I was able to get up and ride a few more times before heading back to the beach. It was AWESOME!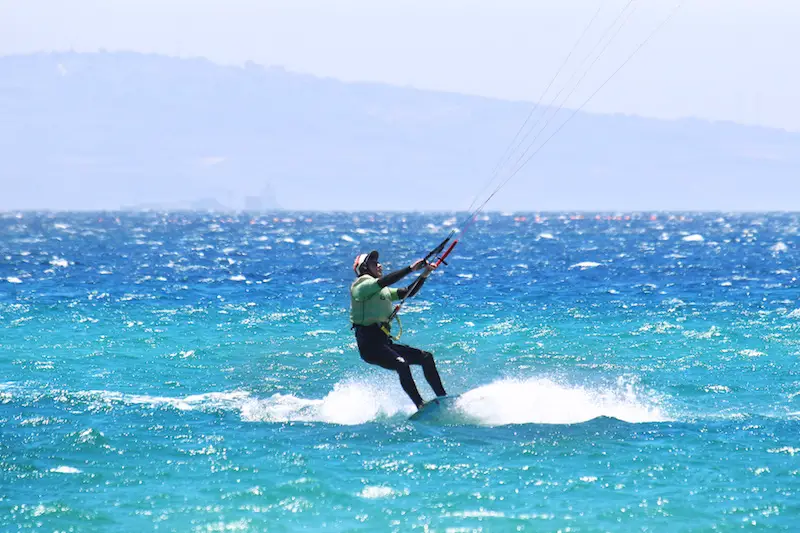 A few days after leaving Tarifa, I received an email from the International Kiteboarding Association (IKO) informing me that I had been evaluated as a level 2I which means that I'm at the top of the Intermediate level and can start to focus on the skills required to become an independent rider.
Let's be clear: Kitesurfing is not easy!
After my last lesson, I was still really excited about kitesurfing.  However, when I have spoken with people who are learning or have tried kitesurfing, it isn't uncommon to sense some skepticism.
I'm typically a quick learner and I find this sport quite challenging. The sport depends on wind conditions. If there is no wind, you will have to find something else to do. There aren't many sports that require so much preparation.
In total, I have taken 4 hours of semi-private lessons and 6 hours of private lessons. It can be frustrating when things don't come as naturally as you'd expect.  However, after my first ride, I can't wait to learn more.
What's next?
I've already started my research for kitesurfing schools and kitesurfing packages in our future destinations!  A few of the places we're going to be exploring are: Spain, England, Ireland, Iceland, Panama, Ecuador, and Mexico.
I've been told that Freeride Tarifa is opening another school in Dakla, Morocco.  Maybe we'll have to add that to our list, I definitely had an amazing experience kitesurfing in Tarifa with Freeride!
Have you taken any kitesurfing lessons in these countries?  What are the best kite schools to continue learning?  When should I start looking to invest in kitesurfing equipment?
Save this post on Pinterest for safekeeping!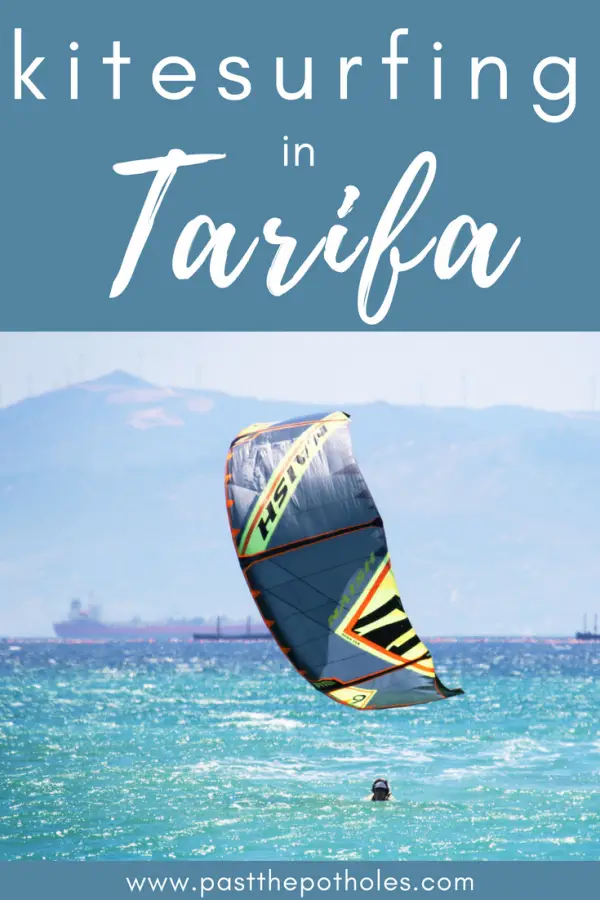 Return to our Destinations page.