Hiking to Incredible Cabo de Gata beaches in Almería, Spain!
Some links in this post may be affiliate links. If you click on them we may make a commission from qualifying purchases at absolutely no cost to you.  Read our full Disclosure Policy here.
The city of Almeria had been on our 'Spain' list from the beginning.  However, after adding a week in Morocco and kiteboarding in Tarifa to the itinerary, what began as 2-3 weeks there became just 4 days!  We planned to explore the city but were most excited about hiking to various Cabo de Gata beaches in Almeria and exploring the largely unknown region.
Cabo de Gata, Almería
Almeria is the perfect jumping-off point for one of Spain's most celebrated national parks, Cabo de Gata Nijar Natural Park.  It is a semi-desert region with unique volcanic landscapes, mountain craters and plenty of hiking trails.  The many secluded Cabo de Gata beaches are among the best Spain has to offer and certainly the best beaches in Almeria.  Over a quarter of the park's area is actually a marine area so this is also a great area for snorkelling or boat trips.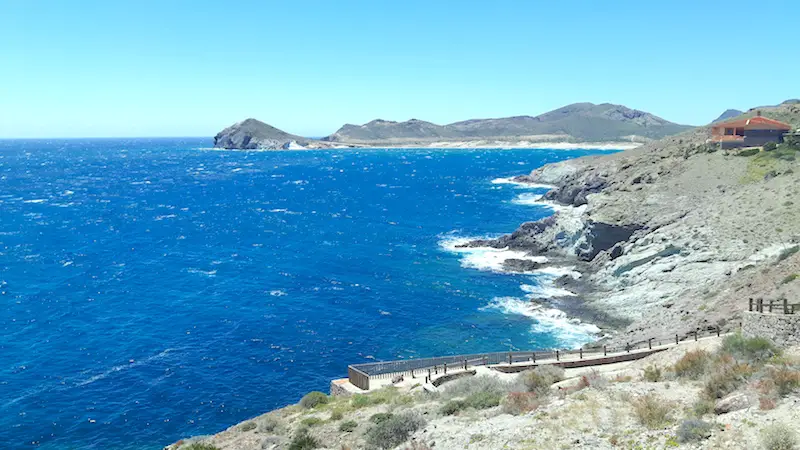 How to get to Cabo de Gata
We rented a car this time around so that we would be able to explore and hike in the park easier.  There are buses that run from the city of Almeria to various points in the park but they are limited.  Their schedule seemed to be more for the residents in the various villages to be able to get into the city.  If you are planning on staying in the park for a few days, the buses could work perfectly well for you, but for a day trip, you should really consider renting a car.   Check out RentalCar.com for the best price comparisons over hundreds of car rental companies.
If you prefer to save the hassle of finding your own way there, this tour is a great option.
Hiking in Cabo de Gata
There are loads of hiking trails in Cabo de Gata that vary in landscape, length and difficulty.  We only had time to explore a couple but there are so many more.  Check out this list of official hiking trails in Cabo de Gata Natural Park.  For some reason, they have removed the English version of this page, but maps are maps.  You'll figure it out!
Hiking San Jose to Playa de los Genoveses and Playa Monsul
On our first day in the Cabo de Gata Natural Park we planned to hike a coastal route between the two main beaches.
We drove through Cabo de Gata and parked at the far south end of San Jose, one of the main towns in the park.   It was supposed to be 4-5km trail with little difficulty.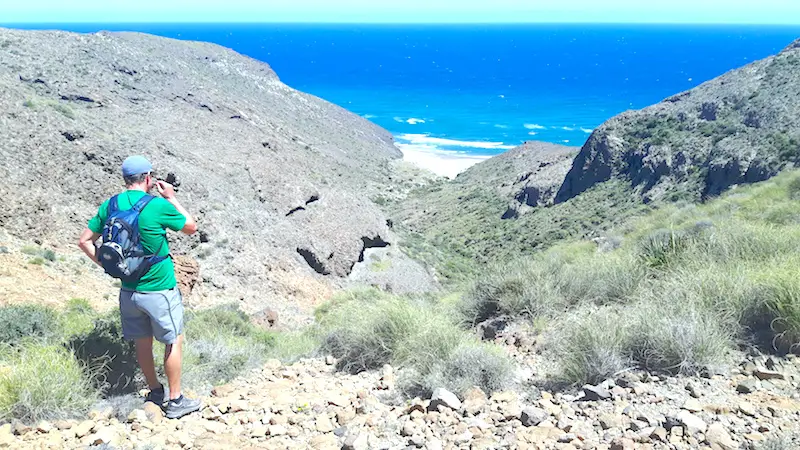 We started out walking along the road south and easily came upon Playa de Los Genoveses.  The wide sweeping bay was beautiful but extremely rough and windy the day we visited.  A few kiteboarders entered the water as we were walking the length of the beach and it was easy to tell how this is a great area for wind sports.
However, this was the end of our easy hike around the coastline of Cabo de Gata.  The trail, it seems, either doesn't exist or is so poorly marked that it was impossible to find, much less follow.
After about 3 hours and 7km of climbing over volcanic cliffs into a crazy strong wind and searching for trails, we made it to the endpoint, Playa Monsul.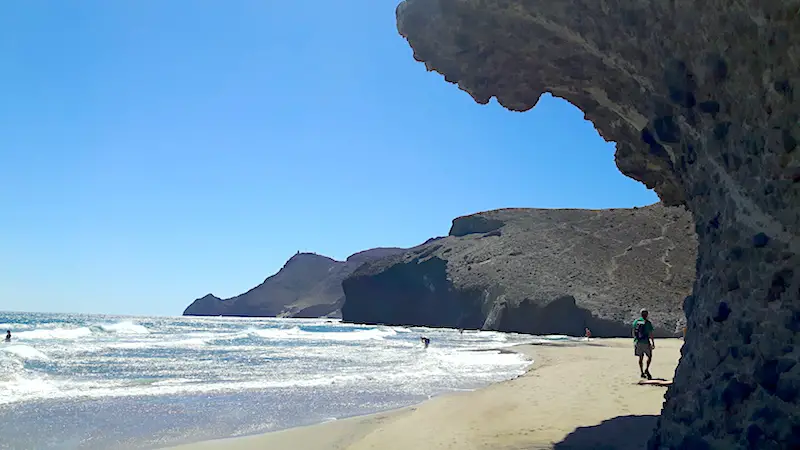 This beach has been filmed in numerous movies including Indiana Jones and The Last Crusade.  The otherworldly volcanic rock shapes make it unlike any other beach we've ever seen.  It was, however, so windy that the sand was really painful causing us to cut our time short and return to the car.  Taking the road back, we only had 4km walking into a wind that had somehow managed to get even stronger!  At times, I'm sure we were walking backward.
Interested in visiting this beach without the hike?  There is a road that connects both of these beaches to San Jose.  We've heard that the number of cars is limited in the high season so be sure to go early!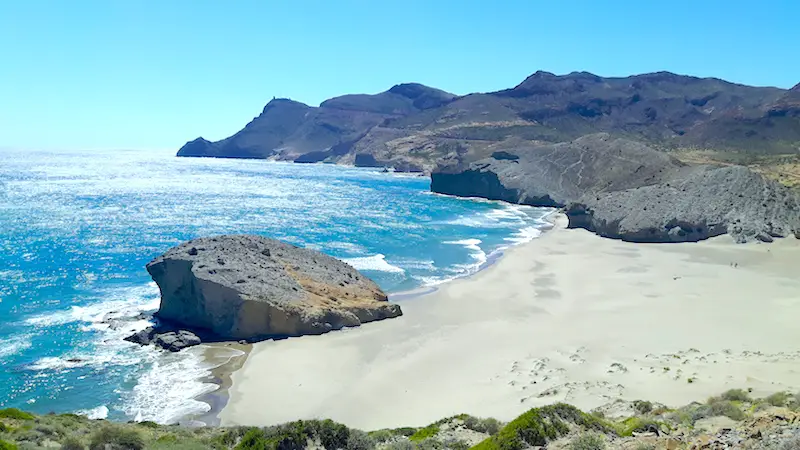 Hiking from Cabo de Gata to Vela Blanca
We also explored the nearer coastline driving along Las Salinas to the lighthouse Faro Cabo de Gata.  From here we hiked to the Vela Blanca and back.  The views are beautiful as you climb higher and higher along the road and there are a few lookout spots that are worth a minute (and a photo).
Along the road there are a few turn-offs that lead down to various beaches if you have some extra time.  We kept on walking and opted to stop at the beach by Las Salinas instead after we finished hiking.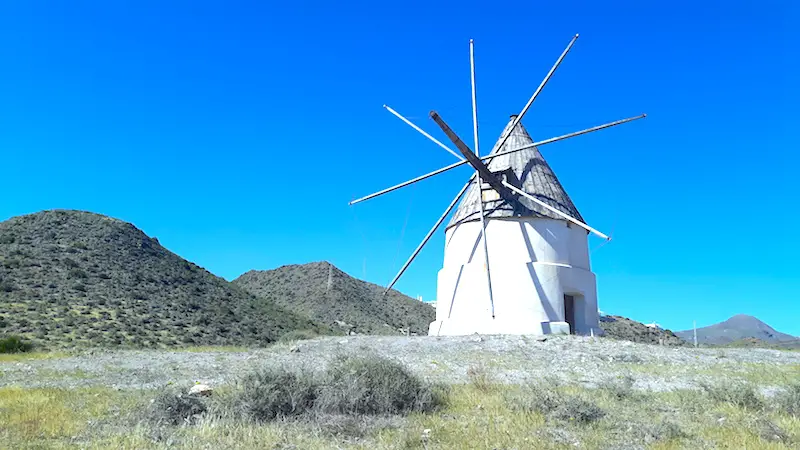 Las Salinas del Cabo de Gata
Las Salinas is worth a stop on the return journey.  It is a saltwater lagoon separated from the sea by a road and beach and is a great spot for birdwatching.  There are three lookouts along the length of the road to stop and see the wildlife.  The salt flats were filled with hundreds of pink flamingoes!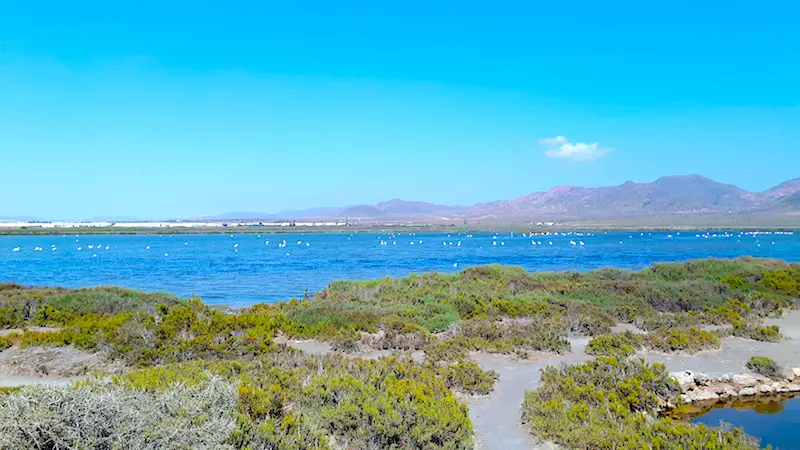 The City of Almería, Spain
We stayed in the city and took day trips to Cabo de Gata, a choice we were very happy with considering our limited time.
Almeria Old Town
Almeria itself is worth exploring with a lovely old town filled with beautiful architecture, narrow streets and cute plazas.  There is a great running/biking trail that runs along the waterfront and las Ramblas, a park space that runs down the middle of the main road.  It is filled with children's parks, an art gallery space and plenty of shaded seating.  If you've been to Barcelona, you're probably familiar with the idea of Ramblas.  This is similar although far less touristy or busy.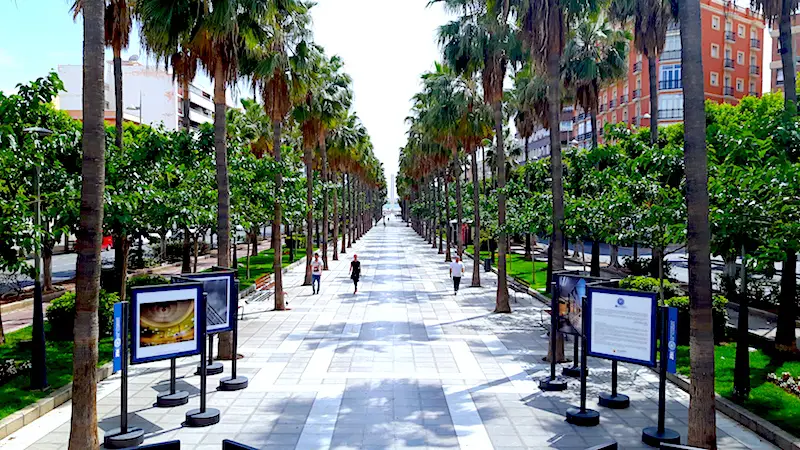 Almeria Beach
Of all the Almeria beaches, the one right in town is obviously the most accessible.  It also happens to be really nice with a great malecon, or boardwalk, running its length.  With workout areas, playgrounds and plenty of restaurants behind, you could easily enjoy a day here without needing to travel anywhere.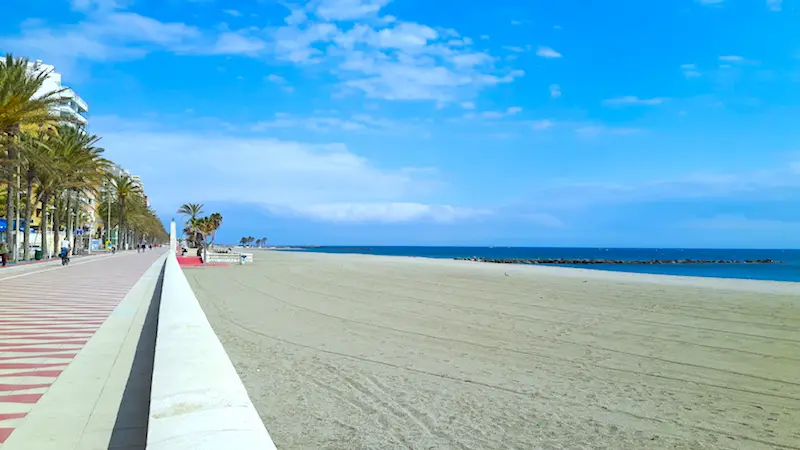 Alcazaba
In the evening we made it up to the Alcazaba before sunset.  It is free to enter and an interesting place with various cultures having built upon the previous, with amazing views in all directions.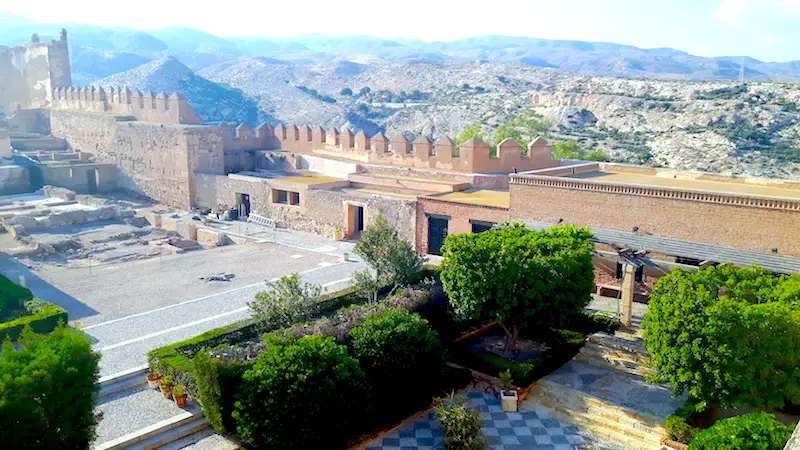 Free Tapas!
What are you supposed to have for dinner in Spain?  Tapas, right?  Well, this is the best (or worse) place for it!  In this region of Spain for each drink, you order a tapa is free.
After buying chicken for dinner and getting home to discover it had gone bad, we decided dinner out was in order.  However, I had read about this bar that was a traditional tapas bar and very popular so we figured we'd have a few tapas to start.
We got chatting to a local couple standing at the bar beside us and pretty much copied all of their tapa orders!  When we were done they took us to their restaurant for more.  Unfortunately, I was too busy practising my Spanish conversational skills that I failed to eat most of them.  The next day was not my best (making it to the couch of our apartment was an achievement)!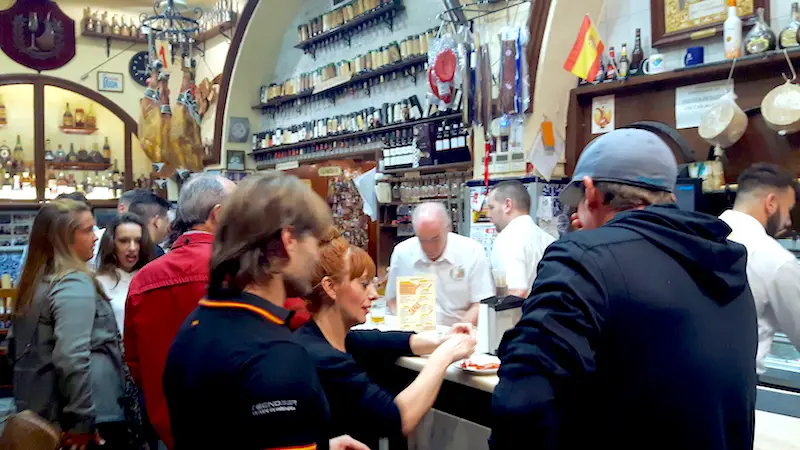 Tabernas Desert
Our final destination in Almería was to the Tabernas Desert.  This desert landscape has been used in so many movies, mostly old westerns, they even have a Texas Hollywood theme park, created from an old film set.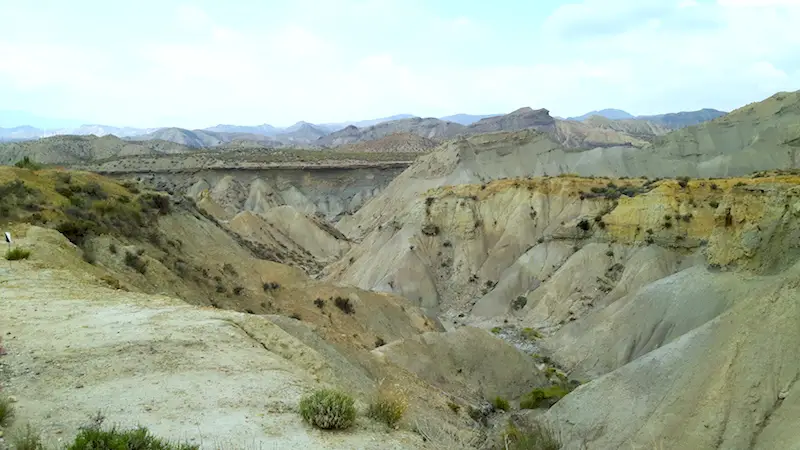 We stopped at a lookout point apparently made famous in "The Good, The Bad and the Ugly" (sorry, westerns aren't my thing…).  Then we stopped in the town of Tabernas for some viewpoints and a bite to eat.  If you're into old Western movies you might want to consider allowing some time for a visit to Fort Bravo.
---
Find all our travel journal entries on one place.
Discover more exciting destinations now.