Some links in this post may be affiliate links. If you click on them we may make a commission from qualifying purchases at absolutely no cost to you.  Read our full Disclosure Policy here.
Back at the Beach!
We arrived in Manta  on Ecuador's coast and were ready for the heat again after the chill of the mountains.  However, despite being so close to the equator there is a constant breeze and we have barely broken a sweat if we're anywhere near the water.  Apparently this is a few degrees colder than normal though, typical!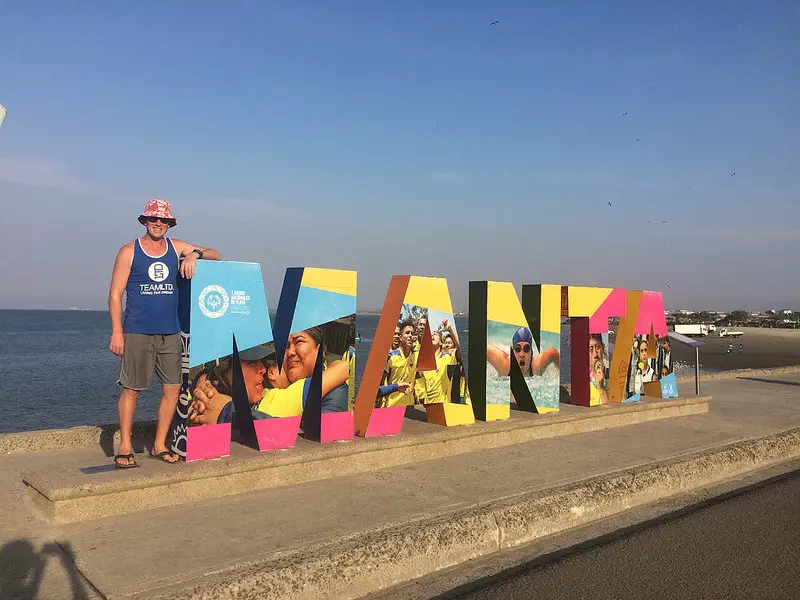 Manta is a port city that isn't the prettiest spot in Latin America.  However, the beach is supposed to have surfing, there is a golf course nearby and lots of beautiful beaches, forest, jungle and mountains for easy day trips.  The best spot to kiteboard in the country is also within a 20 minute drive.  Add city conveniences and it seemed like it could be a good home base.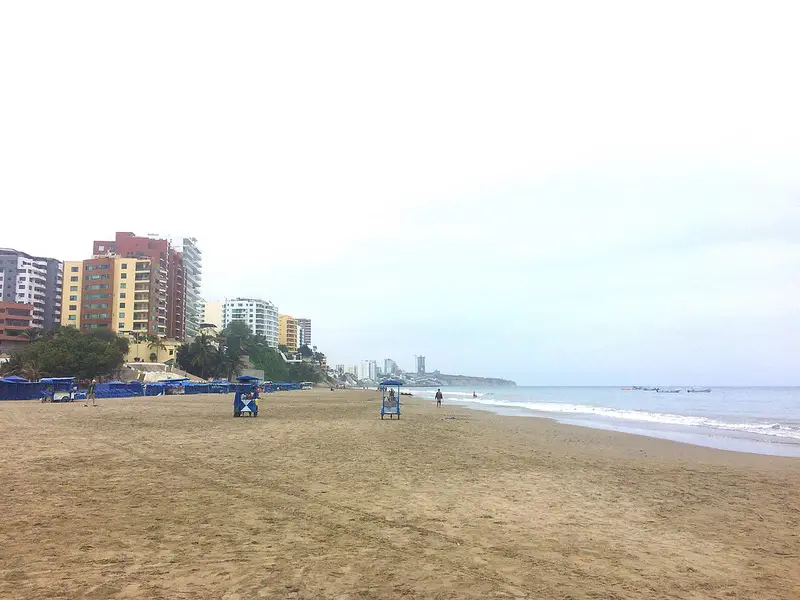 The main beach in town, Playa Murciélago, is a happening spot.  There are always people selling coconuts, mangos and micheladas.  The malécon has a variety of seafood restaurants and a few stores.  This is the city's gym.  People are constantly walking, running, playing soccer, handball, volleyball or working out on the beach.  There is a collection of bars that can be used for any number of exercises.  Our first day we found a bunch of young guys taking turns to do some pretty impressive gymnastics on them.  Terry decided he would come back the next morning to give it a go without the audience!  So far we have witnessed surfing (although mediocre at best) and kitesurfing right off the town beach!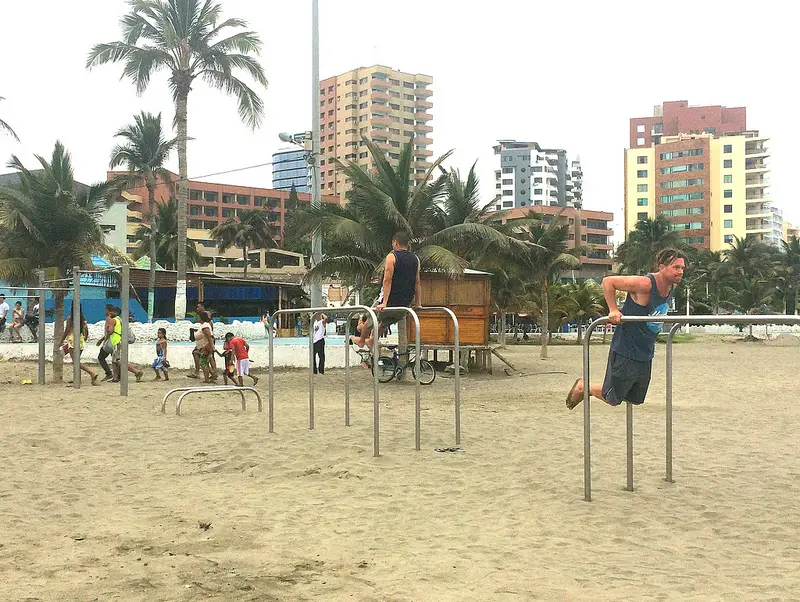 Could Manta be it?
This week's post will be short and sweet as our week has been pretty boring.  After a couple of days getting our bearings and discovering the local areas, we spent two days looking at condos with a local real estate agent.  That wasn't exactly the plan but between running on Ecuador time and a few unscheduled stops the days had disappeared!  We saw some pretty great places with killer views and the prices are unbelievable.  I guess we will see…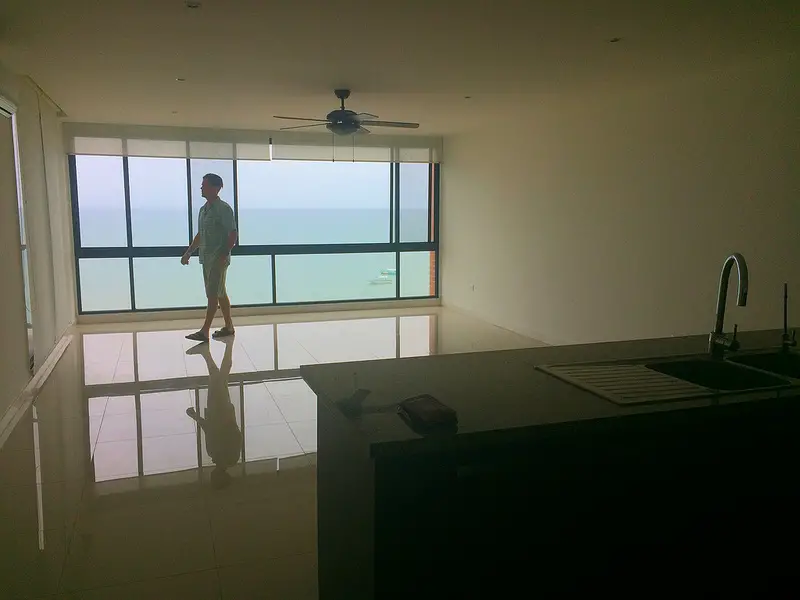 Montecristi Day Trip
Did you know that Panama hats are actually from Ecuador?  The home of the 'Panama' hat is a small town called Montecristi, 20 minutes from here.  We figured we were long overdue to figure out the mysterious bus system and set off on foot for the terminal terrestre where we assumed it would be easy to find a bus heading to Montecristi.  We were correct on that part but the new terminal is so new that it isn't on the map yet.  After a long walk to what turned out to be the now closed terminal, we finally got ourselves sorted.  A 30¢ city bus ride got us to the terminal and 70¢ got us up to Montecristi.  What a deal!  The trip home went much smoother and I'm confident we'll be more successful on our next day trip.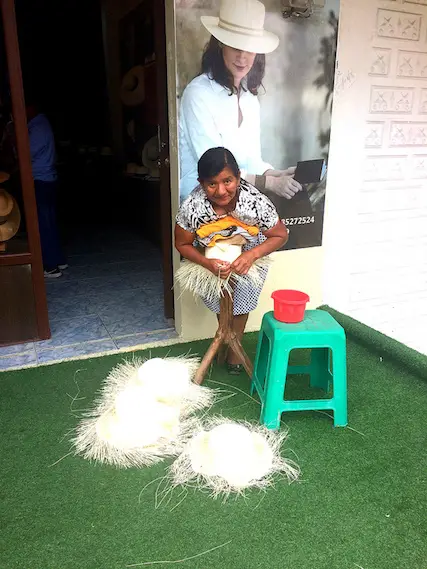 We arrived in Montecristi to discover it was market day.  I'm still not sure if this was a good or bad thing.  The town was full of people.  There was plenty of activity but it also meant the buildings, stores and restaurants were hidden behind a labyrinth of stalls and tarps.  We wandered the streets and tried on some on the original hats.  There was even a lady making them outside the one factory/store.  The amount of work that goes into them really makes the $20ish price tag seem like a steal.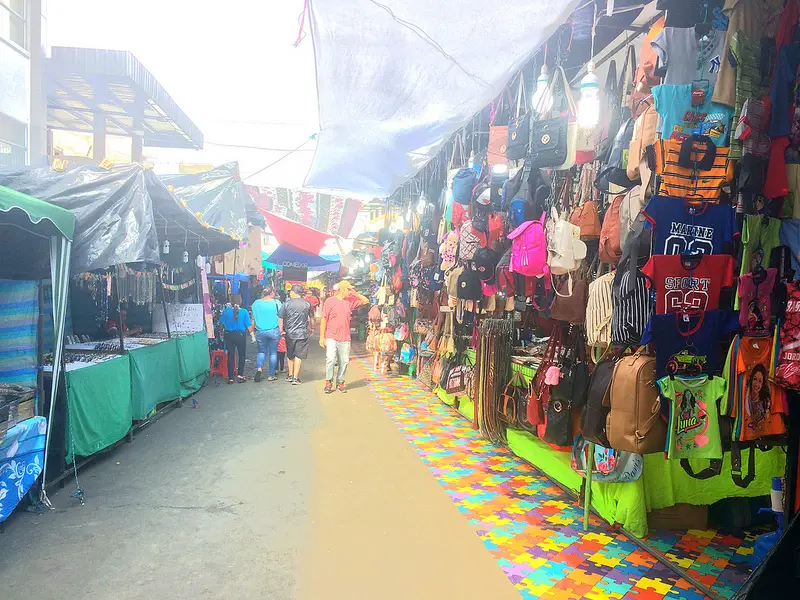 A Nice Surprise!
As we wandered behind the church we noticed a staircase.  Not quite curious enough to make the climb, we were about to continue walking when a stall owner told us the stairs led to a beautiful park and we should go up.  Obligingly we detoured and discovered a huge 5 level park complex!
One level had two playgrounds, one for children and another for geriatrics, another level had picnic areas.  A third area had a monument to the elements, with a water feature that wound its way around a fire feature and a mound of earth (?).  The fourth area was home to multiple sports fields complete with lights and seating.  The top area included souvenir shops, eating places, a couple of museums, the civic centre and a train!  Everything was wheelchair accessible and obviously had been created with a lot of planning and investment.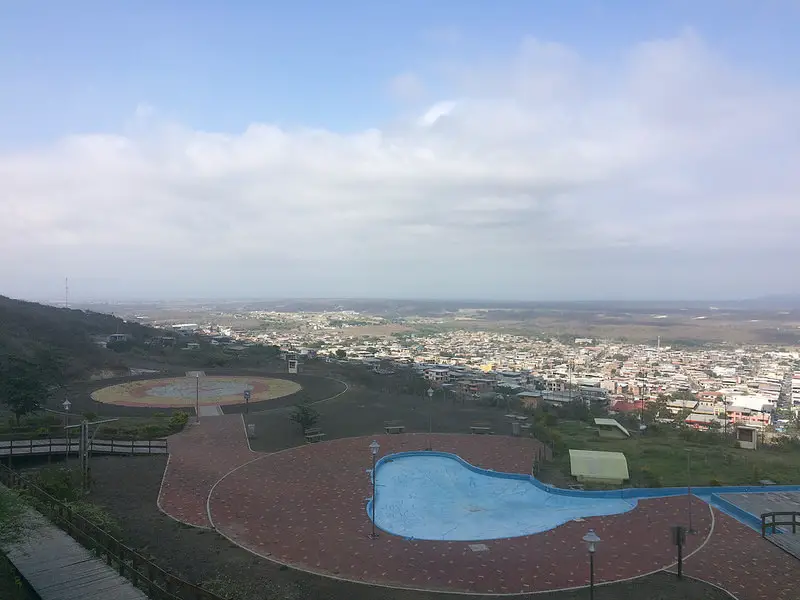 We returned to town and continued to wander before hopping on a bus back to the Manta terminal.  It's so easy when you know how!
Expat Lunch
Manta is home to a small but active expat community and we had been told of a couple of weekly meet ups.  We figured if we were serious about looking into this area then we should meet some people who have moved here and get some information and opinions.  Every Saturday a group meets at a restaurant along the malecon so we decided to make an appearance.  They were a friendly bunch and the ceviche was worth the trip alone!  People love it here – they are quick to explain why they think this is the best place to live and we didn't hear one complaint the entire time!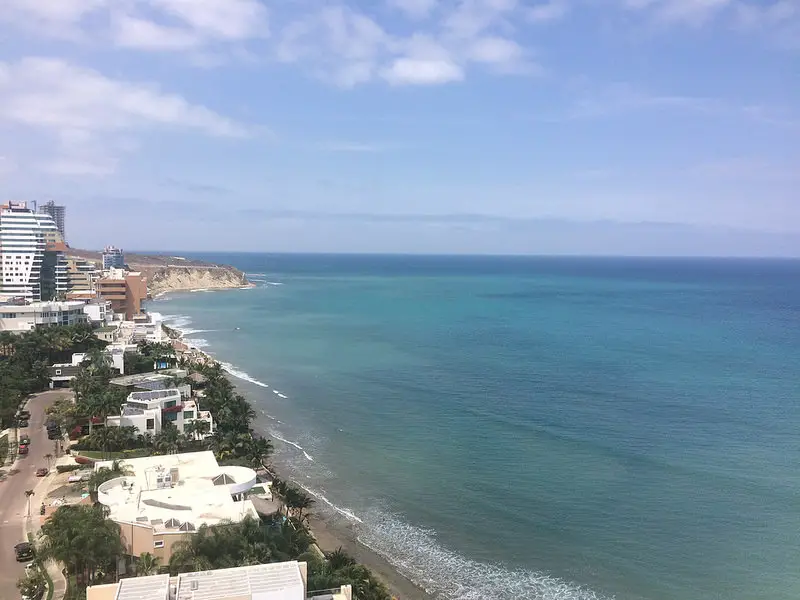 Hopefully next week we'll get out into the surrounding areas a little more but I guess if we buy here we'll have all the time in the world to explore…
How was your week?  Where have you been?  What have you accomplished?
Find our other Travel Journals here.
Check out Ecuador and other destinations now!