11 Completely Free Things to do in Panama City, Panama
Some links in this post may be affiliate links. If you click on them we may make a commission from qualifying purchases at absolutely no cost to you.  Read our full Disclosure Policy here.
Panama City is not cheap and can easily blow your budget!  If you've been following us for a while, you know we're not fans of spending a lot of money on simple basics like transportation, food and entry fees.  We discovered a lot of free things to do in Panama City, Panama!  If you only have one day in Panama City you could fit most of these items in but two or three days would let you take your time and enjoy it more.  Here are some great Panama City attractions to enjoy your stay and save some money for beers on the beach!
Panama City gets mixed reviews.  People love it or hate it and we were ready for the worst.  Arriving to find a modern city with a clean, airy feel while maintaining its character and grit, we were pleasantly surprised.  If you are planning a trip to Panama, don't be too quick to skip out of town to the mountains or beach.
---
---
Free Things to do in Panama City
Panama City is known for being expensive and while that can be true, there are also plenty of cheap things to do in Panama City, Panama and even completely free.  Choosing your activities wisely will allow you to maximize your enjoyment while minimizing the hit to your wallet.  The only cost you will incur to for these attractions is possibly the cost of transportation to get there.  However, you can reach everything on this list either on foot or by MetroBus, costing 25¢ each way.
So, what is there to do in Panama City for free?
1. Explore Casco Viejo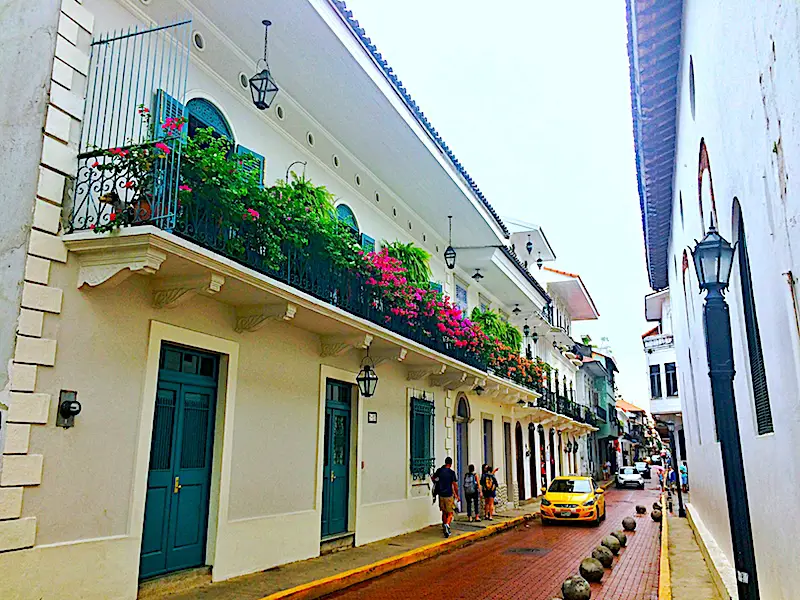 Visiting Casco Viejo (also called Casco Antiguo or San Felipe) is the absolute best of all the things to do for free in Panama City.  This is the colonial part of the city and is an awesome place to just wander the streets.  It is an interesting mix of beautifully restored colonial architecture, old ruins and buildings that should probably be condemned.  There are plazas, churches and museums all over to check out.  This is also the part of the Panama City where you will find trendy restaurants, bars and cafes where you could stop to enjoy a drink on a rooftop patio.
2. Walk along la Cinta Costera, Panama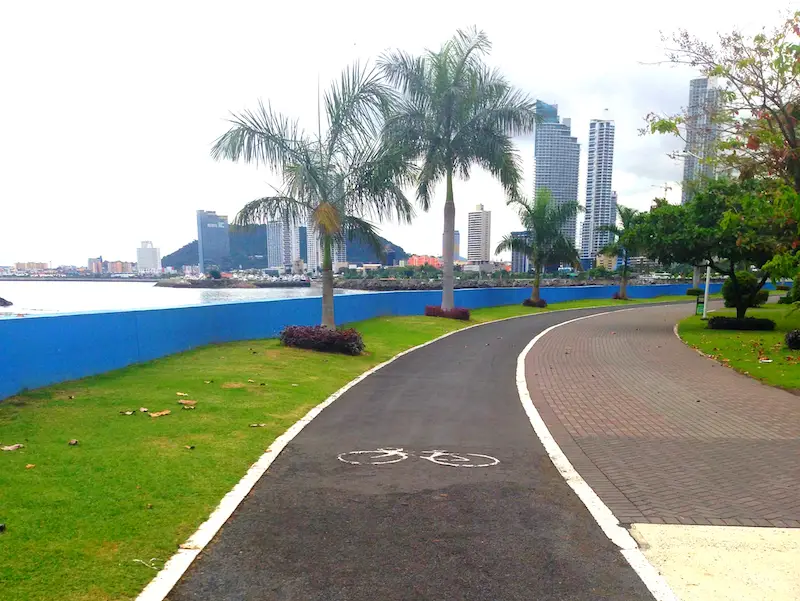 Running the length of most of the city is the Cinta Costera, or coastal belt, one of our favourite attractions in Panama City.  This long strip between the main road and ocean is hugely popular for locals to exercise or socialize with miles of walking/running/biking paths, parks, various sports equipment and incredible views.  It is easy to forget you are in the middle of a busy metropolis while on the Cinta Costera.  Start at either end and walk until you get tired.  Stop for a break and watch a local game of volleyball or soccer.  It can get hot so avoid midday if the sun is out.  In the evenings it is a great place to people watch!
3.  Take a picture with the Panama Sign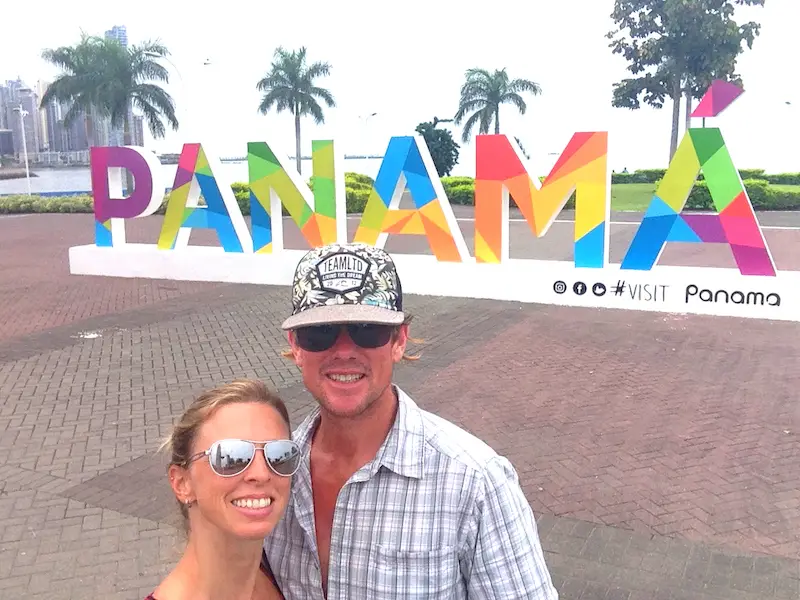 The giant Panama sign in Panama City is found along the Cinta Costera.  These signs seem to be incredibly popular all over Latin America but this one has a pretty nice backdrop for a cute, if cheesy, photo opportunity.  If you're lucky the sun will be out to make your picture brighter and more colourful than ours!  There is another Panama sign at the end of the Amador Causeway but we think this one makes for a better photo.
[btn text="Find all our posts on Panama here." tcolor=#FFF bcolor=#1998b5 thovercolor=#444 bhovercolor=#bbede7 link="https://pastthepotholes.com/panama" target="_blank"]
4. Walk or bike the Amador Causeway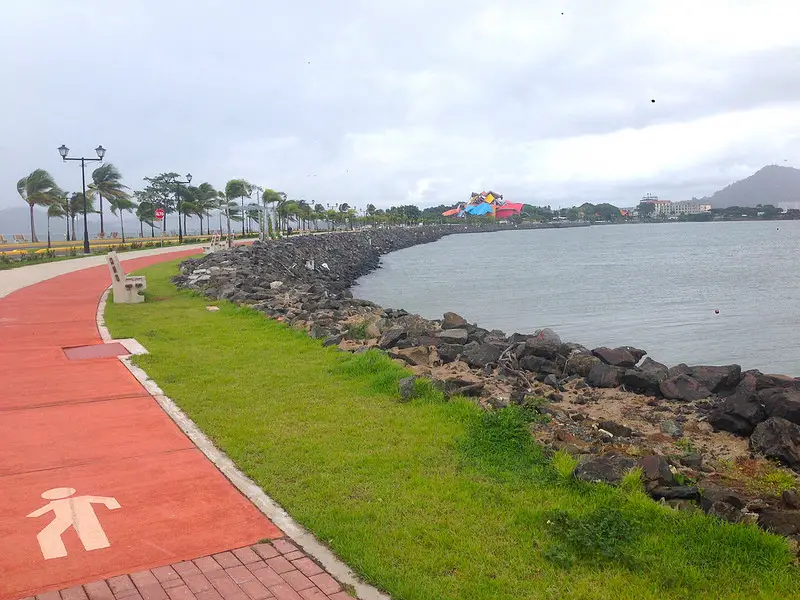 At the edge of the Panama Canal is the Amador Causeway, one of our favourite free things to do in Panama City.  Created with the scrap materials from digging the canal, the causeway connects a series of four islands to the mainland.  We were really impressed by how nicely designed this is.  Near the start of the causeway, there is a great view of the Bridge of the Americas and ships entering and exiting the canal.  Many people rent bikes to travel up and down the causeway but we just walked along it.  You can visit one of the restaurants or just sit on a bench and enjoy the view.  At the far end is a marina where we enjoyed checking out the uber-expensive yachts moored here and the duty-free shop.  Walk back or take the Metro Bus to Albrook Terminal.
5.  Discover the original Panama City at Panama Viejo
Did you know that the historic district, Casco Viejo, is not actually the original city?  We didn't either.  There are only ruins left at Panama Viejo now since the pirate Captain Henry Morgan attacked the city in 1671 and it burned to the ground.  In 1997, Panama Viejo was named a UNESCO World Heritage Site as one of the most historically important places in Panama City.  The ruins are free to explore or there is an option of a tour for a few dollars.
6. Wander around an Artisan Market
There are a few spots you could wander around stalls filled with local artisan goods.  You may not think of a market as one of the free things to do in Panama City.  But even without purchasing, markets are great places to look at the various handicrafts, meet some of the local people and learn a little about the culture.  Of course, it's more fun to purchase if you see something you love!  You will find stalls set up around the Plaza de la Independencia and by the Instituto Nacional de Cultura in Casco Viejo.  There is also an artisan market near Cinco de Mayo metro station and another near Panama Viejo, the ancient ruins of the original Panama City.  Be sure to check out the molas, an indigenous type of colourful embroidery.
7. Relax in Parque Omar

Of all the Panama City things to do, this one rarely makes the list!  One of our favourite things about every city we visit is the green spaces found within.  This park is often compared to Central Park in New York City.  Parque Omar is a large green space in the middle of the city with a huge variety of activities going on.  There is a fruit and vegetable market, children's play spaces, an amphitheatre, library, workout equipment, swimming pool, areas for various sports, roller rink, and scheduled events.  The park is a great space to escape from the madness of the busy city for a little while.
8. Visit the Mercado de Mariscos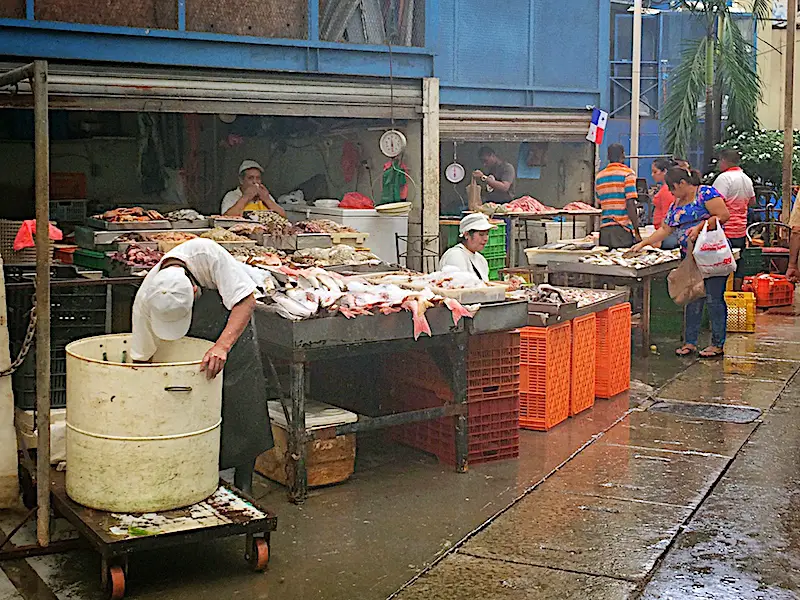 You will find the mercado de mariscos, or seafood market, is nestled between Casco Viejo and the Cinta Costera.  It's an interesting spot to watch the local fishermen haul in their catch, then sell it at the many stalls.  It is incredible the quantity and size of some of the seafood they are selling.  The market is definitely one of the more cultural places to go in Panama City!  This is also supposed to be a good spot to try some ceviche.  However, if you're anything like us, the sights and smells of the market will leave you without an appetite!
9. Hike up Cerro Ancon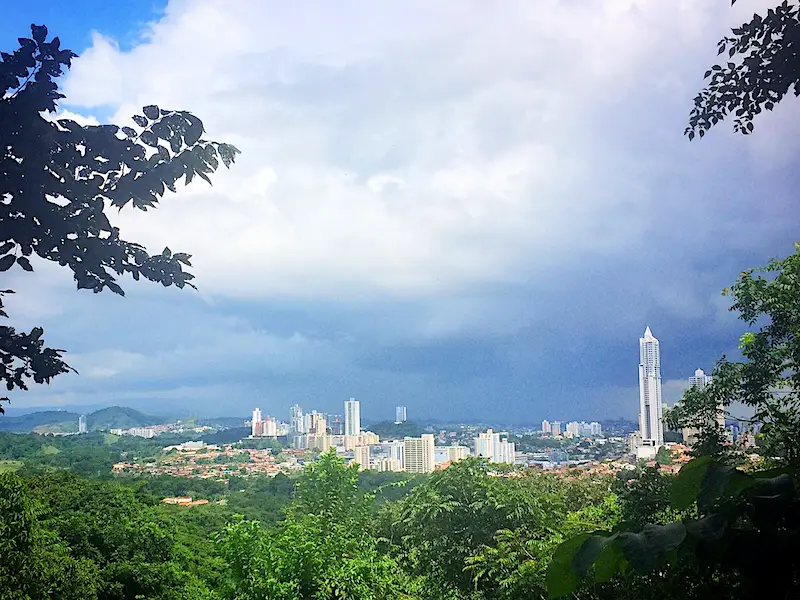 One of the best activities in Panama City, or any city really, is to climb to a place with a great view of the city skyline.  Here that means to climb the easily identifiable Cerro Ancon between Amador Causeway and Albrook Terminal in the southwest part of the city.  While you can get a taxi right to the top we think it is more rewarding (and free!) to walk up to the top.  From here is an awesome view of the city.  For just a $4 entry fee, you could hike Parque Metropolitano instead for a view of the city that some say is even better.
10. Join in with Sunday's Ciclovía
Wondering what to do in Panama City, Panama that will burn some calories?  Every Sunday morning, the city closes Avenida Balboa, Via Israel and Cincuentenario to traffic and become a huge path for running, walking, biking or whatever you choose.  Apparently, there are free bike rentals available by Multicentro (with ID).  We weren't in the city on a Sunday and so can't say for sure.  Either way, walking would be free as would sitting and watching the masses whizz by.
11. Head up Trump Tower at sunset
On the 66th floor of the Trump Tower is a bar and pool area with incredible views over the bay.  Forget the usual rule of trying to fit in with the locals and stroll in like a guest.  If you're staying for a while, you should buy a drink but I'm sure no one would notice if you were just there for a short stop.  Every day we were in the city was cloudy so we didn't bother to do this item on our list but it looks incredible.  Let us know how it is 😉

With just one day you could fit in many of the best things to do around Panama City.  Begin your day exploring Casco Viejo before continuing on to an artisan market, mercado de mariscos, walk the cinta costera and take a picture with the sign, then end your day at the Trump Tower for sunset. You would have covered a LOT of ground by foot and be tired but that is basically what we did in our first day in Panama City (we skipped the tower because it was overcast but had plenty of time) and it was definitely manageable.
As you can see, there really are some affordable things to do in Panama City!
Like this post?  Pin it!
[columns] [span6]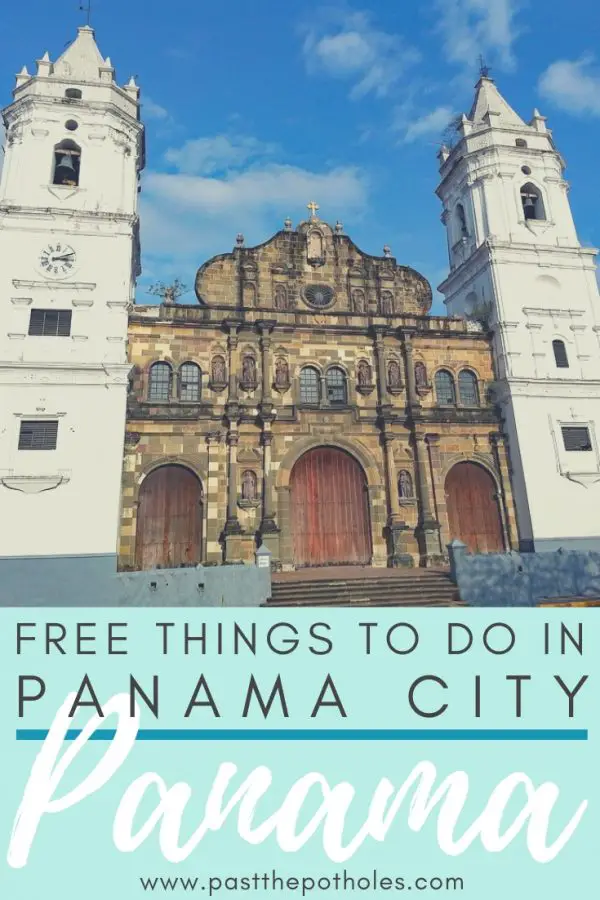 [/span6][span6]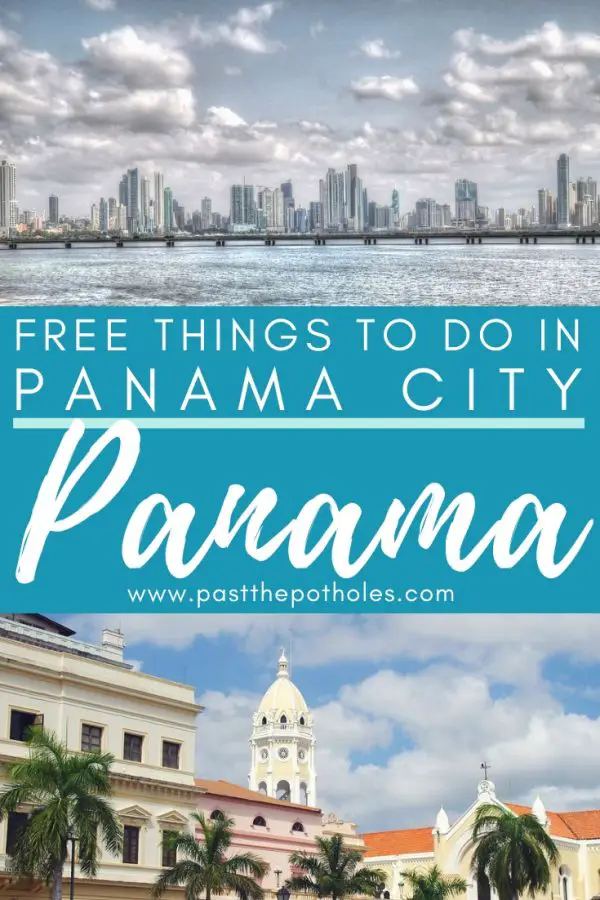 [/span6][/columns]
Have you been to Panama City?  What did you do while there?  Did you find other free things to do in Panama City?  Let us know in the comments below!
Return to Destinations page.