Some links in this post may be affiliate links. If you click on them we make a commission from qualifying purchases at absolutely no cost to you.  Read our full Disclosure Policy here.
If you're anything like us you love the ocean but also crave some great mountain hiking.  It's not always easy to find places that offer both but El Valle de Anton, Panama is one of those rare places.  Just an hour from the Pacific coast of Panama, two and a half hours from Panama City, El Valle is a small town built within the crater of a volcano.
This area is a haven for all kinds of flora and fauna, as well as boasting some excellent hiking trails.  It's an easy day trip from the city or many of the beach towns and resorts.  However, with so many amazing things to do in El Valle de Anton, you won't regret staying overnight.
If you're staying in Panama City and want an organized day trip to El Valle, this tour includes round trip transportation, a jungle hike, a waterfall, the zoo,  the Piedra Pintada AND the local natural hot springs!  All for a great price.
Things to do in El Valle, Panama
Hike India Dormida
One of the most popular things to do in El Valle, Panama is to hike La India Dormida.  It's a really enjoyable hike that begins somewhat challenging as it summits the caldera then follows along the edge for a while to enjoy some amazing views.  On the way down you have a chance to enjoy a couple of waterfalls and check out the Piedra Pintada, or painted rock, boasting mysterious petroglyphs.  Read this post for some more information about hiking La India Dormida.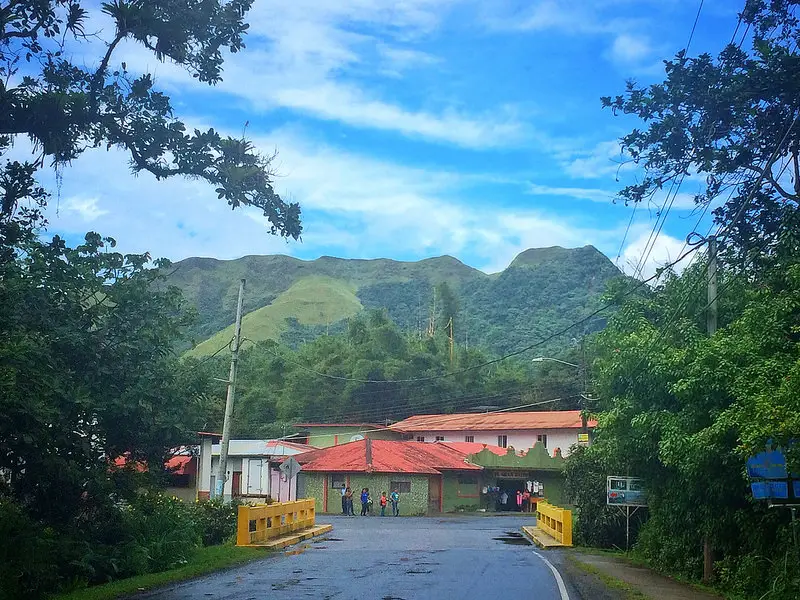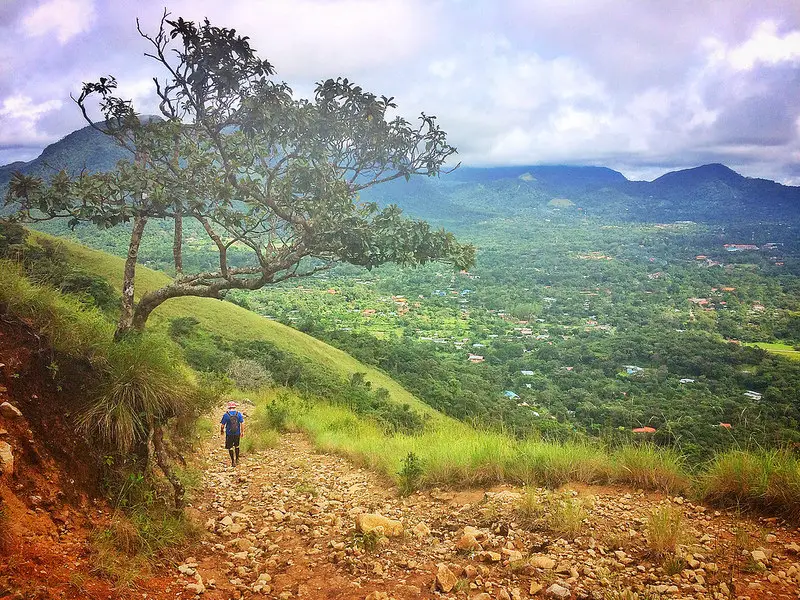 Hike Cerro Gaital
If you are looking for more of a challenge this is the trail for you.  There is an entry point just past the Chorro Macho waterfall or take a taxi (or hike) from town to La Mesa where you will find a second trailhead.  We took the second so we can't speak for the condition of the first but you will be rewarded with gorgeous views of El Valle.
Hike Cara Iguana
Another hike on the west side of El Valle, this is a great option for sunset views on a clear afternoon.  Read this post to find out more about the hike.
Visit a waterfall
El Chorro Macho is probably the easiest waterfall to access.  Continue along the main road through town heading north, veer right with the road and continue uphill.  You will come to the entrance on your left.  There is a fee of $4 to enter or you can pay a higher price to include a zipline adventure.  There are numerous other waterfalls around town though.  Follow the signs or download Maps.Me for easy directions to follow.
Explore on bike or horseback
El Valle de Anton, Panama is not only great to explore on foot but renting a bike or horse is an excellent option.  Bikes can be rented in most hotels or head over to Hotel Campestre for the nearby horseback rentals.
See the square trees
It is said that this is the only the place in the world where these trees grow with square trunks.  The trees can be found on a short, easy trail behind the Hotel Campestre.
Visit El Nispero
The Zoo El Nispero is a great place to see some wildlife without having to strap on your hiking boots!  This small zoo is most notably home to a research and conservation centre trying to protect the endangered Golden Tree Frog endemic to this area.
Find tour details, prices and availability now!
El Mariposario (Butterfly Haven)
The Butterfly Haven has a live flight room with around 250 butterflies.  You may also see hummingbirds and other birds feeding in the gardens.  Check out their website for more information.
El Serpentario
If you are interested in snakes, this could be a good place to visit for a couple of hours.  There are 14 different snakes on exhibition including a boa constrictor that you can hold.
---
Get ideas for Free Things to do in Panama City
---
The Orchid Centre
APROVACA, the non-profit organization that runs the orchid centre in town, is dedicated to conserving endangered regional species of orchids.  There are currently 147 different species on display.
Animal and Bird Spotting
On of the most popular things to do in El Valle is bird watching.  On our first visit to the town we saw a toucan and a sloth right off the side of the main road.  As you leave town and walk up into the hills the vegetation becomes increasingly dense.  You will be able to spot all kinds of wildlife with little effort.  If you are serious about it, a guide will help you find the creatures among the leaves and branches but you could certainly do this independently.
---
---
Relax in the hot springs
Just outside of El Valle you can find the Pozos Termales.  Great for after a hike, or just on their own, spend some time relaxing in the warm waters enjoying the atmosphere.  There are also mud baths to be enjoyed.
Museum El Valle
The museum can be found beside the Catholic Church in town and includes a variety of artefacts showcasing the history and culture of the area.
Shop the local market
In the heart of the El Valle is an excellent market.  Everyday there are piles of fresh produce and a few souvenir stands.  On the weekend, these numbers increase significantly.  Local indigenous families arrive in town to sell their colourful handicrafts.  Even if you're not in the market to buy, it's worth a stop on your way to a hiking trail or waterfall.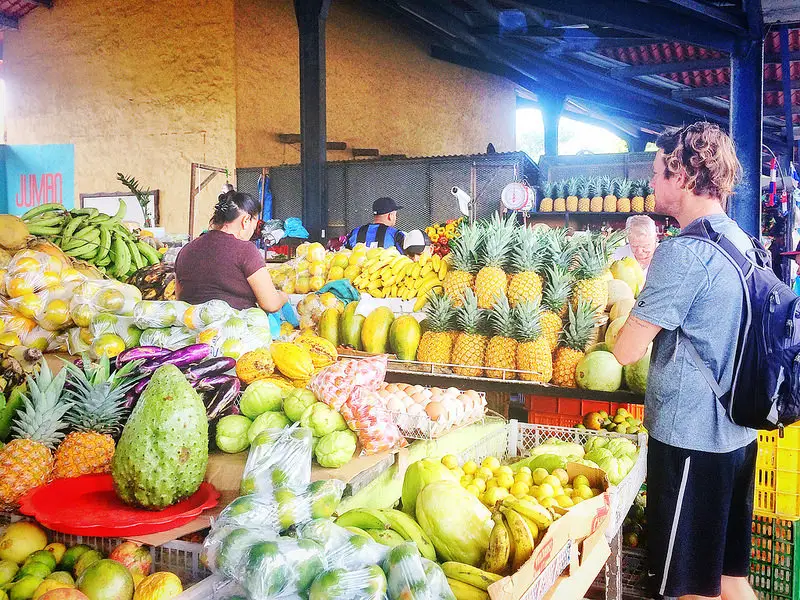 Relax in a comfy spa/hotel
El Valle de Anton has a number of comfortable hotels meant to give you a relaxing weekend escape from the city.  Take advantage of excellent service and amenities by spending some time just enjoying your surroundings.
Eat excellent food
As El Valle de Anton has become more and more popular with both the expat crowd and wealthy Panamanians looking for a weekend escape, the food options have improved as well.  El Valle boasts a surprising number of highly rated restaurants for its small size and you're sure to find some delicious food no matter what you are craving.
Are you ready to book?  Find accommodations El Valle de Anton here.


Have you ever been to El Valle de Anton, Panama?  What were your favourite things to do?  Let us know in the comments below!
Did you find this post useful?  Why not pin it for others to find?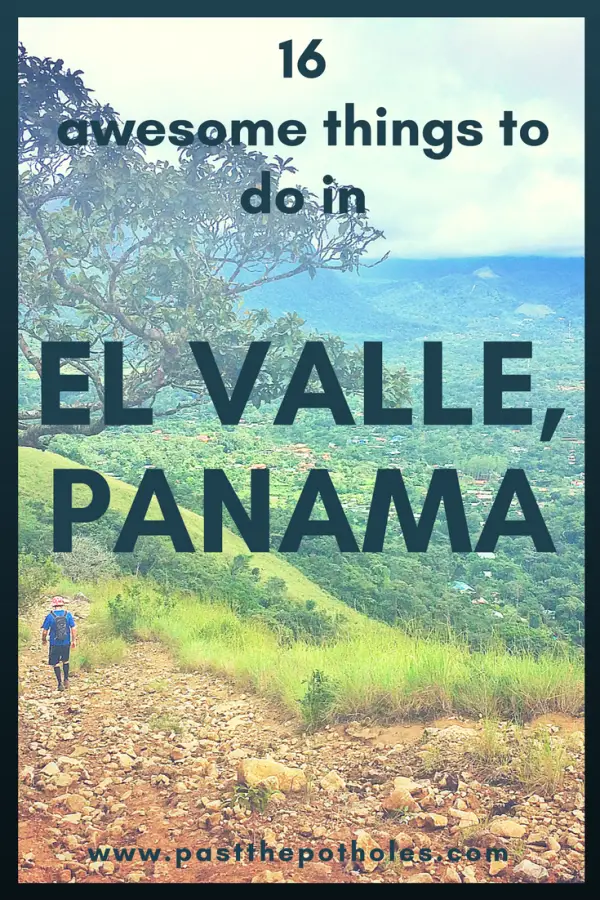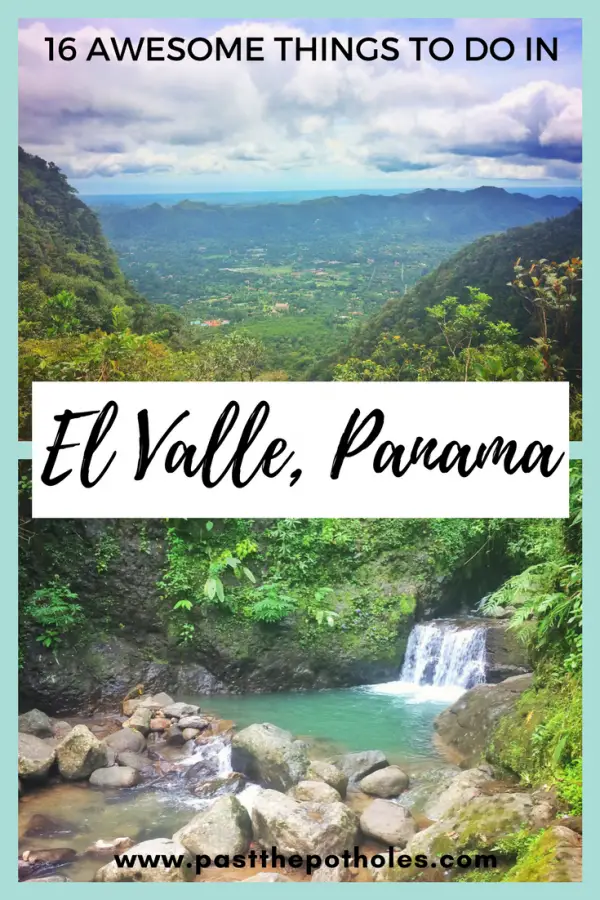 Return to Destinations page.
---
Some links in this post are affiliate links.  That means if you click on them and make a purchase we will make a small commission at no cost to you. Thanks for your support!
---