How to spend 3 days in Medellin for the best experience!
Some links in this post may be affiliate links. If you click on them we may make a commission from qualifying purchases at absolutely no cost to you.  Read our full Disclosure Policy here.
Medellín has been on the radar in recent years as a top destination to visit or live.  It's not a 'pretty' city like Cartagena or Bogota's candelaria district but its surrounding mountains, year-round spring climate and active social scene make it a favourite for many.  If you are looking for ideas on how to spend three days in Medellin, you've come to the right place!
       Read our top Colombia Travel Tips       
How Many Days in Medellin?
There's no right answer to how long to stay in Medellín but during our recent three weeks in Colombia, we spent two days in the city.  However, while we enjoyed our time there, to get the most out of this city we feel at least three days in Medellin is a much better option if you have the time to spare.  Medellin is known more for its nightlife and culture than sightseeing so the longer you stay, the more you are likely to enjoy it – many visitors never leave!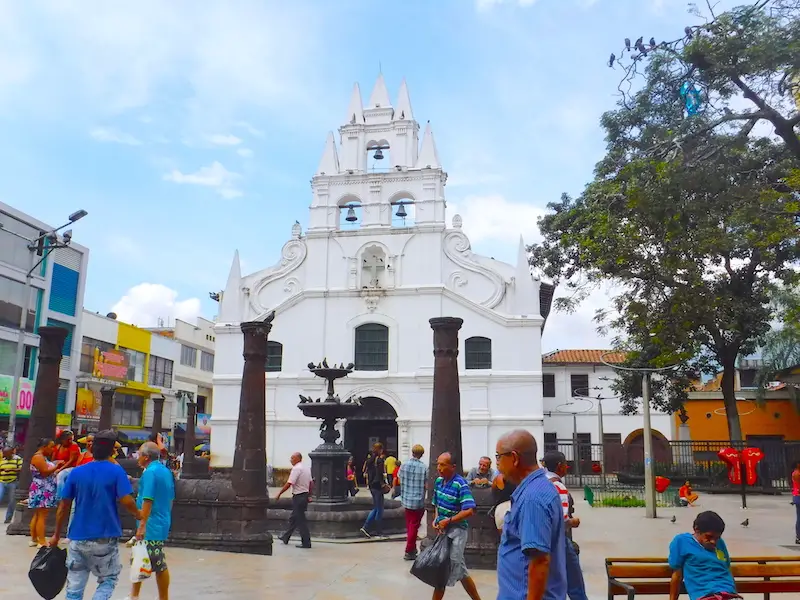 We were able to cover a lot of ground during our time in the city, but we also made some mistakes and would definitely do some things differently if we return.  Learn from our experience and have the best time in Medellin, Colombia!
Use this guide to plan your Medellin itinerary.
How to spend 3 Days in Medellín
[mappress mapid="6″]
Day One
Free Walking Tour
One of the absolute top things to do in Medellin is the free walking tour.  Medellin has an incredibly interesting history and, while this tour doesn't take you to a long list of picture-worthy sites, it is probably the best walking tour we have ever done!  
Real City Tours does an incredible job, using local guides who take you on a tour of downtown Medellin and recount various incidents in the city's history as well as plenty of interesting information about the city and culture in general.  You will see the Botero Plaza and its many sculptures but won't get inside the museum.  If this is of interest to you, you will need to return after.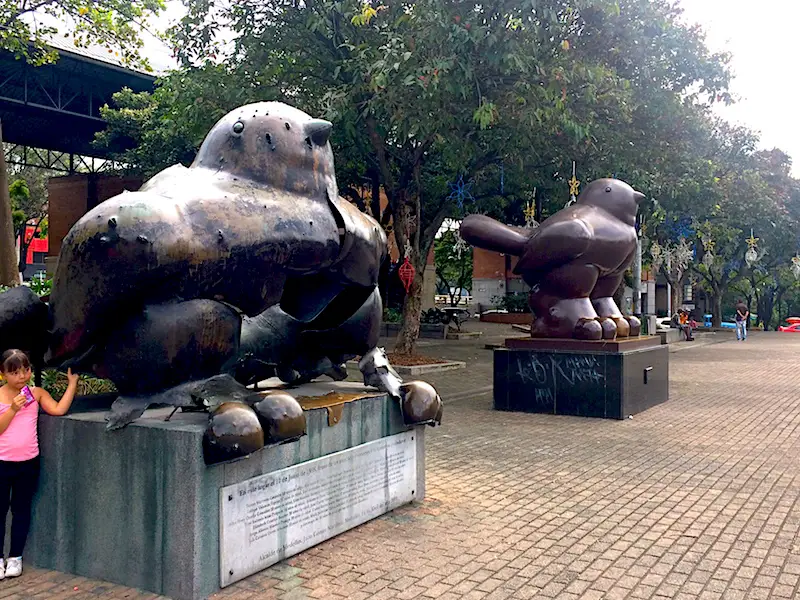 This free tour lasted for almost 4 hours and gave us a great insight to the city.  It is worth doing as early in your trip as possible as it will help you get your bearings as well as ideas for other places to visit.  The tour ends near a traditional bar that is worth stopping for a drink.  They sell a great local artisan beer too.
Cable Car to Santo Domingo
After a refreshing break, take yourself to the nearby metro station and head north to Acevedo station then take the cable car, Line K, to Santo Domingo.  This is one of Medellin's poorer neighbourhoods, once the dangerous stomping grounds of Pablo Escobar.  Since the cable car connected them to the rest of the city, great strides have been made to turn this area around and it is now a great place to explore and discover a different side of Medellin.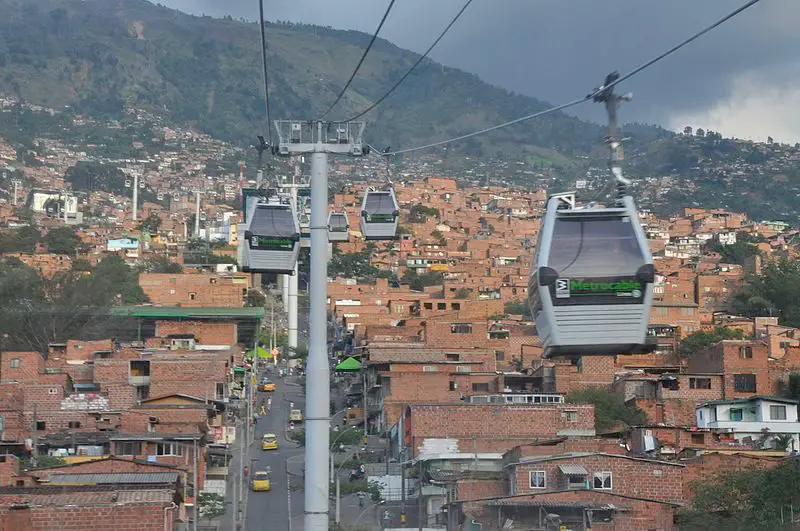 Parque Arví
From here, take Line L cable car to Parque Arví.  After a morning spent walking around some of the grittier parts of the city, this large swath of nature will be a welcome reprieve.  Wander the 54 miles of trail through the almost 2000 hectares of forest or find a quiet spot near a stream to sit and relax.  The park is open Tuesday to Sunday (unless Monday is a holiday) from 9 am to 6 pm.  There is no cost to walk alone in Parque Arvi, or you can hire a guide for just a few dollars.
Day Two
Guatape Day Trip from Medellin
One of the best day trips from Medellin is Guatape and its famous rock, el peñon.  This colourful town can be reached through a pre-organized tour in town but it is also very accessible by public transport.
[btn text="Check out these Guatapé guided tours now!" tcolor=#FFF bcolor=#fa7268 thovercolor=#444 bhovercolor=#fa7268 link="https://www.getyourguide.com/s/?q=guatape&partner_id=6Z7V2CX&cmp=medellin" target="_blank" rel="nofollow"]
To get from Medellin to Guatape, take the metro to Caribe station and cross the pedestrian bridge to the North Terminal, or Terminal Norte.  From here you need to go downstairs to the ticket booths labelled for 'la piedra' or 'Guatapé'.  They should be around booths 9 – 14.  When we went (December 2016), tickets cost 12,000COP to La Piedra or 13,000COP to Guatape.  Take the bus to La Piedra rather than into town and climb the rock.  The price of this had increased to 18,000COP but it worth it for the view.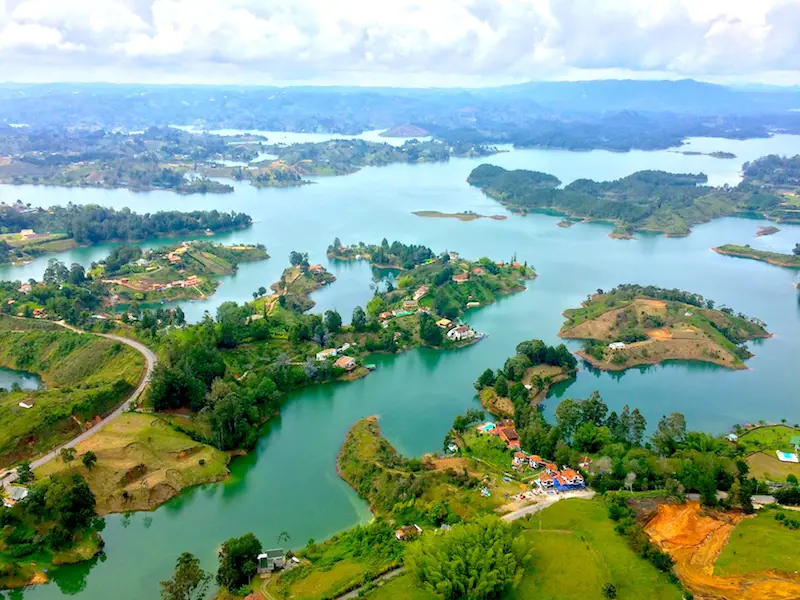 After you've taken about a thousand pictures, and caught your breath, climb back down to the road for Guatapé.  There are three options to get into town: walk, wait for the next bus or hire a tuk-tuk.  The tuk-tuk will cost a little more than the bus, but it has a novelty factor going for it and you won't have to wait at all.
Guatapé is a cute little town with every building covered in colourful frescos and hidden little plazas.  It's a great spot to have lunch after your tiring climb.  If you're feeling energetic there are plenty of options on the lake.  Get more information about visiting Guatapé now.
When you're ready to return to the city, you will find the buses just across the road from the lake.  It gets busy and you may have to wait for a couple of buses before there is space so don't wait too late to buy a ticket.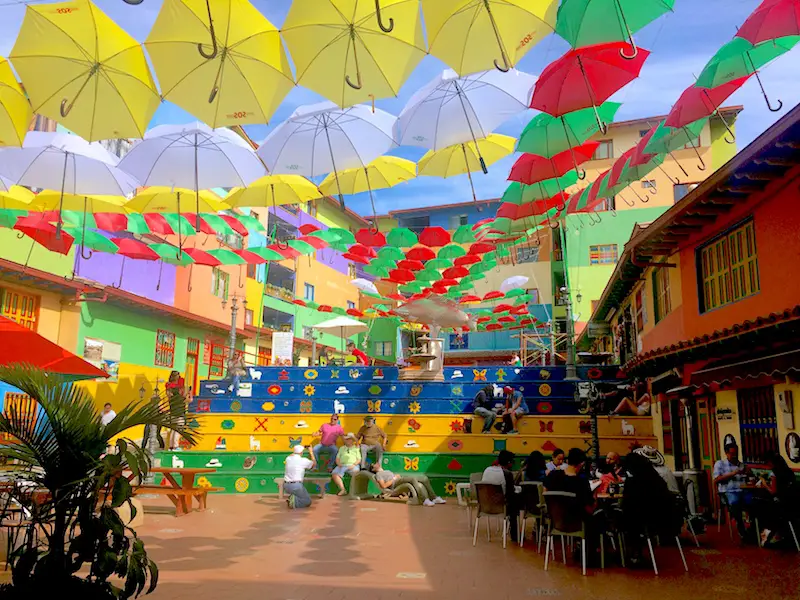 Day Three
Outdoor Escalators of Comuna 13
If you're wondering what to do in Medellin that's a little different, this is for you.  Once Medellin's most dangerous neighbourhood, Comuna 13 has been revived by one of Medellin's many 'social architecture' developments.  Residents used to have to climb many steps to get to and from the city but new outdoor escalators now wind through this neighbourhood.
It is a great place to visit, or take a tour, but only during the day.  Don't go alone and don't take any valuables.  Stay in the immediate area of the metro station and escalators as this is where there is security.
To reach this area, take the metro Line B west to San Javier.  From there it is a 15 minutes walk (be sure you have studied a map and know the route) or wait for a bus labeled 'escalas electricas' outside the station.
Pueblito Paisa and Cerro Nutibarra
Pueblito Paisa is a replica historical Antioquian village that you can wander around and through a few buildings.  There are also a few stores and a museum.  While the pueblito was underwhelming, there is an amazing view across the city from here and the hill itself is full of nature trails, a sculpture park and an open-air theatre.  While we wouldn't recommend this just for the Pueblito Paisa, with the other attractions included it is worth the visit.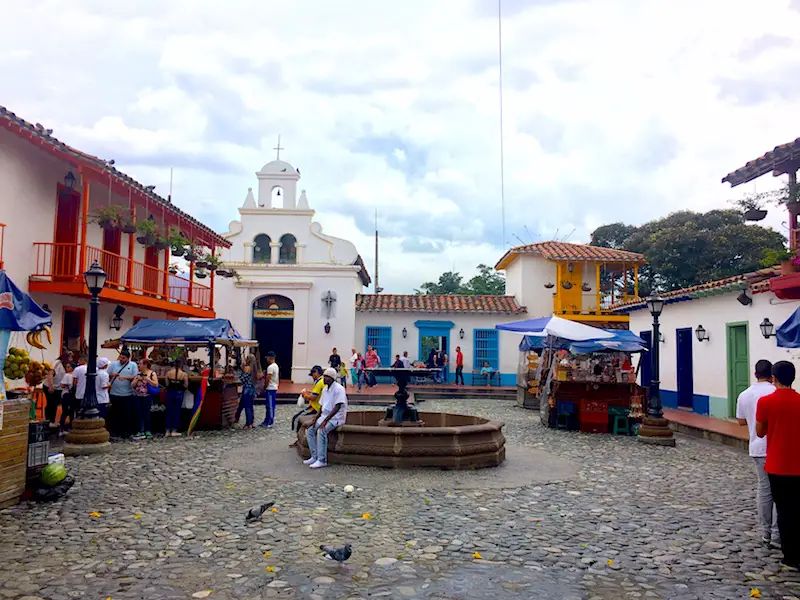 To get here take the metro to Industriales station and walk west from there.  The best way to find it (the signs are almost non-existent) would be with a map or Maps.Me app.  Cars have access all the way to the top of the hill so if you're not a fan of walking, or have mobility issues, a taxi could take you to the top and you could choose to walk down through the nature trails.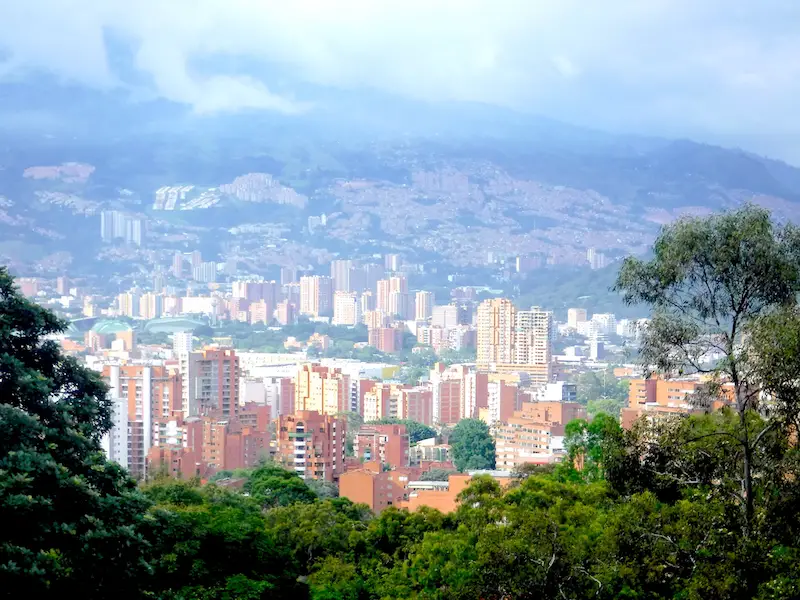 Frequently Asked Questions
How do I get to Medellín?
Medellín has a fairly isolated location in the mountains.  This makes land travel often a long and arduous option.  The one exception is if you are travelling from Salento to Medellín.  This is approximately 7 hours of stunning scenery.  Flota Occidental run a direct service or you can change buses in Perreira.
From most other destinations within Colombia, and certainly international destinations, you will find it much easier to travel by air.  We flew VivaColombia between Medellin and Santa Marta on the coast.  The very cheap 1.5-hour flight replaced a 12-hour uncomfortable bus ride!  Also look into Avianca, LATAM, EasyFly, ADA and Satena.  Be sure to use the Colombian website version in Colombian Pesos for the best prices and watch for extra luggage fees.
Most people will be arriving at José María Córdova International Airport in Rio Negro.  This is actually quite a distance east of the Medellin and almost an hour long taxi ride.  For a cheap and painless transfer to your accommodation, use KiwiTaxi!
How should I spend 2 days in Medellin?
If time is not on your side and you can't fit 3 days into your itinerary then you will have to be a little more selective.  For our two days, we took the Guatapé day trip from Medellin, the free walking tour and hiked up to Pueblito Paisa.  However, if we had the chance to do it again I think I would trade Pueblito Paisa for the cable cars to Santo Domingo and Parque Arví.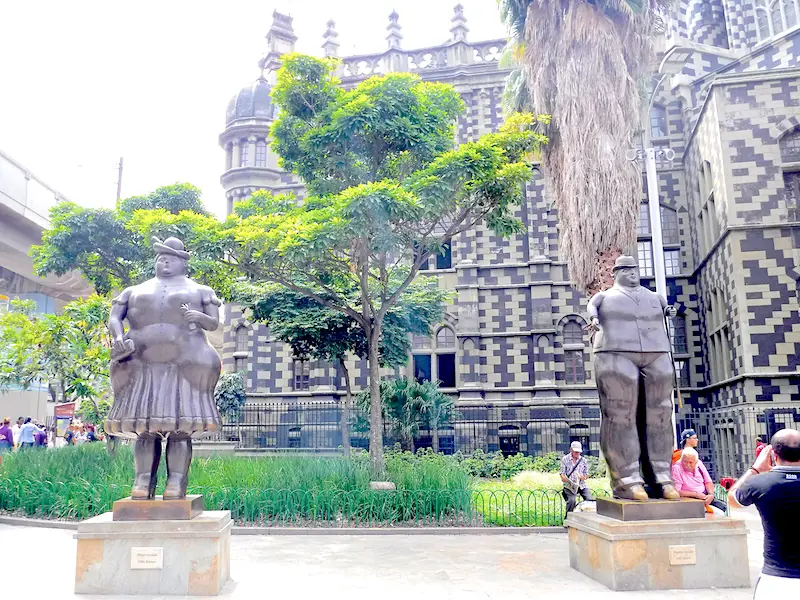 What is the best area to stay in Medellín?
There are two more popular options when you are looking at where to stay in Medellin.  Poblado is the most touristy area with a high concentration of hostels, hotels, restaurants and bars.  This is a great area for nightlife and meeting fellow travellers.
The Estadio/Laureles area is a little more 'local' but still has its share of hotels and hostels.  Carrera 70, walking south from Estadio metro station, is the nightlife hub.  It is filled with restaurants, bars and clubs and a great place to spend the evenings.  There are also opportunities to visit authentic salsa clubs.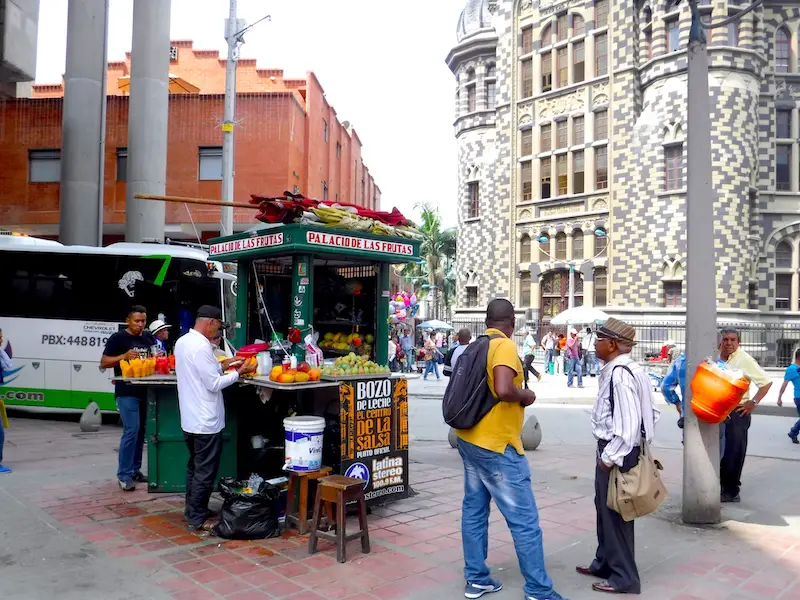 Both have excellent metro access and are safe for visitors.  While most travellers choose Poblado and thoroughly enjoy their time there, we chose Estadio/Laureles and would definitely recommend this area.  However, we wouldn't recommend our hostel so I won't even mention it!  I don't think you can go wrong with either, it just depends on personal preference.
Search for the best accommodations now.
When is the best time to visit Medellín?
Medellín is known as the 'city of eternal spring' because of its year-round mild temperatures.  The average monthly high temperatures only range between 21.8ªC and 23.1ºC (71.2ªF to 73.7ªF) throughout the year.
The city does have two rainy seasons that can see over 20 days of rain a month.  The wettest months are typically April - May and September - November.  However, the rain is usually short-lived with plenty of daylight left to explore.  You may just have to be flexible with your plans, or be prepared to get wet!  Your best chance of staying dry is visiting between December and March.
So really, Medellin is a great city to visit any time of year!
Do I have to worry about safety in Medellin?
Medellin has improved leaps and bounds over the past couple of decades.  Once the 'murder capital of the world', it now has a positive energy and optimistic feel.  During our time in Medellín, we always felt safe.  We walked around our neighbourhood at night without any issues.  There are still poorer areas that are not as safe, where people should only visit during the day and preferably not alone.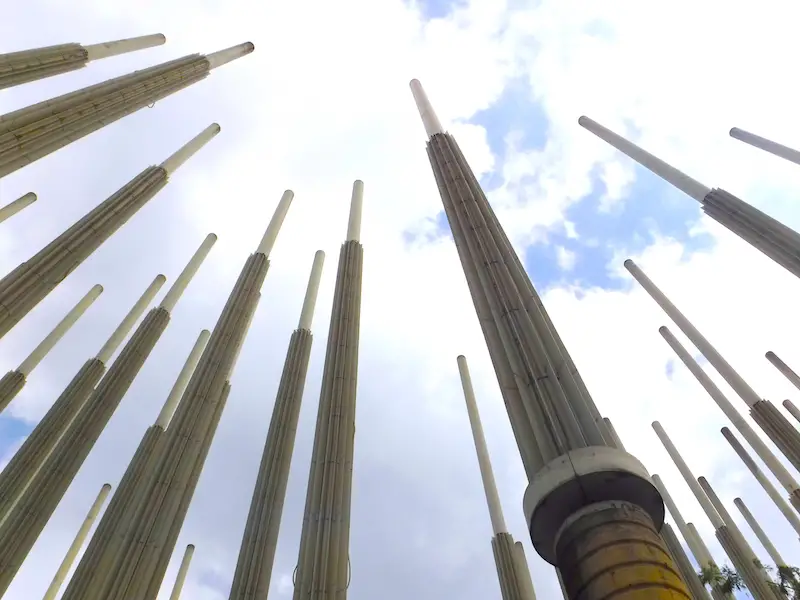 Downtown Medellin has its share of pickpockets and interesting people but there is a heavy police presence.  We saw one attempted robbery in Parque Bolivar and police reacted within seconds.  It is not advised to be downtown after the stores have closed and everyone goes home.  Few live in this area so it becomes dark and deserted - not a smart place to be in any city.
Be sure to keep valuables at home and everything secured in the main compartment of your backpack.  Stay in busy areas.  Ask for local advice about certain areas.  With a few common safety precautions, you will find Medellin to be no less safe than any other city.
Check out these posts on other Colombian cities worth visiting:
Have you been to Medellin before?  What are your 'must sees'?
Haven't been?  What questions do you still have?
Drop us a message in the comments below!
Want to save it for the future?  Pin it here!
[columns] [span6]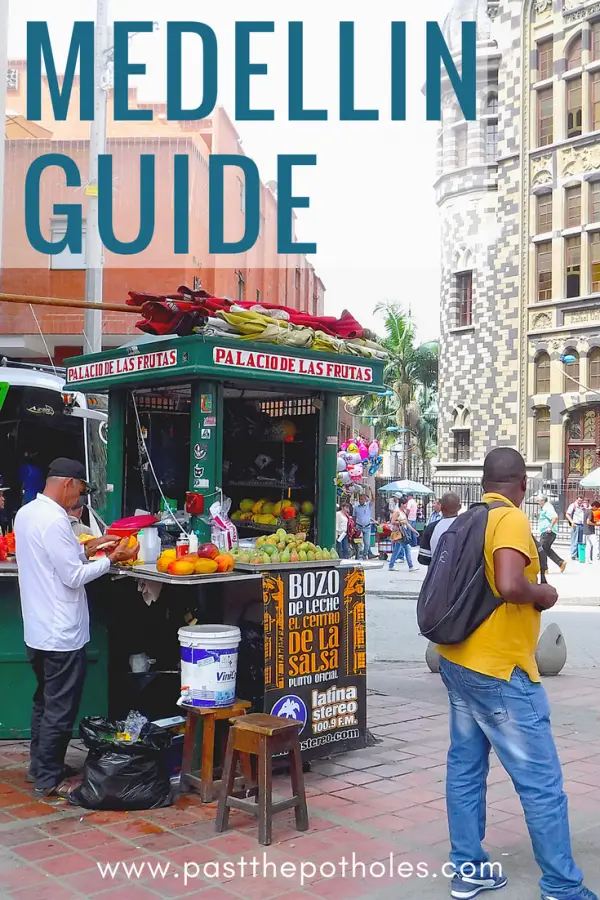 [/span6][span6]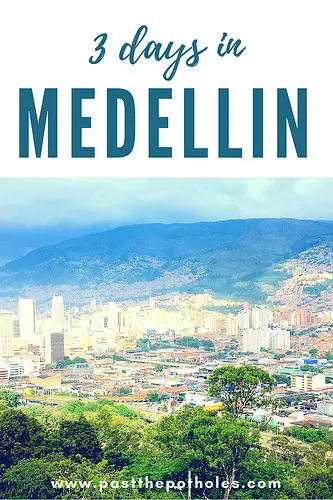 [/span6][/columns]
Return to our Destinations page.
---
Some links in this post are affiliate links.  That means if you click on them and make a purchase we will make a small commission at absolutely no cost to you. Win-win, right?  Thanks for your support!
---