70 Awesome Things to do in Trinidad
Some links in this post may be affiliate links. If you click on them we may make a commission from qualifying purchases at absolutely no cost to you.  Read our full Disclosure Policy here.
If you are looking for a unique Caribbean island vacation, Trinidad just may be the place for you!  There is so much more to this island than its beaches – although be sure to spend some time there too.  However, finding ideas for fun things to do in Trinidad can be challenging.
With its lack of tourist infrastructure, there is very little information to be found.  This list of what to do in Trinidad is based on our experiences from a full year of living in this twin-island nation.
Where is Trinidad?  The southernmost island in the Caribbean, it is just 8 miles off the coast of Venezuela.  The island escapes the hurricane belt and has an interesting mix of cultures.
Yet, being the financial capital of the Caribbean, it is easily accessed by air.  Trinidad is the base for Caribbean Airlines as well as receiving regular flights from British Airways, Copa Airlines, WestJet, Air Canada, United and American Airlines among others.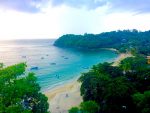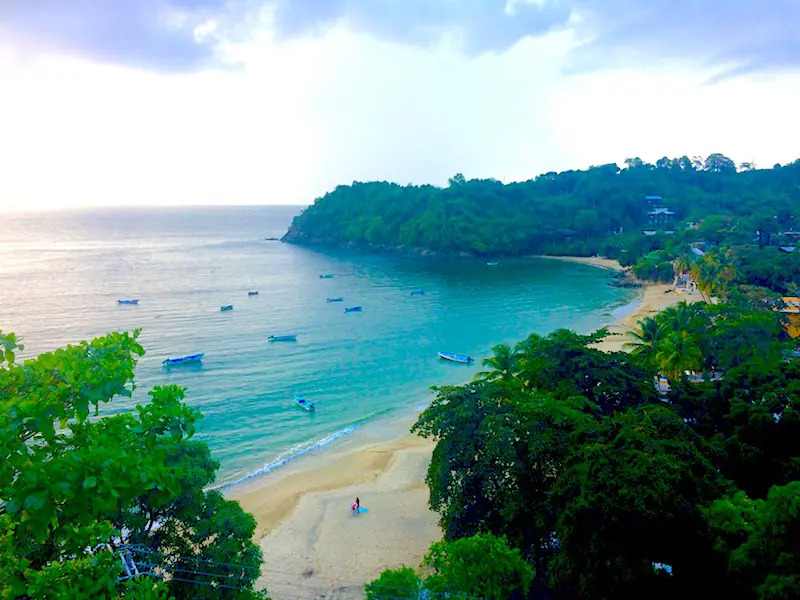 READ THIS POST:
The 19 Best Activities in Tobago, Trinidad's Sister Isle.
Not sure how best to spend your time in Trinidad?  Read these detailed itineraries and more:

We know 70 is a LOT to digest!  Click on each of the subheadings below to skip straight to the part that interests you most.  Of course, we highly recommend reading through all the items! 😉
How to Get Around Trinidad
We cannot recommend having a car enough for Trinidad.  What public transportation exists is unreliable and more than a little confusing.  While driving in Trinidad takes a little getting used to we had no issues and enjoyed the freedom of our own wheels.  If you really don't want to drive and have the budget there are a few good options for hiring a personal driver.  Our friends always hired a car with a driver through Kalloo when their family came to visit.
We suggest a little math to make your decision easier.  Decide just how many places you want to see and things you want to do.  Calculate the cost of booking a few tours vs. the price of a rental car.  If you only plan on exploring a little of the island, or want to mostly concentrate your time around Port of Spain, the tours may actually be a more economical option.  It just depends on personal preference.
For those of you who decide not to rent a car (or hire a driver – that is definitely not a budget option!) we will suggest a few Get Your Guide tours throughout the following activities.  To be clear, we have not taken these specific tours (either they didn't exist when we lived there or we didn't need it with our car) but we have used Get Your Guide in multiple countries and always with very positive results.
---
THE BEST THINGS TO DO IN TRINIDAD
---
When researching Trinidad, I saw many lists promising the top things to do in Trinidad that only include a few superficial things to do around Port of Spain and then whisk you off to Tobago.  If you arrive on the island without any insider knowledge, you would be excused for thinking that is all there is to do.
However, we lived in Trinidad for a year.  We made some excellent local friends and some expat friends who have lived on the island for years.  Over the course of a year, we travelled to all four corners of this island, and much in between.  There are so many different things to do in Trinidad that even after a full year, we could easily go back and do more!
---
Would you prefer a local guide to show you around and point out the best spots?  Check out this tour for a perfect introduction:    Discover Port of Spain like a Local!
---
Get Outdoors
What are the best outdoor activities in Trinidad?  With year-round hot temperatures, plenty of undeveloped land and miles of coastline, people love to get outside and be active. There are countless outdoor activities in Trinidad and we've listed a few of the highlights.  (You will find even more ideas in the Adventure and Sports section further down this page.)


 1.  Maracas Beach
One of the most obvious and yet best places to visit in Trinidad is Maracas Beach.  This is the most popular Caribbean beach partly due to its proximity to Port of Spain but also thanks to its stunning beauty.  Unfortunately, the government decided to build some permanent structures for vendors so the approach is now pretty ugly but as soon as you get past the construction, you'll be glad you came!  While here be sure to try shark and bake.
Check out this highly-rated tour to Maracas Bay!
2.  Las Cuevas beach
The next beach after Maracas Bay, Las Cuevas also has some facilities but it is much quieter.  It is a wide bay with more space in the sand for games.  The caves for which it is named provide shelter from the sun and interest for kids.  It is even possible to surf at the west end of the bay.
If you don't have a car, this tour could be well worth the cost to get to the North Coast of Trinidad.  The views are spectacular and this is one of our favourite beaches.
3.  Hundred Steps Beach
Keep following the North Coast Road past Las Cuevas and you can find this hidden gem.  Watch carefully for a sign saying Mitchell Trace and turn left.  Follow the road as far as your car will allow and walk the rest of the way.  Go as a group as this is an isolated bay.  You will almost certainly have the place to yourselves.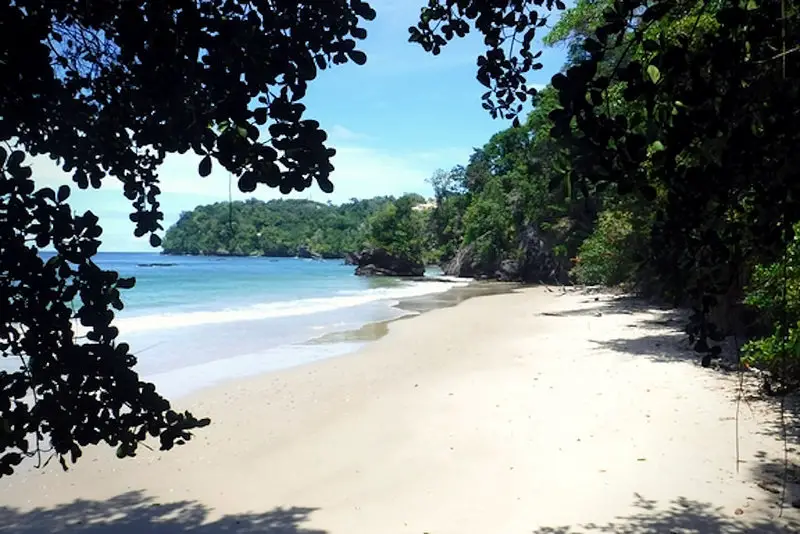 4. Mayaro
This is where many locals have their beach houses. On the Atlantic coast, this long strip of sand is a wonderfully peaceful place to spend a day, but even better a weekend.  Make sure you wake up early enough to see the sunrise over the ocean.

5.  Go DDI (Down De Islands)
This is THE way to spend the weekend if you are a wealthier Trinidadian.  Many families own a house on the island and moor a boat in one of the marinas in Chaguaramas.  Hire a boat, or join a tour, and spend the day touring the islands, swimming in Scotland Bay and maybe even have a dolphin escort.  Chacachacare is the furthest island and was used as a lepar colony years ago.  There are a few hikes on this island you could arrange as well as some old hospital buildings that can be explored.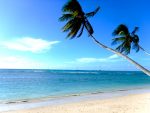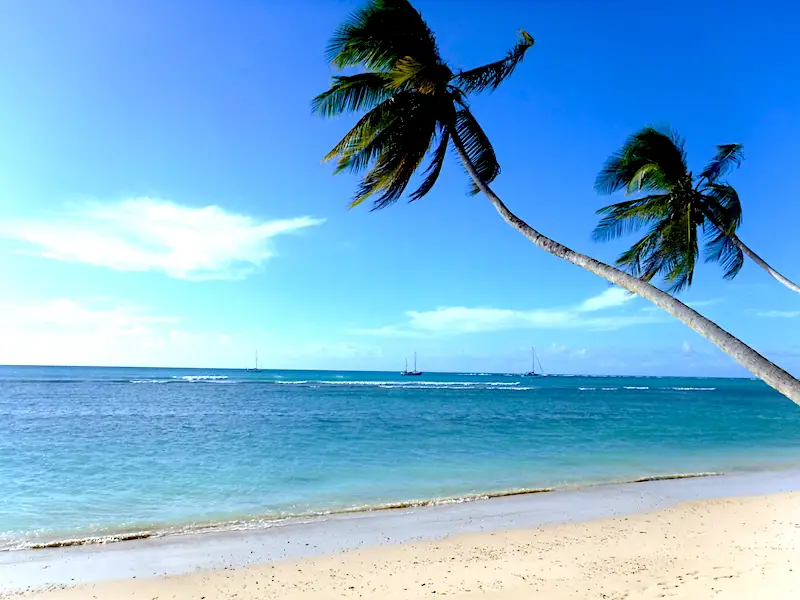 READ THIS POST:
Find the 16 Best Beaches in Trinidad and Tobago.
6.  Gasparee Caves
On the island of Gaspar Grande you will find a cave system.  Tours to these caves can be booked through any tour operator or directly through Chaguaramas Development Agency.  All boat tours will start from one of the marinas in the Chaguaramas peninsula.
7.  Hike
Trinidad has some of the best hiking we have done.  There are numerous hiking groups running regular events in different locations.  Hikes vary from short, family-friendly routes to much more arduous treks for the experienced hiker.
We almost never encountered others on the trails and the nature is incredible.  Hikes include deep jungle, rivers, waterfalls, beaches and even pine forests.  If you want a real challenge, try climbing El Tucuche, Trinidad's second highest peak.
Join a Facebook group to join a tour or hire a private guide.  Island Hikers and Hike Seekers are two of the larger groups.  There are also some specific hikes you could do on your own follow.
8.  Swim in a Waterfall
One of the best things to do in Trinidad is to check out a waterfall.  Something about waterfalls just makes you happy.  An easy hike is Edith Falls found at the entrance to Chaguaramas Golf Course.  Maracas Waterfall, at 300 feet, is Trinidad's highest waterfall.
9.  Hike Paria Bay and Paria Waterfall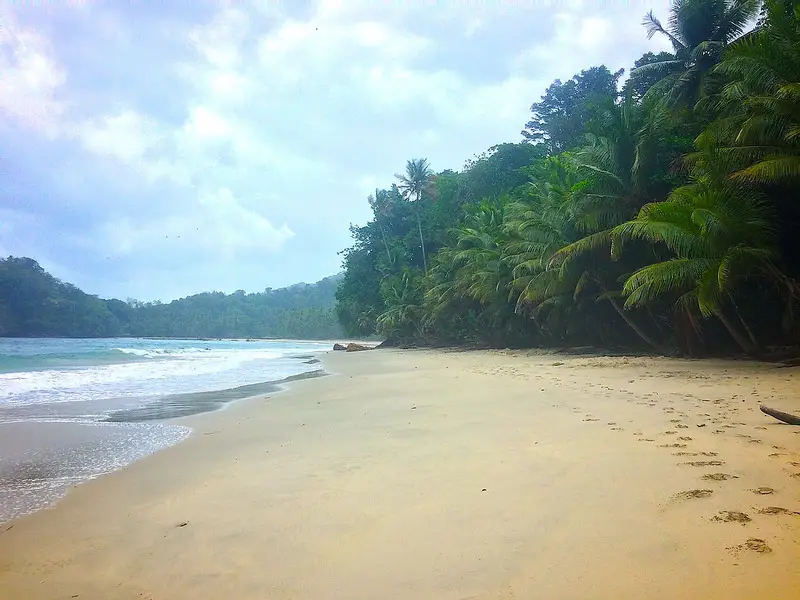 This is an awesome hike!  Drive to the end of the North Coast Road in Blanchisseusse and take a two-hour undulating hike to Paria Bay, one of the best beaches in Trinidad AND take a side trip to Paria Waterfall.  This hike is fairly challenging but each tough uphill is followed by a downhill stretch.  Take a quick detour to Turtle Rock on your way and head inland from the beach to see the waterfall. Read our detailed post about this hike.

10.  Turure Water Steps
Turure Water Steps is a great family hike.  Drive east through Valencia and turn right on Cumaca Road.  Look for the sign to Valencia EcoResort.  Park at the bridge and take the trail up on the left.  Follow the river until you reach the series of limestone waterfalls.  Read more about Hiking Turure Watersteps.
11.  Covigne River
Another excellent hike for all ages and abilities.  Find this hike in Chaguaramas near the arboretum.  Follow the river until you reach the gorge, explore as much as you like before returning the way you came.

12.  Hike Rio Seco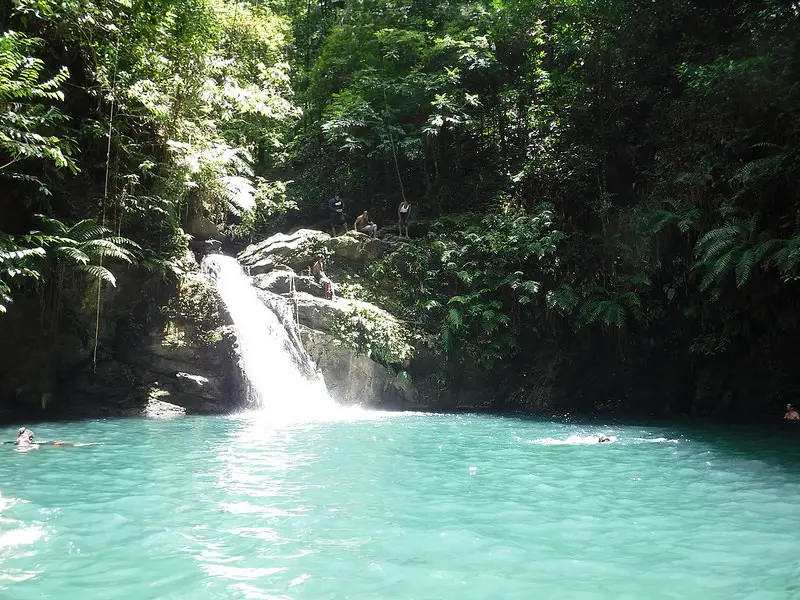 This is a beautiful hike on the east coast in Matura.  Also good for all levels of fitness, a well-worn trail leads to a gorgeous turquoise pool and waterfall.  Climb up the right-hand side and jump off the rocks!  When you're done, head to Salybia Beach for a dip.

13.  Hike Paragrant Bay
This is a tough hike but, wow, are the views ever worth it!  Read about the Paragrant Bay Hike in more detail in this post.
14.  Hike Avocat Falls and Three Pools
One of my favourite hikes, it is impossible to get bored on this hike.  Not only is it an interesting hike through the jungle and down a river, but Avocat Falls are also among the prettiest in Trinidad.  Here is a detailed post on how to hike Avocat Waterfall and Three Pools on your own.
If you only do one tour in Trinidad, make it this one!  If you're not an experienced hiker or don't have a car, this tour is a great option. Not only will you hike upriver to Avocat Waterfall, but you will also get a chance to stop at Las Cuevas and Maracas Bay beaches.
15.  Guanapo Gorge
This trailhead is tricky to find and you are better off with a guide, or someone who knows the trail at least.  However, after an easy hike through the forest and river, you will find Guanapo Gorge.  Depending on the season this hike will vary greatly.  In rainy season you will likely be swimming through the gorge, in dry season walking along the riverbed.
16.  Bamboo Cathedral
Located right off Tucker Valley Road in Chaguaramas is Bamboo Cathedral.  This is a popular spot for locals to wander as well as have professional pictures taken.  It also happens to be one of the best places to see monkeys.  On many occasions, I witnessed red howler monkeys and groups of capuchin monkeys playing in the trees.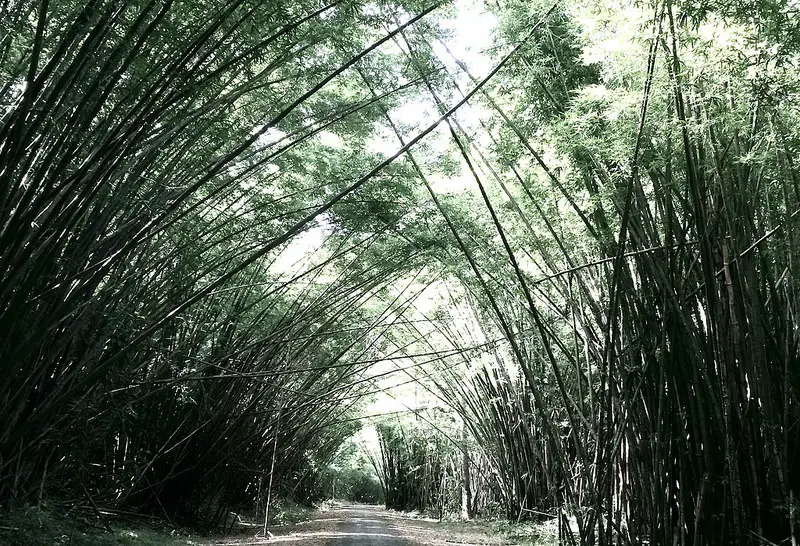 If you're feeling active, continue up the trail to the tracker station at the top.  An old US Army outpost where they would listen in to foreign communications during World War II.  It is now just derelict buildings but interesting nonetheless.  Click to read more about Bamboo Cathedral and other North Coast hikes.

17.  Mountain Biking in Chaguaramas
The peninsula is laced with excellent bike trails.  Many people park at either Samaan Park or the golf course and ride from there.  I'm not aware of a trail map but you will have no problem finding one and just explore from there!
18.  Chaguaramas Boardwalk
There is a LOT of activity along the waterfront at the moment.  Currently being turned into a tourist destination, there are little BBQ sheds to rent, a running path, a boating pool, food huts and a radio control track.  A mini-golf course, water park and a watersports centre are under construction.
You can rent kayaks and sea-doos from here or just walk the boardwalk and enjoy people watching – it's a very popular spot for locals to lime.

19.  Snorkel at Macqueripe Bay
This is the best snorkelling on the island.  Macqueripe is a deep and well-protected bay where turtles are a common sight.  Come early for the best chance of seeing wildlife, before it turns into a party spot.
---
Wildlife Spotting
Thanks to its origins as part of South America, Trinidad's biodiversity is unparalleled in the Caribbean, and rivals anywhere on the mainland.  With one of the highest densities of bird species worldwide, the second largest breeding ground for leatherback turtles and so much more, Trinidad is a dream for wildlife lovers.


20.  Turtle Watching
An absolute must-do activity in Trinidad between March and September is turtle watching. The best place is in Grande Rivière along the northwest coast.  It's quite a trek to get here so be sure to stay overnight.  Around 9 pm you can join a guided group (mandatory), head to the beach and watch hundreds of giant leatherback turtles come ashore and lay their eggs.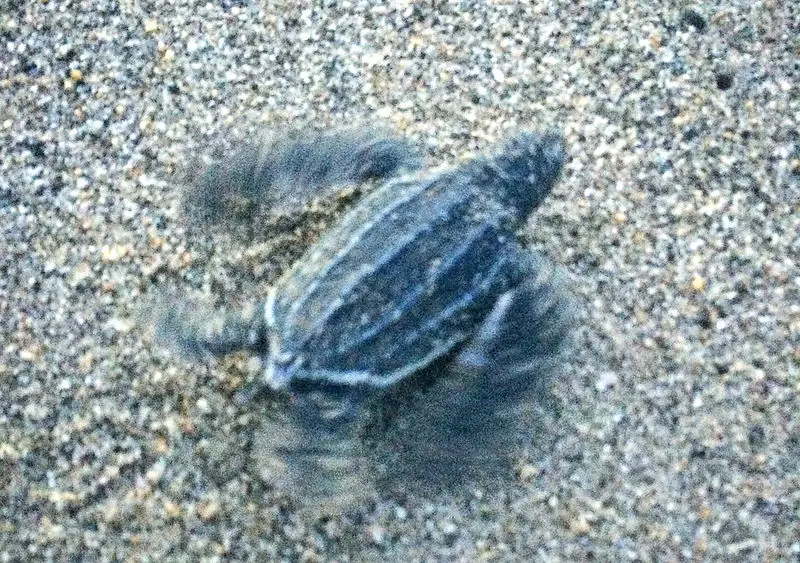 If you get up just before dawn and head back to the beach you will likely see the last few in daylight.  Later in the season, you get a chance to watch the hatchlings be released.
INSIDER TIP: go in June for your best chance to see both.  Matura is another spot where turtle watching is possible.
 
21.  Caroni Swamp
One of the best things to do in Trinidad for nature is to take a tour to Caroni Swamp.  Sunset boat tours leave around 4:30 pm and, after seeing some wildlife through the mangroves, arrive at the estuary for the grand finale – thousands of scarlet ibises flocking back to roost for the night.
In addition to the birds, we saw a caiman, snakes and crabs.  Contact Nanan's Eco Tours for more information and booking.
If you can get to Caroni on your own, you will pay a lot less. However, this tour is a good option if you can't.
22.  Nariva Swamp
Located beside Manzanilla beach on the east coast, this is Trinidad's largest freshwater wetlands and is protected.  Home to red howler monkeys, anacondas, caiman, ocelot and the West Indian manatee among the more common parrots, macaws, butterflies and insects, this is a great place for a nature tour.  A guide is necessary.
23.  Asa Wright Nature Centre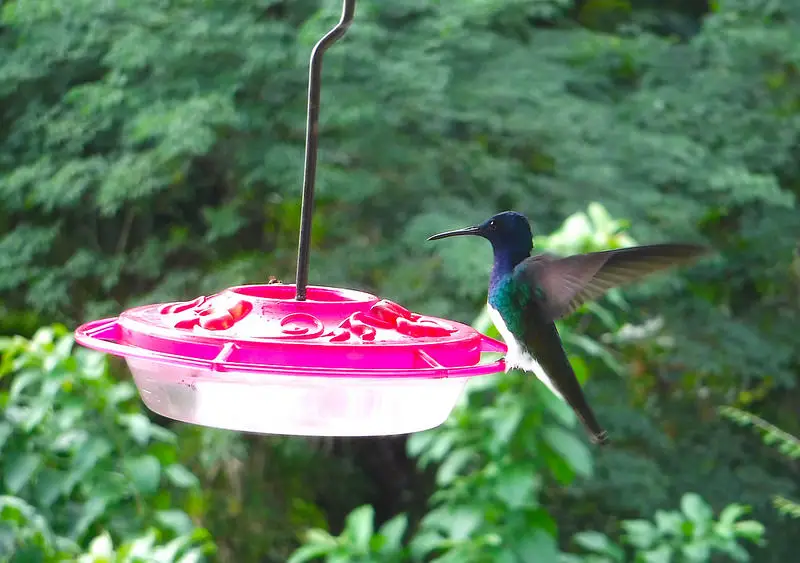 Birdwatchers will love this place.  You can watch hundreds of hummingbirds right off the lodge's balcony or walk into the forest to see and hear many more.  There are plenty of iguanas, agoutis and other creatures around too.  You can stay overnight at the lodge too.
Personally, I think this Asa Wright Nature Centre & Bird Sanctuary Tour is a little expensive for what you get. I definitely enjoyed our visit there but not enough to pay the tour price. However, if birdwatching and nature, in general, are a priority for you (and you don't want to drive the nail-biting road yourself) you may find this worth it.
24.  Yerette Hummingbird Sanctuary
Trinidad is the 'Land of the Hummingbirds'.  With a chance to view 13 of the 17 hummingbird species found in Trinidad and Tobago, you are sure to get your fix of the tiny creatures here.  Tours include an information presentation, chance to view the birds, time in the gift shop and a light meal.
Contact Theo through his website or Facebook page.  Expect to pay around $25US for a tour.
25.  Pointe-a-Pierre Wildfowl Trust
Located down near San Fernando, Pointe-a-Pierre Wildfowl Trust is a wetland habitat home to locally endangered wetland birds.  Bizarrely located on the compound of a major petrochemical and oil refinery, it is a great spot for birdwatchers to visit.
---
In and Around Port of Spain
While we don't recommend spending your vacation in the city, there are a number of interesting things to do in Port of Spain.  On a day when you don't have enough time to go far, or just feel like some city action, you will be spoiled for choice.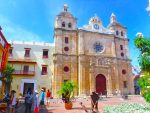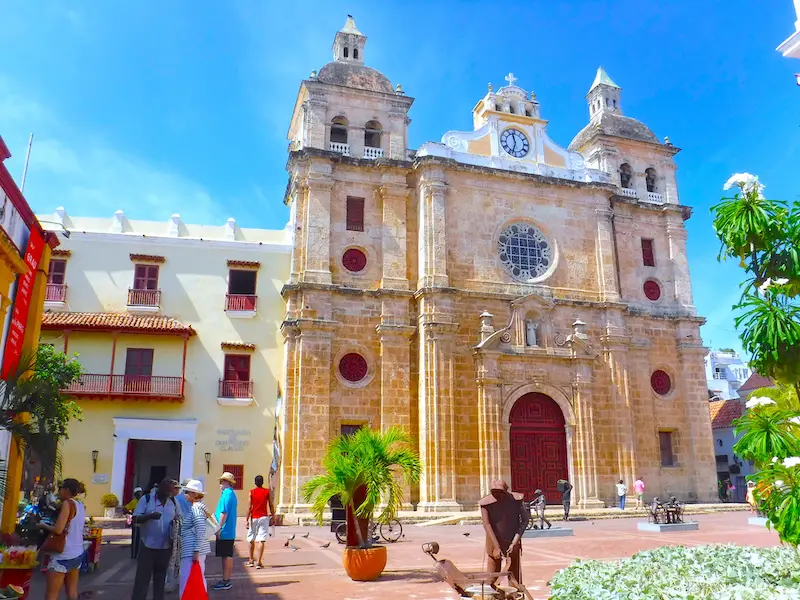 READ THIS POST:
Three Weeks in Colombia:  The Perfect Itinerary
26.  Downtown Port of Spain
Wandering around downtown is a great cultural experience and one of the best things to do in Port of Spain.  Head down Frederick Street to the Brian Lara Promenade and along Independence Square to the Cathedral of the Immaculate Conception.
Walk west toward the waterfront for a stroll along the short boardwalk wedged between the Gulf of Paria and parliament buildings.  Stop for lunch at the Breakfast Shed with the locals.
It is not recommended to walk the streets to the east of Frederick Street as this becomes a grittier part of town but with normal inner city caution, you can enjoy experiencing the hustle and bustle of the city.

27.  Woodford Square
This square can be found along Frederick Street and is bordered by a number of important and visually interesting buildings.  The Trinity Cathedral, the National Library, Hall of Justice as well as the Red House – Trinidad's original parliament building, although currently under construction.
The real star though is the square itself.  Traditionally the 'speaker's corner' of Trinidad, a board by the east entrance lists any upcoming speakers and topics.  Even without a speaker, it is a lovely square to take a break under the shade of a tree.
28.  Emperor Valley Zoo
One of the best things to do in Trinidad with kids could be a visit to the zoo.  On the northern side of Queen's Park Savannah, this soon hosts a variety of animals.  Some of the more notable include white Bengal tigers, lions, giraffes, giant otter, a 12-foot crocodile, llamas and many other creatures.
29.  Botanical Gardens
Located right next to the zoo, this is a lovely area to escape the crowds and the noise of the city.  Stroll through the paths and read the signs labelling trees and plants from almost every continent.  The orchid house is a particularly lovely spot, hidden in the northeast corner.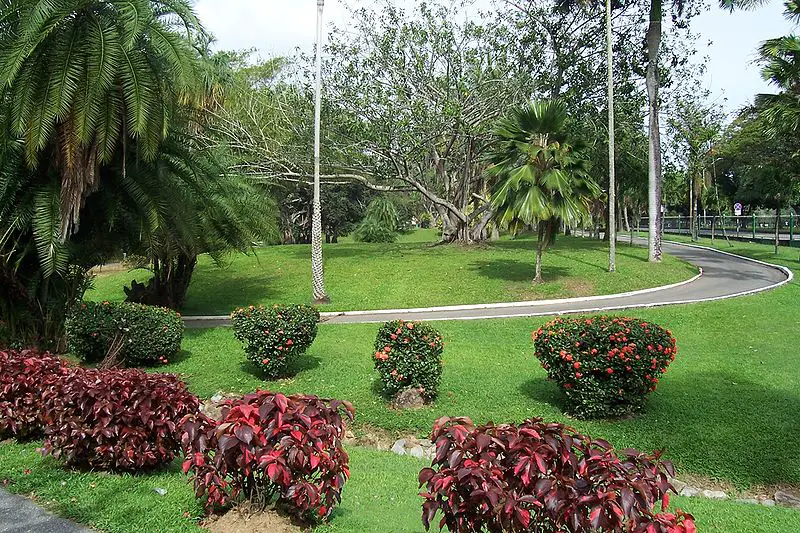 30.  Queen's Park Savannah
Dubbed the largest roundabout in the world, the 3.5km path around this open park space fills with people walking, running and cycling in the evenings.  During carnival season this space comes alive as this is ground zero for many of the spectacular events.
The grandstands at the southeast corner host pan music competitions and judging for the main carnival parade.  Buildings around its perimeter include the 'Magnificent Seven', the National Academy for the Performing Arts, Queen's Hall and the office and residence of the President.
31.  Take a picnic to Fort George
Up above St. James is Fort George.  Drive up during the day to explore the small but interesting grounds.  The little fort is complemented by an old jail cell carved into the hillside and some cannons overlooking the most spectacular views.  This is a great place for a picnic, kids will love to explore and play and if the weather cooperates you could stick around to witness a spectacular sunset.
This Port of Spain and Fort George tour takes you to many of the places listed above for a decent price with a local guide. A great option if you don't want to navigate the crazy streets of Port of Spain solo (a good way to avoid the sketchy areas too)!
---
Trinidadian History and Culture
With a history that includes slavery, indentured labourers, conquistadors and European nations passing around ownership like mango chow at a river lime, Trinidad doesn't lack for culture.
32.  Watch a performance at NAPA
National Academy for Performing Arts, or NAPA, is a great place to take in some culture.  The building itself is impressive.  From above it is supposed to resemble the national flower, the chaconia, interesting architecture, fountains and lights.  The facility is used for teaching as well as performances.  Check their Facebook page here to see what will be on during your visit.
33.  National Museum and Art Gallery
Just steps away from NAPA, the National Museum and Art Gallery should be on your list of things to do in Trinidad.  The museum houses seven major galleries covering art, social history, natural history, economic history, petroleum and geology.  The jewel in this museum's crown is the Cazabon exhibit.  Cazabon is a favourite Trinidadian artist – the first to gain international fame.  Note: the museum is closed on Mondays.

34.  Santa Cruz Green Market
Just north of Port of Spain, this market runs each weekend and is a great place to buy local, organic produce as well as grab some lunch.  Set in beautiful gardens, the market often hosts special events such as a chocolate festival.  Some handicrafts are often for sale here too. Check their website or Facebook page here to find out if they have any special events while you are in Trinidad.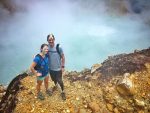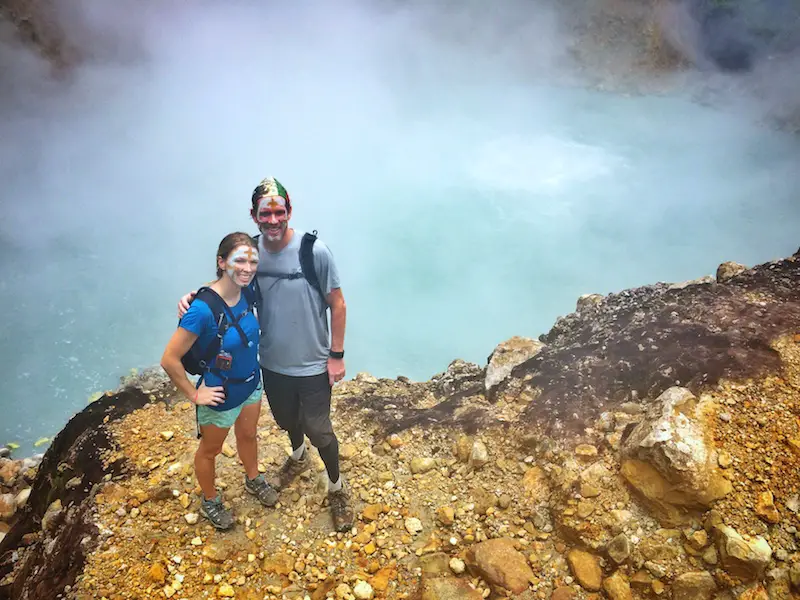 READ THIS POST:
How to hike to Dominica's Boiling Lake
35.  Cocoa plantation tour
Trinidad was once an important cocoa exporter.  Ortinola Estate conducts regular tours for $10US per person or a few specialty activities including a chocolate making workshop.  Check out their website for more information or to book a tour.
36.  Lopinot Historical Complex
There are many historical sites in Trinidad and this one is worth the visit.  Lopinot is a small community in the Maracas Valley.  It is a restored agricultural estate with a historical complex, plenty of nature and a river nearby perfect for a typical Trini river lime.
37.  Lunch at Café Mariposa
While in Lopinot, be sure to visit Café Mariposa and Mariposa Gardens.  There are beautiful gardens with trails into the hills, a bed and breakfast and the cafe.  Food is served on the back verandah, where you will eat a delicious meal while hummingbirds whizz past your head.
We booked the cocoa specialties menu and were served four courses with food that was all locally sourced and infused with cocoa.  It was delicious and cost around $200 TT per person (about $30US). Reservations are required.  Check out the Cafe Mariposa facebook page here.
38.  Angostura Distillery Tour
Book a tour of the distillery for the national rum.  Contact the distillery to book a tour - you may need a minimum number but can likely be combined with other groups.  See how the most popular brand of rum is made and have a little taste.  I'm told the butterfly exhibit is actually a favourite here!
39.  Military History and Aerospace Museum
Located in Chaguaramas, this museum chronicles the military history of Trinidad and Tobago with indoor and outdoor displays. The exhibits span years from the Amerindians,  through the conquistadors and Spanish rule, to British rule.
The museum covers battles in Trinidad as well as involvement in overseas wars.  Weapons, uniforms and other artefacts are on display.  The outdoor displays are dominated by a retired airplane and coastguard boat.  The museum is open daily and costs just $30TT (about $5US).

---
Things to do in Trinidad at Night
When the sun goes down, the island comes alive.  Trinidad is a nation that knows how to party!  Soca music, dancing, socializing and food - a perfect night (or day) on the island.  You don't need a reason to celebrate here, just head out and enjoy the atmosphere.
40.  Ariapita Avenue on a Friday
Ready for a night on the town?  Head down to Ariapita Avenue on a Friday night to see the best party scene Trinidad has to offer.  This long street in Woodbrook is full of bars and restaurants.  New spots open (and close) frequently so look for the crowds.  Often bars spill out onto the pavement as they fill to capacity and street vendors are everywhere.  Gyros are a very popular evening snack along this stretch of road.
41.  Visit a Panyard
Trinidad is the home of the only musical instrument to be invented in the 20th century: the steelpan.  One of the most cultural and fun things to do in Trinidad at night is to spend an evening at a panyard.  There are many panyards dotted around open to the public. Some even open a small bar or sell beverages out of a cooler at least.  Practices increase with frequency the closer to Carnival and most nights at least band sections can be found working.
We found PCS Silver Stars on Tragarete Road was one of the most likely to be practising. An excellent way to listen is sitting on the patio at All Out Sports Bar across the road from The Invaders panyard.  Find All Out Sports Bar in the grounds of the Queen's Park Cricket Club.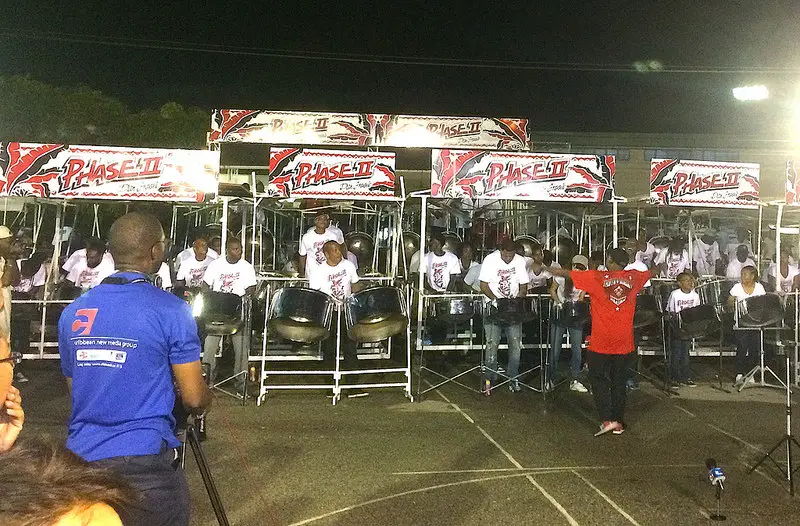 42.  Live music at MovieTowne
Every Wednesday and Saturday night the little stage in MovieTowne hosts a live act.  Sit at one of the tables surrounding the plaza and enjoy table service from the restaurants.  These vary greatly but are often local, traditional artists.  Find out who is performing on their website here.  If you feel like shopping, catching a movie, or otherwise feeling like you're back in North America, there is plenty more to do in MovieTowne.
---
Further Afield
Most visitors focus their time around Port of Spain, and while there is certainly enough to keep you busy, you will be rewarded if you venture a little further away from the capital.  The east coast is beautiful: rugged and less-developed.  South Trinidad has a heavier Indian influence and consequently a completely different feel.  Central Trinidad revolves around agriculture and is home to rolling green hills.
43.  Drive the East Coast
Head east along the highway out of Port of Spain until you reach Valencia.  Choose to go north to see places like Toco, Salybia, Galera Point and, eventually, Grande Rivière.  You will find smaller, picturesque bays and a few calm swimming beaches. Go south for Manzanilla and Mayaro.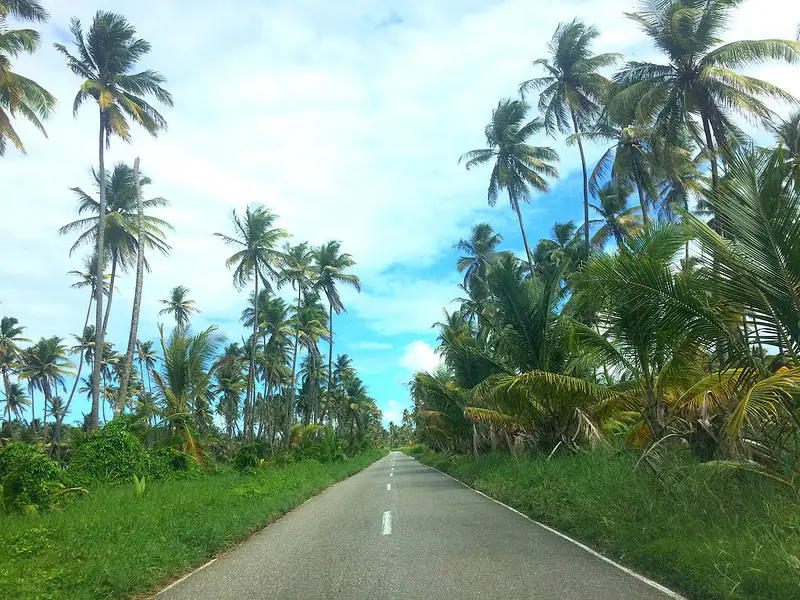 Drive through the 'cocals' and enjoy wide, natural beaches although be careful of strong Atlantic currents.  Both directions will result in stunning views, you really can't go wrong.

44.  Galera Point Lighthouse
At the northeasternmost point of Trinidad is the Galera Point Lighthouse found on a rocky outcropping.  On a clear day, you will have a view of Tobago in the distance.  Locals fish off the rocks, picnic in the shade and walk the few trails leading from this point.  Salybia Bay is just off this road and makes for a nice stop after viewing the lighthouse.

45.  Climb San Fernando Hill
In the middle of Trinidad's second largest city is a large, rather strange rocky outcrop.  Walk to the top for a great view across Trinidad and the Gulf of Paria.
46.  Temple in the Sea and Hanuman statue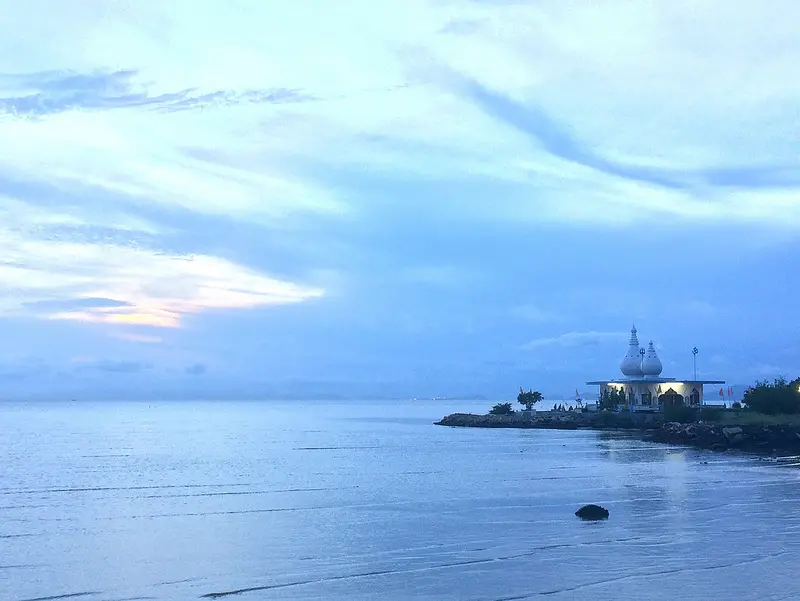 Between Port of Spain and San Fernando is the town of Waterloo.  Here you will find the Temple in the Sea which was built by an indentured labourer in the sea because he was denied land to build his Hindu temple.   Nearby is the 85 foot tall Hanuman murti, the tallest statue of this Hindu God outside of India.

47.  Walk on Pitch Lake
A little south of San Fernando is the Pitch Lake in La Brea.  The largest natural deposit of asphalt in the world, while visually underwhelming, it is a site of historical and economic importance.  The little museum here includes some interesting information about the lake and you can hire a guide for a cheap tour on the lake.
Did you know that tar from this lake has been used all over the world, including The Mall in front of Buckingham Palace?
48.  Get muddy at Devil's Woodyard
Stop by these mud volcanoes near Princes Town for one of the more unique things to do in South Trinidad. The reviews are mixed but it's a fun place for kids and many people swear by using the mud for their skin.
49.  Relax at Columbus Bay
This is one of the southernmost beaches in Trinidad.  It is a long stretch of sand bordered by thousands of coconut trees.  There is an interesting rock formation at the western end and a few vendors selling homemade traditional treats.
The water here is the calmest I have seen in Trinidad.  It is a long drive though, so combine this with some other sights in south Trinidad.
50. Fly to Tobago
Just a 15-minute flight away, it would be crazy not to!  This laid back sister island is close enough for just a day trip if you're short on time but if you can manage an overnight stay, even better. Read this post on amazing experiences to have in Tobago.  Book your flights through Caribbean Airlines for $50 return.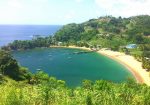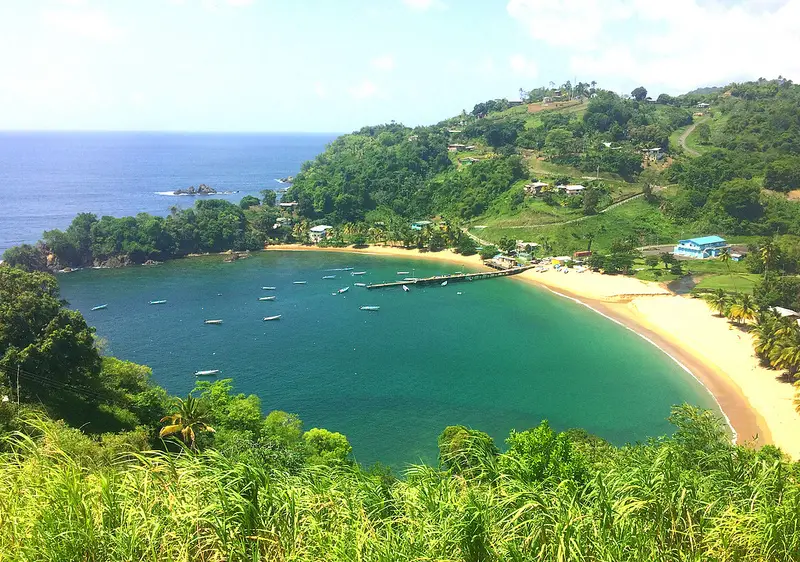 READ THIS POST:
Get our One Week Itinerary for an Amazing Tobago Vacation
---
Adventure and Sports
As part of the West Indies, cricket is a national pastime along with soccer.  If you can watch a game it will be a great experience.  With miles of coastline, fishing and watersports are easy to find along with just about anything you're looking for.
51.  Zip Lining
At Macqueripe Bay there is a zip lining course.  If you have been in other places, like Costa Rica, you might want to skip this.  Otherwise, have some fun zipping between the trees and crossing over the beautiful bay on this seven-line course reaching up to 100 feet high.
There is also a kids' zip line park where the younger ones can zip between towers and traverse wooden bridges and ropes.
52.  Surf
One of the more exciting things to do in Trinidad and Tobago is surf.  The island isn't known for its surfing but there are a few spots to do this sport here.  The best surfing is at Toco in the northwest of the country.  Beginners will enjoy Damien's Bay in Blanchisseusse or even Las Cuevas Bay when the waves are good.  The best waves, however, are found in Tobago.
53.  Join a hash
Hashers describe themselves as a 'drinking club with a running problem'.  It is very popular on the island and a great way to see some different parts of Trinidad.  Hashes take place every other Saturday at different places around the island.
There is always a running group and walking group on Saturday runs (and kid are welcome) so people of all levels can enjoy.  In addition, Mondays and one Wednesday a month hashes are held around the streets of Port of Spain.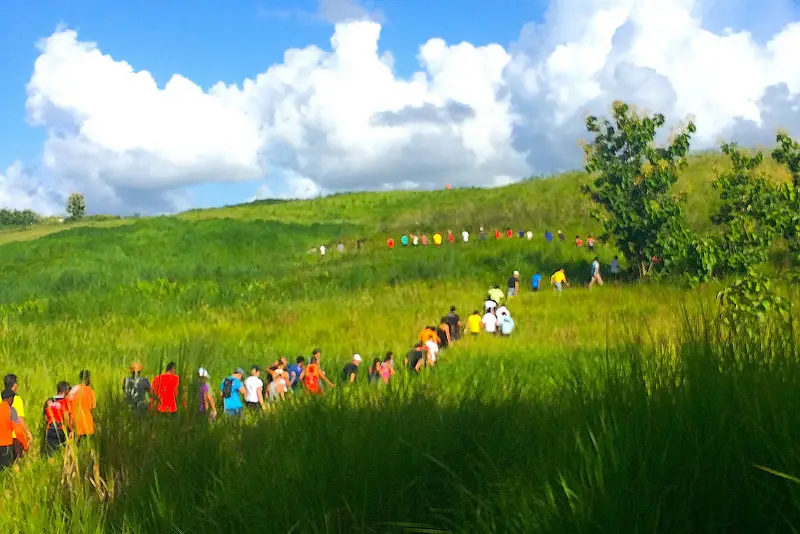 You can join the Port of Spain Hash House Harriers Facebook group to find out about upcoming runs.  INSIDER TIP: do not wear new running shoes - you have been warned!!

54.  Golf
There are four golf courses on the island.  If you are staying around Port of Spain your best options are either Chaguaramas Golf Course or St. Andrews (Moka) Golf Club.  For the serious golfers Moka is an excellent course but, being private, can be hard to get on as a visitor.  Call ahead to ask if you can book a tee time.
Chaguaramas is a cheap and cheerful nine-hole course surrounded by mountains, bamboo groves and monkey-filled forest.  It's not the greatest course but last time I was there a lot of work was being put into improving it.
55.  Go Deep Sea Fishing
I'm not a fisherman, but I've been told the fishing in Trinidad is excellent. Find out what you can expect to catch and where to charter a boat here.

56.  Watch a National Football Match
If your timing works out, see the national team play at the Hasely Crawford Stadium. We were lucky enough to be around for World Cup Qualifiers and watched Trinidad and Tobago play both Guatemala and Mexico.  Be a part of the party scene, listen to the steel pan play, halftime performances from big names in Soca music and cheer on the locals.  Wear red to fit right in!  Tickets can be purchased from any Lotto outlet.
57.  Watch a Cricket Match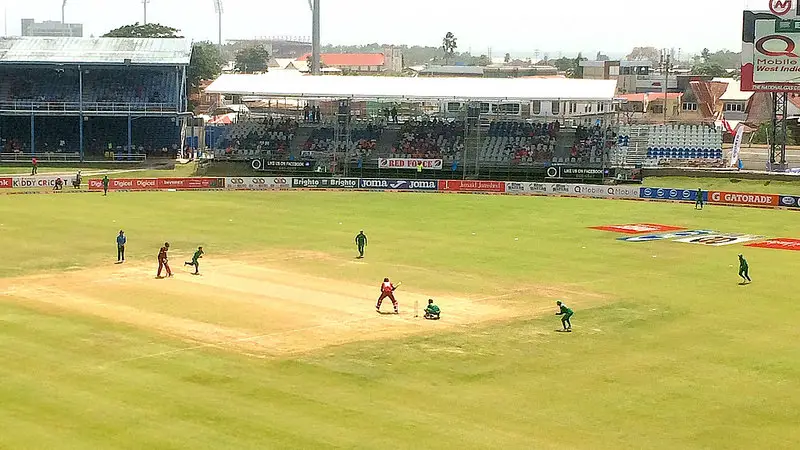 Trinidad is part of the West Indies and as such loves cricket. Make sure you head to the Queen's Park Cricket Club to watch if a match is scheduled during your visit.  If you really want to experience Trini sports culture at its best, buy tickets for the all-inclusive Trini Posse stand.  Find Trini Posse on Facebook here to know about upcoming events.

58.  Be a Moko Jumbie
Moko Jumbies are an important character in carnival celebrations.  These costume-clad characters dance around while moving along the street wearing long stilts.  Watch for 'Sticks in the Yard' events on their Facebook page here.
---
Trinidad Food
Ask any Trini, one of the best things to buy in Trinidad is food!  It's the perfect cultural experience (and it WILL be an experience) without adding weight to your luggage.
59.  Try Doubles
An absolute must-do in Trinidad is to try doubles.  These are made from two pieces of fried dough with curried chickpeas (channa) and various sauces.  Trust me, they are much tastier than they sound!  Depending on how spicy you like your food, ask for no pepper, slight pepper or plenty pepper.
Traditionally a breakfast food, doubles can be found any time of day - my favourite is a late-night snack after a few drinks.  The absolute best place to try doubles is in Curepe.
60.  Try Roti
Curried meat, curried vegetables, curried mango, curried chickpeas...  Everything curried and accompanied with the flatbread.  'Buss up shot' is a type of roti that has been ripped apart and used to dip in and pick up pieces of the curry.  Dhalpuri roti is whole, with split pea filling, and used to wrap around the curry.
Both are delicious and you can choose what fillings you would like.  Try The Hot Shoppe on Mucurapo Road for an easy and tasty introduction to roti.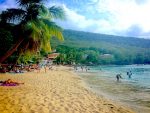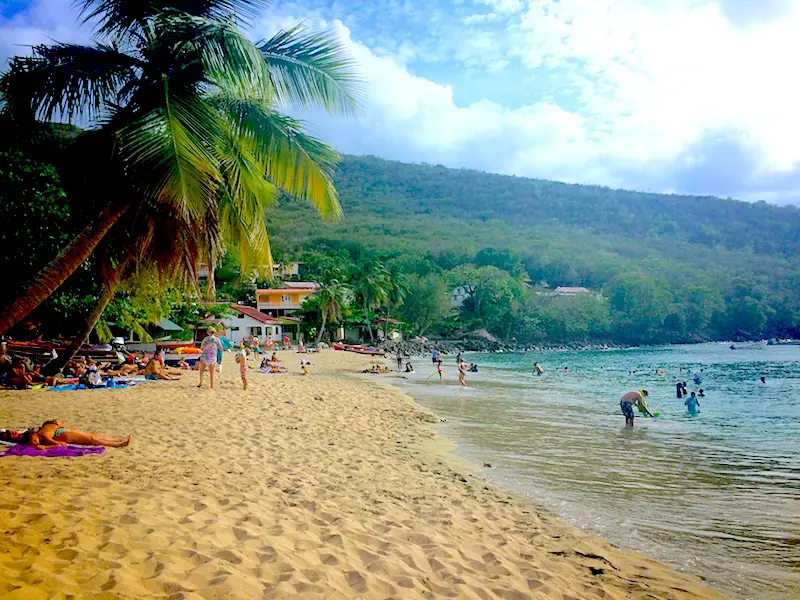 READ THIS POST:
Martinique Fast Facts and Travel Tips.
61.  Eat some Chow
Chow can be made with many different fruits and a few vegetables.  Our favourites were mango and pineapple.  Chopped up fruit is mixed with chadon beni (culantro), hot pepper, garlic, lime juice and a little salt and pepper.  Delicious!  You can buy little bags of chow at the Maracas lookout but these will be absent of pepper.  Making your own is quick and easy, and you can mix it just the way you like.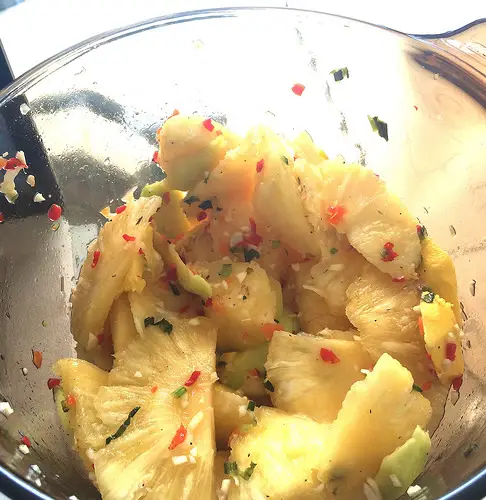 62.  Splurge at Tiki Village or Luce
You will find Tiki Village on the top floor of the Kapok Hotel and Luce is in the Hilton. Both hotels are around the savannah and have killer views across the city toward the Gulf.  The food is delicious at both too!  INSIDER TIP: Book a reservation for earlier in the evening so you can watch the sunset.
63.  Eat KFC
This will undoubtedly be the first and last time I put a fast-food chain on a must-do list but it belongs here!  KFC is incredibly popular in Trinidad.  The Independence Square branch is supposedly the second busiest in the world.
Outside of the US, Trinidad is the highest-grossing market per capita with 57 stores nationwide.  KFC even gets permission to run a special menu during lent and Divali to honour religious food requirements.  Order the spicy chicken and try not to return for more, I dare you!
64.  Drink like a Trini
Rum and beer reign supreme in Trinidad just like in the rest of the Caribbean.  If you are a rum drinker, try rum punch or a rum and coconut water.  Black Label is a popular brand of rum to have with coconut and Angostura is the local company.  Their 1824 and 1919 labels are some of the smoothest rums I've tasted.
If you are a beer drinker the local labels are Stag and Carib.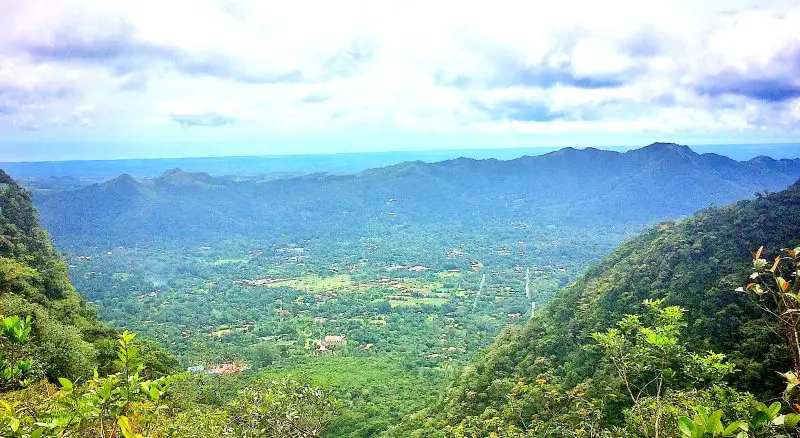 READ THIS POST:
The Best Day Trips from Panama City.
---
Seasonal Events in Trinidad
The biggest event on Trinidad's calendar is Carnival, the largest in the Caribbean.  There are also plenty of holidays and religious celebrations throughout the year thanks to the island's multicultural heritage.
65. Attend a fete
Carnival season begins around July with band launch parties showcasing the next year's costumes.  Fetes, or parties, become increasing frequent leading up to carnival and range from cheap cooler parties to high-end all-inclusive events that come at a price.
If you can attend at least one fete during your time in Trinidad you will not only have a great insight into Trinidadian culture, but you will also have an amazing night!

66.  Watch Panorama
Panorama is the steelpan music competition of the year that happens in conjunction with Carnival.  With multiple categories, judging begins in the panyards with the semi-finals and finals being major social events at the grandstand on the Southside of the Queen's Park Savannah.  The events are held between January and carnival.
67.  Get dirty at J'Ouvert
My personal favourite, J'Ouvert marks the official kick-off for carnival, beginning around 3am on the morning of Carnival Monday.  Participants dance down the streets following the music and drink trucks while throwing paint, mud and grease on each other.  The street party ends as the sun comes up with a hosing down and breakfast of doubles.  So. Much. Fun.
I couldn't recommend more timing your visit with Carnival. The exact dates change each year but can be found with an easy google search. It is always the Monday and Tuesday before Ash Wednesday, signalling the start of Lent.
68.  Play Mas at Carnival
The biggest event on Trinidad's events calendar is Carnival.  A massive two-day street party, huge masquerade bands parade along the streets of Port of Spain in elaborate sparkly, feather-covered costumes.  Each band travels with its own music, drink and toilet trucks.
Held the Monday and Tuesday before Ash Wednesday, people spend the days 'chipping' and 'wining' all over town laughing and drinking all the way.  This is one of the most amazing things to do in Trinidad but plan well in advance.  Costumes can sell out in the fall and accommodation will be much harder to find.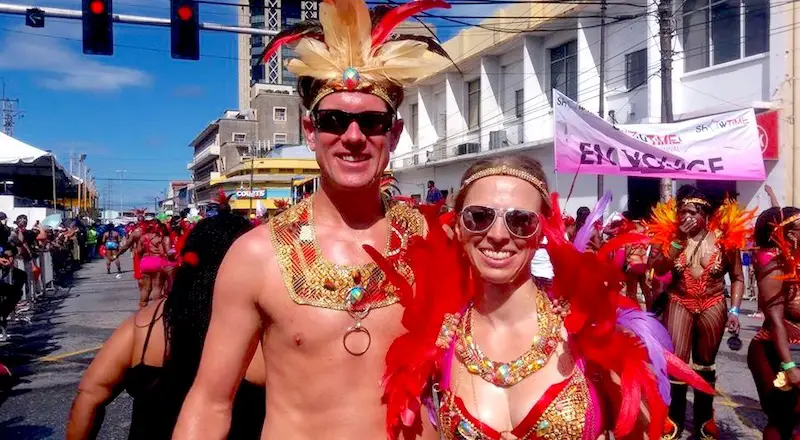 69.  Go to Felicity for Diwali
Trinidad's large Hindu population means that Diwali (Divali) is a major celebration in the country. The date changes but is around mid-October.  If you are in the country, visit the town of Felicity near Chaguanas for the best lights display.
Diwali signifies the triumph of light over dark so families decorate their streets with arches of lights, light hundreds or deyas and handout traditional Indian sweets to passersby to celebrate.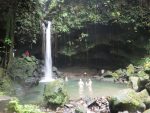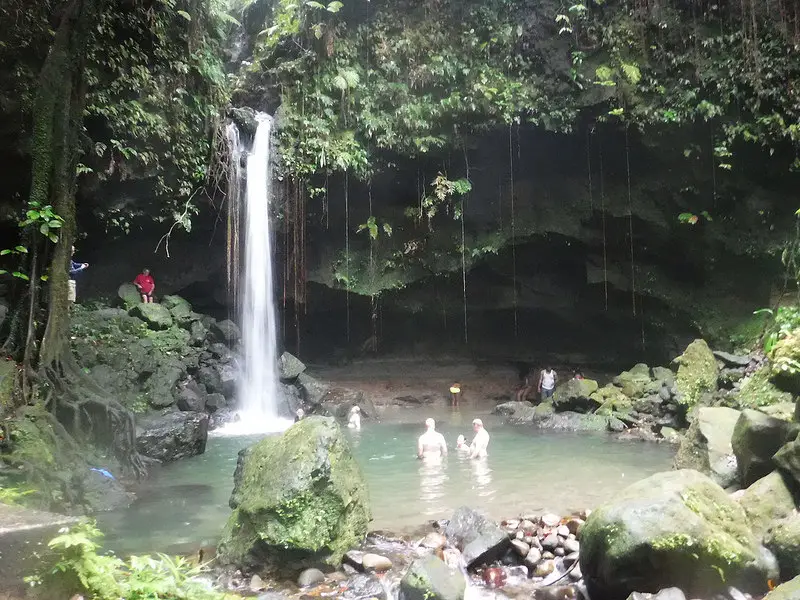 READ THIS POST:
The Best Hikes in Dominica you will love!
70.  Get to Higher Ground on New Year's Eve (Old Years)
New Year's Eve, or Old Years as they call it in Trinidad, is a great excuse for a celebration.  Lighting fireworks in an urban area is actually illegal but, despite numerous warnings of prosecution, we have never witnessed such an insane amount of fireworks.
We sat on our rooftop patio and watched a 360º display of nonstop explosions lasting hours.  Find a spot to enjoy the view, sit back and relax.
---
Have you done any of these things?  What would be on your list of 'awesome things to do in Trinidad'?  Let us know in the comments!
Found this post useful?  Pin it!