Some links in this post may be affiliate links. If you click on them we may make a commission from qualifying purchases at absolutely no cost to you.  Read our full Disclosure Policy here.
Click here to read our Travel Journal posts from our year of travel!
Enjoying Ecuador's Coast
We did our usual and spent our first week in Manta thinking we had so much time left.  Then spent our second week trying to fit everything in.  It feels like we have been non-stop since Saturday.  Despite Manta being a fairly industrial city, we've enjoyed it.  The beach is great and there are plenty of opportunities for activities to join and people to meet.  However, we're not sure it beats Salinas for top of our list of places to live!  Read about our time living in Salinas here.
Saturday's expat lunch group invited us to a Sunday brunch at the Donkey Den, a hostel in Santa Marianita.  Since we were planning on heading over there anyway we figured we would join the gringos in their minivan.  Breakfast was delicious and the place is pretty cool.  The Donkey Den is run by a Canadian woman with an obvious love for animals.  We shared our seats with innumerable ex-stray cats as we chatted with the group.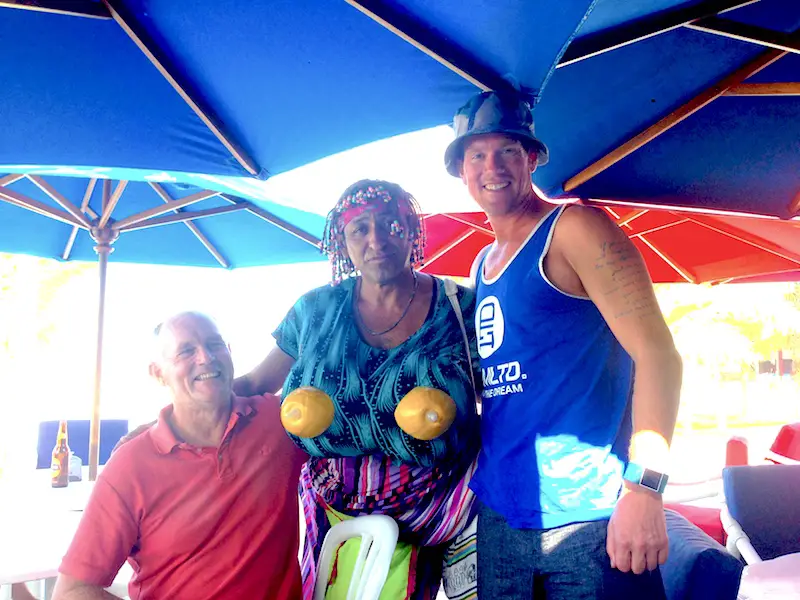 By the end of breakfast we had made plans for the next two days.  A couple we met invited us to play squash in the afternoon.  After all our searching, they had a court in their building!  Monday the plan was to check out a new golf/beach development.  The only downside was that all our chatting meant the return pick up arrived before we had a chance to wander the beach.  We reasoned that we could come back some other time and should take advantage of the squash offer so we headed back to Manta.
It was fun to dust off our racquets.  The court was a little cozy (picture about half a regulation court) but it validated us dragging racquets and shoes all around Central and South America with us!  Of course, we needed a cold beer and a swim in their oceanfront pool after.
More House Hunting!
At 9am Monday we had planned to meet Dean, the Director of Sales at Las Olas.  This is an incomplete development about an hour north of Manta.  Plans include an oceanfront golf course, beach club, tennis club, equestrian centre and acres of undeveloped land for hiking. All this will be surrounded by houses and condos with a mountain backdrop.  With another couple, we spent the day driving up to the site, checking out various areas and even hitting a few golf balls on what will be the incredible 10th hole.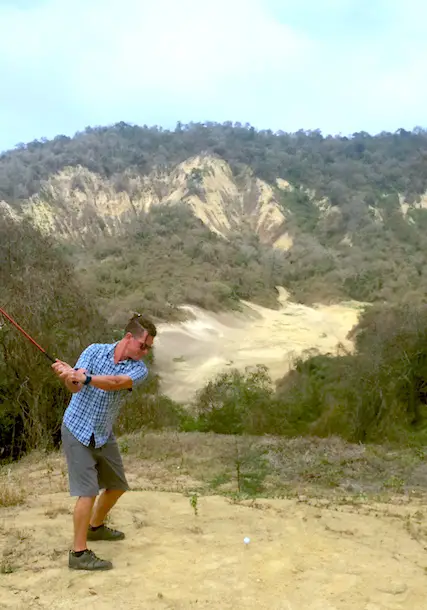 It was a great day with great company and we all decided to meet for dinner later that evening.  We ate at a small restaurant round the corner.  Everything was cooked on a open flame grill right on the patio and was delicious.  Following it up with drinks at a local bar while some of us watched the football game was a great way to spend an evening.
Golf at Montecristi
Our new squash friends invited us to play a round of golf with them at the local course, Montecristi and we happily accepted.  With borrowed clubs we set off for a day of, if not good golf, then good company.  The course is actually really nice.  Bright green from tee to green, everywhere else is pretty much desert.  You don't have to be in a bunker to have a sand shot!  I don't think we played our best rounds, but with borrowed clubs on a new course we can't complain (well, we shouldn't anyway).  Lunch in the clubhouse was delicious and a nice cold chelada finished it off perfectly.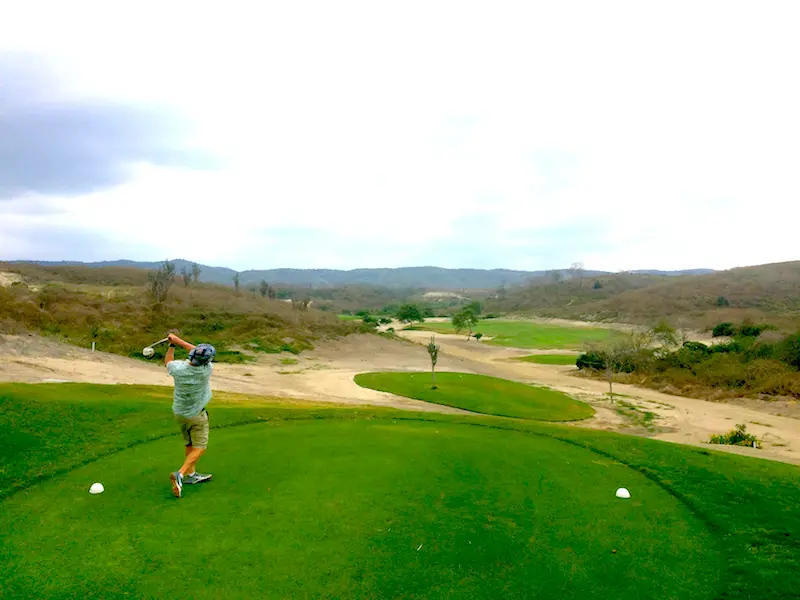 Playa de Los Frailes
About two hours south of Manta is Parque Nacional Machalilla which is home to Playa de los Frailes.  This is generally regarded as one of the nicest beaches on mainland Ecuador and has very strict rules.  Pretty much anything that would produce garbage is not allowed.  Now we have the bus system figured out!  We had no problem hopping on a number 17 bus to the new terminal.  We then immediately found a bus for Puerto Lopez, getting off shortly before town at the park entrance.  Just $3.61 each for a 2.5 hour bus ride!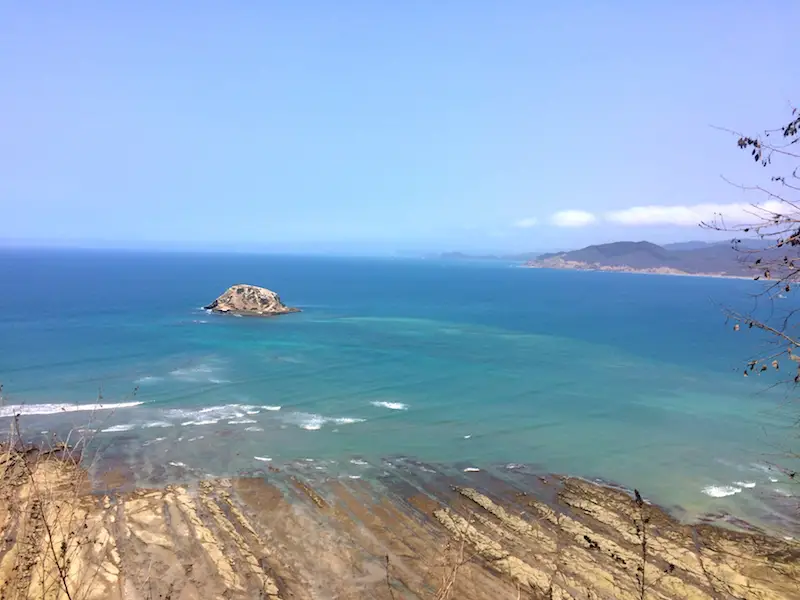 The hike took us past two smaller beaches and two lookouts before ending up at Los Frailes.  We walked the length of the beach, over some rocks to a secluded little cove, only to find some old guy sunbathing nude!  Oops…  Averting eye contact, we tried to act natural and continued along our merry way.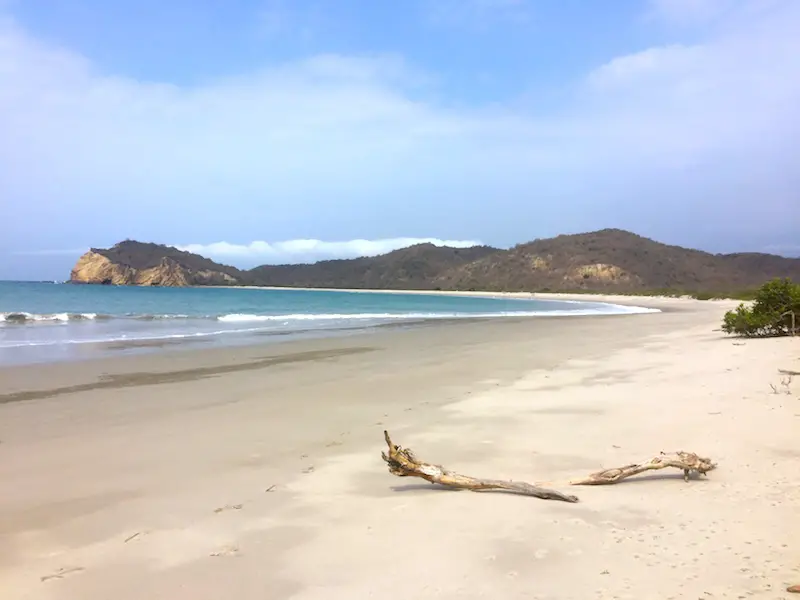 We decided to take the tuk-tuk back up to the highway and wait for a bus back to Manta.  There were some confusing conversations with the driver's assistant.  Every question seemed to have a contradictory answer.  Somehow the bus was both going to Manta AND we needed to change buses…  We ended up switching buses in a town called Jipijapa.  A pain in the butt, however, without this detour we would have missed the best bus entertainment we have ever witnessed!
[kad_youtube url="https://www.youtube.com/watch?v=QunxOp5-FKw" maxwidth=500 ]
Santa Marianita
For our final full day in Manta we walked over to the central market (not nearly as cool as the one in Quito) and found the camionetas to get to Santa Marianita.  For $1 you hop into the back of a pick up truck and zip along the coastal road for 30 minutes before being dropped at the entrance to the small fishing village.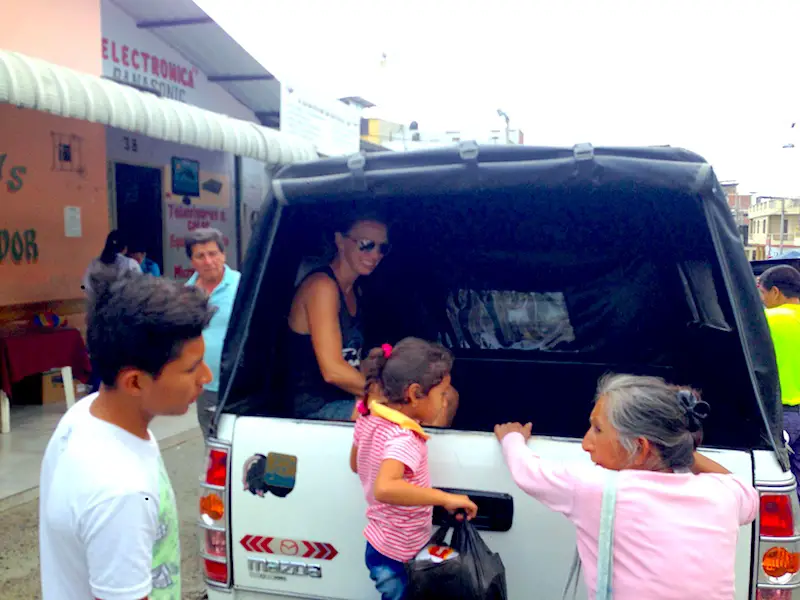 We walked the length of the beach and watched some local fishermen for a while.  This is the best place for kiteboarding in Ecuador but unfortunately no one was in the water for us to watch.
Next up: Galápagos!
Friday we got packed up and headed to the bus station.  Unfortunately, we got on the slow bus so it took us a good hour of sightseeing around Manta to reach the terminal.  Luckily we hadn't pre-bought our tickets as we ended up on a later bus than intended.  Although it was a pretty sweet ride!

Four hours later we arrived in Guayaquil for a quick overnight stay before flying out in the morning.  Our delay meant we didn't get a chance to see much of Guayaquil but most people tell you not to bother anyway so I don't feel too ripped off.
It's quite the process to get checked in as you need to buy a transit card, then have your luggage checked (there is a long list of prohibited items to prevent the introduction of diseases or invasive species) before finally being allowed to actually check in.  However, in true Latin American style it was all very relaxed and we were through to the gates in lots of time.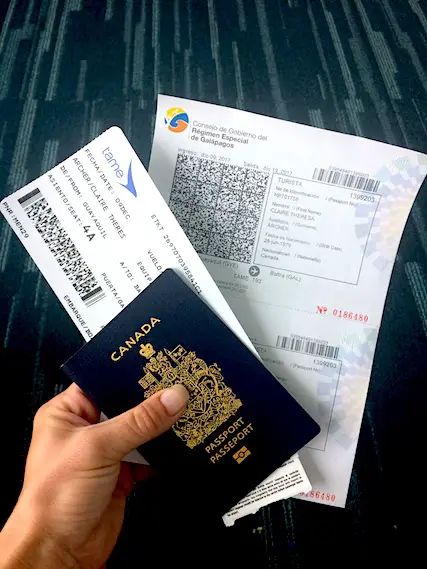 Discover more incredible destinations now!