Discover the Mysterious Lava Tunnels, Galapagos
Some links in this post may be affiliate links. If you click on them we may make a commission from qualifying purchases at absolutely no cost to you.  Read our full Disclosure Policy here.
Did you know that Isla Santa Cruz has numerous lava tunnels?  Galapagos Islands are volcanic.  They exist thanks to millions of years' worth of eruptions from underwater volcanoes until the build up of hardened lava reached the ocean's surface.
---
---
During a volcanic eruption, lava would flow down the sides of the volcano and along the earth.  As it cooled on the surface, hot lava continued to flow like an underground river.  This created cavities within the rock and these lava tubes are just waiting to be explored.
Exploring Lava Tunnels, Galapagos
This was a neat experience while in Santa Cruz.  As we descended some slightly sketchy stone steps into the tunnel we were wondering what was awaiting us in the darkness.  The map told us that there was a 'narrow' section but we weren't too sure what that meant.
The tunnel started out harmless enough.  Someone had even hooked up some lightbulbs.  The ground was flat, the ceiling high and it all seemed…boring.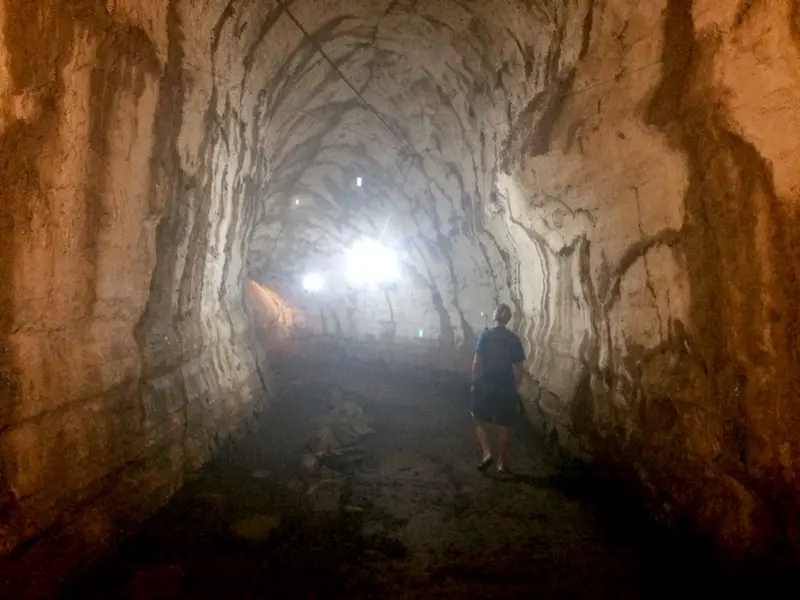 After a while, the wall started to close in on us and the roof got lower.  Eventually, we came upon a wall of lava.  A gap of perhaps 18 inches high was all we had to pass.  A wooden board had been thoughtfully laid over the rather muddy surface that we inevitably would be belly-down army crawling over.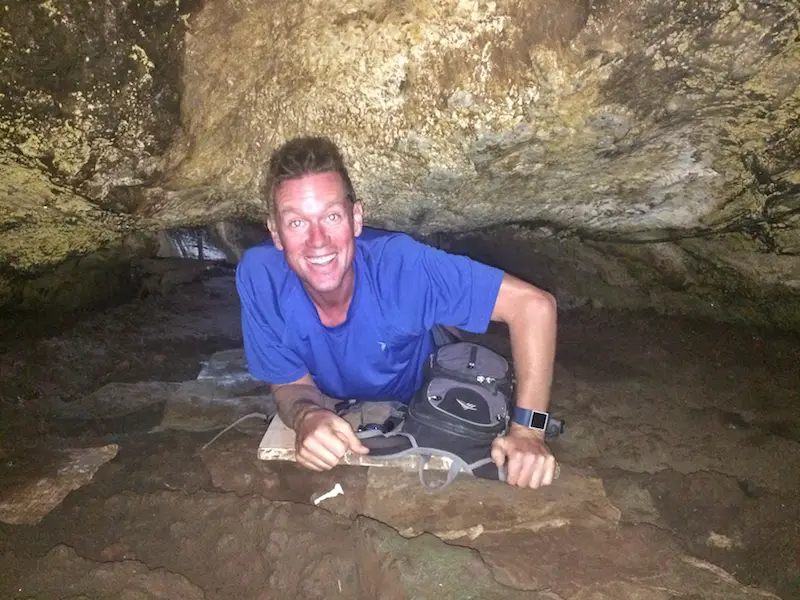 Another section resembled a rockfall.  We navigated our way over the huge jagged boulders of lava rock that littered the path.  I might have stolen a glance upwards to check for any loose rocks that felt like joining them.
All too soon we emerged from the tunnel to the bright, warm day and our taxi driver patiently waiting for us.
Where can you find Lava Tunnels in Santa Cruz, Galapagos?
There are a number of these cool natural lava tunnels throughout the highlands.
Most people choose to combine a visit to the lava tunnels in Santa Cruz with a visit to a giant tortoise reserve.  A number of main reserves also have lava tunnels on their property.
When we visited Rancho Primicias Tortoise Reserve, our taxi driver drove us straight to the lava tube after we were done.  He dropped us off and the entrance and waited for us at the tunnel's exit (it was half a kilometre long).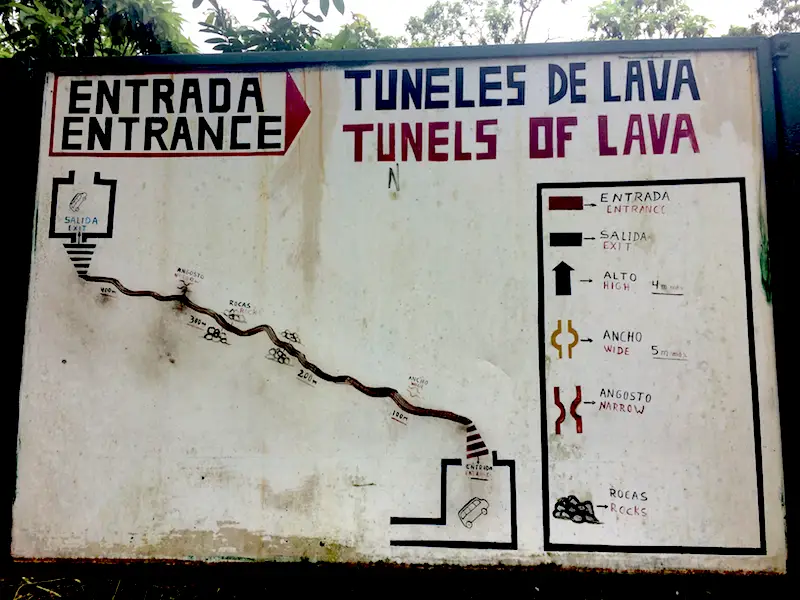 Another option is to visit some nearby tunnels independently.  There are some lava tunnels just outside the town of Puerto Ayora.  Walk or rent a bike and take the main road north out of town.  After a couple of kilometres or so you will see a sign for a lava tunnel viewpoint with a parking area on the left.  This is a great option if you aren't going to a tortoise reserve but still want to see some lava tunnels.
Should you visit the lava tunnels in the Galapagos?
Exploring lava tunnels was something different that I would definitely recommend to anyone visiting the Galapagos Islands.  However, there are some things to consider:
If you are claustrophobic this may not be for you.
A certain level of agility is required to pass through the narrow section.  Consider visiting other tunnels or simply turning around and exiting through the entrance.
Don't bother paying for a taxi to do this alone.  If it's not combined with another activity in the highlands such as a tortoise reserve, visiting Los Gemelos or hiking Cerro Crocker it's probably not worth the effort.
Save this now so you can find it later!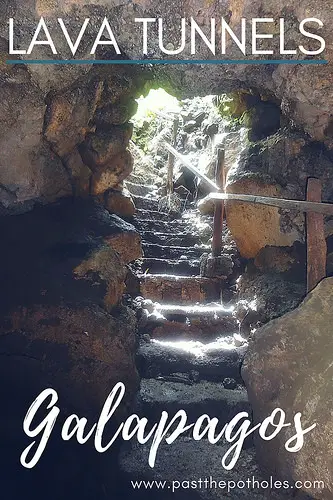 [btn text="Return to "Things to do in Santa Cruz, Galapagos"" tcolor=#FFF bcolor=#1998b5 thovercolor=#444 bhovercolor=#bbede7 link="https://pastthepotholes.com/things-to-do-in-santa-cruz-galapagos" target="_self"]
Return to our Destinations page.