Two Weeks in the Galapagos: The Best Budget Itinerary for Independent Galapagos Travel
Some links in this post may be affiliate links. If you click on them we may make a commission from qualifying purchases at absolutely no cost to you.  Read our full Disclosure Policy here.
We recently spent just under two weeks in the Galapagos Islands (11 days) and loved every second of it!  So much so in fact, we were back a year later!   As hype goes, this place couldn't come with a bigger one and yet it still doesn't disappoint.
Assuming you are travelling from outside of Ecuador, this trip will take you two weeks once you add travel to and from your home country on either end.  Flights to the Galapagos Islands only leave from Quito or Guayaquil so an extra travel day on each end is needed.
---
Discover more about each island.   We have created the Ultimate Galapagos Islands Travel Guide to help you plan the most amazing trip.  Don't forget to check out our Galapagos Packing Guide, where we tell you everything we learned about what should, and shouldn't, be in your bags.
Read our guides for each island to find the perfect activities and accommodations for you:
---
Travelling full-time for a year, we couldn't afford to blow thousands of dollars on just two weeks so we were looking to do the Galapagos Islands on a budget. 
With just two organized tours and two activities that require a taxi, this is about the best Galapagos land-based itinerary for a tight budget.
As awesome as it was, if we had a chance to do it over again we definitely learned a few things along the way and would make some changes. As we talked to both locals and travellers we learned of things we wished we had included into our Galapagos itinerary and there were a few things we wouldn't bother with again.
Note:  While you can do the Galapagos in one week, the flights are the biggest expense so it makes sense to stay for longer and really see everything you want.

 

Two weeks in the Galapagos Islands was really the perfect length of time in our opinion.
Learn from our mistakes and go with the best budget itinerary for independent Galapagos travel you will need!
This will let you see all the main creatures that the islands are famous for and some stunning scenery along the way.  Best of all, it won't break the bank!
[space_20]
Two Weeks in the Galapagos: The Best Galapagos Land Based Itinerary
---
Day One – fly to Santa Cruz, Charles Darwin Research Station
Fly into Baltra and make your way to Santa Cruz. This involves a bus, boat and another bus but everyone that lands together is literally herded along the entire way so no more explanation needed. Have $3 each available for ferry and bus costs.
You can almost certainly walk to your accommodation from the bus stop, Puerto Ayora is a small town, but there will be taxis waiting if you'd rather not carry luggage.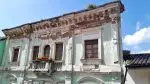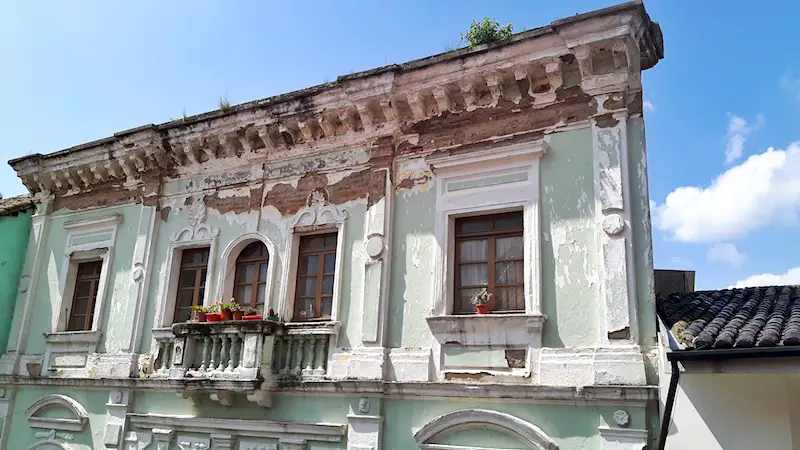 READ THIS POST:
The 9 Best Things to do in Quito, Ecuador.
After checking into your hotel, you should have enough time to head over to the Charles Darwin Research Station.  This mainly focuses on the giant tortoises for which the islands are named.  Follow the Ruta de la Tortuga and learn all about these fascinating creatures before ending at the breeding station.  You will see tortoises in various stages of life from very small to about middle-aged. 
There are also a few land iguanas here (the only ones we saw).  Inside the main building are a few preserved remains of different wildlife, a small store and cafe.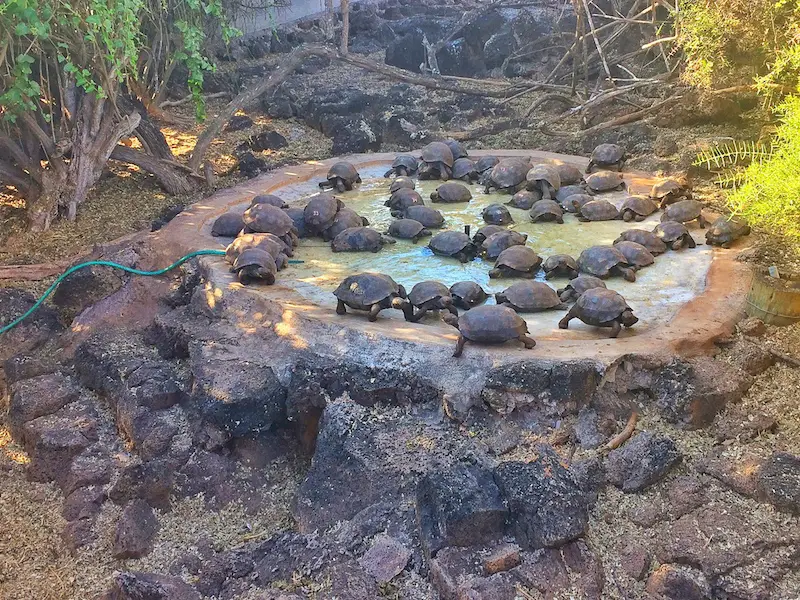 The research station also has a couple of small beaches.  Head to the further to see marine iguanas by the dozens.  It seemed every time we walked to get a closer look at one, we almost tripped over another three huddled together!  
TIP: Take your passport as this is where you can get it stamped with the Galapagos.  
Day Two – Las Grietas, Tortuga Bay
Morning:  Head to the main dock in town and take the water taxi to Angermeyer hotel for the walk to Las Grietas.  This should cost you 80¢ each way.  The trail is easy and we did it in flip flops without any issues.  You will walk past Playa Los Alemanes and a salt mine further along.  At this point, there is a little store/restaurant and a man renting snorkel gear.  However, he only seemed to have two sets so we would recommend either bringing your own or renting in town instead.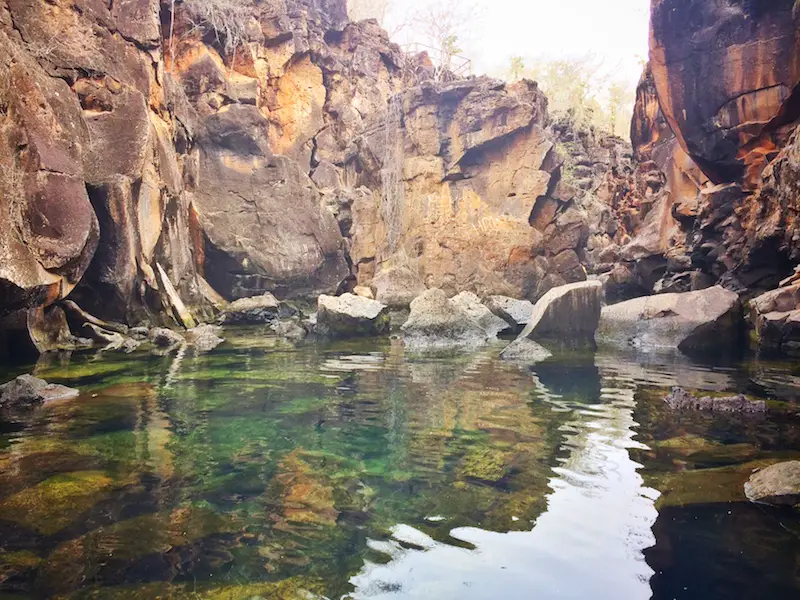 Las Grietas can get busy so it is best to head there earlier in the day to snorkel.  There isn't much to see in the water but it is a neat rock formation with a really deep crevice containing incredibly blue water.
NOTE: while at the docks, take a few minutes to book the afternoon ferry sailing to Isabel Island for Day 4.  Prices are controlled and no matter where you buy your ticket, passengers are combined onto the various ferries.  Expect to pay $30 for each sailing.
Afternoon:   Tortuga Bay is your destination for the rest of the day.  This requires a 45 minutes walk along a paved trail.  It's not particularly strenuous although the hot sun will make it seem harder.  There is also a water taxi option but it is $10 and takes you straight to the lagoon.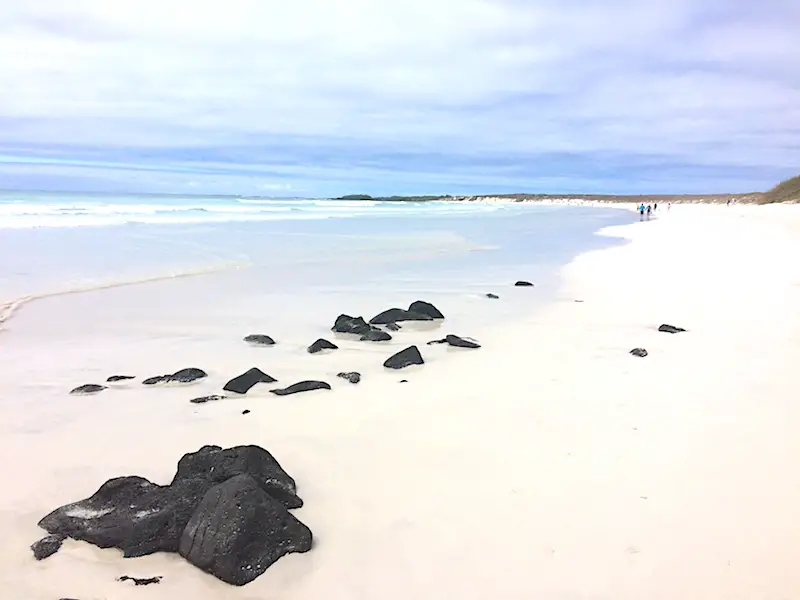 The first bay, Playa Brava, is a stunning beach of white sand, black lava rocks and turquoise water.  There will also be marine iguanas around.  If you are a surfer this is your spot.  If not, take a hundred or so pictures then head to the far end of the beach to a little lagoon called Playa Mansa where it is perfectly calm for swimming and snorkelling.  We saw many turtles popping their heads up here and Terry even came across some sharks while snorkelling!
Day Three – Tortoise Reserve
For this, you will need to rent a taxi.  It cost us $40 although we could probably have bartered it down a few dollars.  If you aren't a big group, try to find a few other people who would like to do this and split the cost.  The driver will take you to a tortoise reserve.  The most common is El Chato but we asked to go to Los Primicias instead in the hopes for a quieter experience. 
After this, he will drive you to the entrance to the lava tunnel and meet you at the exit. 
You can also head to Los Gemelos, two giant sinkholes either side of the main road through the island, for a few extra dollars.  There are some walking trails where various birds can be seen.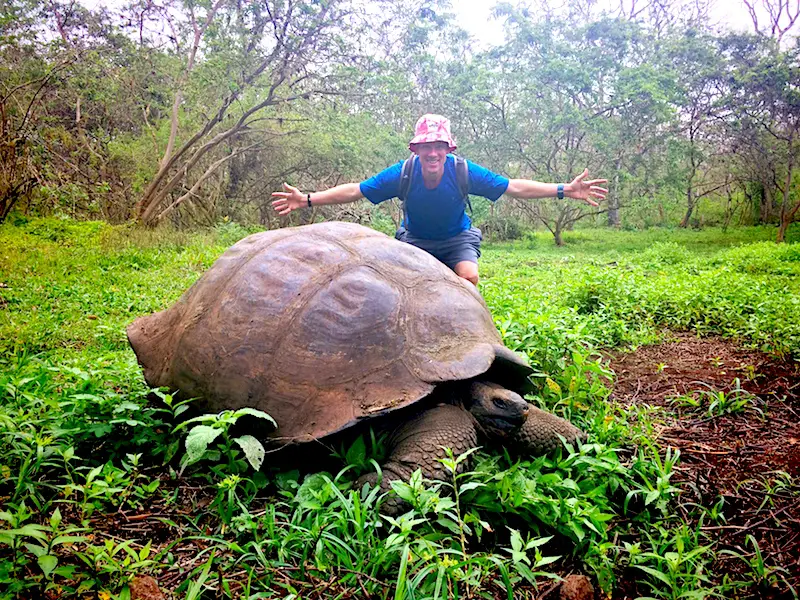 Another option is to rent a bike.  Keep in mind, it is uphill all the way there.  However, all taxis in the Galapagos are pick up trucks so you could have a taxi take you and the bike to the tortoise ranch then bike the rest yourself and spend the afternoon exploring the highlands (or wherever you choose).
The tortoise ranch and lava tunnels should only take 3-4 hours so you will have the rest of the afternoon free.  We chose to return to Tortuga Bay (we really enjoyed this beach)!  Of course, there are plenty of other options for your afternoon. 
Day Four – ferry to Isla Isabela
Before catching the afternoon ferry you will have plenty of time to visit the fish market in town.  There is plenty of activity in the late morning so it is a great time to see it.  Pelicans, frigate birds and sea lions are as close to a guarantee as nature can give.  We also saw marine iguanas and a crane.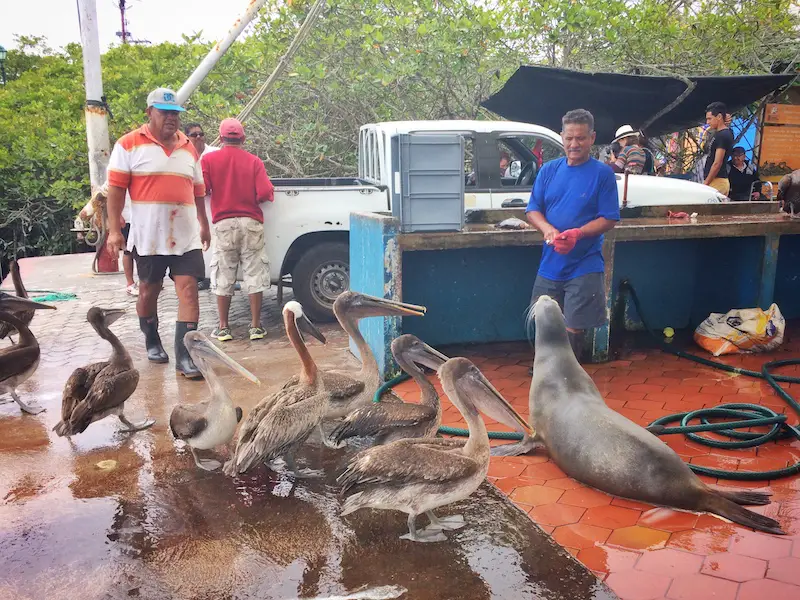 Be at the dock for 1:30 pm for the speedboat ferry to Isabela Island. 
We had no issues with sickness on the ferries but many do.  If there is even the slightest chance of seasickness take some medication before boarding.  When you arrive, take a few minutes to book your return sailing for Day Seven as well as your day trip to Las Tintoreras.
Day Five – Los Tuneles or Las Tintoreras Tour
Take the Las Tintoreras half-day trip.  You can either book a boat tour, which will take you to the small group of islets with time for a short hike on the land, or a kayak tour if you're up for it.   This is a great opportunity to see white-tipped sharks, blue-footed boobies, turtles, marine iguanas, sea lions and a chance to see the Galapagos penguins.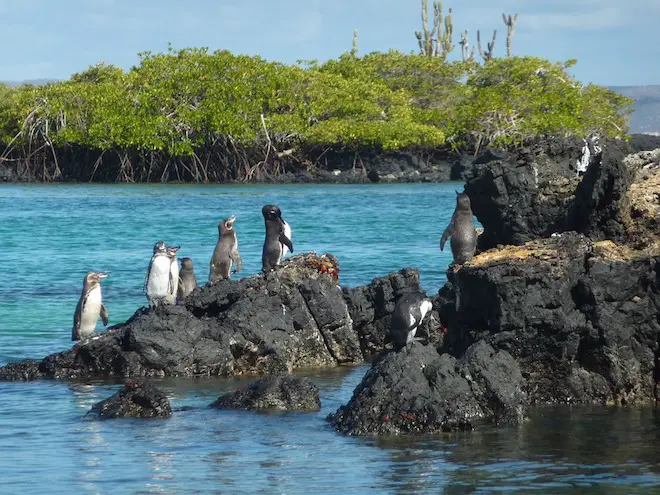 Alternatively, for a longer tour, Los Tuneles also comes highly recommended and includes the chance to see many of the same wildlife and amazing snorkelling in crystal clear waters.  I'd suggest asking tour companies for details and prices of each and choosing the one that best suits your wish list.
If you haven't had enough of the Galapagos tortoise yet, head to the Centro de Crianza Arnaldo Tupiza, Isla Isabela's tortoise breeding centre for a free visit.  Before you reach the centre, along the walking trail, there are a few lagoons where you will have a good chance to see flamingos among other birdlife.  There is also a great beach in Puerto Villamil which is perfect for a lazy afternoon.
Day Six – Wall of Tears
For something a little different, visit the Wall of Tears (muro de las lágrimas) today.  This giant wall of coral was built by prisoners for no other reason than to torture them and many died from heat and exhaustion in the process.  You can rent a bike (around $15 for the day) or walk. Along the way, there are plenty of tortoises wandering the trail. 
On the return journey, stop at one of the beaches that line the trail.  If you are into surfing, stop at Quinta Ola or Playa Barahona.  If a calm lagoon with tide pools sounds more interesting visit Playa del Amor.  Or if you're looking for seclusion then Playa del Estero could be for you.  
Day Seven – Concha de Perla, ferry to Santa Cruz
You have the morning to relax and enjoy the town of Puerto Villamil.  Wander the streets, sleep in, find a coffee shop, or visit Concha de la Perla for some free and excellent snorkelling.  This cove with crystal clear water is just a short walk from the port. Take the afternoon ferry back to Santa Cruz.  If you have souvenirs to buy now would be the best time.  There wasn't nearly the selection, or quality, on San Cristóbal.
Day Eight – ferry to San Cristobal, Interpretation Centre
You could take the morning or afternoon ferry to San Cristobal depending on your preference.  We took the afternoon sailing, leaving at 2 pm and still arrived with enough time to visit the interpretation centre and Playa Mann. 
The interpretation centre is very different from the Charles Darwin Centre on Santa Cruz and worth a visit.  This centre focuses on the human and natural history of the islands and you will learn many interesting facts about the Galapagos Islands.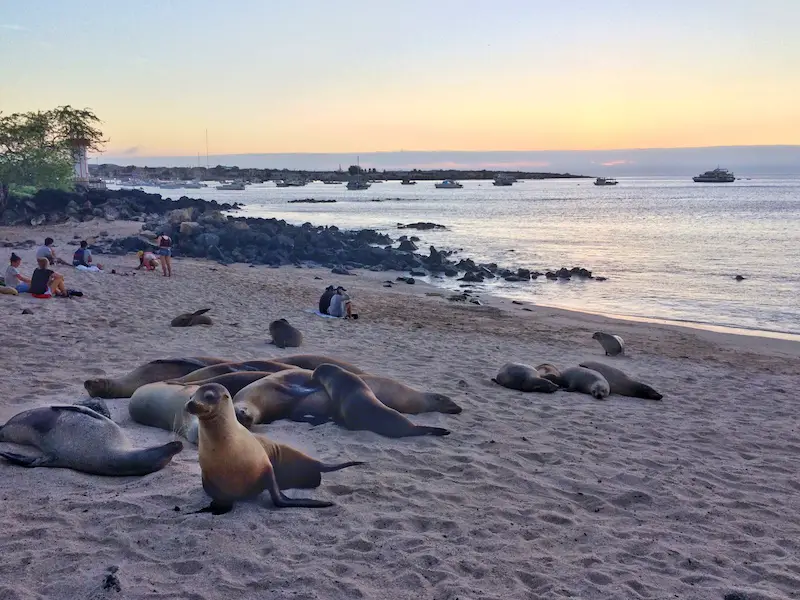 Playa Mann is right at the entrance to the interpretation centre and is teeming with sea lions.  It's a gathering place for sunset with a couple of cafes, bathrooms and plenty of travellers enjoying a beer with their new stinky friends (the sea lions, not fellow travellers)!    
Day Nine – La Lobería Beach
Lace up your walking shoes and hit the road south out of town for La Loberia.  As the name suggests (la loberia is Spanish for 'the place of sea lions'), you are on the way to a beautiful beach full of sea lions.  It is also possible to snorkel here and you are pretty much guaranteed to have company in the water.  There are so many here that, even on an island full of sea lions, the National Park actually has a ranger stationed here to make sure rules are being followed to and track visitors.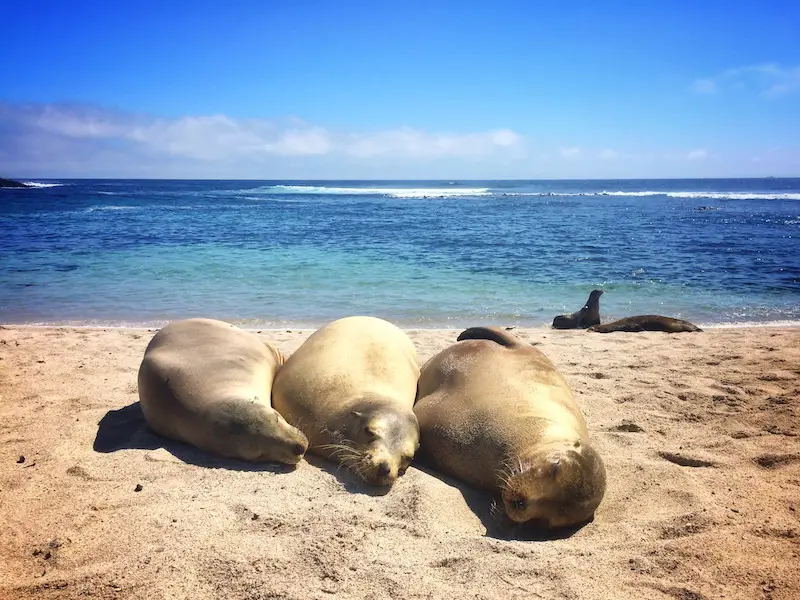 Walk along the beach and follow the trail beyond.  You will cross fields of lava rock and end at a lookout.  We opted not to relax and have a snack here due to the frigate birds swooping in the air incredibly close to our heads!
Today would be a great day to wander downtown San Cristobal.  There isn't too much but the waterfront is really pretty and there are some nice cafes, restaurants, bakeries and shops.
Day Ten – 360º Day Tour
The one tour that seems to be the best value for money is the 360º tour day trip.  We met a number of people doing a variety of day trips and everyone had rave reviews for this one.  Other tours (including our own) didn't elicit the same level of enthusiasm. 
Kicker Rock is a very popular tour from San Cristobal and I had read many posts saying if you do just one expensive tour to do Kicker Rock (Leon Dormido).  However, this tour actually includes Kicker Rock along with a few other sites around the coast.  
You will visit Rosa Blanca, Punta Pitt, Bahia Sardinas, Witch's Rock and Kicker Rock (Leon Dormido).  Some stops are for snorkelling, others are a beach, one or two are just 'drive-by's' for photo opportunities.  This tour is run in a clockwise and anti-clockwise direction so you just don't know until the captain tells you but either way, you won't be disappointed.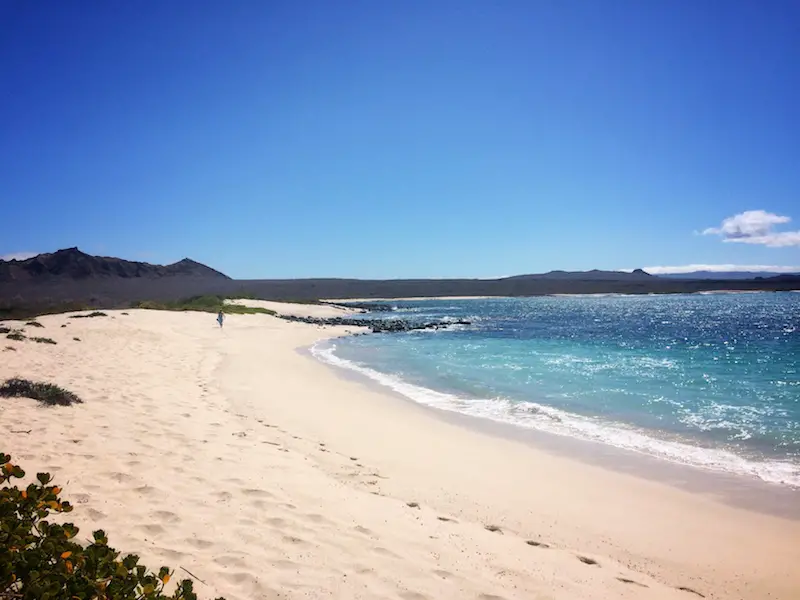 While snorkelling we saw Galapagos sharks, white-tipped sharks, manta rays, eagle rays, turtles, and sea lions (besides the obvious fish).  We also spent some time on some gorgeous white sand beaches.  From the boat, we saw many, many birds including blue-footed boobies, Nazca boobies, tropicbirds, frigate birds, pelicans and many more.  Lunch and snacks were included.
Day Eleven – Highlands Tour or Cerro Tijeretas and Punta Carola
Depending on what appeals to you most choose: Hire a taxi to take you to El Junco, Puerto Chino and Tortugueras.  This is a fairly common combo so if you ask for one they will likely ask if you want the others too. 
El Junco is a crater lake in the highlands of San Cristobal and the only permanent source of freshwater in the Galapagos.  There is a hiking trail around the lake which takes around half an hour and if it's a clear day, amazing views.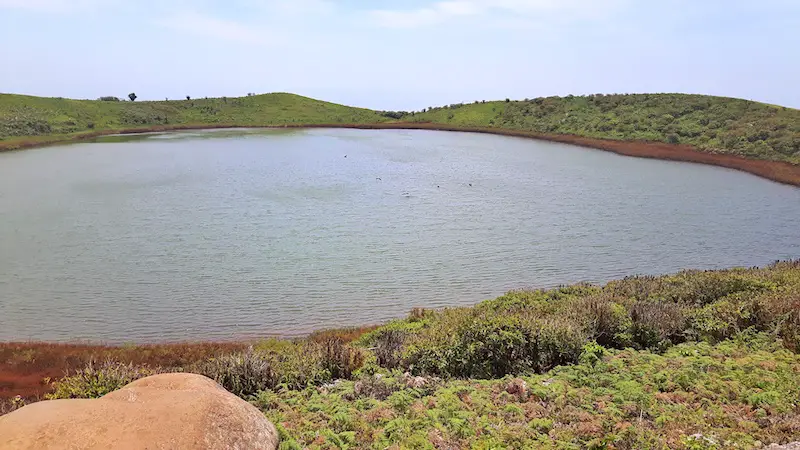 From here, visit the Galapaguera tortoise reserve.  We chose not to based on the fact we had visited one on Santa Cruz but people we met did this day trip and weren't disappointed.  They commented on how the tortoises were a different species and noticeably different.  
The final stop of the day is Puerto Chino, an isolated beach where you can relax for a while and enjoy the warmth and go for a swim.  There is also a decent chance of seeing blue-footed boobies on the cliffs of this beach.
OR
Through the Interpretation Centre, you will find some hiking trails to Las Tijeretas, Playa Baquerizo and Playa Carola.  Keep to the right to walk up to the top of Las Tijeretas, or Frigate Hill.
As the name suggests Las Tijeretas is a popular breeding ground for the mighty frigate birds and you have a chance to see them and maybe some boobies on the cliffs.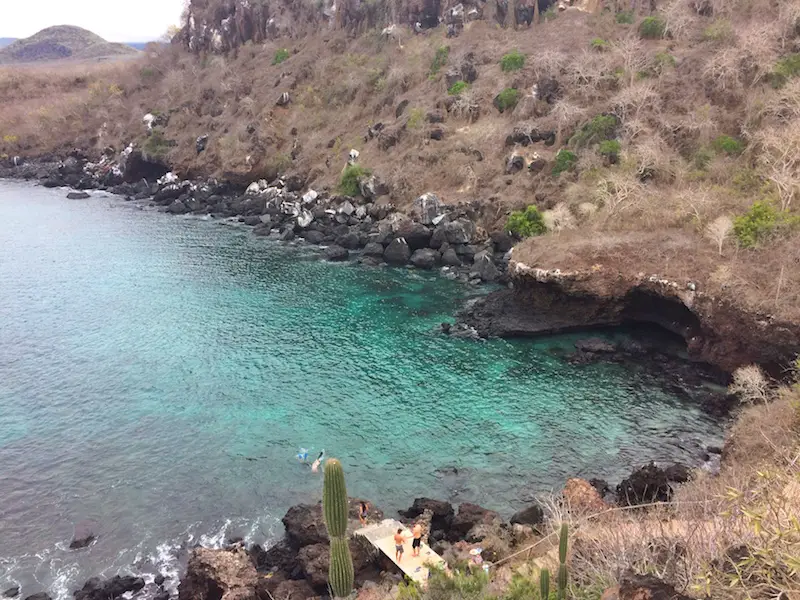 From here you can continue to Playa Baquerizo or left down to Darwin's Cove for some snorkelling (or both).  In the cove we saw some turtles, sea lions and marine iguanas.  There is also a huge Darwin statue that is just begging for a photo op!
Rather than returning through the interpretation centre we highly recommend hugging the coastline and coming out at Playa Carola.  You can smell this beach long before you can see it as it has one of the highest concentrations of sea lions we saw.  We walked out to the lighthouse and stumbled upon blue-footed boobies, iguanas, pelicans and sea lions all relaxing on the warm rocks together.  There is also a great surf break out by the lighthouse.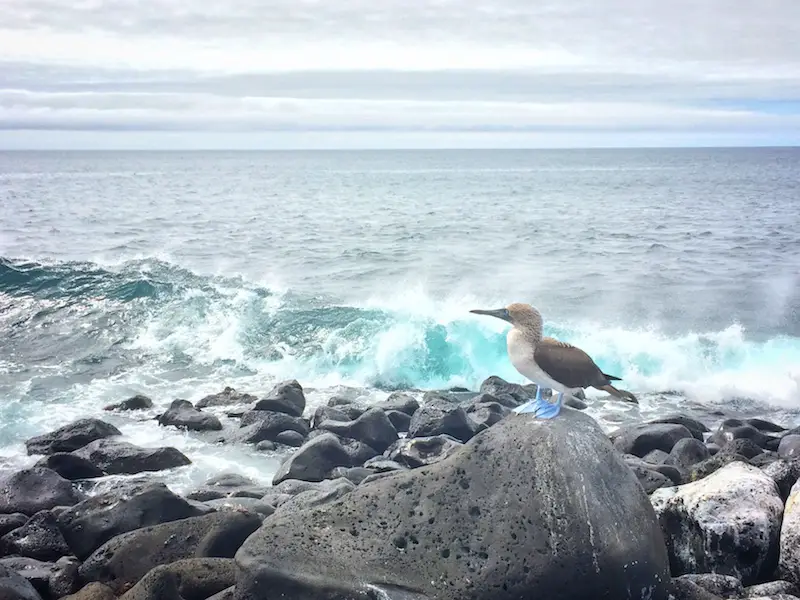 Day Twelve – fly back to Ecuador
Most flights leave around late morning or early afternoon so you can enjoy a relaxing morning and do any last minute souvenir shopping or sea lion watching.  I honestly never got tired of watching them no matter how many times we saw them! 
The airport in San Cristobal is walking distance from town but, again, taxis are readily available if you'd rather not.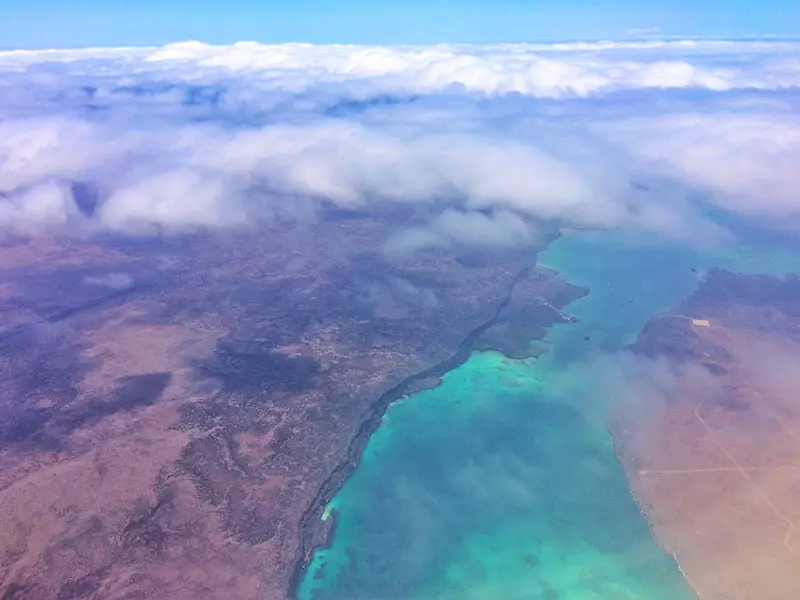 And there you have it, an amazing two weeks in the Galapagos Islands on a budget!
Things to Consider when Planning a Trip to the Galapagos Islands
We cannot recommend enough flying into and out of different islands.

 

There are two airports in the Galapagos – on one Santa Cruz (well actually it's on Baltra), and one on San Cristobal.

 

By booking different airports you will have more time to explore different areas of the islands and less time on the notoriously rough ferries.

 

Prices obviously vary but we actually found a cheaper deal doing this than a round trip.

 

We also flew out of Guayaquil which meant shorter, direct flights (many Quito flights make a stop in Guayaquil).
If you are travelling during high season, it would be a good idea to book all tours in advance.

 

During lower seasons you should be able to get a better price by shopping around town the night before your desired tour.
We found the pace to be busy enough to prevent boredom but not so fast as to feel rushed or tired.

 

If you have more or less time, it would be very easy to adjust the timing slightly by simply moving activities around a little.
If there is a particular flora or fauna that you are determined to see, research the best location(s) for it and adjust the itinerary accordingly.

 

We didn't SCUBA dive but if you plan to do some diving in the Galapagos, we heard that Gordon Rocks from Santa Cruz and Kicker Rock (Leon Dormido) from San Cristobal are two of the best dive sites.

 

We can tell you that just snorkelling Kicker Rock was incredible so I have no doubt the information is true!
If you prefer, you could take both ferries between Isabela and San Cristobal on the same day and gain some extra time at one of these islands.

 

There is a good chance of rough conditions though so if you are prone to seasickness you will probably be thankful for the break between!
Conditions vary throughout the year and, depending on your goals, different months will be better than others for you.

 

We visited in December and saw plenty of sea lion pups but no penguins.

 

The water is colder but the days are drier.

 

With colder water comes plenty of nutrients and richer marine life.

 

When the water is warmer, however, conditions are supposed to be clearer for diving.

 

Do some research to find the best time to visit the Galapagos for you.  Click the link for a detailed description of each season.
Pack warm clothes.

 

The Galapagos Islands are on the equator so it must be hot, right?

 

It turns out that's not entirely true!

 

During the day in the sun, you will definitely break into a sweat and most definitely need sunscreen, water and a hat.

 

However, the highlands and evenings are cool and damp.
What do you think of our Galapagos itinerary?  Have you been?  What were your favourite things to do in the Galapagos?  We would love to hear from you!
Do us a favour?  Save this article on Pinterest so others can find it!
[columns] [span6]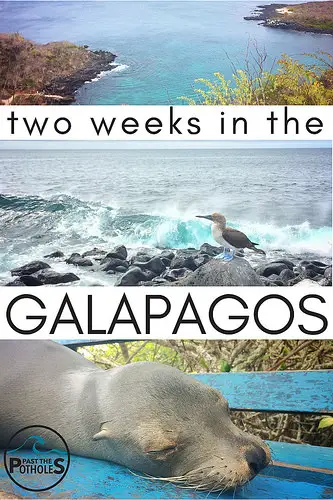 [/span6][span6]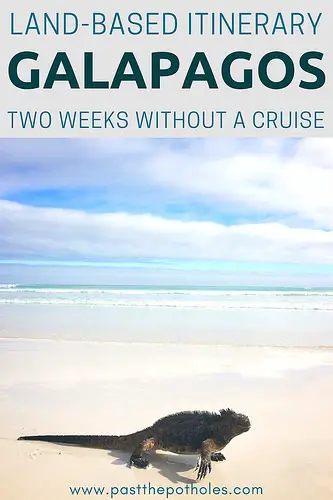 [/span6][/columns]
Return to our
Destinations
page for more travel inspiration.