La Lobería beach, San Cristobal Galapagos: Snorkel with Sea Lions!
Some links in this post may be affiliate links. If you click on them we may make a commission from qualifying purchases at absolutely no cost to you.  Read our full Disclosure Policy here.
If sea lions are top of your list of wildlife to see in the Galapagos Islands, you absolutely need to include San Cristobal Island in your itinerary.  This island has by far the largest sea lion population and La Lobería beach is actually named for these guys!
As you can imagine, you are almost certainly going to see a few of these funny creatures when you visit this beach.  But it's actually a beautiful beach in its own right and well worth the effort it takes to get there.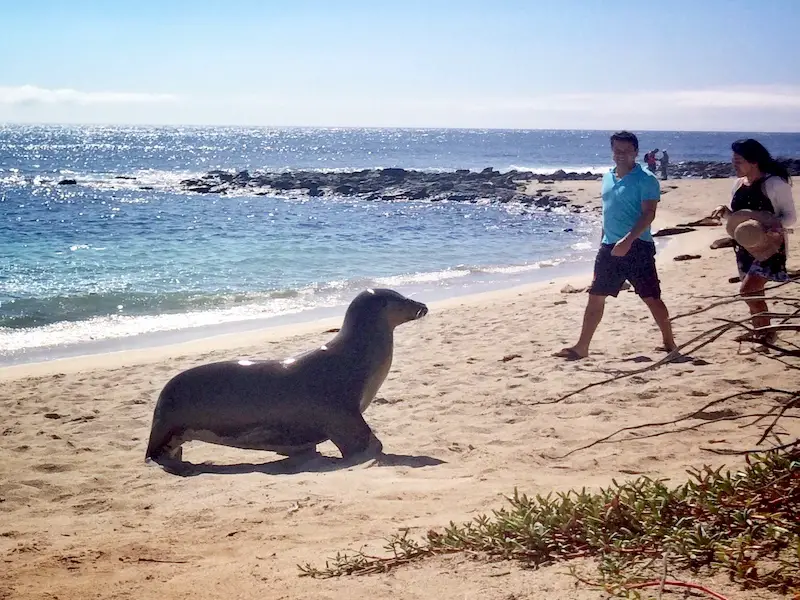 Want more information on the Galapagos Islands?  Check out these posts below:
Where is La Loberia Beach?
La Loberia is on the south-west coast of San Cristobal Island, approximately 2.5km south of Puerto Baquerizo Moreno, the main town on the island.
How do I get to Playa Lobería?
There are two options to reach Playa Lobería:
Walk from town.  Turn right at the municipal market and reach the local stadium.  Skirt the stadium and take the path beyond it.  You will go past the outer fence of the airport and follow the road all the way to the end.  Expect the walk to take about half an hour.  Keep in mind there is no shade if you decide to make the walk during midday.
Take a taxi.  Depending on your negotiating skills, and starting point, a taxi shouldn't cost more than a few dollars.  When you are ready to leave you can walk, wait for a taxi or ask the little kiosk to call you one – if it is open.
Playa La Lobería, San Cristobal
When you reach the end of the road, regardless of how you arrived, you will need to walk along a short trail through the trees.  This comes out at a small rocky beach.
Turn left and walk along the beach.  On our first visit, the smell alerted us to being in the right place before we could see it.  After a few minutes, the beach opens up to a wide horseshoe bay of coarse white sand sloping into crystal clear waters dotted with jet black lava rocks.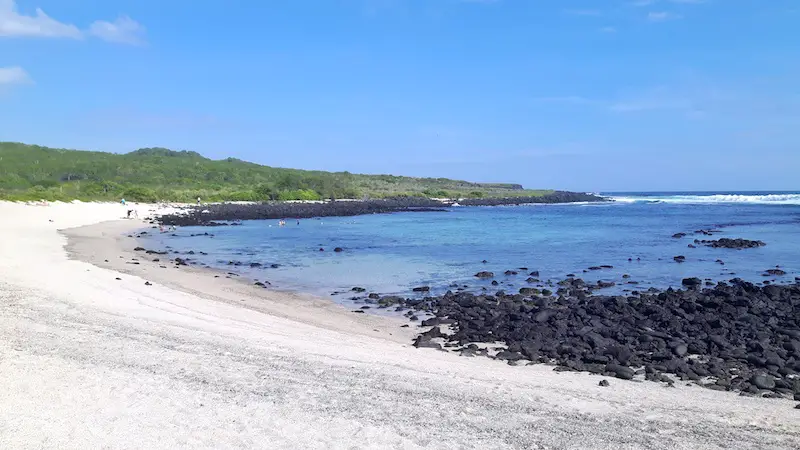 Typically, La Lobería is teeming with sea lions.  So much so that the Galapagos National Park has a guide stationed at the beach to ensure the animals aren't disturbed.  However, on our most recent visit, most sea lions on the island of San Cristobal have relocated themselves to Playa de Oro in town.
We still saw some sea lions on the rocks and in the shallow waters and it actually made the beach more pleasant to spend some time relaxing and playing.
The beach is a great place to snorkel.  The outer ring of rocks means that the water close to shore is fairly calm and protected.  Our 8-year-old nephew had no problems.  The water is crystal clear and a popular spot for not only sea lions but also turtles.  We saw both of the above as well as plenty of colourful fish when we were there.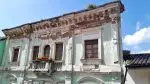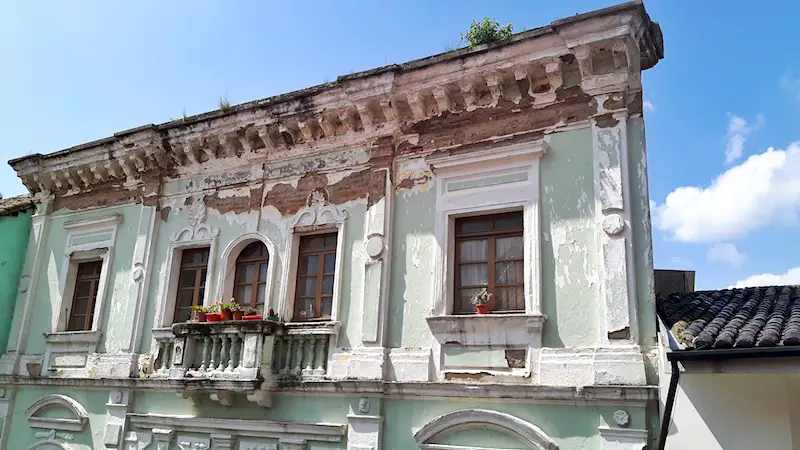 READ THIS POST:
The 9 Best Things to do in Quito, Ecuador.
La Lobería beach has a serious surf break for experienced surfers.  The rocks that protect the shoreline create a powerful break that surfers enjoy riding.  The wave is large and the rocks make it better to sit and watch unless you know what you're doing!
Walk to the end of the beach and follow the marked trail.  The sandy beach becomes covered with jagged lava rocks.  Watch your step.  The black marine iguanas are hard to spot and small lava lizards often run across the path.  The trail turns left and climbs over a cliff.  At the top is a great spot to watch sea birds who nest in the cliffside below.
If you find yourself in San Cristobal, make the time to hike over to La Lobería beach.
Did you find this post helpful?  Save it for later!
[columns] [span6]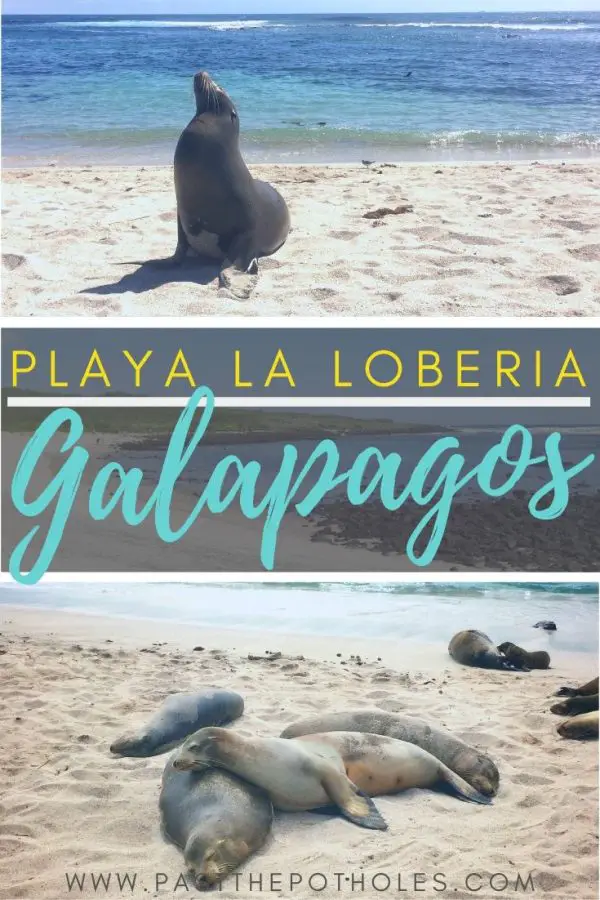 [/span6][span6]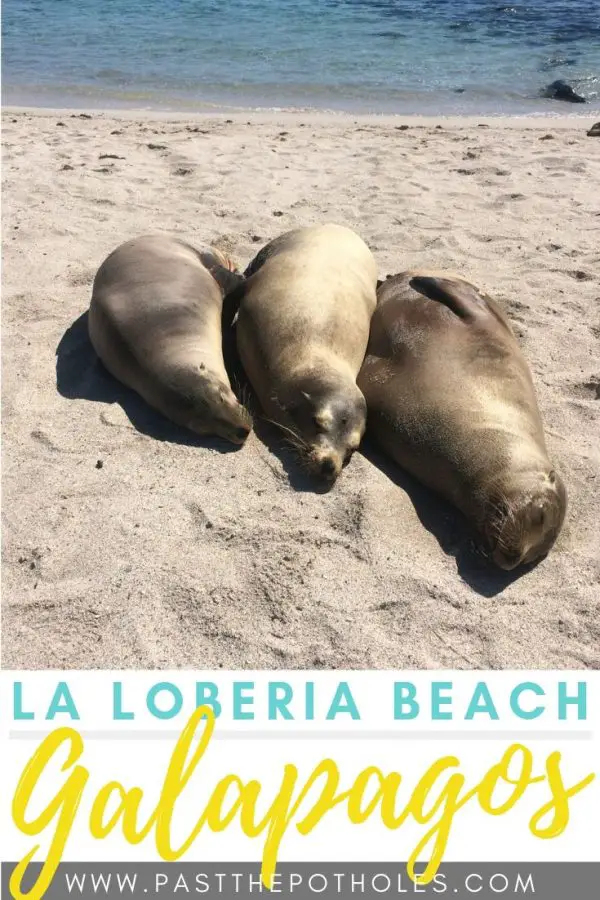 [/span6][/columns]