9 Best things to do in Quito, Ecuador (travel guide)
Some links in this post may be affiliate links. If you click on them we may make a commission from qualifying purchases at absolutely no cost to you.  Read our full Disclosure Policy here.
For some time, we had heard people recommend Ecuador as an amazing country.  Be it international teachers who had lived there for a year or two, or travellers passing through, everyone loved the country but no-one could give any real tangible reason why.
We decided it was time to find out.  To be honest, I'm not sure we can really put into words what is special about Ecuador either.  However, we can tell you there are a lot of amazing things to do in Quito and that alone is worth a visit!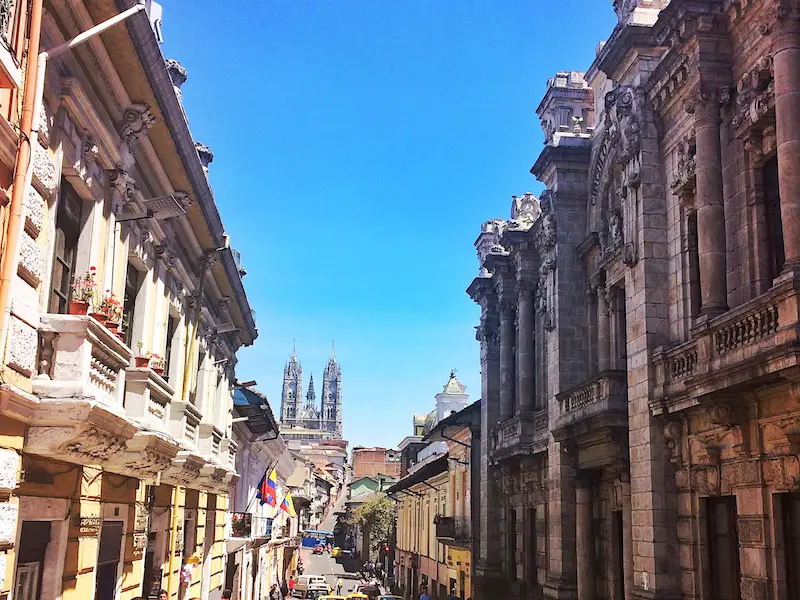 We flew to Quito after an incredible month in Panama and decided to spend a few days in the city before heading to Manta on the coast.  Great decision!  However, I didn't do a lot of research beforehand and this turned out to be a big mistake.  Quito is one of the two most important cities in Ecuador, and as such, deserves
Three days was nowhere near enough to see the city and surrounding area!  It took us a little over a year, but we have since returned and spent four more days exploring the things we missed the first time around.  While there is still more to see and do in Quito, I now feel like I've done it justice.
Looking for more information about Quito and its surroundings?  We've got you covered!  Read the posts below for more ideas on what to do and see while in and around Quito:
[space_40]
Where to stay in Quito, Ecuador
The majority of visitors to Quito stay in either the historic centre or La Mariscal.  The decision will depend on your main priorities.  Staying in the centro historico puts you within walking distance of most of the major sites and in the middle of all the beautiful architecture.  La Mariscal is the centre of Quito's nightlife and where you will find most of the popular bars in Quito.
We stayed in the old town both times we visited and were very pleased with our location (so much so, our second visit we stayed right around the corner from our first place).  The area around Plaza San Blas is perfect.  It's just on the edge of the historic centre with a small concentration of hostels and a number of great choices for dinner and drinks without having to walk too far at night – not recommended in Quito.
If you want to stay in the historic centre of Quito, we recommend Casa CarpeDM hostel.  We had a private room with bathroom and a great view.  There is an included breakfast and the kitchen is then available for your use the rest of the day.  What really makes this place worth recommending though is the service.  The staff were friendly and helpful and, as they also own a travel agency, you can get deals on everything from day trips to Galapagos cruises.  Check out their reviews and availability now.
For those wanting to stay in La Mariscal area, El Patio Hostel Quito has great reviews.  Guests love the friendly staff, included breakfast and large common areas.  There is also a shared kitchen and private rooms with private bathrooms.  Check their reviews and prices now.
[space_40]
Where to eat in Quito
Aside from the market mentioned below, discovered an unbelievably delicious small Italian restaurant around the corner from our hostel.  In fact, it was so good, it was the first thing we wanted to do when we returned to Quito over a year later.  Cafe San Blas can be found on Jose de Antepara, just down the hill from Secret Garden Hostel.  We recommend the lasagna but the pizzas are great too.  While the prices are higher than what you'll find in local eateries, they are still reasonable for what you get.  It may be small and unknown, but we consider it one of the best restaurant in Quito.
That whole street actually has a few good options and a couple of restaurants now have tables outside facing the old Plaza del Toro.  It's a nice area to be able to eat out without having to worry about walking or finding a taxi at night.
Secret Garden Hostel, besides being a very popular place to stay, has an amazing rooftop terrace.  The bar has daily happy hour deals and also serves great food.  Get there early to order though if you want to eat as when they run out, it's gone!
The Best Things to do in Quito
---
Quito Free Walking Tour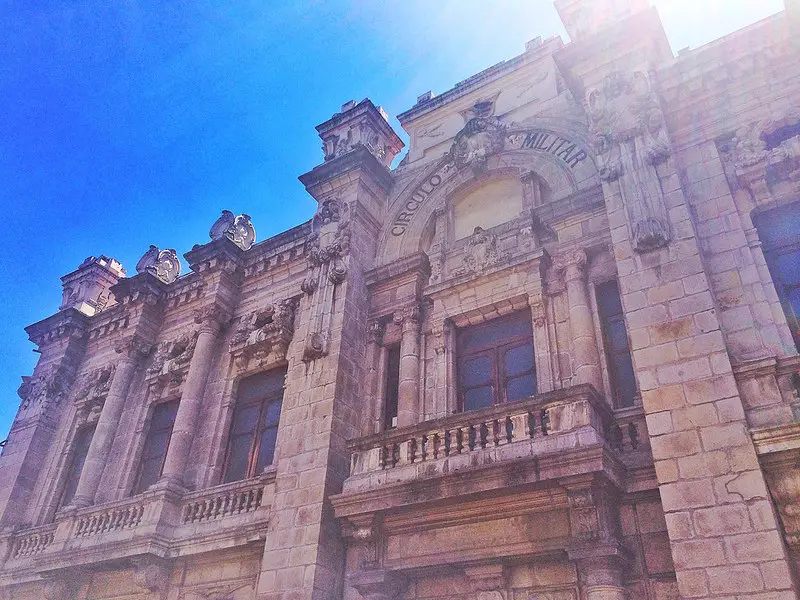 Free walking tours are a great way to start a trip in a new city and this was no exception. Community Hostel runs the tour we signed up for and it lasted for almost four hours!  The guide led us through the central market, around most of the Centro Histórico.   CarpeDM also runs a popular free walking tour.
We went into a few of the many churches and even onto the balcony of the President's house.
We learned a lot of interesting information about the history of Ecuador.  Apparently, they went through eight presidents in thirteen years – when unhappy, they would show up in the plaza fronting the residence and declare that the president no longer represented the people and they wanted him gone.  According to our guide, the president listened every time!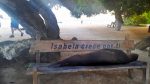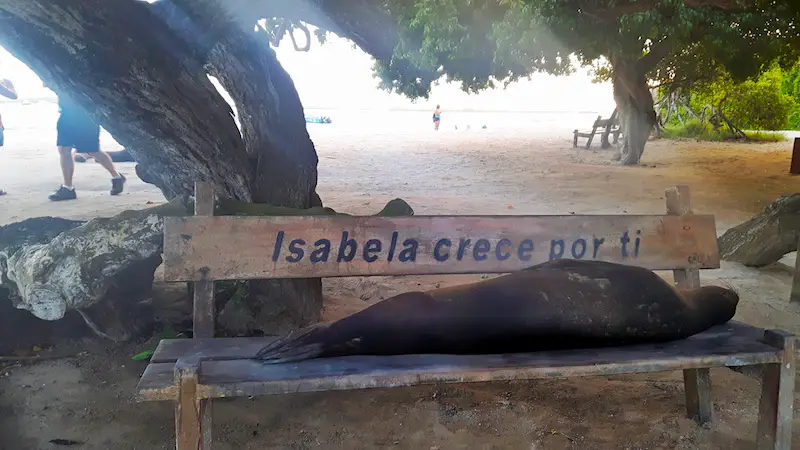 READ THIS POST:
11 Reasons you will fall in love with Isla Isabela, Galapagos
Walk down Calle La Ronda
Whether you are interested in history, culture, nightlife or just beautiful architecture Calle La Ronda is for you.  There is great history along this curved street that has seen a revival in past decades.  The Spanish-style buildings are now filled with museums and art galleries as well as restaurants, cafes and bars.  Whether you prefer street food or fine dining there is something for everyone along this street now known as a hub for local nightlife.
Get lost in the Centro Historico, Quito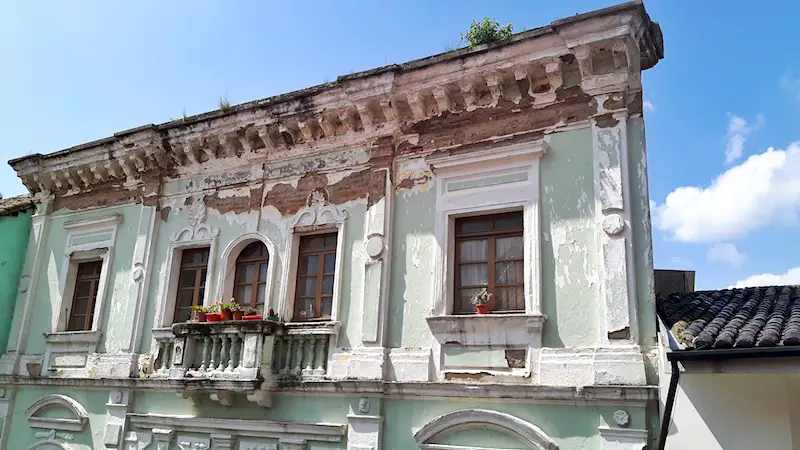 While the walking tour takes you to the most significant locations throughout the city centre it is still enjoyable to just wander the streets and make new discoveries at each turn.  Take a break in the plaza and watch the locals go about their daily life.  There are plenty of photogenic churches, plazas and alleyways to keep you busy for a while.  Be sure to duck into a few open doorways.  Some buildings open into beautiful courtyards in the interior.
Take in the views from El Panecillo
From almost any angle, the round hilltop with the gleaming statue on its summit is visible as it overlooks Quito Old Town.  The Virgin of El Panecillo was added in 1976 but centuries ago it was home to an indigenous temple.  This is a popular place to take in the views of Quito and surrounding mountain landscapes.
It is well-known that the road to the top is through a poorer neighbourhood and not particularly safe so most choose to take a taxi.  Our local guide told us that it is possible to walk but to take reasonable precautions: don't go alone, leave valuables at home and leave before dark.
Climb the tower of the Basilica del Voto Nacional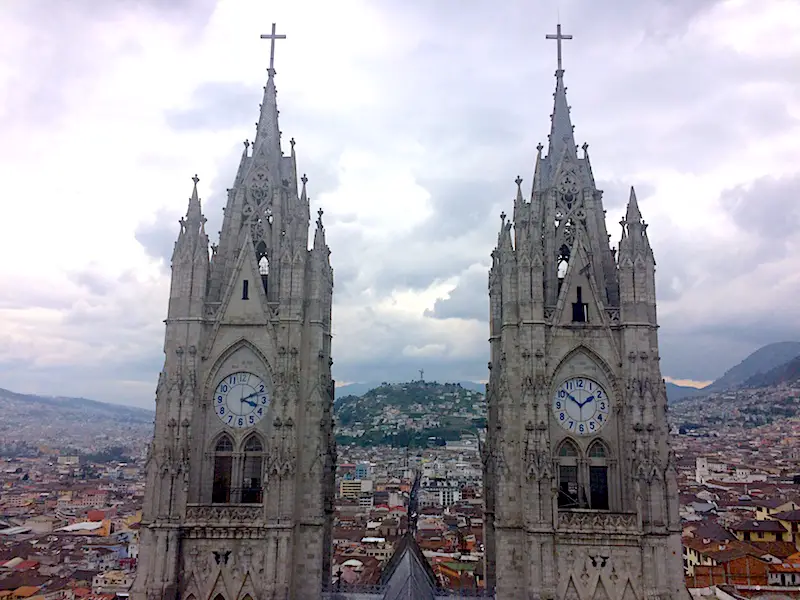 The Basilica del Voto Nacional, Quito, is probably the biggest landmark in the Old Town.  Not only is it beautiful and imposing from the outside, but it is also possible to enter for a $2 entry.  There is an additional fee to enter the nave but we recommend that you can climb up the tower for an amazing view of the city and surrounding mountains.  There are a couple of surprisingly well-priced gift shops and even a cafe inside the towers as well.
For those brave enough, you can walk across the roof to the back of the church and climb this tower for an even better view.  The last leg is enough to make your legs shake but it is definitely worth it.
Parque Itchimbía
In clear skies, we had planned to take the telefériQo (cable car) up Pichincha volcano.  However, the weather in Quito is unpredictable so if, as we did, you wake up to cloudy skies consider Parque Itchimbía as an alternative.  It's completely free (unless you get a taxi to the top) so you won't feel like you wasted any money if the views are hiding.
We walked up the many stairs to Parque Itchimbía and discovered a lovely little oasis right in the city.  There is a walking or biking trail that winds its way around the open park space, all of which with nice views across Quito.  Closer to the city, and below the clouds, we got much better views and a heck of a leg workout!
Take the TelefériQo up to Volcano Pichincha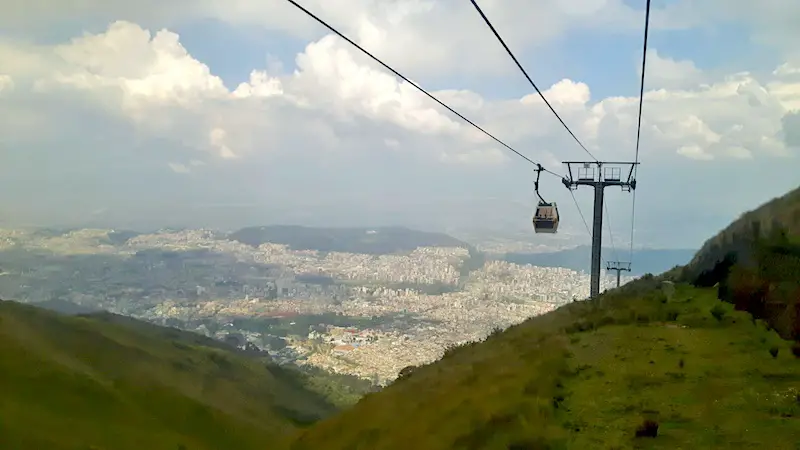 Wondering what to see in Quito?  From the teleférico, you can see it all!  On a clear day you can even see the various peaks along the ruta de los volcanes, or route of the volcanoes.
On the edge of the city, a cable car takes passengers up the mountainside on the slopes of Volcan Pichincha.  There is a cafe, store, a chapel and amazing views awaiting those who take the ride.  There are numerous trails you can take once you are dropped off at the top as well as horses that can be rented.  A miniature version of Baños' Swing at the End of the World has also been erected.
If you want to do more than take in the views, make it a day trip from Quito and hike to the summit.
Grab an artisan beer at Bandido Brewing
Six of our group from our Laguna Quilotoa day trip decided to meet up again later for dinner and drinks.  We checked out Bandido Brewing, a cool spot near the central market with good beers and delicious food.  It's housed in an old church and still uses the old pews as some of its tables.  We really enjoyed it as a change from the traditional rice and beans without going totally chain restaurant.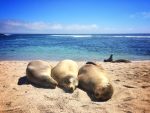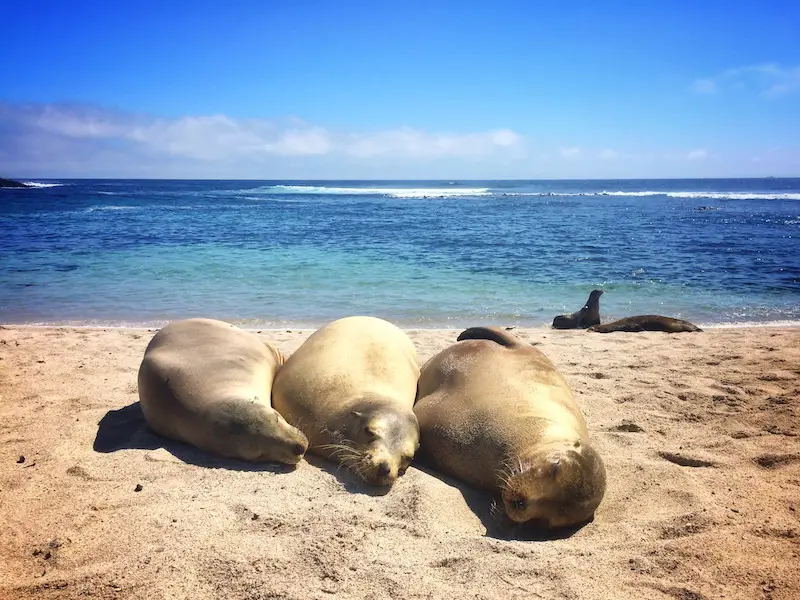 READ THIS POST:
17 Unforgettable Experiences in San Cristobal Island, Galapagos.
Take a Day Tour from Quito
OK, this one isn't exactly something to do in Quito.  But we still highly recommend carving out a day of your time in the city to get out of the city!  We did a couple of day trips during our time in Quito, the surrounding Andes mountains are just begging to be explored.  Check out the recount of our day tour to Cotopaxi National Park here or our Laguna Quilotoa day trip now…

Quito is definitely a cool city and a personal favourite.  There are mountains in every direction, tons of green spaces and incredibly friendly people.  The cherry on top is that it is incredibly cheap!  With so much to do within easy reach of the city too, we will hopefully be back soon!  You know when Terry says he likes a city, there's something good about it!
Have you been to Quito before?  What were your favourite things to do in Ecuador?
Did you find this post useful?  We'd love it if you could pin it to help others find it too!
[columns] [span6]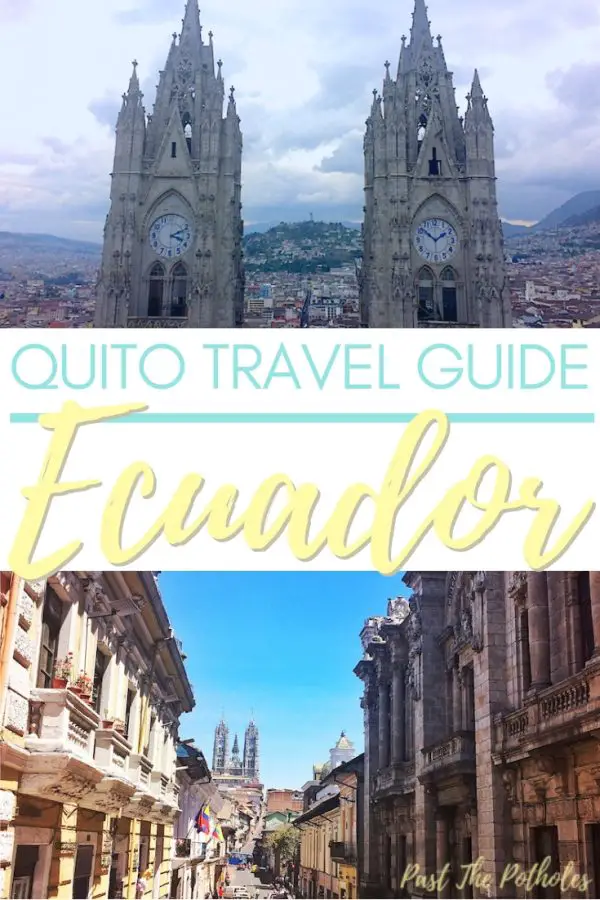 [/span6][span6]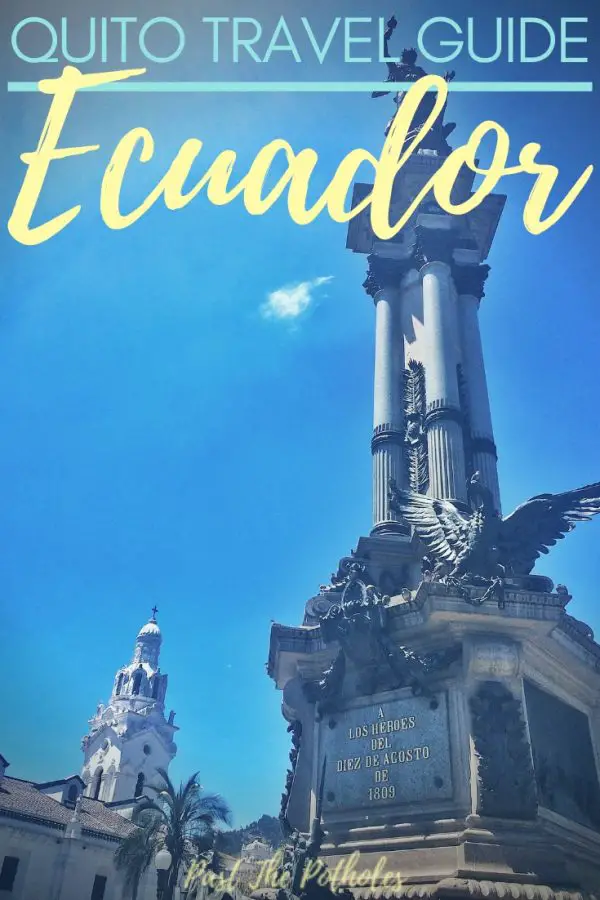 [/span6][/columns]