17 Unforgettable things to do in San Cristobal, Galapagos + complete guide
Some links in this post may be affiliate links. If you click on them we may make a commission from qualifying purchases at absolutely no cost to you.  Read our full Disclosure Policy here.
After two hours of being bounced around, land appeared ahead. As we got closer, the volume increased with the sounds of barking sea lions. As our eyes focused we realized many of the rocks we thought we could see were, in fact, moving. 
We passed boats that were covered in these huge creatures napping in the sun and as we reached the dock, had to step over one fast asleep on the ramp. San Cristobal, Galapagos is heaven for sea lion lovers.
---
When you plan your trip to the Galapagos Islands, be sure to include San Cristobal Island. It's a perfect mix of the tourist-filled Santa Cruz Island and the laid-back Isabela Island. As a bonus, Isla San Cristobal, Galapagos is also easily accessible for the independent traveller.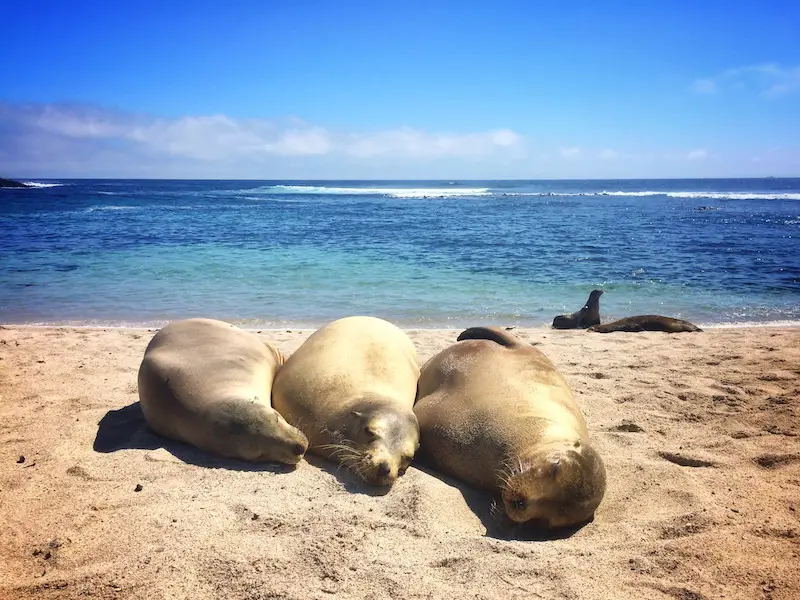 After spending 8 nights in San Cristobal, between two different trips a year apart, we managed to discover a lot of what the island has to offer. We also have an idea about what changes and what stays the same. Here is our detailed guide to the best things to do in San Cristobal, Galapagos.
Want more information about the other Galapagos Islands?  Read our Ultimate Guide to the Galapagos Islands or check out these posts below for our detailed guides on each island, specific activity posts and our tested itinerary:
[space_20]
How to get to San Cristobal Island, Galapagos
There are two main ways to get to San Cristobal. Which one you choose depends on the rest of your itinerary. If you're taking a cruise, this will be largely determined for you.  If you are exploring independently, we highly recommend flying into Santa Cruz from mainland Ecuador and out of San Cristobal airport.
Galapagos ecosystems are unique to each island so by doing this you get to see at least two regions while minimizing travel time. In this case, you will take the ferry option.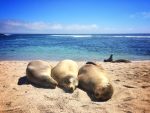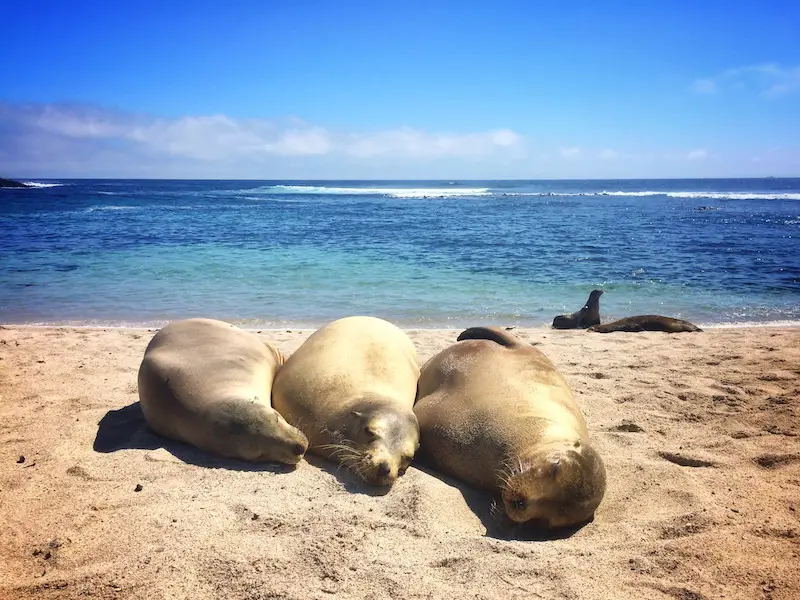 READ THIS POST:
Taking the Santa Cruz to San Cristobal ferry
There are a two-hour speedboat ferries that run between Santa Cruz and San Cristobal. Scheduled departures from Santa Cruz leave at 7 am and 2 pm. Tickets cost $30 per person. Unlike our ferry trip to Isabela, we were unable to get this price down at all – it all comes down to the popularity of the route. While tickets don't need to be pre-booked before your trip, you should look into purchasing tickets at least a day or two before you want to travel.
Passengers need to arrive at the dock in Santa Cruz half an hour before departure time to check in and go through the screening process of the national park. These crossing can be rough so if you are at any risk of sea sickness you will definitely want to take medication before boarding.
Flying into San Cristobal airport
The airport is just on the edge of town, easily walkable if you don't have too much luggage. (Keep in mind, this is part of the reason we suggest flying OUT of San Cristobal).  It is small, containing a couple of small souvenir shops and a small cafe before security.  If you want food and drink, this is your last decent chance as after security there is only a counter selling a few packaged snack items.
There are daily flights between San Cristobal and both Quito and Guayaquil. Both have direct options but a number of Quito flights will also make a stop in Guayaquil before continuing on to their final destination.  Avianca, LATAM and TAME run this route.  We found the best prices with TAME both times and had great experiences despite them not being well-liked by travellers for domestic travel.
My guess (completely unfounded) is they put priority into their Galapagos routes due to the high volume of tourist traffic.  Or we just got lucky.  Or the bad reviews are exaggerated by a vocal few.  Who knows.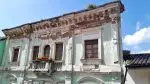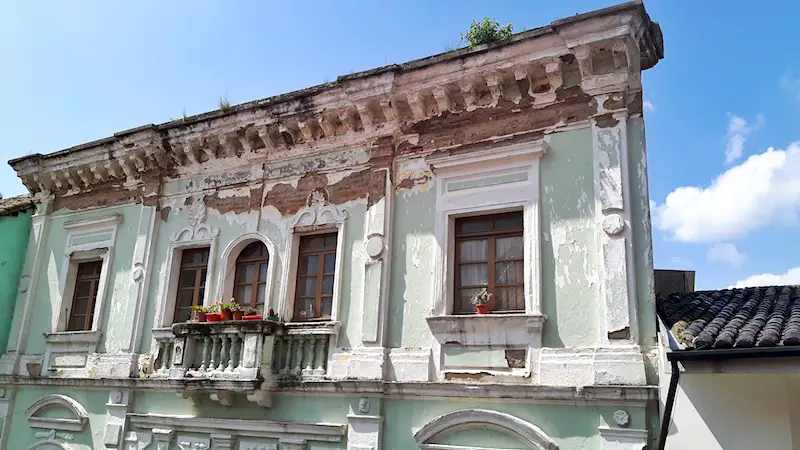 READ THIS POST:
Where to stay in San Cristobal, Ecuador
Pretty much all accommodations are found in Puerto Baquerizo Moreno, the main town on the island.  There are some wonderfully high-end hotels in San Cristobal, Galapagos, however, there is something for every budget.  We stayed in cheaper hostels each time, but both had great reviews, were comfortable and well-run in great locations.
Unlike Isla Isabela, I wouldn't recommend oceanfront on San Cristobal.  Every scrap of waterfront here is covered by sea lions, particularly at night.  While adorable, they are loud and stink!  Not particularly conducive to a restful night's sleep.  Oceanfront Puerto Baquerizo Moreno also doesn't actually give you beachfront anyway.
---
Our first visit to San Cristobal Island, we stayed in Hostal Suiza.  It is a small place with free coffee and tea all day and a rooftop terrace with hammocks.  It's simple and clean but easy walking distance from any point in town and run by a lovely Swiss/Ecuadorian couple who go out of their way to make your stay the best it can be.   Check reviews and prices now.
---
For our second time on the island, we needed something with family rooms that can hold 5 people.  Casa de Jeimy met our needs perfectly.  The room was huge and quiet with an unexpected ocean view!  There are three communal kitchens for guests to use including two on the lovely rooftop terraces.
One major drawback, however, is that fact that the downstairs kitchen is the only one with a fridge (two actually).  While there was plenty of space, it was a bit of a pain to walk the three floors every time we needed something.  Certainly not a dealbreaker but it would be awesome to see one of those fridges moved upstairs in the future!  Check reviews and availability now.
---
If you're looking for something a little more high-end, Casa Opuntia is a fabulous option.  It is located right on the waterfront boardwalk but towards the end away from the bars and restaurants.  The beautiful outdoor pool and area make for the perfect place to relax after a busy day exploring San Cristobal Island.
Guests love the friendly, helpful staff, the included breakfast and, of course, the location.  Spend a few extra dollars for a room with an ocean view.  Check reviews and availability now!
---
Where to eat in Puerto Baquerizo Moreno, San Cristobal
Unfortunately, there is no cheap street like los kioskos in Santa Cruz.  Dining in San Cristobal mostly consists of higher-end restaurants or local cheap eats.  However, we have found a few places that are worth recommending for both price and quality.
Both years we have spent our first evening at Cri's Burgers.  Slightly embarrassing, but after travelling through Latin America for months beforehand, we really enjoyed the well-priced and North American quality burgers!
Rosita's is known for good quality food and while their regular menu is a little pricey, they offer a great set menu for just $6.  Just be sure to check they are offering the menu before sitting down.  This past year they didn't have it available when we went (it's still on their menu so I imagine it was just that particular day).
For the perfect place to have a sunset drink, with or without food, head to Nativo Bar & Cafe.  They are perched right on the water's edge beside the sea lion's new favourite hangout.  Not only are the drinks the perfect accompaniment to the beautiful sunset, but their food is also pretty tasty.

[space_20]
The best things to do in San Cristobal, Galapagos Islands
---
We really enjoyed spending time exploring San Cristobal independently.  It's a great island to visit without needing to pay for lots of expensive tours.  Having said that, there is one tour that we absolutely recommend that everyone takes before leaving the Galapagos.  Check it out below.
Free Activities in San Cristobal, Galapagos
Hang out with the sea lions in town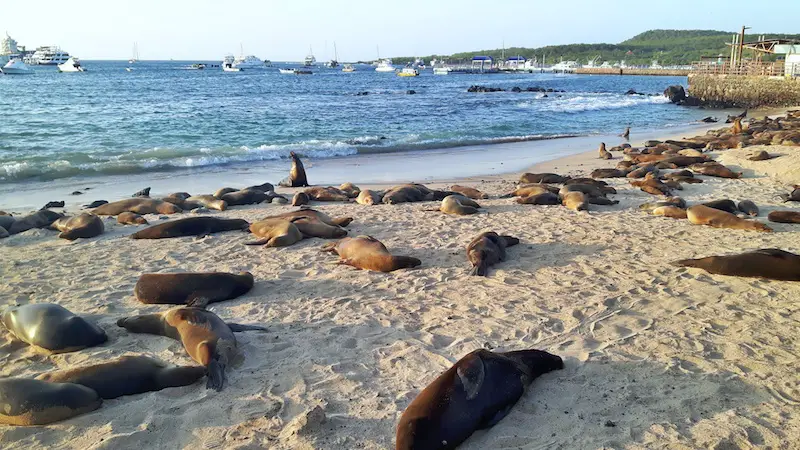 This one is pretty much unavoidable.  From the moment you arrive in San Cristobal, you will hear and see these guys everywhere.  Take a wander along the malecon in town and stop at various spots to watch these entertaining creatures.
When we first visited in December, we found tiny furry babies everywhere.  In March, they were notably larger but still adorable and feeding from their mothers.
For some reason, in the past year, a huge percentage of the local sea lion population relocated from various spots to the main beach right in town.  Each evening the large beach was literally teeming with noisy sea lions and cubs playing in the waves.  It was incredibly noisy!
There's a really good chance a few escape the fencing and can be found on benches, boardwalks and in the streets.  Keep your eyes open as you explore the town.
Learn about the human side of the Galapagos Islands at the Interpretation Centre
Unlike the centres on Santa Cruz and Isabela, this interpretation centre focuses on the human history and our impact in the Galapagos Islands.  Learn about the ways in which people used and exploited the islands over the centuries, the environmental problems we are creating and some of the programs that are trying to combat these issues.
Hopefully, you will leave with a renewed interest in using the natural resources just a little more carefully.
Hike up to Cerro Tijeretas lookout
Cerro Tijeretas (or Frigate Bird Hill) is a lookout high on a cliff edge in a popular breeding area for birds.  The trail to this clifftop viewpoint leads out the back of the interpretation centre.  Follow the paved pathway through lava and cactus fields until you reach the wooden platform at the top.  This point is named after the large frigate birds (tijeretas is a Spanish nickname for the bird) as they are frequently seen in the trees here.
The platform will put you at eye level with these creatures as well as provide a wonderful view out to sea.  Read more about it here.
Snorkel in Charles Darwin Cove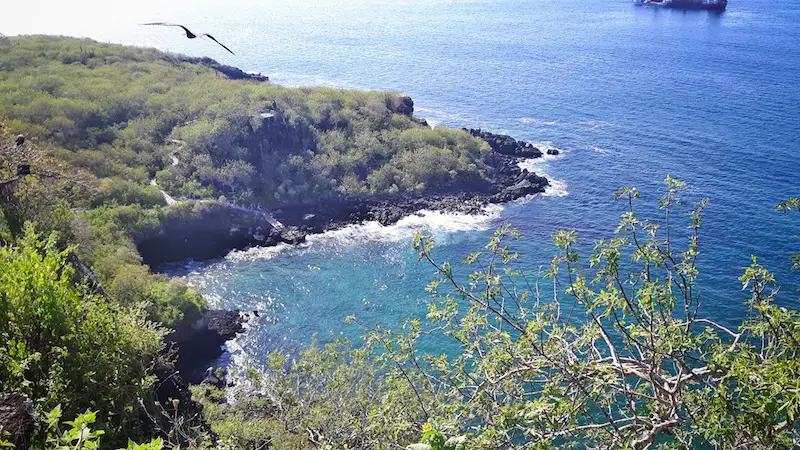 Just before you reach Cerro Tijeretas lookout the path splits.  Taking the left turn will lead down to a small dock to allow you to enter the cove.  It's a popular free snorkelling spot where sea lions, turtles and marine iguanas are common sights.
Our December visit was perfect conditions.  However, by March the ocean swells are larger (it's well into surf season by this time) and the water was quite rough.  We arrived to find a boy struggling to get out as he tried to time his exit between waves.
It's nothing that a strong swimmer couldn't handle but could certainly get some people into trouble.  We would recommend going at low tide and watching the conditions before entering the water.
Hike to Playa Baquerizo
To get to Playa Baquerizo continue on from the Frigate Hill lookout along the trail leading away from town.  The hike is about 45 minutes to reach this small beach that sees very little traffic.
It's a picturesque beach for sure but for us, the real feature was the fact that from the moment we arrived until we left, we could watch a minimum of four turtles swimming about in the waves just offshore.  The water was so clear they could be clearly seen even when underwater.
Definitely bring your snorkel equipment with you and ideally water shoes.  The shoreline is scattered with sharp lava rocks.
Look for wildlife at Playa Carola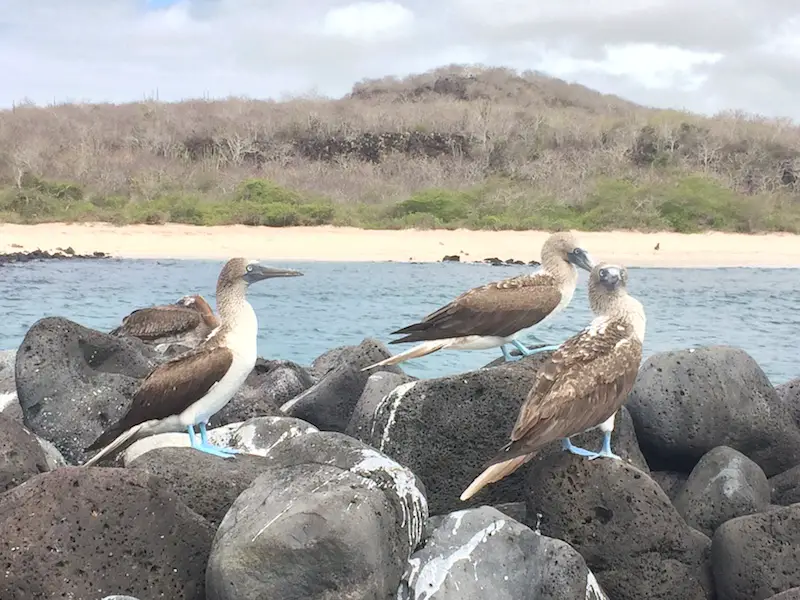 Playa Carola is close to Darwin's Cove and Las Tijeretas lookout.  People visit this beach for wildlife, surfing and sunsets.  During our visits, we saw sea lions, marine iguanas and even a sea turtle on the beach.
We walked out to the lighthouse, Punta Carola, to find more of the above as well as pelicans and, most excitedly, blue-footed boobies.  This is one of the beaches, however, that had significantly fewer sea lions the second time around although this actually makes it a much more pleasant place to spend time.
The water can get a little rough when the tide comes in but the bay is fairly well-protected making it a decent snorkelling spot.  Learn more about visiting Punta Carola here.
Surf some Galapagos waves
It's not only the sea lions that can surf the waves in the Galapagos.  There are a few decent surf breaks in San Cristobal Island.  Punta Carola has an excellent surf break off the rocks by the lighthouse when the swell is right.  La Lobería beach is no stranger to big waves either although the minefield of rocks, however, make this a spot for experienced surfers only.
Enjoy the beautiful San Cristobal sunsets from Playa Mann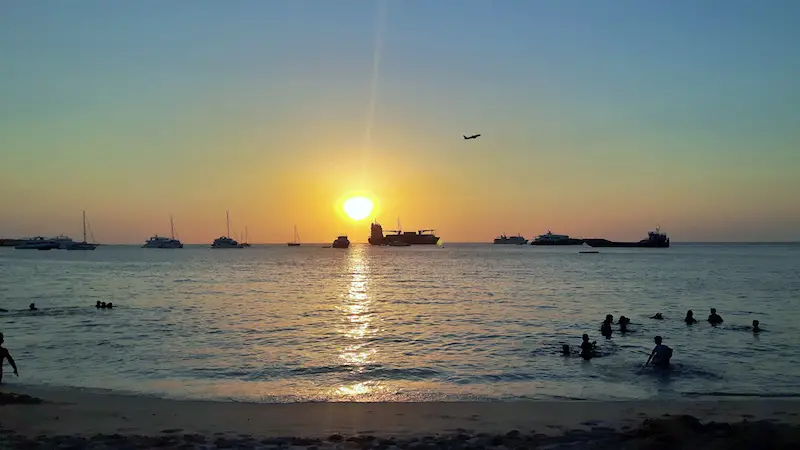 Playa Mann has a great vantage point for the vibrant sunsets across the harbour.  There are a couple of stands to buy drinks and food as well as public toilets.  It's a very popular spot for sunset although you may have to fight the sea lions for a spot to sit.
Again, though, on our most recent visit, there were significantly fewer sea lions on this beach.  Who knows when or if they will choose to return.  That's the beauty of the Galapagos Islands – the wildlife is completely free to do as they please!  Regardless, it's a great spot to enjoy the sunset.
Hunt for giant Galapagos tortoises at the Galapaguera de Cerro Colorado
Giant tortoises prefer to live in the slightly cooler, wetter highlands of all the islands so you will have to get a bike, taxi, or take a tour, to see them.  The Galapaguera is a giant tortoise breeding centre that is open to the public and free to enter.
You must stay on the path that winds through the trees but go slowly and keep an eye out for the giant prehistoric creatures as you walk.  They love to hide under the shrubbery and are amazingly well camouflaged.  The adult tortoises are given almost complete freedom.  We even found one next to the parking area on our way back out.
At the furthest point of the trail is the breeding area where mesh covered pens protect the babies from predators.
While we personally preferred our experience at Rancho Primicias in Santa Cruz, this is still definitely worthwhile.
Relax at Playa Puerto Chino, a beautiful beach in San Cristobal Island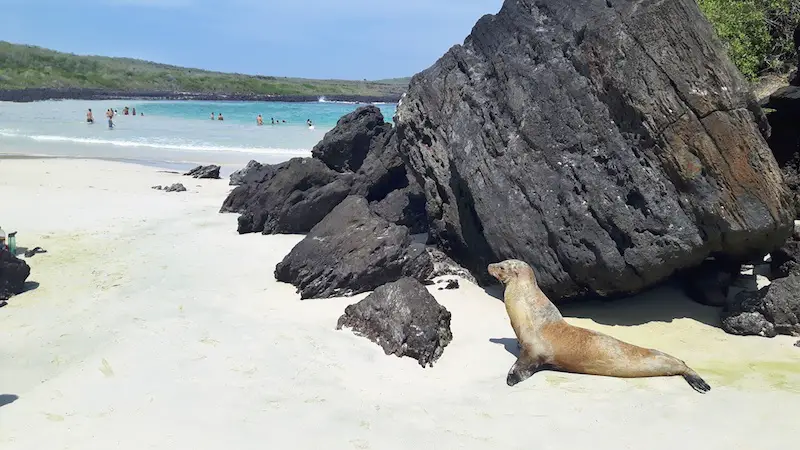 A visit here also requires access to a vehicle.  Walk for 10 minutes down the trail to reach the white, powder-soft sand.  The relatively small bay is surrounded by rocks and cliffs which are also a popular breeding ground for boobies.  We did see some blue-footed boobies flying around but weren't there during nesting season to see them on the short clifftop walk.
To be honest, visiting this beach was a little anti-climactic for us.  While it is undoubtedly a beautiful beach, we had heard from fellow travellers about this amazing deserted beach and up-close encounters with blue-footed boobies guarding their nests on the trail.  It was surprisingly busy and, besides the odd sea lion and birds in the sky, void of wildlife.
In addition, our taxi driver announced that we had to be back in one hour.  We were too stunned to suggest that we wanted more time (and seeing as we were paying him…) so this put a damper on our time there.  Be sure to negotiate the terms first!
Snorkel with sea lions at La Lobería beach
Named for the sea lions who frequent this beach, it's no surprise why people come here.
Once again, however, this past visit we discovered that there are far fewer sea lions here at the moment.  For whatever reason, they are choosing to spend their time at the beaches in town.  Still, it's a lovely beach with great snorkelling (sea lions and turtles are the highlights here) and now smells a lot better too!
At the far end of the beach, a hiking trail takes you past iguana-covered rocks to a lookout point where you'll likely see some frigate birds up close.
Look down into an extinct volcanic crater at Laguna El Junco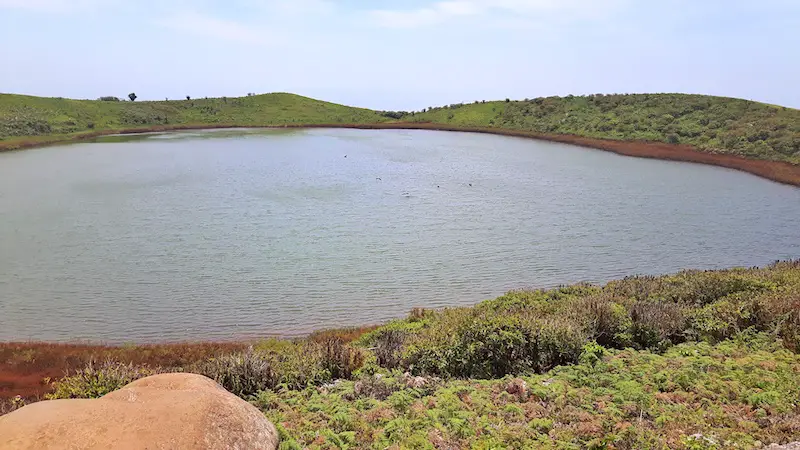 A short hike from the parking area will take you to the edge of the caldera of this ancient volcano, now home to the largest source of freshwater in the Galapagos Islands.  It's incredibly lush and a popular birdwatching spot.
Many seabirds come here to rinse the saltwater off their feathers.  We saw many birds circling and dipping into the water, often getting sprayed from above as they shook themselves off after.
There is a trail that loops around the lake if you want to do more walking.
Join the locals at the San Cristobal Ping Pong Club
You won't find this on too many lists of things to do in San Cristobal but during our most recent visit, we stumbled upon a local table tennis club.  Locals run it but everyone is welcome during open hours for a small fee.
If you're travelling with kids, or just enjoy a fun game of ping pong once in a while, this is a great place to spend a little time in the evening.  We showed up shortly before 9 pm closing time but the man in charge was very welcoming and let us play for over half an hour.  The cost is $1 per adult and 50¢ for children.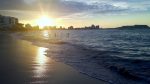 READ THIS POST:
The best San Cristobal day tours
You could spend hundreds of dollars exploring the Galapagos Islands by organized day tours.  We've included a few of the most recommended, ending with our personal recommendation for the one tour you HAVE to do in San Cristobal.
Go birdwatching on Española Island
For many avid birdwatchers, a day tour to Española Island is top of their list of what to do in San Cristobal.  The big highlight of this tour is seeing the albatrosses who make this island their home from April to December each year.   However, boobies, hawks, iguanas and plenty of marine life are also worth the two-hour boat ride to get here.
After a hike inland, you will get a chance to relax on the beautiful beach at Gardiner Bay and snorkel.  As part of the Galapagos National Park, it can only be reached on a tour.
The cost of this tour is approximately $250 so it's not the cheapest but this is the only opportunity to see the largest seabird in the Galapagos.  If that's important to you,  it's worth the money for this once-in-a-lifetime opportunity.
Scuba dive at Kicker Rock (Leon Dormido)
For certified scuba divers, this is one of the best diving sites you will likely see.  There is an abundance of marine life found around the rock formation that makes it one of the most popular dives in the archipelago.  For non-divers, there are snorkelling trips available too.  Tours include two 45-minute dives, lunch and a stop at a nearby beach.
A dive trip to Kicker Rock costs around $180-230 each.
Visit a popular seabird nesting site at Punta Pitt
This tour takes you by boat to the eastern side of the island to Punta Pitt.  Punta Pitt is special as it is one of just a few places in the Galapagos where you can find all three species of boobies (blue-footed boobies, red-footed boobies and Nazca boobies) as well as two species of frigate bird in the same place.
A hike takes you through popular breeding grounds and to amazing landscape views.  There is also a snorkelling stop and included lunch.
Price is around $180.
Get a taste of the Galapagos with the 360º Tour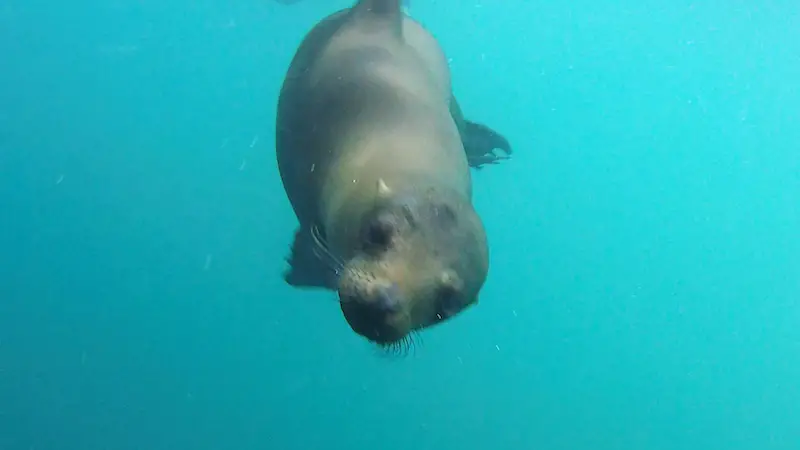 Does Kicker Rock sound like an amazing place to see?  Are you interested in seeing all three types of boobies at Punta Pitt?  Before you book either of the tours listed above, consider taking the 360º tour instead.  This is a pretty new offering and has become very popular.
If you only have one day on San Cristobal, or can only do one tour in the Galapagos, we strongly recommend you take this tour.  Although, to be honest, it kind of spoiled all future activities for us.  After this one tour, we had seen everything!
We first heard about this tour from people we met on our Bartolome day tour in Santa Cruz island.  A girl we met had taken the tour and said it was the best one she had done.  At that point, we hadn't even heard of it and had planned to visit the famous Kicker Rock.  However, on this tour, aptly named as it takes you a full 360º around the island, you will snorkel at Kicker Rock.  Tours run in both a clockwise and anti-clockwise direction so the boats are spread out.
In addition to Kicker Rock and Punta Pitt (although everyone stays on the boat here unlike the specific tour), the tour also takes you snorkelling in a shark-filled lagoon and gives you time to relax or snorkel at a stunning beach.
Typical tour operators in town don't offer this tour, it is run exclusively by fishermen (as such there will be time on the tour when they fish for the following day's lunch).  The boats vary in age and quality, as does the included equipment, so be sure to ask a lot of questions before booking.
This tour will cost $150 – expensive but well worth it.  You can probably save $10 shopping around but you might compromise on the quality of services, equipment.  Use the company opposite Banco del Pacifico straight up the road from the old dock (for the life of me I can't remember their name).

[space_20]
Insure before you go!
You should never travel anywhere without insurance, and definitely not to somewhere as remote and adventure-packed as the Galapagos Islands!  Actually, it's mandatory to have insurance to be allowed to travel to the island chain belonging to Ecuador.  We weren't asked for proof either time we visited but you never know…
We use, love and recommend World Nomads.  They're well-priced covering both travel and health issues, and include a wide range of adventure activities!  When Terry broke his tooth in Spain they were amazing at making sure we got a full refund for any costs.
So, there it is.  Our complete guide including a comprehensive list of 17 mostly free things to do in San Cristobal, Galapagos Islands!  If you think we're missing anything let us know but this should keep you busy for a few days at least.
Want more information about the other Galapagos Islands?  Read these posts below for our detailed guides on each island and specific activity posts and our tested itinerary:
If you found this post interesting, we would love for you to save it on Pinterest!
[columns] [span6]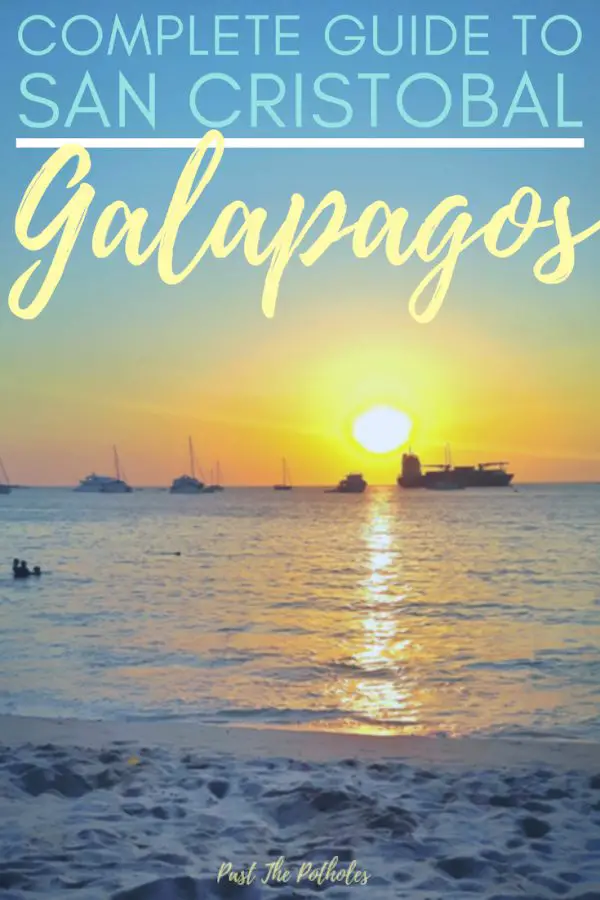 [/span6][span6]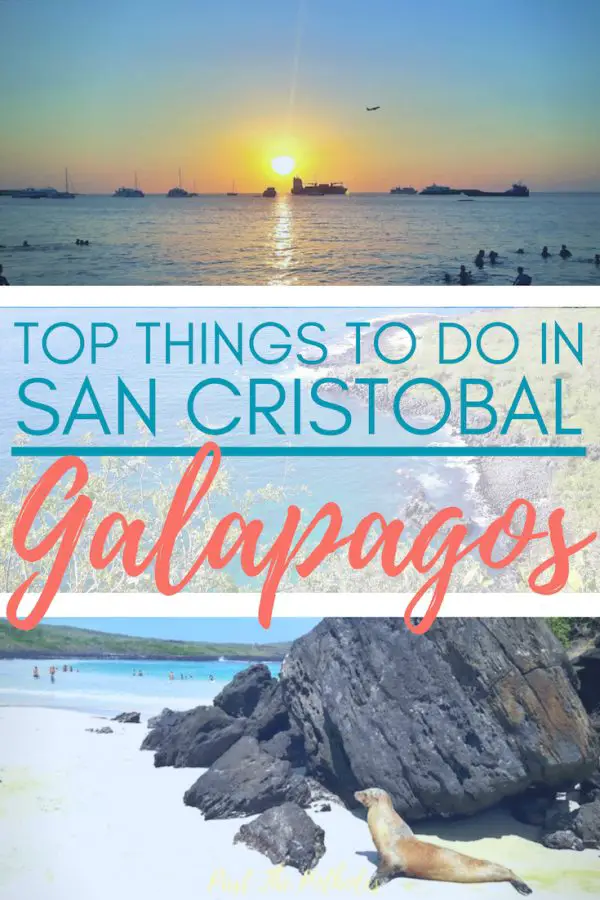 [/span6][/columns]
---
Return to our Destinations page for more travel inspiration.
Head to our Travel Tools page to begin booking your next vacation.