Laguna de las Ninfas: a hidden spot in Santa Cruz, Galapagos
Some links in this post may be affiliate links. If you click on them we may make a commission from qualifying purchases at absolutely no cost to you.  Read our full Disclosure Policy here.
A little known attraction in Puerto Ayora, Santa Cruz is Laguna de las Ninfas. This is a peaceful area for a relaxing walk or picnic.

What is the Laguna de las Ninfas?
The lagoon is tidal and, as a place where the salt water meets the fresh water, is home to some interesting life.
The boardwalk surrounding the lagoon goes through mangroves with each type of tree labelled. There are a couple of walkouts where you can look into the clear waters for signs of life, or sit and relax in the calm.
It looks as though it once encircled the entire lagoon but part of the boardwalk is now broken and you have to turn around and return the way you came.
Depending on how many times you stop for photos or a rest, walking around the lagoon shouldn't take more than an hour, probably less.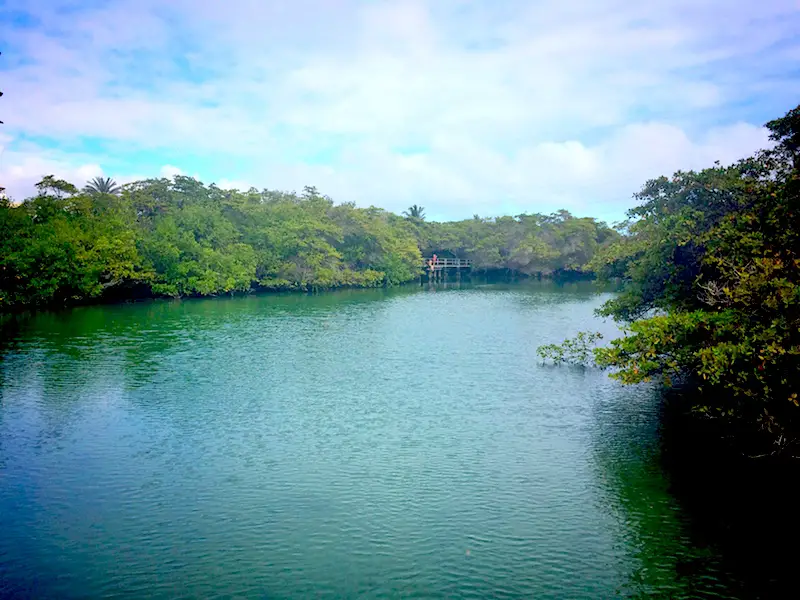 Where is Laguna de las Ninfas?
The lagoon is very easy to reach, just behind the harbour in Puerto Ayora, Santa Cruz.  Take the road up past the supermarket.  Turn left onto Moises Brito and then the first left at the entrance to the lagoon.  It won't take more than a few minutes easy walking to get there.
Is Laguna de las Ninfas worth a visit?
Really we would recommend coming to the lagoon if you have a spare couple of hours and just want a peaceful, relaxing stroll. It could be a great place for a lunch break.  Just grab some food at the supermarket on your way.  It is conveniently located between the Charles Darwin Research Station and Tortuga Bay.  Combine all three for a great day in the Galapagos!
However, if your time is short in Santa Cruz, it is better spent elsewhere.
We didn't see a huge amount of life here but there were some big fish and unusual birds.  Consider this spot if you are a birdwatcher.
[btn text="Return to "Things to do in Santa Cruz, Galapagos"" tcolor=#FFF bcolor=#1998b5 thovercolor=#444 bhovercolor=#bbede7 link="https://pastthepotholes.com/things-to-do-in-santa-cruz-galapagos" target="_self"]